Prince George is BC's largest northern city and a hub for services in Northern BC. It is also a hub for outdoor enthusiasts! As we drove into town, we looked down into the core of the city to see the town next to the confluence of the Fraser and Nachako Rivers. Not many towns can boast that view! As we scanned up past the riverbank we could see beautiful hills and rolling mountains surrounding the area, and maps quickly unleashed a myriad of lakes and hiking trails for us to explore.
We hadn't been on the ground for more than 30 minutes before we knew… we were going to like it here!
Explore Prince George By Bus – Day One
Morning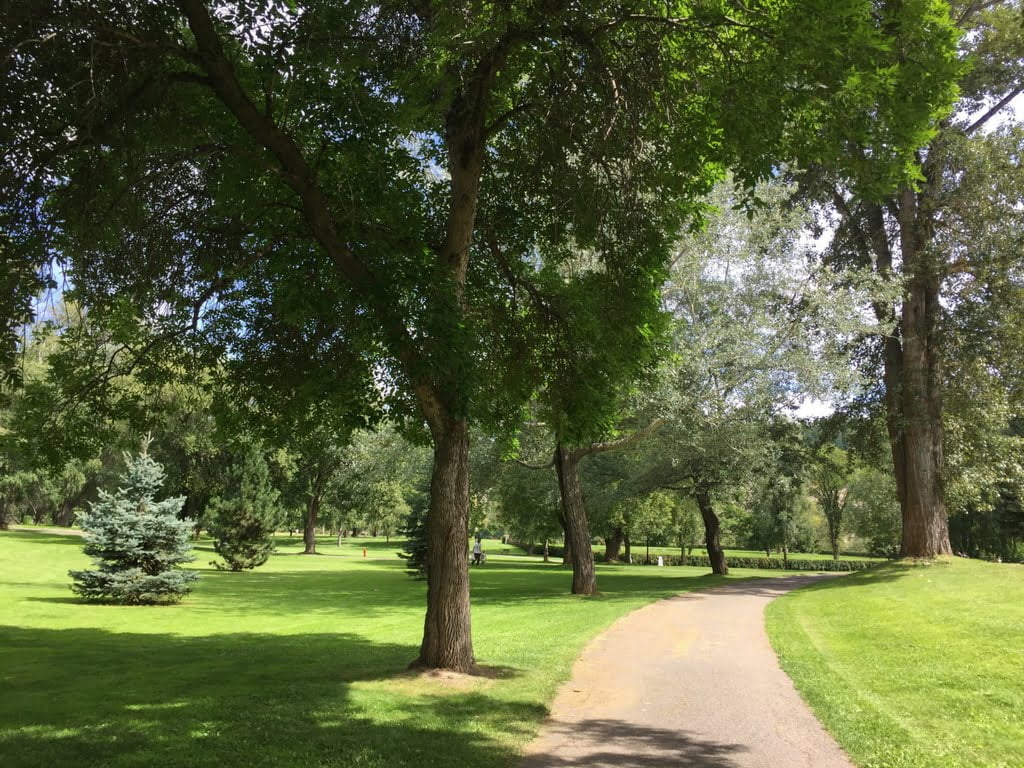 We boarded the
BC Transit
bus and we're excited that our first trip took us on a bit of a tour around town so we could familiarize ourselves with the region. I was really surprised at how much "green" and water there was around town. The site of the rivers crossing is really unique and powerful.
Our bus took us right to Lheidli T'enneh Memorial Park. This park is an amazing flagship park in Prince George and features enough amenities to keep the whole family entertained for the day!
We spent the morning at the playground, which provided the children with the opportunity to climb, swing, hide, and tag on a variety of equipment. The favourite playground equipment was a sunken ladder truck that had been converted into a climbing masterpiece!
After a lunch break, it was time to take some refuge from the heat and head inside the Exploration Place Museum. (Located 100 meters from the playground within the same park.)
As we walked into the museum we were greeted by a "to-scale" dinosaur that reached from the mall floor to the upstairs level. The kids got to go inside an aquarium and meet face to face with some sturgeon, and also enjoyed posing inside a Tyrannosaurs Rex skull!
The museum had a very unique approach to education. They openly invited guests to touch everything (and if it wasn't appropriate it was out of reach or covered in glass)
This meant:
The oldest snooker table in Prince George was still allowed to be played on!
Kids could hold snakes and help the caretakers feed them dead mice
Petting cockroaches was encouraged
Animal furs were plentiful and kids were encouraged to feel the difference between the pelts.
We planned to stay at the museum for an hour but after two and a half hours we still weren't done and hadn't seen it all! My kids are still talking about it!
Evening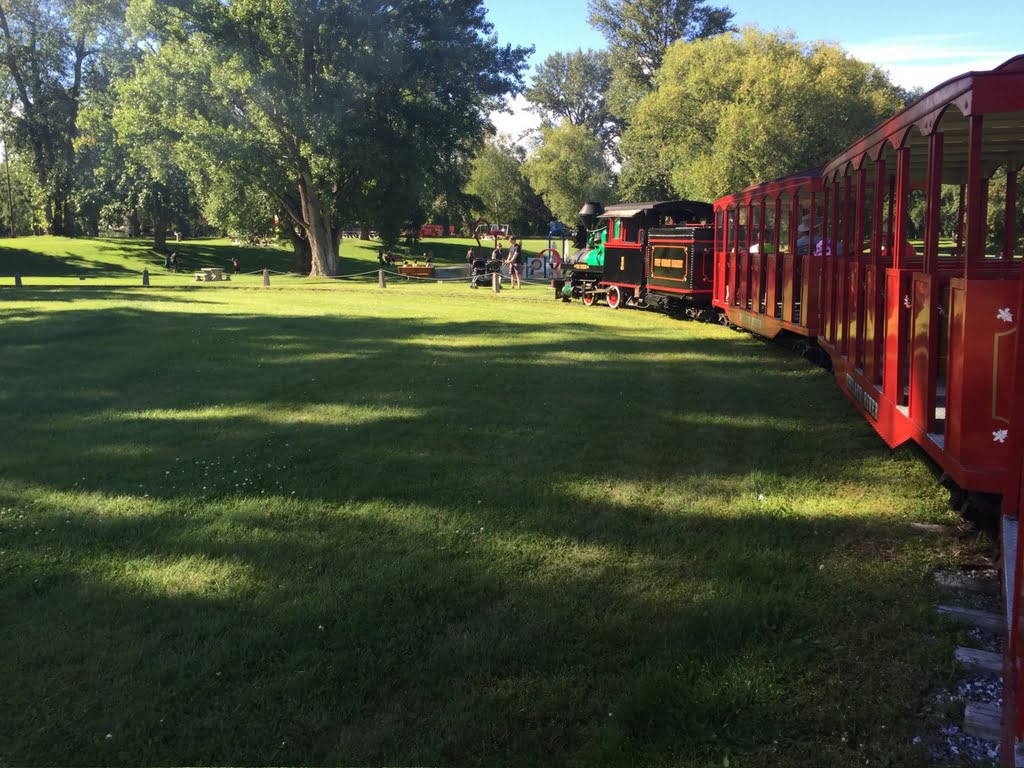 A water break and a walk across the parking lot brought us to the train station. This little train is a fully functioning steam train. "All aboard" and we were invited to take a tour around the track! After our tour, the engineer (a real engineer too) invited us up front to check out how the steam engine worked (and allowed a few poses for pictures)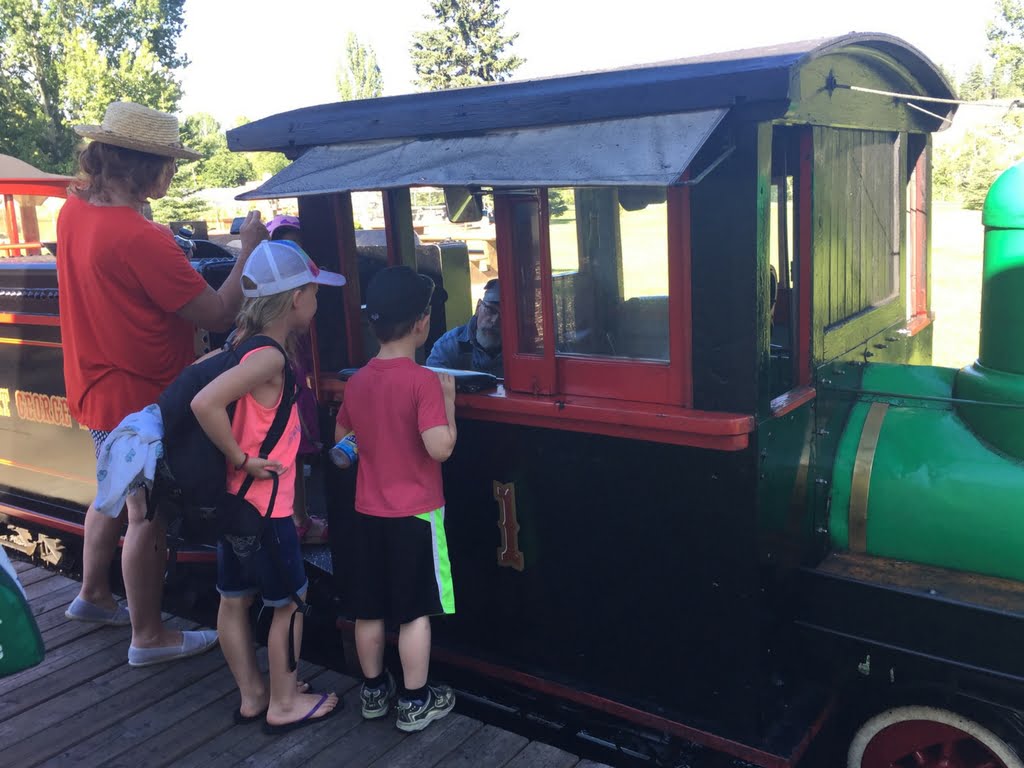 Needless to say my kids slept well that night! Who knew so many adventures could be had in one day! Guess that's what happens when you choose to explore Prince George by bus!
Explore Prince George By Bus – Day Two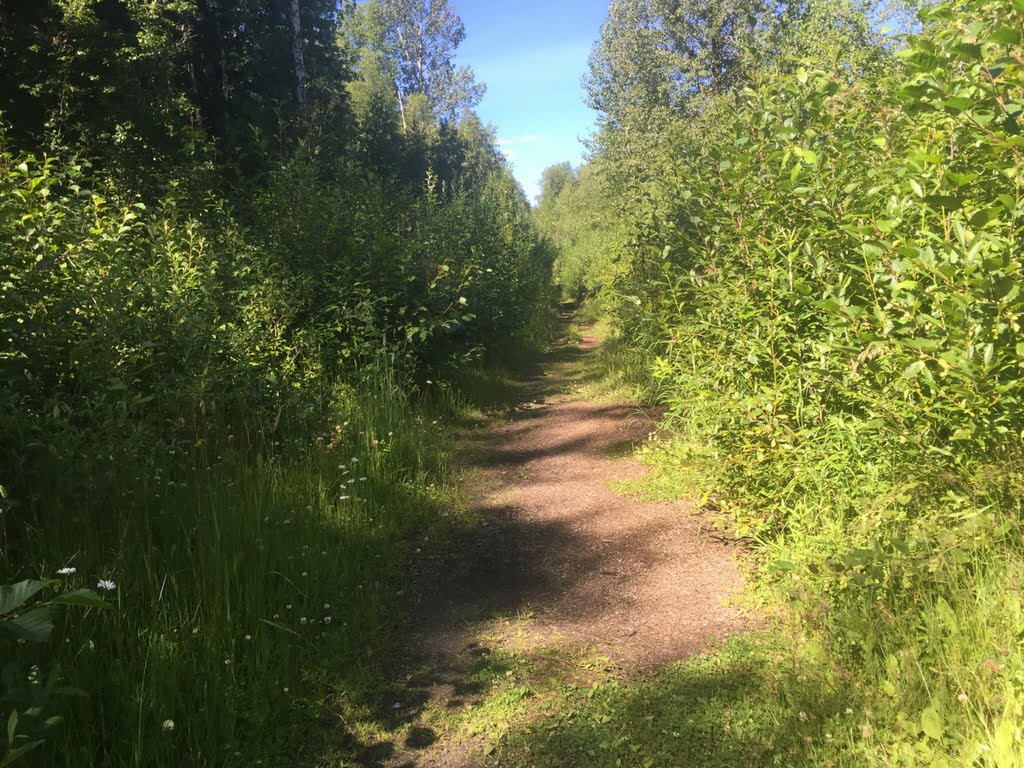 The kids were excited for what they were calling our "hiking day" and a 20 minute bus ride to UNBC brought us to the base of our hike. It was time to throw on the camelpack and start trekking!
A few zigs and zags through campus and we were on the trail to the Forest for the World. Note – these trails are not marked well so be sure to use a Google map (
or ideally download a map online
) to help you navigate to your final destination.
20 minutes later and we had arrived at the base camp for the Forest For The World. We spent the next three and a half hours hanging out and exploring, and learning that we should expect the unexpected!
5 things we didn't expect:
Private Dock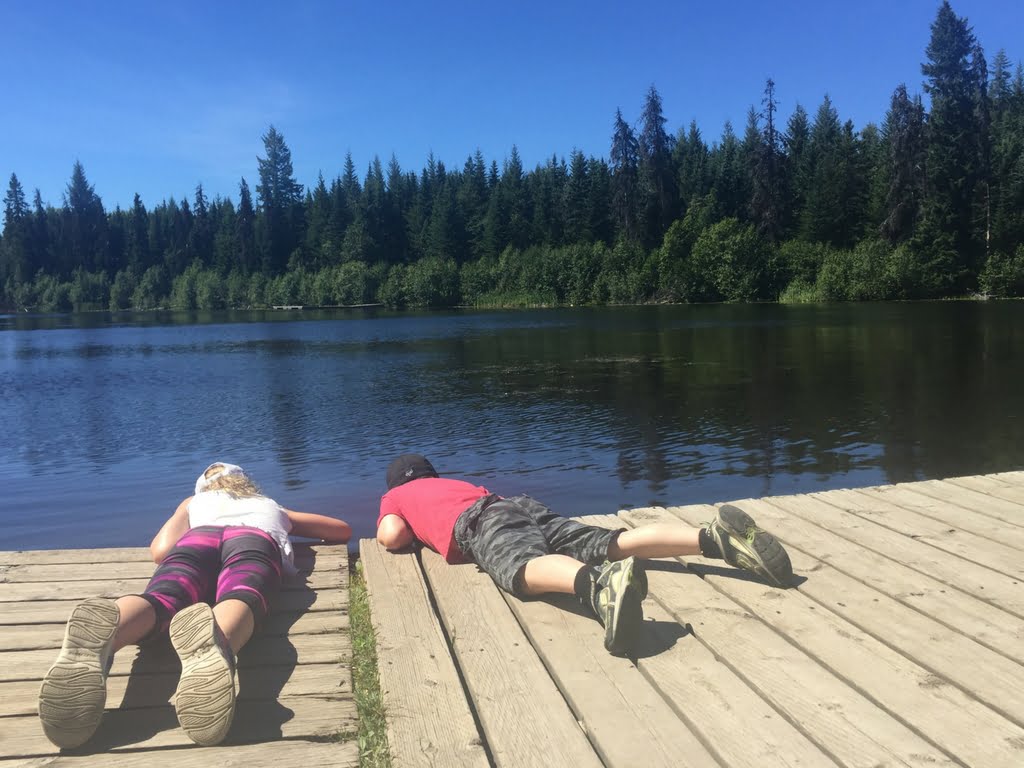 We were spoiled by the sights and sounds of Prince George nature as we laid on our tummies overlooking the beautiful Shane Lake. We had the whole place to ourselves which was a speculate (and rare) experience.
Fish Galore
In the
Spring
the lake is stocked with fish and we were fortunate to enjoy company of the local fry as they swam underneath us waiting to see if we would feed them.
Face To Face With Frogs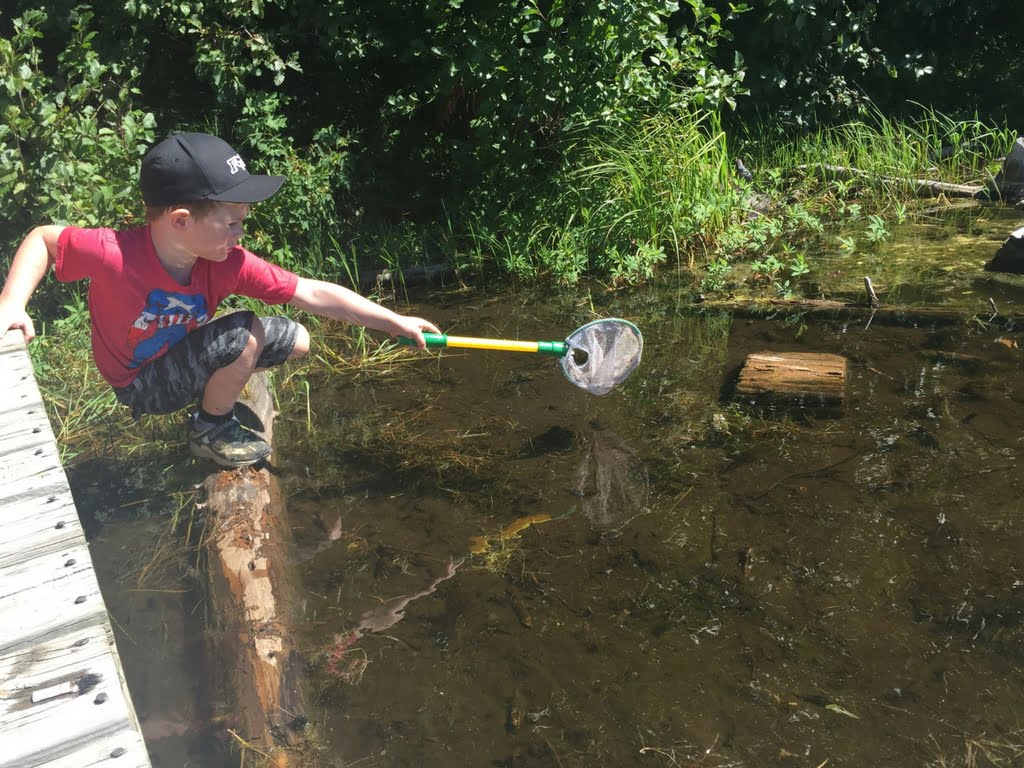 I believe the frogs are used to little people as they had absolutely no issues coming nose to nose with a curious child. They practically jumped into the net when my son caught him to take a closer look. They even swam away and swam back! I promise, no frogs were hurt in this process.
Thousands on Baby Frogs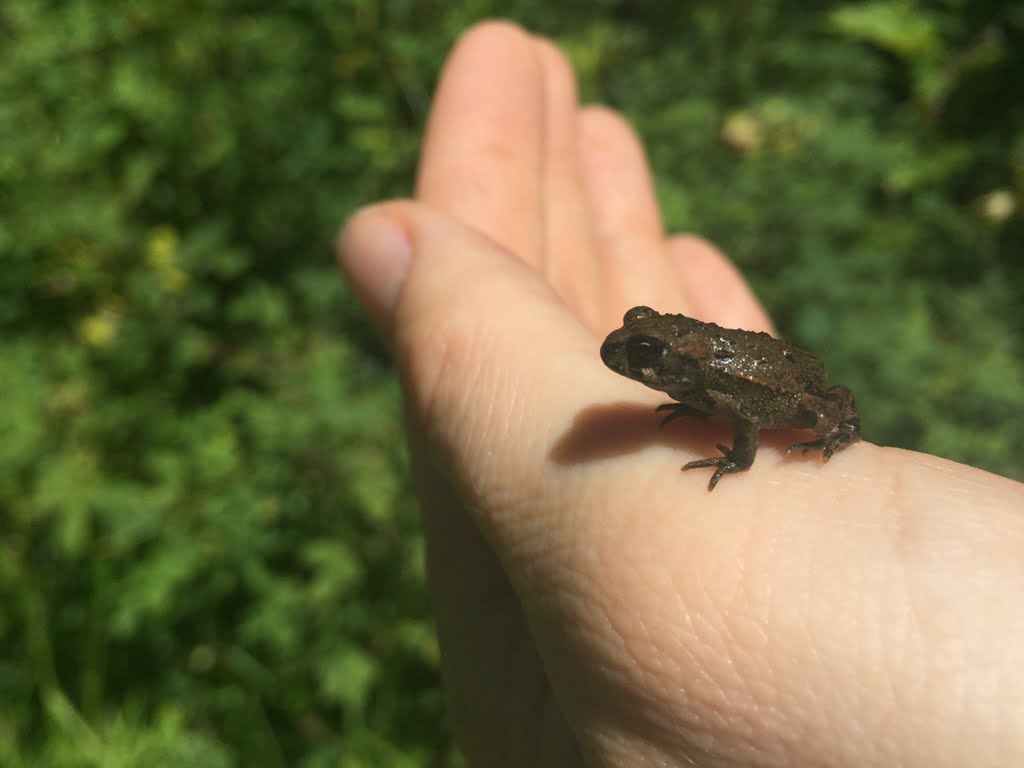 After getting a tip from another hiker we headed down a side trail next to the lake an were lucky to see a baby frog migration underway. There were literally thousands of baby frogs making their way to their new homes and we had to tread carefully as we tried to take pictures of them!
Campfire Lunch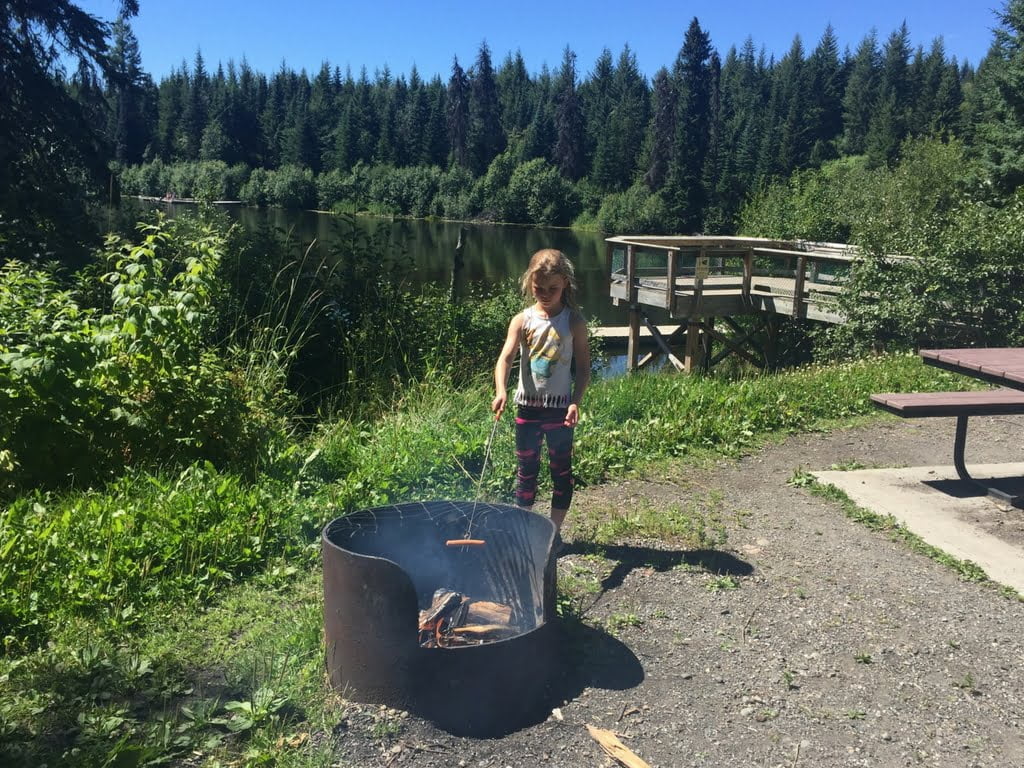 We packed the supplies and we're happy to be able to enjoy a campfire on the beach. The parks provided the wood and we felt spoiled having a hot lunch in the middle of a hike. There really isn't anything like a hot dog over a campfire!
Around 3:30 my kids were cooked and it was time to head home! I never would have imagined that we would have been able to get to such a remote location "by "bus".
If you're looking for some more things to explore while you're in Prince George may we suggest: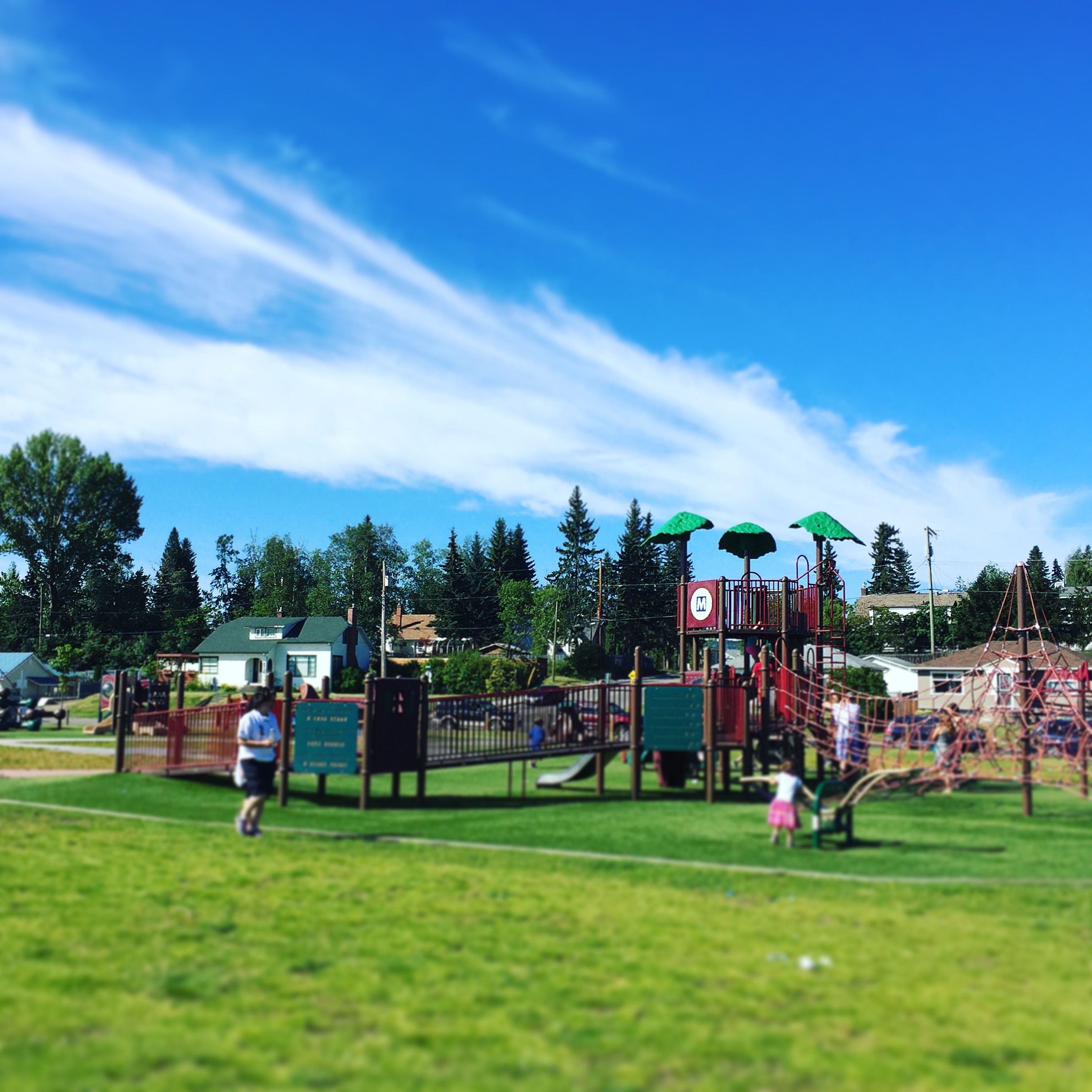 Want to plan your own #ExploreBCbyBus trip? Visit www.explorebcbybus.com to get inspired by their suggested family fun itineraries, or kick things up a notch with their day trips for adventure seekers. Plus, if you share how you're using BC Transit for your adventures this summer on Facebook, Instagram or Twitter using #ExploreBCbyBus, you'll be entered to win weekly prizes of month-long bus passes, and a Grand Prize of two year-long bus passes and a stay at the Squamish Outdoor Centre, including whitewater rafting! All details can be found at www.explorebcbybus.com.
Check out some of our other adventures we've had around BC as we #ExploreBCbyBus:

–Embracing the Staycation in Abbotsford
–Exploring Cranbrook – Where Small Town and Big Adventures Collide