As soon as you step into the welcoming visitor centre at the Barkerville Historic Town and Park, you are instantly taken back to 1862 and the booming gold rush days in the Cariboo of British Columbia. As you walk through town you can almost feel the excitement that the gold prospectors felt as they mined the hills in hopes of finding riches.
Barkerville was declared a National Historic Site of Canada in 1924 and a Provincial Heritage Property in 1958, making Barkerville the largest living history museum in the western part of North America.
Here are some visitor experiences in Barkerville that are not to be missed!
Cottages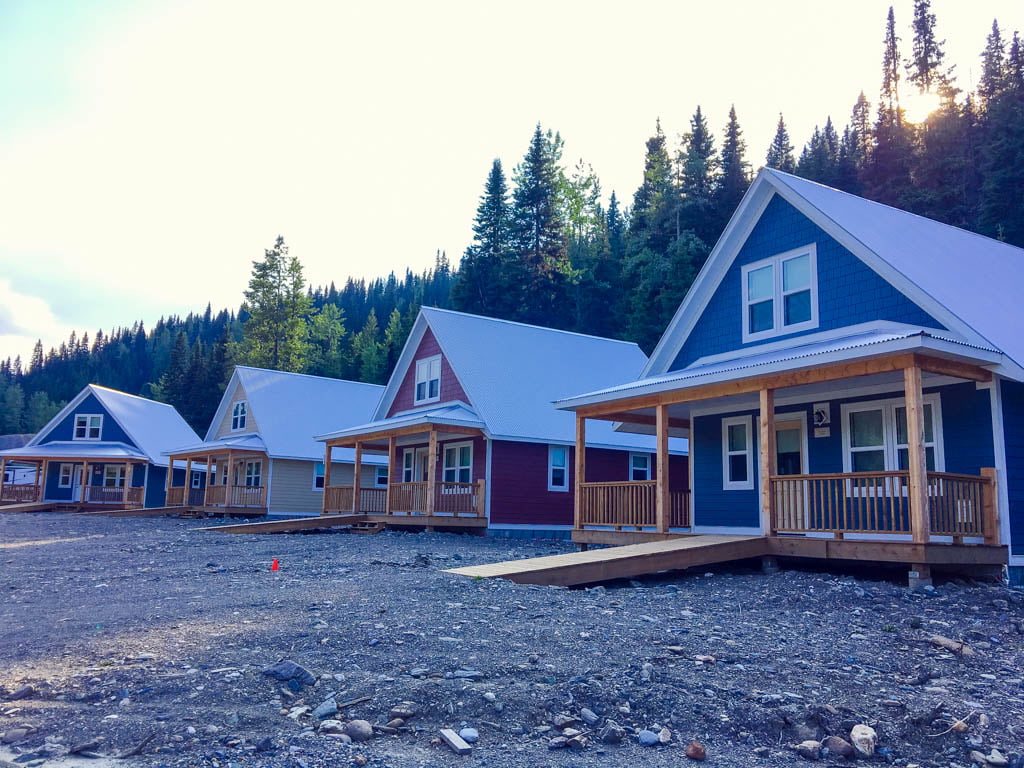 These modern yet quaint cottages are located just outside the gates of Barkerville, making for a quick 2-minute walk. They are the perfect location to stay to maximize your time while in town. These 4 cottages each have 3 bedrooms (2 with queen beds and 1 with two twins, sleeping 3-6 people comfortably), a fully equipped kitchen, large dining room table, living room, a washer and dryer, a full bathroom downstairs and a powder room upstairs. A large porch is perfect for relaxing after a busy day exploring Barkerville. Sadly, pets are not allowed in the main part of the cottage but can be housed in the cottage's mudroom as long as they are in a crate or kennel.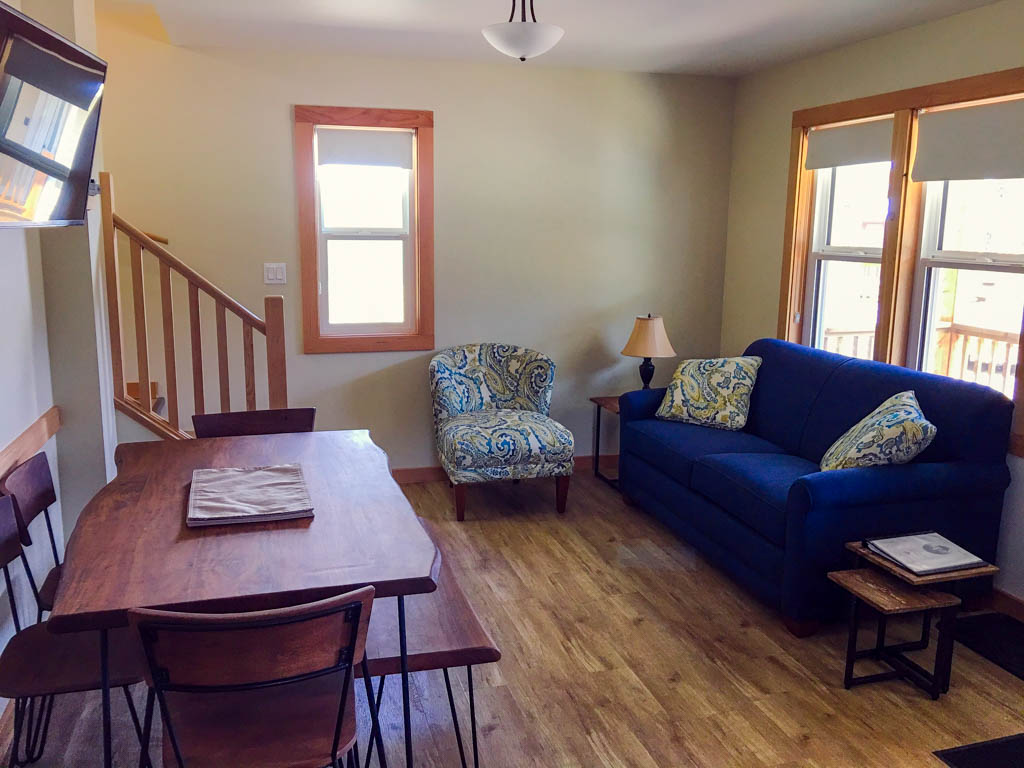 We loved how much space these cottages have, as well as all the amenities that are provided during your stay. They truly feel like home. 
Each cottage is named after an important woman in Barkerville's history, and we loved that there was a plaque in each cottage commemorating each lady.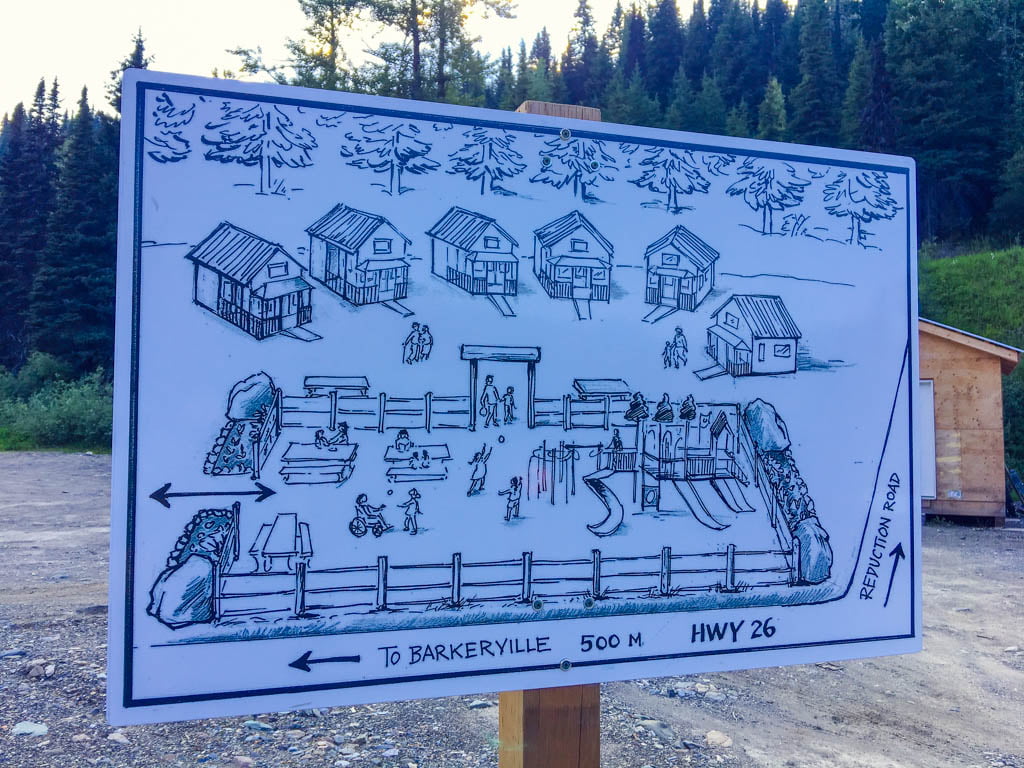 These cottages were just recently built at the beginning of 2018 and the landscaping has not yet been finished. There is also going to be a playground and picnic area installed right in front of the cottages, which will be the perfect addition to these already wonderful accommodations.
Mom Tip: We highly recommend booking one of these cottages and spending 2 full days to explore and discover Barkerville!
Heritage Package  
In addition to regular admission, there are some extra activities that should not be missed during your Barkerville visit. We highly suggest purchasing the Heritage Package upon arriving, which gives you not only 2 days of admission to the site, but also a ticket for the Theatre Royal, Stagecoach Ride and Gold Panning. These activities can be purchased separately once inside, but to save time and money, it's best to purchase the Heritage Package as soon as you arrive.
Theatre Royal  
Step right up, grab a popcorn and settle down for the show. Depending on which day you are visiting, a couple of different shows are offered a few times a day. We watched Mrs. McGinley's Barkerville Variety Show, a humorous show set in the 1860's. This all ages show had us laughing, clapping and dancing right out of our seats! Don't forget to stay after the show to have your photo taken with the performers.
Stagecoach Rides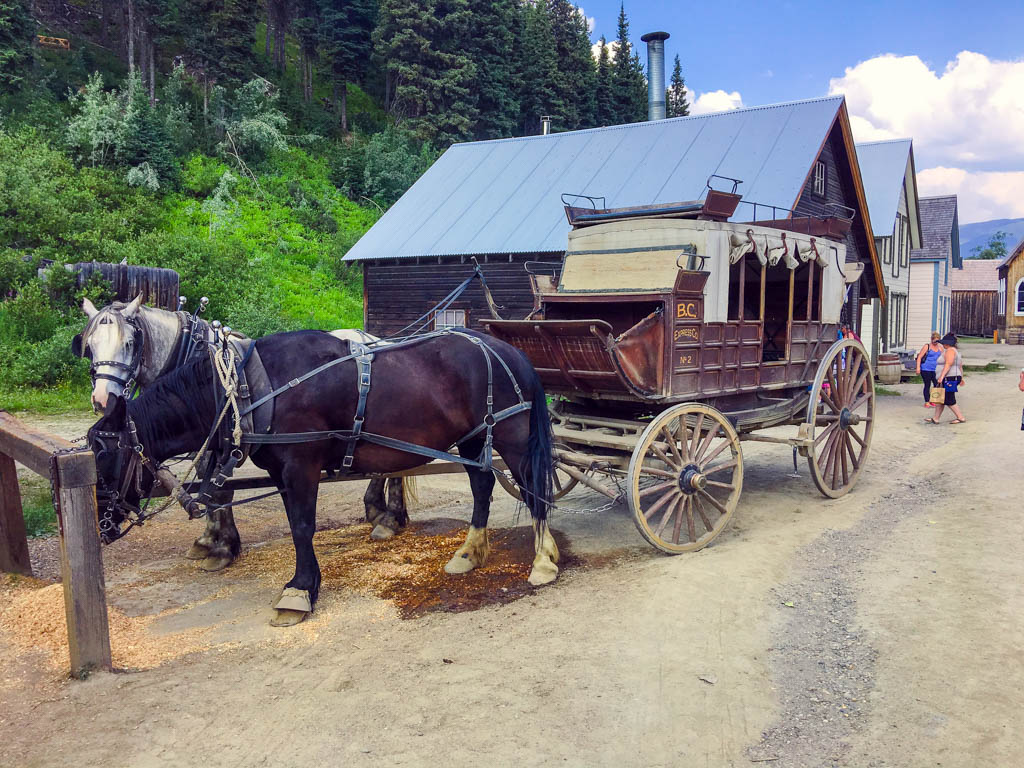 Visit the Barnard's Express Office and hop aboard an authentic stagecoach for a horse-drawn tour of Barkerville. Barnard's freighting company helped shape communication and travel to and from the town and was the main passenger service on the Cariboo Wagon Road. This tour around town gives you a different perspective of the town, especially if you choose the seats on the roof!
Mom Tip: This is a very popular attraction in town, so be sure to visit the office as soon as you arrive, and sign up for a specific ride time, so you don't miss out on a stagecoach ride.
Gold Panning
A visit to Barkerville wouldn't be complete without trying your hand at striking it rich! Head over to the Eldorado Gold Panning and Gift Shop and give it a try. An experienced staff member will walk you through all the steps of how to pan for gold and share the best techniques so you can be successful in your panning experience. Maybe you will hit the jackpot!
Guided Town Tour
Check the daily schedule, and join in on one of the guided historic walking tours of Barkerville. Join a few of Barkerville's "residents" for this entertaining and informative tour up the main street of town. Learn about how the town was built, what life was like for the people in town and what ultimately led to the demise and ghosting of Barkerville.
Schoolhouse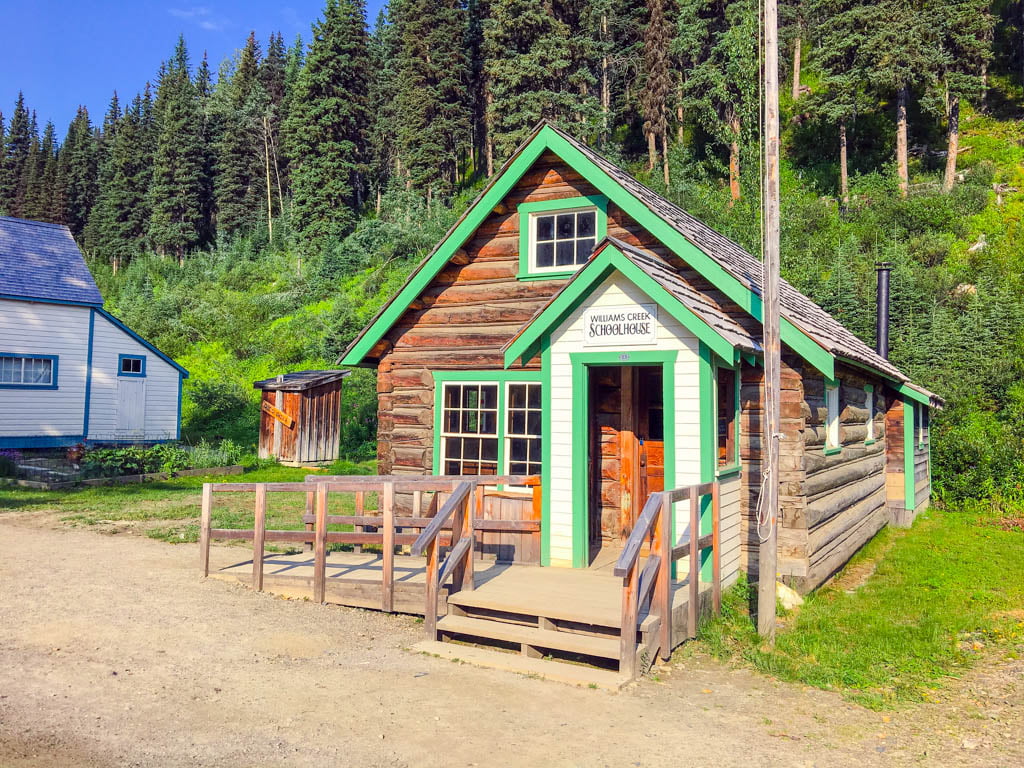 Do you want to know how school was for kids in the 1860's? Make sure you stop in to the Williams Creek Schoolhouse and have a full-immersion lesson in a Victorian classroom. The schoolhouse is also open for exploring during non-lesson times as well. This is a great stop for kids and can also be quite an eye opening experience!
Mom Tip: Check the daily schedule to see what times the lessons are held at. Due to the intensity of having to focus and sit for the lessons, it's suggested that it is not suitable for children under the age of 6.
Dining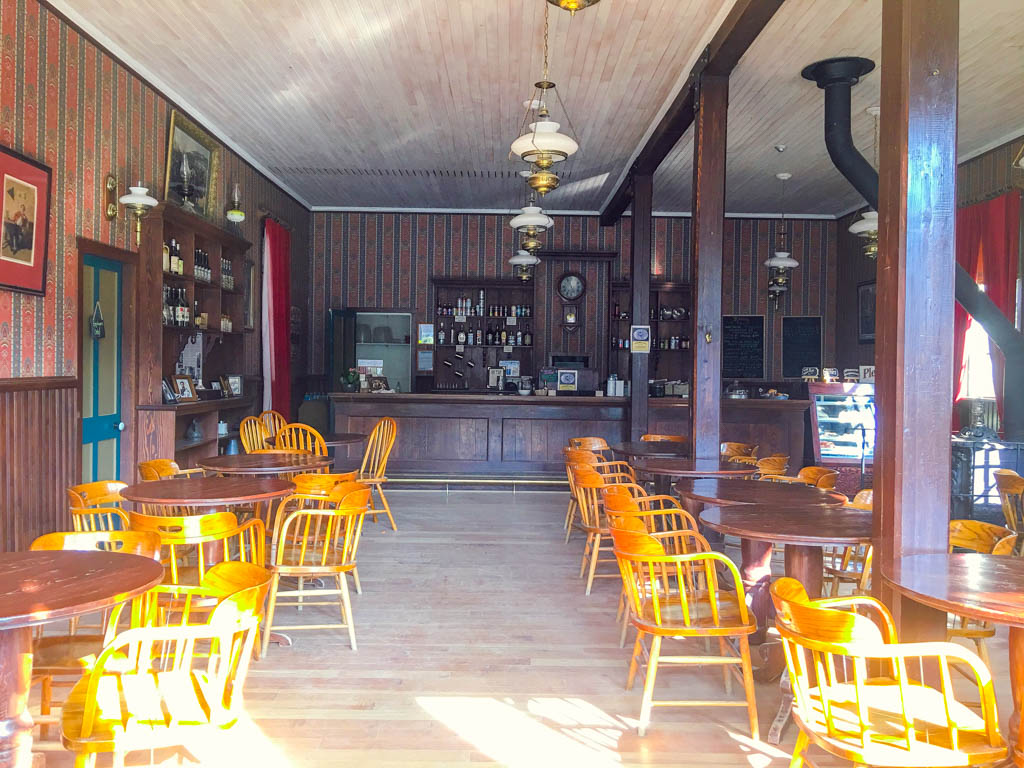 There are plenty of food options inside of Barkerville. Have a sit-down meal at the Wake Up Jake Restaurant & Coffee Saloon. Grab a quick sandwich and an old fashioned root beer at the House Hotel Coffee Saloon. Indulge in some authentic Chinese cuisine and Dim Sum snacks at the Lung Duck Tong Restaurant in the Chinatown area of town. Stop in for some sweets, fudge and ice cream at the Frank J. McMahon's Confectionary store. Pop in for some famous sourdough bread at the Goldfield Bakery. There are so many food options, that there is something to fulfill everyone in the family!
The Waterwheel Show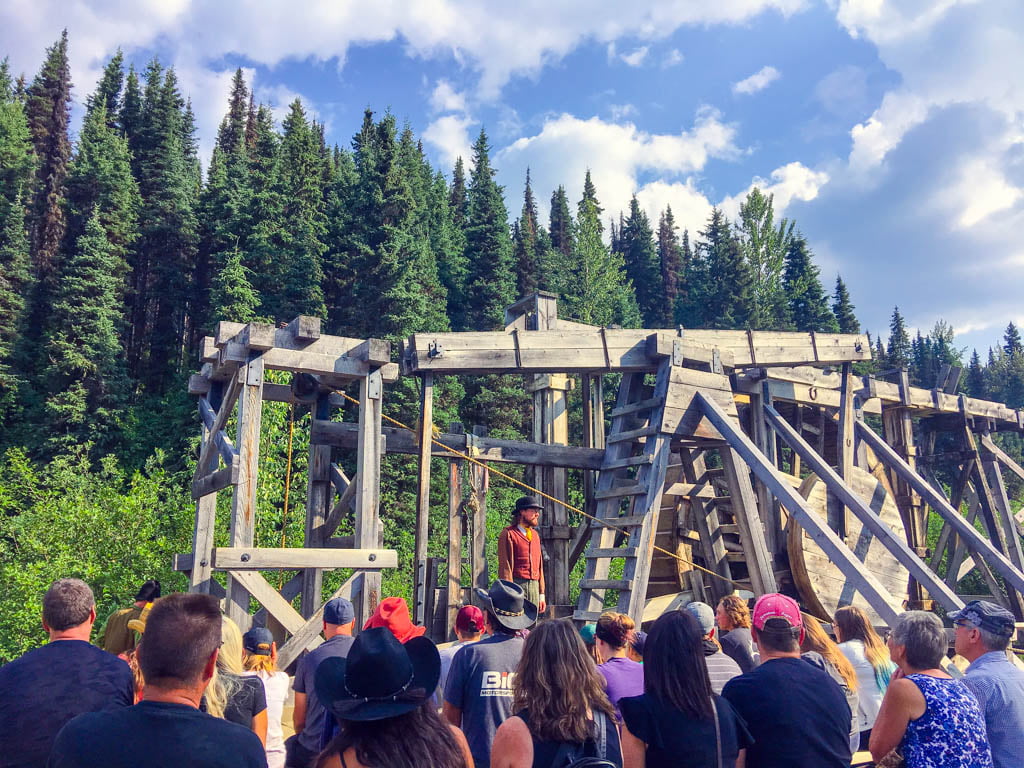 This interactive and entertaining show will teach you all about the mining ways in the Cariboo. Learn about how the gold miners ended up in the Cariboo and what their lives were like. Watch the Cornish Waterwheel in operation and how miners were able to use it in many aspects in the gold retrieval process.
Not only is Barkerville an incredibly fun and exciting family attraction, it's also a very educational and interactive destination. The kids will love running around peeking into all the buildings, taking part in school programs, searching for gold, exploring the artifacts and immersing themselves into the Gold Rush days of BC!
Want to see more of the Ultimate BC Family Road Trip? Check out these articles!
Hot Springs, Hiking & Humpbacks in Tofino
Getting Real Close With The Raptors
The Ultimate Underground Eco-Tour -Caving.
Is this a sponsored post?: While we were graciously hosted by the Historic Town of Barkerville, all of our opinions and experiences are our own.