We were supposed to be heading to cooking classes in San Jose del Cabo. The twisting road led past twenty-foot-high clumps of Mexican weeping bamboo and down onto the dusty bottom of a wide, dried up river bed. I began to wonder if Edgar, our excellent driver, had finally made a wrong turn. But Edgar maintained his perfect record – we popped up the far bank, turned a corner and entered the grounds of Huerta Los Tamarindos farm-to-table restaurant.
Huerta Los Tamarindos
'Huerta' can be translated as 'garden' or 'vegetable garden', and accurately describes the Los Tamarindos grounds. The restaurant itself sits on a knoll overlooking the farm that lies in the shallow valley below it. Once a sugar cane farm, the 18th century farmhouse has been updated and makes a historic setting for the restaurant, with a cooling breeze blowing through the open-sided, shaded main floor. Hint – a quick climb up the black-iron spiral staircase leads you to the small rooftop patio area and affords a good view of the farm below to help you get your bearings. Just before ten (lessons and lunch run from 10am until 2pm) we were met by our host and guide, twenty-one-year-old Aldo, who explained the plan for the day, before leading us down a vine-covered walkway to the garden below. If we were going to have a cooking lesson, we needed something to cook.
The Farm
Aldo, the nephew of owner Enrique Silva, led us through the rows of herbs and gave us a brief history of the property. When his uncle purchased the land, it came with three gifts – a pair of mango trees and, most importantly, a well. Permission to dig wells in Los Cabos is difficult to come by, as the aquifer is highly protected. Access to reliable water has allowed the farm to flourish.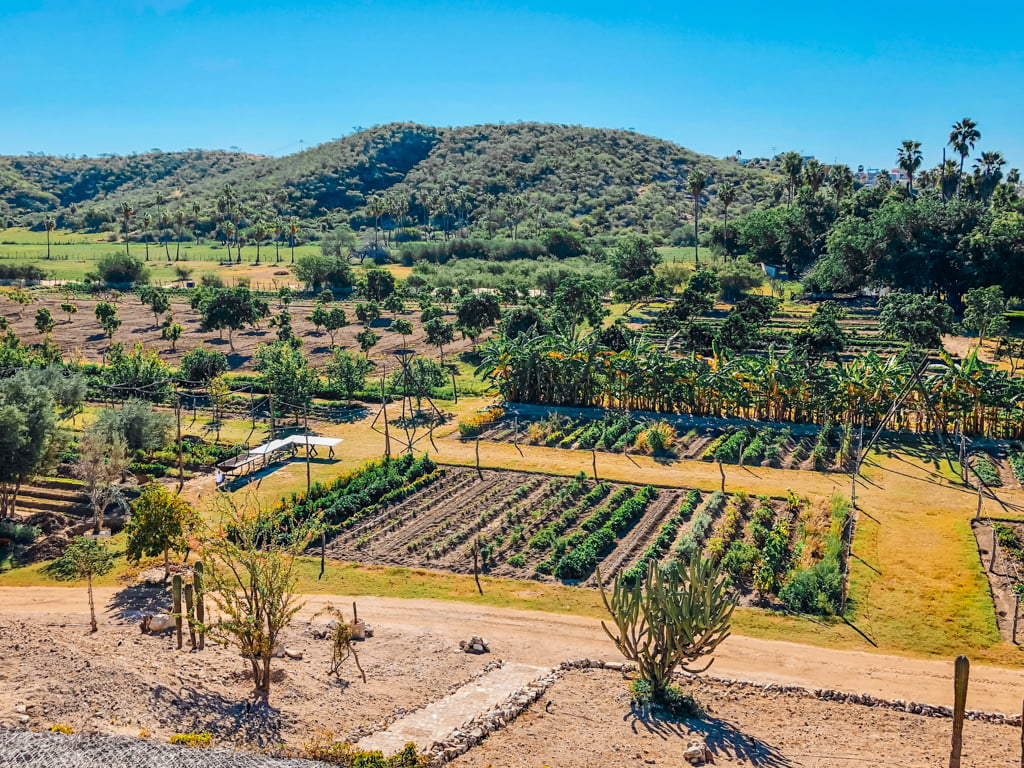 The fifteen-acre farm uses organic practices to produce the majority of herbs and produce the restaurant needs. Yet again, sustainability was front and centre. We meandered along the rows and collected a basket of herbs and vegetables including basil, peppers and eggplants, while getting to know our fellow cooking classmates. I had to smile, thinking that if my kids were with me, they would be asking me why my garden didn't grow veggies so well.
Class Is In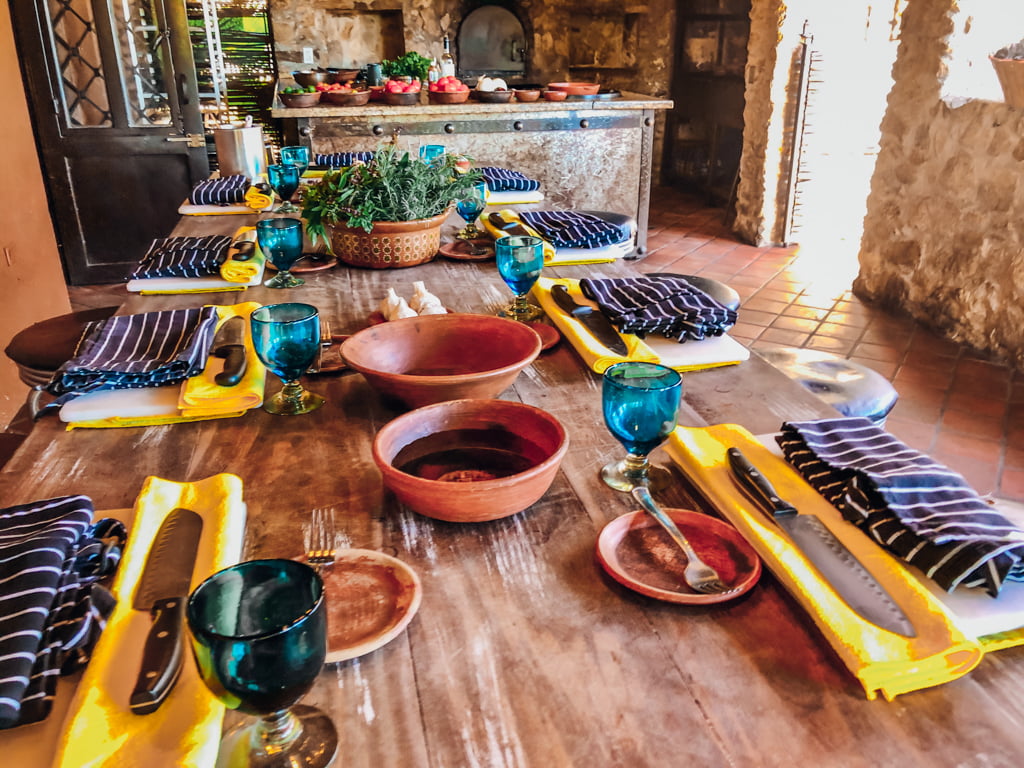 After returning to the restaurant, we each found a cooking station at the large table next to the restaurant's brick oven and cooking area. Each place had a cutting board, a black and white striped apron, a yellow towel and a properly sharp knife which made me ask about kids participating in the class. Aldo assured me that many kids participate, under parental guidance, and that they could provide smaller knives or other tasks for them to be involved. Also, kids are half price – a nice touch.
In addition to the class, meals were being prepared for diners at the restaurant, so there were cooks going about their business, while Aldo doled out tomatoes and basil and garlic and onion to be chopped. We prepared the ceviche first, so the shrimp could cook in the fresh-squeezed lime juice for the required half hour. At one point, a pot of freshly boiled octopus went by; definitely something I don't see everyday!
As the meal prep progressed, we were invited in turns to help with sautéing the veggies, frying the sea bass, and blending the sauces. Smoky smells from the oven and our own cooking came and went with the air currents. The conversation was flowing, and before I knew it, we were done and it was time to move to another table in the restaurant area proper, to eat.
The Taste Test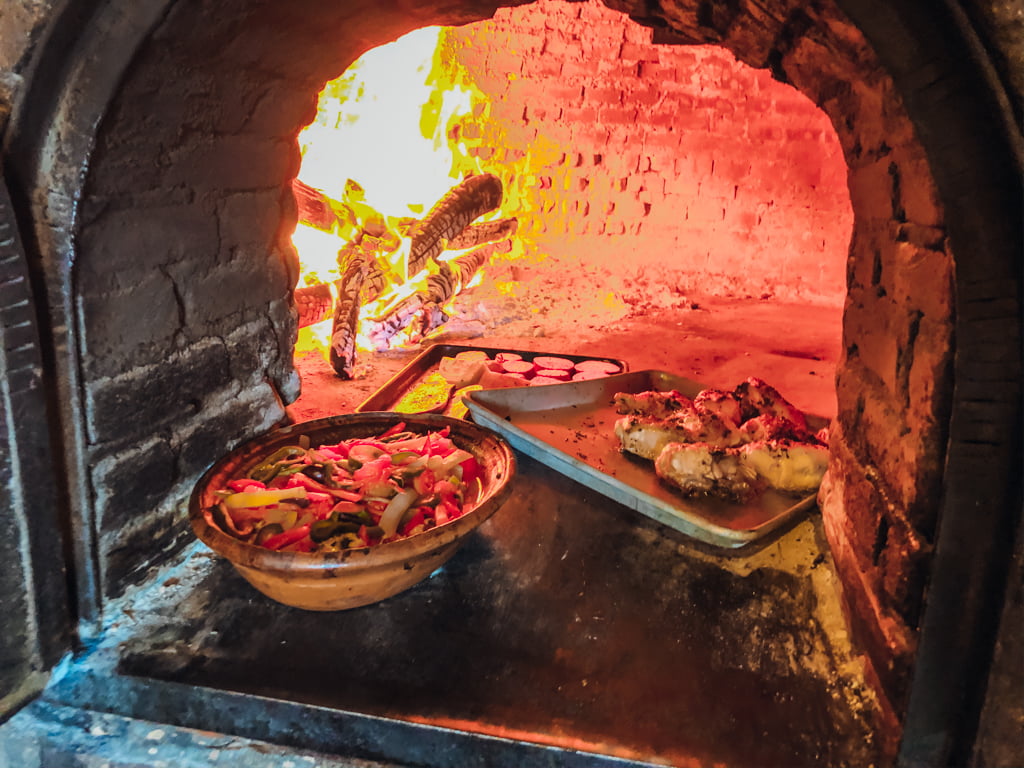 One of the things I love about eating in Mexico, besides the food, is the fact that you eat outside pretty much year-round. You aren't going to be too cold. If anything, you will be too hot, but as long as you have shade and a bit of a breeze, as we did at Los Tamarindos, you are going to be comfortable. The early afternoon lunch was spent looking out from the covered area to the farm, eating taste-filled food I helped prepare, and getting to know new people. It was simply wonderful.
Another trait of Mexican businesses I was becoming aware of was how they support one another. We sat down to eat and Aldo explained that the plates were hand-made by a Mexican artisan. Many of the people working in Los Cabos were not born there. Like many tourist destinations, workers come from far and wide for steady jobs and they bring a little of there own regional distinctiveness with them.
All too soon, Edgar had picked us up and we were headed back across the bumpy river bed. There is something fulfilling about trying something new. Sure, it was just a cooking class, but it was in a new place, with new people. Another day in Los Cabos, and another new experience. But the experience I was looking forward to most, and, at the same time, was most terrified of, was yet to come. I put it out of my head – the more I thought about it, the more nervous I became.
---
Are you traveling to Mexico? Check out these other Los Cabos articles for inspiration!
Is this a sponsored post?: Yes, while our cooking classes in San Jose Del Cabo was a sponsored activity, all of our thoughts, views and opinions are our own.