I'll never forget the look on his face when I told him that we were going on a helicopter ride!
You see, ever since his big sister got to go on a helicopter tour at a local "Girls Fly Too" event, he's been asking me when his turn will be.  So standing in the kitchen of our room I told him that I had a special surprise… the time had finally come for him to fly! His reaction was priceless… a combination of confusion and excitement, as well as a little bit of boasting as his sister asked what the fuss was about. His articulation lacking the big word, he managed to sputter, "helicopter ride!"
It was a long two days filled with excitement as he asked all types of questions about the helicopter tour, and loved looking up into the sky and waving at the other helicopters saying, "That will be us, mommy!".
The day finally came and the weather gods were on our side. It was a beautiful and warm day with no winds and unlimited visibility. We put on our dark clothes (to avoid the reflection in our pictures) and headed off to Safari Helicopter Tours for our debriefing.
My excited son who had been jumping off the walls for two days suddenly got very serious. He could tell that the safety briefing was all business and that he needed to sit down and pay attention. But after a 10 minute run through of everything from life jackets to safety exits, we were on our way to the helicopter and ready to board.
I absolutely loved how serious and stern my son's demeanor became. He knew there was no messing around and paid close attention to the tour guide as she led us to the helicopter. But he couldn't keep his excitement in as she guided him to the front seat where he got to sit right next to the pilot!
And with that we were off… the sound track to Indiana Jones playing in our head phones. This was appropriate as within minutes we'd be flying over our first point of interest, the river where the opening scenes of Indiana Jones was filmed.
The rest of the tour was perfectly choreographed with music playing that matched what we were looking at, along with our AMAZING pilot providing stories, facts, and history tidbits along the way. We were encouraged to ask questions, which my son absolutely loved doing, even though his questions weren't so much questions as statements and excuses to use the fancy microphone!
While the whole 45 minute tour was absolutely incredible, here's some of my top trip highlights:
Take Off
There's nothing like the ball of excitement that sits in your stomach when you take off on a flight, and what makes it even better is coming up over the helicopter to unveil this incredible view!
Jurassic Park Waterfall
Remember the scene in Jurassic Park where they landed the helicopter? That took place right at the base of this huge waterfall!
Waimea Canyon
Kauai's own Grand Canyon and this place is more incredible than words can describe. We had driven through the canyon earlier in the week but flying into the canyon was a whole other experience.
Na Pali Coastline
Accessible only by water or air, the Na Pali coastline is a geographical marvel that is amazing to experience! We felt like explorers when our pilot flew us down one of the steep caverns. Be sure to watch our video at the bottom to see what it's like for yourself!
North Coast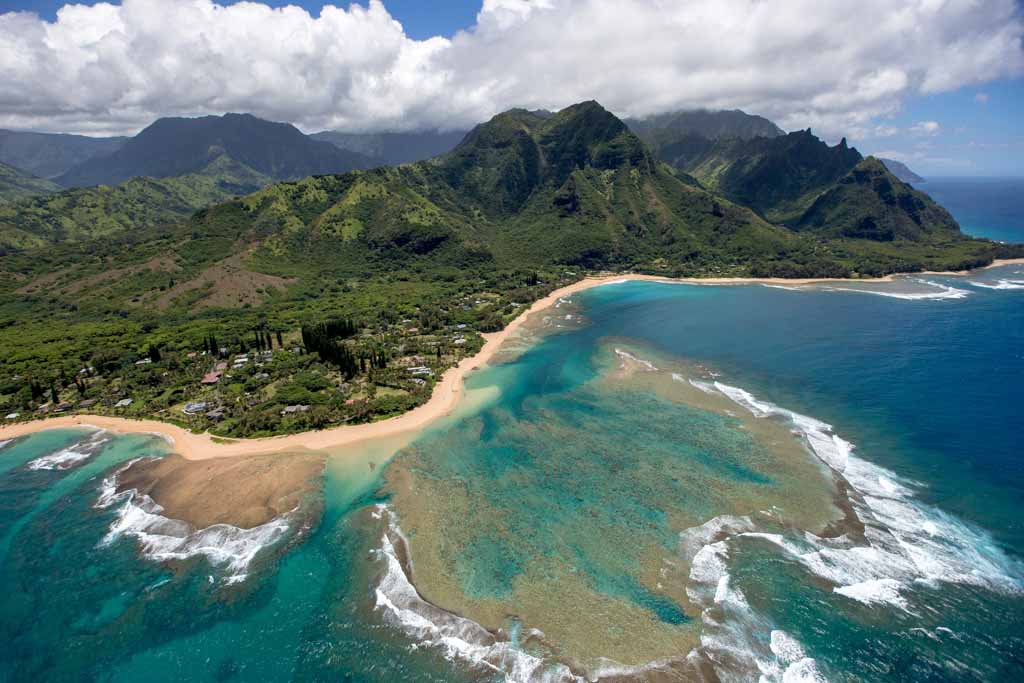 Just around the corner from the Na Pali coastline is the North Coast, where we spent our last few days on the island. Check out the incredible reefs, white sandy beaches and huge waves.
Hanalei Colony Resort
One of our most magical experiences was our stay at Hanalei Colony Resort. Looking down at it from the air, you can see why! Our room overlooked the water and we got to play on that beach all day! I'm already dreaming of my next trip back!
Whale Watching
While we didn't get to see any whales, it was super cool to fly out over the water and look for them!
Flying Inside a Volcano
Have you ever wondered what it's like inside a volcano? We flew right into the center of Kauai's volcano and it was as magical as you'd expect!
Once in a Lifetime Experience
Thank you so much to Tourism Kauai for recommending this experience. I can honestly say it was one of the biggest highlights of our trip and one of my most favorite memories with my son. Thank you to Safari Tours for an educational and entertaining adventure, I know it'll be one we will never forget!
Is this a sponsored post?: Yes, however we take the responsibility of shared posts VERY seriously and only work with partners we can wholeheartedly recommend and services we would purchase ourselves.
Looking to plan the ultimate family trip to Kauai? Check out our other stories and recommendations: