Do you have a kid who loves camping and the great outdoors? Looking to put something under the tree that will actually be played with long into 2019?
We've compiled our list of the best outdoor gifts for kids! So when Grandmas and Aunties ask what to get the kids for Christmas this year… send them this list!
Zip Line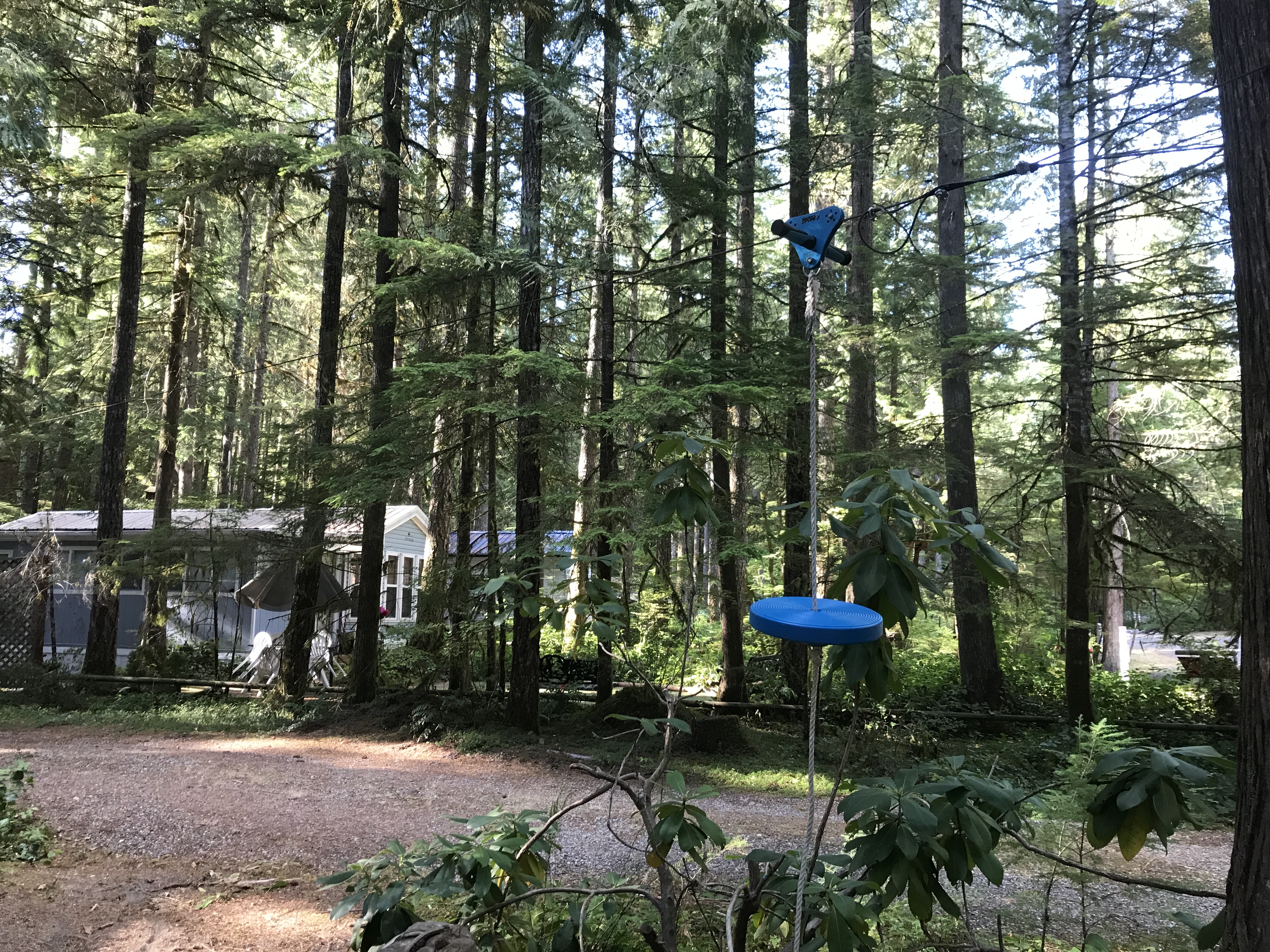 Did you know that you can have your very own zip line? Whether you have a recreational property or want to hang it in your backyard, this is a gift that the kids will enjoy playing with year-round. Ranging in lengths from 40-100 feet, this toy is guaranteed to make your place kid central! We've had this one for a few years and hundreds of zips later, it's still going strong!
Slack Line
Fun for kids and adults alike, a slackline is the perfect camping accessory. Packing up small, this toy will fit in every camper's vehicle, whether you're tenting or driving a motorhome. Set up the slackline when you first arrive at your campsite and the kids will be entertained while you can settle and set up camp. There are lots on the market, but we highly recommend this one.
Giant Jenga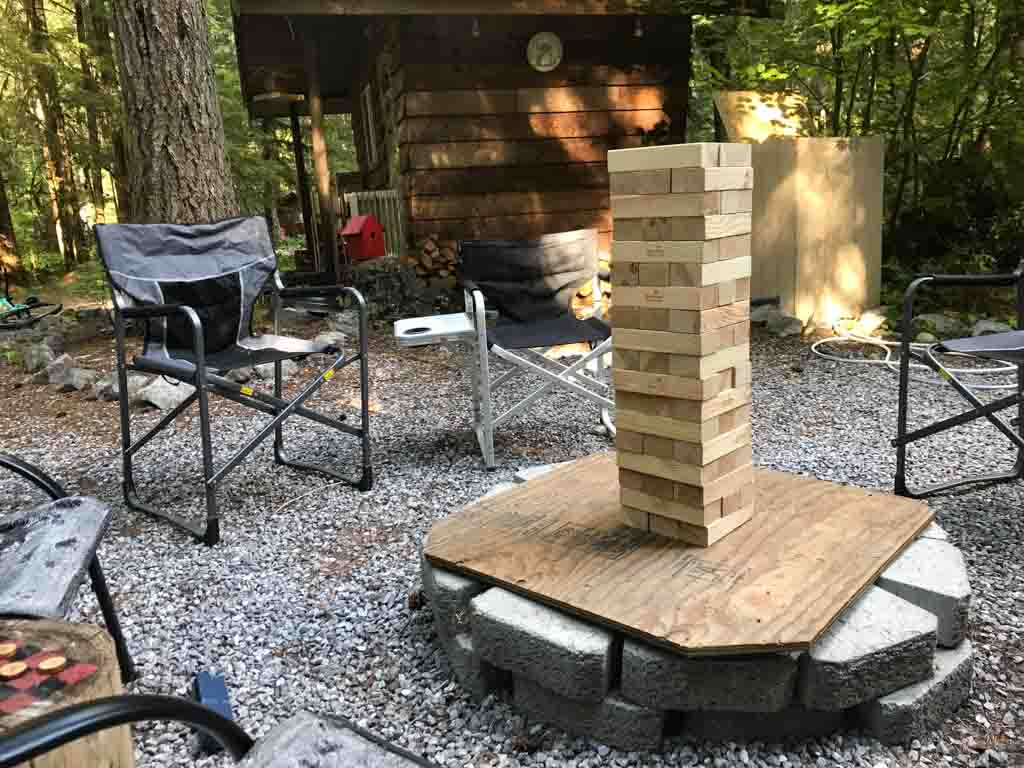 Every year around July campfire bans come into place leaving the middle of our site lacking a centrepiece to gather around. This year we set up our giant Jenga and took turns trying to see who could build the highest tower… bringing back entertainment and activity to our fire pit! Get yours here.
Hammock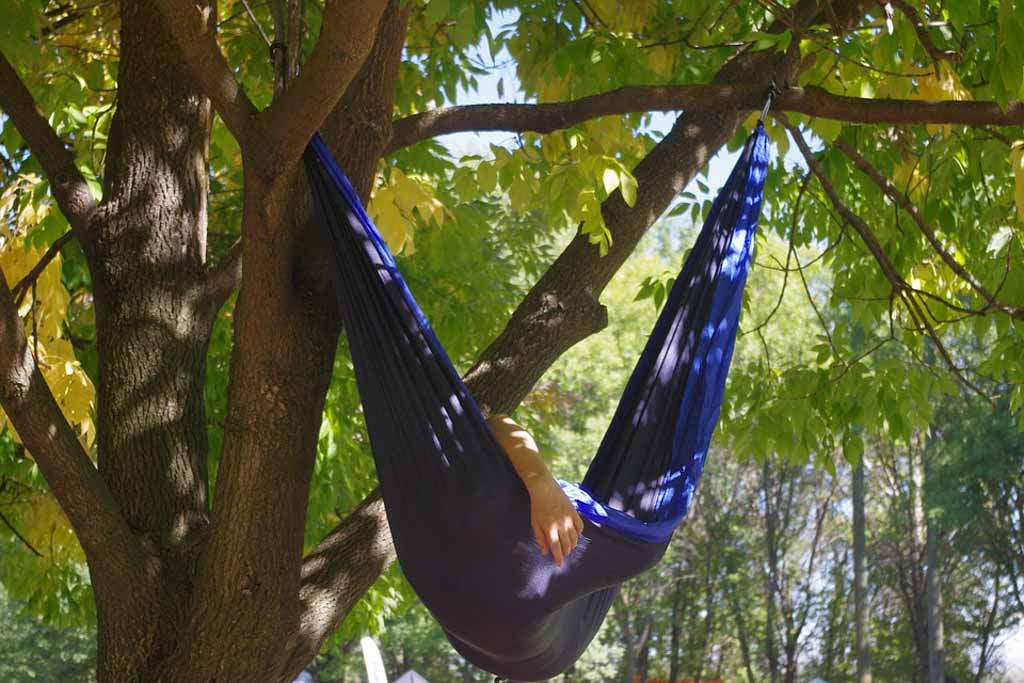 Give a kid a hammock and you'll give them hours of play. While originally intended for rest and relaxation kids love to swing and play in hammocks. Find a little hideout in the trees and set it up for the weekend! Parachute fabric hammocks are lightweight, pack up small and are another great addition to your camping gear.
Rope Ladder
Who doesn't love climbing and swinging through the trees? Embrace your inner Tarzan and let the kids climb and swing back and forth for hours on end. Be sure to set up protection measures for the trees so that no damage is done by the rope ladder.
Hideaway Pods
From reading books to hiding away from the sun, these pods are a big hit with the little kids. Easy to hang both outdoors or indoors, these little hideaway pods give kids a unique space all to their own.
Kids Disc Golf
Disc golf is a growing sport and why should adults get to have all the fun. Build your own, kid-friendly disc golf course on your property! 
Bow & Arrow
Let your child embrace their inner Merida and take a turn at learning how to do archery. Child size bows make for an easier and more fun experience for kids (no sore fingers). This can be a dangerous activity if safety precautions are not put in place. In our campsite, we have strict rules including age, no-go zone, a process for firing and collecting arrows… and no shooting after dark!
Campfire Snack Kit
Nothing makes for the perfect campfire like s'mores and snacks! Put together a basket of your favourites and wrap it up making the perfect gift. May we recommend graham crackers, marshmallows, chocolate, Oreo cookies, licorice, and gummy candies. The best part? All of your supplies are available at your local grocery store. Oh and don't forget the roasting sticks!
Outdoor Movie Theatre
If you're looking to splurge, an outdoor movie theatre may be the best present ever. New inflatable screens take outdoor family movies to a whole new level. Complete with projection and sound, this present will be a huge win both under the Christmas tree and throughout the whole Summer!
Ride-On Toys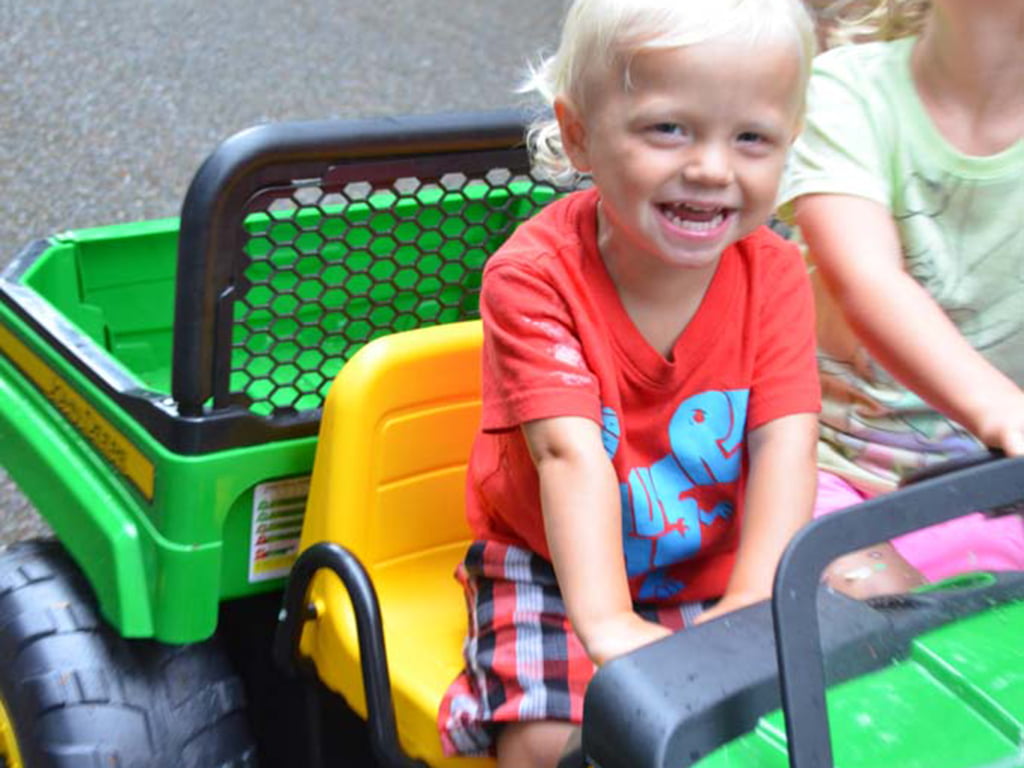 There's nothing like cruising through the hood with your own set of wheels! Whether it's a battery-operated John deer tractor or a mini RZR ride on, kids loved being able to ride long distances that campgrounds offer.
Wall of Armour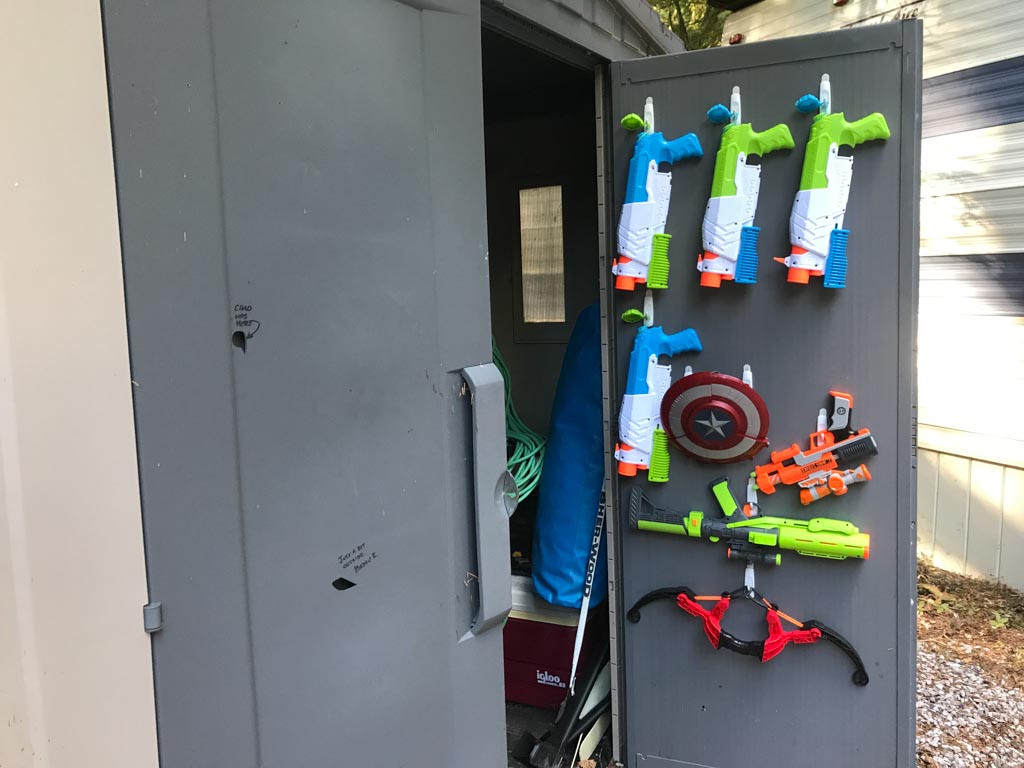 Arm everyone with their own Nerf gun and have a wide-open game at the campground. Be sure you buy bulk bullets to keep the fun going longer! At the end of the day, everyone can hang up their weapons (for safekeeping). We used handy 3M hooks. So arm everyone with a Nerf gun and this cool starter kit complete with vest, bullets, mask and eye protection and let the fun begin!
Telescope
Late summer nights staring up at the stars is what summer is all about. Get a telescope for the kids and let them learn about the constellations and stars that they are gazing upon. A great app to purchase is the StarGazer App, which helps show kids what they are looking at in real-time!
Giant Inflatable Ball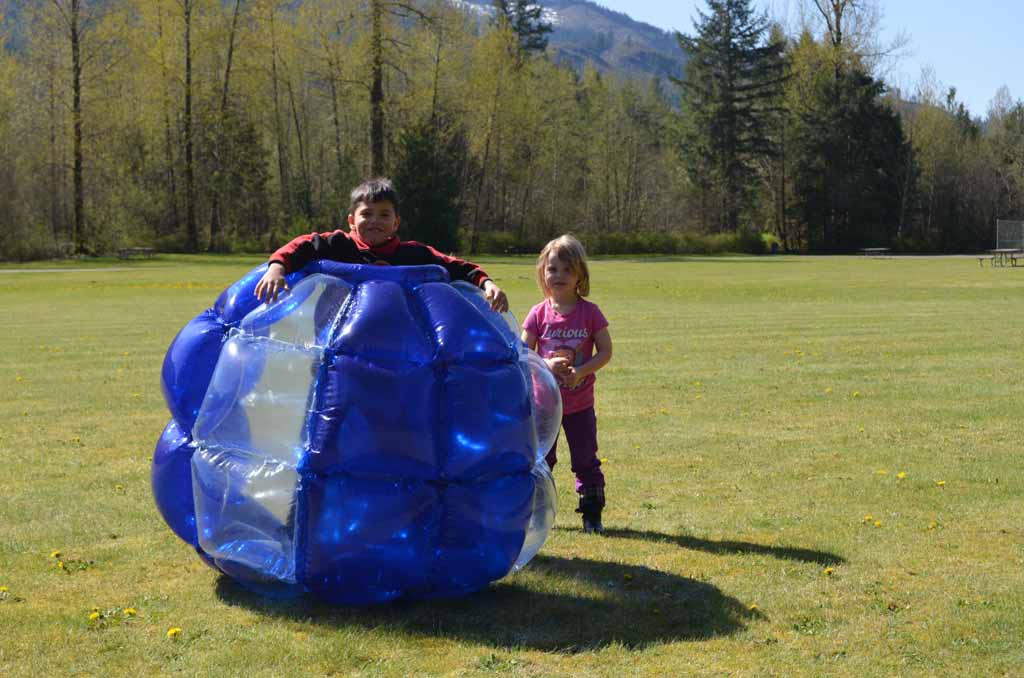 Just roll it around or climb in and feel like you are taking a spin in a human hamster wheel. Get two and have the ultimate bumping and rolling experience. This giant inflatable ball is sure to get the kids moving and laughing for hours!
Kids Cars and Trucks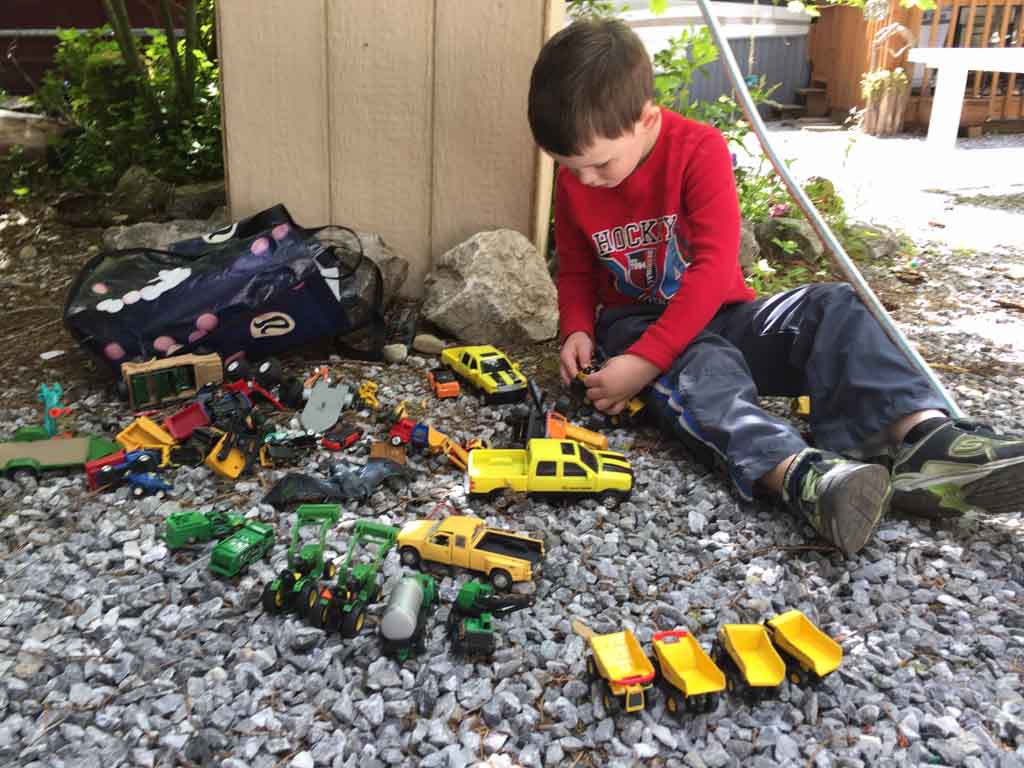 Let your little one build a town and play in the dirt with cars, trucks, and construction toys. There's no limit to the imagination and the forest is the perfect place to build a whole new town!
And now for the best outdoor gifts for kids that are crafty…
Fairy Houses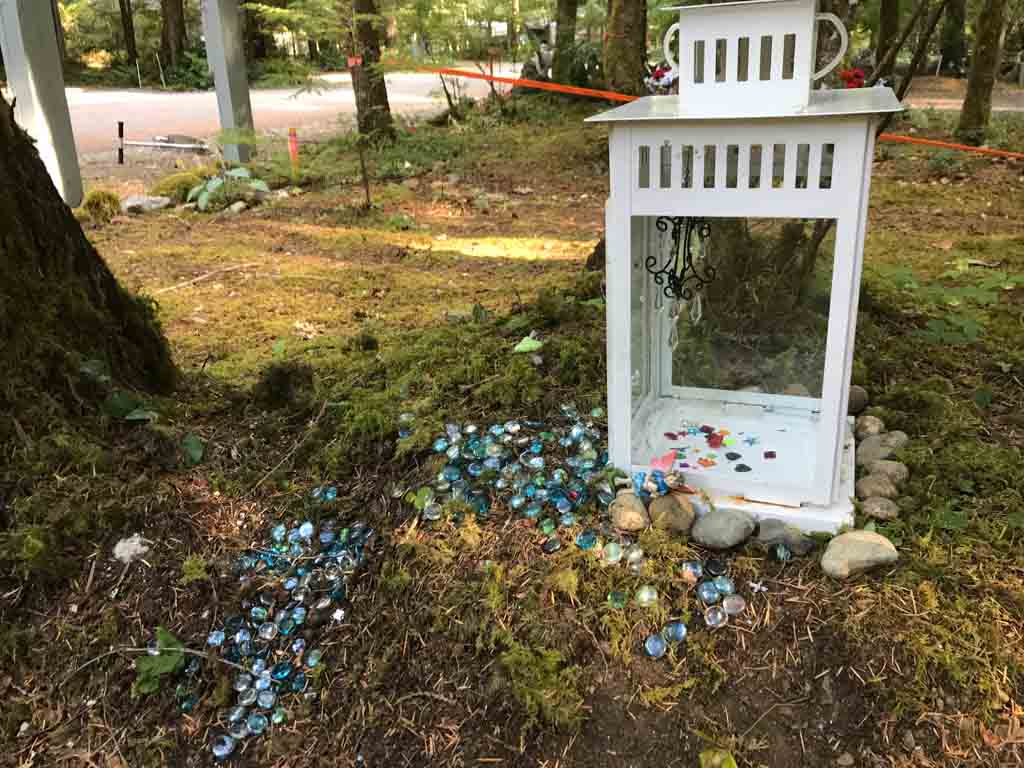 At our campsite, fairy gardens are a part of our daily routine. From waking up in the morning to see if they left behind any fairy dust or special jewels, to spending the day building them additions to their homes and new places to play. The fairies are an unseen but yet important part of our campsite community. There are many fairy house craft kits to get you started.
Perler Beads
Looking for a quiet activity during hot summer days? Perler beads are the ultimate craft as they are suitable for a wide age group and creations are only limited by your imagination. Our kids spend HOURS, literally hours creating. Just set up a craft table at camp, give your kids a jar of beads and let the kids go wild!
DIY Checkerboard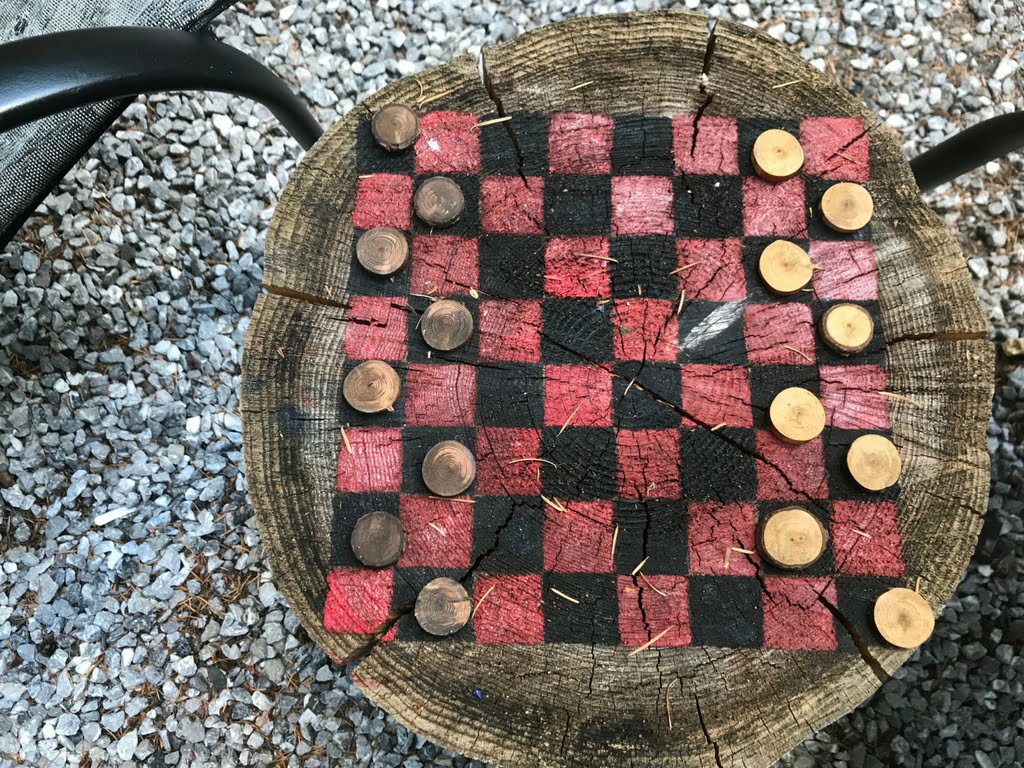 Before a log is sliced and diced for the campfire save it as a side table and turn it into a DIY checkerboard. Make your own checkers out of a large stick cut into perfect circles. We used acrylic paints and stain to make this set.
Wood Burning Pen
These pens are a safe and fun way for kids to get creative. Whether they are working on a new creation or making a special gift this is the perfect campfire craft accessory!
With this list of the best outdoor gifts for kids, you are bound to bring smiles of happiness and shouts of joy to your outdoor-loving children this Christmas. And parents will be happy to know that the kids will be entertained for hours surrounded by nature!
Do you adore the holidays as much as we do? Here are some great articles to inspire your holiday idea lists!
Is this a sponsored post?: No, we were not paid for this post. We simply want to share the best outdoor gifts for kids that we have and love with our followers!