Breaking out our best zombie dance seemed like the only appropriate way to transition from one part of the HowlOver Canada attraction to the next. The flickering lanterns overhead, mixed between cobwebs, spiders, and oozing candles set the scene. The spooky (yet oddly upbeat and fun) Halloween music had us dancing as we officially kicked off the Halloween Season at FlyOver Canada.
HowlOver Halloween
HowlOver Halloween is the perfect family-friendly Halloween activity in Vancouver. Children will love joining "Biker Mama" the witch, on an unforgettable Halloween themed flight over Canada. The show ends with a Halloween music festival, where your VIP tickets bring you in backstage and let you soar over the massive crowd that leaves you feeling like a rockstar.
Pre-Flight Clearance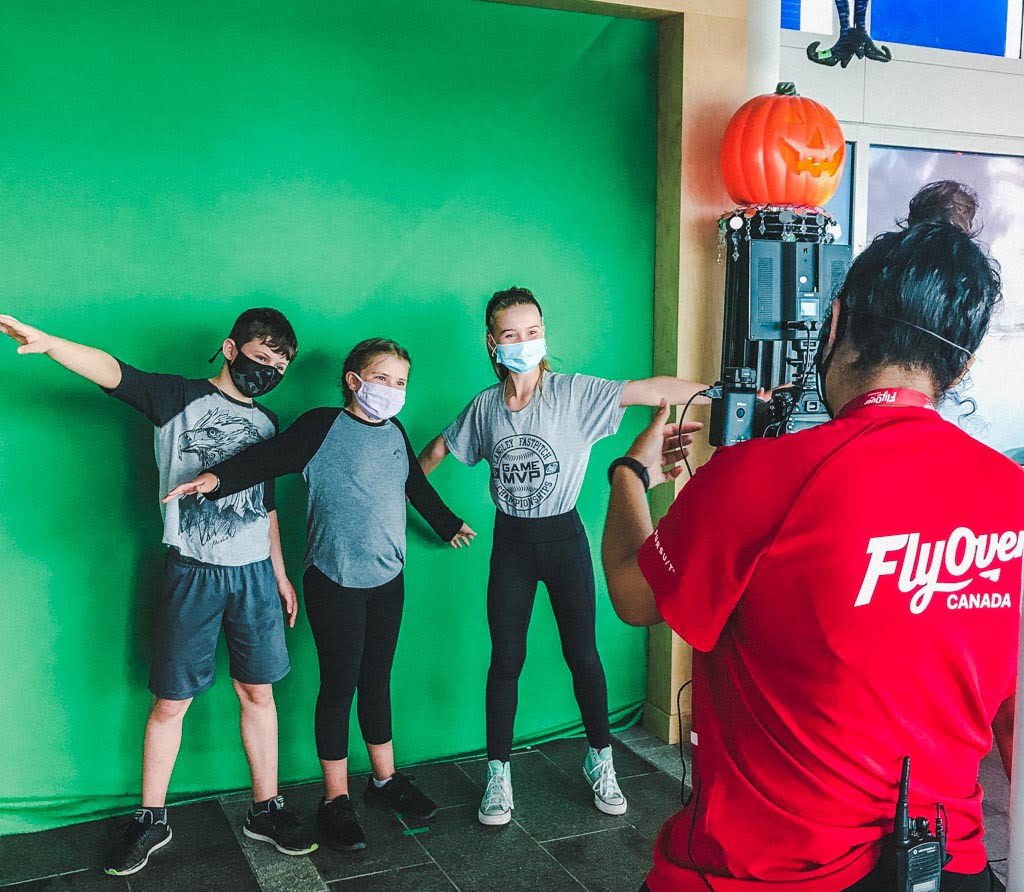 Before your crew can be ready to take off, they must go through security clearance… which at HowlOver Canada includes the following safety check:
Masks – Check

Hand Sanitizer – Check

Fun Keepsake Photo – Check!
We were really impressed with all of the safety measures that were in place, that ensured a safe guest experience but also didn't interfere with the adventure either.
HowlOver Canada Preshow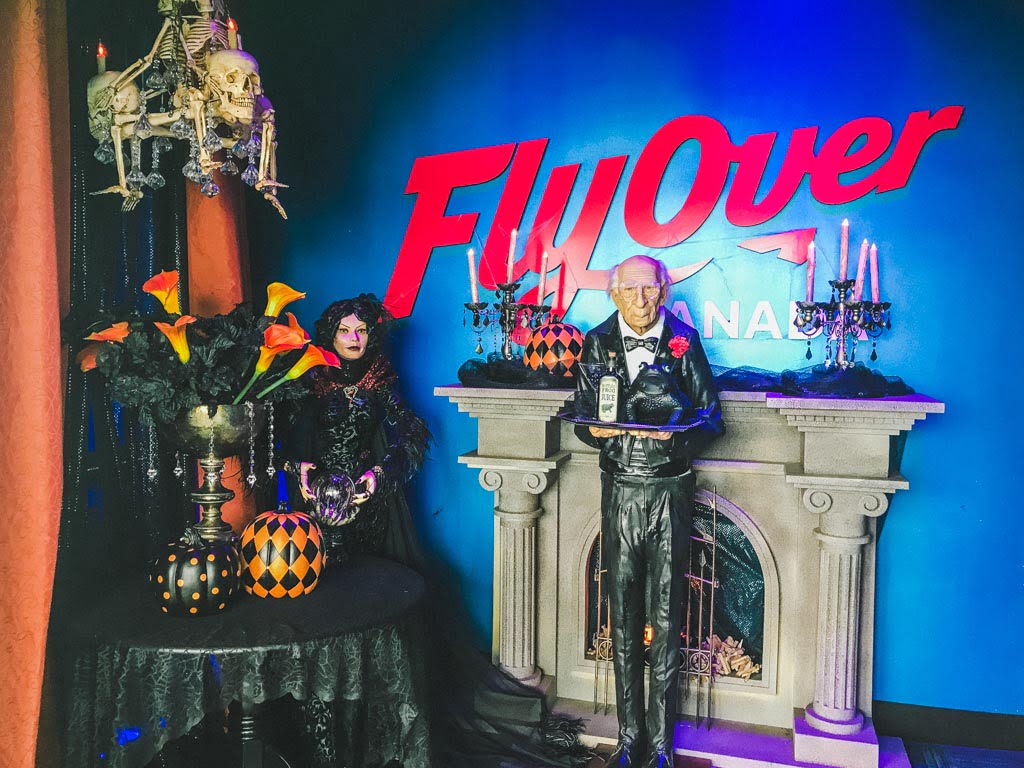 One of the reasons I go back to FlyOver Canada, again and again, is because each time we go it's a completely different experience. The pre-show for the HowlOver Canada was no exception, with their decor going to a whole new level, embracing the spirit of Halloween with the unique mix of antique and vintage decor combined with elements to ensure it was always family-friendly and not too scary for the littles!
Taking Flight This Halloween
While traditional travel has come to a standstill. I have to say I was pretty excited to be putting on a seatbelt and preparing for take-off once again! Biker Mama replaced our regular flight attendant and it was fun to launch out into the clouds and chase her around Canada. The best part of the Halloween edition of the show as the finale, when we navigated through a graveyard and ended up at a Halloween concert, a rock show like no other!
And while I'd love to show you more from the show, for your safety there's no photography allowed inside the show. But in reality, it is something you have to experience and a photo just wouldn't do it justice!
A Two-Eyed Chocolate Cake Pop? I'll Take Two, Please!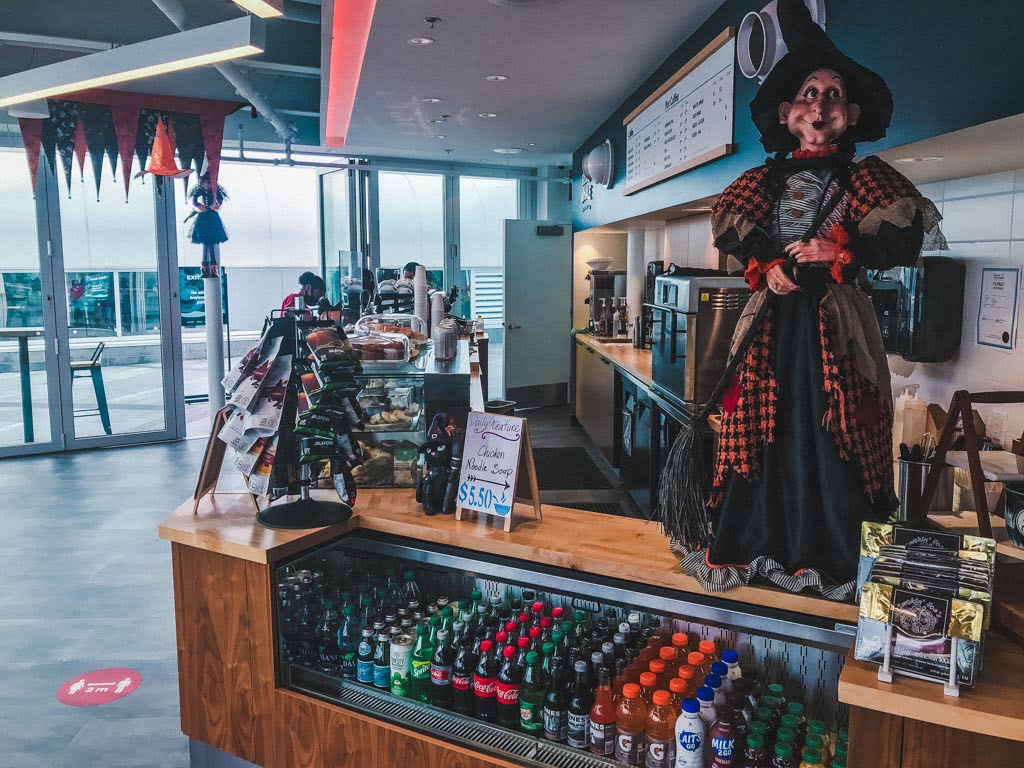 There's nothing like stopping for some fun eats and sweets after the show… isn't that what Halloween is all about! From sugary treats for the littles to more decadent indulgences for the adults, the on-site cafe is a great place to sit and enjoy the view and share your post-show highlights with the family.
Stock Up and Shop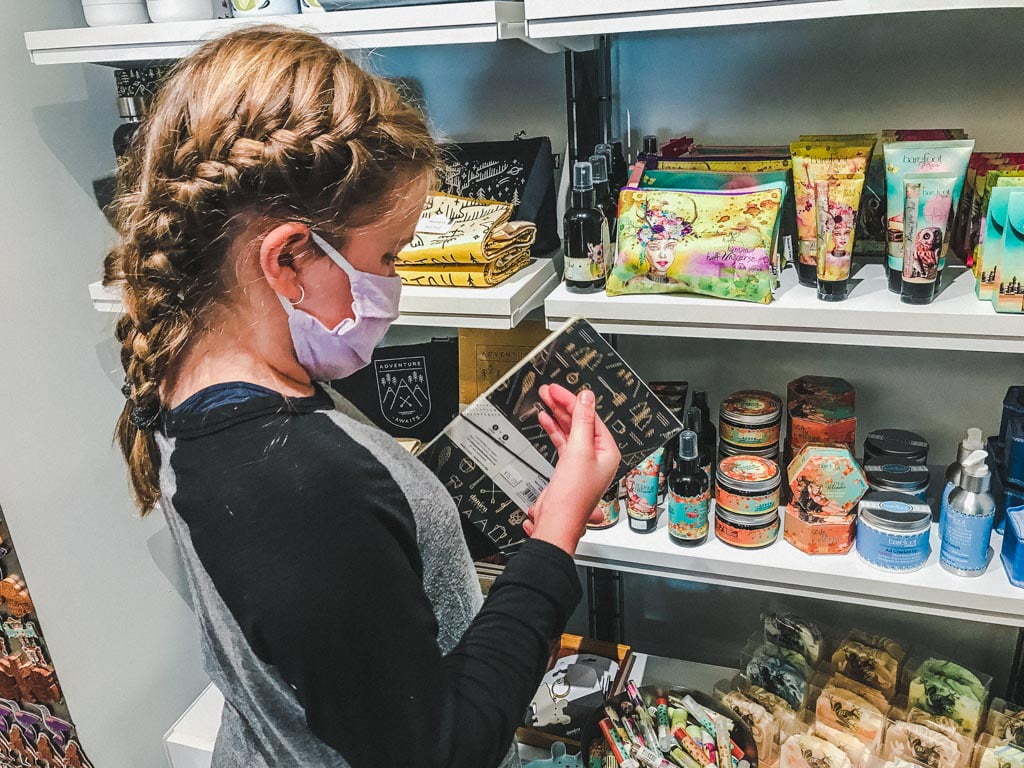 The FlyOver Canada store is stocked with a variety of locally sourced treasures that locals and tourists can both enjoy. Every time we visit my children either find something for themselves or the perfect gift for us to purchase for an upcoming birthday (or in this case, Christmas!). And with all the "Adventure Awaits" themed content they had this year, it was hard not to stock up on items for my own home!
Costumes Encouraged!
While we didn't have the chance to get dressed up for the occasion, we wish we would have come in costume! Especially celebratory for the little kids, it's a great way to add another level of fun to your HowlOver Canada experience.
How To Book Your HowlOver Canada Adventure!
Whether you're looking to bring the grandparents down for some Halloween fun, book a family SundayFunday or looking for fun ways to safely celebrate the season, your HowlOver Canada adventure is the perfect fit. To book your flight head on over to HowlOver Canada and reserve your seats for your next flight today!
---
Looking for more fall-friendly activities? Check out these articles for inspiration!
Is this a sponsored post?: Yes, while we were graciously invited to enjoy the HowlOver Canada experience, all of our views and opinions are our own.