Is Sasquatch Mountain Resort family friendly? My daughter posed for a picture with the Sasquatch while she waited in line for her first trip up the all new Yeti Cruiser quad chair. It had been a rough morning – she is a fairly new skier, and I had pushed her a little too hard, too early in the day, when she was still getting her ski legs back from last season. But now, after a hug from the big hairy guy himself, she was beaming, and ready to tackle the biggest chair on the mountain. Sometimes, it's the little things that make a difference to families, and Sasquatch Mountain Resort is very, very good at the little things.
Sasquatch Mountain Resort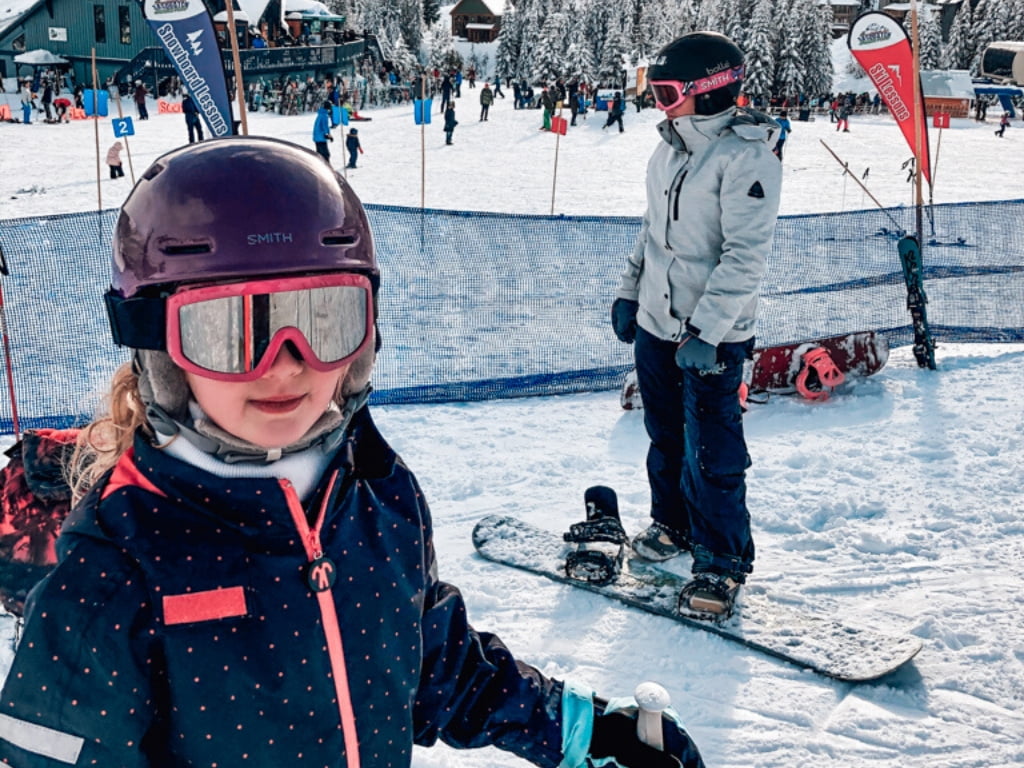 Sasquatch Mountain Resort is a family-oriented ski resort located in the northeast Fraser Valley, high above Harrison Lake. With a double chair, a triple chair, two terrain parks, and an all new quad chair to complement the beginner and tube area conveyor lifts, the resort offers terrain suitable for all ability levels. The new Yeti Cruiser quad chair is the first of its kind in BC, boasting automatic loading gates and a conveyor that moves you forward as the chair gently picks you from behind – no more bruises behind the knees! Winter activities include skiing, snowboarding, tubing, and snowshoe trails. The resort offers lessons, equipment rentals, a large day lodge, food services (including amazing waffles – more on that later!), a pub, and a small shop for ski accessories and clothing.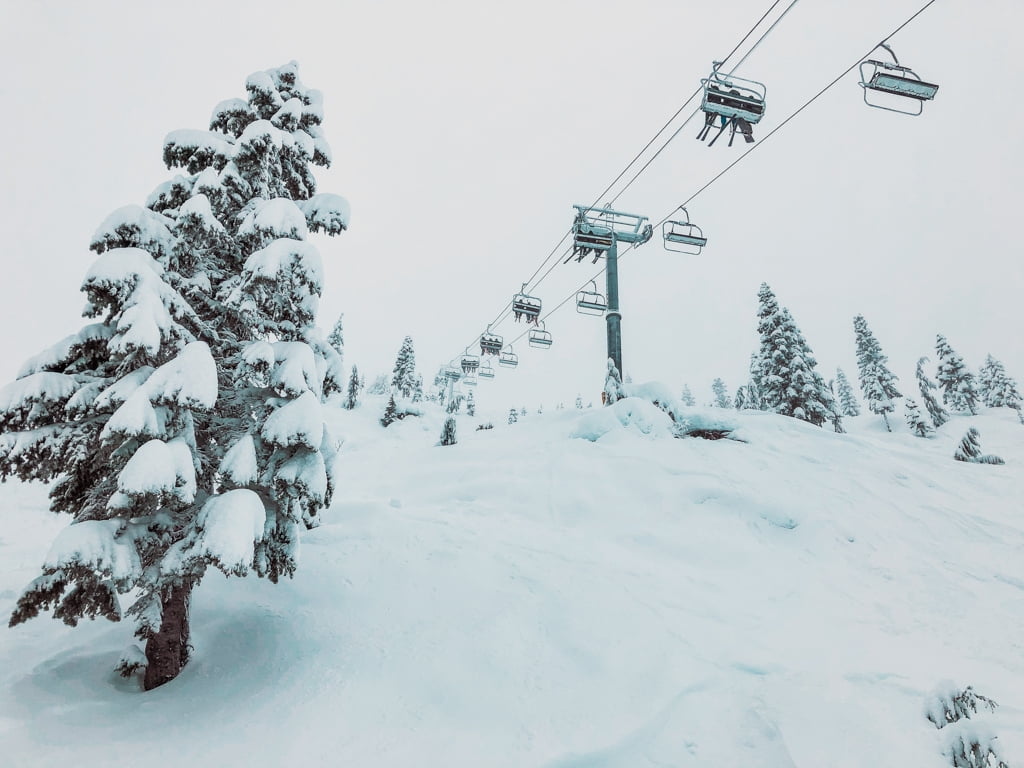 Skiing and snowboarding are expensive sports, but for value, it is hard to beat Sasquatch Mountain. As with everything at Sasquatch, their ticket pricing puts families first. As of January 15th, 2020, full day lift tickets range, depending on day of week, from $178 to $223 for a family of four. Kids under five are free, and there are special rates for beginner area only tickets ($26-$36). The all new Family Fun Fridays (4pm to 8pm – more on this later!) priced at $40 for a family of four.
Two-hour lessons for children and adults are available. My nephew absolutely loved his snowboard lesson, and joined us on the quad chair later in the day – it was his second time snowboarding (I'm allowed to be proud, right?). Lesson rates are reasonable, and package pricing is available for lesson, lift ticket, and equipment rental.
The Yeti Tube Park at Sasquatch is fantastic! Kids and adults alike will enjoy the rush of tubing in a safe and controlled environment. A two-hour pass is free for children 5 and under, $25 for individuals, and $85 for a family of four. The same Family Fun Fridays pricing applies to the tube park ($40 for a family of four).
Family Fun Fridays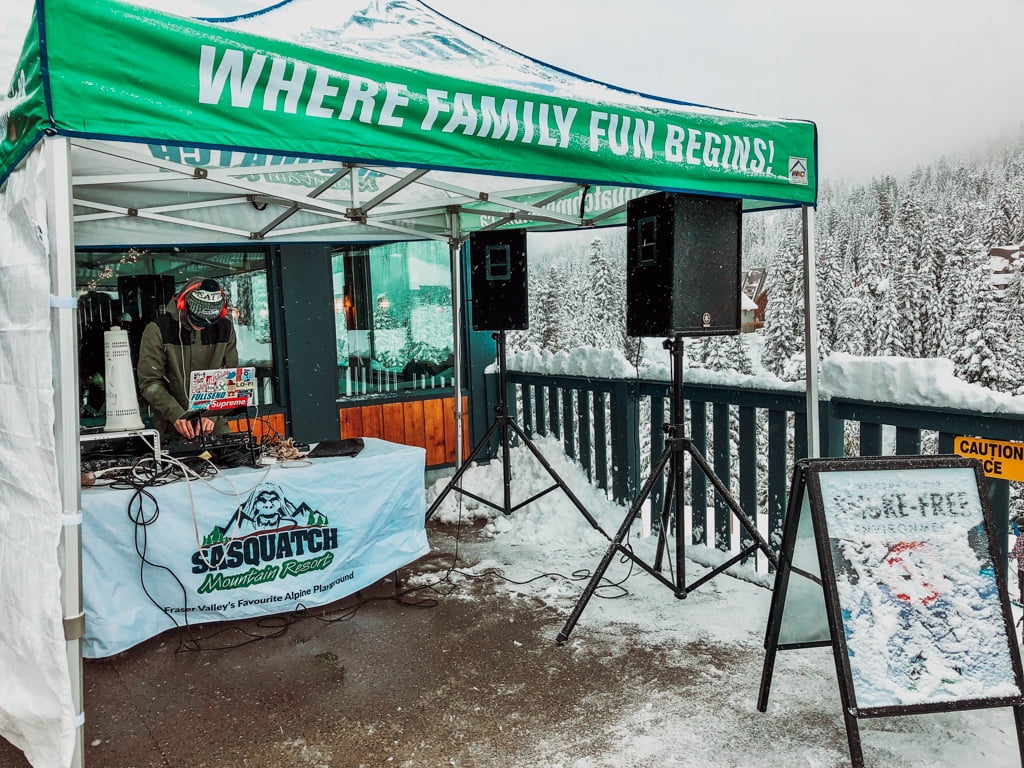 On Fridays from 4pm to 8pm, Sasquatch offers fun for all ages with entertainment, fire pits, and music at the base of the mountain and tube park. Night skiing adds a layer of excitement for kids, especially when it is followed by a warm-up by the fire. If you are visiting for a weekend, this is a great opportunity to catch a few runs right away, and burn some kid energy before bed.
Food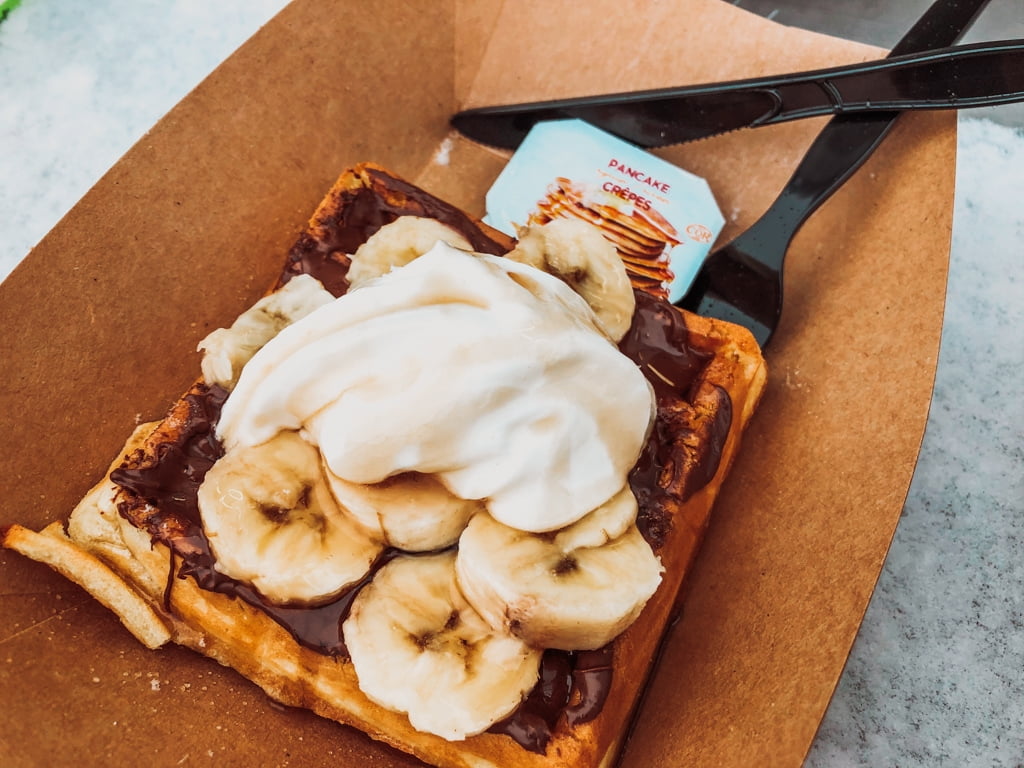 In the upper level of the day lodge, above the rental area and bathrooms, there is a walk-through style cafeteria with all the usual mountain fare, a large, open eating area, and Molly Hogan's Pub. The eating area can be busy on weekends around lunchtime, so, if it works for your family, try to eat a little before or after the noon rush. We ended up eating our bag lunches just before noon, and lucked out when a kind family offered us their table as they were leaving. I say it was luck, but really, kindness was the norm, not the exception during our weekend at Sasquatch.
Before leaving the mountain late Sunday morning, my kids were begging for a treat. I waffled back and forth, but decided they deserved it – or maybe I deserved it. Rather than getting in line at the cafeteria, we checked out the new Off the Griddle Coffee and Waffle Bar, located outside the main lodge, just above the parking lot. With waffles ranging from Bananarama Nutella to Heavenly Apple Pie to Chicken & Bacon Waffle Wookies, needless to say it was a total hit with my stomach – I mean the kids. Be aware, it's cash only at the waffle bar.
Getting There and Staying There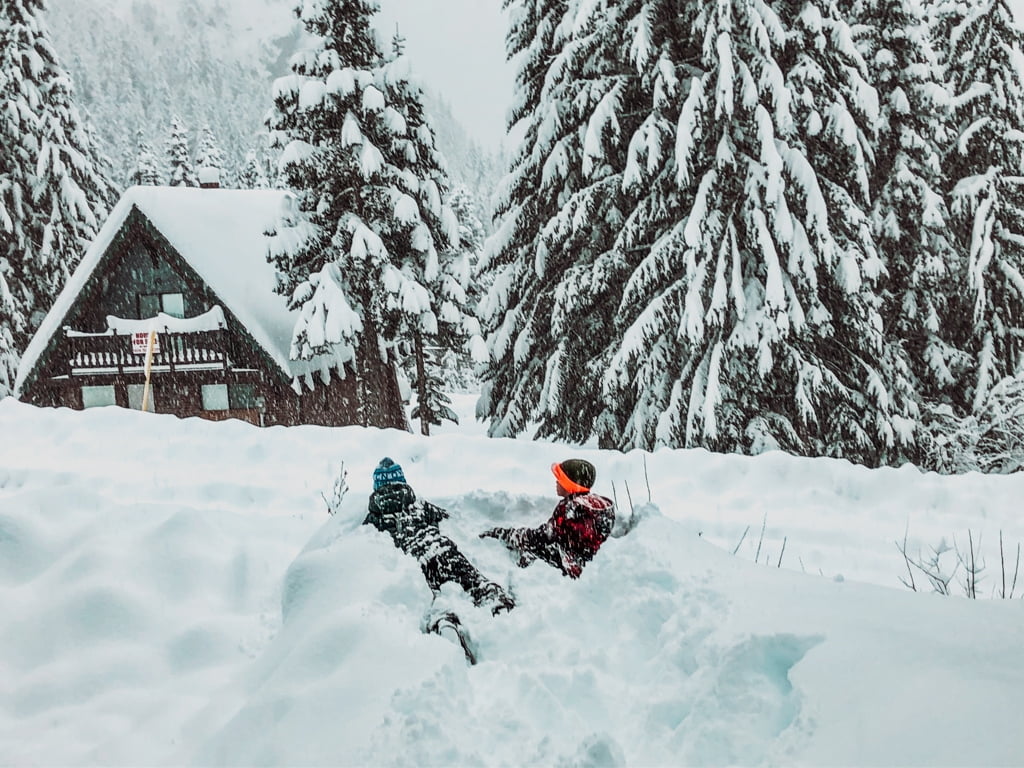 Travel to the resort took almost exactly ninety minutes from the Langley area. The road leading up to Sasquatch has a bit of a reputation – it is, after all, a windy mountain road. But our experience was a good one. Over sixty centimeters (two feet) of snow fell over the weekend, and the road was kept plowed and sanded, and at no time did I feel unsafe in any way. That doesn't mean you shouldn't be prepared with winter tires and chains. I ended up using my chains, not for the main road, but to get up the steep driveway to our friend's cabin, where we stayed. Accommodations are available at Rowena's Inn at the base of the mountain and in the surrounding village through Snowflake Resort Chalets.
Is Sasquatch Mountain Resort Family Friendly?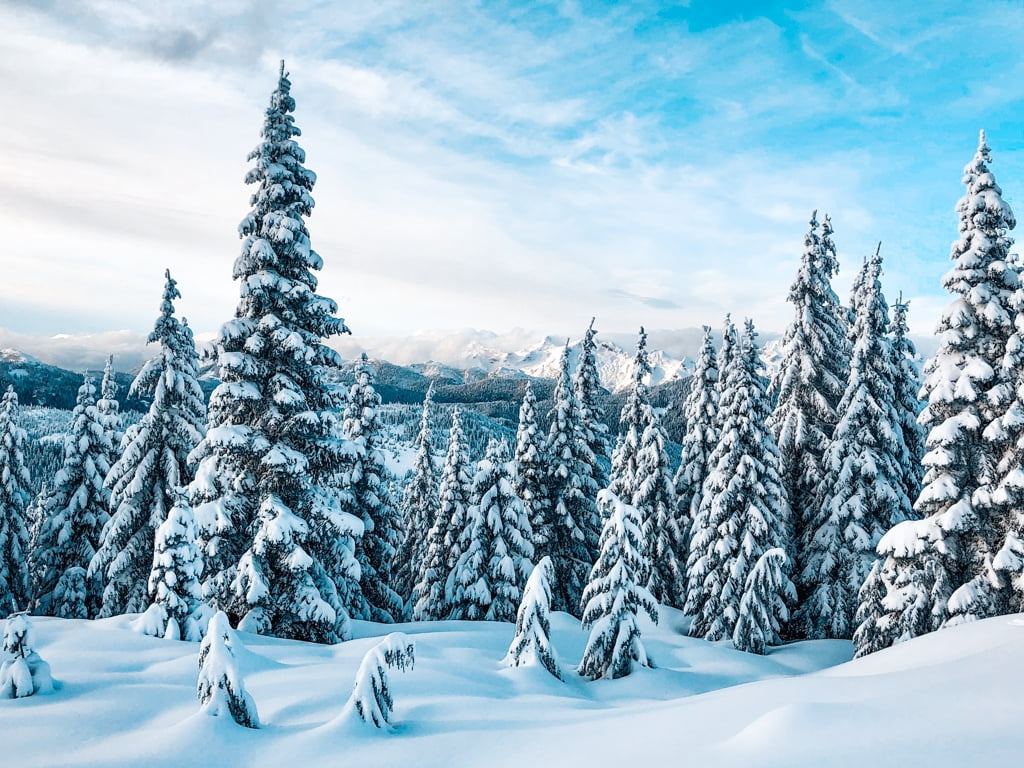 How do you define 'family friendly'? To me, it is a combination of the big things (an overall families first philosophy) and the little things (recognizing challenges to families, and taking small steps to help). Sasquatch Mountain Resort has a families first approach – it is evident in all they do, from the programming to the super friendly atmosphere. But what struck me was all the little things that helped make our visit amazing: someone walking through the rental line making sure that kids with lessons were taken care of quickly, temporary sasquatch tattoos being handed out in the lift line, communicating the reason for a short shutdown of one of the lifts, a six-and-a-half-foot tall Sasquatch visiting with the interesting little humans. As I watched my daughter gain confidence on the slopes, I realized that these are the little things that can make or break a day for a family. And Sasquatch Mountain Resort is very, very good at the little things.
---
Looking for more adventures in the snow? Check out these blogs!
Is this a sponsored post?: Yes, but all opinions are our own.