Until recently, I certainly hadn't heard of Lake Newell. It's one of southern Alberta's largest and warmest man-made lakes and, frankly, one of its' best kept secrets! If you're looking to live the lake life this is a true "prairie paradise". Located two hours south of Calgary, the clear warm waters are perfect for canoeing, sailing, fishing, swimming, motorized water sports and more.
Stand Up Paddleboarding
We arrived at Lake Newell around mid-morning and I immediately took the stand-up paddle board out on the water – I couldn't resist such a peaceful way to get acquainted with our surroundings. Next up: sailing.
Sailing
Lake Newell has a substantial amount of wind, allowing for some amazing sailing, which I had the opportunity to experience firsthand. Fun fact: In 2013, the Newell Sailing Club hosted the Sail West Championships here.
We took a tour of the lake, passing by a quaint lighthouse, followed by the Lake Newell Marina, which is the only marina with one of two boat launches, it's the lake's only refueling station, and has a full service concession – ice cream on a hot day? Yes, please!
Snorkeling
Not ready to say goodbye to lake life, I took advantage of the snorkeling equipment on hand, and was rewarded by seeing the local marine life up close and personal.  Last but certainly not least; what day on the lake would be complete without a cannonball off the dock?
Home Sick
I have to say I wasn't expecting to find myself homesick at a lake in southern Alberta, but everything about Lake Newell reminded me of summers in Nova Scotia spent on the lake. In and out of the water all day, searching for local marine life, sitting on the dock and drying off and then figuring out how you were going to make it back to shore without getting wet again, cannonballs, conversations, beach time and sailing on the lake with the wind whipping your face and the water skimming your toes.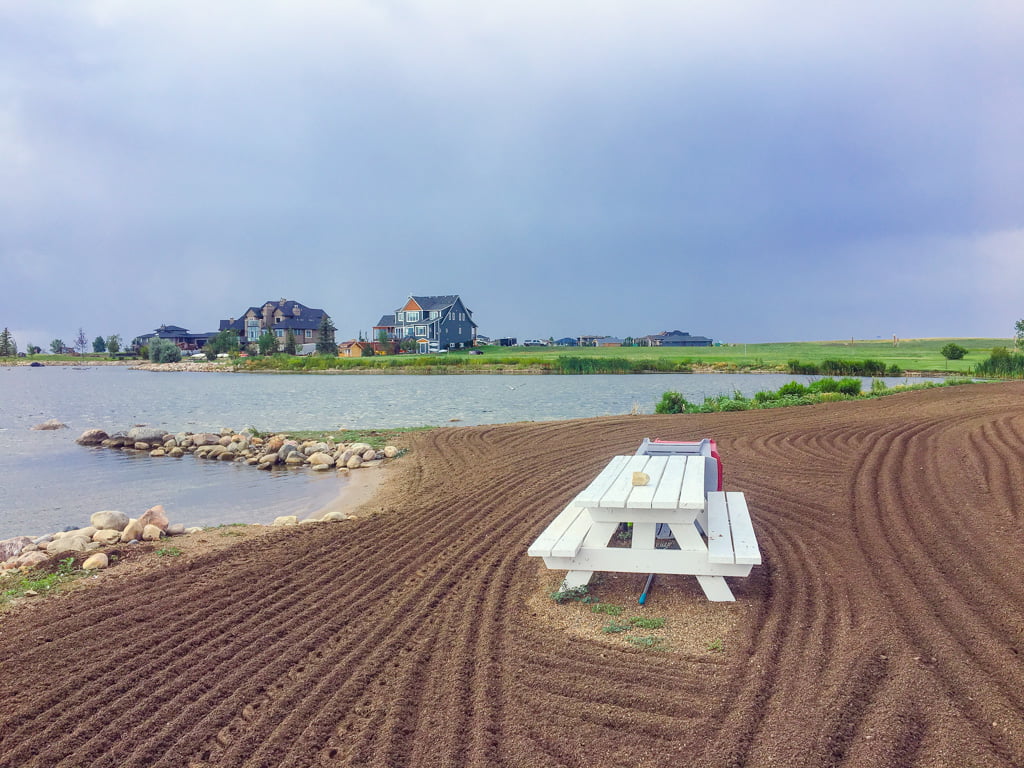 We only had a day to play but if I lived closer, I would definitely take advantage of this prairie paradise: skip town, pack my water toys (Kayaks, SUPs, life vests, etc.) and come here for a weekend getaway. You can camp at Kinbrook Island Provincial Park, located on the eastern side of the lake, or stay at the Lakeshore Bed and Breakfast, which backs onto the northern shore. We didn't get a chance to, but you could even take a day and enjoy some of the nearby attractions, like the world famous Dinosaur Provincial Park, a UNESCO World Heritage Site.
A true hidden gem, nestled in the Canadian Badlands, Lake Newell is the perfect getaway to enjoy summer lake life without having to "break the time bank" and travel too far.
Are you thinking about going on a trip through Alberta the Canadian Badlands? Here are some articles to help you with your planning.
Is this a sponsored post?: While we were graciously hosted by Lake Newell, our opinions, experiences and photos are our own.