I'm going to start my Le Blanc Spa Resort Los Cabos reviews at the end. It was my last morning in Los Cabos and I walked into the brilliant, sun-kissed lobby to check out. As usual, my gaze was drawn to the floor to ceiling window and the deep blue ocean view beyond. Suddenly, a large black shape broke the water's surface and rose high into the air, before careening over and smashing down in a massive splash. I stood stunned for a moment. I had just seen a Humpback Whale breaching – from my hotel lobby.
Le Blanc Spa Resort Los Cabos Reviews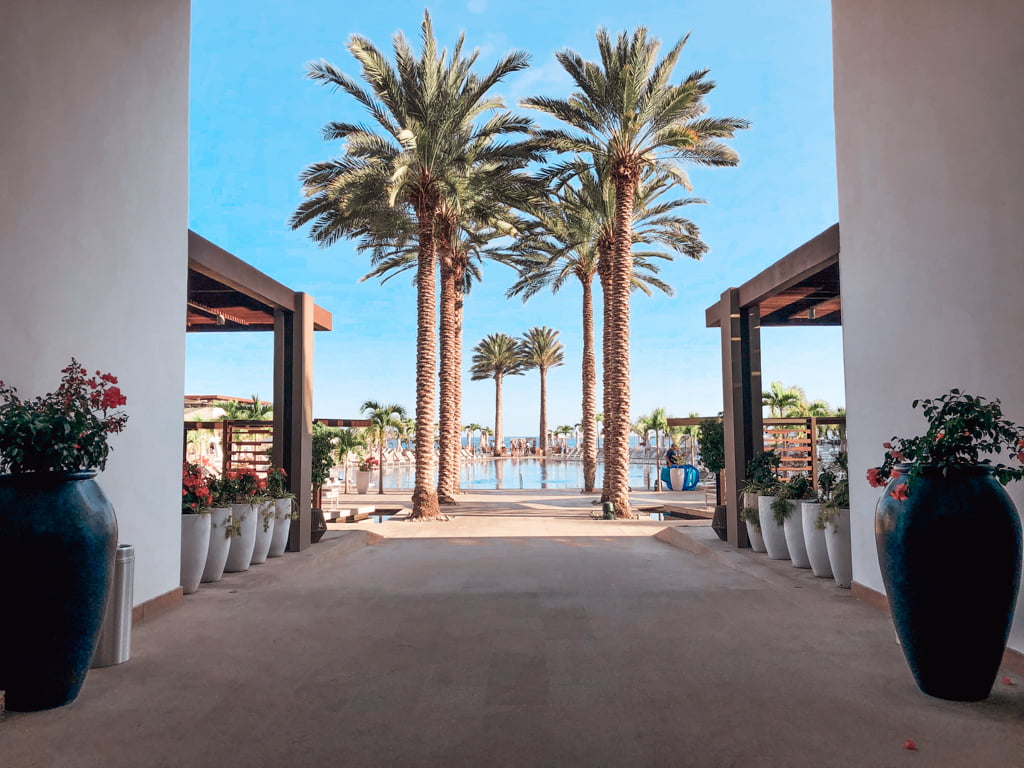 Le Blanc Spa Resort is a luxury all-inclusive adult-only spa resort located thirty minutes southwest of Los Cabos International Airport, where the Sea of Cortez merges with the mighty Pacific. If you enjoy relaxed luxury and exceptional service in a friendly, unpretentious environment, Le Blanc Spa Resort is for you. This true five-star resort is a top-tier destination for a couple's romantic hideaway, an indulgent girl's retreat, or an over-the-top corporate getaway. Le Blanc delights the senses with sights, textures, tastes, smells, and sounds designed to make each moment unique and memorable.
Sight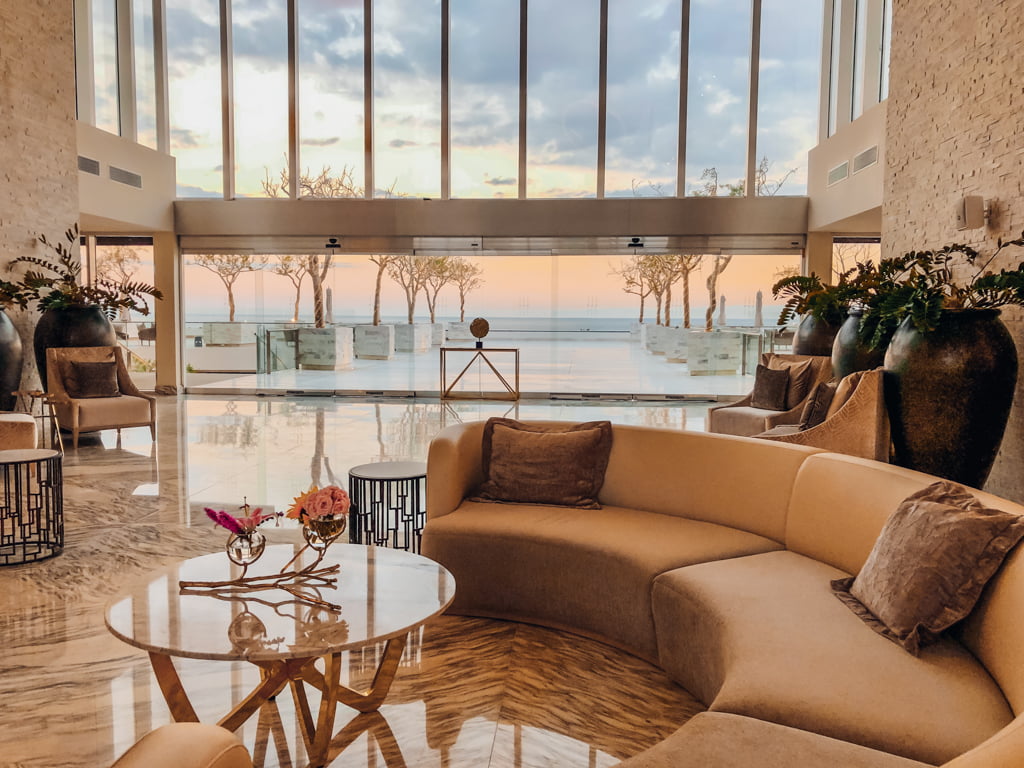 Le Blanc is simply stunning. White marble stone, pink and orange-hued flowers, subtle tan fabrics, and natural sand can be found throughout the resort. Through the glass doors of the fifth-floor lobby, along with the uppermost outdoor level, the blue and orange sunrise is offset by the twisting black forms of the many trees. Further, along to the right, Le Blanc's signature arch marks the end of the resort's south wing. Among the resort's many activities is yoga. Offered at the arch at eight each morning, you can stretch out your sleep in the most beautiful setting you may ever mountain pose in.
Touch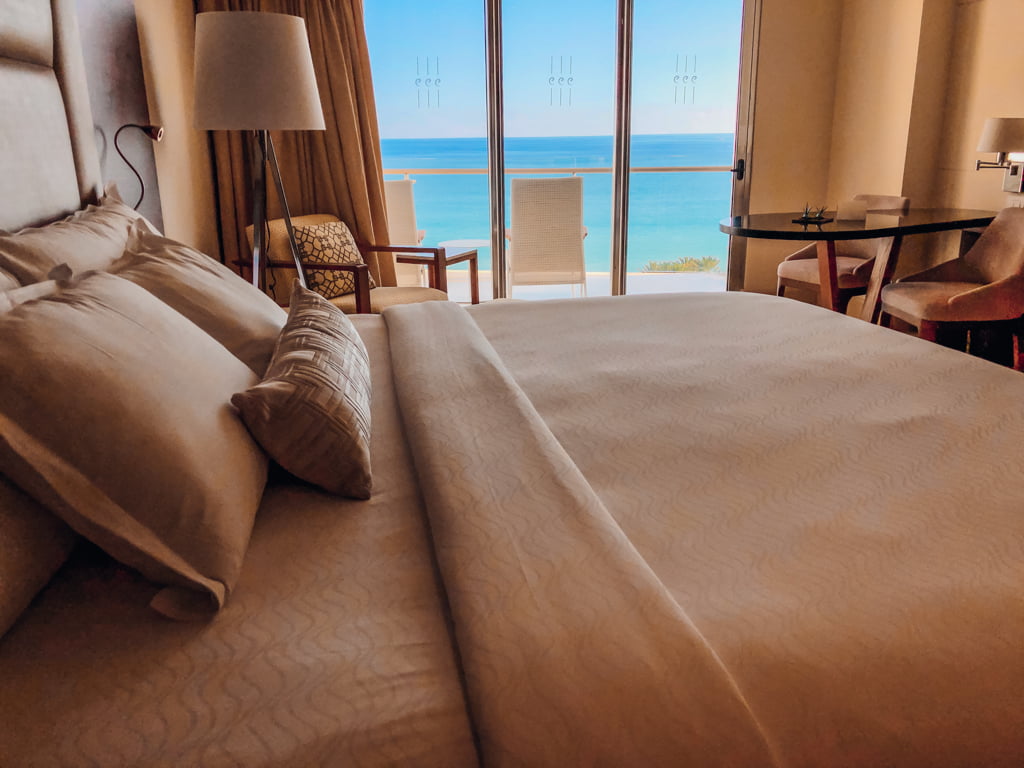 Smooth, cool marble. Cool, soft linens. Soft, enveloping beds. Enveloping, soaking rain showers. Soaking, steaming baths. These are just a sample of the sensations you can expect to experience at Le Blanc. My room was sparkling clean, rich in wood, and smartly designed to maximize the ocean view (nearly all the rooms have an ocean view) from nearly anywhere within it. The water journey hydrotherapy area of Le Blanc's spa has a host of its own liquid sensations, all included with your stay.
Taste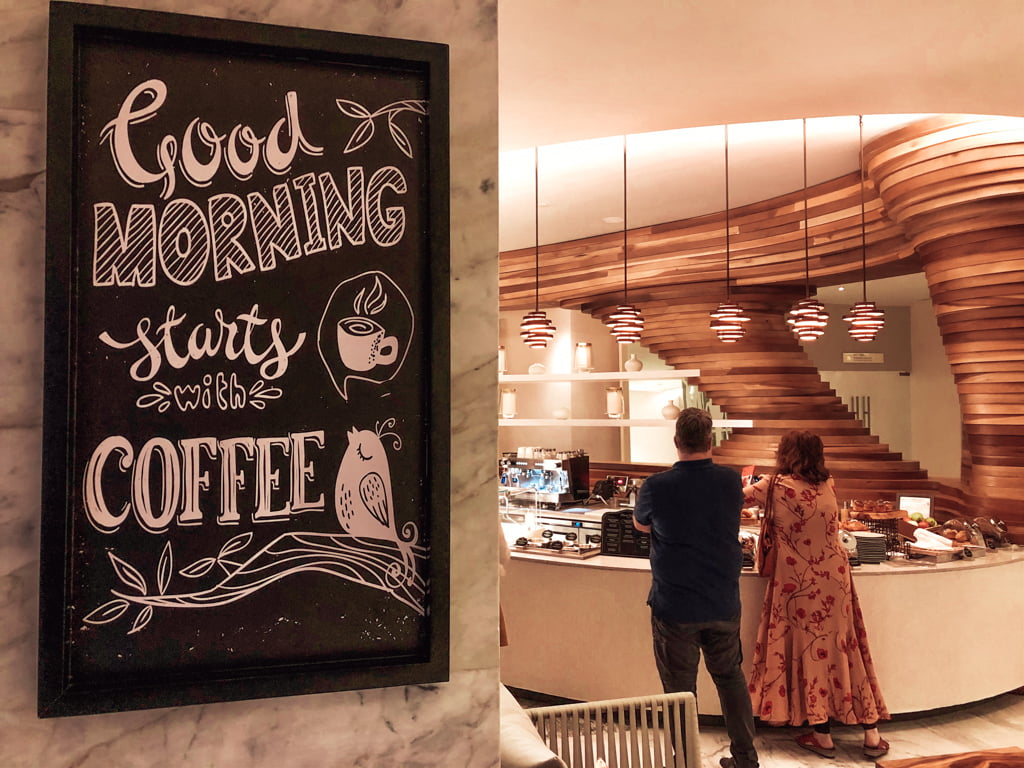 Rich, decadent lamb, spicy green mole sauce. Fresh cilantro, tangy citrus, roasted coffee. Coconut, pineapple, mango, and papaya. Basil, tomato, charcoal. Savoury and sweet, light and laden, sharp and smooth, exotic and comfortingly familiar. All these and an infinite combination of other international tastes await you in Le Blanc's nine restaurants and cafés. The simple fact is, you could stay here for months and not eat the same thing twice, and I didn't even mention the daily room treats and 24-hour room service. My personal favourite? It's a tie between a classic Mexican breakfast looking out over the water at Blanc Ocean, and a stone-oven cooked half Margarita/half Diavola pizza at Blanc Pizza. And oh, the drinks! If you need a straw, don't feel bad – use the provided reusable metal straws in your welcome package (complete with cleaning brush), or one of the resort's biodegradable ones made from avocado pits.
Smell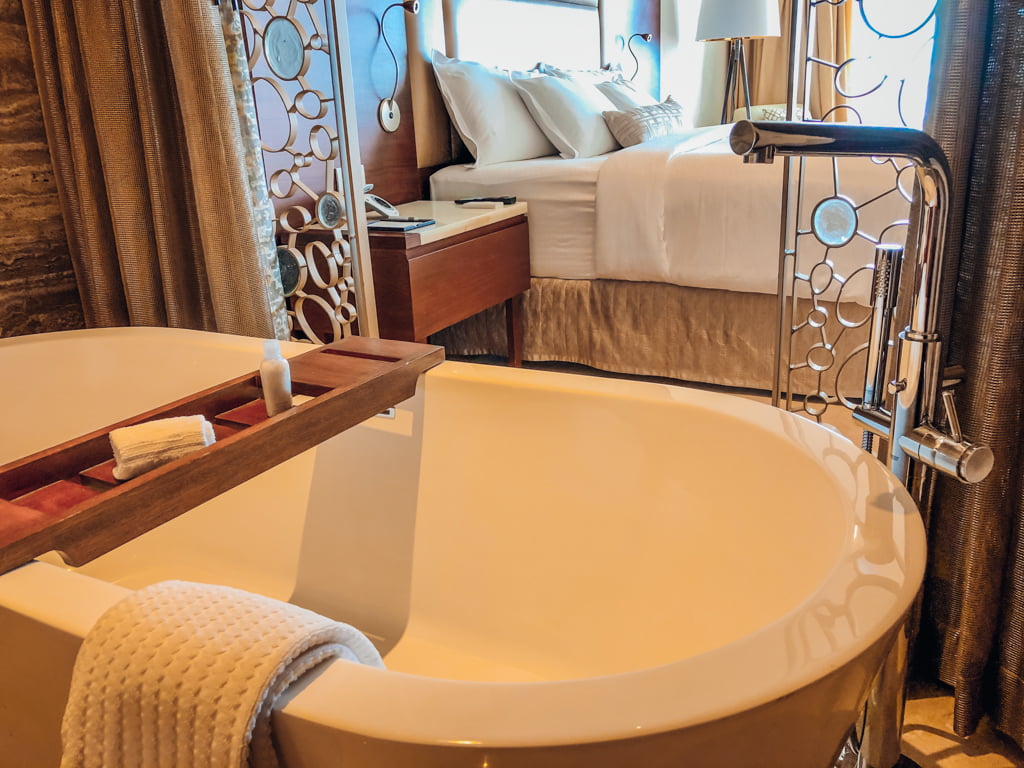 Each area of the resort has its own scent. It is subtle, and perhaps you wouldn't notice it until someone points it out. It varies from day to day – jasmine or citrus or sage. With dinner, the professionally paired wines are rich in scents of cherry, citrus and hardwoods. Your goose-down and hypoallergenic pillows can be switched out for scented ones to help you sleep. But perhaps the best way to relax is to use the Le Blanc app on your phone to request your butler (each floor has a butler) to draw you a lavender or other scented bubble bath before bed.
Sound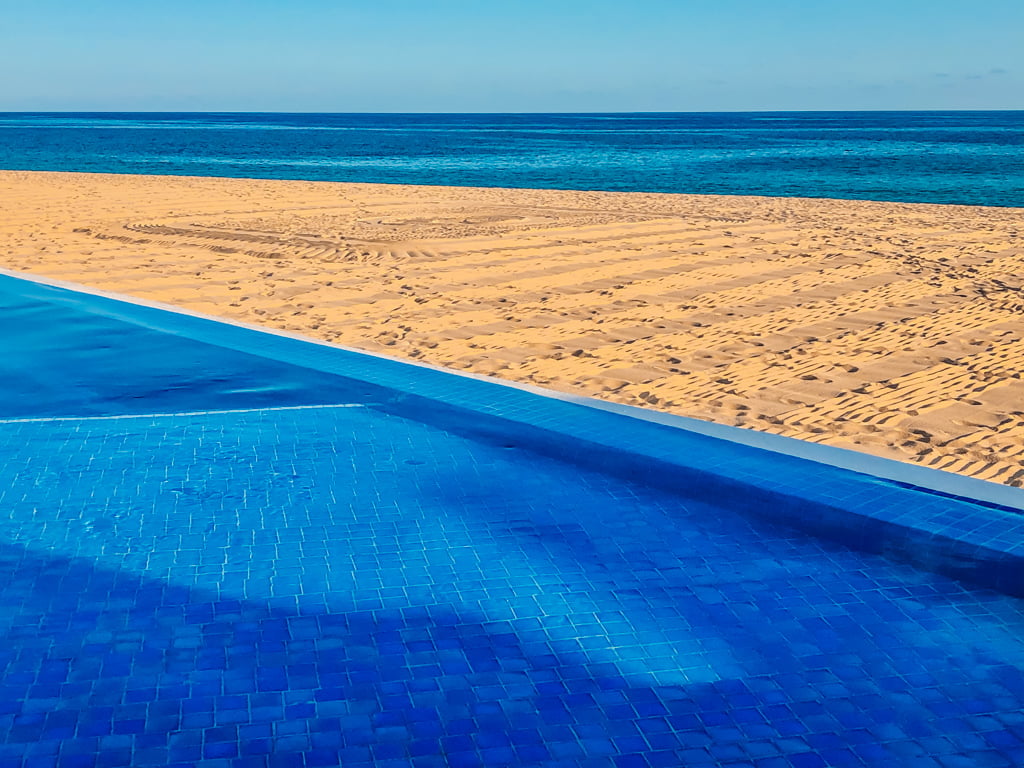 The ocean. Surging waves slamming against the sand in the heavy surf. This is perhaps the most pervasive sound on the ocean side of Le Blanc. It is a soothing sound, and best heard from the infinity pool overlooking the beach. Overall, Le Blanc is very quiet, but if you are looking for a little night-life, head to Blanc Fire for a drink, and soak in live music in the evenings while gazing through the actual flames at the deep blues of the pool complex below.
Le Blanc Spa Resort Los Cabos Reviews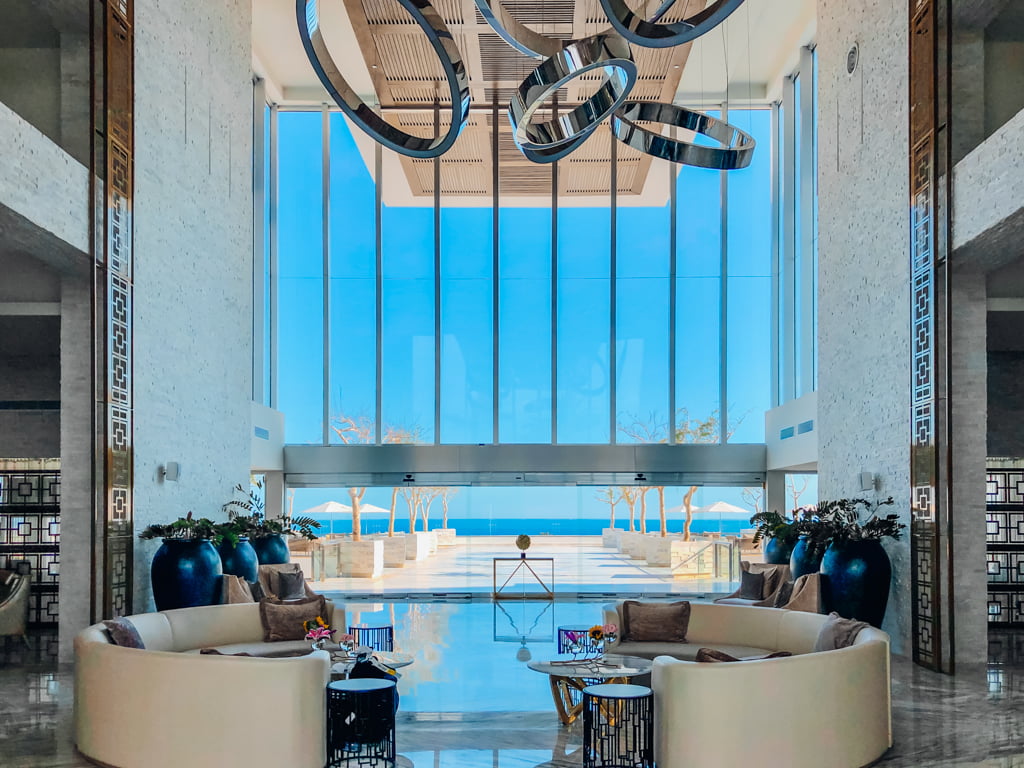 Le Blanc Spa Resort takes all-inclusive to the next level. I have been to all-inclusive resorts in Mexico before – to the Mayan Riviera on the east coast for our honeymoon, and to Huatulco on the west coast with the kids. I've been on two cruises (after all, aren't cruises floating all-inclusive resorts?), again on opposite coasts of Mexico. But I have never been to an all-inclusive like Le Blanc. This resort is truly next level, in every sense.
With luxury hotels, there can sometimes be an off-putting sense of exclusiveness. Not at Le Blanc. Make no mistake, this resort is top-tier five-star, but in a uniquely welcoming way. All-inclusive at LeBlanc is more than services and dining, it is a philosophy that, for the guest, simply means you are welcome, as you are
As I said goodbye to our attentive and delightful host Maria Moreno, I couldn't help but turn my gaze one last time through the lobby to the ocean. I didn't really expect to see another whale breaching, but I was surprised when a sense of sadness came over me. Though I was looking forward to heading back to Canada, Le Blanc was my home away from home for my time in Los Cabos, and I was going to miss it.
---
Are You Heading to Los Cabos? Check out these other blogs for inspiration!
Is this a sponsored post?: Yes, while my trip to Le Blanc Spa Resort was sponsored, all of my thoughts and opinions are my own.