I never, ever want to leave…
This was the phrase stuck on repeat in my head all last week. I was in sunny San Diego for a major social media conference and was very much enjoying a nice spring thaw after a long Canadian winter. But even more enjoyable than the much-missed sun was my home away from home for the week – the beautiful Marriott Marquis San Diego, which is without a doubt one of the most amazing hotels I have ever visited!
Located right on the San Diego Marina, this hotel seamlessly mixes business and pleasure in a way I have never quite seen. As you approach the sleek, modern glass façade of the building, you can't help but feel as though you've arrived. Though I would come to learn that the hotel was built in 1987, you'd swear by its modern, timeless look and feel that it was brand new. The only thing that tips you off to the age of the hotel is the staff. Providing the most incredible levels of customer service, it was no surprise to learn that some employees have been working at the Marriott Marquis for over 30 years!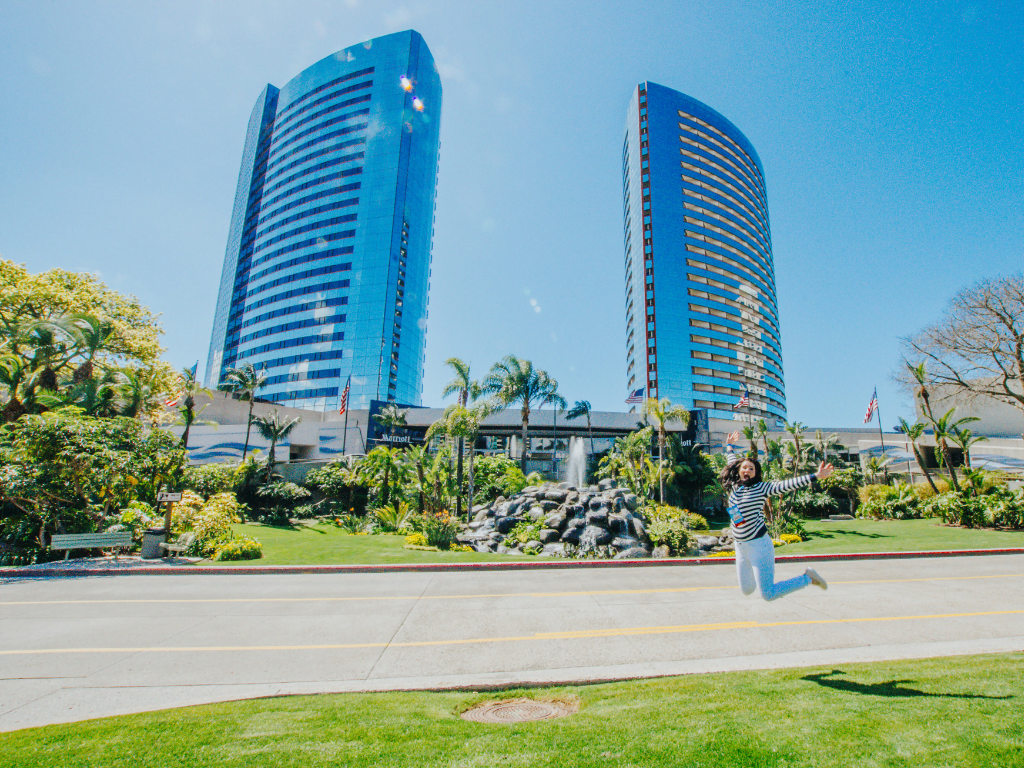 Walking into the lobby, I felt immediately at home with the warm, modern décor. With plenty of space and comfortable furnishings to spread out and take a phone call, fire off some emails, or have an informal business meeting, it was no surprise to see many fellow conference attendees milling about the lobby. Seems like I had picked the right place to be!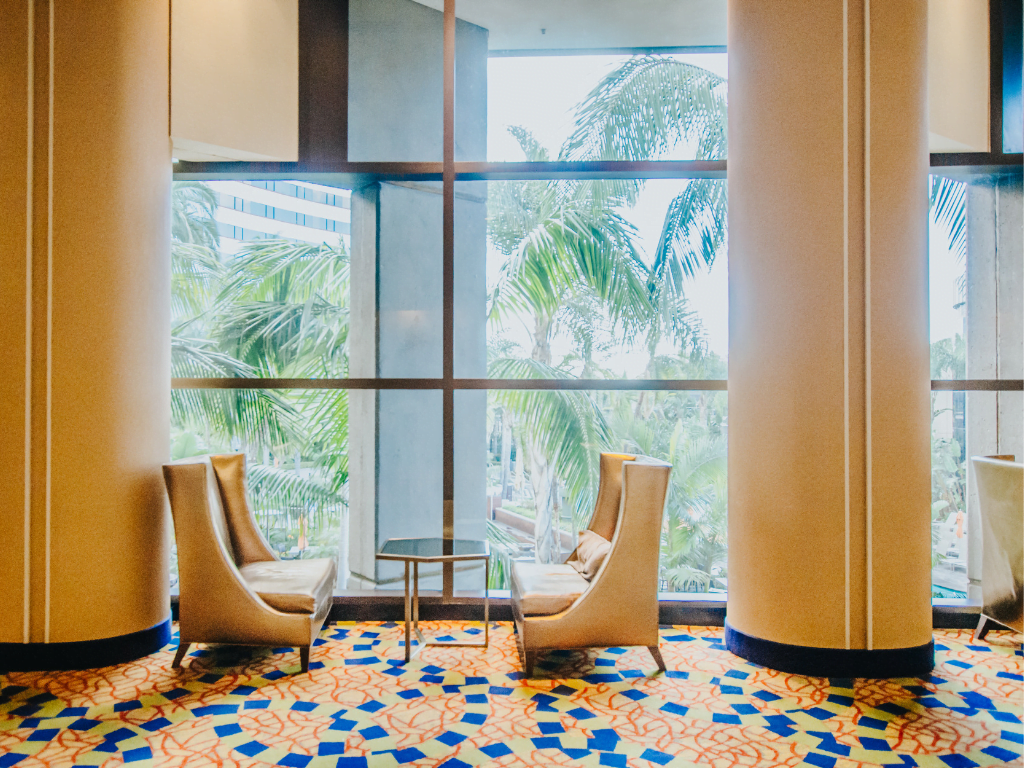 As I approached the Registration Desk, I was greeted with a warm California smile from a friendly young woman named Stacy, who promptly welcomed me to the Marriott Marquis. Stacy asked if I had ever visited the property before, and when I replied that this was my first time, you could see her face light up. It was like she was about to share some sort of magical secret with me…which I would soon learn was exactly the case. Stacy began to explain all the various amenities of the property, and within seconds it was clear that this gorgeous lobby was just the beginning. It seems that I had merely scratched the surface of all the amazing recreation, relaxation, fitness, dining, and other amenities all located within the property.
As a frequent traveller visiting hotels across North America, it came as no surprise when Stacy mentioned the resort's Daily Destination Amenity Fee, as I encounter these all the time. However, I was surprised when she began to explain all the items that were included in the $30 daily fee. Actually, "surprised" is too small a word. I was floored as Stacy explained that my amenity fee included all of the following:
        

One-hour bike rental

        

One-hour kayak or paddleboard rental

        

High-Speed Internet

        

Instructor-Led Fitness

        

$10 Food and Beverage credit to Starbucks or the exchange

        

Two featured glasses of "Sommelier Select Wine"
All in all, the Marriott Marquis San Diego packs in $120 worth of goodies into their amenity fee. Sure beats the typical hotel offering of a slow wifi internet connection and a lukewarm cup of coffee the next morning!
Completing the check-in process, I made my way towards my room, taking note of the several lively, trendy restaurants located just off the lobby, making a mental note to check them out later. I proceeded to ascend the elevator, eventually reaching my floor and my room. Upon opening the door, I was greeted with a beautifully appointed, spacious room, as well as the most beautiful view of the harbour and the Pacific Ocean. Up until this point, the Marriott Marquis San Diego had been all business, with the sleek entrance and modern, bustling lobby. But here in my room, I caught a glimpse one of those secrets Stacy had smiled about during check-in: the beautiful, tropical oasis right out the back door.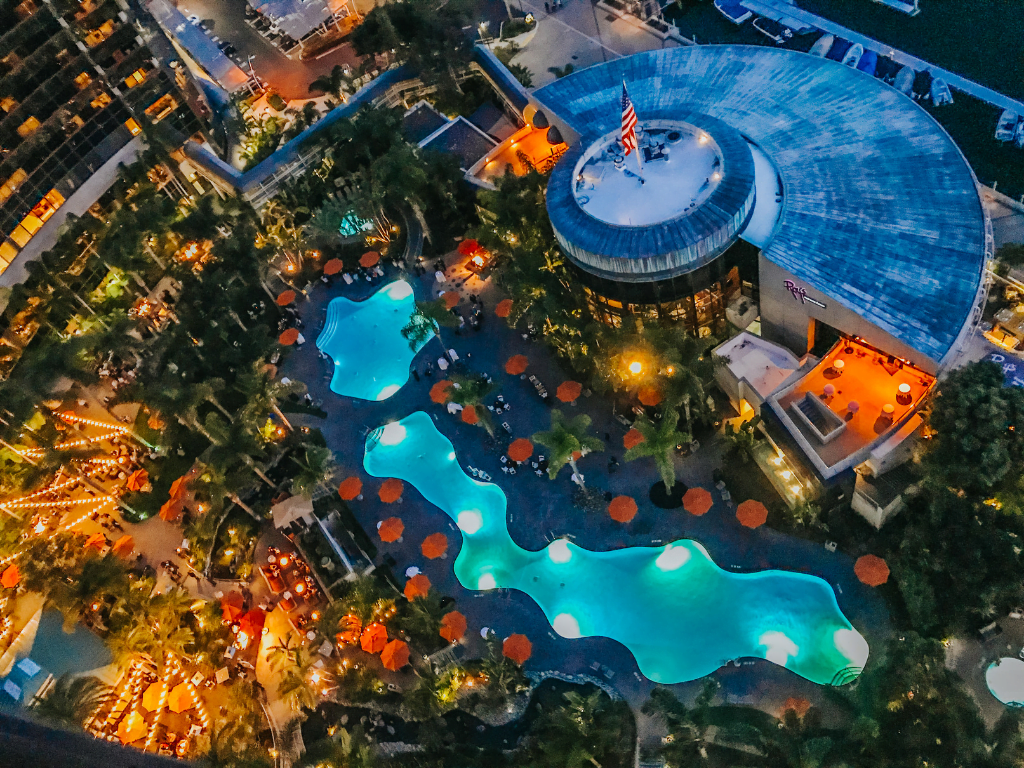 Down below, I took in the view of the most gorgeous pool I have ever seen. Sitting there, as if being hugged by the curves of the hotel itself, the spacious, scenic pool and dual hot tubs were glistening with the reflection of the sun setting on the Pacific. And just then, as if on cue, the pool lights turned on, illuminating the masterpiece in all its glory.
This was it. I had died and gone to heaven…
The next few days were incredibly busy. However, as much as I was enjoying the conference, I found myself eagerly awaiting the end of each afternoon session, knowing that the end of the day meant I could return home to my beautiful hotel.
Thankfully, as busy as I was, I was still able to explore nearly every nook and cranny of the Marriott Marquis San Diego during my time there. What all did I find? Let's take a closer look…
The Pool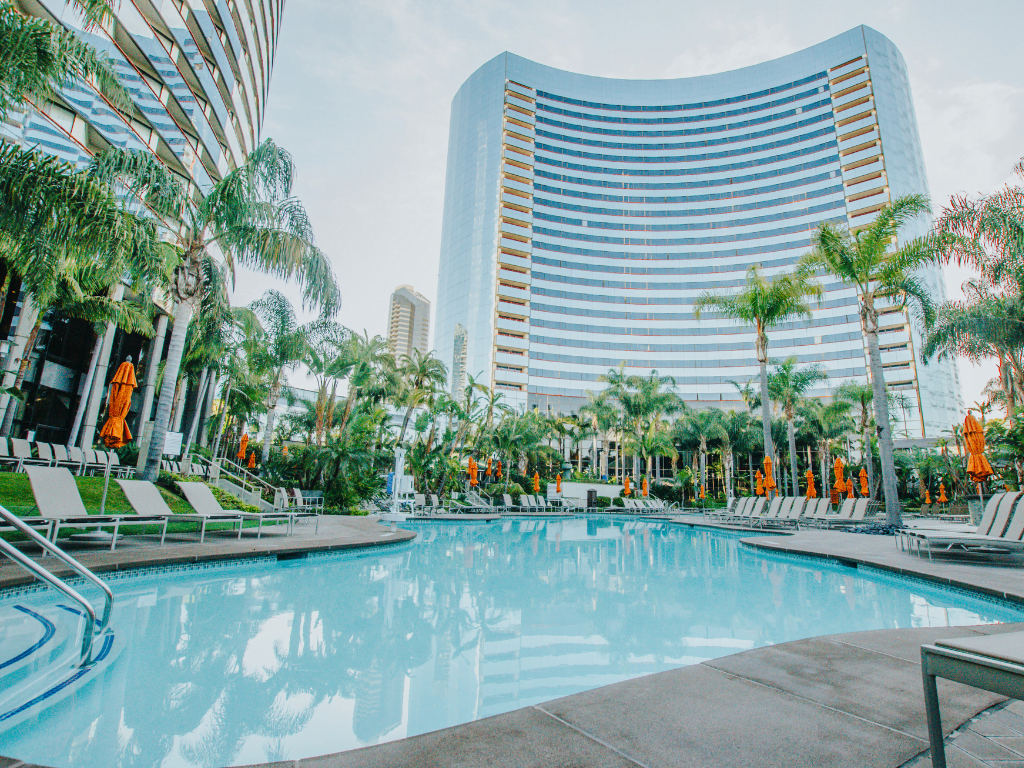 After my first glimpse of the tropical pool oasis from my room, I knew I had to spend as much time as I could down there. As I walked down to the pool area for the first time, I couldn't help but wonder how they managed to create such an isolated paradise with a major city sitting right outside the front door. It honestly felt like I had stepped onto a remote resort in Hawaii.
The pool itself was a balmy 80 °F (26 °C), making it perfect for a March dip. In the evenings, the dual hot tubs became the destination of choice for weary business travellers and families alike, all coming together to enjoy a nice warm soak and a few laughs among new friends.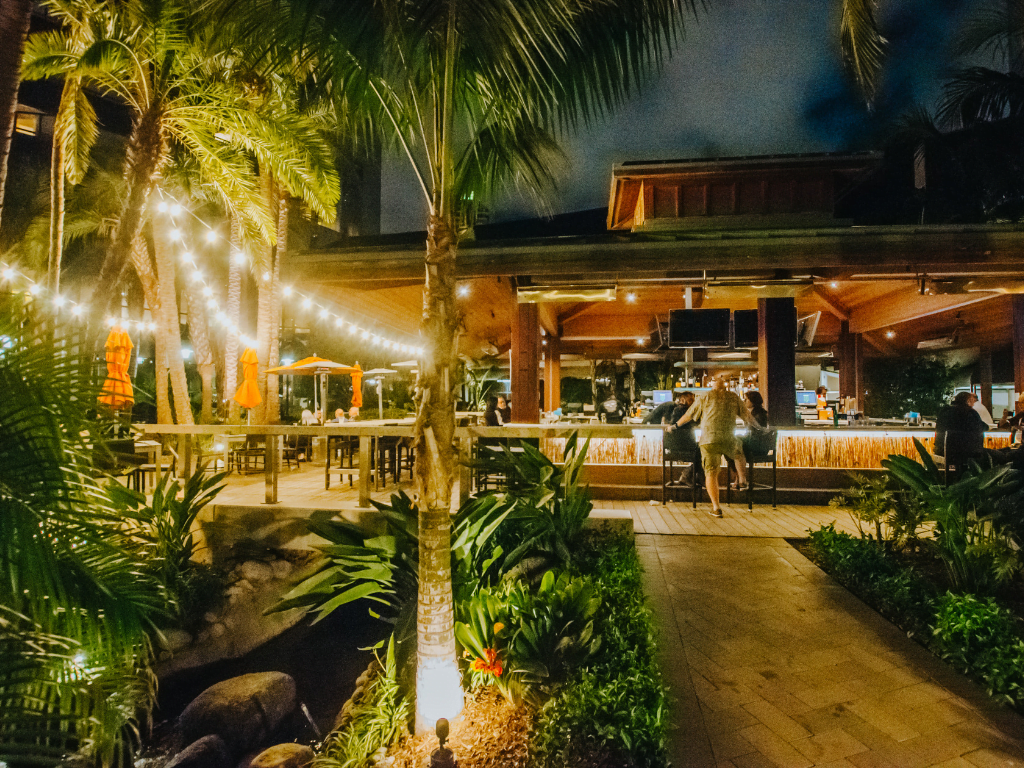 As if that weren't enough, there was also a poolside restaurant: Tequila Bar and Grille. Perfect for a relaxing, tropical drink or a tasty bite after a long day, this spot was the place to come for happy hour.
Health & Wellness Center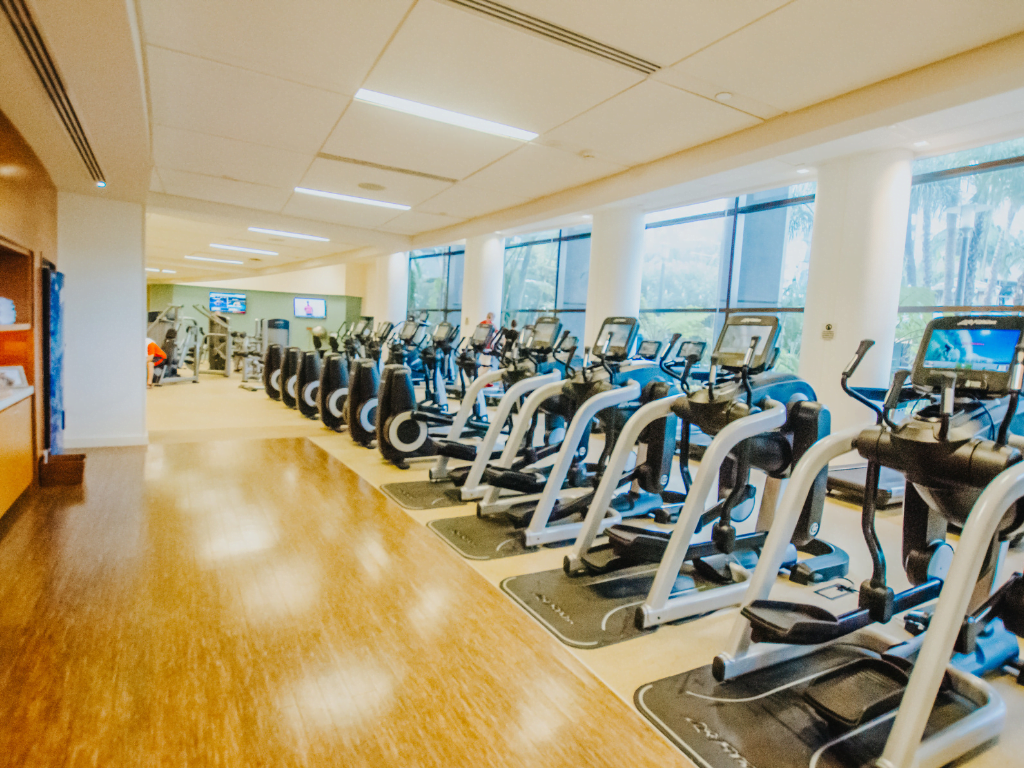 With my evenings spent poolside relaxing, drinking, and eating, I made a point to reserve my mornings for a much-needed workout. Thankfully, the Marriott Marquis San Diego doesn't just have your standard hotel fitness centre – it has a full-blown, modern health club!
This health and wellness centre was so impressive, I am actually going to write a whole separate blog on the facility, as a couple of paragraphs won't do it justice. But to summarize, this was honestly a whole lot nicer than any fitness club of which I have been a paying member.
A modern room with rows of what looked like brand-new equipment, there was no shortage of cardio or strength training to be found. Solo workouts, not your thing? Not to worry, because there is a whole separate classroom with instructor-led programs (which are included in your resort amenity fee)! And to top it all off, a tranquil yoga room to stretch and practice your best Warrior Pose as you prepare to greet the day ahead.
Dining Options
Smack dab in the Baja California region, one would expect some excellent local cuisine while visiting San Diego. In this regard, the Marriott Marquis did not disappoint. In addition to the tasty snacks and meals I was able to grab poolside at the Tequila Bar and Grille, the hotel also houses Marina Kitchen, a farm-to-table restaurant specializing in modern comfort food.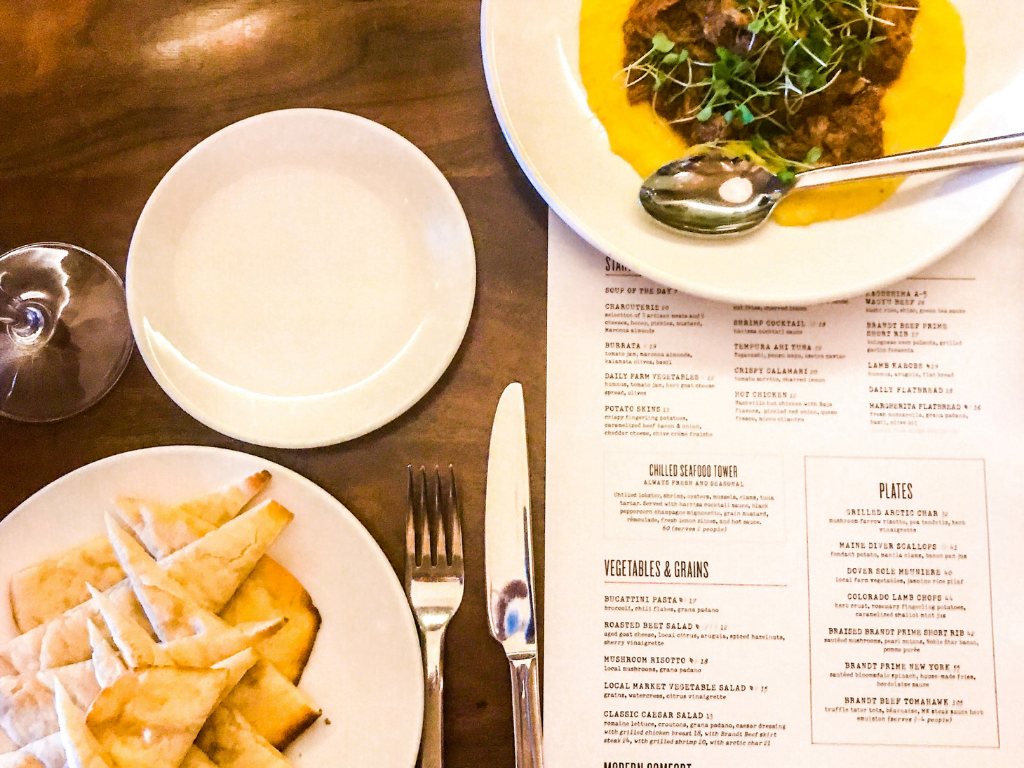 With a Head Chef that trained in Spain, and spends every morning meticulously picking out fresh catches at the Tune Harbor, the meals at Marina Kitchen were absolutely incredible. Tasty and hearty, classy yet non-pretentious, my dinners here were absolutely divine. Could not recommend more!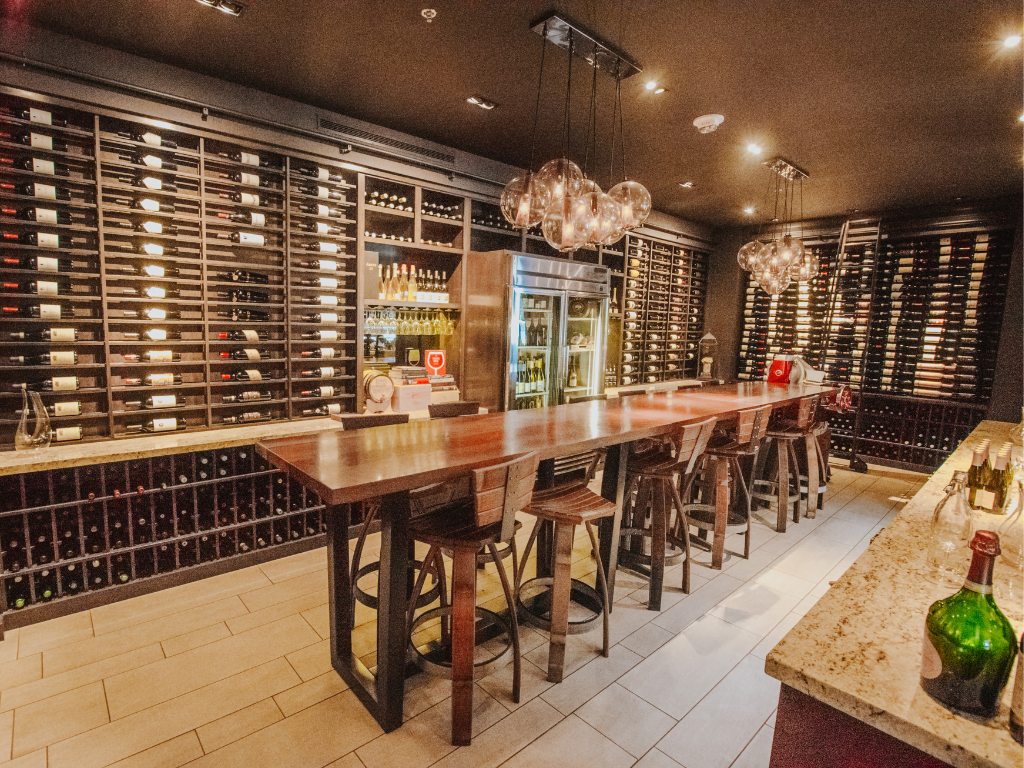 A wonderful glass of wine pairs well with the delicious food offered at the Marina Kitchen! Their wine cellar is impressive and filled with a large variety of both local and international wines. It's no surprise as to why their destination amenity fee includes a wine tasting!
As if all the full-service restaurants weren't enough to keep you full, the Marriott Marquis San Diego offers one more 24/7 food option unlike anything else. Dubbed The Exchange, this "modern room service" is the first of its kind for a Marriott. Think of it as a fresh, modern take on grab-and-go meals. With plenty of delicious, reasonably priced sandwiches, salads, drinks and snack items, there is something for everyone at The Exchange. And best of all, you can grab whatever you like at any time of the day!
Basecamp for Family Adventures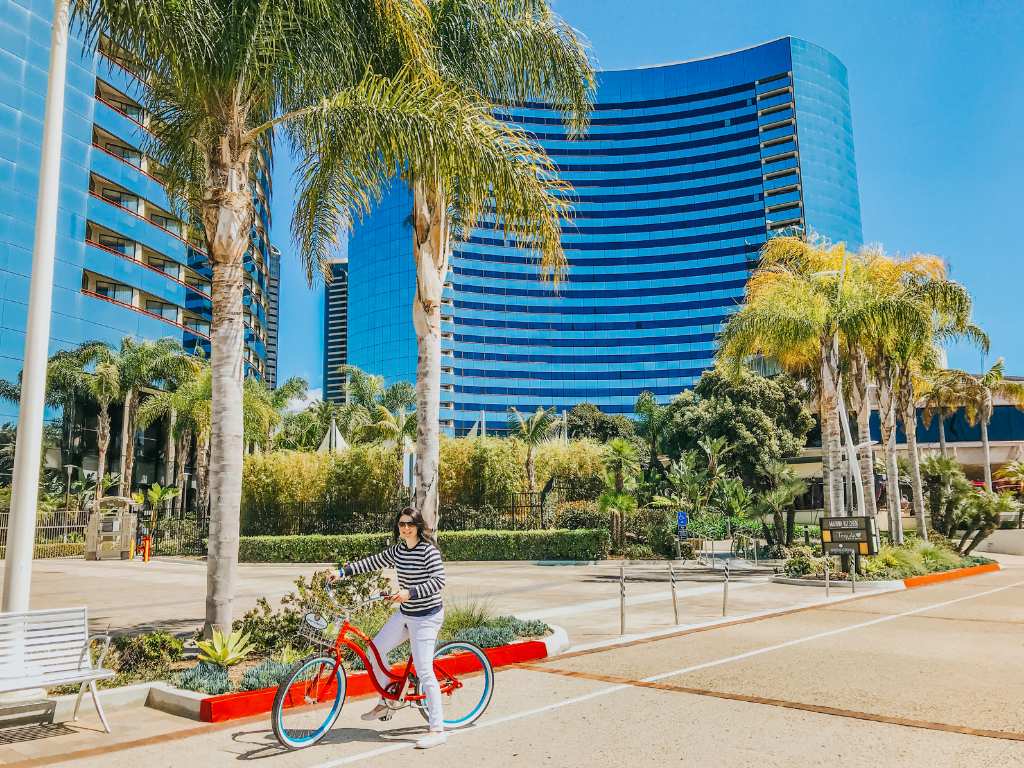 With all this talk of sleek, modern amenities and dining options, you may get the impression that the Marriott Marquis is an adults-only resort. This couldn't be further from the truth! In fact, this resort is the perfect basecamp for your family's San Diego adventures!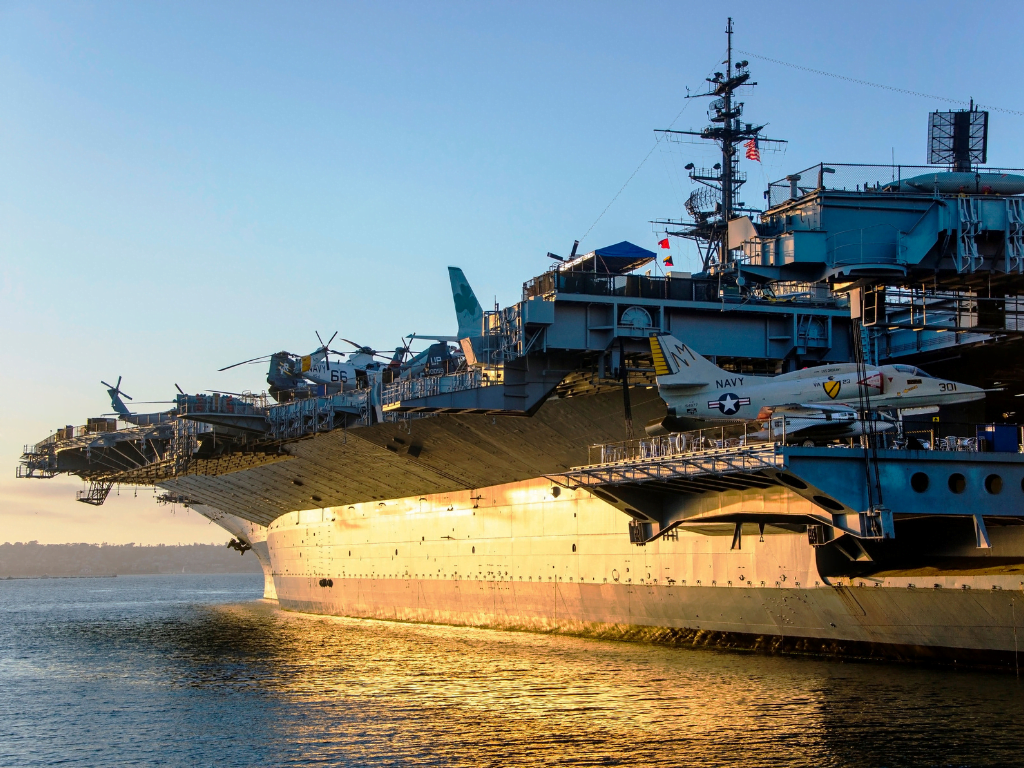 The harbour right out the back of the hotel offers a great selection of family-friendly water activities, including boat rentals. Nearby, beautiful sandy beaches are awaiting your family for a day of fun in the sun. If you're feeling a bit more adventurous, you can grab the ferry over to Coronado Island to check out its great shops, restaurants, beaches, and Naval Base. Or head on over Seaport Village to take in the iconic Midway Aircraft Carrier!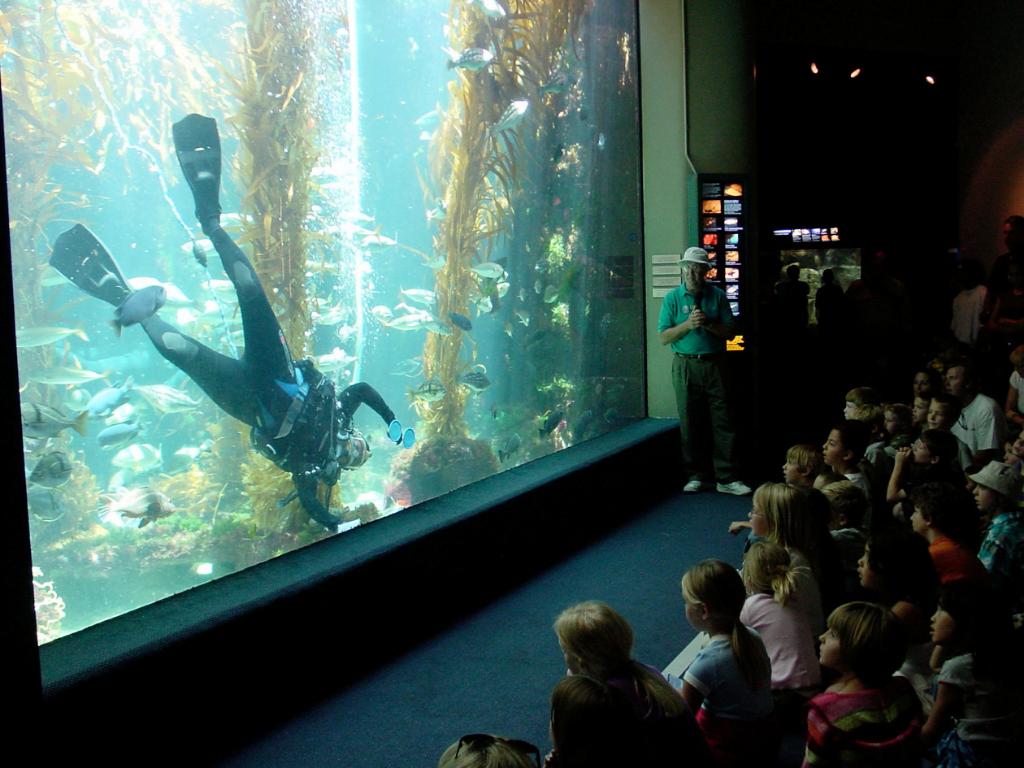 In addition to all the great water-based activities, San Diego city offers tons of family-friendly treasures as well, including the Birch Aquarium, the world-famous San Diego Zoo, museums, restaurants, shopping and more. No matter what you and your kids enjoy, there is no doubt you'll find it in San Diego.
And of course, if you just feel like staying close to home, the Marriott Marquis goes out of its way to make sure kids and parents alike feel welcome, with countless activities and special events offered throughout the year. From kid-friendly arts & crafts sessions to poolside family movies during the summer, the hotel staff does an incredible job in making families feel at home.
Needless to say, it wasn't long into my stay at the Marriott Marquis San Diego that I found myself repeating I never, ever want to leave… in my head over and over again. Because honestly, who would want to leave such a paradise? From all the modern business amenities and comfortable, well-appointed rooms, to a state-of-the-art fitness centre, incredible dining options and 5-star resort pool, the Marriott Marquis San Diego is truly a world class hotel and resort offering the quintessential San Diego experience. An experience everyone and every family should have at least once in their lifetime.
Are you thinking of planning a family vacation and are looking for places that have it all? Check out these recommendations!
Hanalei Colony Resort – Kauai, Hawaii
Fairmont Chateau Lake Louise – Lake Louise, Alberta
Westin Bear Mountain Golf Resort & Spa – Victoria, BC