Camping, kayaking, hiking, biking, these are just a few of the list of fun outdoor activities to dive into with the weather finally cooperating and the outdoor adventure season upon us. With all these activities the one thing they have in common besides being boatloads of good, clean air filled fun is the need for gear and the sky-high bill that gear can add up to. Before you head to your local retail chain store to buy new off the shelf items and break the bank, we have put together a list of alternative options to get the best deals on outdoor gear and head out this summer fully equipped but with a lot more dollars in your pocket.
Craigslist and Kijiji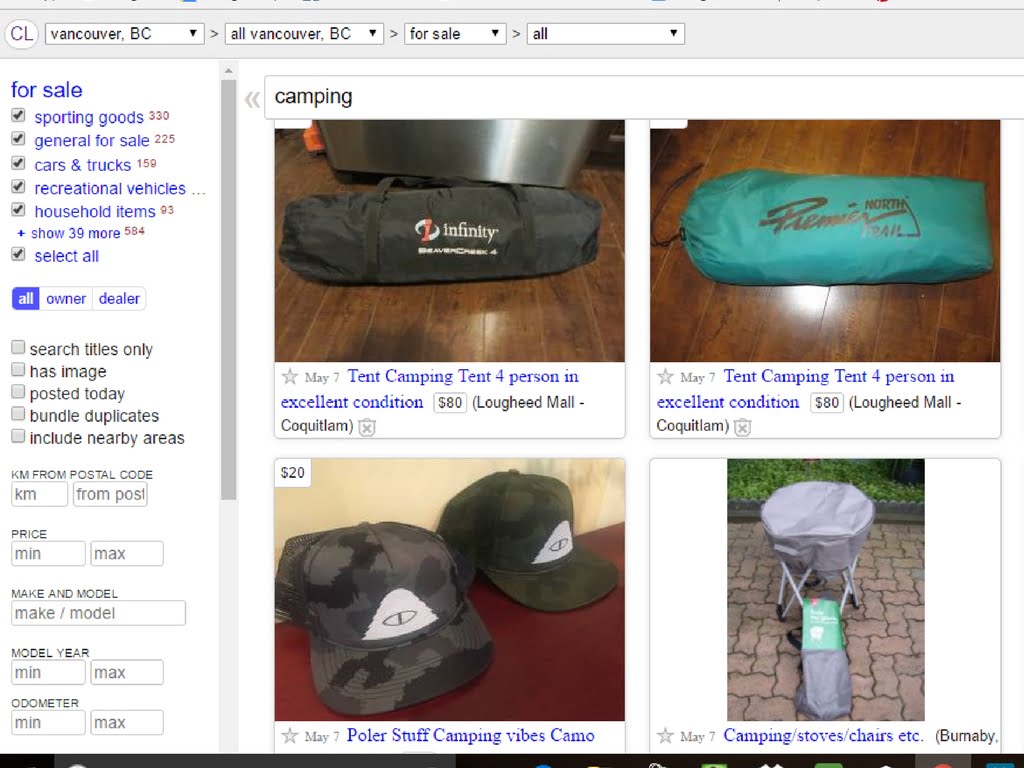 He got all excited and bought all the latest and greatest camping gear last year swearing it would be something they did all the time. Took the wife and she hated it and made them buy an RV. Their loss is your gain! These sites are filled with barely used and heavily discounted gear that the owners just want to get out of their garage! You can barter and get your purchase discounted even further or even swap something you have that they need. The options are so flexible with these online sites and the ease of use and amount of available product is fantastic. So long as you're smart about meeting in a secure public place for the pick up and money exchange, you can have many great experiences with Craigslist and Kijiji and stock up with everything you need for your next adventure.
Cloverdale Flea Market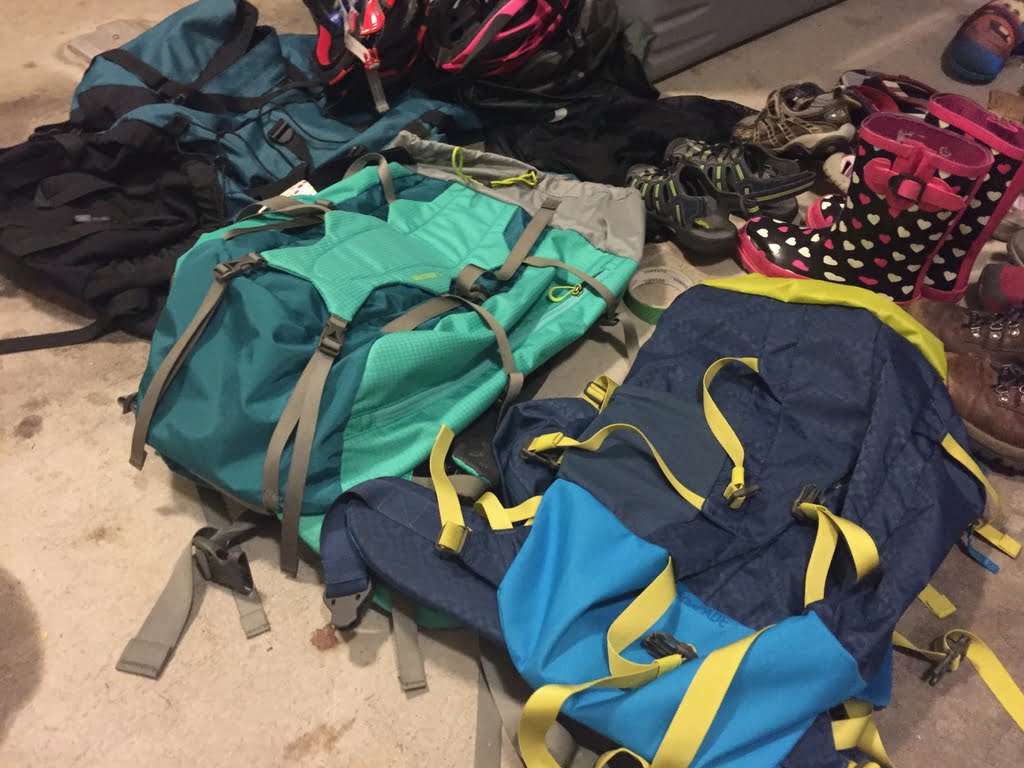 On every Sunday, this popular flea market has grown and grown over the years and is marketed as 'your weekly treasure hunt'. Among the dirt cheap hanging baskets and dvd's, there are often hidden gems with camping and outdoor gear scattered randomly. Open 6am until 3pm, get there early before the best stuff is snapped up. It's a fun family outing, they sell great kettle corn and you just never know what you might find!
Online Outdoor Equipment Gear Swaps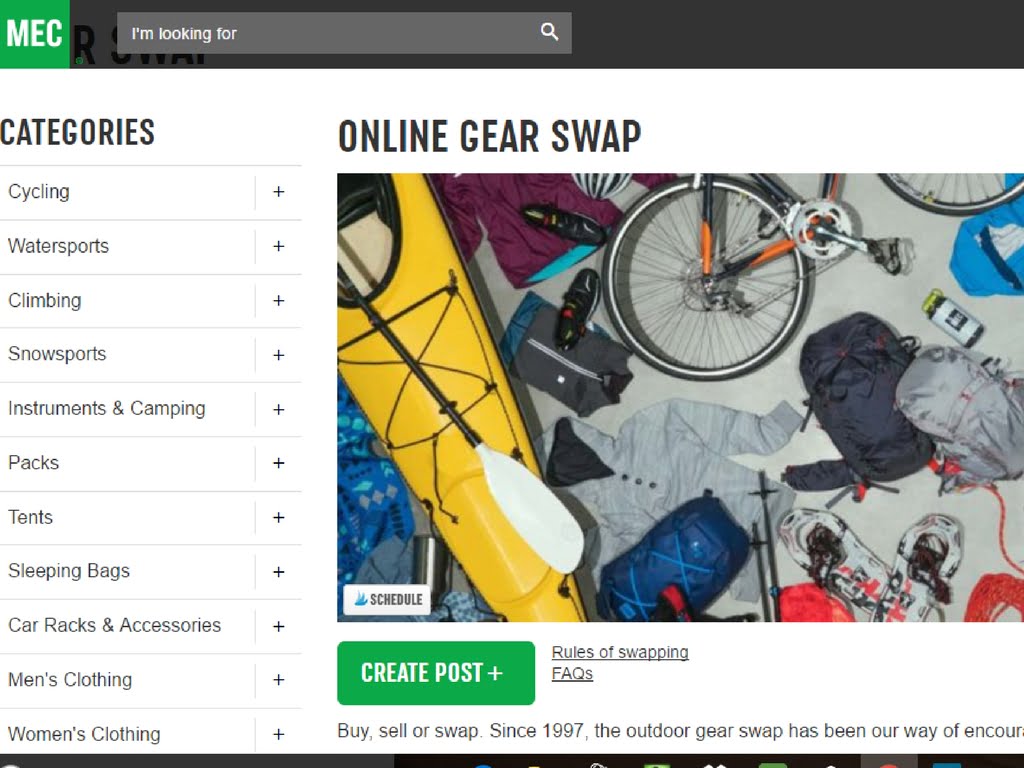 There are many sites dedicated specifically to swapping and selling outdoor adventure gear. These are a great place to get more specialized items you just may not find popping up on Craigslist. The Mountain Equipment Co-op gear swap page is one such site with endless options from sellers locally and all over Canada. These sites often attract enthusiasts who really know their stuff and have probably invested in some pretty great gear that you can snap up when they move onto the next level must haves.
Your Local Outdoor Outfitter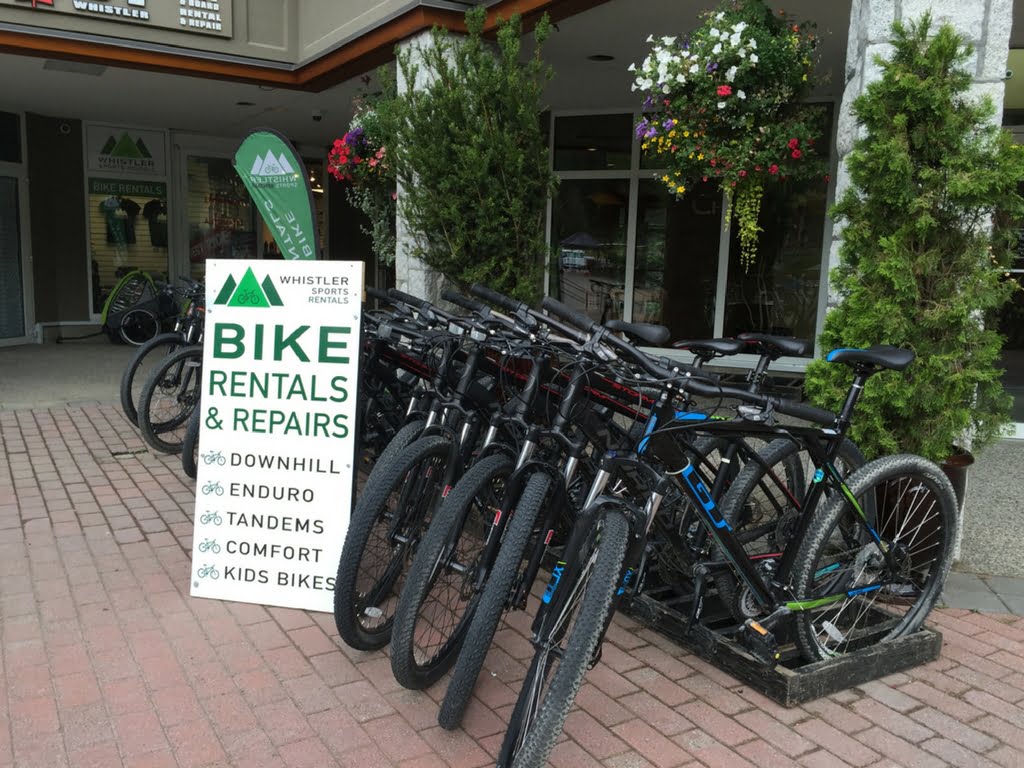 They may not be out on display, and you may not even think to ask, but some major chain outfitters have classes, rentals and lots of returns. These items can sometimes be for sale at reduced rates. Check with your local store, or anywhere that rents out gear. For example, Whistler Sports Rentals sells off their used rental bikes at very reasonable rates. The great thing about going this route is you can see the gear and ask as many questions as you like in a comfortable safe storefront environment.
Online Communities
Every outdoor activity has a corresponding online community of advocates. Many of these sites will include a classifieds to buy and sell used gear. Pages such as the Kayaking site West Coast Paddler have buy and sell threads for forum members. These sites are a great place to get a wealth of knowledge and advice from other like minded enthusiasts and pick up all the bits and pieces you will need to head out this season.
Facebook
Whatever the topic, passion, like or interest, someone out there has created a swap page or Facebook group for it. Poke around on Facebook and you are bound to find exactly what you are looking for, and local people selling it. As with all the online sites, ask for the condition of the gear, some history and for plenty of pictures before agreeing to meet or purchase.
So there you have it. There are so many ways to get excellent condition used equipment for whatever your outdoor activity of choice may be. You don't have to pay top dollar and always buy new. Just keep your wits about you and make sure you do your research and you can come out on the other side feeling amazing about the deals you have scored and the money you have saved. Happy hunting!
Now that you are armed with ways to find the best deals on outdoor gear, it's time to start planning your adventures! Looking for a new way to explore some local areas? Try kayaking and canoeing through local blueways! Or perhaps you are ready to give those new hiking boots a test drive, here are some family friendly hikes to explore!
Is this a sponsored post?: No, we were not paid for this post. We simply want to share with our followers where to get the best deals on outdoor gear! We hope this inspires you and your family to get outside and try something new!
Article Written By: Kirsty Tran