Step into a different world. A place of imagination, whimsy and creativity. Where artistry meets architecture and challenges generally accepted ideas of indoor and outdoor living. A place that blurs together fantasy and reality to prove that life doesn't have to be so serious. Escape to something new at Hôtel de Glace, the Ice Hotel of North America, and see for yourself the magic of this unique experience. But don't forget your jacket—it's magical, but really cold!
Hôtel de Glace Est. 2001
It was an ice hotel in Sweden that inspired entrepreneur Jacques Desbois to create Hôtel de Glace in Quebec—the snow capital of the world. To say he was onto something would be an understatement. Since the hotel's debut in 2001, it has garnered world-wide attention and fame. As the only hotel of its kind in North America—made 100% from snow and ice— this unique attraction has drawn nearly 2 million visitors to revel at its icy architecture, including almost 70 000 guests that have braved the frigid temperatures for an overnight experience like no other.
Finding a Permanent Home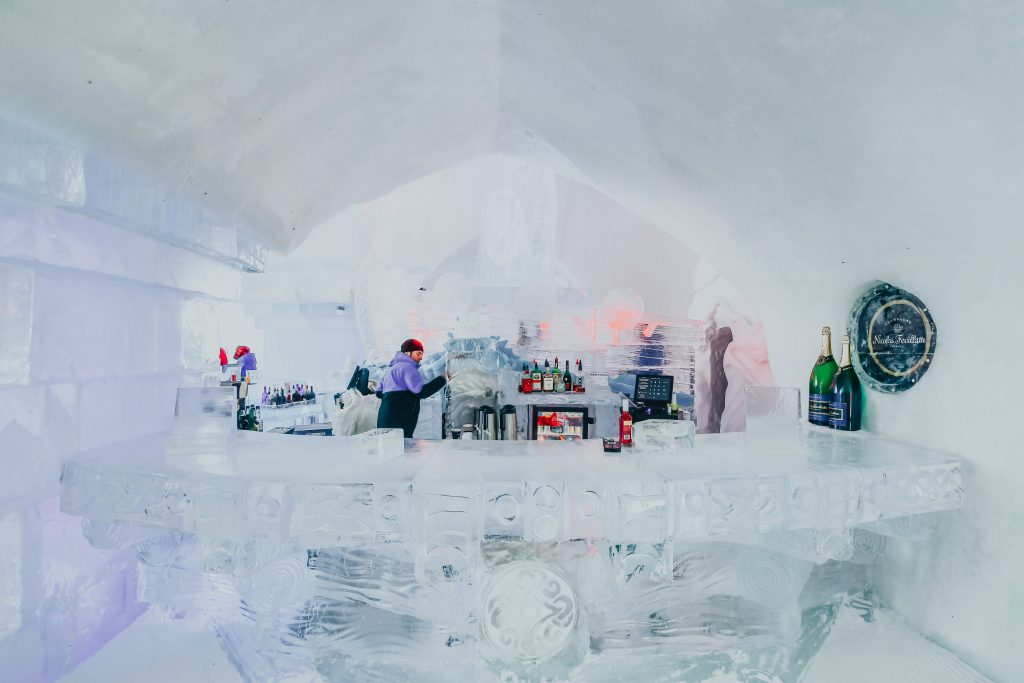 The fact that this hotel melts every year makes changes in location a much simpler process than it would be for most hotels. With four different locations around Quebec since its opening, Hôtel de Glace has called its current location home since 2016—just 20 minutes north of Quebec City within the Village Vacances Valcartier.
Do You Want to Build an Ice Hotel?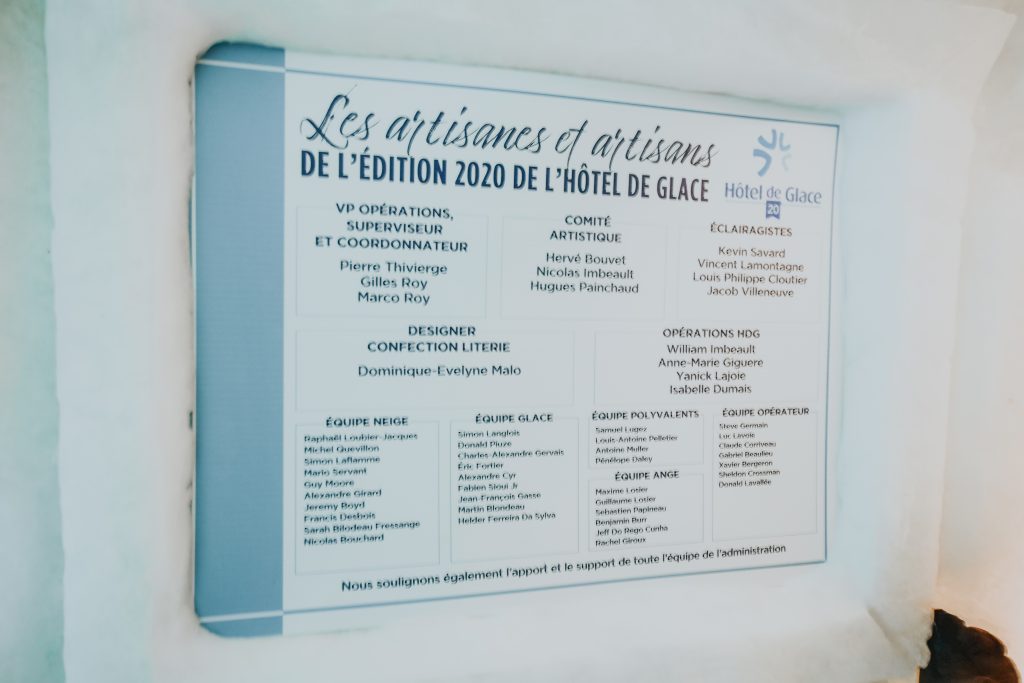 A seasonal hotel not only in its limited opening weeks but also in its existence. Each year, Hôtel de Glace is rebuilt from the ground up. As soon as the temperature remains consistently below freezing, construction begins. Approximately 50 workers and artists come together over six weeks to build and decorate this astonishing icy attraction. More than 500 tons of ice and 40 000 tons of snow are required to create the hotel. The snow is made on-site by snow cannons. When finished, the Ice Hotel covers almost one acre.
It All Starts With a Theme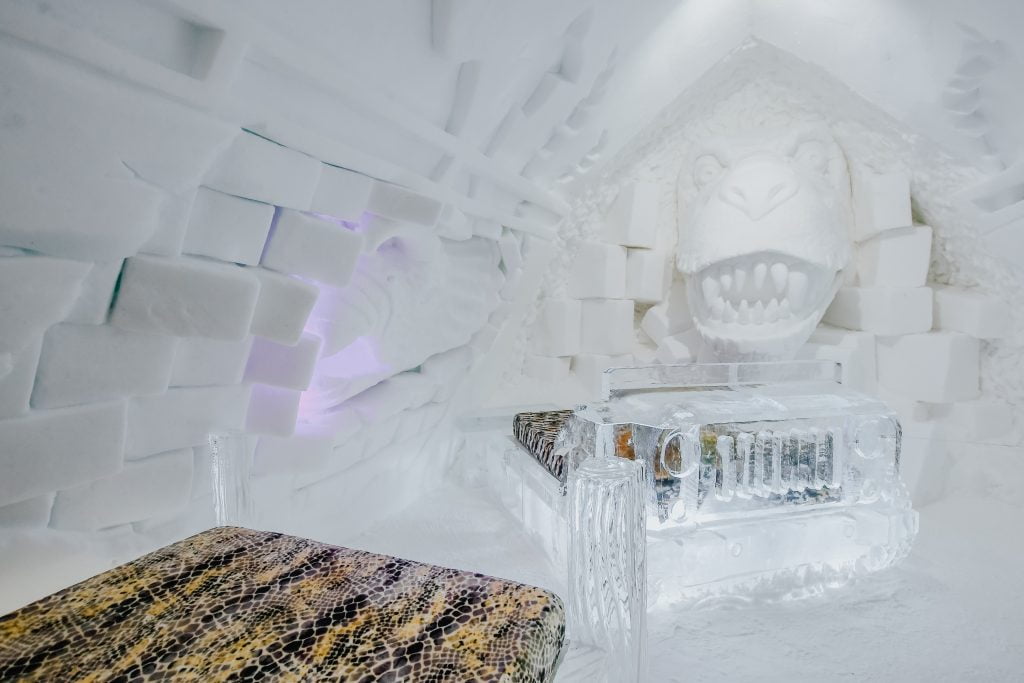 As any great party planner knows, theme is everything. And if you have to rebuild every year, you might as well get creative with it. Every season the Hôtel de Glace changes its design elements. As soon as they close their doors for the season—usually in March—planning begins for the next year's theme.
The hotel is currently celebrating their 20th anniversary season with the theme "20 years of fairy tales" by bringing together the most magical elements from their 19 previous seasons. The sculptures and other details that bring the theme together have been created with nostalgia for their favourite themes over the years.
Fun Fact: For the 2014 season Hötel de Glace created a suite themed after Disney's Frozen. Guests could stay in a room modelled after Anna and Elsa's bedroom.
Are You an Anna or an Elsa?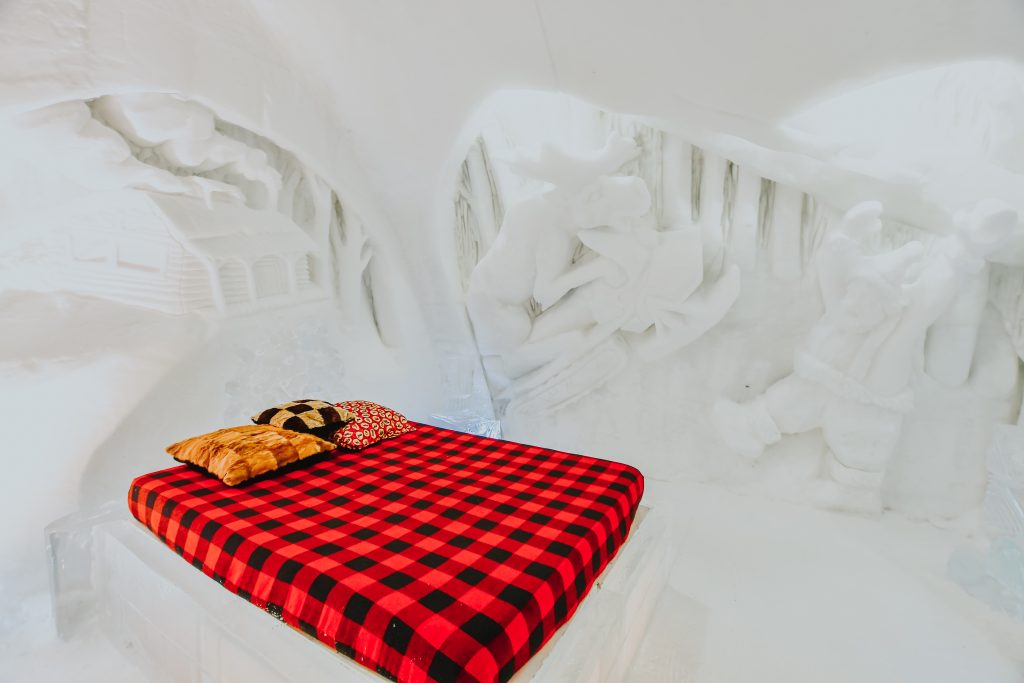 In order to decide on the best way for you to experience Hôtel de Glace, you need to ask yourself one very important question. Are you an Anna or an Elsa?
If you're like Elsa and the cold never bothered you anyway, you will definitely want to book your overnight stay at Hôtel de Glace. If you're more of an Anna, in that you'd rather visit the ice castle than live in it, a day pass might be the way to go.
Overnight Guests at Hôtel de Glace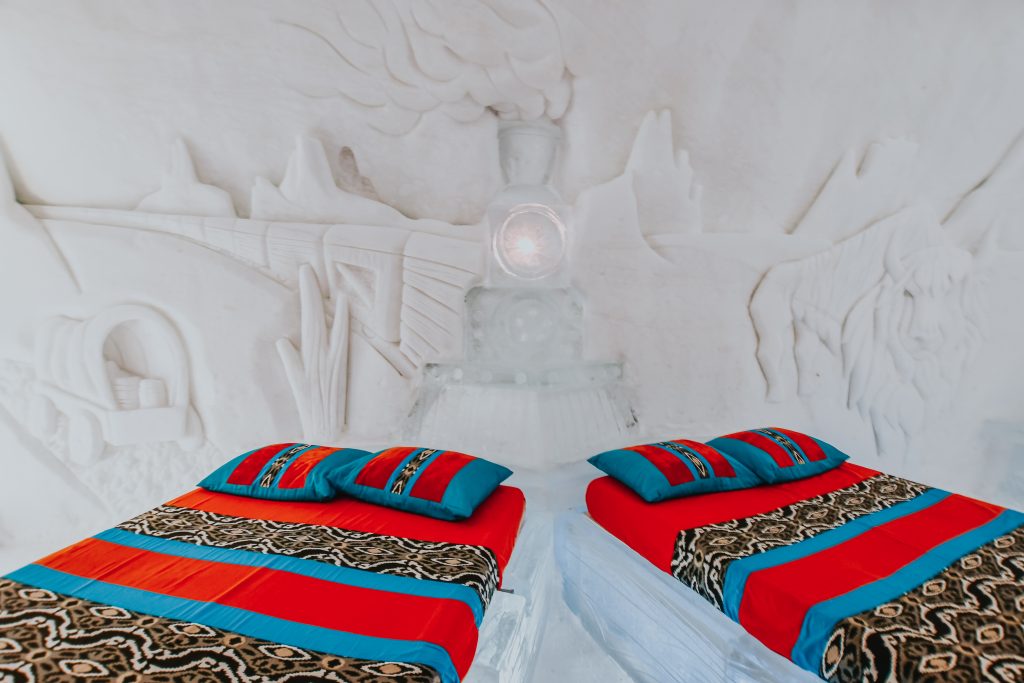 There are 42 rooms and themed suites within Hôtel de Glace. With options of one to three beds, in-room fireplaces and even a suite with a private hot-tub and sauna, you are sure to be able to find the right accommodations for your group.
The temperature inside the hotel, no matter the weather outside, is between -3o and -5o C (23o and 27o F). Sleeping bags built to resist even colder temperatures along with an insulated bed sheet and pillow are provided to you. But just in case someone in your group realizes they are not the ice queen they thought they were, your reservation at the Ice hotel also gets you a room—for the same night—at the 4-star Hôtel Valcartier which is about a one-minute walk away. Not only does this give you a Plan B it gives you somewhere to store your luggage and take a shower.
Your overnight stay also includes access to the Nordic area of the hotel. Situated under the stars, you can warm up inside the hot tubs and saunas before bundling up and heading to bed.
See their website for all the details and to book a room.
Day Guests at Hôtel de Glace
Visiting Hôtel de Glace on a day pass is a great way to experience the beauty of this world-famous attraction—without needing to sleep in a toque and mittens. Spend the day taking in the extraordinary sculptures and the intricate details etched into the snow and ice.
You are welcome to discover the hotel on your own, but the tour was fascinating. The overnight guests have a 9PM check-in and 9AM check-out which means the rooms and suites are open to the public for viewing during the day.
Lastly, don't leave without a visit to the Ice Bar where instead of putting ice in your drink, you put your drink into ice.
See admission prices and hours here.
But Wait, There's More. 5 Other Activities at Village Vacances Valcartier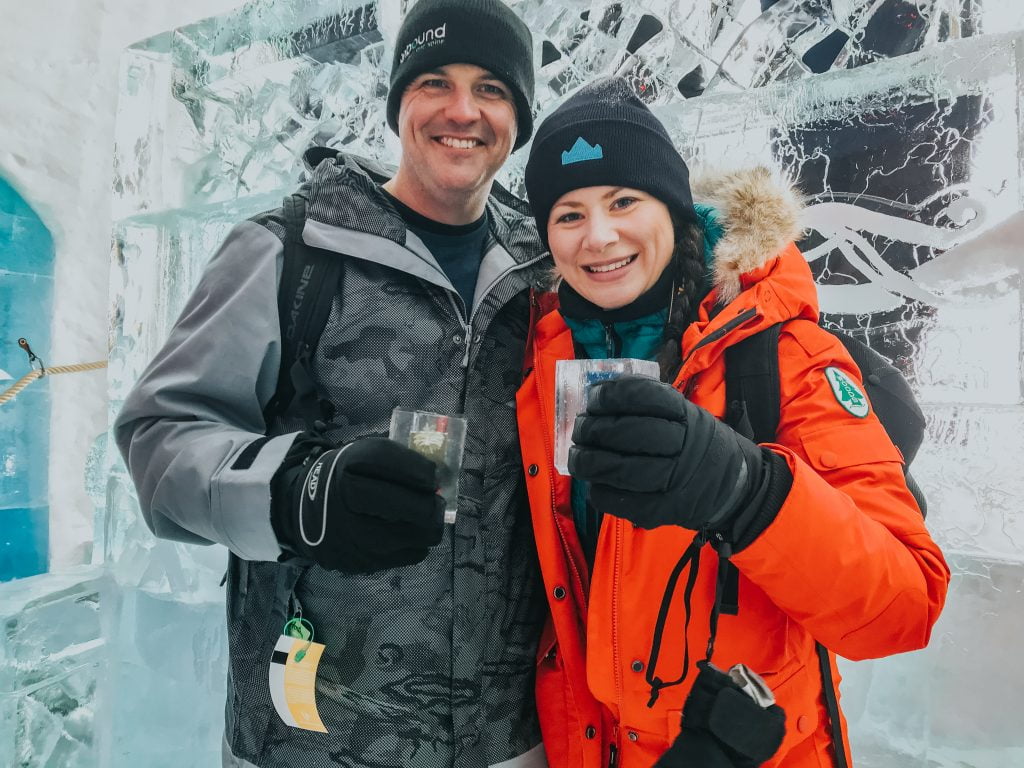 Hôtel de Glace is only one part of the all-season Valcartier Resort. There are plenty of other things to explore during your stay.
Bora Parc – Go from sub-zero temperatures outside to a warm 30oC inside at this indoor water park. It's swimming, sliding and indoor surfing fun for everyone.
Winter Playground – From December to March come play at America's largest winter playground. From
tubing slides to ice skating, a snow fort and more, your family will have an experience to remember.
Aroma Spa – When it's time for a break, Aroma Spa, located inside Hotel Valcartier, is the place to go. Book your body treatment or massage or simply immerse yourself in their hot tubs, cold plunge pools and saunas.
Eat & Drink – Be sure to bring your appetite. Numerous restaurants, bars and snack shops are located within the resort.
Escape Jeux – This digital games room located in Hotel Valcartier is pinball-air hockey-car racing fun for everyone. Grab your reloadable game card on the way in.
I truly can't say enough about how beautiful it was here. My kids were entertained and interested the entire time. There were countless things to look at and explore and I am so glad it was part of our Ultimate Canadian Winter Roadtrip.
---
Enjoyed Hôtel de Glace? Check out the blogs below for more Quebec adventures!
Is this a sponsored post?: Yes while our time at Hôtel de Glace is sponsored all views and opinions are our own.