Eyes darting back and forth my kids competed for air space as they filled up with excitement pointing out movie scenes from Olympics of days gone by. "That's where Eddie The Eagle flew" and "Over there… that's where the Jamaican bobsled team took off" (which of course only resulted in us all singing the chorus from the movie). We were ready to take on the summer family adventures at WinSport Calgary.
With the 2020 Olympics in full swing, our visit to WinsSport at Canada Olympic Park was extra special as we walked through Canada's own history of when Calgary hosted the 1988 Winter Games. A world-class venue in the '80s has still remained relevant as it has innovated through the decades and continues to offer multi-season adventures for all members of the family. So while we were visiting family and friends in Calgary a trip to WinSport was the perfect destination that allowed us to do some of the things we loved, and also explore some new experiences we had never had before!
Downhill Karting at Winsport Calgary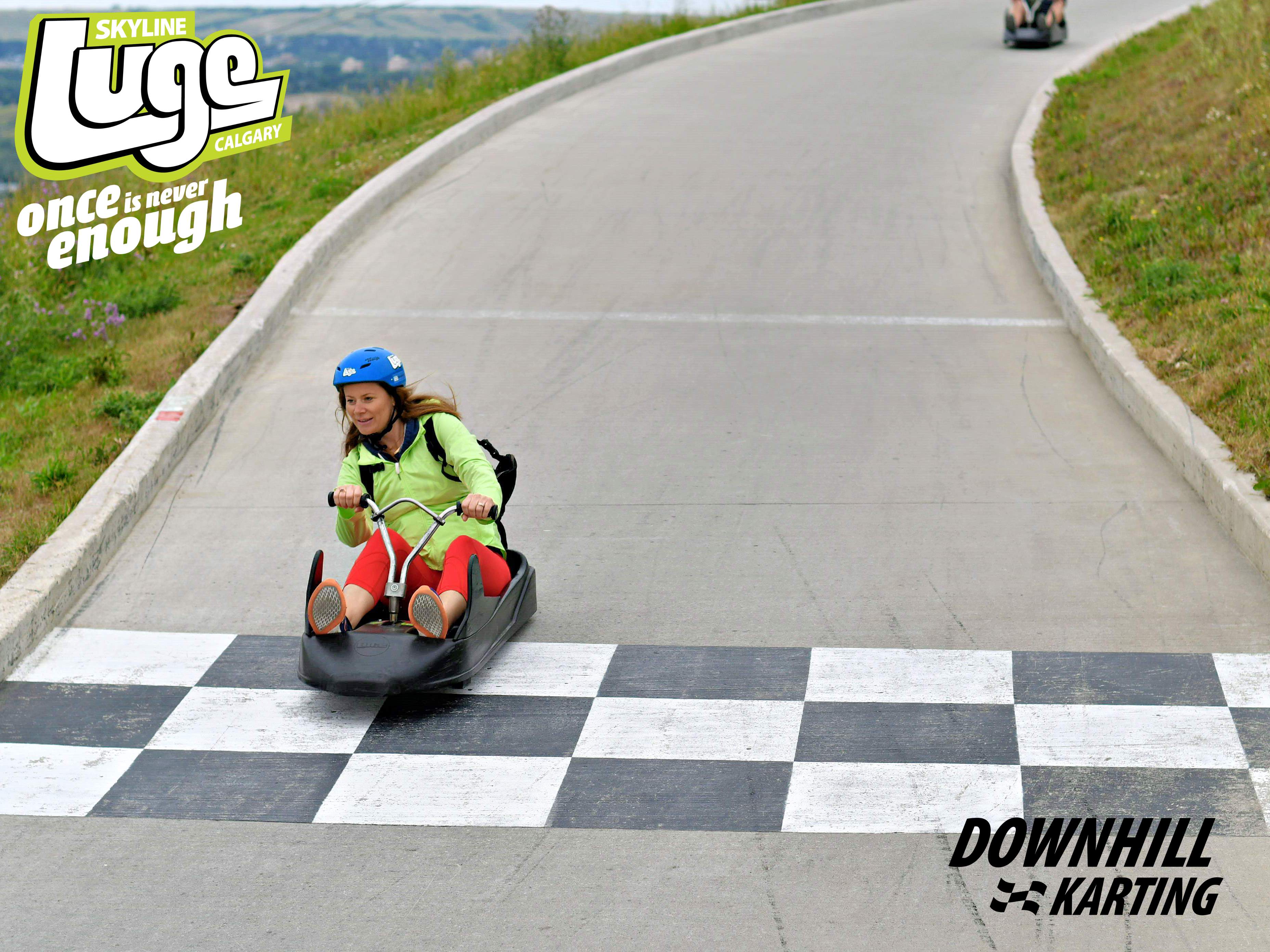 Are you ever too old to win a race? Not for this Momma, and so the second I could let off the breaks on my cart I did, quickly whipping me around the corner faster than I had anticipated and yet at the perfect speed. Not to be outdone by their Mom, my kids quickly crept up, their lack of weight in the cart working against them. It was time to hone in skills and strategically navigate around the corner in order to catch up with their old Mom. And they did… passing me with glee as they sailed across the finish line before me.
Downhill Karting, or Skyline Luge as the locals call it, is over 1800 meters long descending over 100 meters, with 50 twists and turns to keep you steering hard and "racing" around each corner. Accessible only via chairlift, drivers will maneuver these purpose-built karts, allowing full control over their sped and direction using a unique braking and steering system. As long as you're 110cm's in height and six years old you can drive your own cart (little riders are welcome to tandem with an adult driver). Simple to use by only having to pull back on the handlebars to slow down or stop, or if you like to go a little faster, push forward and let gravity pull you down the mountainside.
4 Tips To Make Most Out Of Your Karting Experience:
Go Early

– We loved no lines and the ability to do multiple rounds on the karts.

Dress Light –

You can wear a backpack if you need to but otherwise leave bulky gear in the car.

Layer Up

– In the mountains, it can be a bit chilly in the morning on the chairlift so layer up so you can stay warm for your whole adventure.

Order Pics

– My kids loved the action photos that were available for purchase after the adventure. Especially one of them crossing the finish line before me!
Mountain Biking, One of the Summer Family Adventures at WinSport Calgary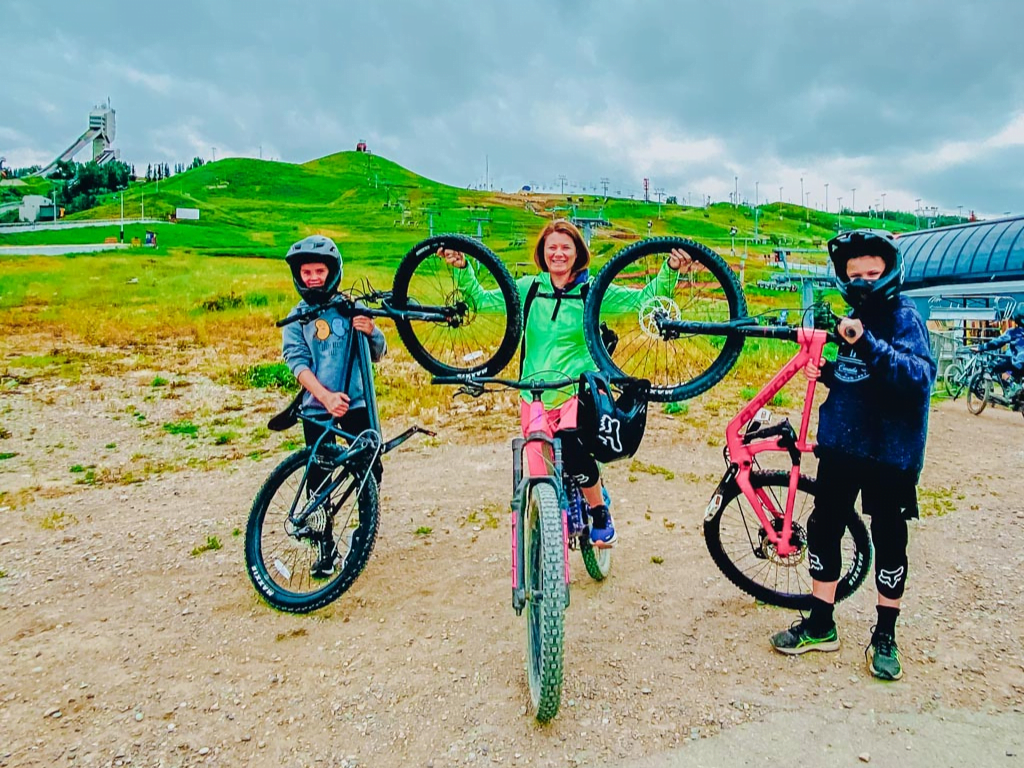 While Calgary lies in the foothills of the Rocky Mountains, accessing mountain biking opportunities from the city can be a bit challenging. In comes WinSport and their downhill mountain bike park with 9 acres of terrain and 14 trails. A groomed experience offering riders of all ages the ability to gear up with rental gear and hit the chairlift where green, blue, and black trails await.
My kids' favourite part was the downhill, with the long berms and flowing trail that worked its way back to the village. And their second favourite part? Not having to pedal back up to the top of the hill, the shuttle by chairlift experience was something new to them that they truly loved (wish me luck as I try to get them back on cross country trails!).
Monster Zipline At WinSport
Every kid's summer bucket list should have Ziplining on it! (Just ask my 12 year old) How about doing a Monster Zipline on North America's fastest zipline? You'll find it only at WinSport! Kids will soar 500 meters high above Canada Olympic Park at speeds up to 120 km/h, taking them down a vertical drop of more than 100 meters. The birds-eye view will have them looking down on the Bow River Valley and northwest Calgary
Mom tips for the best zipline experience:
Check the weather – Ziplining is best on sunny days.
Check your age and weight restrictions prior to booking – Kids must be over the age of 10 years old, guests under 12 must have an adult accompany them. Minimum weight: 75 lbs /34 kgs, maximum weight: 250 lbs /114 kg.
Deals – You can save 10% on other attractions at the park by showing them you did the Monster Zipline adventure.
Clothing – Wear comfortable clothing such as T-shirts, leggings or long pants, and close-toed shoes.
Summer Bobsleigh at WinSport Calgary
If you've watched "Cool Runnings" (an iconic bobsledding movie, from the early '90s, showcasing the Jamaican bobsled team) with the family and want to take your run at the sport with the crew, the summer bobsleigh is for you. Thrill-seekers can expect to cruise down the track at speeds up to 80 km/h twisting and turning around 10 corners, squealing all the way. Perfect for roller coaster lovers, young adults, and families with older children.
Hints and tips:
The minimum age for riders is 14 and you must weigh between 75lbs/34kg and 250lbs/113kg.

No previous neck or back injuries and cannot be pregnant.

Wear comfortable clothing and close-toed shoes.
Whether you're looking for one adventure or a few days' worth of family fun WinSport in Calgary is the perfect basecamp for family fun! To learn more about WinSport and book your tickets visit their website.
---
Heading to Alberta? Check Out These Blogs for Adventure Inspiration!
Sponsorship Disclosure: While this experience was hosted on behalf of Travel Alberta, Tourism Calgary, and WinSport Calgary, the opinions, thoughts, recommendations, and media is all my own. I only recommend companies that I would trust my family and friends with and that I would invest resources into myself.