Since the first hikers donned their boots and scaled the iconic mountainsides, Banff has been known as a place to seek world-class adventures for people of all ages. Parents recognize the majestic beauty of Banff National Park and book family vacations so they can introduce their children to this iconic region. Whether you're looking for an entry-level picnic or backpacking trip through the backcountry, a new restaurant, or a morning rooftop family yoga class, innovations in Banff's tourism scene are abundant and we're here to showcase some of the newest summer family friendly adventures in Banff!
Banff Entrepreneurs Take a New Look At The Classic Canadian Town
Banff residents are a unique mix of classic Canadians who have been raised in the region, temporary residents who are visiting (and often never leave) daily commuters from the sister town of Canmore, and a healthy dose of Aussies, sprinkled through the community tapestry as if they were always meant to be there.
What unites the residents and business owners of Banff is their commitment to the land that they live on, their inspiration to always find innovation in the tourism industry, and their unparalleled passion for the guest experience. While Covid-19 hit the industry hard, many entrepreneurs saw the opportunity to create a new experience for guests so that when the doors re-opened they could showcase the best of what Banff has to offer.
New Summer Family Friendly Adventures In Banff
Starting Your Day With Family Sunrise Yoga
There's nothing like standing in tree pose surrounded by the mighty and majestic Rocky Mountains, and your kids right by your side. The parallel of a new generation doing yoga amidst the mountains that have been there for millennia wasn't lost on me. This unique rooftop experience is the perfect way to kickstart your day. Learn more about this experience: Dawning of New Days and Downward Dogs with Banff Sunrise Yoga
Family Mountain Biking with Bikescape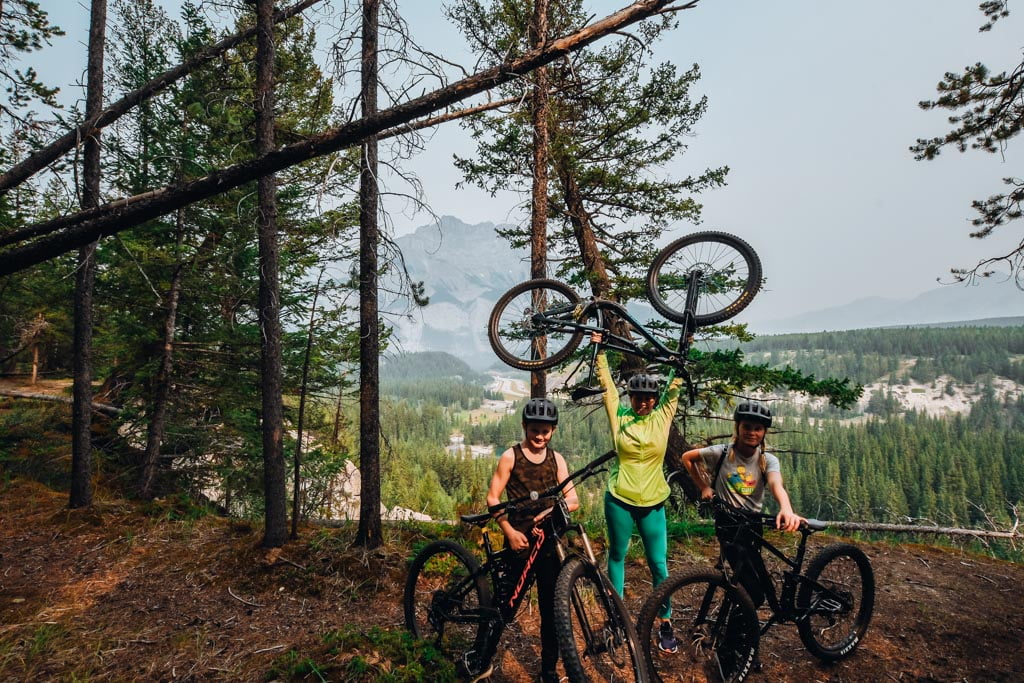 Founded by Clare McCann who saw a gap in the market for family mountain bike experiences, Clare created Bikescape. Families can expect to build confidence and skills on their "ridiculously fun, seriously safe, mind-blowing mountain bike adventure" Based out of Tunnel Mountain you'll be able to explore the extensive trail network and enjoy a custom-designed mountain bike experience your whole family will love. Learn more about this experience: Pioneering Pedals – The Best Family Mountain Bike Tour in Banff
Family Hiking With The World's Best Hiking Guide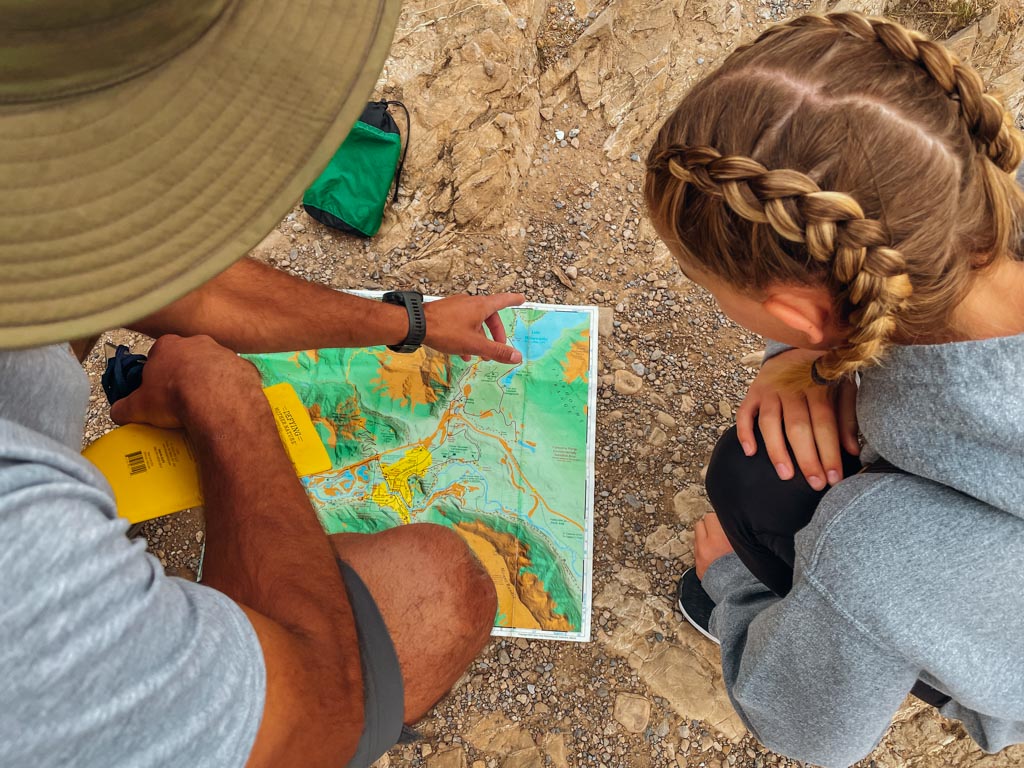 While that may be a hard title to beat, Sam at The Banff Hiking Company has earned it from two esteemed judges… my children. And considering they've done hundreds of tours, I feel like they're good evaluators. Making a hike educational, entertaining, engaging, and empowering is also "Mom approved". So if you're looking for the best family hiking guide in Banff, who will take you on the hike of your choice (ranging from day hikes to multi-day adventures) be sure to check out Sam and his new company, The Banff Hiking Company. Learn more about this experience: Raising Little Hikers with the Best Family Hiking Guide in Banff.
Introduce Your Family To The Art Of Grazing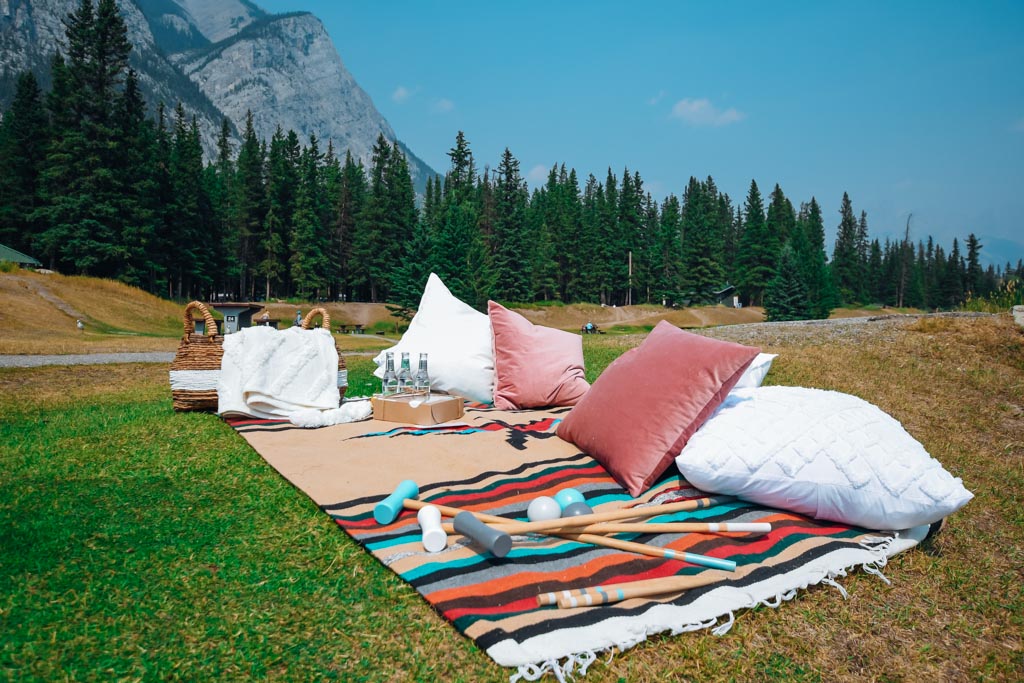 How about indulging in a family picnic that is a collision of art and experience all in one delectable meal. Banff Graze Co. was created by a new Mom, Salina, who's excited to bring the art of grazing to the Banff culinary scene. Whether you're looking for a cozy park picnic like we had, or want to create a special event and a once-in-a-lifetime opportunity, introduce your family to Banff Graze Co. and let the grazing begin! Learn more about this experience: Picturesque Banff Luxury Picnic with the Banff Graze Co.
Learn The Power Of Storytelling On An Indigenous Medicine Walk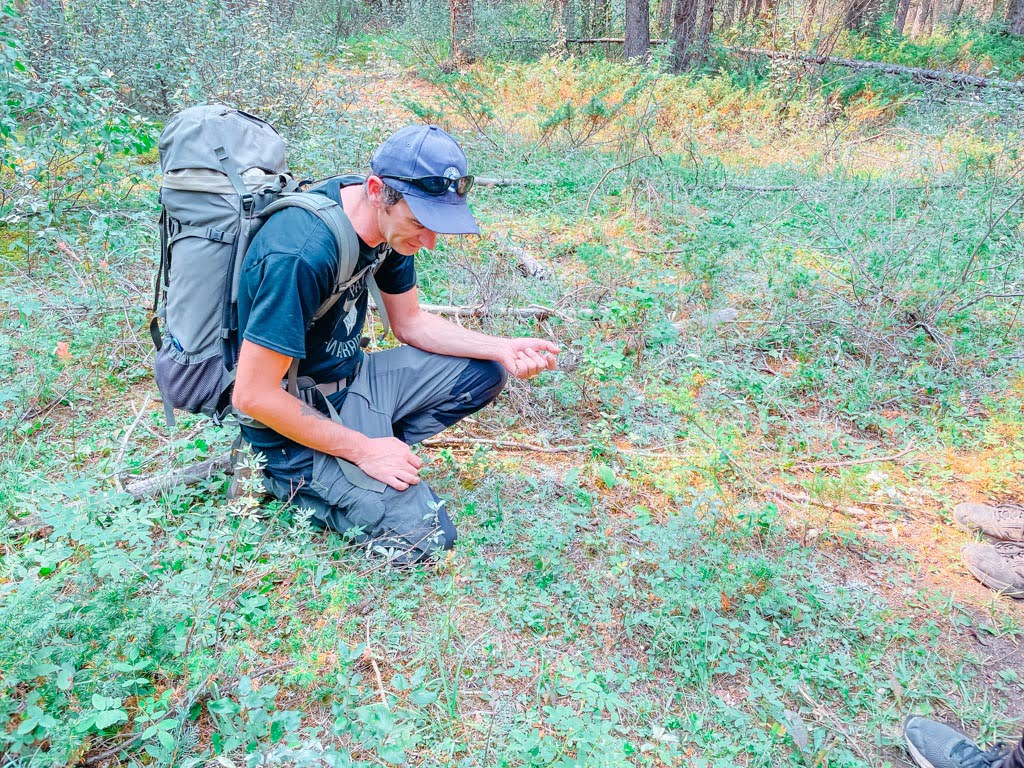 There's nothing more powerful than listening to a good storyteller. Our guide Jordan shared the knowledge from his family that has been passed down from generation to generation through a variety of entertaining and educational stories on the Indigenous Medicine Walk. If your family is looking for a deeper connection with the land and to hear stories about the medical treatments the local flora has provided residents for thousands of years, this tour is for you. Learn more about this experience: Indigenous Inspiration Through Storytelling on our Banff Plant Medicine Walk
Commission a Classic Canadian Canoe on Lake Louise
While not a new experience on the Banff scene, most Canadian families are yet to have this iconic Canuck experience so we had to add it to our recommended list. Hosted out of the turquoise blue, picture-perfect Lake Louise, families can rent a canoe (or two) and head out paddling for the hour. Warning, random bursts of songs, and giggles from yours and other passing boats are a part of the collective experience. Learn more about this experience: Proudly Paddling the Pristine – Your Ultimate Guide to Family Canoeing on Lake Louise.
Best Basecamp for Summer Family Friendly Adventures In Banff
Newly renovated and ready for your whole brood, Tunnel Mountain Resort offers the classic Canadian experience with all of the modern necessities every family needs. Wifi… check. Full kitchens… check. Outdoor BBQ pit..check. Mountain Bikes for Rent… check… the only thing you need to do is bring a family who's ready for mountainside adventures and get ready to start exploring. Learn more about the experience here: How to Discover the Best Family Friendly Resort in Banff
Best New Restaurants To Take The Family To In Banff
The Prow – Luxury Popcorn & Mocktails for the Win!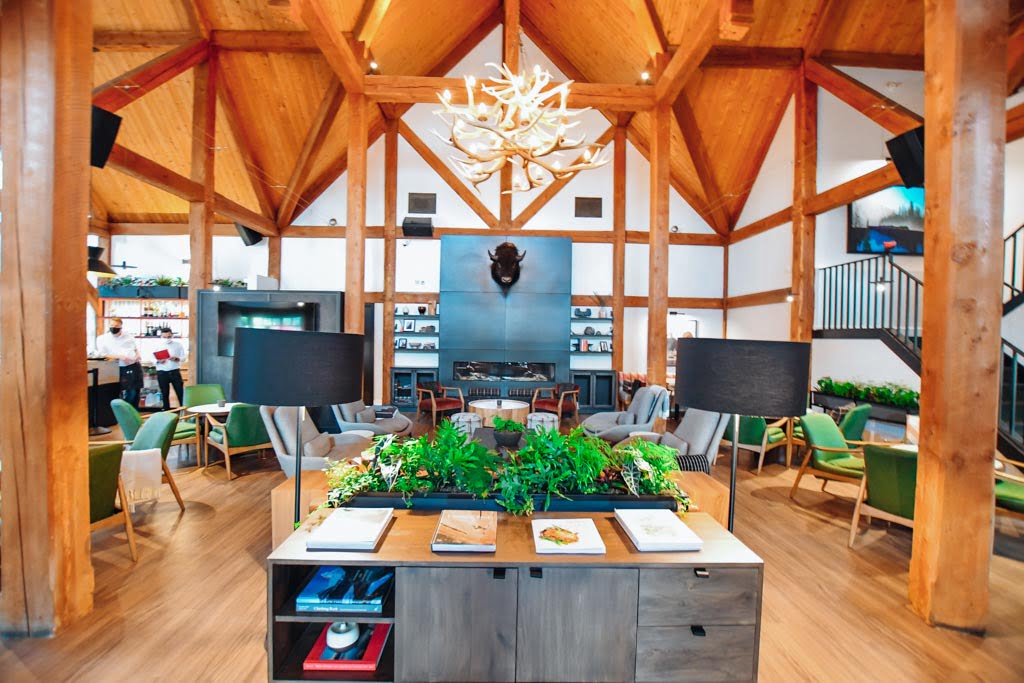 This bold brand new restaurant will soon become a staple on the Banff culinary scene. A place where Canadian timbers soar high overhead and lush linens that embrace the Banff landscape surrounds you. An innovative twist on a classic Canadian look is not only present in the luxury decor but also in the new menu. With local cuisine that takes families' needs into every element of design, kids will ask to come back to this restaurant more than once on your visit to Banff. (Trust me on this!) My kids' favourites were the mocktails and the feature popcorn of the day, which as a Mom who has hungry kids, was the perfect treat while we waited for their main meal to arrive.
3 Big Decision at 3 Brewery and Restaurant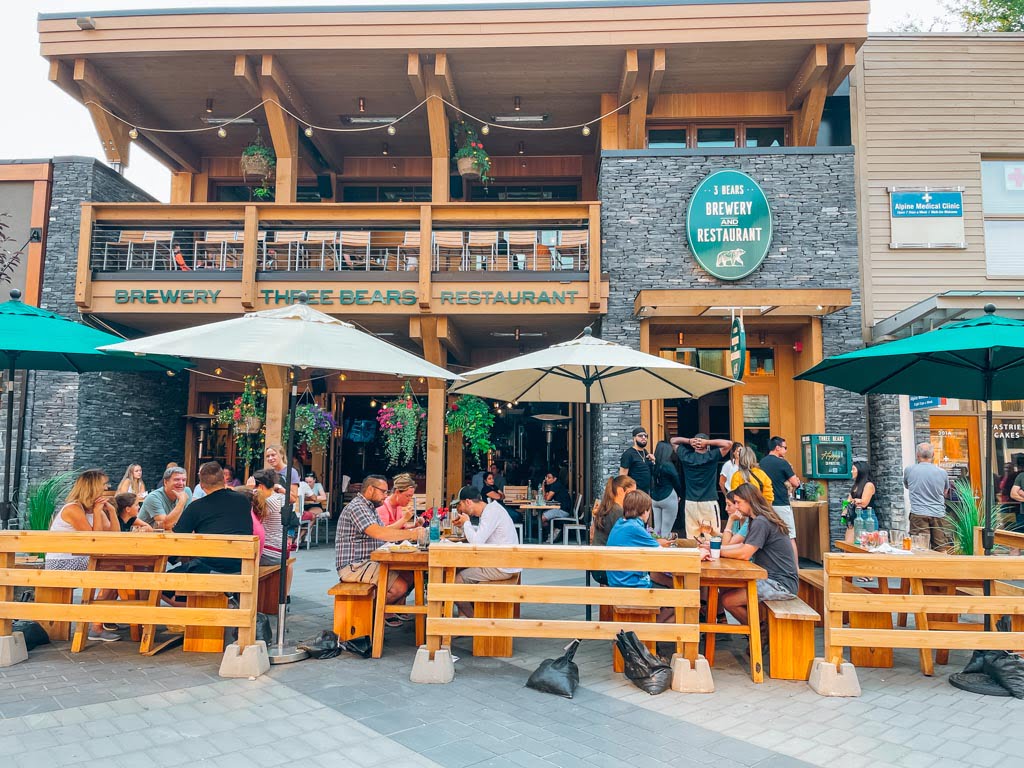 Patio, Rooftop, or Ground Floor… with 3 different places to dine, you're decisions are difficult in all the right aways from the beginning of your 3 Bears visit. The next big decisions come when choosing which drinks to indulge in and which menu items to dine on. With all of the passing plates and hungry bellies, we had a difficult time deciding what to order… but the classic burger and pizza were huge hits with the kids. One decision was easy though, we needed to head back ASAP and next time bring the grandparents
Hello Karaoke at Hello Sunshine!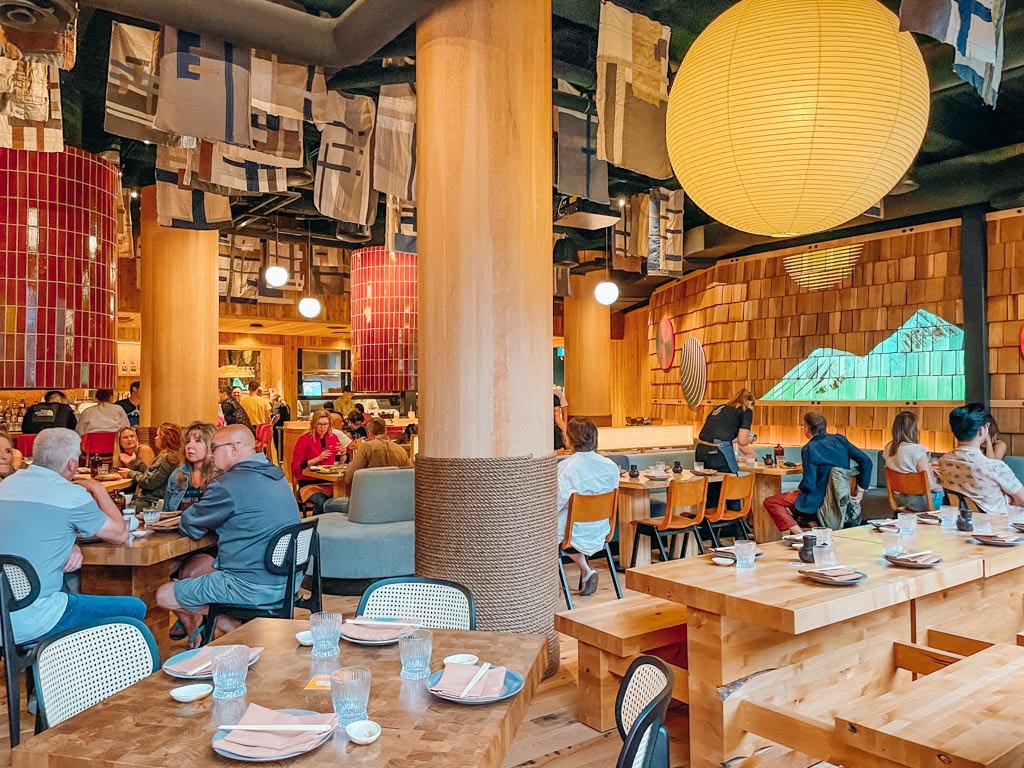 Banff's newest Japanese restaurant offers more than sushi and saki. As soon as you enter the front door you're surrounded by modern decor that is a feast for the eyes. At your table, you'll feast on all the classic favorites as well as new twists on dishes you've grown to love. Bringing the extended family or a group? Well, keep the tour going and head to one of the back private Karaoke rooms! With the shareable plates and the kid-friendly meals your whole family will love this adventurous new restaurant in Banff.
Best Way To Get Around Banff – Hint: It's Not Your Family Van!
We encourage you to #DitchAndHitch on your family holiday to Banff. Ditch your family ride and opt for the more convenient, more environmentally friendly bus option while experiencing the best summer family friendly adventures in Banff . We traveled with ROAM transit, Banff's public transit model where we enjoyed convenient and regular stops, clean busses, and friendly drivers. One Mom spotted me on the street and said, "You look like a seasoned bus goer, can you give me some advice?" Well little did she know that only 2 days before had been my first bus experience in Banff! However, with easy maps (and innovative apps) traveling by bus was the easiest way for us to get around the park hassle-free! Imagine, getting dropped off at the entrance to your adventures and getting to skip all the time trying to find a parking spot!
---
Ever Thought About Experiencing Banff in the Winter? Here's Some Inspiration!
Sponsorship Disclosure: While this experience was hosted on behalf of Banff & Lake Louise Tourism, the opinions, thoughts, recommendations, and media is all my own. I only recommend companies that I would trust my family and friends with and that I would invest resources into myself.