You are going to Los Cabos, Mexico. You want a bucket-list experience, something that you will remember for a lifetime. You scour the internet, and then you see it: snorkelling with whale sharks in Los Cabos. Perfect!
Before you know it, you're there, rocking gently on your tour boat in La Paz Bay, about to swim with whale sharks in Cabo. You plop over the side of the boat and into the warm, salty water. You bob up and down in the gentle waves, positioning yourself just behind your guide, as instructed. You dip your mask below the water and peer out into the blue haze. A dark shape emerges, like a shadow when the clouds slowly break, small but growing rapidly. Your breath catches in your throat, never making it up and out of your snorkel. It's gigantic, and it's heading right at you.
Disclaimer: While I share my own thoughts and stories about this experience, should you click on the affiliate links, I may receive a small commission on that sale which helps fund Adventure Awaits.
Whale Sharks Tours Cabo Reviews
Cabo Adventures offers a spectacular whale shark encounter tour. I found Cabo Adventures to be professional, well-organized, knowledgeable, and passionate about the well-being of whale sharks.
Without hesitation, I can say that swimming with whale sharks in Cabo was one of the highlights of my life. To be so close to these magnificent animals in their natural environment is nothing short of spectacular, and I am so excited to share my experience with you. I recommend Cabo Adventures as one of the best whale shark tours in Cabo if you are considering this once-in-a-lifetime adventure.
Click here to book your La Paz Whale Shark Snorkeling Tour and Lunch From Los Cabos!
An Extraordinary Experience: Swim with Whale Sharks Cabo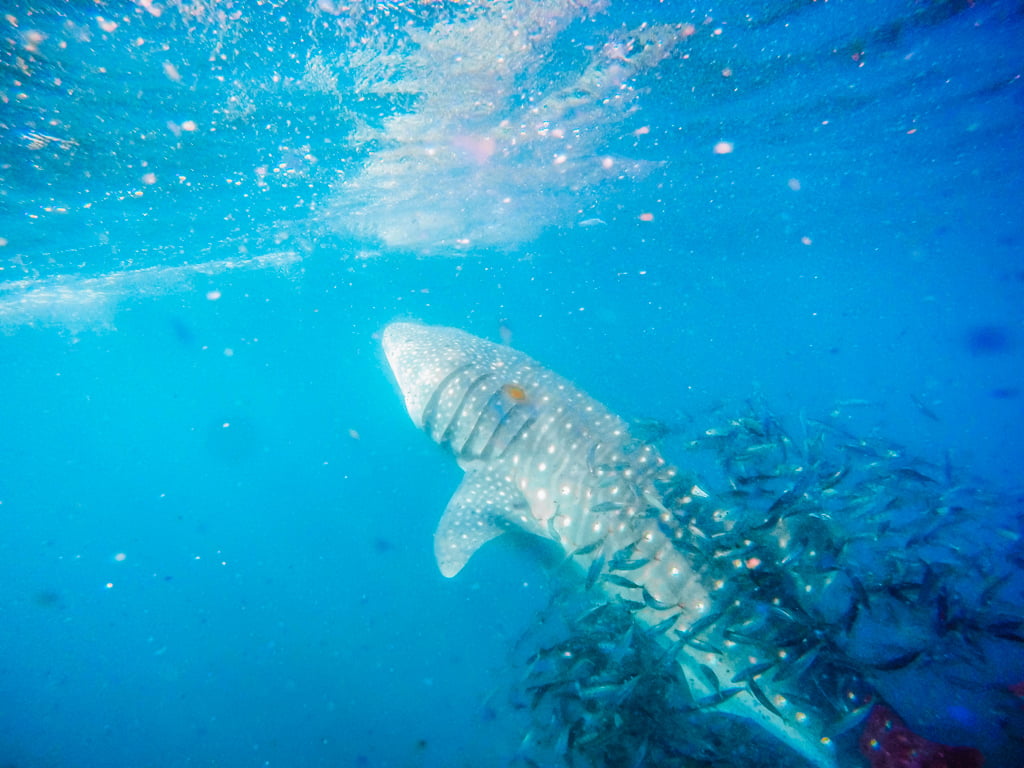 Whale sharks are the largest fish in the world. They are documented to be 45 feet in length and unconfirmed reports list them at up to 60 feet, though 30 to 40 feet is more typical for a large adult. They tip the scales at over 20,000 pounds and can live to 120 years of age.
They inhabit warm tropical or near-tropical waters around the world, and typically roam the vast oceans in search of plankton and small squid or fish, occasionally diving to depths of over 5000 feet. As filter feeders, whale sharks are gentle giants, unable to swallow anything larger than an apple – something I had to remind myself of as one swam toward me.
Why swim with whale sharks in La Paz? While there are other places to go swimming with whale sharks in Mexico, La Paz is geographically unique. Each winter, whale sharks migrate to La Paz Bay to feed on the zooplankton that thrives in the nutrient-rich waters of the Sea of Cortez. La Paz Bay is shallow and calm, making it a perfect location to view these magnificent animals with no specialized diving equipment, just standard snorkelling gear.
How to Swim with Whale Sharks in Los Cabos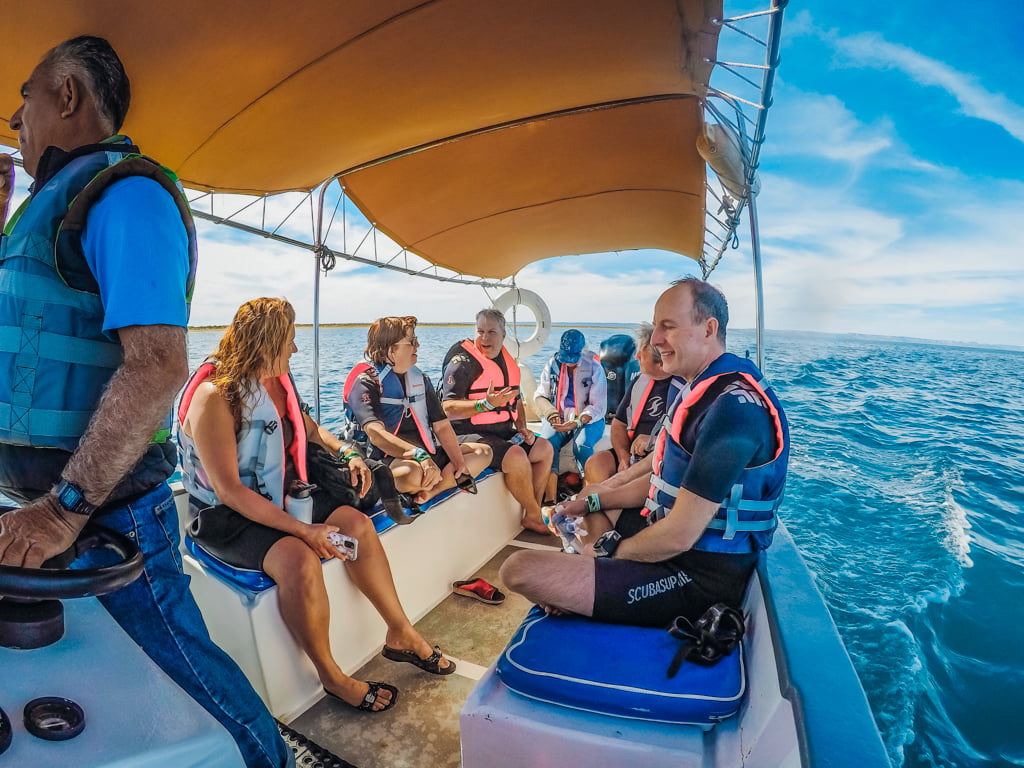 The Bay of La Paz lies just offshore of the city of La Paz, but our tour with Cabo Adventures included bus service from the Los Cabos area. On the two-hour bus ride from Cabo San Lucas, Oliver Hernandez, our incredible guide, gave us the captain's orientation, along with a thorough and humorous biology lesson on whale sharks. He explained the rules and logistics of how to swim with whale sharks in La Paz Bay.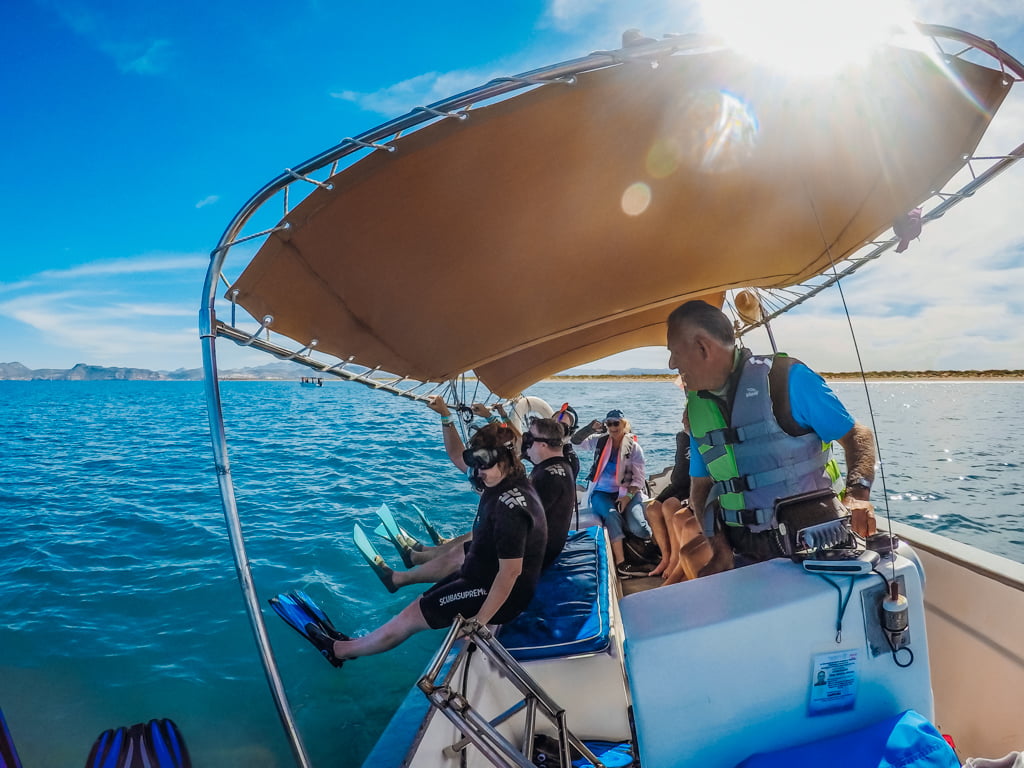 Here's how it works. Whale sharks rarely stop swimming – Oliver said to think of them as freight trains – they don't move for anything, even each other. To swim with whale sharks Cabo, you need to get ahead of them and let them come to you.
Your boat will drop your group (6 people maximum, including your certified guide – we did groups of 3 at a time, taking turns) in the water ahead of a previously spotted whale shark. You will then position yourself, with the help of your guide, so that the whale shark will swim just past you. As it passes, you begin to swim alongside it, taking care to never touch it and to keep your distance from the tail as it weaves side to side.
After a few minutes of magical encounters, your guide will signal it is time to stop. The whale shark will swim off, and your boat will come to pick you up. It sounds simple, and it is, but the first time is a little chaotic as you try to keep up with the whale shark, keep track of your guide, and not kick your companions in the face with your fins (sorry Marc!).
Who Can Swim with Whale Sharks Cabo?
Whale sharks swim at a fast walking pace. Fins, masks, and snorkels are provided, along with wetsuits and lifejackets. At no time are you allowed to free dive with the whale sharks – surface snorkelling only is permitted. This is to allow the whale sharks to dive away from you if they wish to be left alone.
The swimming is tiring, but only lasts about 5 minutes per stretch. If you can handle moderate activity for that length of time, repeated 3 to 6 times, then you can swim with whale sharks.
Where Can Kids Go Swimming with Whale Sharks In Cabo?
I asked Oliver about kids, and he said many kids go swimming with whale sharks. Some tour operators have no age restrictions, but Cabo Adventures has an 8-year-old and up policy, and I agree that is appropriate. Even if your child can swim well, it is an open water excursion with a very large animal and may require some self-regulation that younger children may not be capable of.
Oliver stated that when a family with kids is along, they try to keep that family on a boat alone, so the guide can help the kids more. Still, as always, you know your child best. For myself, I would take my kids in a heartbeat.
What to Wear on a Whale Shark Tour in Cabo
our swimsuit! You will be fitted with a wetsuit, so be sure your swimsuit will be comfortable under it. Sports sandals or aqua shoes, sunglasses, a hat, a waterproof camera (I used a wrist-mounted GoPro), and a warm top for the boat ride are recommended, along with any personal items and medications.
Is it Ethical to Swim with Whale Sharks in Cabo?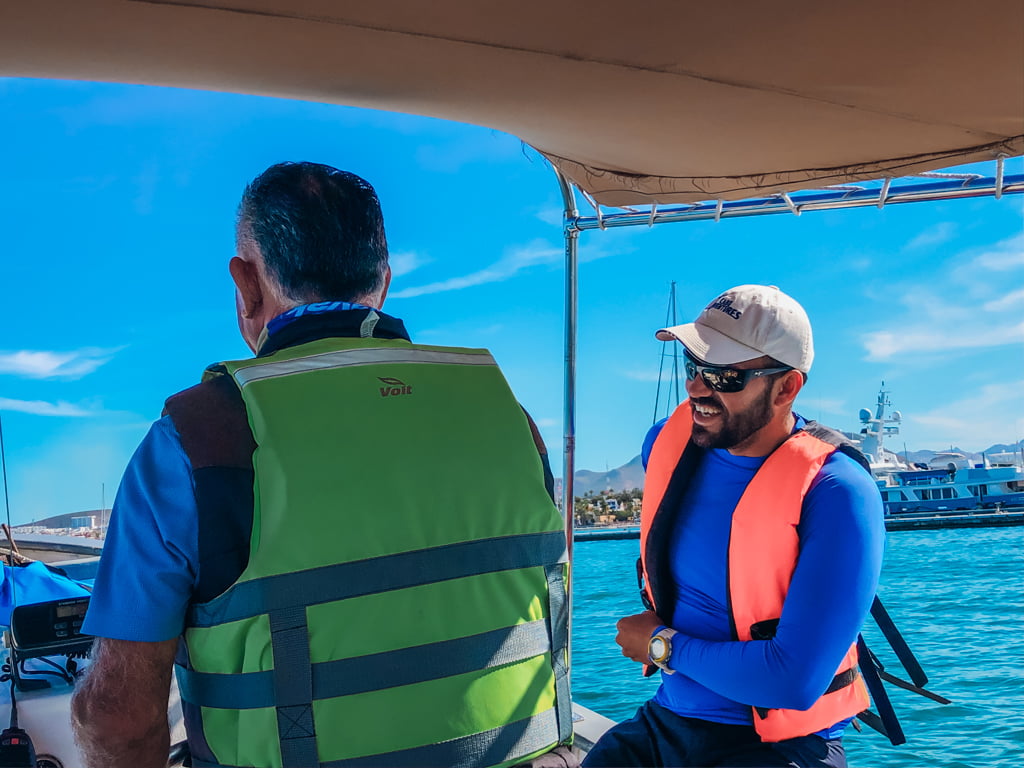 Only you can answer this question. All I can do is give you information upon which to base your decision. I will say that while my tour with Cabo Adventures was an incredible, intimate introduction to whale sharks, it was clear that the health and well-being of the whale sharks were priority number one, and Cabo Adventures wouldn't hesitate to remove you from the tour if you violated the guidelines.
Swimming with whale sharks in the Bay of La Paz is highly regulated. The giant bay is divided into three zones – a recreation zone, a marine traffic zone, and a 7000-hectare reserve zone for whale sharks. The animals are not restricted in their movements in any way – it is an open ocean.
Here are the rules that Oliver mentioned to us: all boat captains and guides must be certified via a training course. Boats cannot exceed 40 feet in length, cannot exceed the speed limit, and can only operate between 9 am to 5 pm. One boat per whale shark (there are normally 10+ whale sharks in the allowed area), with a maximum of 14 boats at a time. Oliver told us they once had to wait 4 hours for their turn. No more than 6 people in the water at a time (as mentioned, we did three guests plus our guide and alternated).
Personal rules include no touching the whale sharks, no flash photography, no harassment, two arms distance minimum, mandatory buoyancy device, no free diving (surface only), biodegradable reef-friendly sunblock only (provided), and no big splashes – the more you blend in, the better.
The whale sharks are free to dive or leave the area at any time, and they are more than capable of out-swimming even the fastest swimmer if they so desire. I will add this: Cabo Adventures not only has expert tour guides but their genuine respect and concern for the whale sharks were evident in everything they did from the way they talked about them, to the way they enforced the regulations. It was clear that if I got out of line, I would have to deal with our whale shark guide, Oliver.
Click here to book your La Paz Whale Shark Snorkeling Tour and Lunch From Los Cabos!
Swim with Whale Sharks Cabo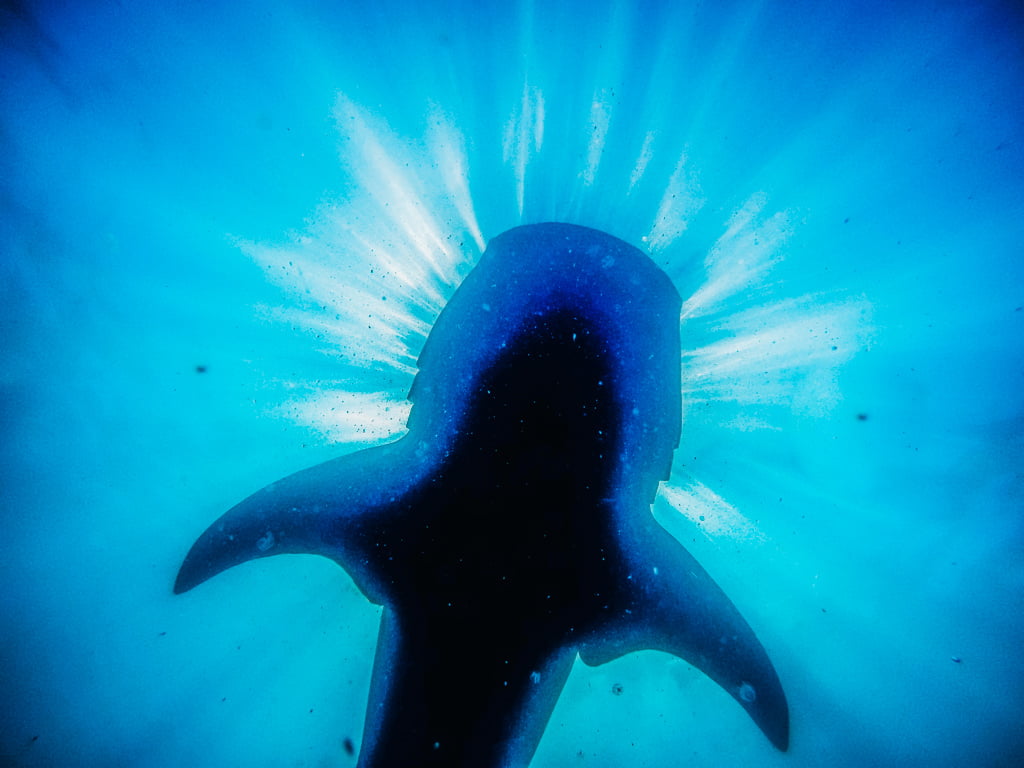 The shadow grew and morphed into a wide mouth, followed by a massive body and huge fins. It passed us about fifteen feet away and, as previously instructed, I began to swim alongside it. Beautiful white spots dotted the side, uniquely patterned to each animal like our fingerprints, and numerous small fish swam along with it.
It was about 20 to 24 feet long – a juvenile, believe it or not. Oliver had called them moving reefs, and I could see why. A tiny, lidless eye stared out from near the front of the head. I was lost in the moment, completely unafraid. I finally remembered to glance at Oliver, and in what seemed like no time, he gestured for us to stop.
I surfaced to exultations from myself and my companions. We beamed with the marvel of what we had just experienced. I began swimming to the boat, desperate to get aboard – not because of fear, but because I couldn't wait to do it again. To be so close to such a gentle, magnificent creature in its natural environment is something I will never forget. Somehow, despite its size, instead of fear, it gave me peace.
Best Whale Shark Tour Cabo
What is the best whale shark tour in Cabo? I can only say that my experience with Cabo Adventures was outstanding. My tour with Cabo Adventures was informative, and fun and left me with a deep respect for the ecological mindset and passion of the guides. To this day, I am awed by my experience with these gentle giants of the sea.
La Paz Whale Sharks FAQs
Can you see whale sharks in Cabo?
Most tours operate in La Paz Bay, a 2-hour drive from Los Cabos or Cabo San Lucas.
When can you swim with whale sharks in Cabo?
Winter is the best time to see whale sharks in La Paz Bay. Whale sharks congregate there from October to May, with December to March being prime time.
What is the best month to see whales in Cabo San Lucas?
For whales in general (including whale sharks), December to March is the best time to see whales in Cabo San Lucas, Los Cabos and La Paz. At this time, many whale species migrate past the Baja Peninsula.
Where to Swim with Whale Sharks Cabo
La Paz Bay, 2 hours north of Cabo San Lucas and Los Cabos, is one of the best places to swim with whale sharks.
Best Time To Go Swimming With Whale Sharks In Cabo
Winter, from December to March, is the best time, though whale sharks may be present from October to May.
How much does it cost to swim with whale sharks in Cabo?
Tour tickets with Cabo Adventures (including transportation to La Paz) are as follows (as of November 2022): 12 years and over = $289usd, Children 8-11 = $219usd
Click here to book your La Paz Whale Shark Snorkeling Tour and Lunch From Los Cabos!
---
Are you Planning a Vacation to Mexico? Check out these Los Cabos articles!
Is this a sponsored post?: Yes, while the swim with whale sharks Cabo trip was sponsored, all of our thoughts, opinions and views are our own.