If there ever was an adventure that felt like it was designed just for me, this was it. A morning on the ocean, a hike to a hot spring, and an afternoon watching humpbacks, all in one day… can a visit on the West Coast get any better than this?
Ocean Outfitters is a tour company based out of Tofino and have a reputation for quality and a spirit of adventure. With so many tours to choose from it was hard to decide which one to choose, but we chose the Tofino Whale Watching Hot Springs Tour as it included a 1.5 hour boat ride up the inside passage where we were able to look for wildlife (otters, eagles, bears, and whales) and the hot springs tour. It was a long six-hour adventure-filled day that our whole family absolutely loved. At each point in the day, one of us said, "This is the best day ever." Here are some highlights from our trip:
Early Morning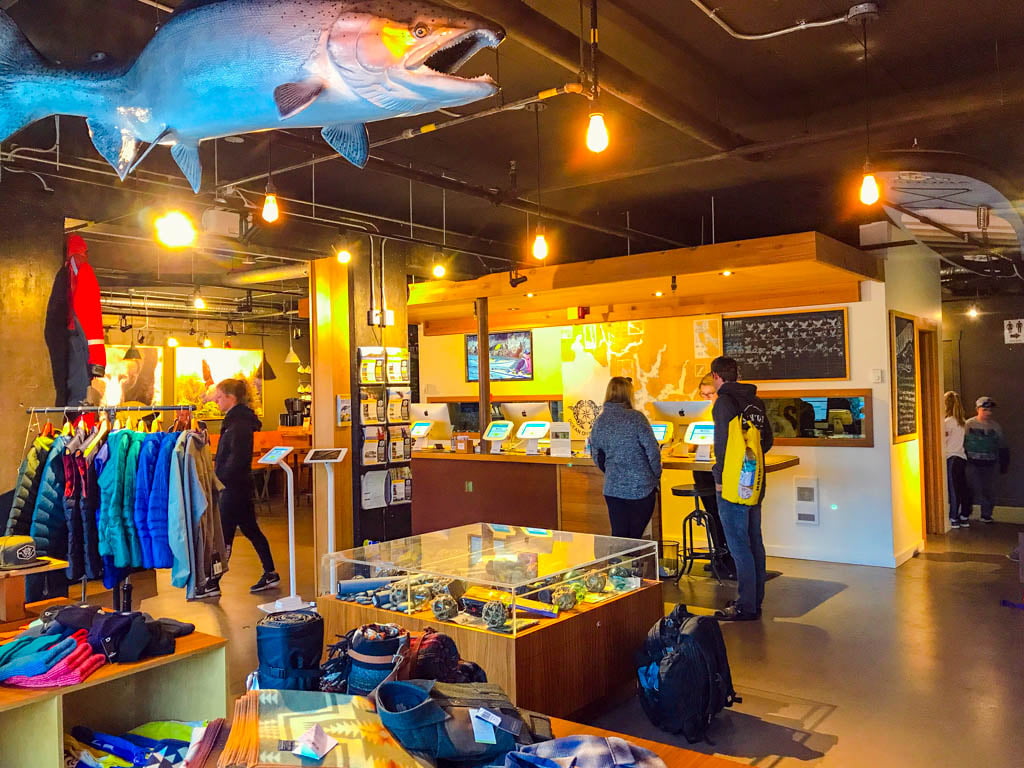 We arrived at Ocean Outfitters for our Tofino Whale Watching Hot Springs Tour at 6:30 am. This first stop was to fill out liability forms, do one last bathroom break, and get suited in our warm and cozy floatation life suits. After we had our orientation it was time to head down to the dock to board our boat!  Once we took off we were familiarized with a term locals use, "Fogust". They call it Fogust in Tofino for a reason, the inversion of heat means there's a lot of fog on the coast. Visibility on the water was about 30 feet which was a very unusual experience. Our captain utilized GPS and Sonar to keep us en route and safe from other boaters to ensure we'd have a good journey up to the hot springs.
Otter Over there!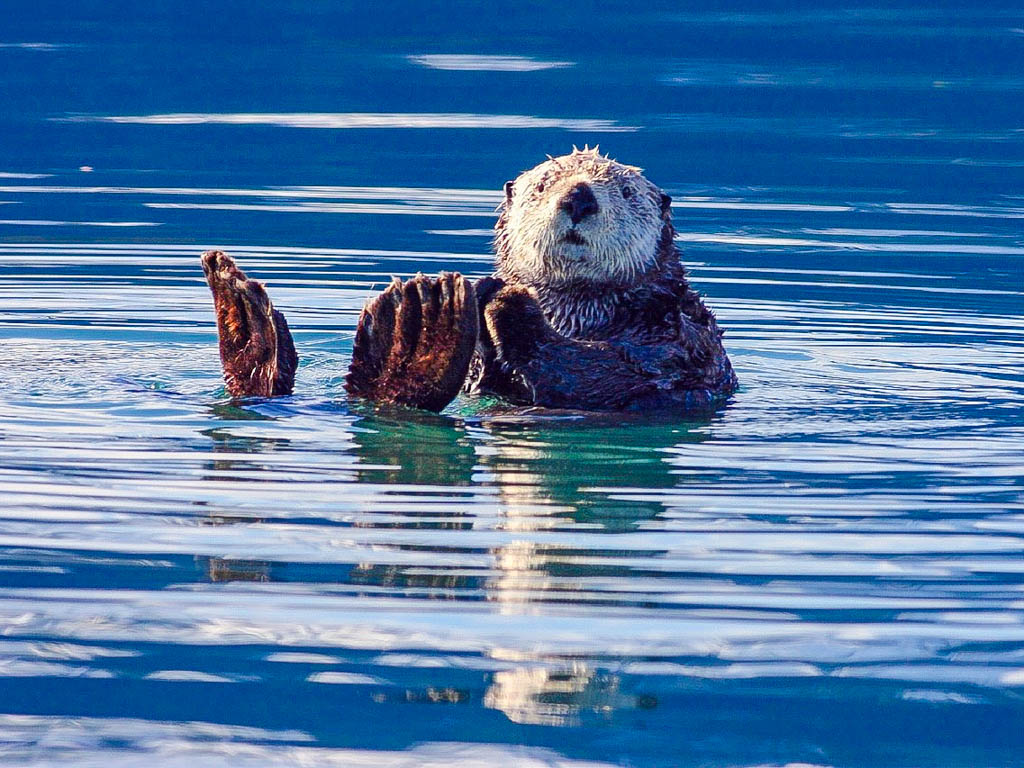 My daughter's trip was "complete" when we were only fifteen minutes into our Tofino Whale Watching Hot Springs Tour when we came upon a little otter enjoying its morning breakfast. Our Captain pulled up close which allowed us to see the little guy playing with some kelp and smashing open some shells for his morning breakfast. We learned that otters use rocks like tools in order to open the shells, and when they find a rock they really like they will shove it into an armpit pocked and keep it, some for their whole lives! We would see 3 other otters on our tour and this unexpected encounter made my daughters day!
Eagle Eye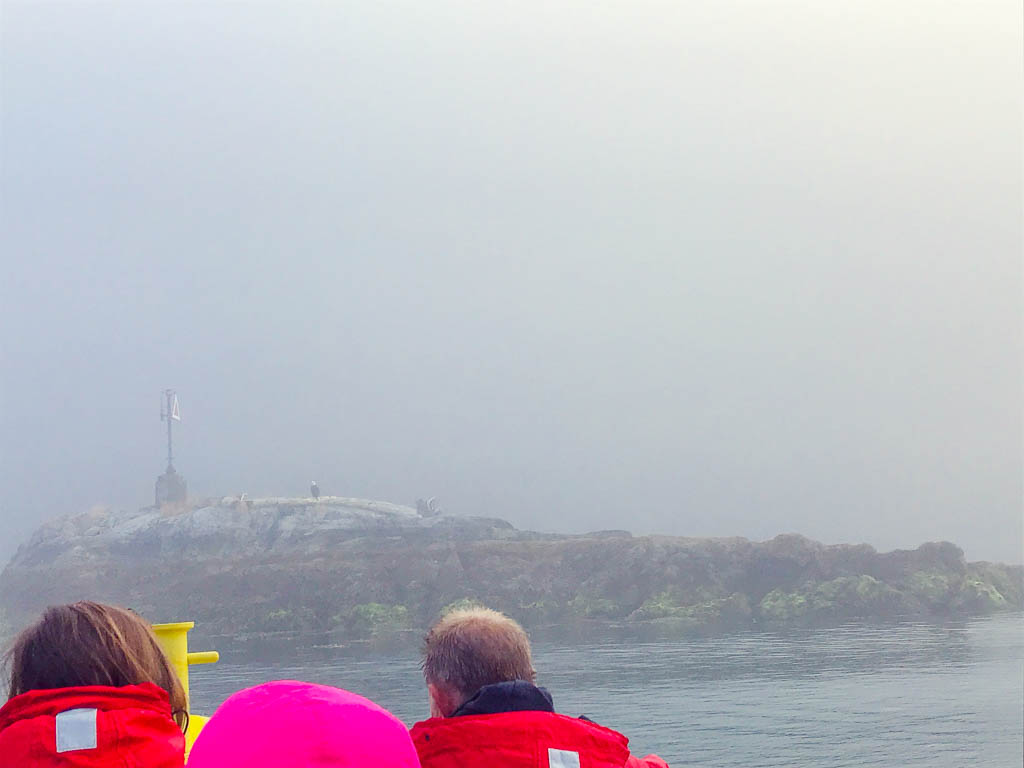 Another local that we got to hang out with was a bald eagle. He was drying out after what our Captain expected was a swim. We learned that he had probably caught a fish but it was too big to fly away with so he did an awkward swim to get it to shore. He regularly shook out his soggy feathers and sat perched up on the log while we floated by.
The Skies Clear and the Dock Appears!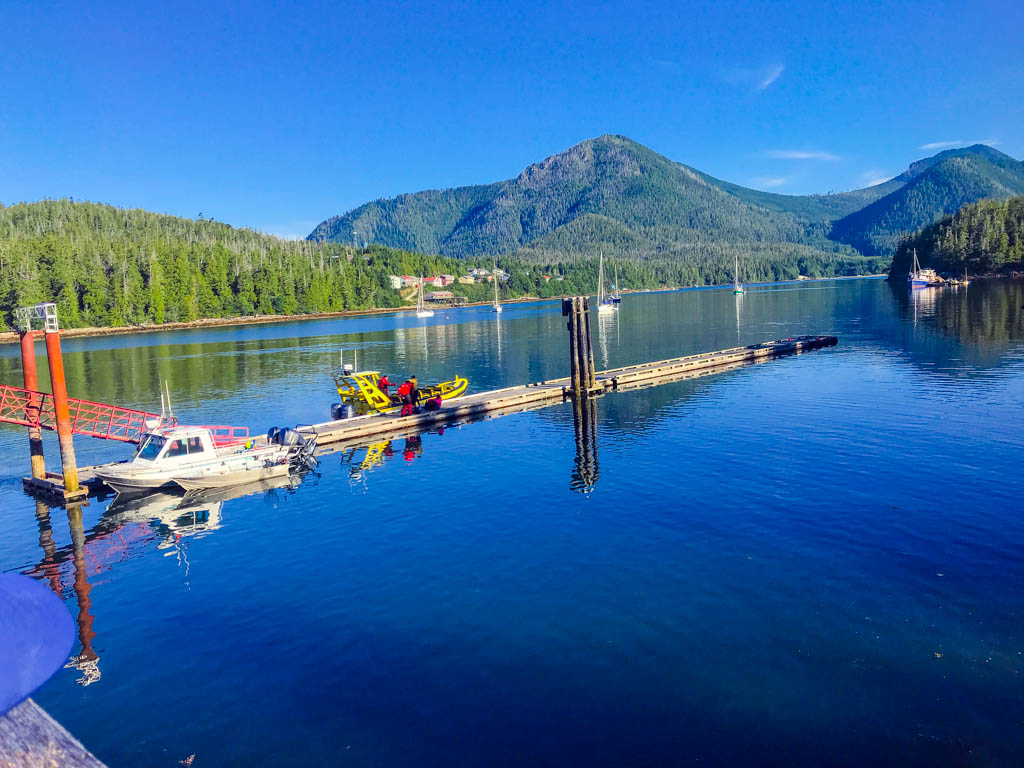 After what seemed to be a very short boat ride (but it was 1.5 hours) we arrived at the provincial park. We were greeted by a group of local huskies, friendly dogs who were excited to see us! They barely let us get off the dock before they were pushing into us and greeting us! And while I'm sure they were happy to see visitors they were also there to see if we'd feed them. Please don't. There are signs all over the park reminding visitors not to feed the dogs. While challenging, it's important so that they return to their families and get the love and care that they deserve.
A Hiking We Will Go
After another quick bathroom break and the chance to take off our safety gear we threw on our backpacks and hit the boardwalk for our hike to the hot springs. Originally discovered by the First Nations, and then early settlers his beautiful hike took us along a boardwalk that winded through the old growth forest.
How Many Trees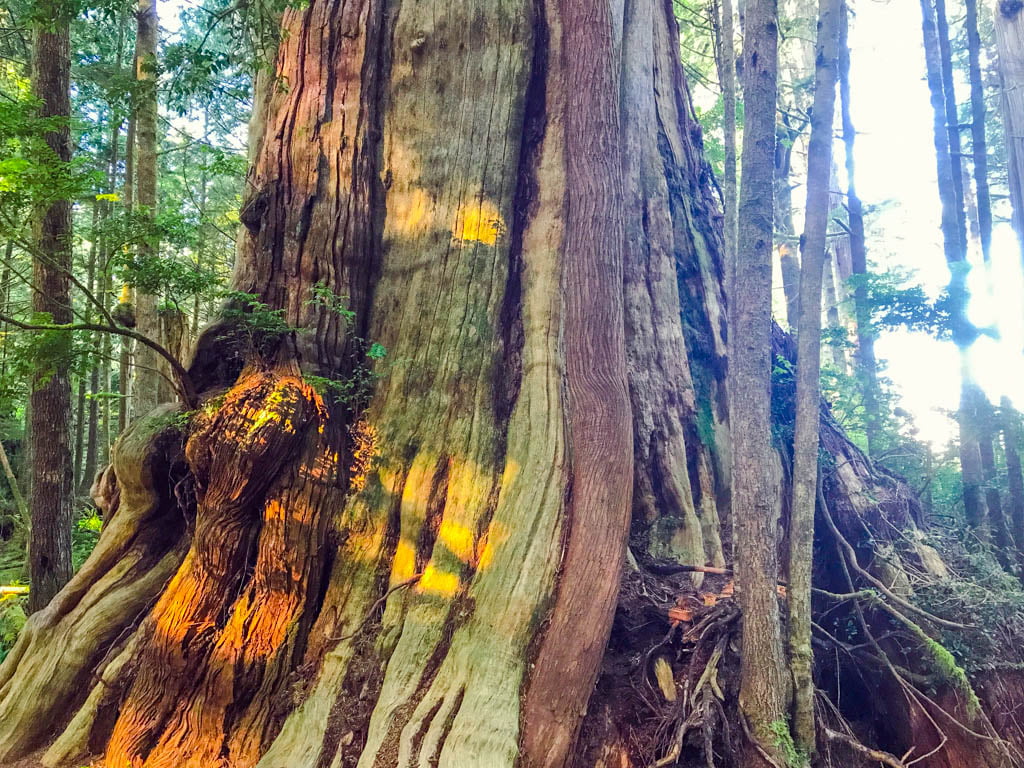 There are a lot of heritage style trees along the hike, but this one, in particular, caught our attention. How many trees can you see growing out of the base of this monster?
Boardwalk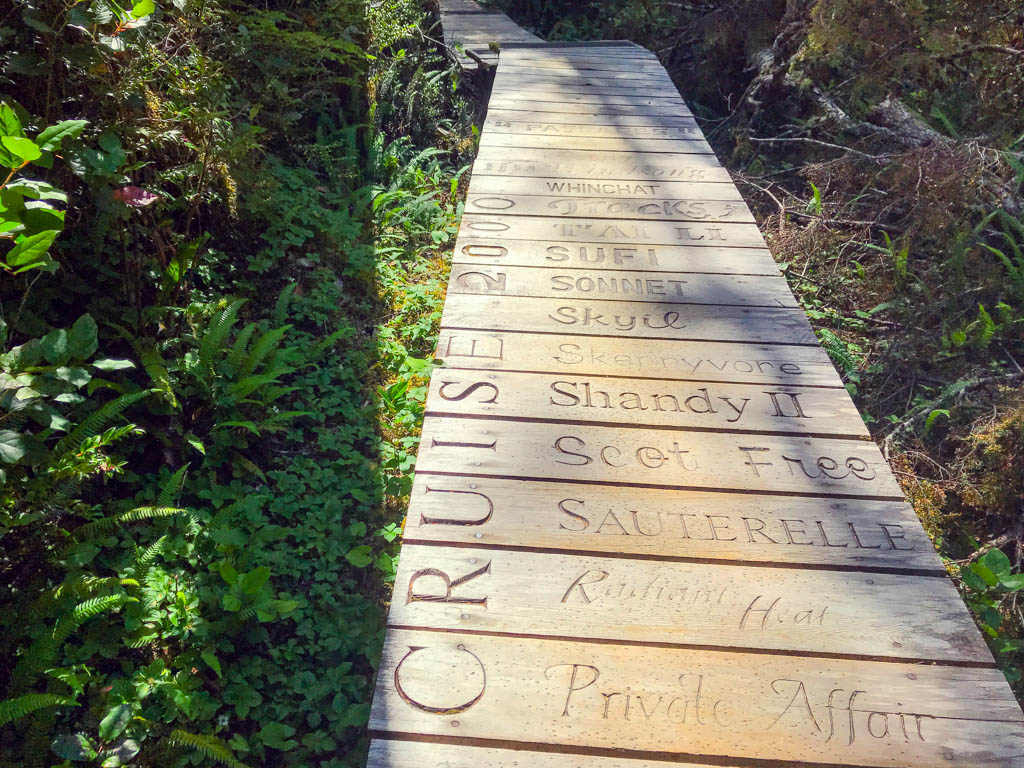 The boardwalk has been designed to protect the environment and was completely rebuilt from 1995 to 1997. Included in the building were custom planks which make for an interesting read as you travel down the path. My son loved picking out names he knew and special drawings that grabbed his attention.
Hot Springs
After a very short 30 minute hike we arrived at the Hot Springs where we had a snack and then used the changing rooms to get into our bathing suits. We wrapped ourselves up in our towels and headed down to the welcoming waterfall. After working our way through a couple groups of people we found a great place to cozy into and sit and enjoy the warm water. The kids went in and out of the water as it was quite warm for them, but they loved scaling the rocks around the edges of the hot spring.
The Best Seat In The House
The most desirable seat in the house was the hot spring located closest to the ocean. Imaging sitting in there while feeling the cool sprays of the salty ocean water must up over the edge.
Don't Rush The Experience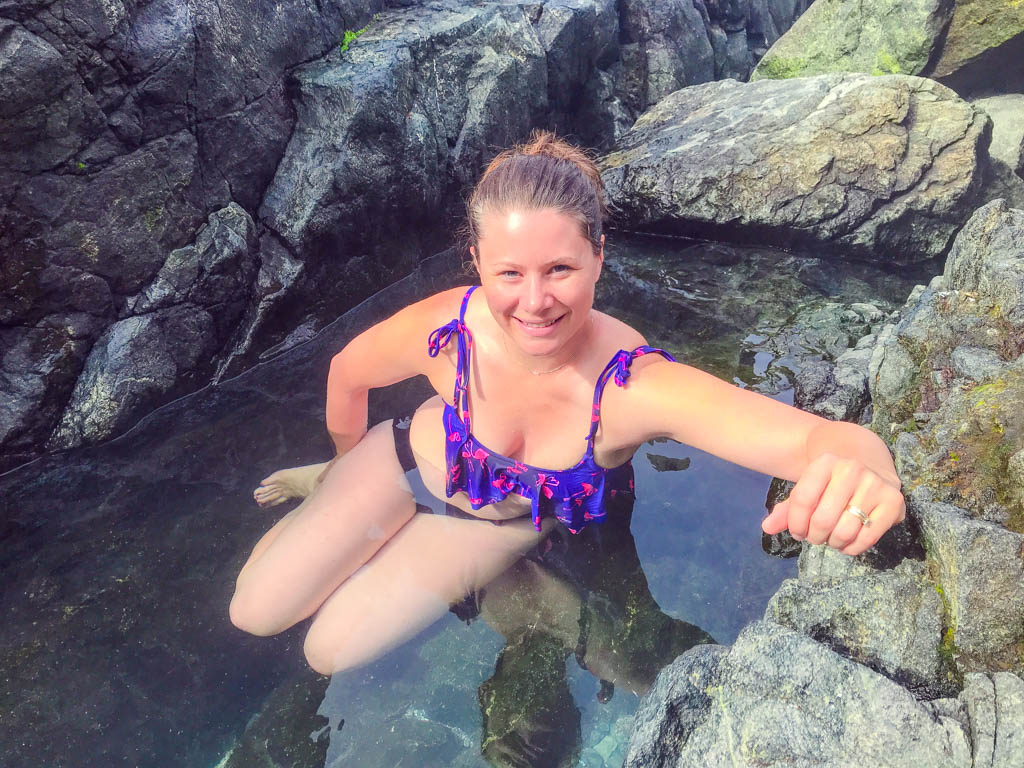 How many times in your life will you sit in an oceanside hot spring overlooking some of the most beautiful scenery in the world? Be sure to soak it all in (literally) and indulge your senses in the surrounding environment.
Take The Long Route Home
Instead of rushing back to our boat we decided to take some of the side trails which led us to a beautiful beach, one which we had all to ourselves! What a special treat, to have something so magical all to ourselves as a family!
Search for Sea Glass
As a family we all love to search for sea glass, not only are there some beautiful treasures to be found but it's also a way to help clean up the beaches that we visit. (We also pick up trash too)
Humpbacks On The Way Home
Our Captain had found a humpback and wanted to be sure that we would be able to see it. So we quickly jumped in the boat and headed off to the open seas to meet up with with the majestic animal. In the beginning, she was hard to spot, only visible by the huge spouts of air coming out of her blowhole. But before we left she put on a bit of a show, peeking hier head out of the water and showing off her big tale with a few dives!
Final Cruise
On our final cruise through the islands, the fog had lifted and the stunning scenery was unveiled. I could tour around this area for every, so much beauty everywhere you look!
Mom tips and tricks
The Hot Springs Tour starts of early and is a long and exciting day so make sure everyone gets to bed early the night before so they can be well rested for their adventure!

Pack eats and treats! The fresh air, the excitement of seeing the wildlife, the hike, and the hot springs meant that I had some very hungry children throughout the day. I recommend that you bring full lunches and water (not just snacks). I also recommend you bring some treats. These are perfect for when they are needing a little extra motivation on the hike or wanting a little reward for great behavior. A small ziplock of marshmallows goes a long way!

Bring a bathing suit, towel, and water shoes. The rocks are slippery and it's important to always have three points of contact to keep you and your kids from falling over.

Sit back and enjoy! The hot springs are hot (estimated at 104 degrees) and the minerals are relaxing.   
Check out a quick video showcasing this experience:
Are you planning a trip to Tofino? May we suggest:
Sponsorship Disclosure: While we were invited on this amazing Tofino Whale Watching Hot Springs Tour by Ocean Outfitters the photos and our words are our own. We love showcasing amazing companies who are passionate about welcoming families to experience our enviornment and who are equally passionate about protecting Mother Nature for years to come.