Tumbler Ridge, located approximately 1,180 km north of Vancouver, is the ultimate destination for outdoor enthusiasts. From high-energy adventures to more laid back experiences, there is something for everyone.
Tumbler Ridge is home to the Tumbler Ridge United Nations Educational, Scientific and Cultural Organization (UNESCO) Global Geopark. A UNESCO designated area is one with sites and landscapes of international geological significance. Tumbler Ridge is the second Global Geopark in North America and the first one in western North America.
Geoparks are different from national or provincial parks in that there are no restrictions (outside of established guidelines and laws) on motorized activity or resource extraction. Here, there are coal mines, renewable energy wind turbines, ATV & snowmobile trails as well as hiking, cross country skiing and rock and ice climbing adventures.
Tumbler Ridge should be on the radar for any outdoor loving family! All of the adventures the area has to offer, combined with amazing hospitality, there is no reason why you shouldn't visit this outstanding town.
Here are the top 10 things to do in Tumbler Ridge!
Camping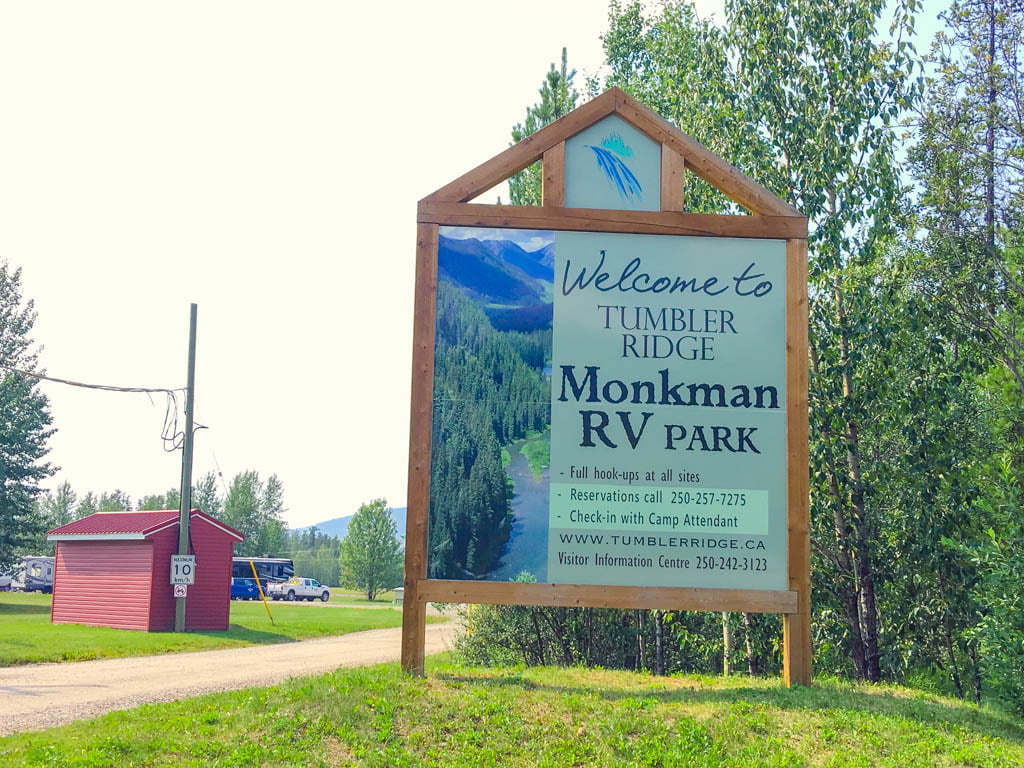 Tumbler Ridge is home to a variety of camping options. We stayed in a rented motorhome at the Monkman RV Park. The RV can sleep 5-6 comfortably, has a fully stocked kitchen, bathroom with shower, as well as an outside picnic table, complete with a BBQ and campfire pit.
The Monkman RV Park can accommodate large RV's, all trailer sizes and even tents. All the sites are fully serviced, there is a playground as well as beautiful washroom and shower facilities.
This was the perfect basecamp for all of our adventures!
Visitor Information Centre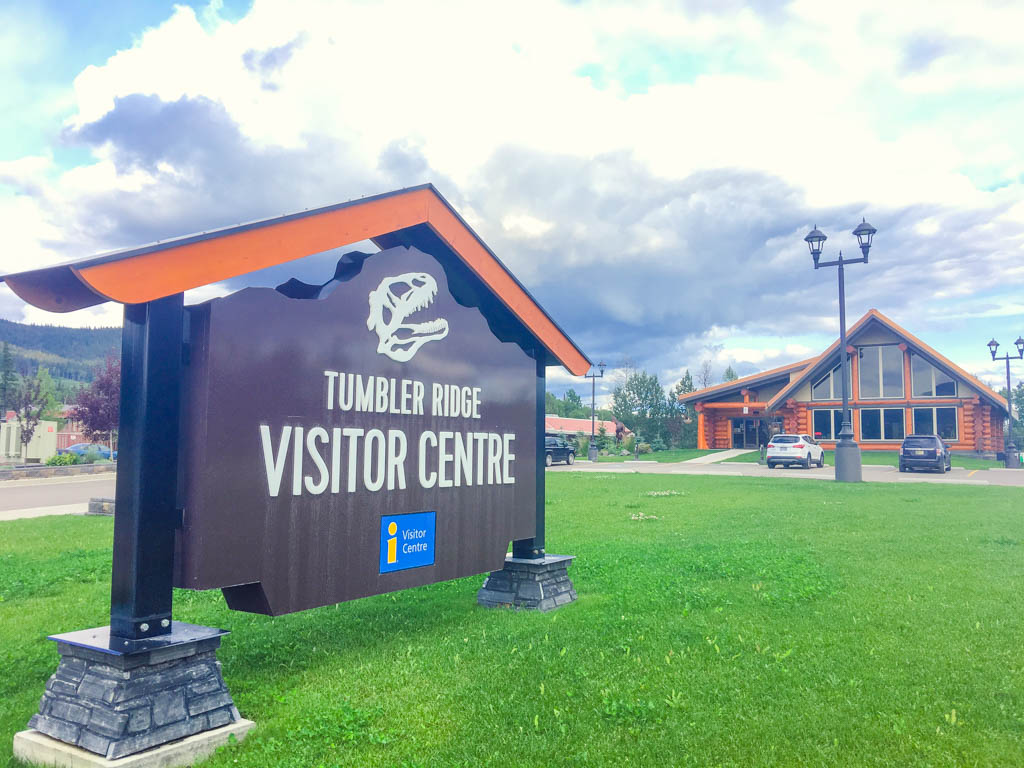 One of our first stops when arriving in a new town is to their visitor information centre. There is no better way to learn what to see and do in a town than to speak with someone local. Not only was the Tumbler Ridge info centre the perfect place for us to get a visitor guide, locally made souvenirs, maps and get acquainted with the town, but it also had some great hands on activities.
Their augmented topographical sandbox was a great way to learn about how landscapes work. By molding the sand by hand, the landscape comes to life. Watch how the elevation changes, the topographical lines move and the valleys fill with water. It also shows how rain or droughts can make significant changes to a landscape.
They also had a topographical map of the town and Geopark so visitors can get a good grasp on the geography of the area.
Hiking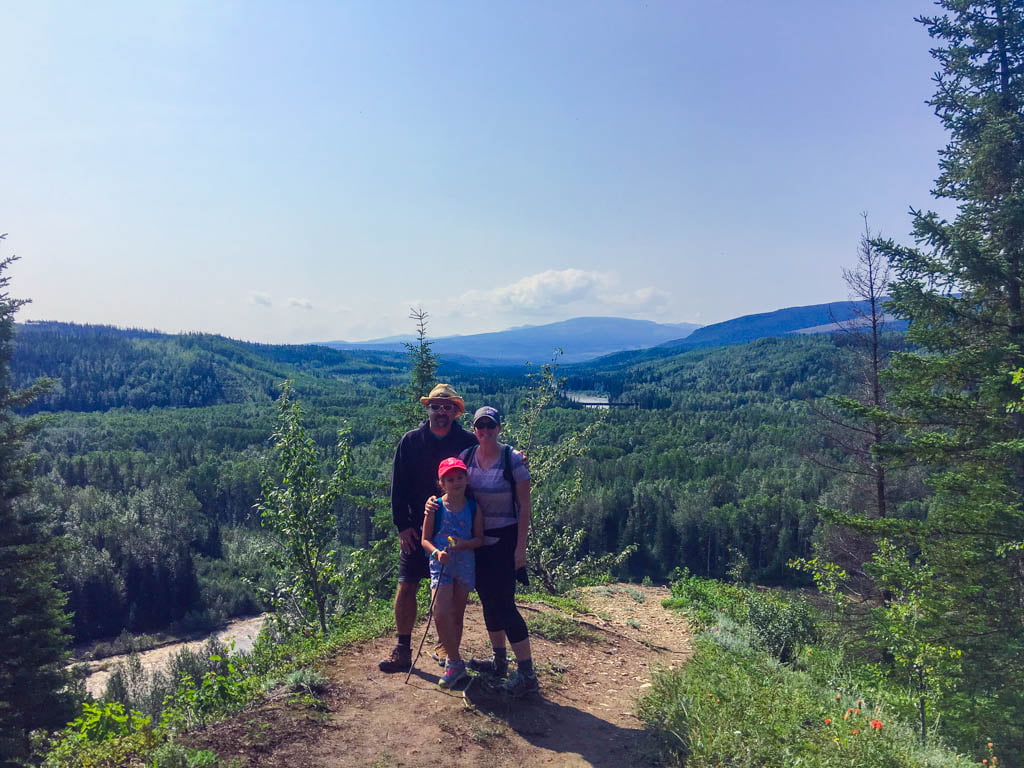 Tumbler Ridge is a mecca for hiking enthusiasts! There are a huge variety of easy, moderate and advanced trails.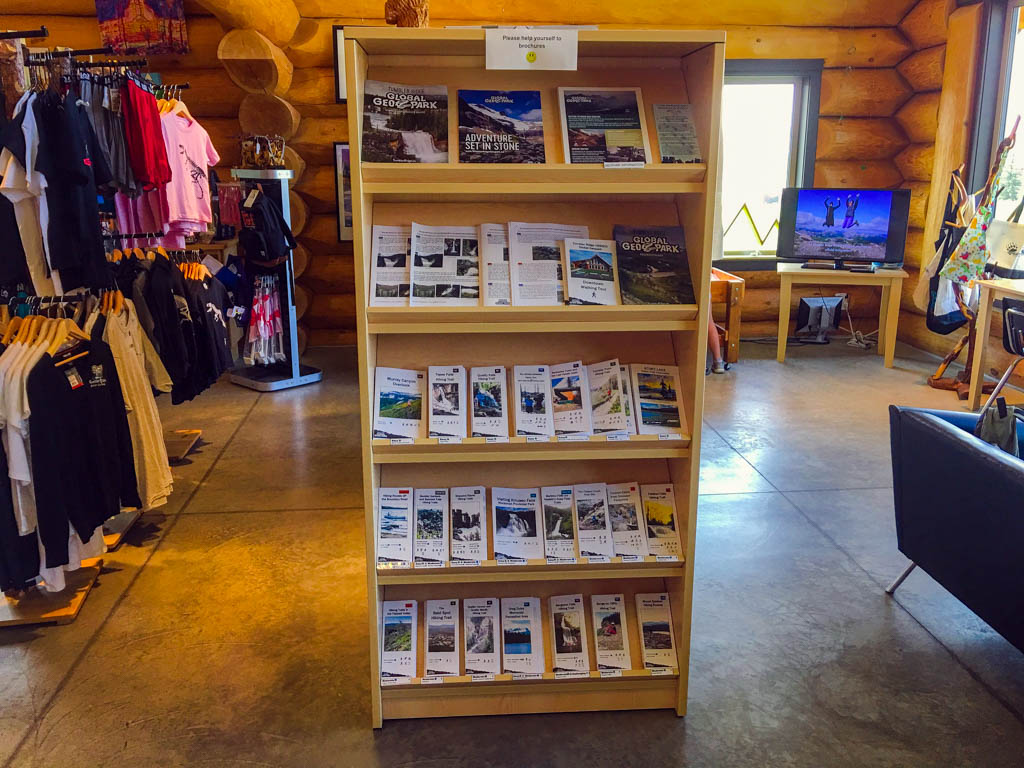 A quick visit to the Visitor Information Centre will give you all the information you need on which hike is right for your family. They have brochures for each specific trail and even have planned hiking itineraries to help you make the most out of your stay in town.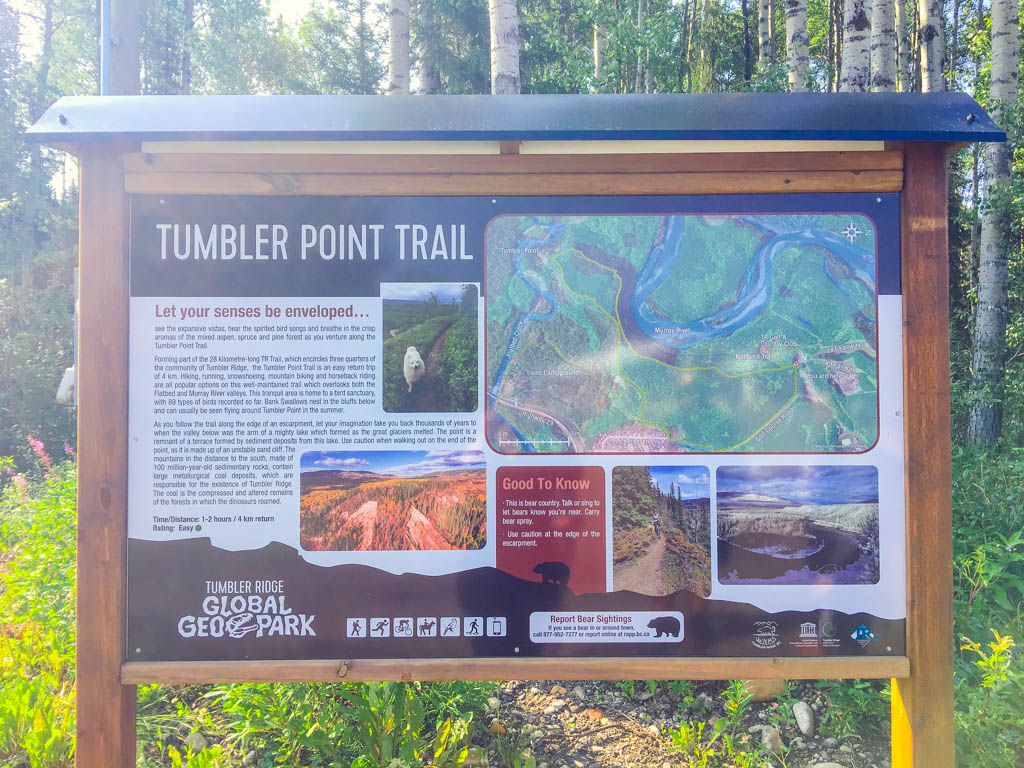 The trails are all very well marked. There are very informative trail head signs that let you know the rating, how long it approx. takes, a map of the trail, what things you might see on the trail, who can use the trail (walking, biking, etc) and any other key features to be aware of.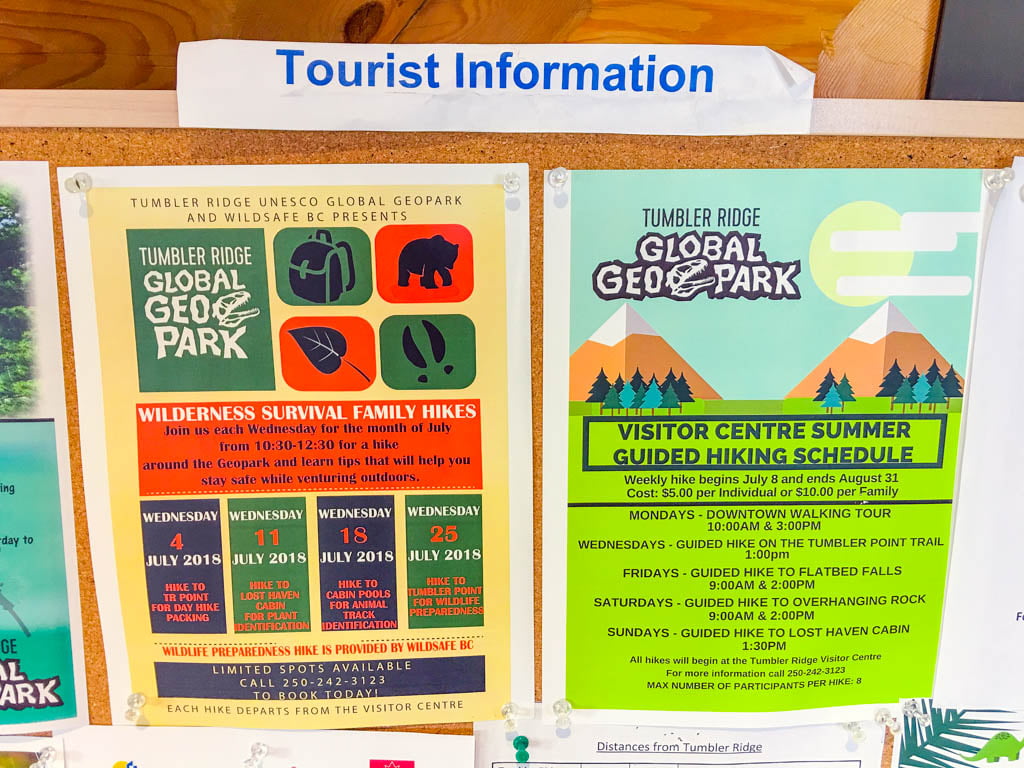 Want to go for a hike but aren't sure about venturing off on your own? The Visitor Centre offers affordable guided hikes on many of the popular hiking trails in the area.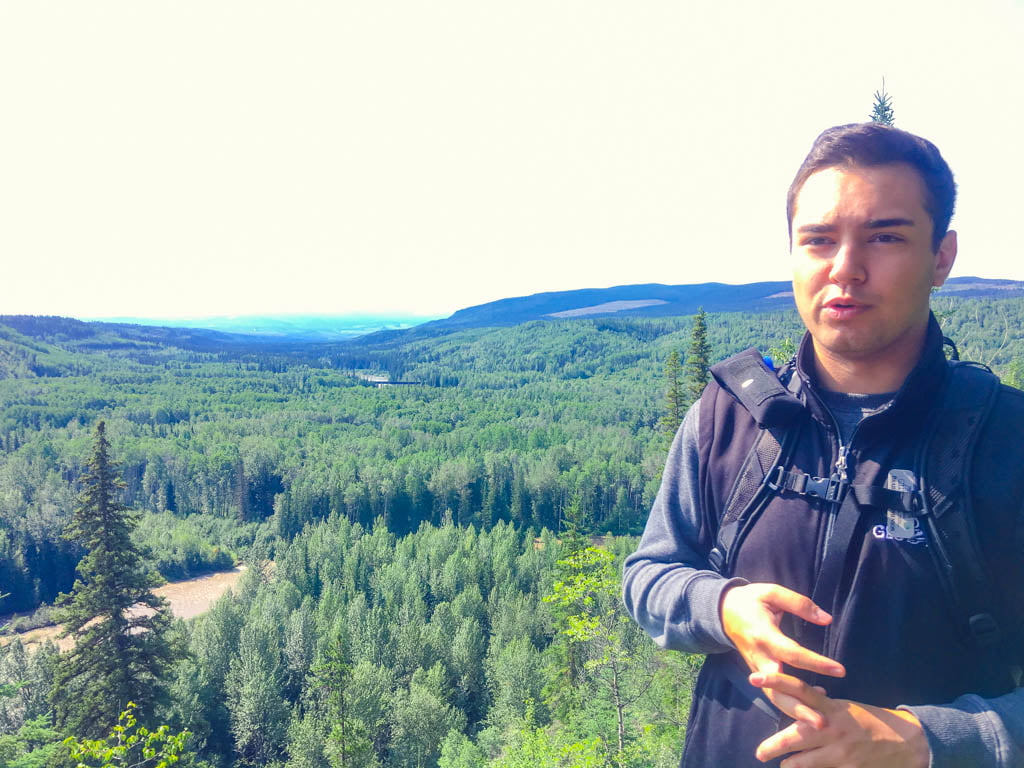 These hikes are guided by experienced Geopark staff who will get you acquainted with the local mountains, rivers, landscapes, wildlife and plants that you will encounter along the way. Even if you are an experienced hiker, we highly suggested a guided hike, as the local education is phenomenal! We were so lucky to have Braiden take us on some incredible hikes.
Mountain Biking
Because many of the trails are multi-use, there are many options for those who choose to bike some of the trails instead. Alternatively, there is a mountain bike terrain park right in town where bikers can test their skills on the hills, jumps and curves of the park.
Golf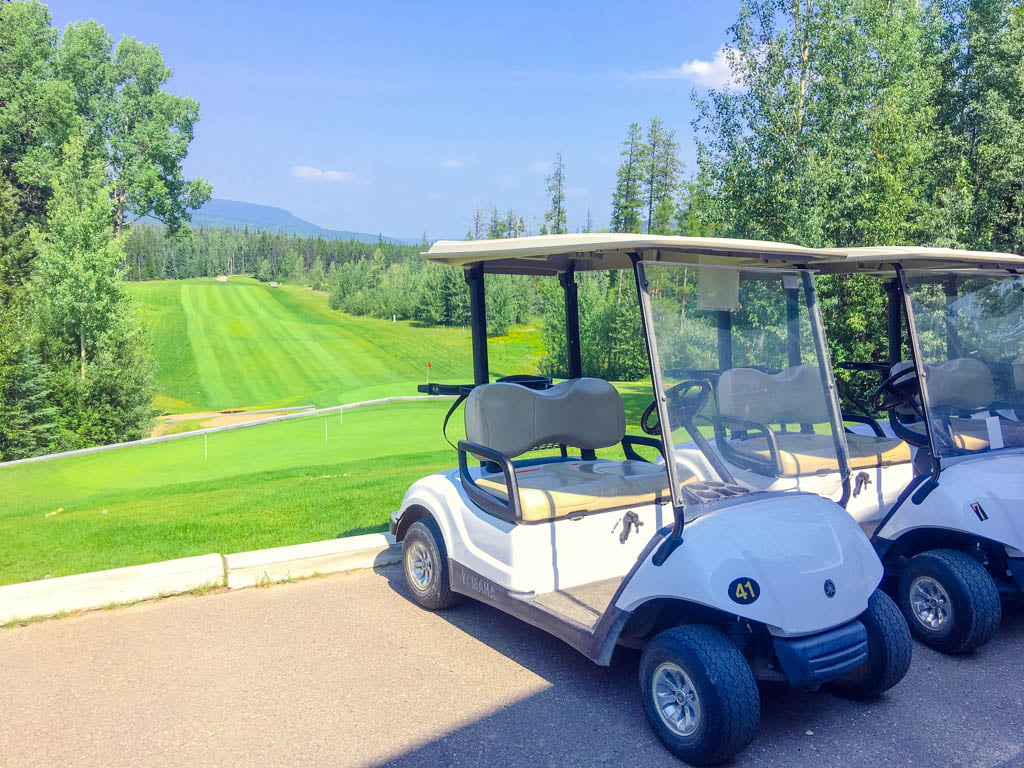 Head on over to the Tumbler Ridge Golf and Country Club and try your swing at their 9 hole, par 36 golf course. This course is great for both new and experienced golfers. After your game, make sure you head into the clubhouse for some excellent food and drinks.
Waterfalls 
There are an abundance of waterfalls in Tumbler Ridge. Some are located on easy hikes and others are more advanced or are only able to be seen by boat. Others are an easy drive from town.  A quick search on their website will let you know where they are and how to get there.
In the winter, these waterfalls freeze and many travel from all over the world to try their hand at ice climbing and scaling up the frozen falls.
Dinosaur Discovery Centre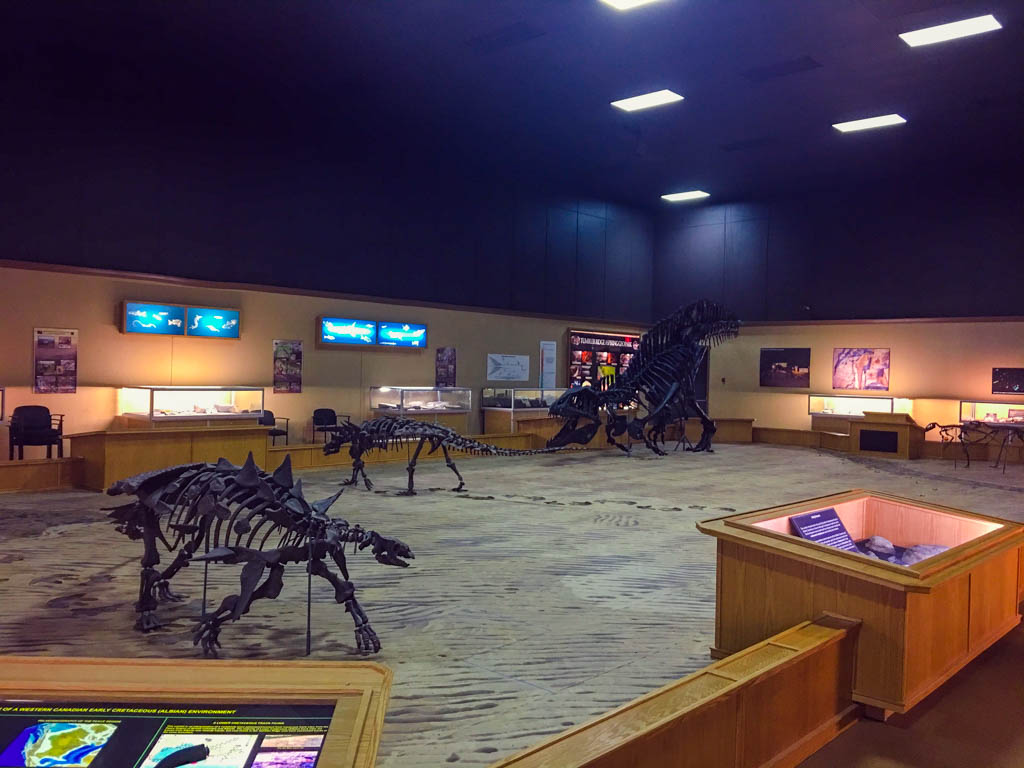 Tumbler Ridge is known for their dinosaur fossils and tracks. In 2000, history was made when two kids discovered dinosaur tracks in Flatbed Creek. In fact, some of BC's first dinosaur bone beds were discovered in the region. Take a visit to their discovery centre to learn more about the dinosaurs that once roamed this area and see some of the fossils they have in their exhibit.
Bird Watching
Tumbler Ridge falls in the middle of 3 different climates, giving you the opportunity to see a wide variety of birds. Bullmoose Marshes is the perfect destination for bird watching and exploring. With a flat boardwalk, it makes for the perfect accessible location for everyone!
Jet Boat River Tour 
If you want to get up close and personal with a waterfall, then a boat tour to Kinuseo Falls with Wild River Adventure Tours should be on your list. An exhilarating boat ride up and the down the Murray River, a riverside lunch and a visit to the falls make this the perfect family friendly adventure. Learn more about the tour here. 
Community Centre
This centre is not only home to wonderful salt water pool and ice facilities, but it also has an indoor play area, coffee shop, sports hall of fame, public library and a geopark interpretive centre. Public swim times are posted on their website, and it's a great place to take the kids to burn off some steam while mom and dad have a soak in the hot tub.
We were blown away by the community of Tumbler Ridge. Everywhere we went we were welcomed with open arms. Residents of the town were always quick to help us out and offer their suggestions of places to go and what we should see in our few short days. We didn't have nearly enough time to see everything, we highly recommend staying for 3-4 full days.
Did you read our Should You Move? article about families who decided to leave the Lower Mainland and relocate their families to smaller towns? If you are one of those families who are thinking about moving, we highly suggest you take a look at Tumbler Ridge. It's the perfect small town with endless tourism economic opportunities! Looking for more information on exciting family adventures? Check out these articles to help you plan your Ultimate Family Road Trip!
Hot Springs, Hiking & Humpbacks in Tofino
Merridale Cidery and Distillery
The Gold Rush Experience in Barkerville
The Westin Bear Mountain Golf Resort and Spa
Is this a sponsored post?: Yes, however all of our opinions, experiences and thoughts are our own. We want to thank Tumbler Ridge for hosting us and allowing us to share with our followers what their town offers!