Tofino had been on our family bucket list for longer than I can recall. A destination that everyone swooned about but yet never materialized to earning a spot on the annual calendar for a trip. So this year, when a friend asked, "Wanna come?" we jumped on the chance and made our reservations as soon as bookings opened!
At approximately 32,000 square kilometers, Vancouver Island is the largest island on the West Coast of North America. Victoria, the capital city of British Columbia, is located on the island, as well as many spectacular ocean-side communities. Vancouver Island is home to an endless supply of hikes, beaches to explore, historic sites and great places for adventures!
Recommended Itinerary
Victoria – Day 1
BC Ferries

Vancouver Island is just that, an island, making access available only by ferry or plane. I have always loved the ferry rides, any chance for a close encounter with the ocean is considered a good day to me! There's nothing like sitting out on the deck, with the warm sun beating down on you while you look out across the world class scenery and pinch yourself and say, "I live here!"
Tip: Make reservations for your Vancouver Island road trip during peak seasons! While there's an extra fee of approximately $18 it'll save you the headache and help you maximize your vacation time.
WildPlay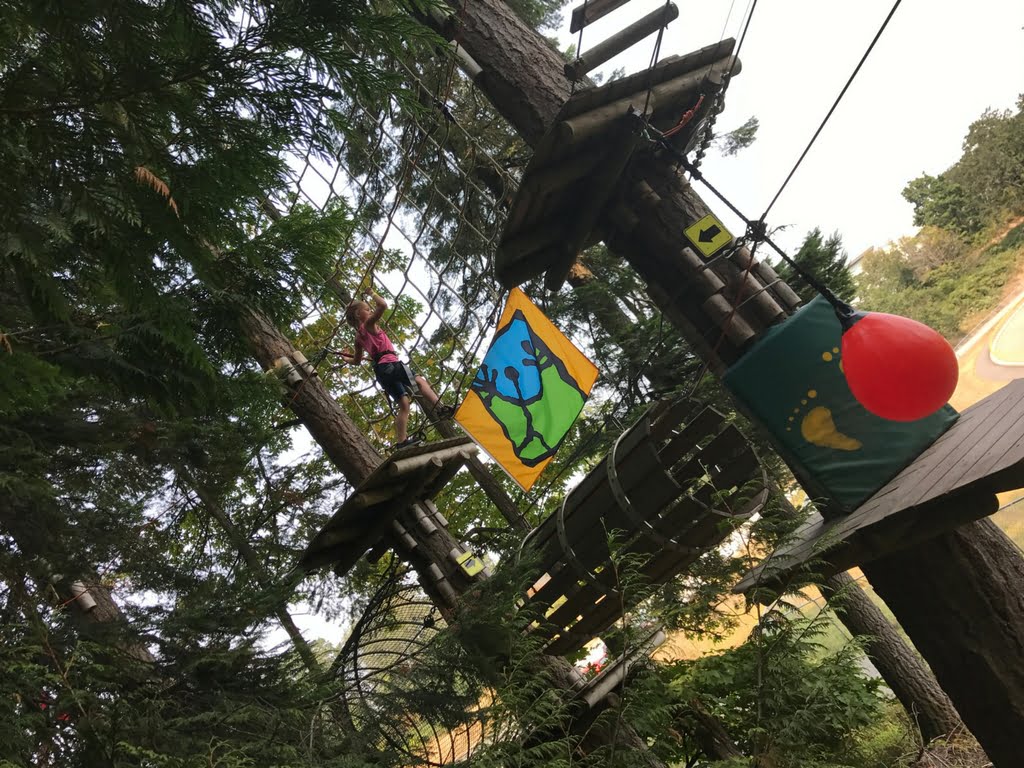 My kids had collected pamphlets at the beginning of our Vancouver Island road trip on the ferry and were so excited that they were going to be able to experience WildPlay. They had heard all about it from their friends and my son was especially excited to try zip lining! Fortunately, WildPlay didn't disappoint! The challenging and diverse ropes course had the kids pushing themselves outside their comfort zones and yelling "yippee" once they tackled a difficult section of the course.
Fort Rodd National Historic Site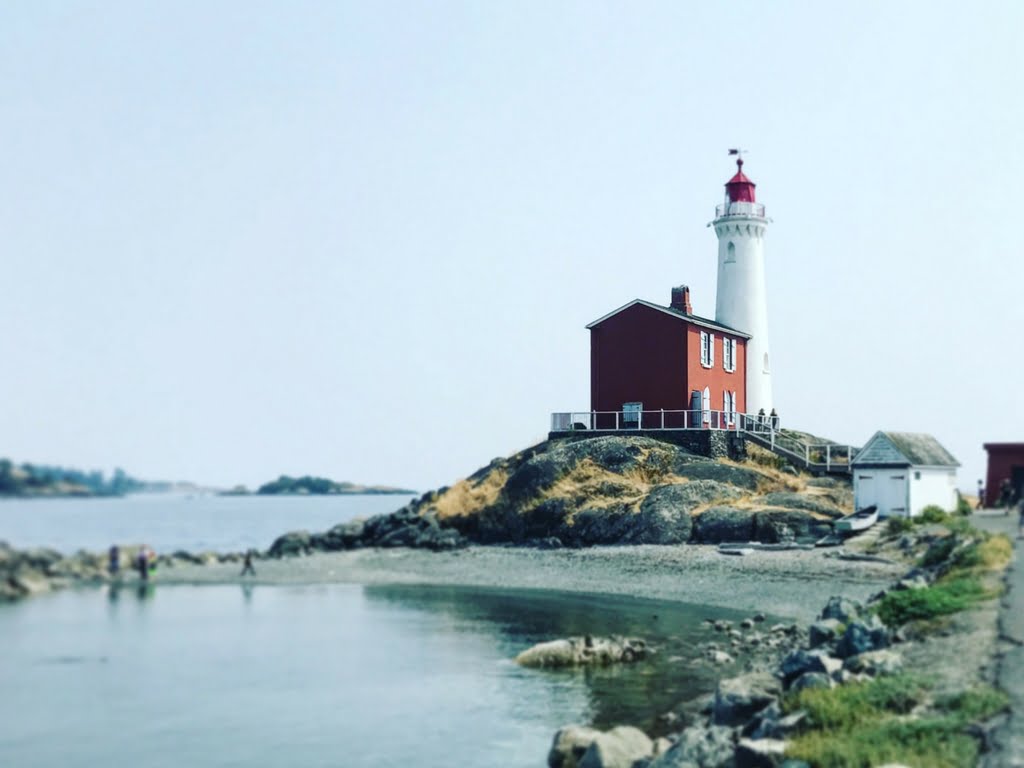 Fort Rodd is a West Coast artillery fortress that was active from 1895 to 1956. You can tour through secret bunkers, visit original 19th century buildings and explore Fisgard Lighthouse, the oldest lighthouse on Canada's West Coast. For our Vancouver Island road trip we had booked an oTENTik at Fort Rodd National Historic site, allowing us extra time to explore the grounds, and dig a bit deeper into the local history. When we first arrived the kids tore open their parks Xplorers program booklet and were off, running through the grounds doing everything from discovering echos to playing checkers in the lighthouse.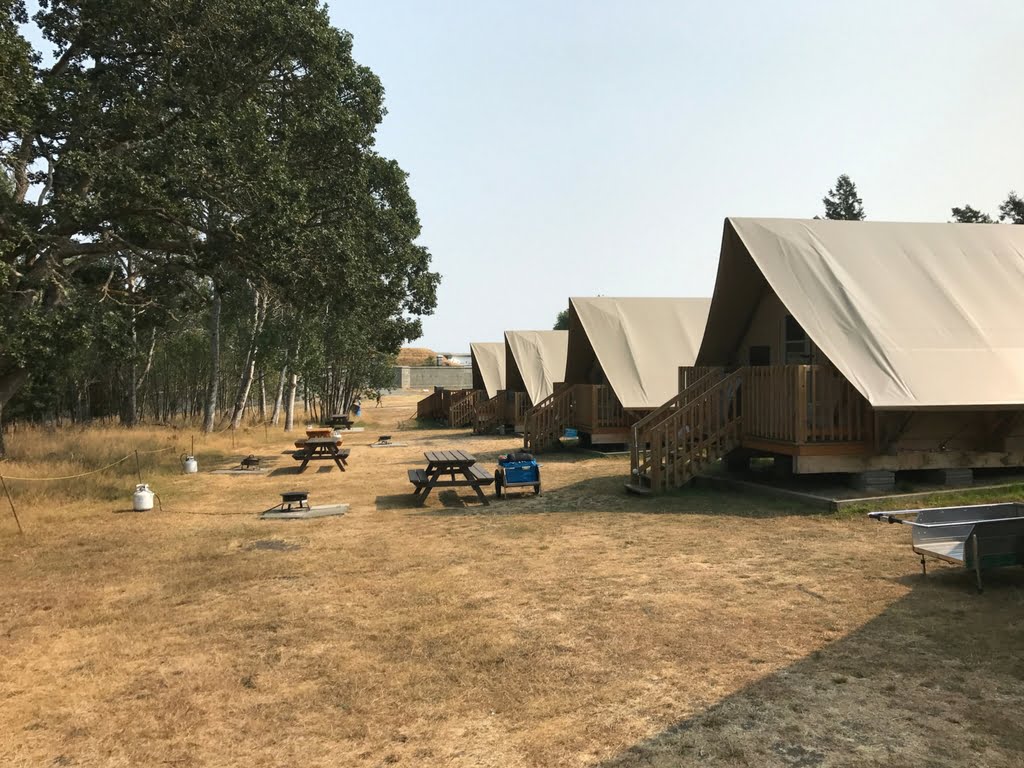 When the park had closed it was time to set up camp, and WOW, was this site one of the most welcoming and well equipped parks we've ever been to. From a private kitchen and seating area, to fridges and supplied dishes, to board games for the kids, the volunteer hosts made sure we had absolutely everything we could need and more for our stay!
After heading into downtown Victoria for the night we came back around 9:30 pm and discovered that the lighthouse was completely lit up. We ran to the top of the hill above the lower battery and overlooked the bright lights shining out from the historic lighthouse. My kids cuddled in my arms and the warm ocean wind softly blowing our hair created a picture perfect moment that I can honestly say was one of my biggest highlights of our summer.
Victoria – Day 2
Victoria Butterfly Gardens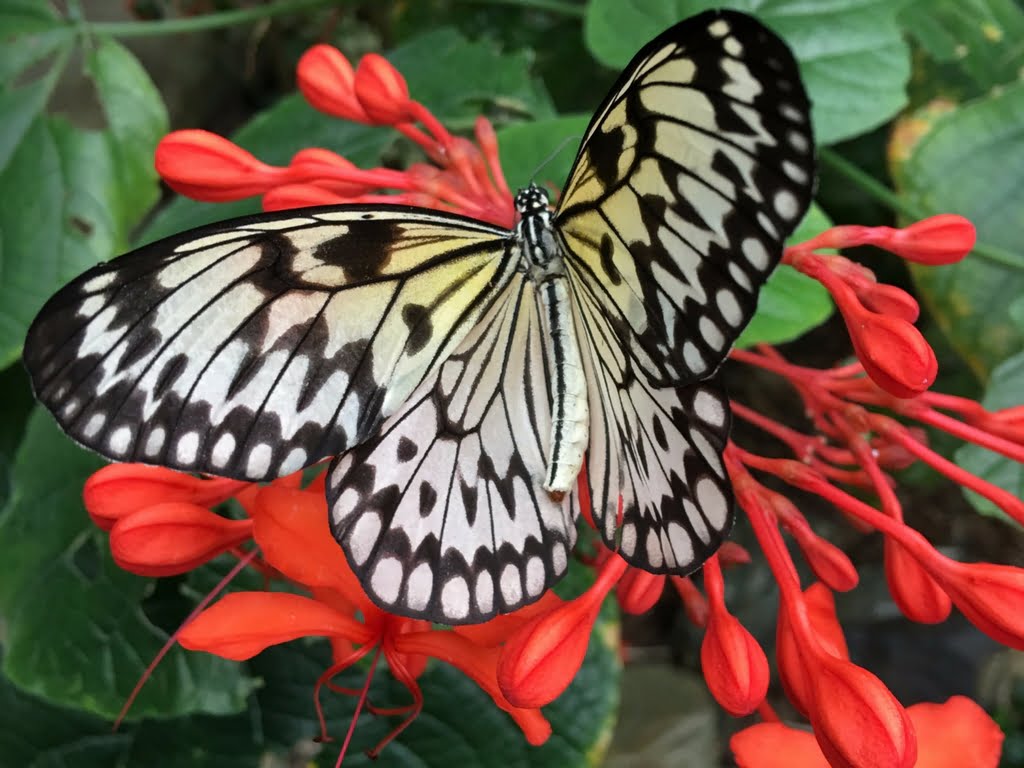 This fascinating stop is great for all ages. The butterfly gardens allow visitors to have a unique up close and personal experience in a tropical jungle environment. Discover leaf cutting ants and other interesting bugs in their new insectarium before getting nice and toasty in the tropical garden area. Stepping inside you are instantly surrounding with the most beautiful butterflies, all free to fly and roam as they please. You might even end up with one on your shoulder! Be sure to keep your eyes open for their feathered and scaled friends who like to hide up in the trees.
Victoria Harbour


A visit to Victoria isn't complete without experiencing the downtown Victoria Harbour. The streets are lined with amazing restaurants and shops, all which look out over the iconic Victoria Harbour. Tourists flock to the well known attractions, like the Empress Hotel and Parliament Buildings. Be sure to look for the smaller attractions, like the city approved street entertainment and artisans, the smaller locally owned shops, as well as the sweet treats and eats that have locals and tourists lined up 30 people deep!
Tip – Give yourself at least a couple hours in downtown… there's so much to see and do!
Downtown Victoria – Harbour Boat Tour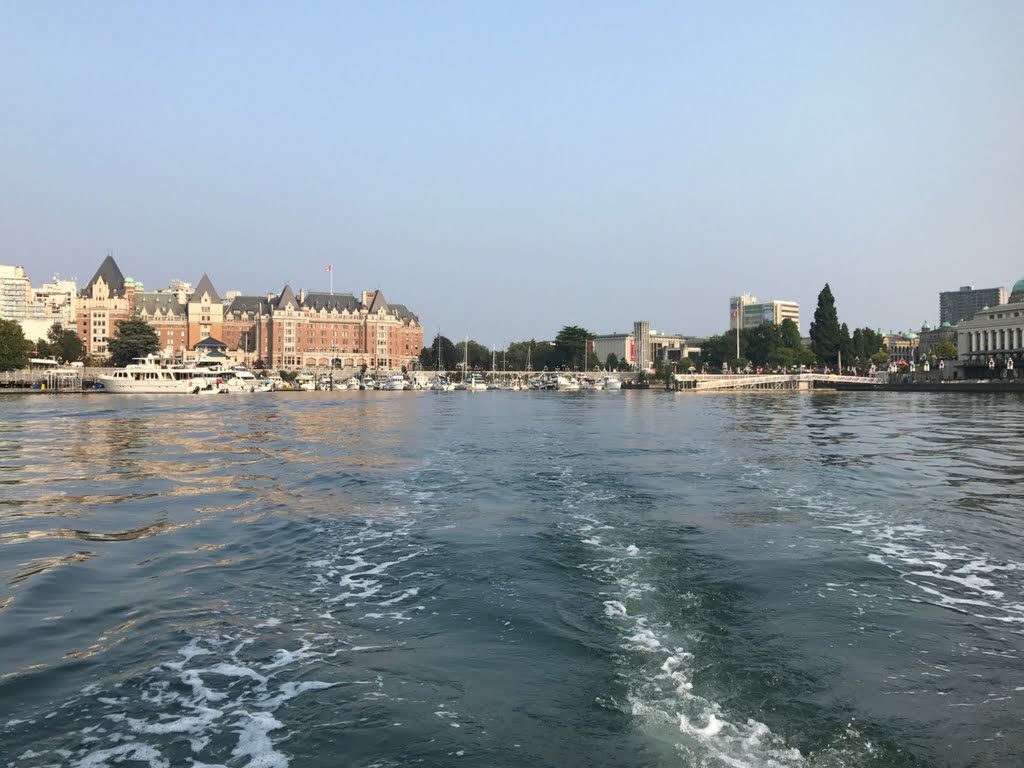 One of my favourite ways to experience the downtown core is to get out on the water and see it from a different perspective. I love taking the water taxi's that sweep you from point to point around the harbour. Not only do you get a little educational tour, but you can also hop off at different points of interest, like the famous Fisherman's Wharf!
Eagle Wing Tours

I highly recommend a whale watching tour when you visit Victoria.  Our trip with Eagle Wing Whale Watching Tours, an environmentally responsible company, was incredible. You'll enjoy an eco tour that takes you to see a variety of locals, including seals, otters, minke whales, orcas, and maybe even humpbacks. Hear more about our whale watching experience with Eagle Wing here!
Swimming
One of our favourite ways to end our day in Victoria was to head over to the pool at Saanich Commonwealth Place. This pool was kid heaven, boasting a pirate ship, wave pool, diving boards, rope swing, huge two story water slide and an on the water bouncy castle. Yes, doesn't get any better than this! This pool was the perfect place for the kids to burn off steam and for us all to shower up before heading back to camp for the night.
Tofino – Days 3-5
Tofino and Ucluelet are by far some of BC's most stunning coastal towns. Beaches you can walk for hours and hours, incredible coastlines to explore by kayak, the perfect waves for surfing, endless hiking trails and the most welcoming communities of people. Both towns have wonderful shops owned and operated by local artisans, restaurants serving up delicious home-cooked west coast cuisines and companies ready to take you out on adventures!
Tip – Spend more than 3 days in the area. Next year we plan on being there for a week as 3 days was not enough time to explore the area!
Camp – Pacific Rim National Park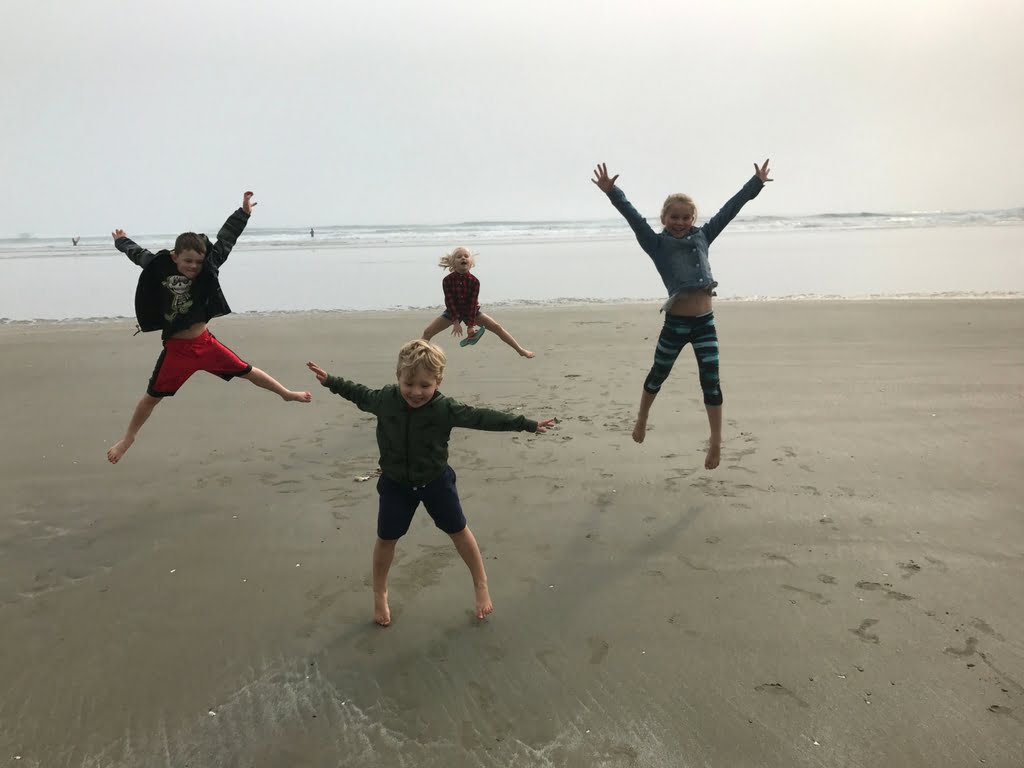 Pacific Rim National Park was an absolutely beautiful campsite that was perfectly centrally located. IT was also located in the Fog Zone… which was pretty cool as it was damp the entire time. (So much so that we were allowed to have fires!) This also meant though that we saw a lot less sun and had to dress warmer then we were expecting! So if you're heading there be sure to bring tarps, warm clothes, and be prepared to camp in 12 – 14 degree weather.
Hike – Halfmoon Bay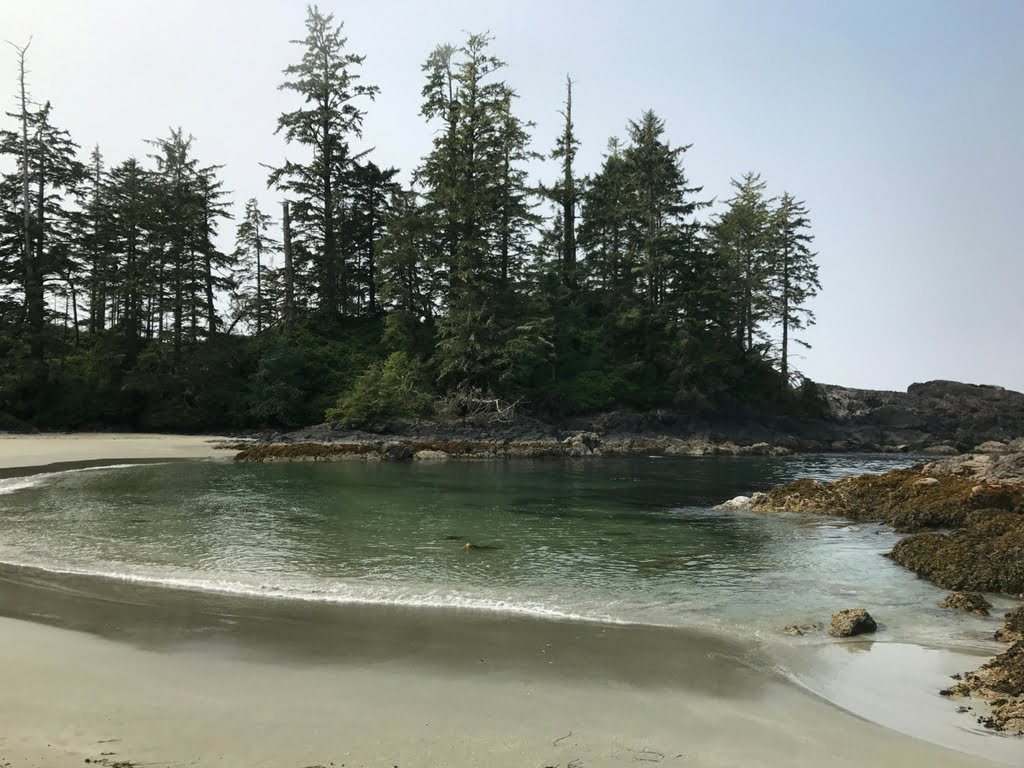 One of my most favourite hikes of the whole summer was a family friendly hike to Halfmoon Bay. A short 1 kilometre hike brought us to a private "halfmoon" bay. We felt like we were on a deserted island as we had the whole place to ourselves for most of our visit. We spent a couple hours, exploring the beach, tidal pools, hiking along the sand, and taking pictures, LOTS of pictures! The scenery was so amazing that all the adults sat their with their cameras taking pictures at every turn.
Tip – Take some candy or fun treat for the kids… there's a huge set of stairs that make for a long haul for little legs, and having treats at the top definitely helped us motivate them.
Tour – Tofino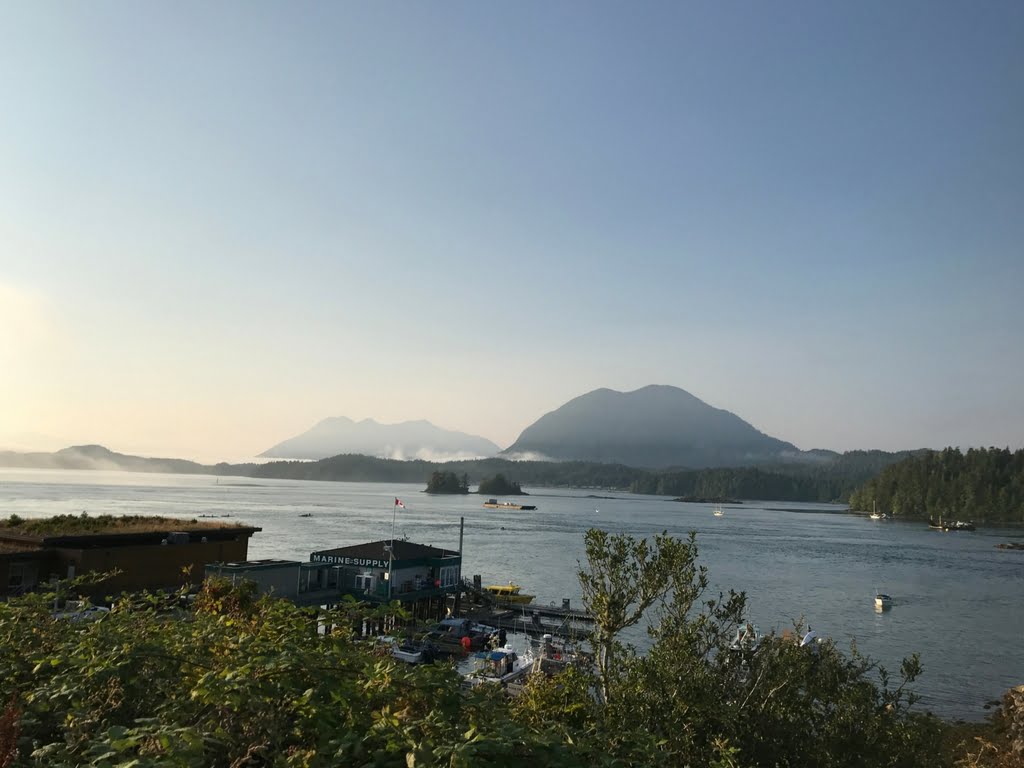 This beachside community looks like it's straight out of a National Geographic magazine. Surrounded by the ocean on three sides this surfer town is full of natural beauty and charm. Take the time to stroll through town, visit the local artisan shops and grab a bite to eat at one of the local cafes. If you are looking to book an adventure, there are plenty of businesses offering surfing lessons, kayak adventures and whale watching excursions. If you prefer to discover on your own, many of these companies offer surf and kayak equipment rentals.
Learn – Visitor's Centre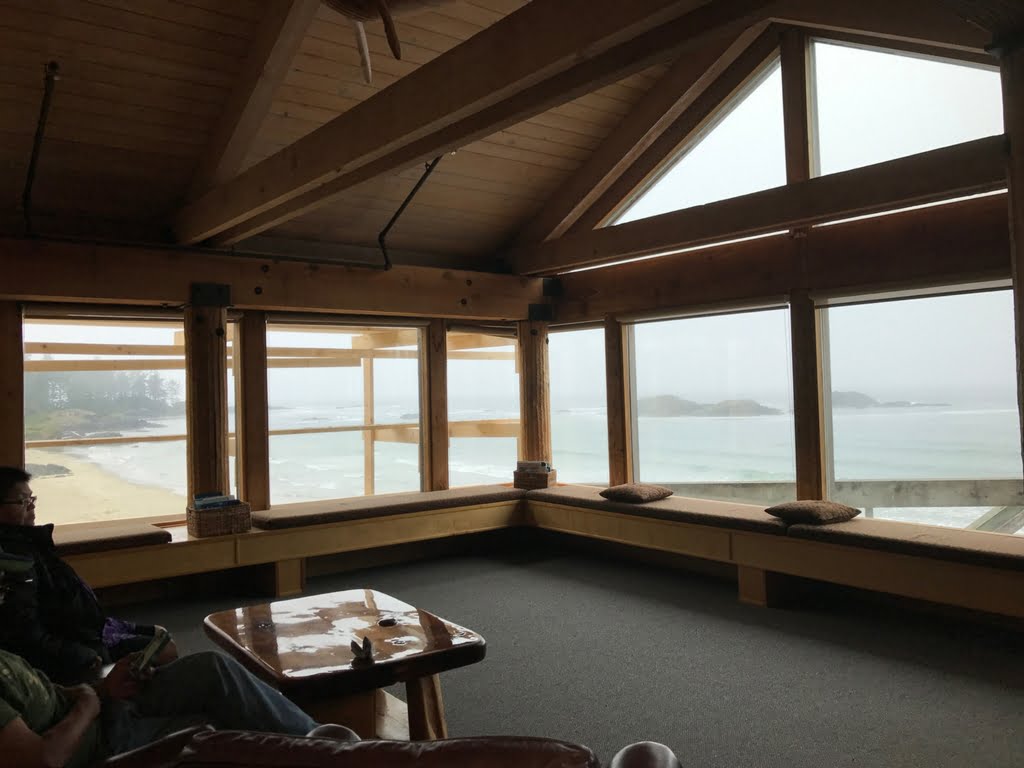 The Kwisitis Visitor Centre, located at the south end of Wickaninnish Beach, is truly a discovery centre where the whole family can learn. The kids can work on their parks Xplorers program and handle fossils, and learn all about the local ecosystems that surround them. From the beach, to the forests, to the flowers, this is a great place to start your visit and learn about all the places to explore in the National Park.
Swim – Beach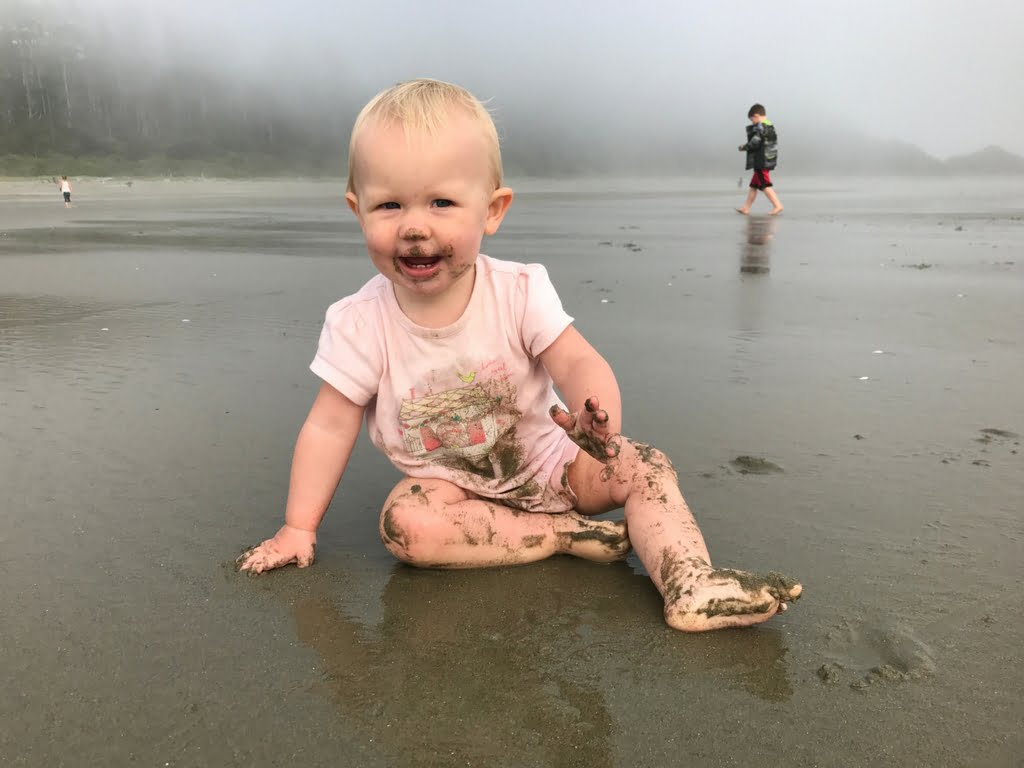 Pacific Rim National Park is known for its beaches, and with 22 kilometers of sandy while terrain to explore be sure to allocate at least a couple days to surf, swim, and search for treasures along the beach.
Tip – rent a board and wet suit and take surfing lessons!
Explore – Boardwalk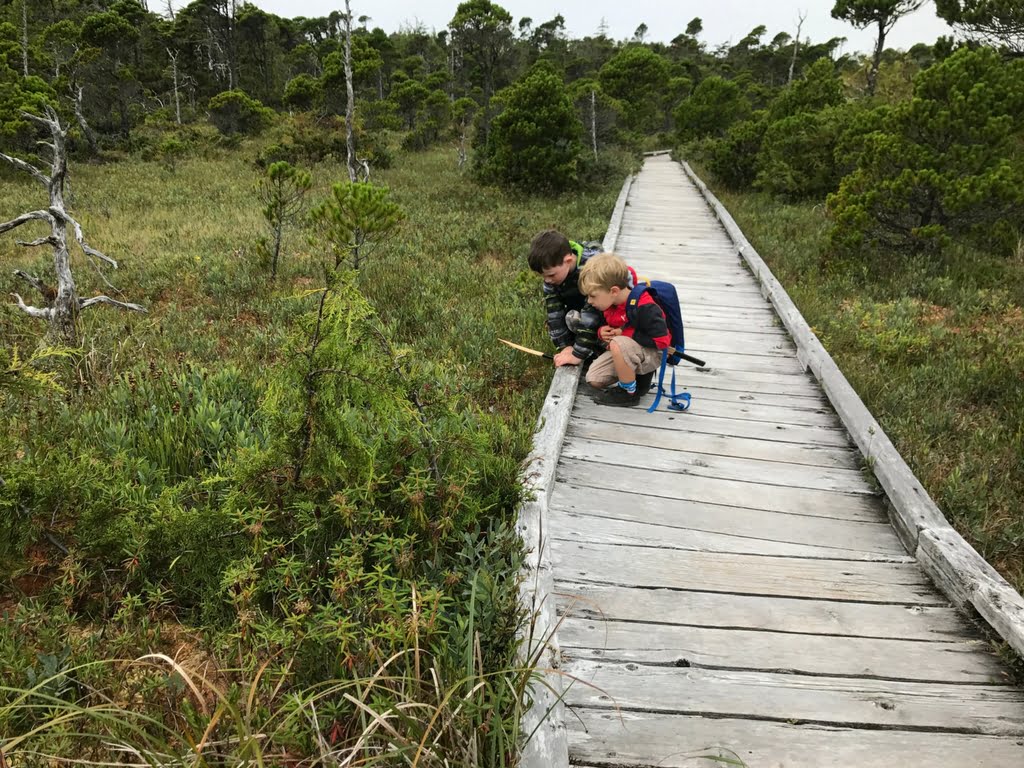 The boardwalk in the bog was a really unique family friendly hike. The kids were busy working on their Xplorers program and discovered this unique flower… that is actually an insect eater! It traps their prey in its sticky tentacles and then eats them when they are hungry!
We are so elated to be able to check Tofino and Pacific Rim National Park off our bucket list during our Vancouver Island road trip. We were finally able to see first hand what all the swooning was about and believe me, Tofino did not disappoint! We can't wait to go back, spend at least a week and keep exploring!
Is this a sponsored post?: Yes and no, parts of this trip were sponsored, but we know that our followers love to take part in adventures like us, so we wanted to share our whole Vancouver Island road trip experience!
Check out these other blogs for more ideas of where to stay, what to do and what to see in Victoria: