It was in the middle of an impromptu dance party that it finally struck me: this place felt like home.
Watching my husband do his best "floss" and listening to the roar of laughter from my children upon seeing their Dad trying to keep up with social media's hottest dance craze, it was clear that this was no ordinary holiday. During week two, our family was creating moments, memories, and bonds that will last a lifetime, and it was all possible thanks to the magic of the Vivonne Bay Holiday House.
But let's be clear – the Vivonne Bay Holiday House is no ordinary house. This place is a home.
The Journey to Kangaroo Island and Vivonne Bay Holiday House
Week two of our Ultimate Australian Family Adventure took us to the famed Kangaroo Island. Just off the mainland on Australia's southern coast, Kangaroo Island is known for its incredible collection of nature reserves and wildlife species. In fact, over a third of this amazing island is protected from development in order to keep wildlife flourishing.
And for this leg of our adventure, our family was ready to see it all!
Accessing the island is super easy and incredibly fun. SeaLink is the main ferry provider for Kangaroo Island, and our journey on their remarkable boat was an adventure in and of itself (so much so that I'm going to tell you all about it in an upcoming blog post). After the quick 30-minute ride on the beautiful blue water, we landed in the town of Penneshaw and immediately felt like we had been transported to a whole other world.
But before we could explore, we needed to drop our bags. Thankfully, in addition to running the ferry, SeaLink offers a variety of lodging options on Kangaroo Island. And for our family's week of adventure, they found us the absolute perfect place to stay: the Vivonne Bay Holiday House.
Vivonne Bay Holiday House
While our adventure has been about so much more than a list of amenities, I'd be remiss if I didn't at least attempt to describe just how wonderful our stay at the Vivonne Bay Holiday House has been.
From the very beginning, this place truly felt like home. No doubt this is in no small part thanks to how much care the staff took in designing the property.
A private three-bedroom, one bath home, the Vivonne Bay Holiday House has been the perfect basecamp for adventure. The kids are thrilled to each have their own room, and mom and dad have loved the large, comfortable bed that allows us a deep, restful night's sleep so that we can keep up with the kids during the day.
A well-appointed kitchen has everything you need to cook like home, and we've taken full advantage, with most of our dinners on the island being a home-cooked feast. Not only does this allow us to save our money for fun daytime adventures, but it's also provided us with the chance to spend some quality time together as a family. Whether we're inside at the kitchen table or out on our private back patio grilling on the BBQ, this setup has allowed us to have lazy, long dinners where we recap our days and plan the evening's festivities.
Speaking of evening festivities, the large living room has been the home to many nights of fun here on Kangaroo Island. Whether it's an impromptu dance competition, game night, or just sitting around and chatting with one another about the sights we want to explore tomorrow, it's been the perfect place to unwind after long days.
This home has countless other amenities that have really made our time here special, including a Bluetooth stereo, laundry (which is AMAZING for a family of four travelling an entire month), a television and so much more. And if that weren't enough, guests of the Vivonne Bay Holiday House also have access to the Vivonne Bay Lodge, which is just down the road, and features a pool table, ping pong, darts, wide-open deck space, bike and kayak rentals, and even a bar for mom and dad!
Overall, we couldn't have dreamt of a better place to call home during our time on Kangaroo Island.
Backyard AND Backcountry Adventures at Vivonne Bay Holiday House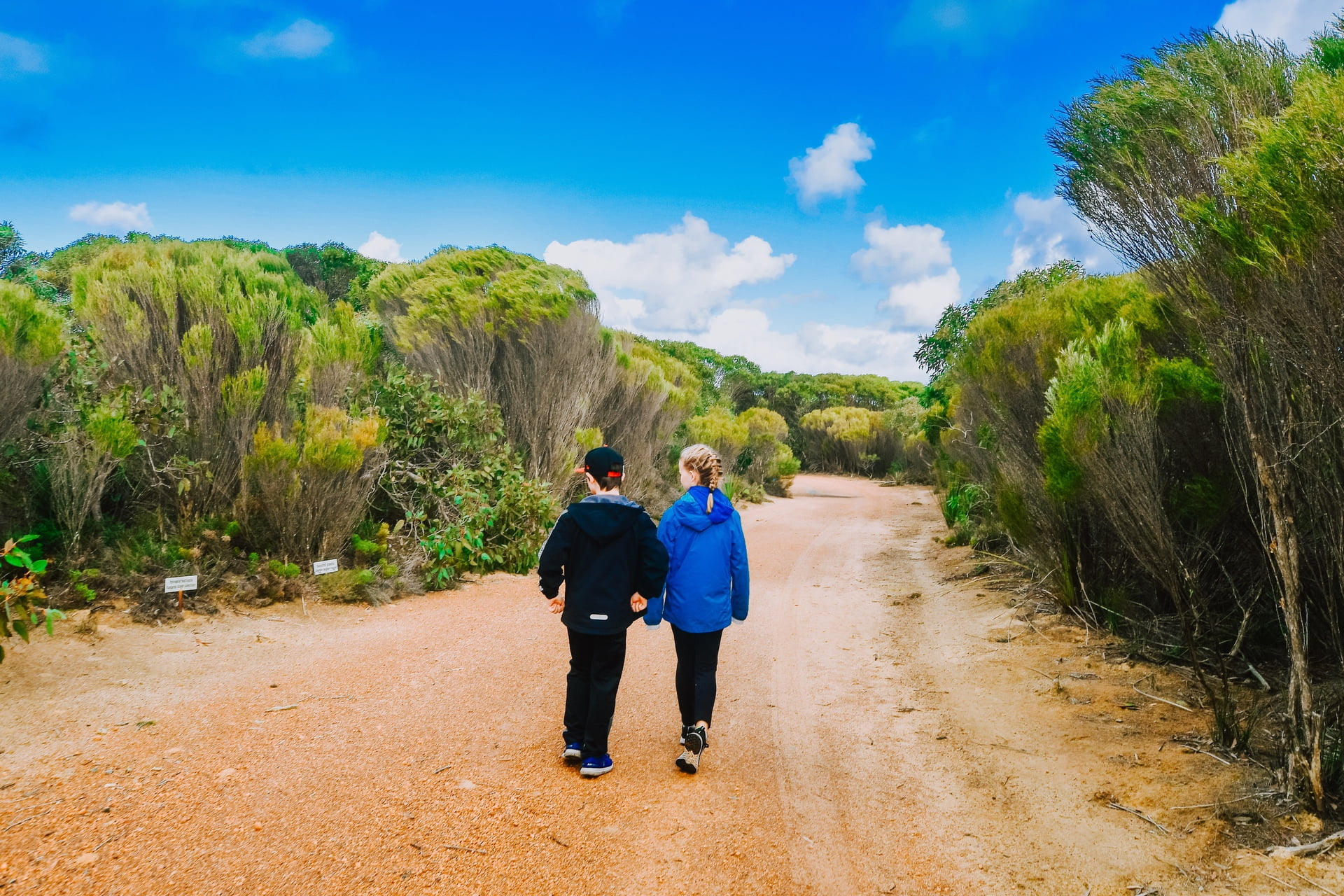 While the amenities have been nice, the real magic of the Vivonne Bay Holiday House has been its amazing location. Tucked away on the edge of the backcountry, from the second we stepped foot into this home, we've felt fully immersed in Australia's incredible natural wonders.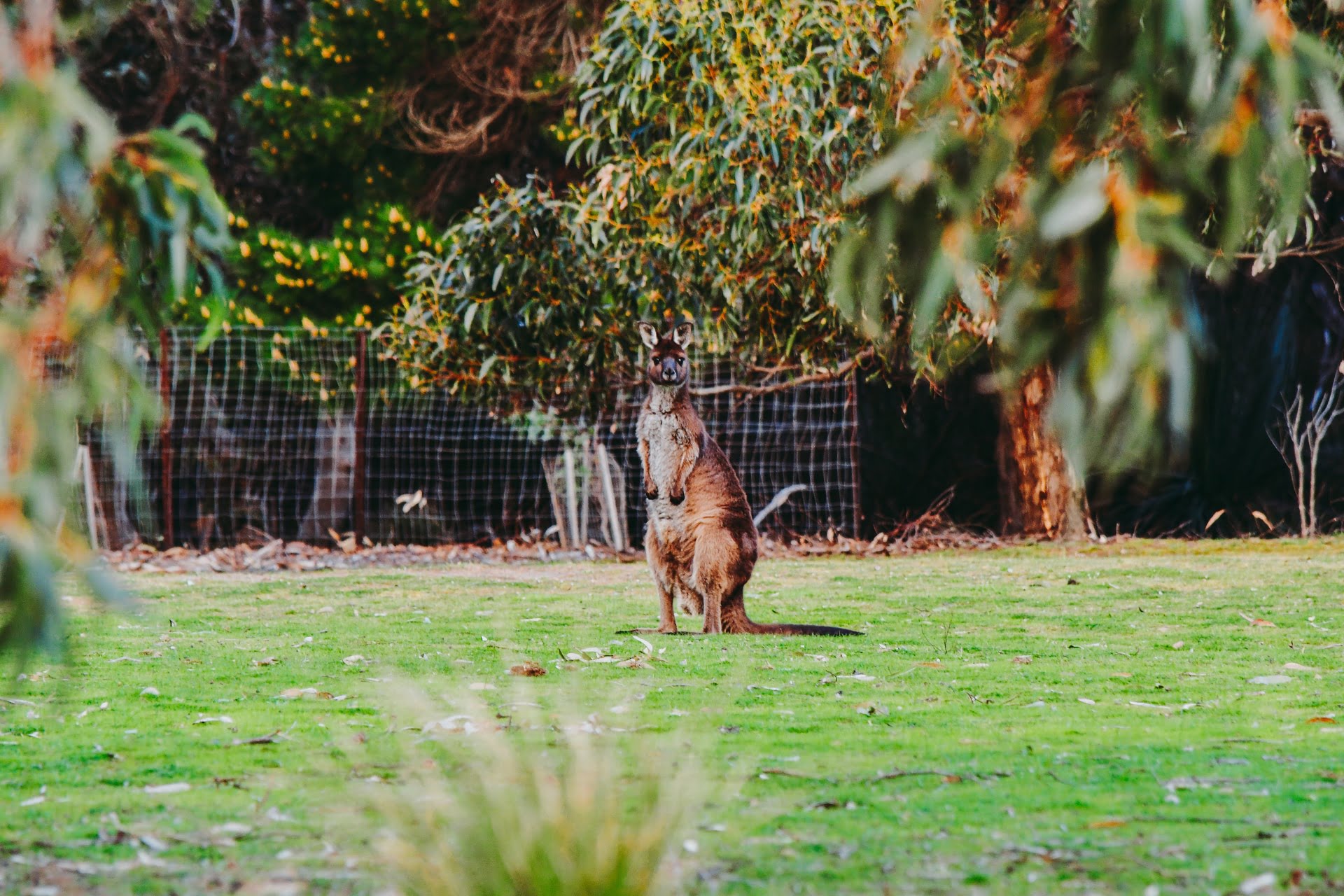 We've swapped our iPhone alarms for the singing and calls of the local birds, who right on cue each morning welcome us to the start of a brand-new adventure. Unlike the "5 more minutes mom!" battles we have waking the kids at home, here they are quick to leap out of bed, as they cannot wait to race across the living and out onto the patio to try and catch a glimpse of the morning activity. Whether it's a koala lazily greeting the day in one of our trees, or a kangaroo hopping on by in search of breakfast, the wildlife really does come to you when you stay at the Vivonne Bay Holiday House. Quite honestly, at times we've had to pinch ourselves to remind us that we're not at the zoo – we're standing on the private patio of our amazing holiday home!
This experience is quite a contrast to our normal travels. Generally, hotels and holiday properties try and create an artificial environment. A curated collection of amenities, sights, and sounds to build an experience around you. While this, of course, has a time and a place, when you're travelling through one of the most beautiful countries on earth, it's much preferred to be immersed in the real environment around you, not an artificially crafted one.
SeaLink and the Vivonne Bay Team understand this and have created the perfect blend of comfort and convenience, but without taking you out of the amazing Kangaroo Island environment.
Vivonne Bay Beach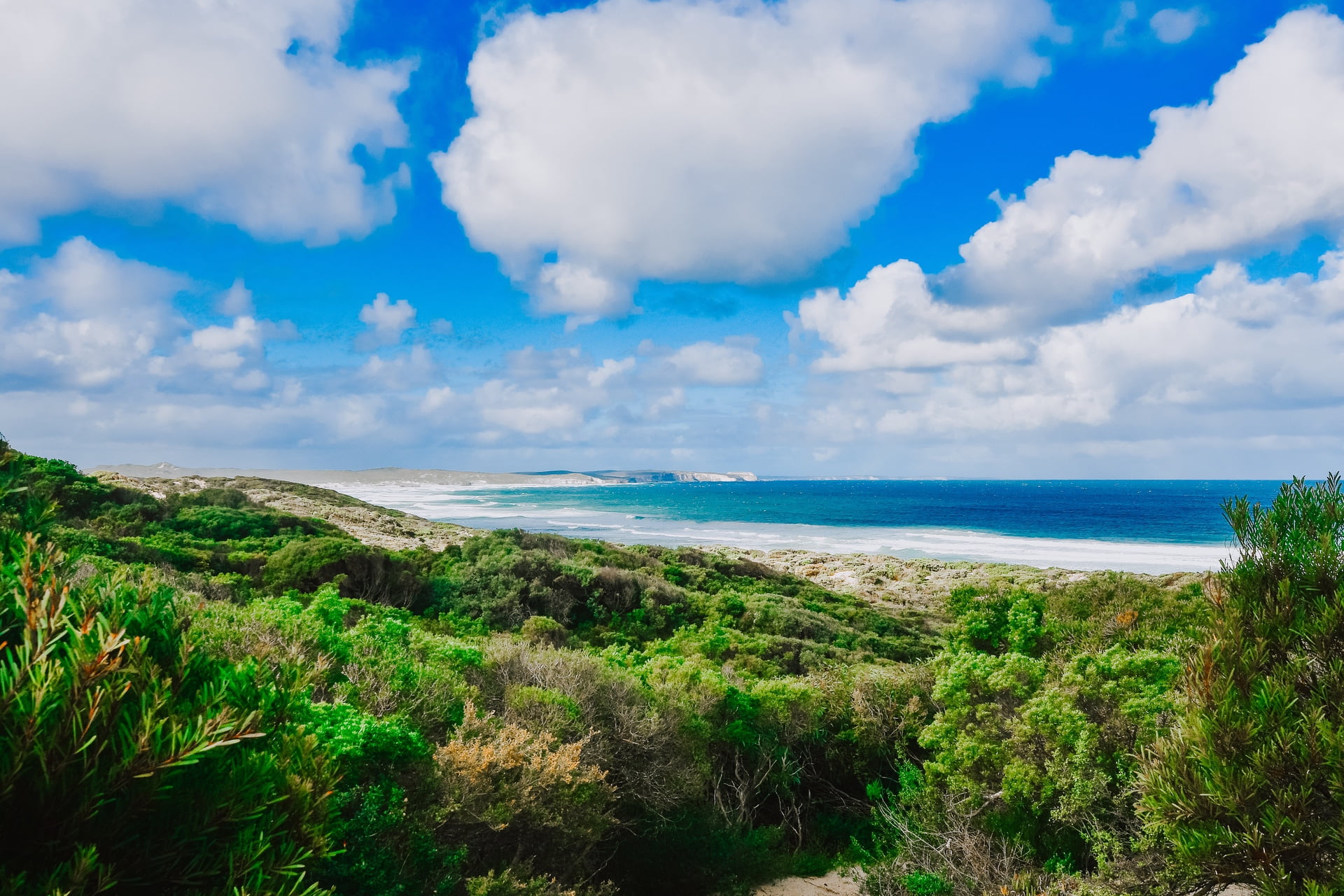 As the name might suggest, the Vivonne Bay Holiday House is just a short trek away from the iconic Vivonne Bay Beach. And so, it's no surprise that on the first full day in our home away from home, we had to make the journey to see it ourselves.
Once voted as the best beach in Australia, Vivonne Bay is unlike any beach our family has ever experienced. Taking the long winding trail from our home, we curved our way through the brush, being sure to keep our eyes peels for koalas in the trees and kangaroos hopping through the bushes.
After our fun game of I Spy: Animal Edition, we finally emerged through the clearing and got our first glimpse at the incredible Vivonne Bay Beach.
Laying eyes on this beach is like seeing a National Geographic photograph come to life. The pristine, golden sand stretches well into the distance and is washed every few seconds with the beautiful blues waves of Vivonne Bay. And with the backdrop of green brush and incredible rock outcroppings, it really did feel like we were discovering a beach that had never before been seen by humans.
Certainly a sight we'll never forget, and one we've returned to often during our stay.
What You Can't Do on the Island
With so many amazing things to see and do on Kangaroo Island, I felt it best to leave the list of recommended activities for a separate blog. But there's one that I thought was incredibly important to share here, and that's what you can't do on the island…
Kangaroo Island is not a place for screen time.
Vivonne Bay offers many wonderful things, but a strong cell signal and blazing fast internet are not one of them. Of course, if it's truly needed, there are places to connect. But that's not the point. The point of Kangaroo Island is to leave these devices on the mainland.
For our entire time here, phones, iPads, and televisions have remained in a constant state of "off". You don't need those things here. There's too much to see and do to be distracted with endless scrolling and emails. The only connecting you should be doing here is with the locals, the nature, and the loved ones around you. These are the only connections that matter.
This week has allowed my husband and I to reconnect with each other and our kids in a way we haven't done in years. With a forced sabbatical from technology, we've rediscovered just how many ways we can have fun without internet or electronic devices. And truth be told, this kind of fun is WAY better than the fun we have watching a viral video online. While I'm first to admit I couldn't live without my phone, this digital detox in Vivonne Bay has done wonders for our family and is one of the main reasons I'd suggest anyone coming to Australia make it a point to spend a few days out in this magical place.
What's Next
Using the Vivonne Bay Holiday House as our basecamp, we've already been on some incredible adventures around Kangaroo Island. Keep an eye out in the coming days for new posts showcasing all of our amazing activities, and what you should put on your list when you make the journey here yourself!
Australia is full of adventures for the whole family, check out these articles for more experiences:
Is this a sponsored post?: Yes, while we were graciously invited by Sealink to visit Kangaroo Island, all of our thoughts, views and words are our own.