You've seen the Facebook ads and heard the buzz about transitioning to eco-friendly laundry strips. But you get distracted and suddenly find yourself walking down the Costco aisle and realize that the mountain of laundry at home isn't going to wash itself, and so you throw another tub of your regular detergent in the shopping cart and say, "I'll try those Tru Earth laundry strips next time" leaving it on your all too long "to-do list."
But when you know better, you do better…
You've clicked this link because you want to do better. You want to do your best to reduce your family's impact on the environment. You're willing to learn the 10 Reasons To FINALLY Give Tru Earth Laundry Strips a Try:
Environmentally-Friendly Tru Earth Laundry strips – simple and yet revolutionary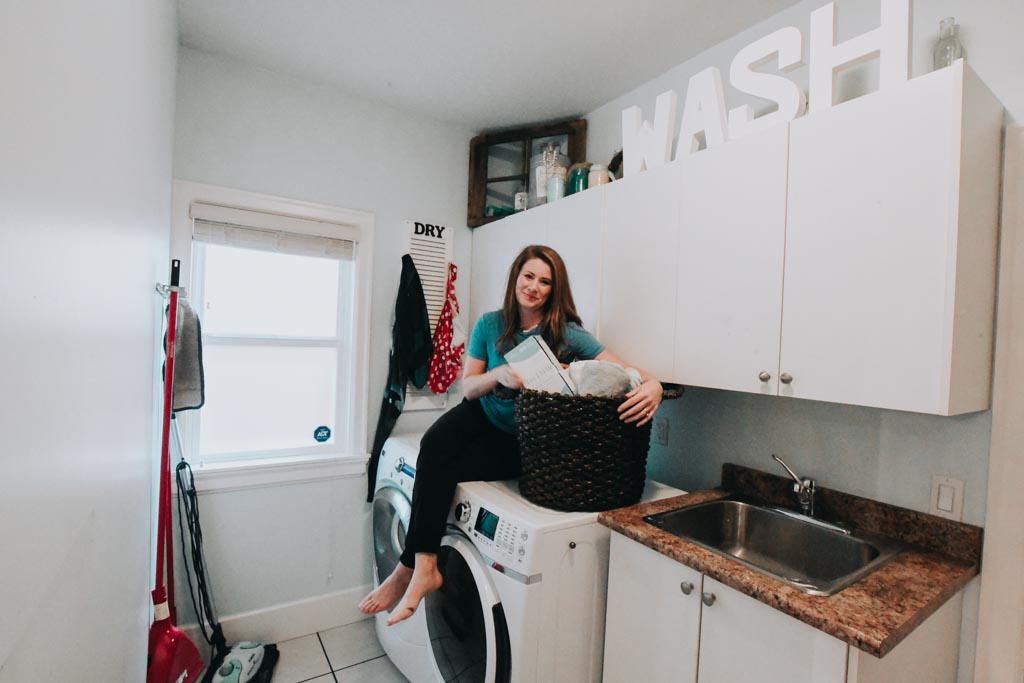 There are two things that are true in life: death and taxes, but as a Mom, I feel like a third thing should be added… laundry. In my house, we average 5-8 loads a week, and so when laundry strips first came out I was intrigued. After I realized that I was essentially lugging around these large laundry jugs and PAYING for the water in the jugs and a less eco-friendly solution, I was ready to make the switch.
Tru Earth Laundry Strips come in a zero-waste, compostable, plastic-free package, which reduced fuel consumption and carbon emissions by 94% compared to liquid and powder detergent. But like any Mom I wanted to do more digging, and here's what I found out.
Compostable Packaging – Keeping Bulky Plastic Out Of Our Landfills!
Each year 700,000,000 plastic laundry jugs don't make it to the recycling bin and end up in our landfills. That's a lot of 000's behind that 7, and let's face it, that's a stat that needs to be fixed. Tru Earth laundry strips come in a zero-waste, plastic-free compostable cupboard sleeve. So once you're done with your packaging it goes right in the compost bin!
Did you know that if everyone switched to eco-friendly laundry strips we could:
Eliminate 1 billion plastic jugs (not a typo), saving 700 million from going to landfills and ending up in the ocean!

Save transportation fuel and CO2 equivalent to taking 27 million (again, not a typo) cars off the road for a day, or planting 9 million trees.
Tru Earth Laundry Strips are Made In Canada, With Love, Eh…
I'm a huge advocate of supporting local small businesses and Tru Earth is just that. Based out of Port Moody, British Columbia, Tru Earth started out as a small homegrown business and has developed with demand for eco-friendly products (and they've expanded beyond just their laundry strips!)
Being based out of Canada also means that Tru Earth is subject to some of the most stringent health regulations from around the globe, keeping your family's safety a priority with every load of laundry. "Rest easy knowing we don't cut corners. Your safety is important to us."
As their website says, "They are manufactured with love in Canada" and I feel like that's not something the big box brands can say.
Tru Earth Laundry Strips Actually Work!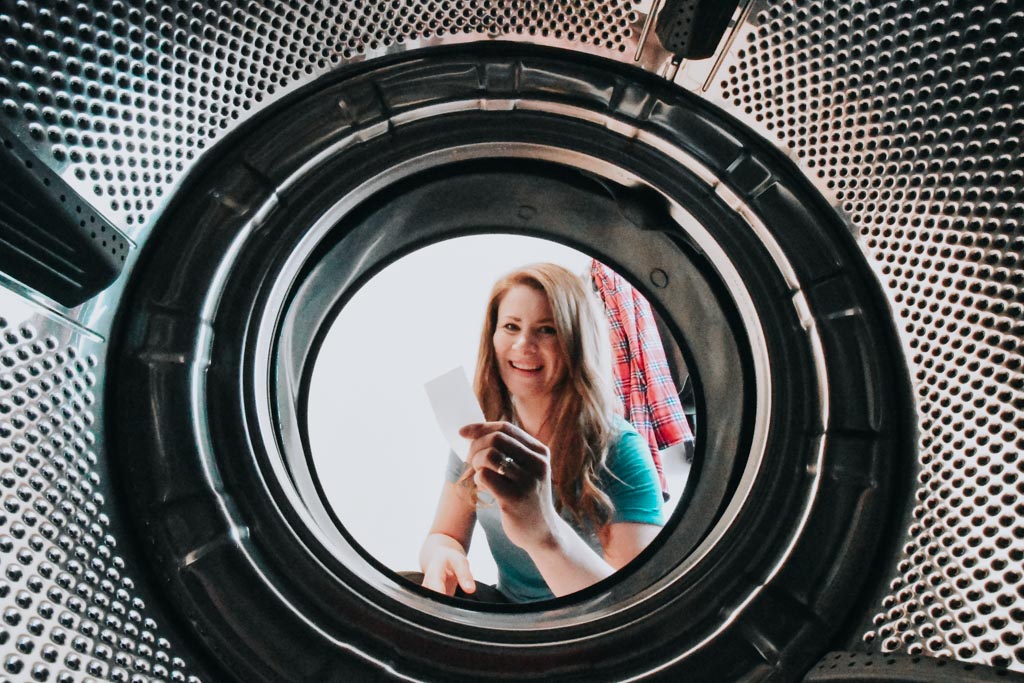 Packing as much punch as 40g of premium liquid or powdered detergents, each strip of Tru Earth Liquidless laundry detergent weights just 3g. (Yes I had to look that stat up!) "The smart hypoallergenic laundry detergent formulation effectively seeks out and dislodges dirt molecules and stains, keeping them in suspension until they are rinsed away."
According to their website, they say that Tru Earth removes the toughest stains, reveals vibrant colours and restores radiant whites… honestly, all I noticed was that it was the exact same if not better than my other detergents. I didn't do a "before and after" or scientific experiment around it all, but I can say that my sweaty yoga gear and kids' hockey gear fared perfectly with the new laundry strips!
Creative Marketing
Have you seen the one where the "Tru Earth Lady" (actress J. Madison Wright Morris) gets doused in water, demonstrating just how ridiculous it is that we actually ARE paying for water when we purchase the big jug of laundry detergent? Or how about the one where the kids are lecturing the parents and giving them a wake-up call.
Bonus points for the marketing and the hard-hitting message… wake up, it's our job to be more responsible for our waste! (And let's be honest, future generations will thank us).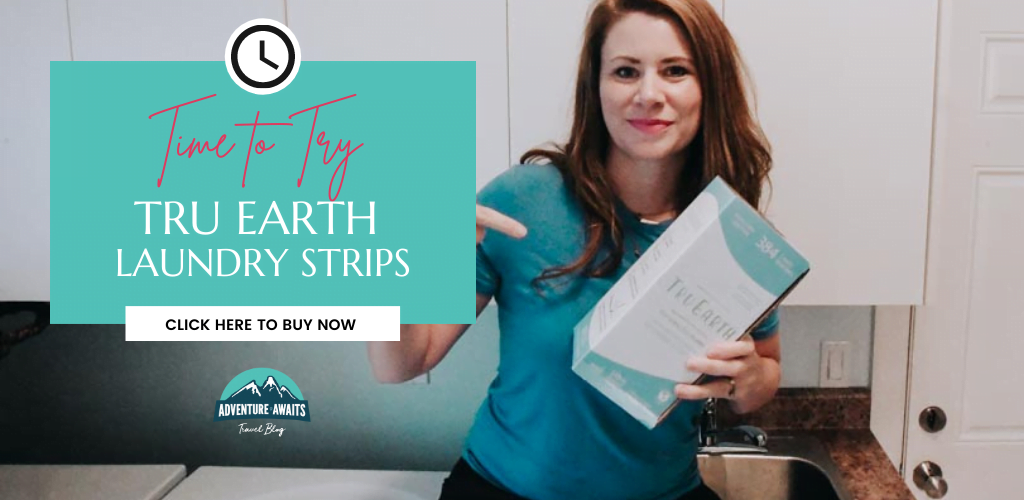 Less Mess, Less Space, Laundry Win!
I always loved the blue streak of detergent that ran down the front of my laundry machine, said no Mom ever. But when I'm in a rush or the kids were learning how to do their own laundry, well it was just one more thing to clean that often got missed. So while I'll miss the blue streak (not), I am happy now with the ease of just ripping off a strip and then dropping it in and moving along. One strip equals one load, no measuring, no spills, nothing to lose.
Tru Earth Laundry Strips Delivered To your Door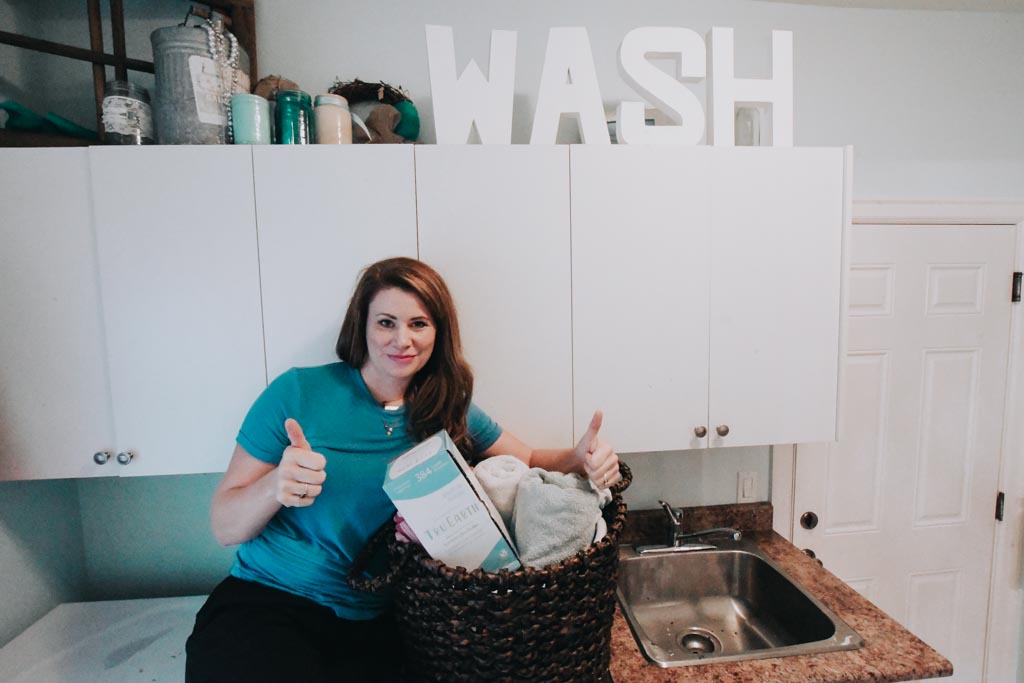 Gone are the days of having to pick up laundry detergent…now mine is delivered via annual subscription! One set up and I'm good for the year! I love having it delivered to my door and not having to worry about running out…
My Laundry Helps People In Need, Can Your Detergent Say that?
Taking care of the people on this planet is just as important to the leadership team at Tru Earth. For every Tru Earth subscription, 32 loads of laundry are donated to front-line workers, food banks, and people in need.
That's a brand I can stand behind.
Free from Everything… Hypoallergenic, Vegan, and Paraben-free!
Knowing our family spends the majority of their time clothed, it's important as a Mom to know that the products touching their largest organ (their skin) are safe. Tru Earth Eco Strips are gentle even for my son's sensitive skin, and as Tru Earth's site says, "Finally, an eco-friendly laundry detergent that's as sensitive on your skin as it is to the environment."
Tru Earth Certifications Include:
Phosphate-free

Paraben-free

Free of chlorine bleach

Free of added dyes

Free of 1,4-dioxane, as certified by independent laboratory tests

Biodegradable in accordance with OECD 310D

Certified Hypoallergenic by independent dermatologists

Vegan: no animal-based ingredients or testing on animals by Tru Earth or their ingredient suppliers.
More Storage Space In Your Laundry Room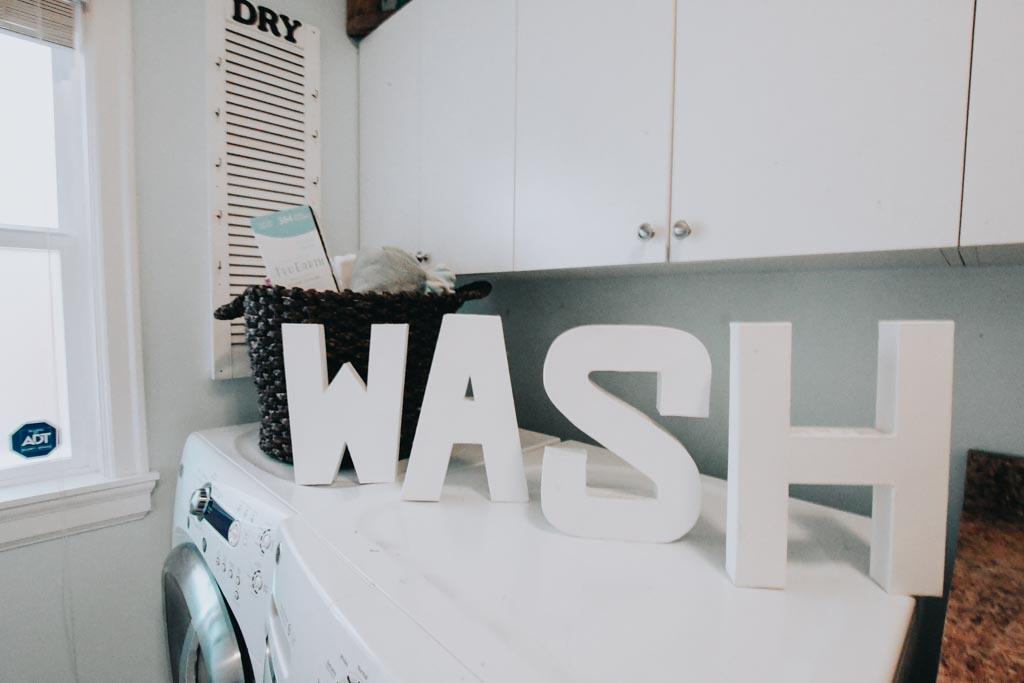 The other unexpected win was the fact that there's no big storage required for the Tru Earth laundry strips, unlike the traditional big laundry jugs. I LOVE that there's more counter space for folding and well, another load of dirty laundry that's destined to be piled on. (#MomTruth)
Their packaging is so efficient that you can fit over 400 loads of Tru Earth Eco-Strips in the same space as a single 100 load jug of traditional detergent.
Tru Earth Laundry Strips Package dimensions:
Length 8.7″ (22cm)
Width 5.5″ (14cm)
Height 0.8″ (2cm)
Eco Centric Dinner Table Conversations
After receiving the Tru Earth Laundry strips and everyone in the family learning how to use them, I started to understand the impact we were making. We had conversations about this product and other products that we could transition to that would reduce our impact on the environment. We took ownership of our role in the consumer cycle and our kids felt more empowered than ever to ask questions about where other products came from. We also talked about how this company gives back to the community, and won't compromise in order to make a profit.
"We will never compromise our values or cut corners to reduce costs. We will not shortchange the environment to make a profit. We will be transparent about production and ingredients."
We felt family pride as we worked together, one tiny laundry strip at a time.
Other products
Since starting with Tru Earth a year ago I've started to see them come out with more products and I couldn't be more excited. From reusable multi surface cleaners to dryer balls and wax wraps (goodbye saran wrap!). I'm loving that Tru Earth is becoming my "one-stop-shop" for an environmentally conscious household.
Tru Earth Laundry Strips – Testimonials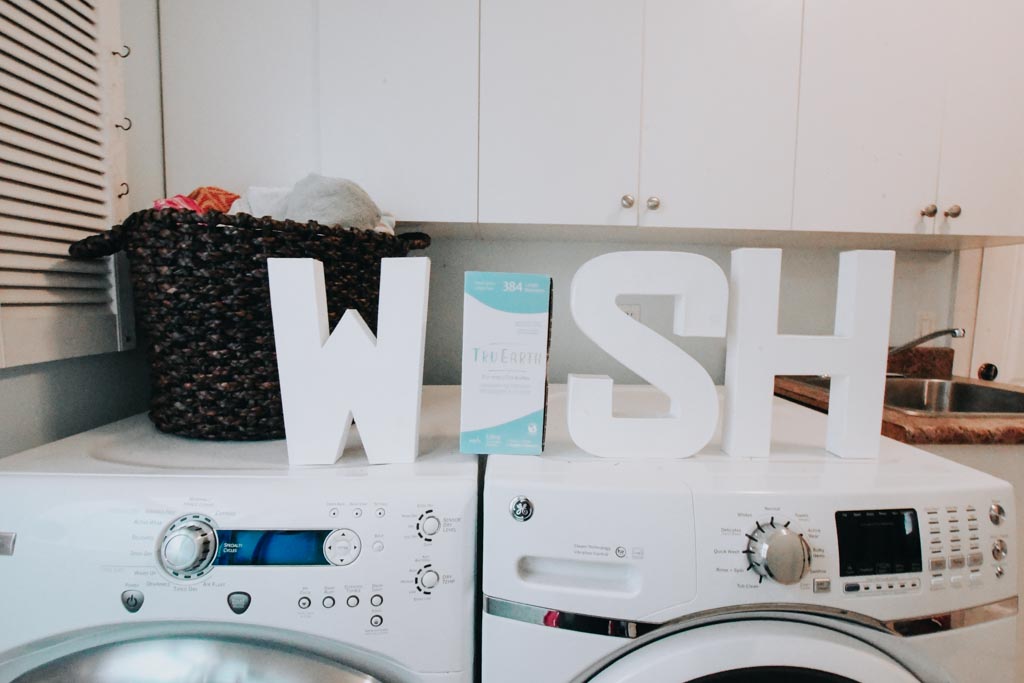 If you're still unsure here are some testimonials I found on Google where users share their experience:
Too practical to believe? No! As a self-proclaimed low-waster, I clicked on the YouTube ad with a fair bit of skepticism but went for the 30-day trial in April 2020. A low eco-footprint "value purchase." Within a month I'd ordered a year's supply (for a single person it looks like it may last me nearly two years!) even though it had a high upfront cost — I had a brain break at the time so was thinking more about avoiding extra shopping. To my surprise, even after many months, I found myself still doing "test" experiments of #strips per load/type of load, even combined with remaining old detergent… it just didn't seem plausible that this tiny concentrated product without fancy packaging could work in direct contrast to of the entire laundry industry!!! Eventually, it dawned on me that I'd had satisfactorily clean clothes for more than half a year, the 384 load box is smaller than a shoebox for storage, and I won't need to deal with massive detergent jugs ever again?! The practical side of me is in 100%, my values-driven side is in 200% and yet some part of me STILL seems surprised that Tru Earth laundry approach seems too good to be true — kind of ridiculous, actually! I encourage you to TAKE THE PLUNGE. Months from now you won't regret it and may even shift the way you think about laundry. The dryer balls were also a worthwhile buy – faster drying time but also much quieter than tennis balls and don't crack/crumble over time. Anyways, a definite 5-star review influenced only by my personal experience and respect for the product details & company philosophy. Tru Earth is shaking things up! So grateful for a truly responsible alternative to laundry impact.
Everyone should try these… once! I saw an ad for the Tru Earth laundry detergent strips and immediately I was intrigued. So I did a little research. Here is some of what I learned and was impressed with. Made in Canada. No plastics, free from many harmful additives, vegan, fresh scent, baby-friendly, gentle, and really do many amazing things BUT is it really THAT good? I thought I would give it a try. So I bought one pack, was then directed to a site for the wool dryer balls, and added those as well. They arrived very quickly and so a bit excited and a bit skeptical, I did my 1st load, I am sold. I will NEVER be carting home those heavy, plastic jugs of detergent or fabric softener. Love the scent, the ease, the way it works. Our clothes come out clean and smelling amazing. Wool balls, no static. Was curious about my front load washer no problem, rip the strips into smaller pieces, put in your soap dispenser, and TADA, ANOTHER HUGE BONUS IS CLEANLINESS. NO DETERGENT OR FABRIC SOFTENER DROPS ON THE COUNTERS, RUNNING DOWN THE FRONT OF MY MACHINE. THE PLUSES OF THIS PRODUCT FAR FAR OUTWAY ANY NEGATIVES. I DO BELIEVE IN THE PRODUCTS THAT I COULD AND WOULD AND I HAVE BEEN ENDORSING THEM. I almost wish there was a referral bonus.
Happy Customer! I just wanted to let you know that I started using your laundry detergent from ads seen on Facebook and other websites. The first thing I saw was that it was made in Canada. I live in Calgary, AB, and love using Canadian products as much as I can, I decided to give it a try. The detergent makes so much sense, to save on more plastic going into our landfills. I liked the ingredients and again, especially that it was Canadian-made. After testing it on many various types of laundry, I was very pleased that it worked as well as Tide and if not better. I was pleased with my whites and light-coloured clothes came out clean and bright. I will continue using your product and have been sharing my opinion with my friends and family. I hope that your company encourages, the big laundry detergent companies to follow suit to help our environment to reduce all the plastic waste in our landfills. In the meantime, I hope your business grows and grows. I am about to try your multi-surface cleaner and am very excited to see how it works. Thank you for such a great product.
---
Learn More About Adventure Awaits with these Articles!
Is this a sponsored post?: If you follow me you know that I believe in investing money over material items, so you'll barely EVER see me supporting the consumption of "things." However, the best adventures are often the messiest and therefore I am honoured to support a product we all use (laundry detergent) and one that is committed to protecting what I love the most, Mother Earth. If you click one of the links in this article and purchase a product I receive a small commission which does help pay the bills and keep Adventure Awaits online.