"Mom!!!"
My name was on repeat, the kids beckoning me every 15 seconds or so as they raced around the snow and ice carvings. With each new discovery, my name was called, and I came running around to see what magical masterpiece they had found. From a truckload of lifelike animals (complete with its own Banff License Plate) to a beautiful scene within a scene within a scene, Banff SnowDays was like a scavenger hunt, art tour, and interpretative discussion all at once…
Banff SnowDays
Since 2012, artists from across Canada have come together to show off their snow carving skills in what is a truly magnificent display of vision, talent, execution, science, and art. Piles of snow brought in from Kananaskis, are loaded into plywood forms and allowed to settle, giving each artist a 10'X10'X10′ smooth canvas upon which to work their magic. 
Each team is given 34 hours over the span of 3 days to build their creations. The artists use chainsaws, chisels, Dremel tools, saws and other instruments to carve the snow and bring their snow sculpture to life.
Upon completion, they were judged by Barb Pelham, past owner of the Canada House Art Gallery in Banff and Tom Hjorleifson, a Canmore-based bronze sculptor. The first prize winner was awarded $2,500, second prize was $1,500 and the people's choice award winner was given $750.
The festival was supported by Don Watt, who used to organize a snow festival in the Yukon. They decided to add the competition element to the SnowDays festival this year and Don help facilitate that component. 
2019 SnowDays Displays
From a cheeky play on tourists to paying respect to the park's animals, to "Old Man Winter" himself, this year's snow displays were beyond anything you could possibly imagine could be carved out of snow!
Here were some of our favourites:




Plan Your Trip to the Banff SnowDays Festival
When To Go –
The 12-day festival coincides with the Lake Louise Ice Magic Festival, generally starting the 3rd week of January. This event is a highlight of the winter season, bringing visitors from around the world to see these amazing displays of Canadian Art (does it get any more Canadian than this?!)
Where It's Located –
The primary competition site is located in the heart of the village on Bear Street. However, be sure to keep an eye out for creations all around town, as competitors were able to showcase their work at multiple locations throughout Banff. There are even a few sculptures at the base of a skating rink, making for a unique opportunity to strap on some skates and play along next to these gigantic sculptures.
What to Wear –
Warm clothing! It's chilly in Banff, especially at night. For family comfort I'd recommend:

winter pants
gloves
toques
winter jacket
layers
The SnowDays Experience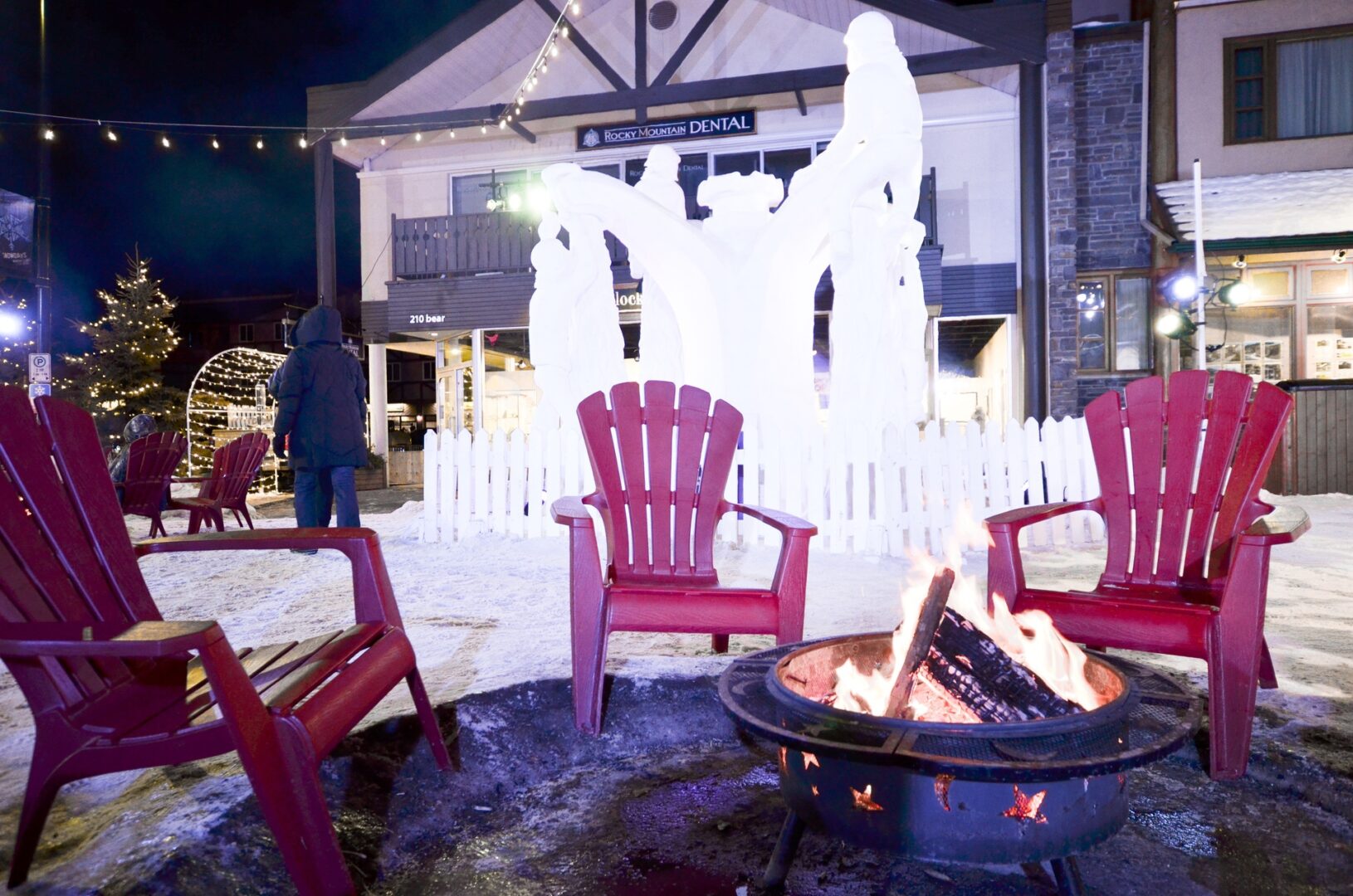 Like everything else in Banff, The SnowDays Festival gave our family plenty of memories we won't soon forget. These giant works of frosty art were unlike anything we had ever seen, and as we walked from sculpture to sculpture (being sure to toast our fingers on the cracklin' fireplace in between), we couldn't help but smile, laugh, and enjoy this one-of-a-kind experience!
For tips on other great winter adventures to explore while in Banff, be sure to check out these articles!
Snowboarding + Sunshine = Magic on the Mountains
Moments, Memories & a Giant Moose: Inside Banff's Newest Luxury Lodge
Explore Banff National Park by Bus
Is this a sponsored post?: Yes, however all our thoughts, opinions and views of our experience are our own.