7. Seven. Siete. That's how long it took for me to finally get to experience the best women's mountain bike camp at SilverStar Mountain Resort. As a Mudbunny, I've heard nothing but amazing things and have always wanted to attend this woman's only "mountain biking class/party/reunion" but the timing never aligned… but this year SilverStar was on the schedule and nothing was going to stop us from our mountain biking adventure!
The Best Women's Mountain Bike Camp at SilverStar Mountain Resort
SilverStar Mountain is one of the largest and well-known bike parks in North America… hence my yearning desire to get up there and experience the adventure for myself! While they are also a world-renowned ski resort, I love that they say, "In the Summer, it's all about the dirt!"
Founded 25 years ago, the SilverStar Bike Park has evolved into a world-class destination showcasing a network of downhill, enduro, and cross country trails. And if you're into flow (I love flow!), this park is "arguably one of the best in the world," so says SilverStar Mountain Resort.
Here are some quick bike park stats to inspire you to start planning:
551 Vertical meters

69 kilometers of downhill trails

70 kilometers of cross country trails

400 dirt jumps (I swear some of them were bigger than my house!)

870 Berms (My favourite!)

4 bike lift chairs
Releasing Muddbunnies on the Mountain
Every year the Muddbunnies have an annual ladies-only weekend getaway and tickets are often sold out within weeks of being announced. The weekend at SilverStar is hosted by Essential Cycles where they collaborate with the Muddbunnies to bring together some of the best coaches from across British Columbia. With one day of instruction and one day of free riding, it's the perfect combination of learning and then testing your own skills in a world-class bike park playdate with new and old friends!
What's all included in The Best Women's Mountain Bike Camp at SilverStar Mountain Resort:
1 full day of coaching with their professional coaches from across BC (small class size, maximum 6 students per coach).

2 Lift tickets (already have a season pass? select the ticket without the lift tickets).

1 full day of free riding.

Dinner and party on Saturday night with great swag and giveaways.
Whether you're brand new to biking or want to take your skills to another level, you'll find the most friendly group of humans ever (guaranteed) in a fun atmosphere where you can make new friends and learn from the best female coaches available.
Best Female Coaches at the SilverStar Mountain Bike Camp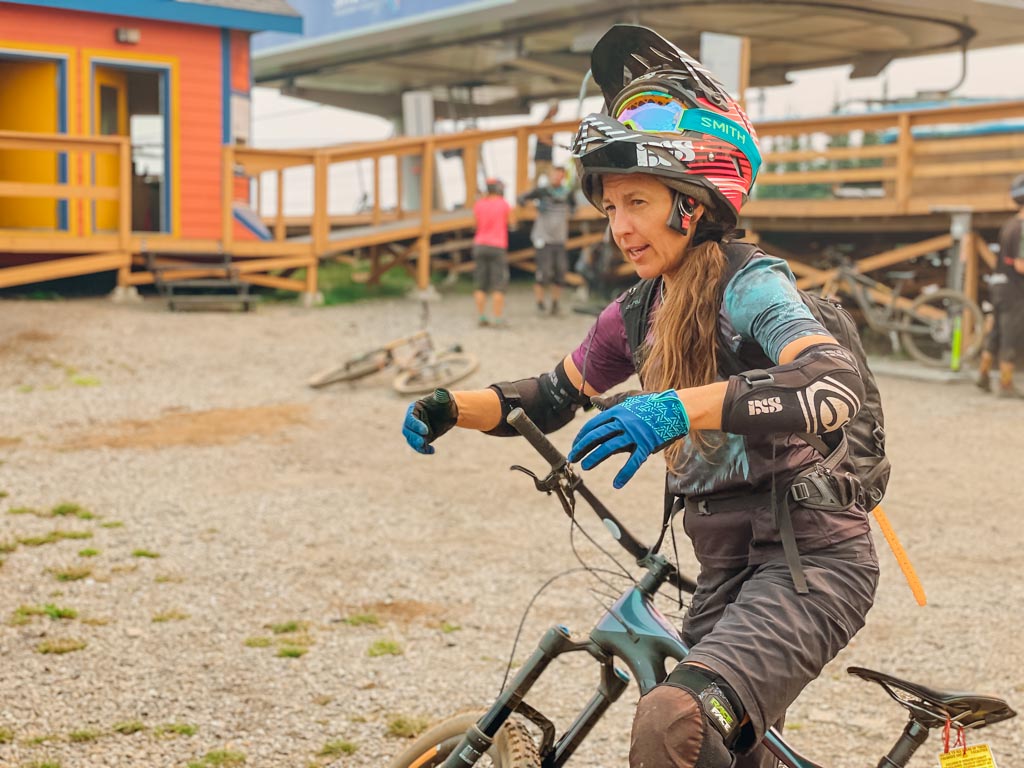 There's a sweet spot that coaches need to hit in order for riders to have a successful weekend retreat. That space for me is where I'm "comfortably uncomfortable" and being pushed far enough out of my comfort zone that I can try new things, but not that I am stressing out or not being safe and therefore not enjoying the experience.
Let's take jumping for example. Some women love to jump 1-3 feet in the air… for me in this park, on this weekend, I was feeling a bit of trepidation, so my jumping goals were to get a "credit card width" off the ground. It may seem silly to have such small goals but it's those building blocks that build confidence and skill that evolve into bigger and bigger jumps.
Huge shout out (no this isn't sponsored) to Essential Cycles for putting together such a talented group of coaches for the weekend. Each of us walked away with many "wins" which included new skills, new memories, and new friends. A triple threat and the perfect recipe for success.
Favourite Pics From The Best Women's Mountain Bike Camp at SilverStar Mountain Resort
Taking pictures of yourself mountain biking is hard… and even more difficult is taking good action shots! So here are some behind-the-scenes pictures from some of our favourite "moments behind the mask" showcasing good laughs, lots of mud on the face, and memories made.
Where Muddbunnies Stay At SilverStar Mountain Resort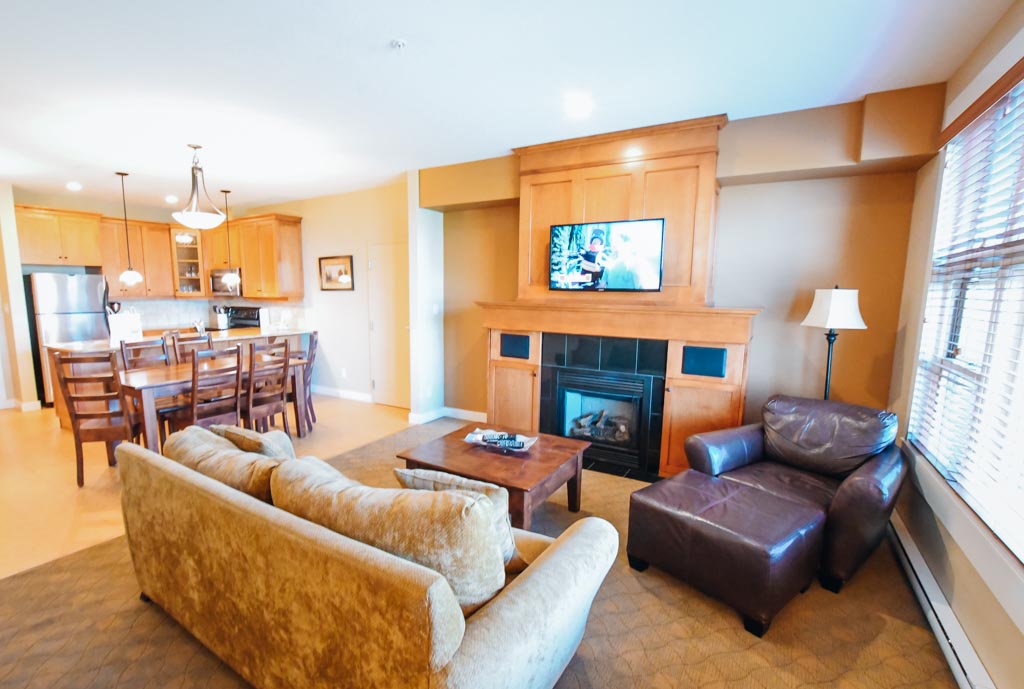 There's nothing more important to a good old fashion girls getaway than having an amazing place to hang out, shower off, soak in the hot tub, and crash for the night in between your adventure days!
So we chose to stay on the hill at the Snowbird Lodge, and being able to hang out in the hot tub and watch the riders come down off the hill was definitely one of the highlights. But that's not all, the full kitchen meant this allergy-restricted lady could enjoy the comfort of her own food without having to worry about how I was going to store or cook my meals. Combine that with a king bed, a huge dining and living room and we settled into a place that we were in no rush to leave. (And yes, my kids were very jealous on their home Facetime tour!)
Here are just some of the amenities that Snowbird Lodge has:
Personal hot tubs in all suites

Underground parking

Private in-suite laundry (so I got to come home without dirty stinky mountain bike gear to wash, as I did it all on our last night!)

Locker storage

Free wifi

24 seat theatre

TV, non-smoking, and pet friendly

Location, Location, Location
Where Muddbunnies Eat At SilverStar Mountain Resort
There's nothing more amazing than being able to wrap up a day of mountain biking in the pub over quality food and a few special drinks (even their mocktail menu was incredible). The Red Antler was our home base and I loved the healthy options available to riders. I indulged in the Kung Pow Chicken wraps which were as fueling as they were tasty, "choice of roast chicken, shrimp or tofu with sautéed veggies, chow mein noodles, spicy K-Pow sauce & cilantro served in iceberg cup." With a menu that encompasses everything from vegan burgers to Szechuan stir fry bowls, to the classic apres appetizers, there's something for everyone at the Red Antler in SilverStar.
Have You Ever Wanted to Go to a Women's Mountain Bike Camp At SilverStar?
The Muddbunnies have already got us saving the date and if you're interested head on over to their Facebook page and hit the "interested" button. Registration opens in January and fills up fast! I HIGHLY recommend this if you're just new to the sport, want to try it out, or are looking to take your mountain biking game to the next level!
---
Looking for more Mountain Biking Inspiration? Check out these Articles!
Sponsorship Disclosure: While I paid for my own bike camp and commute, SilverStar Mountain Resort was a gracious host offering us accommodations and lift passes. I only recommend places I'd invest my own time and money in staying and I look forward to coming back here for a family trip in the future. (And of course, next year's Muddbunny event!)