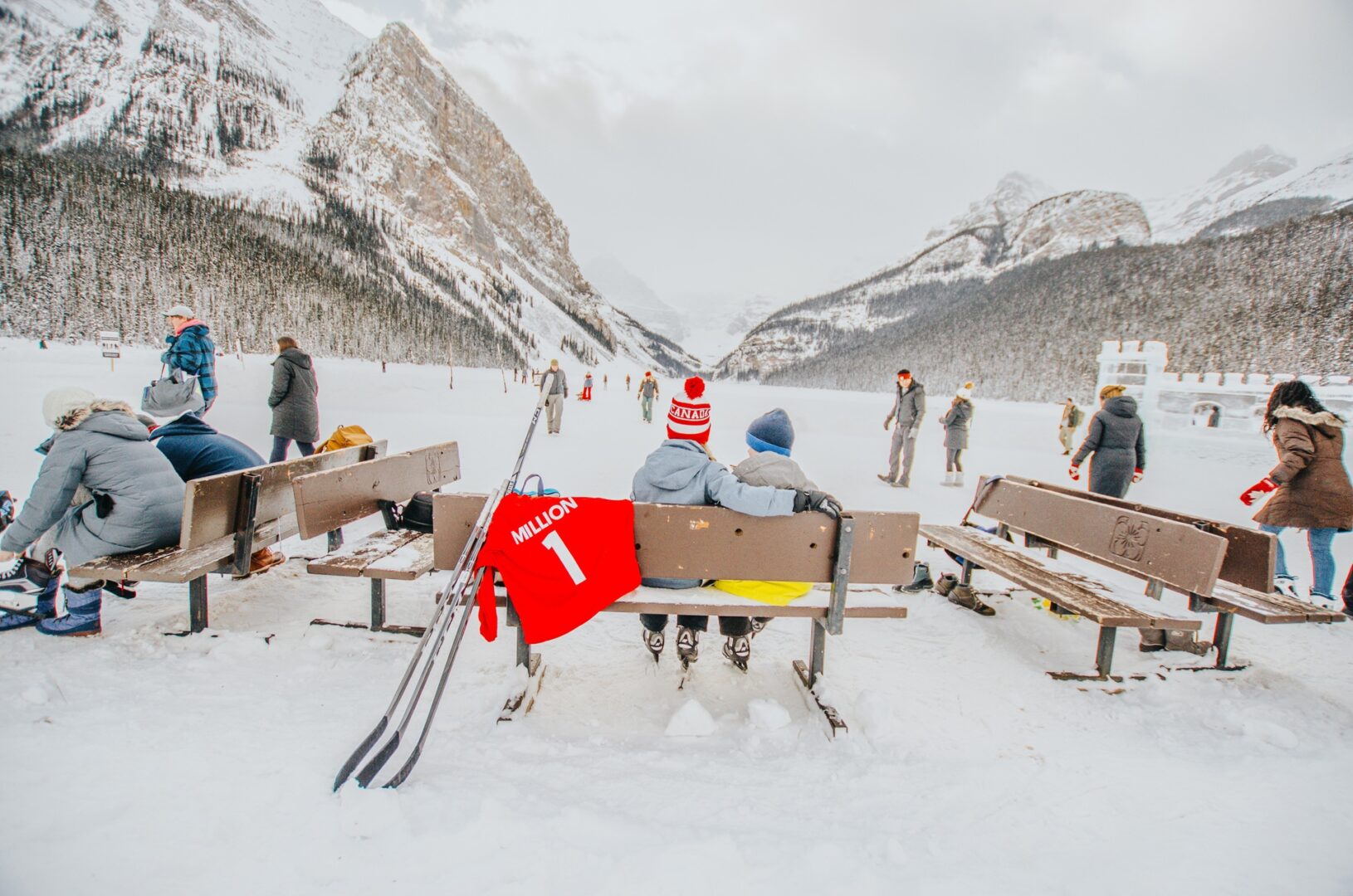 I stepped out onto the ice, trying hard to hide my lack of skating skills from those around me. Canadians practically come out of the womb on skates, however gliding with grace on the ice has never been my strong suit. But with a son who loves to play hockey and a daughter who's determined to master her new favourite sport, I "Mom'd up", donned the rental skates and took to the ice.
I'm not sure of the exact moment when it happened. It could have been when I was passing the puck to my son so he could score a goal on the friendly goalkeeper from Toronto. Or maybe it was when I heard my daughter squeal in delight because she was going "so fast" on her skates. But at a certain point out there on the ice, as I paused for a moment to take in the majestic, 360-degree panoramic view, it suddenly hit me: this adventure is bigger than me.
I imagine this feeling was similar to that of the settlers who first discovered the region over 100 years ago. The understanding that what they were seeing was truly something special. That there was something magical in the unique settings that surrounded them. Whether it was the glacier-covered mountains, the emerald lake, or the evergreen forests that were full of life, they knew one thing: this unique place was begging to be explored.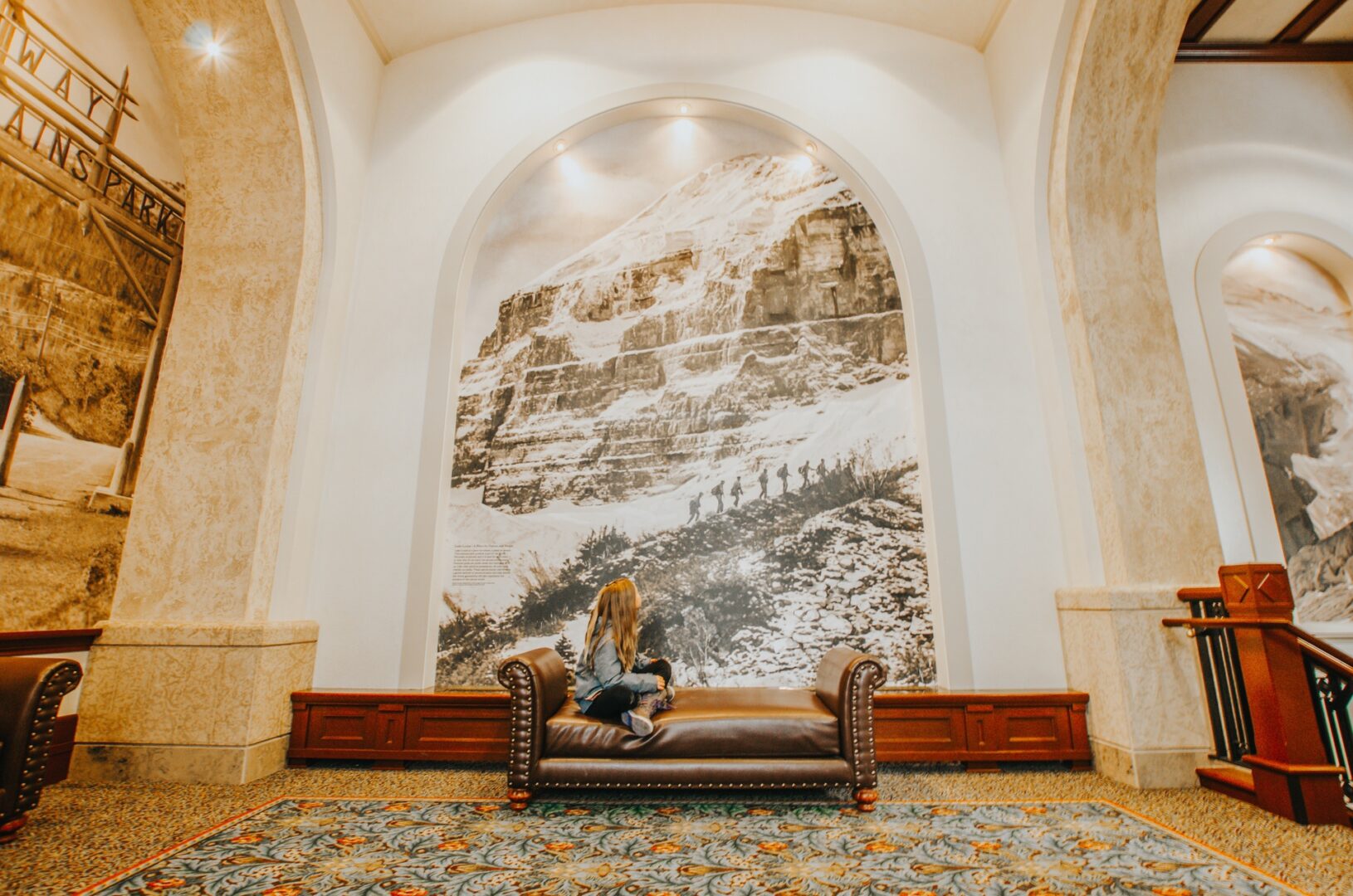 If it wasn't for them, I wouldn't be here today. Many generations of adventure seekers later, playing with my children in this snow-covered wonderland. And while time has changed the way we reach the mountains, dress for the mountains, and explore the mountains – and has changed and evolved the human race as well – this environment has remained a steady backdrop for our adventures. Standing here tall and proud, beckoning to be explored.
There is a sign that sits inside the Fairmont Chateau that sums up this sentiment beautifully:
"Lake Louise is a place for nature, a place for people. This national park protects a part of the Rocky Mountain ecosystem and it is here for us to enjoy in ways that do not harm the natural environment. National parks are public lands that belong to all of us. Like other precious possessions, we enjoy and cherish our parks. These special places contribute to a global network of protected areas and help ensure that future generations will also experience the wonders of the natural world."
For over 100 years, the Fairmont Chateau Lake Louise has been a once-in-a-lifetime destination, bringing travellers from all around the world to enjoy the luxurious lodging and breathtaking scenery. Serving as a basecamp for the outdoor wonders offered by Banff National Park, The Fairmont Chateau is unlike any other hotel or lodge we have ever experienced.
Driving up to The Fairmont Chateau can only be described as a fairy tale come to life. As we climbed the snowy road, surrounded by a sea of evergreen trees covered in layers of snow and ice, and a mountain range plastered against a bold blue sky, my kids squealed as the Fairmont Chateau greeted us around the bend: "I'm so excited!!!"
If the journey is half the trip, I was sure we were in for quite the experience.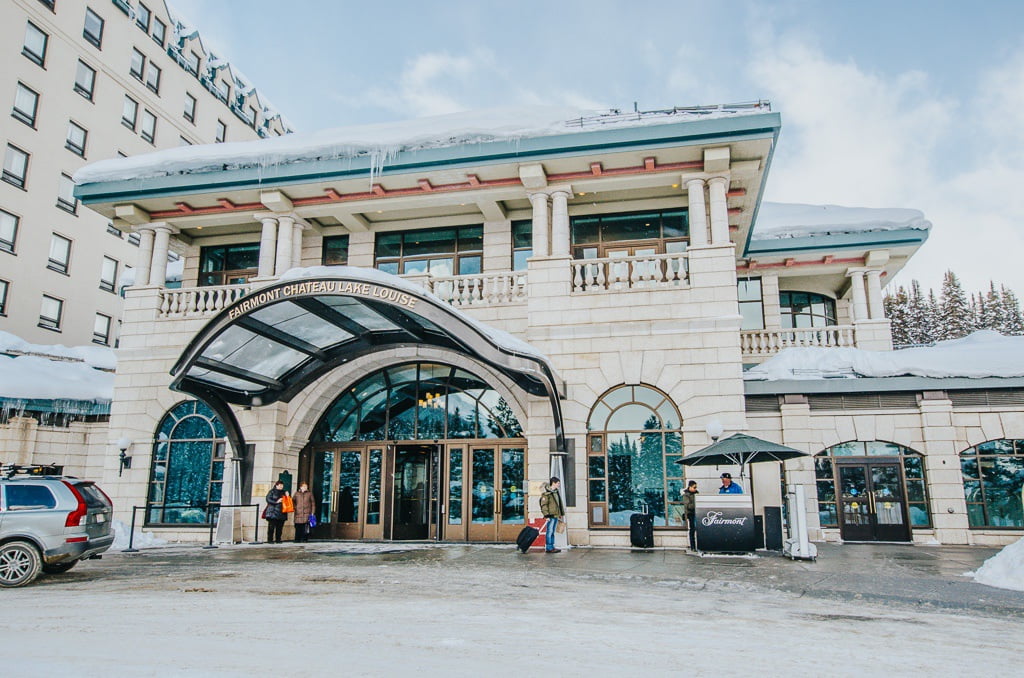 Surrounded by soaring mountain peaks, the majestic Victoria Glacier and a glistening frozen lake, the iconic Fairmont Chateau Lake Louise hotel sits on the hillside like an ancient castle. Located in Alberta's Banff National Park, a UNESCO World Heritage Site, this luxury resort dates all the back to 1890, when the first portions were built as a base for outdoor enthusiasts.
The Experience at Fairmont Chateau Lake Louise
We were only three steps into the main entrance of the Fairmont Chateau and my daughter already had her camera out, pointing and shooting as fast as the shutter would snap. And who could blame her? With the lobby's blend of classic alpine decor and modern elegance, the sheer grandeur of the entrance tells you that you have walked into a very, very special place.
The Rooms
Fairmont Chateau Lake Louise has a reputation for providing guests with personal, luxurious experiences. While this tradition of exceptional service goes back over 100 years, as a guest you'll feel like you're the Chateau's only visitor, and that your needs – no matter how big or small – are a top priority.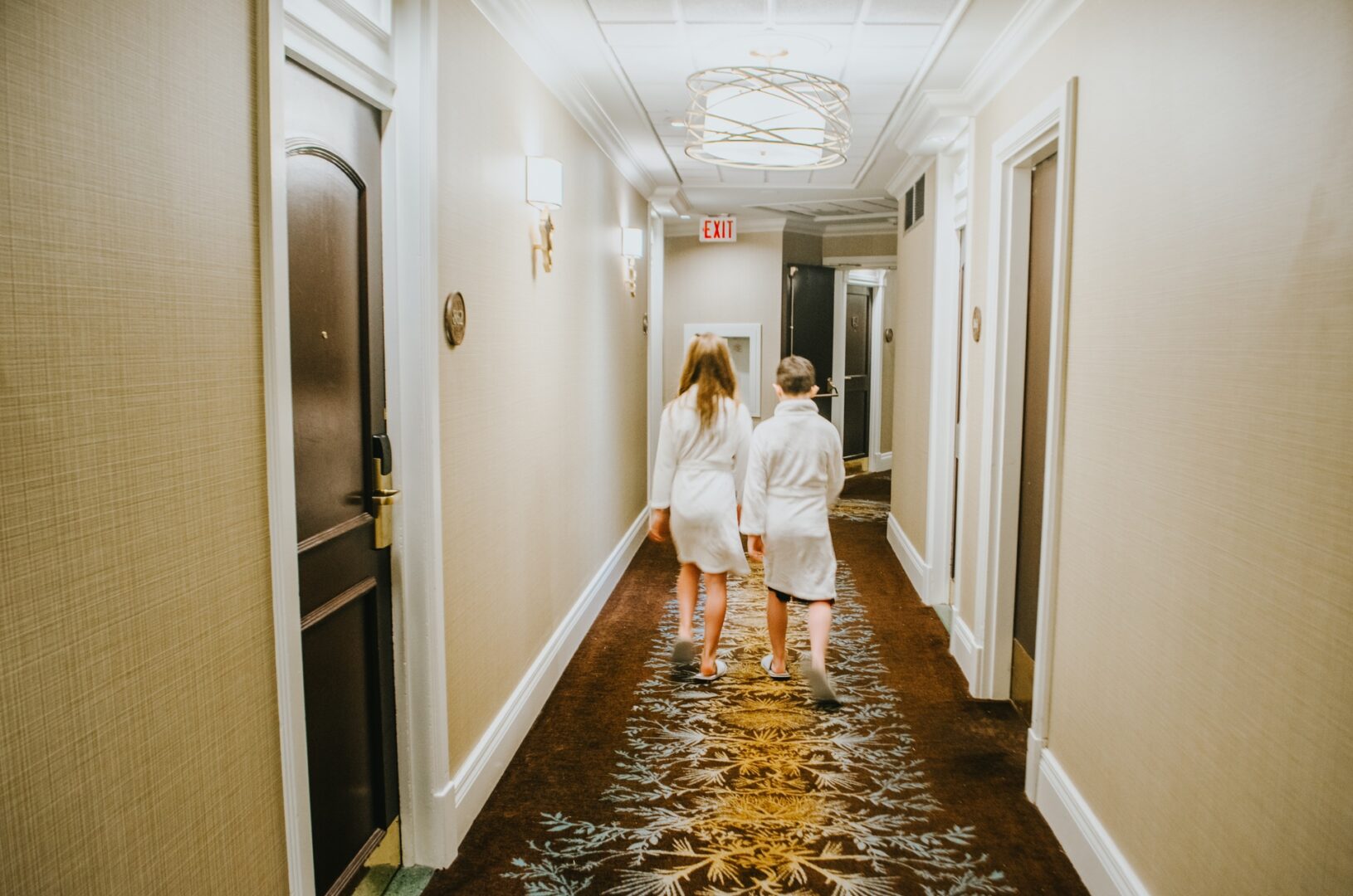 This exceptional service was evident as soon as we arrived at our room. As we walked in, I immediately noticed that the hotel went to the trouble of programming in our favourite temperature on the thermostat. And hanging in the nearby closet beside a pair of luxurious robes for mom and dad? Mini robes! My kids squealed when they saw that they got to be included in the fun, quickly changing before they could even unpack their belongings.
Exploring our room further, I came across a fridge stocked with fresh fruit and plenty of water, ensuring that we immediately felt like we were at home. To be quite honest, I am pretty sure that whoever came up with the phrase "Home Away from Home" was talking about the Fairmont Chateau Lake Louise.
There are a variety of different room types available across The Fairmont's 552 rooms, but regardless of which one you choose for your family, it's clear that it will feature a distinctive blend of contemporary décor, understated elegance, and thoughtful details.
The Kids Playroom
While the Fairmont had already gone above and beyond to make my kids feel at home by placing mini robes inside our room, little did we know that this was just the beginning for the little ones.
After unpacking our bags, we took a stroll down to the Fairmont's Kids Playroom, and were overcome with a kid's paradise! Games, crafts, activities and more, this was the perfect basecamp for the youngest Fairmont guests to have fun and make new friends while their parents enjoyed a little downtime.
In addition to the massive selection of toys and games, the Kids Playroom had a full schedule of regular activities for them to enjoy, making it easy for kids and parents to plan out their stay and ensure the young ones took full advantage of all the fun!
The Restaurants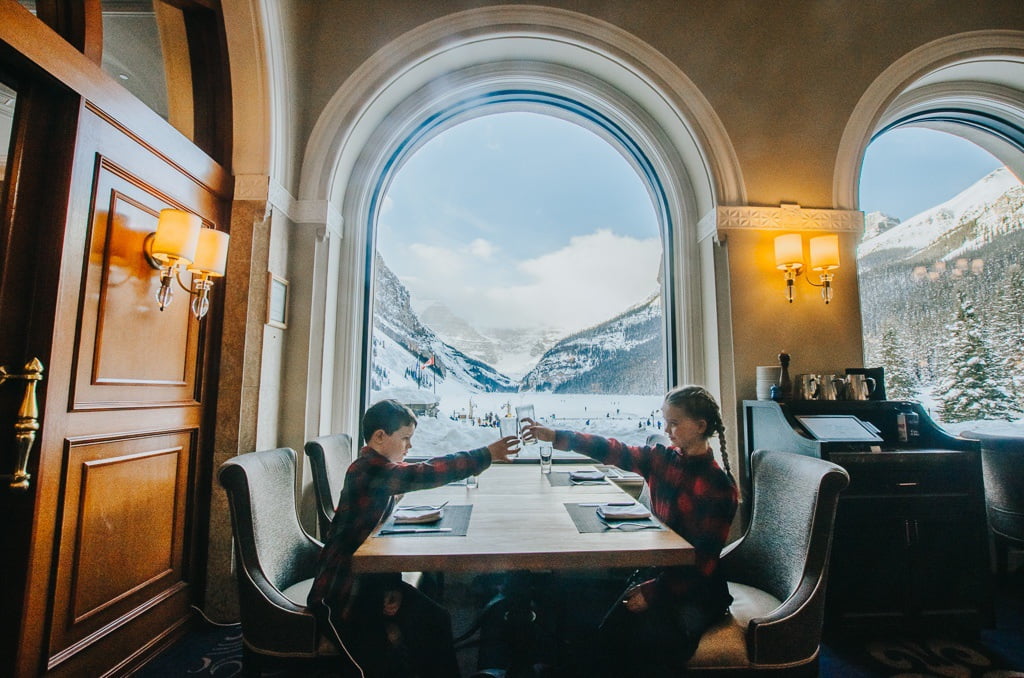 With the outdoor playground that is Banff National Park just outside the Fairmont Chateau, we were quick to work up an appetite during our stay. Thankfully, the hotel delivers with not just one or two, but seven different restaurants located throughout the property (this doesn't even include all the delicious in-room dining options)!
While we didn't have a chance to explore all the great restaurants inside the Fairmont Hotel, we did enjoy quite a few during our stay. And for those we had to put on our list for next time, we still made a point to stroll by for a taste of the sights, sounds and smells they had to offer.
Kids Eat Free!
For all the parents out there, I imagine you're wondering which of these great restaurants are family-friendly. The answer? All of them! Because at the Fairmont Chateau, kids eat free!
That's right, any registered guests aged five or under eat free from the resort's Children's Menu (which is available in every restaurant on the property). And children 6-12 may also eat from the Children's Menu, or if so inclined, choose an item from the regular menu at 50% off. So no matter where your family chooses to eat, you'll know that there will be something delicious for all your little ones to enjoy!
The Adventures at Fairmont Chateau Lake Louise
While we could have easily spent our days enjoying the amazing room, views, and food throughout the Fairmont Chateau, we had to remind ourselves that we were just steps away from a winter wonderland!
Located inside the iconic Banff National Park, there is a whole list of amazing things to do and see at Lake Louise. Needless to say, our family stayed incredibly busy (and incredibly happy) throughout our stay!
Adventure Central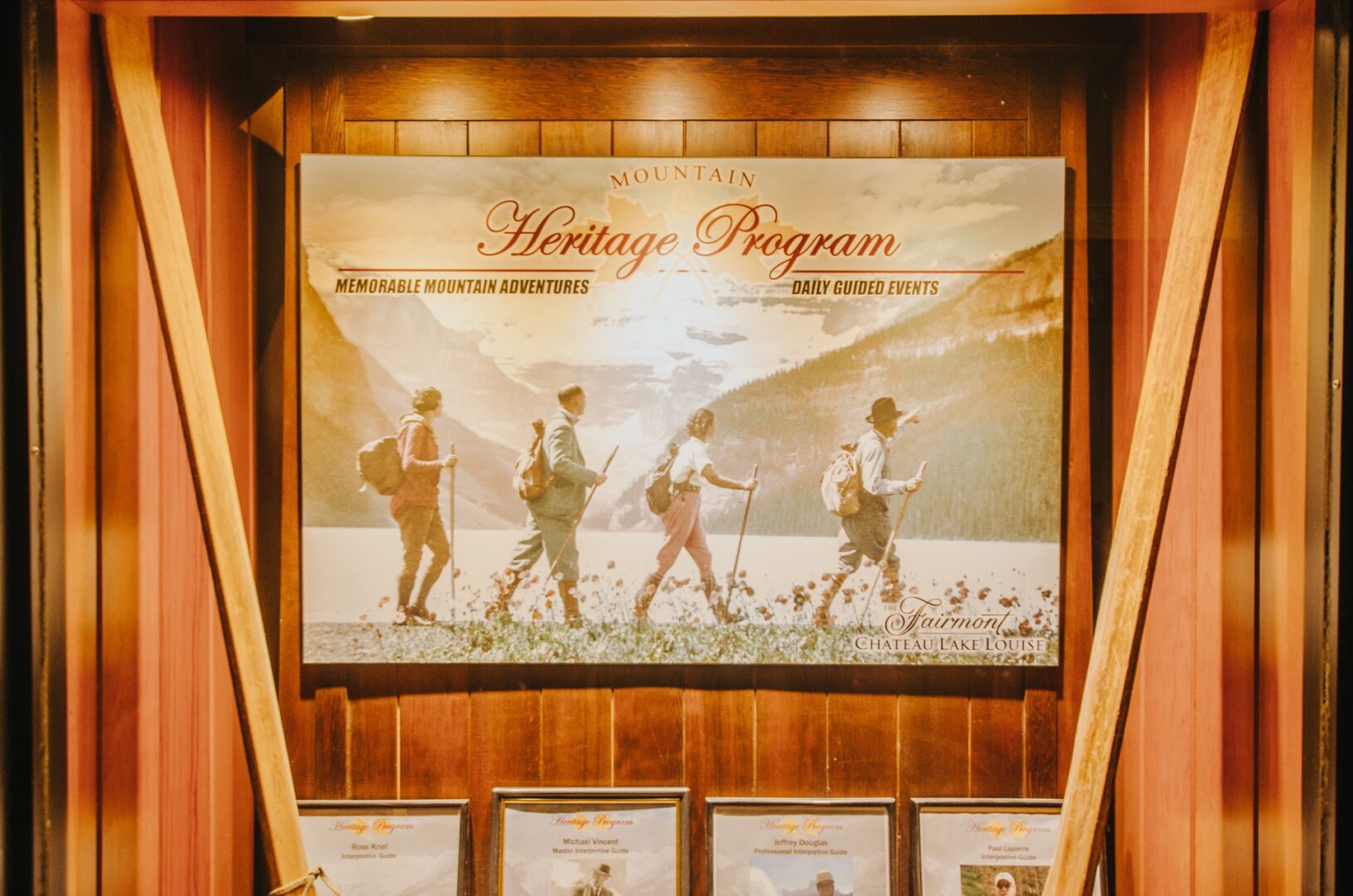 Lake Louise has a team of Adventure Specialists who are dedicated specifically to helping you plan an adventure-filled holiday at the hotel. From daily scheduled activities including winter sports, arts and crafts, kids camps, and health and wellness, to private tours and historical mountain adventure programs, the team here makes it as easy as possible to book as many adventures as you'd like to when visiting the hotel.
Ice Skating and Hockey
There's nothing more Canadian than ice skating with the family. But doing it on Lake Louise, with towering mountains looking down on you? Talk about taking an ordinary skating trip and making it something absolutely magical!  
Named one of the "10 Most Beautiful Ice Skating Rinks in the World" by CNN Travel, the frozen emerald lake is impeccably maintained by the Fairmont Chateau and even features a nice heated shelter where you can lace up your skates and warm those fingers and toes when you need a quick break.
Ice Magic Festival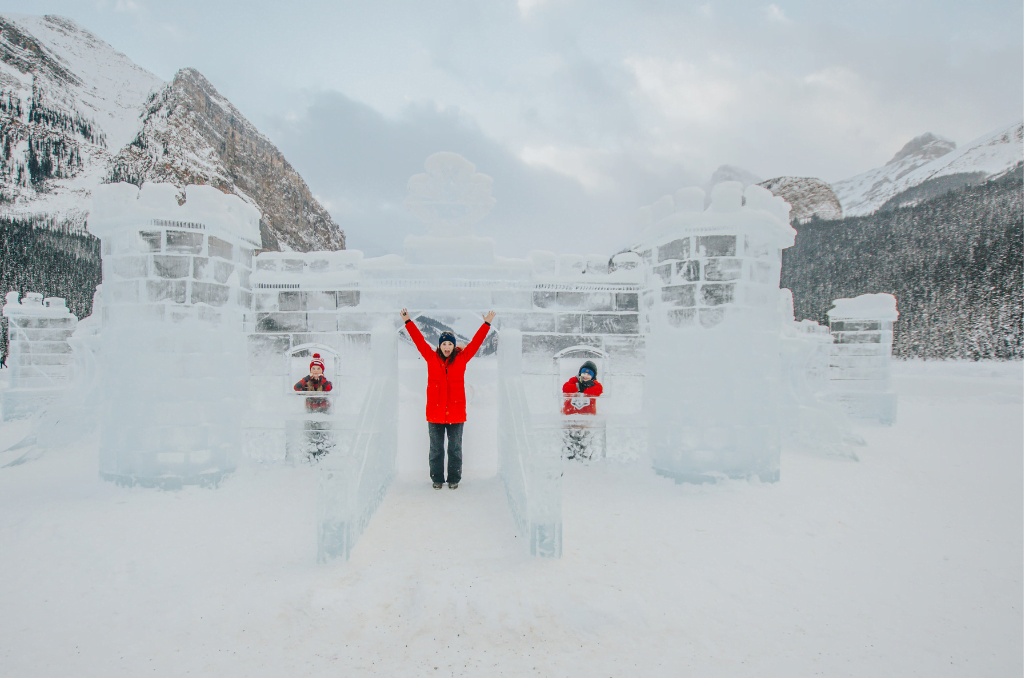 Adding to the magic of our skating adventure was the fact that there was a giant ice castle sitting right inside the rink! As it turns out, we were fortunate enough to be visiting during the annual Lake Louise Ice Magic Festival!
This annual event brings together ice artists from around the world and pins them head to head in a three-day carving competition. Walking out into the festival felt like we were whisked out of our ordinary lives into the ultimate winter wonderland.  As the kids raced around marvelling at the magical ice creations, we couldn't help but be thankful that we were here during such a unique (and uniquely Canadian) event!
Horse Drawn Sleigh Rides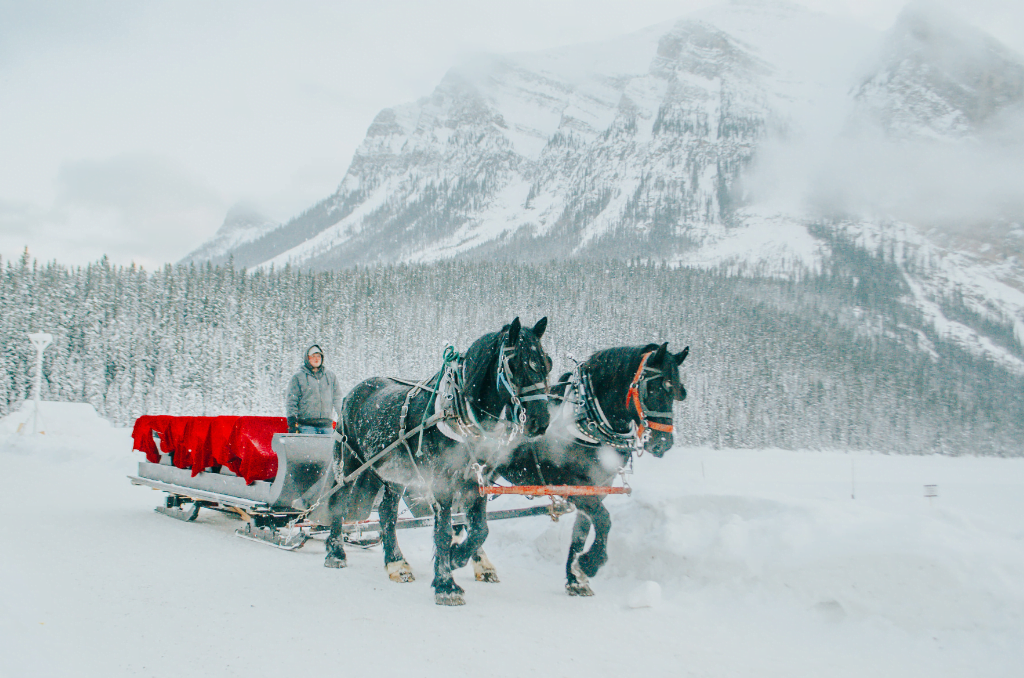 For over 250 years, visitors to the Canadian Rocky Mountains have been using horses as a means to explore. And for six generations, Banff's famous Brewster family has been keeping this tradition alive, offering spectacular horse-drawn sleigh rides to visitors from around the world.
With a booking desk inside the Fairmont Chateau lobby, it was incredibly easy for us to reserve our spot on one of their 6+ daily tours. After hopping aboard the traditional western sleigh (with upholstered seats and plenty of blankets to keep you warm), we were off, saying goodbye to the Fairmont as we followed along the Lake Louise Trail.
Our knowledgeable driver kept us entertained with plenty of great facts and stories along the way, and before we knew it we had reached the other side of the lake, providing us with a view of the Fairmont Chateau in all its glory! A must-do for anyone visiting Lake Louise during the wintertime.
Cross Country Skiing
Legend has it that in the early 20th century, Swiss guides hired by the Chateau brought along a new pastime with them: skiing.
As you might have guessed, this new sport stuck…and the Lake Louise area has been obsessed with skiing ever since. In addition to the area's wonderful downhill skiing and snowboarding areas, Lake Louise has great cross country skiing opportunities as well. The Fairmont's gear shop has plenty of rental options for those that arrive without their own skis, making this activity as simple as strapping in and heading out into the wilderness.
If you're new to the sport, or if you'd like an experienced local to show you around the must-see trails and sights, there are plenty of options for lessons and guided tours. All you have to do is check in at the gear shop and discuss what's best for you and your family!
Snowshoeing
Whether you're a beginner looking to make fresh tracks, or an experienced snowshoer looking to go deeper into the backcountry, the Fairmont Lake Louise is the perfect place to take in the sport.
Beginners (or those without their own gear) can rent a pair from the gear shop. Trails begin just outside the hotel doors, with a beautiful track that wraps around the lake. If you're looking for a more advanced course, you can head out further into the Banff wilderness and make your own fresh tracks in the snow. However as always, be sure you are prepared…you may be staying in a luxury lodge, but this is still very much the Canadian backcountry!
Apres Adventures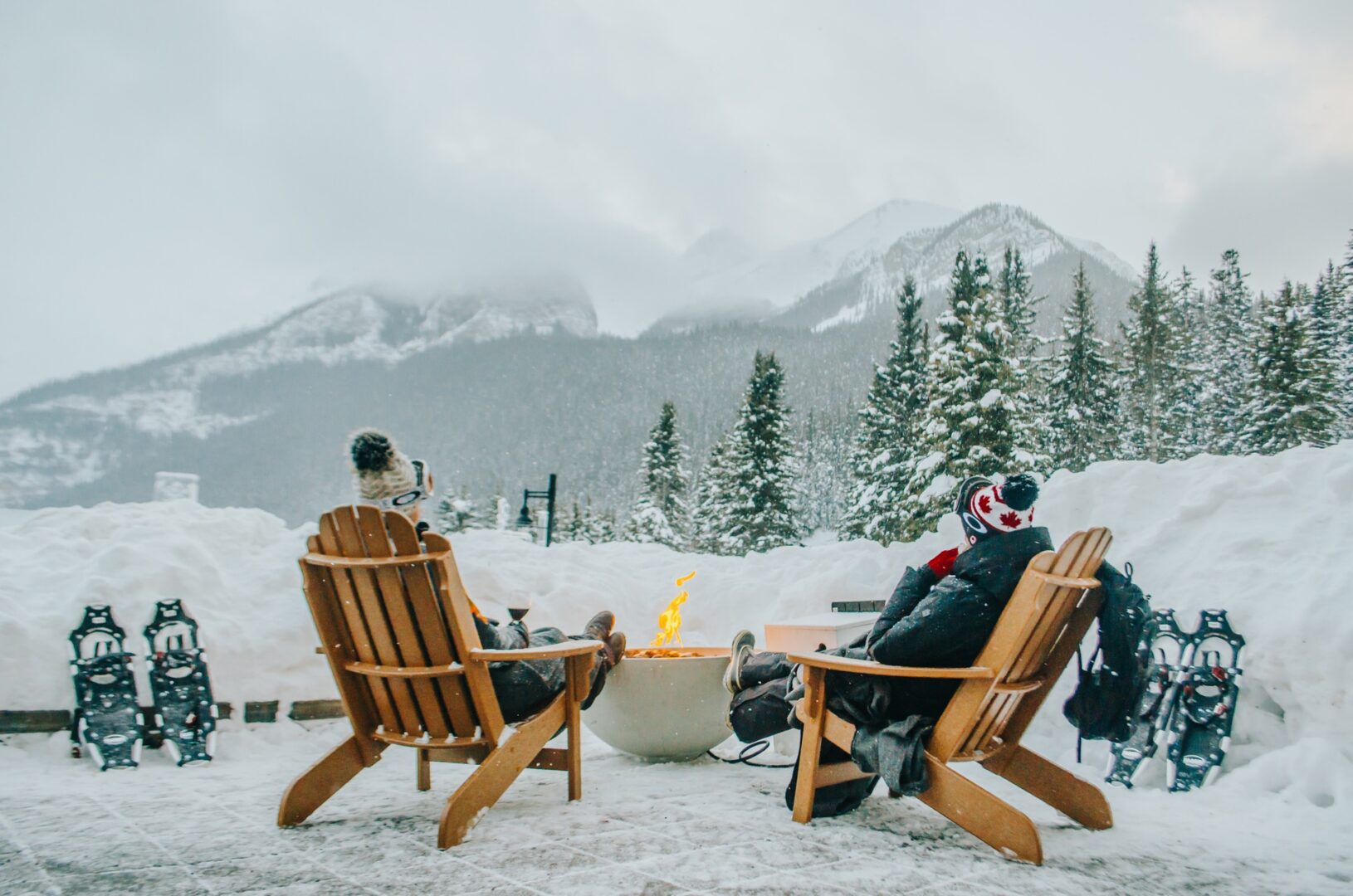 There's nothing like coming back from an adventure-filled day for apres!
No matter what your apres preference may be, The Fairmont has you covered. From traditional appies and drinks inside one of the warm restaurants to the classic "Canadian Experience", which involves staying in your warm clothes and sitting around an outdoor campfire (complete with fireside drink service!), your return from the day's adventures is sure to be filled with plenty of cozy relaxation.
Hot Tub and Pool
Of course, a day of playing outdoors in a frozen winter wonderland wouldn't be complete without one final relaxing adventure: a trip to The Fairmont's pool and hot tub.
Attached to the Chateau's world-class Health Club, the indoor pool and jacuzzi tub was the perfect place for us to relax our sore hockey and snowshoeing muscles. The kids loved hopping back and forth between the warm tub and slightly less-warm pool, while Mom and Dad – a little worn out from all the winter activities – opted to stay put in the nice warm hot tub!
A Place for Memories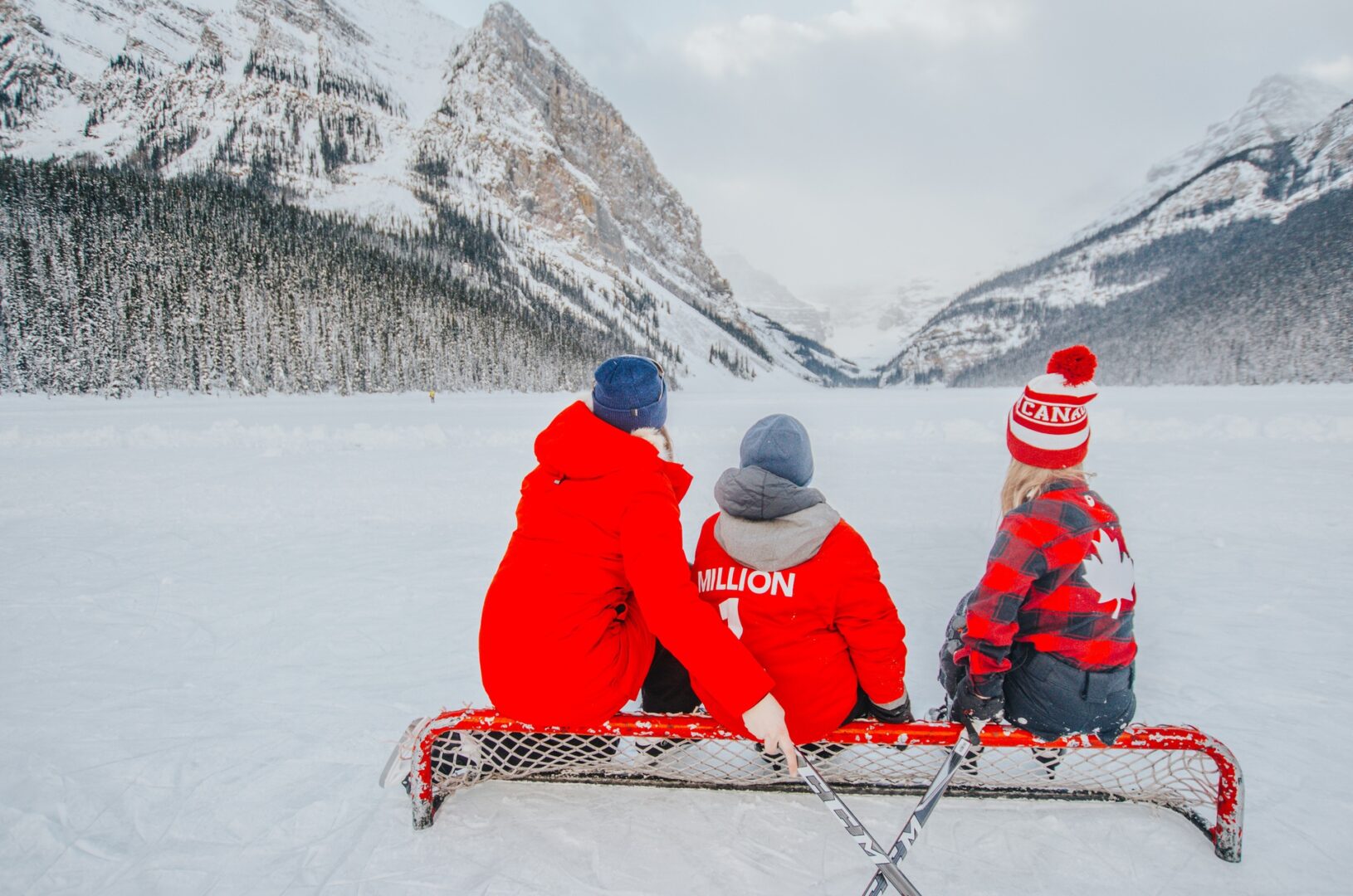 Earlier on, I spoke about what it means to travel to places that are bigger than yourself. The Fairmont Chateau at Lake Louise is, without a doubt, such a place. From the historic, majestic chateau itself, to the countless fun winter activities our family enjoyed throughout our stay, this place has a way of making you feel…well, small. And I mean that in the best possible way…
To be standing in an iconic, 100+ year old building, that's perched on a pristine lake, which is nestled inside a blanket of pine trees and snow-stained cliffs, you can't help but feel small. That the Fairmont Chateau and Lake Louise are so much bigger than any one person. Because they are! For centuries, people have been making their way to this hidden gem from destinations far and wide. And while I have no doubt that the hospitality, lodging, food, views, and activities all play a part in their decision to make this a destination of choice, I know that the significant, impactful feeling visitors get is part of that experience too.  
The opportunity to share this feeling with my children, and teach them what it means to be a responsible, generous traveller is what truly made this an experience we'll never forget. And while I have no doubt that we will be like so many before us that become addicted to this special place, and turn a one-time visit into a repeat destination for years to come, this first magical trip to the Fairmont Chateau Lake Louise will forever live on as the moment my family truly learned what it means to travel and explore the wonders of the world.
For tips on other great winter adventures to explore while in Banff, be sure to check out these articles!
Breathtaking Snow Sculptures at the Banff SnowDays Festival
Moments, Memories & a Giant Moose: Inside Banff's Newest Luxury Lodge
Snowboarding + Sunshine = Magic on the Mountains
Explore Banff National Park by Bus
Is this a sponsored post?: Yes, however all our thoughts, opinions and views of our experience are our own.