Are you planning a trip from Banff to Golden?
As one of Canada's most iconic locations, welcoming millions of guests from around the world I am proud to have Banff and Jasper National Park right in my own backyard. Add Golden as your destination as you traverse West across the province and you have the ultimate Alberta BC road trip infused with hiking, biking, lakes, wildlife, incredible hotels, amazing food and of course, epic 360-degree views everywhere you look.
So if you're a travel planner like me, dig into this article to learn more about how to plan your own Banff to Golden trip and feel free to DM me on Instagram if you have any questions!
Disclaimer: While I share my own thoughts and stories about these experiences, should you click on the affiliate links, I may receive a small commission on that sale which helps fund Adventure Awaits.
An Adventure Seekers Guide to Planning a Trip from Banff to Golden
Banff to Golden Distance
Travel Logistics: Driving time in a car between Banff and Golden is approximately 1 hour and 45 minutes across 99 kilometres.
Be "Bear Safe" in Banff National Park
That is assuming you have smooth sailing and don't run into any "bear jams" (traffic jams caused by people viewing roadside bears). With so much wildlife in the park, it is common for bears, elk, mountain goats, moose and other animals to make their way close to the highways, which can cause drivers to slow down and stop to watch wildlife. So before we get into the details of this agenda let's set you up to ensure you have a safe trip and keep our most precious animals safe.
Be "Bear Safe" in Banff National Park
Drive by slowly instead of stopping. This is the best way to minimize your impact on a roadside bear.
Warn other motorists by flashing your hazard lights.
Be extra cautious as sight lines are often blocked by improperly parked cars.
Be on the lookout for distracted drivers, people crossing the highway, or the possibility of a bear darting out in front of you.
Banff to Golden Roadtrip 4-Day Road Trip Itinerary:
While you could travel directly from Banff to Golden, here are my recommendations for the ultimate Banff to Golden 4-day road trip itinerary.
Day 1 – Banff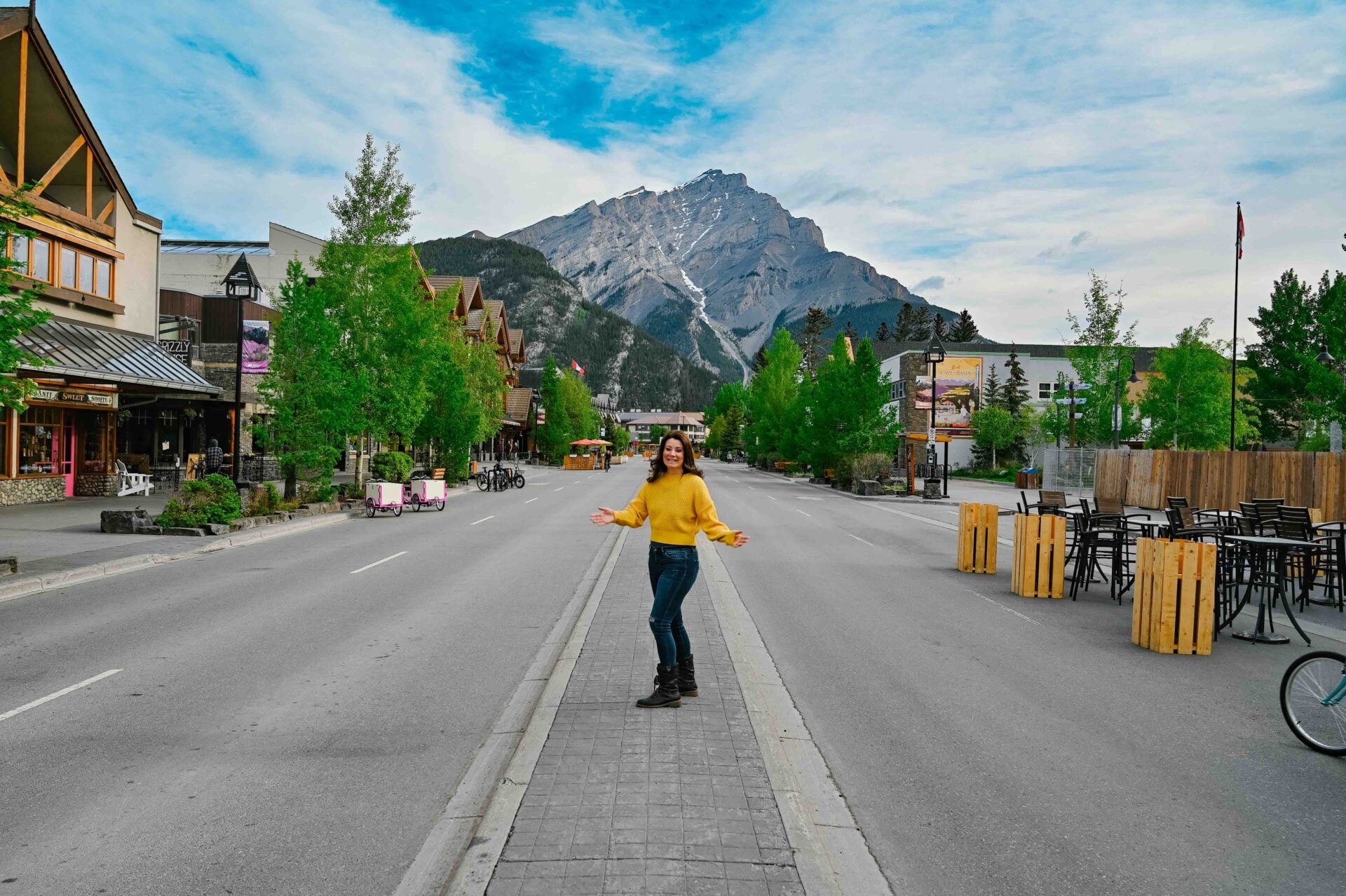 Nestled within the majestic Canadian Rockies lies the picture-perfect town of Banff, Alberta. Banff is one of Canada's most recognizable sights, the small town is adventure filled making it the perfect stop for your first days in the Rockies on your Banff to Golden road trip.
The Banff townsite is located in the heart of Banff National Park, and with that welcomes all residents and visitors to mingle, including the local elk, deer, bears, foxes, moose and more! One of the best places to start your day is at the Parks Canada Interpretative Center where you can learn more about the region, its history, and what Parks Canada is doing to protect it for future generations.
What To Do In Banff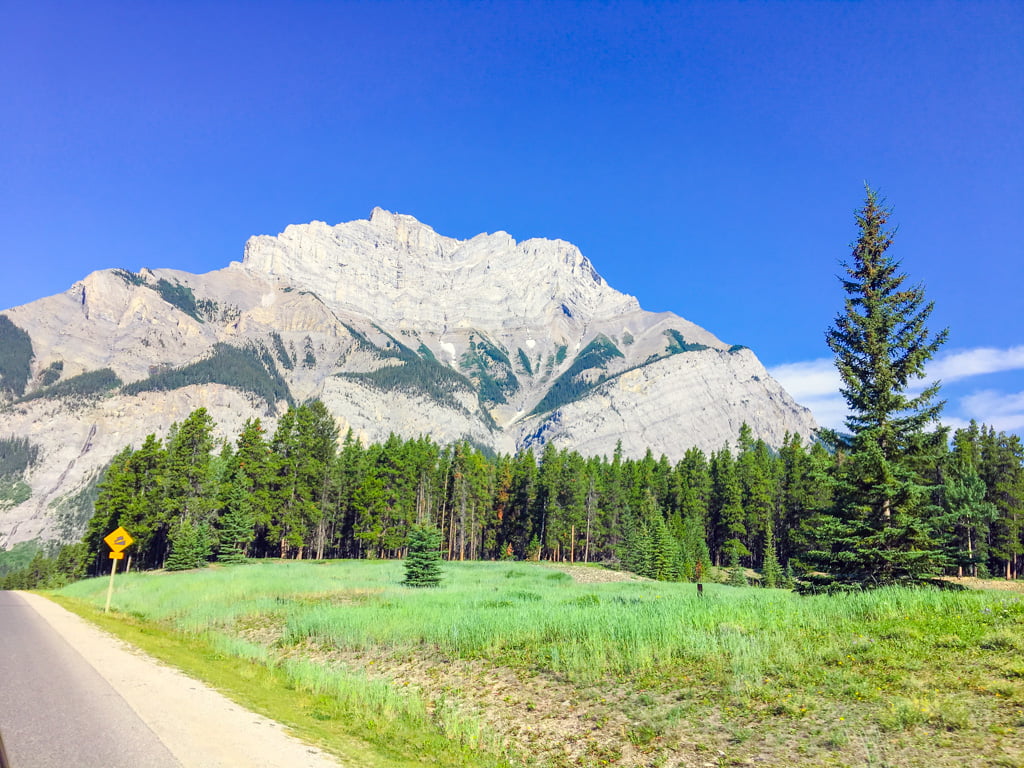 Banff is adventure central and there are a ton of incredible experiences to be had for adventure seekers of all types. Here are some of my favourite things to do in Banff while on your Banff to Golden adventure!
Banff Yoga – Mountain Infused Morning Yoga!
Since I'm in the process of building your dream Banff to Golden itinerary I can't help by starting out with the best way possible, a mountain-infused yoga class at Banff Yoga. "As we settled into our yoga mats at Banff Yoga Practice we were invited to find our Drishti, and while this term was not new to me, I found the unique setting of doing yoga on a rooftop in the middle of one of the most iconic and beautiful mountain towns a challenge."
Start your day off with a solo or a family sunrise yoga class! This outdoor class is the perfect way to wake the body up while you watch the sunrise start of the day. "A yoga class where the crisp mountain air danced between my toes, reconnecting me with the physical environment that I was fortunate to embrace." Learn more here.
Biking In Banff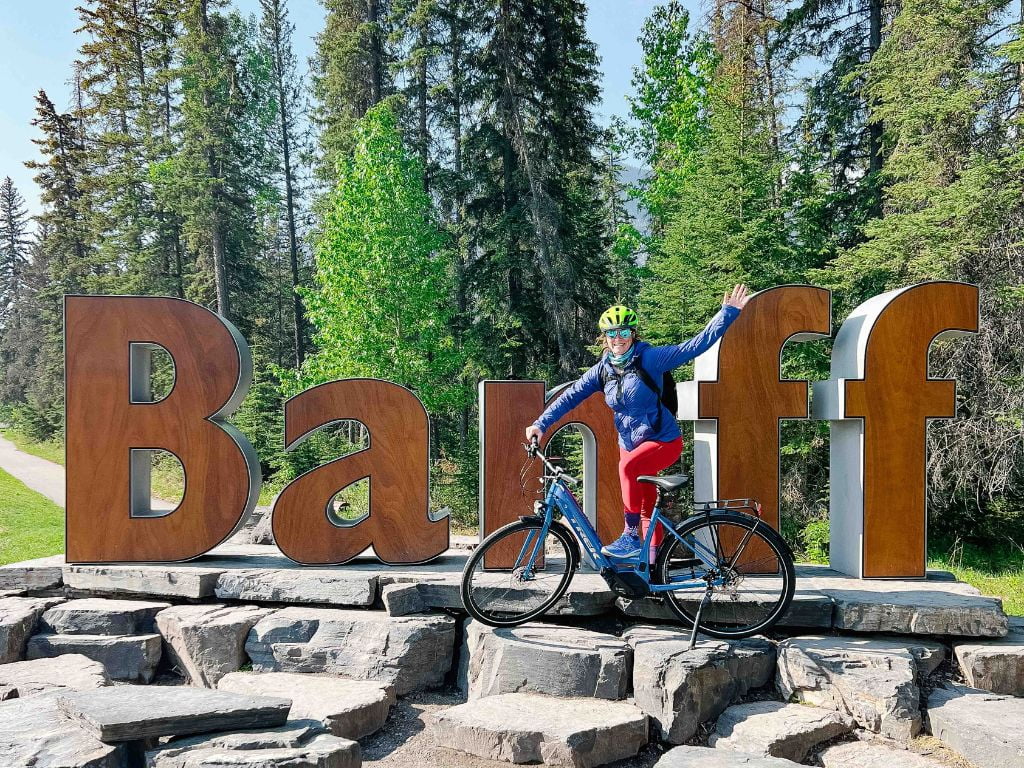 One of the best ways to explore Banff is with an eco-friendly, get your lungs pumping, and get close to the action bike tour! My two favourite tours are very different, one being a road biking electric bike out to the Johnson Canyon, and the second being classic mountain biking among the trees.
Banff Parkway to Johnson Canyon E-bike Tour with Banff Cycle Tours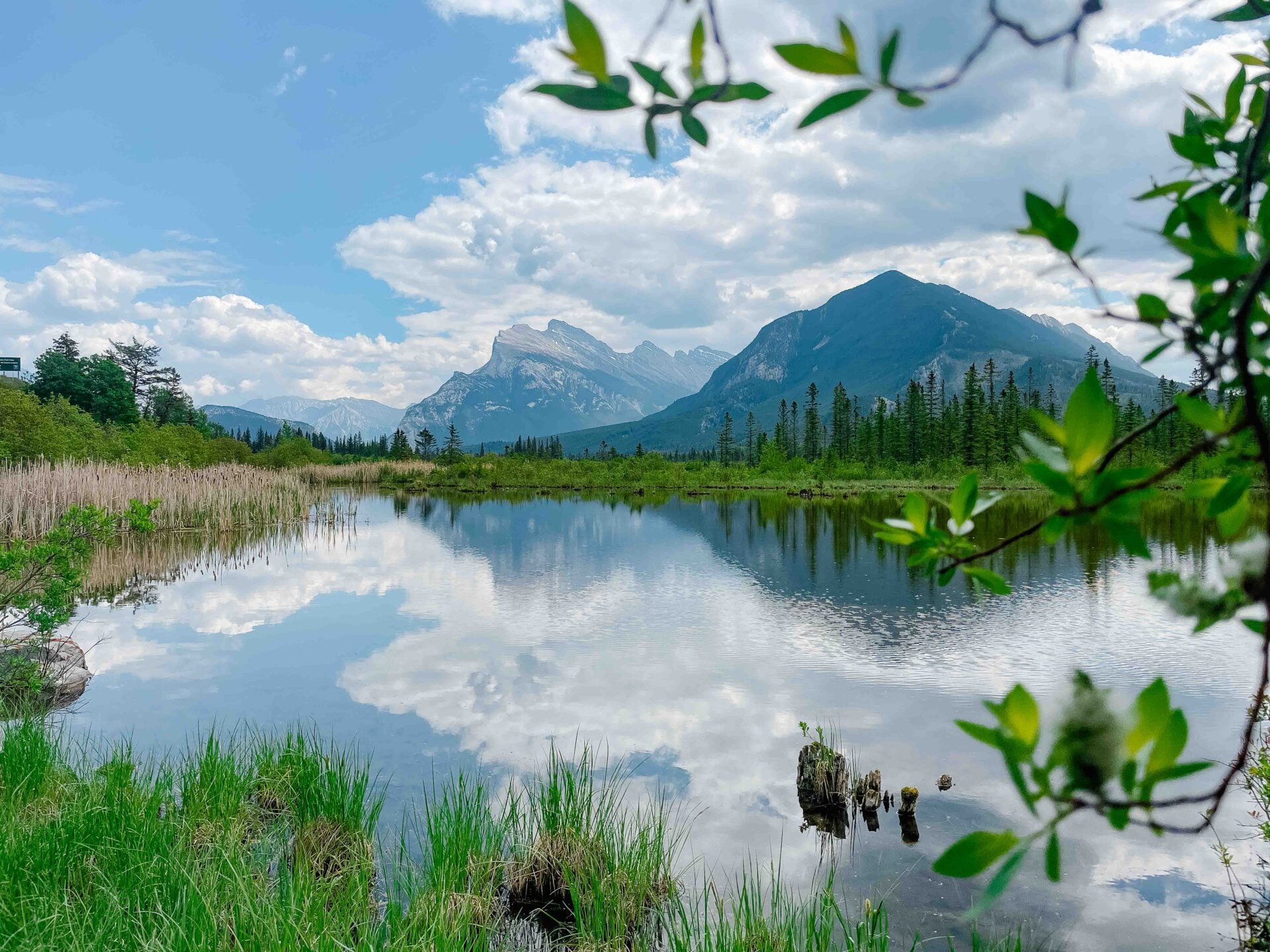 What was once the main highway in Banff called Highway 1A is now closed to cars and open only to pedestrians as cyclists in a three-year trial program. This unique parkway provides cyclists with an uninterrupted experience inside Banff National Park where the sights and scenery are incredible and being able to spot wildlife is almost guaranteed.
This tour is done on an e-bike, which in turbo mode means you're getting 300% additional effort on top of what you put in, allowing for faster travel and more miles covered. A guide will welcome you in the heart of Banff at their shop, get you set up with safety gear and a bike, and then you'll hit the road and head straight out to the parkway.
A 25-kilometre ride will take you about an hour and then you'll get to stop for a break and visit the Johnston Canyon. Bright teal waters run off the rocks creating picture-perfect moments that will have you pulling your camera out at every corner. The lower falls showcase a rush of water, leaving a mist in the air (and your camera spotted with water droplets!).
When you're done with your tour you'll head back to the base of Johnston Canyon and have an a la carte lunch at Blackswift Bistro. You'll enjoy a primarily downhill 25-kilometre ride back to the town of Banff and finish up your tour back at the shop.
Family Mountain Bike Tour In Banff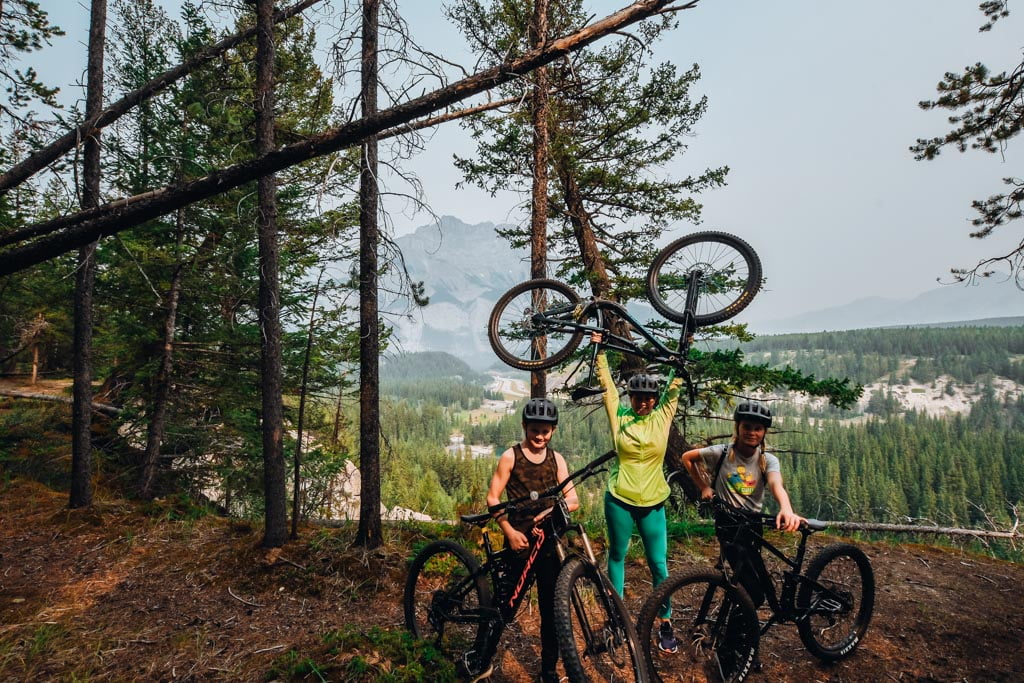 "As we toppled on what felt like the edge of the world on our family mountain bike tour in Banff, my daughter asked "Is this why you love mountain biking so much?". Yes dear… you're starting to get it." I love mountain biking because it allows you to access so many incredible places that cars can't get to, and create a deeper connection with the place that you're exploring by being one with the trail.
The Family Mountain Bike Tour in Banff is hosted by Bikescape and owner Claire was the pioneer and the first mountain bike guide company to be allowed to operate in Banff National Park! Our guides met us at our hotel with our bikes, enabling us to ride directly from our rooms to the trail!
The family tours are typically 2 hours and you can expect to see incredible scenery including Tunnel Mountain, Cascade Mountain, and of course the centrepiece, Rundle! Be sure to ask your guide where the best vantage points are as they love showing off their town as much as you'll love touring it! To see pictures from our last tour and learn more click here.
Banff Gondola
If 180-degree scenic views are your jam and you like to soar into the sky via gondola then a stop at Banff Gondola is a must on your Banff to Golden road trip. The Gondola takes guests 2,292 feet to the summit of Sulphur Mountain where panoramic views of six different mountain ranges await. Keep a close eye on when you reach the summit as you'll probably see the local mountain goats roaming around on the rocks. Also, be sure to look for the other locals including black bears who regularly make an appearance.
Up top when the view isn't distracting you (in all the right ways) you'll find a lot of great activities for all members of your group to explore. This includes the Cosmic Ray Station, Sanson's Peak, and the Discovery Center where you learn all about the park in a fun hands-on exhibit perfect for kids of all ages. If your kids want to be detectives they can download an interactive mobile game that brings the Rocky Mountains to life above the Banff Interpretative entre. "From natural history to early explorers to ancient geology, there's a whole world to discover" – Banff Gondola.
If your crew needs some downtime head to the Banff Theatre. This theatre in the sky allows you to soar above mountain peaks, through Bow Valley, and see adventurers enjoying the backcountry in their own element. From rock climbers to skiers to mountain wildlife, this is a great way to learn all the different ways explorers experience the Canadian Rockies! Click here to learn more.
Click here to book your Banff Gondola Ride Admission ticket!
Banff Medicine Walk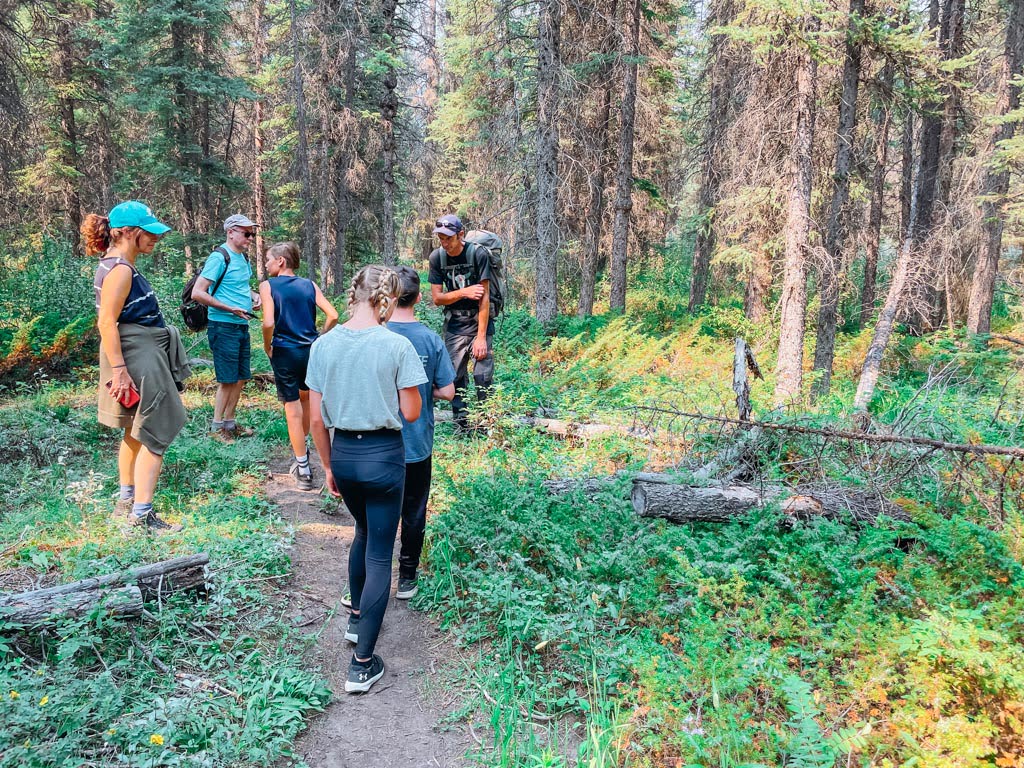 If you're looking to connect with the Indigenous culture and the history of the land, a Medicine Walk in Banff is a great educational and interactive experience for you to explore. We were fortunate to explore the Cascade Pond area with Mahikan Trails and our Indigenous guide Jordan. Our tour took us over the Cascade Bridge, through the forest and along the river banks, with Jordan sharing many funny and informational stories about the local flora and fauna. From how to start fires to cure illnesses, to playing pranks on your friends the traditions and stories that have been passed down from generation to generation were incredible to hear and my kids still talk about them today.
Whenever we travel we like to create deeper connections with the land and going on tours with local Indigenous people is a great way to support their business and learn from their ancestral ways as well as learn to see what they are working on in the future. To learn more and see pictures from our tour visit, click here.
Where To Eat In Banff
Banff Graze Co.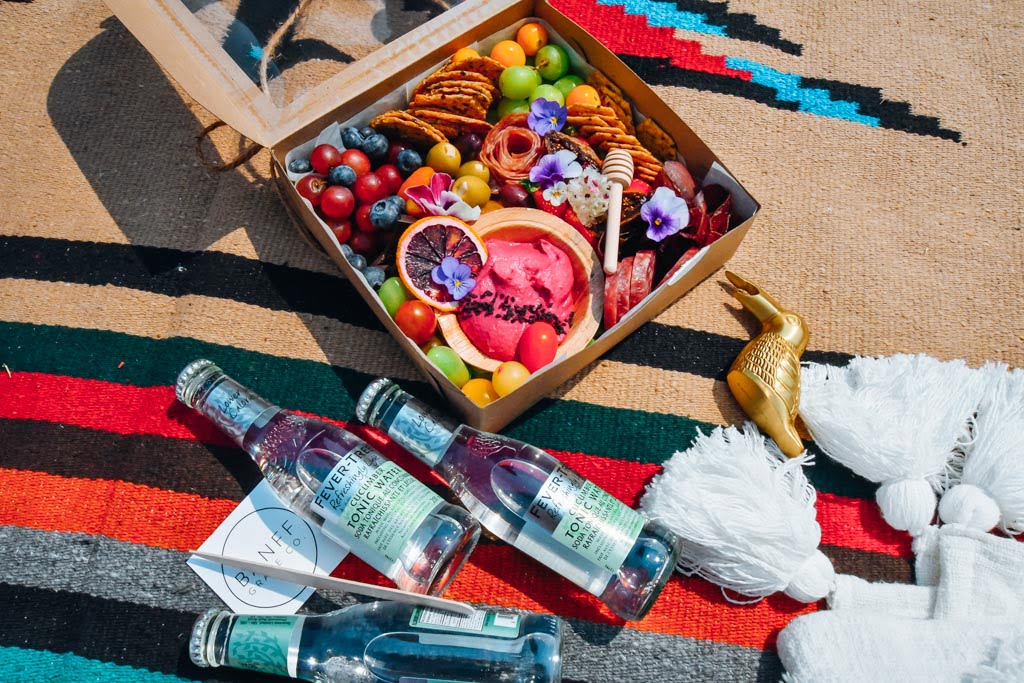 If you are looking for the ultimate lunch to pack in your backpack for your adventures, connect with Banff Graze Co. before you head out! These luxurious charcuterie-style boxes are filled with healthy eats, treats, and sweets that make the most picture-perfect meal, and reward after a bike or a hike in Banff National Park.
We took our picnic after doing our Medicine Walk and enjoyed the views along the Cascade River while indulging in luxurious treats. Check out this article for more info.
Farm & Fire, Banff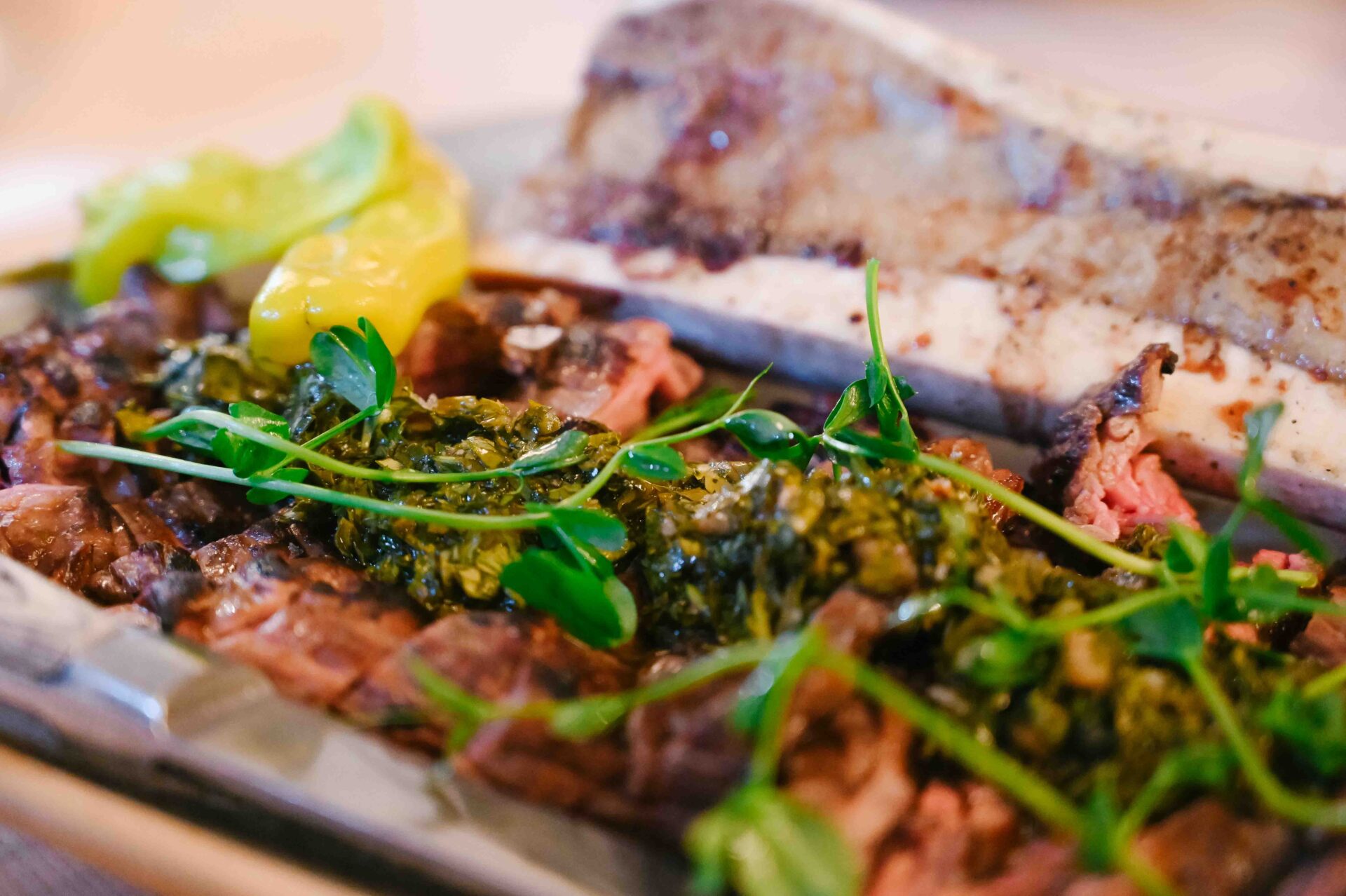 Opened in 2020, Farm & Fire is one of Banff's newer restaurants, with a major focus on sourcing local foods and serving family-style meals. Chef Scott Hergott is passionate about wood-fired and slow-roasted staples and created mouthwatering menus for us to enjoy. I loved seeing some of the ingredients being grown in the restaurant (look at the fridge in front of the huge wood-burning pizza stove) or taking a peek outside to see the raised garden beds for them to harvest from!
If you go as a couple or with a group, I recommend embracing the family style of eating, allowing you to sample many different items and try to enjoy as many dishes as possible. I only say try as there are so many wonderful items to choose from that you'll want to go back more than once (like I did!).
Brazen Restaurant and Lounge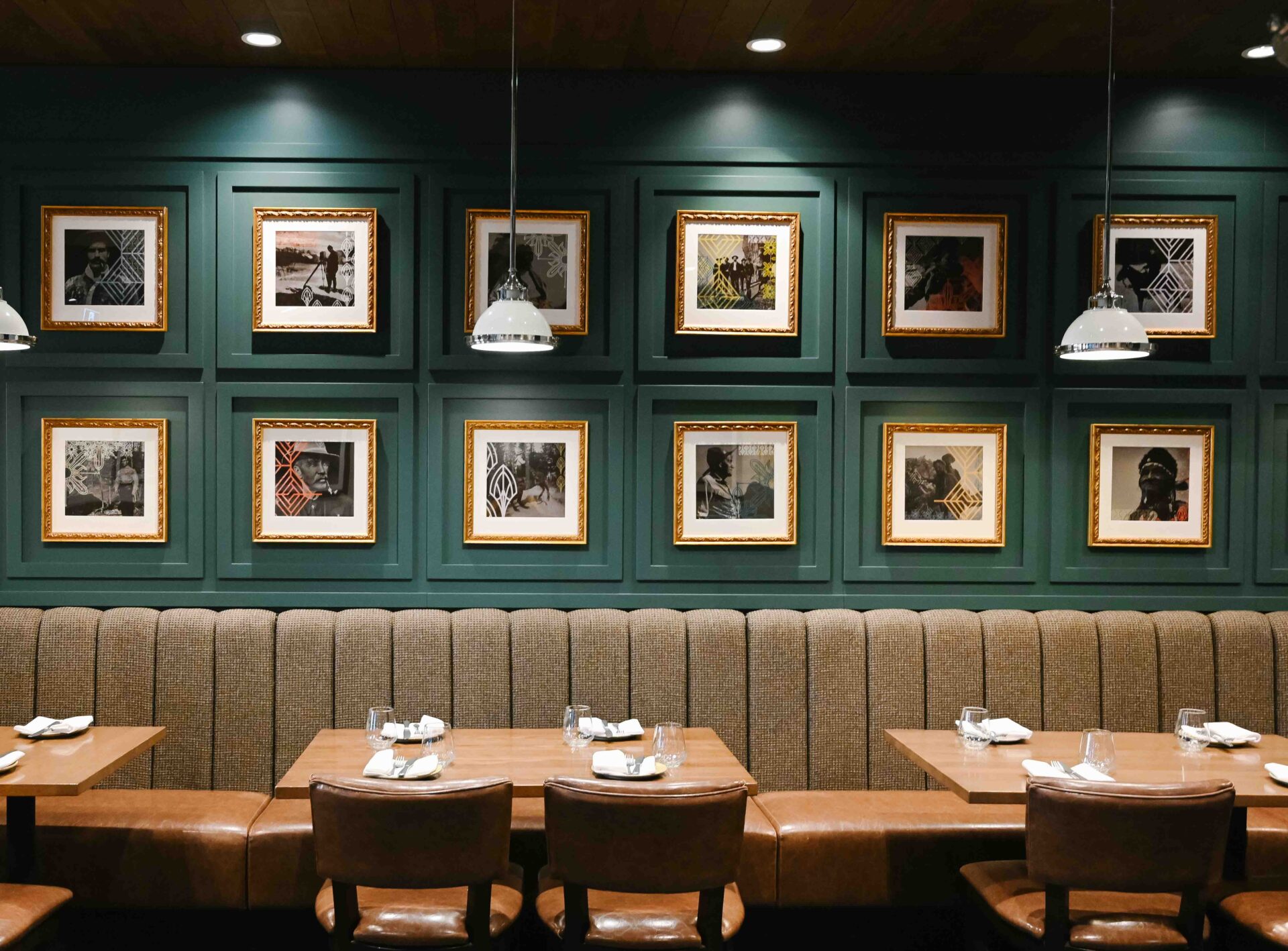 If you're looking for a luxury dining experience, Brazen Restaurant and Lounge (or just Brazen as the locals call it) is touted as a "new and bold dining experience." Located in Banff's historic Mount Royal Hotel, Brazen has a modern-day twist combined with classic luxury. The menu is one of the fanciest I have ever experienced, with "smoking" beef tartare and deserts that look like they are a bit of Disney magic mixed in with culinary science. With its beautiful setting, incredible menu, and iconic location, Brazen is sure to impress all your senses.
Where To Stay In Banff
Elk + Avenue Hotel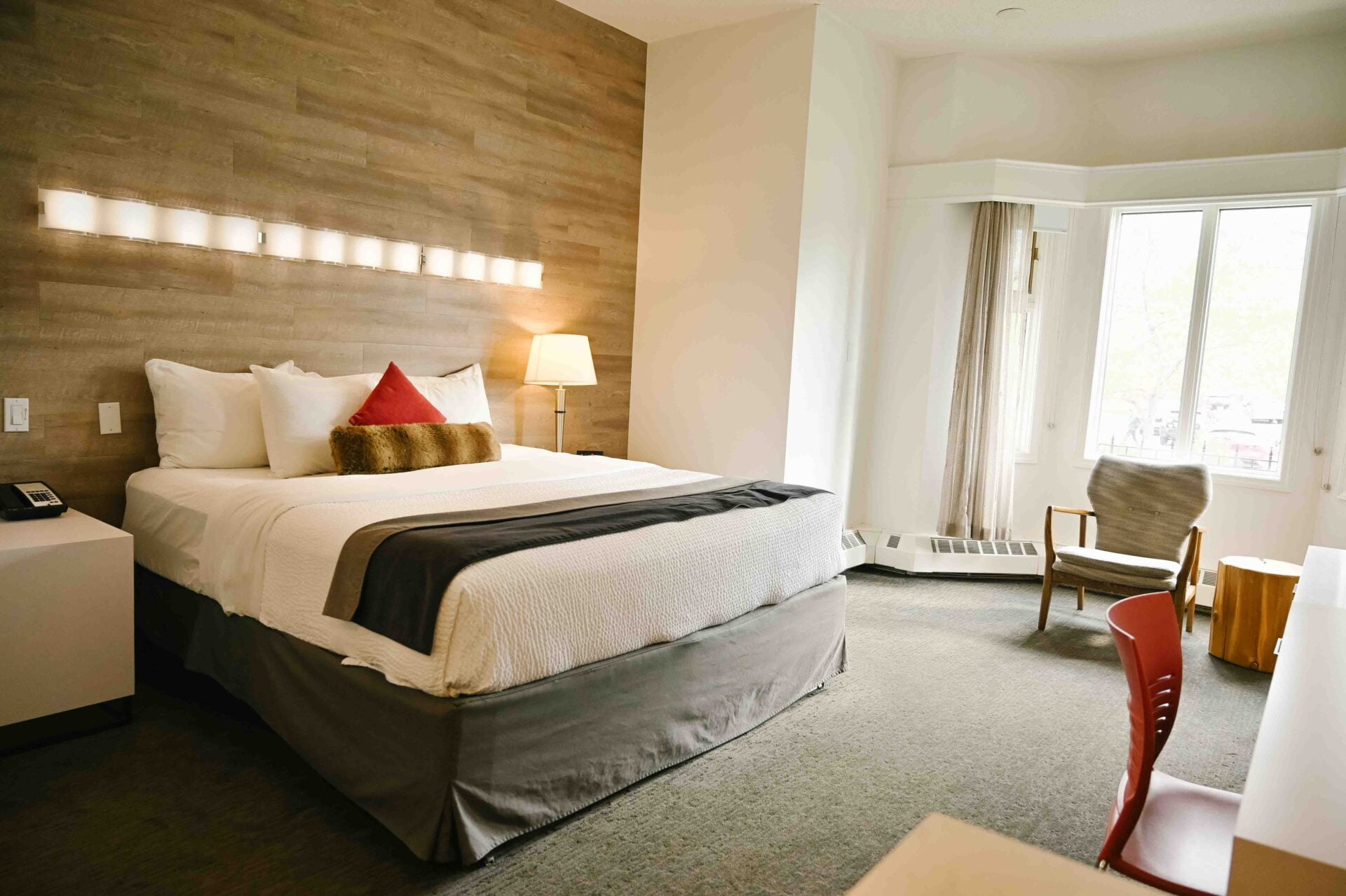 The Elk + Avenue Hotel is a newly reimagined hotel just steps from the downtown core that is Banff. With the bus stops out front, and an adventure centre in your lobby, plus the amazing Farm & Fire Restaurant, Elk + Avenue is the perfect basecamp for your Banff adventure.
Click here to book your stay at the Elk + Avenue Hotel in Banff!
Day 2 – Banff to Lake Louise
It's never easy to leave Banff… the mountain town has a magical hold that always leaves you wanting more! However with so much to explore it's time to head West and start making your way towards your next stop, Lake Louise! The direct route itself is 57 kilometres which takes about 37 minutes, however, I'm going to recommend you take your time and stop at two of my favourite scenic spots along the way!
Where to Stop Between Banff and Lake Louise
There are two main points of interest to stop at between Banff and Lake Louise, the first being Johnston Canyon and the second being the iconic Morants Curve.
Johnston Canyon
If you didn't do the Parkway Electric Bike Tour in Banff then now is your time to stop at Johnston Canyon and visit the beautiful cascading (and yet powerful) waterfalls. There are two waterfalls to visit including the lower falls as well as the upper falls. The lower falls are more easily accessible as they are only 1.2 kilometres into the trek. If you want to continue on to the less busy, and equally (or maybe even more) beautiful upper falls, be prepared to trek an additional 1.2 kilometres up.
I have visited Johnson Canyon in both the winter and the summer and in both seasons it is equally fascinating to be able to marvel at the power of Mother Nature. In the summer it's all about the rushing water as the snowcap melts and the rivers fill up with glacier water. In the winter it's all about frozen waterfalls, groundwater creating "Elsa-approved" cascading ice down the rocky walls. No matter when you visit this is a popular tourist attraction with people from all around the world marvelling at the beautiful sights. While they are all speaking different languages I can be sure of one thing, they are all finding their own way to say, "Wow."
Morant's Curve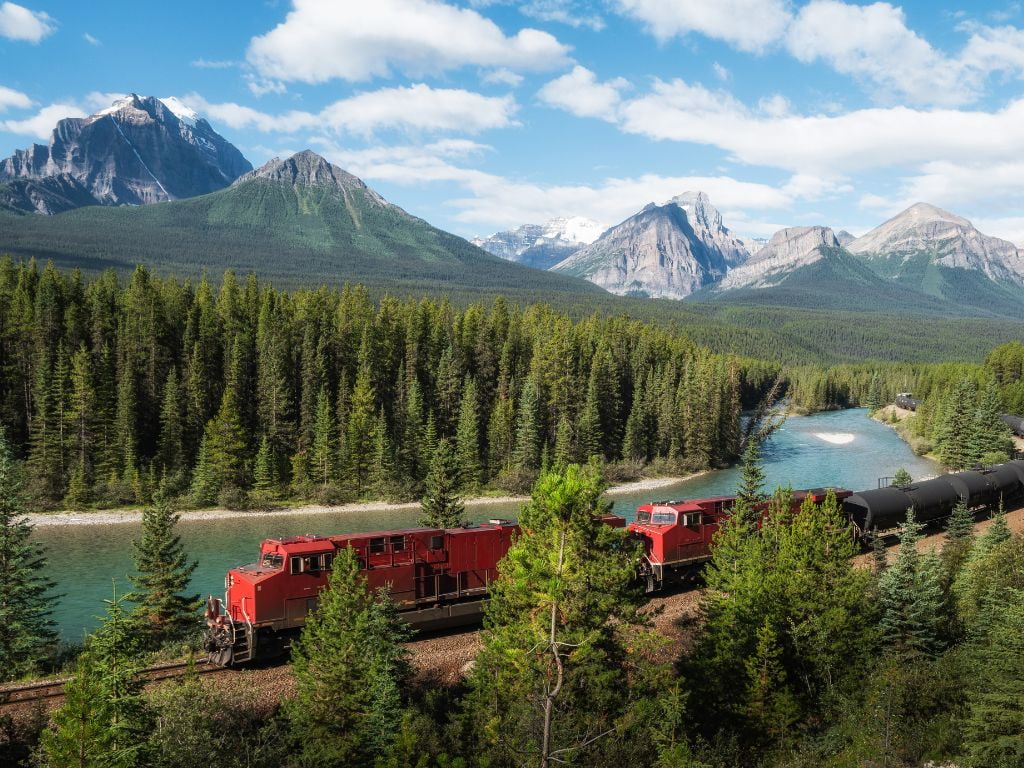 At the heart of Banff National Park lies a hidden gem that few travellers know about – Morant's Curve. Back in the mid-20th century, a photographer by the name of Nicholas Morant was working for the Canadian Pacific Railway. He was hired to produce promotional material that would promote Banff as a tourism destination to prospective travellers in Europe. His images are what sparked tourism in Banff and he forever has this iconic region named after him.
Traveller Tip: Bring a picnic and a tripod and set your camera up to capture "the shot" of the trains coming through!
What to Do in Lake Louise
The next stop is the Canadian Post Card Lake which is Lake Louise. Standing on the shores it really is more iconic than you ever could have imagined, where in the summer little canoes dot the landscape, and in the winter you'll see figure skating, hockey, and even an ice castle (does it get any more Canadian than that?).
Canoeing On Lake Louise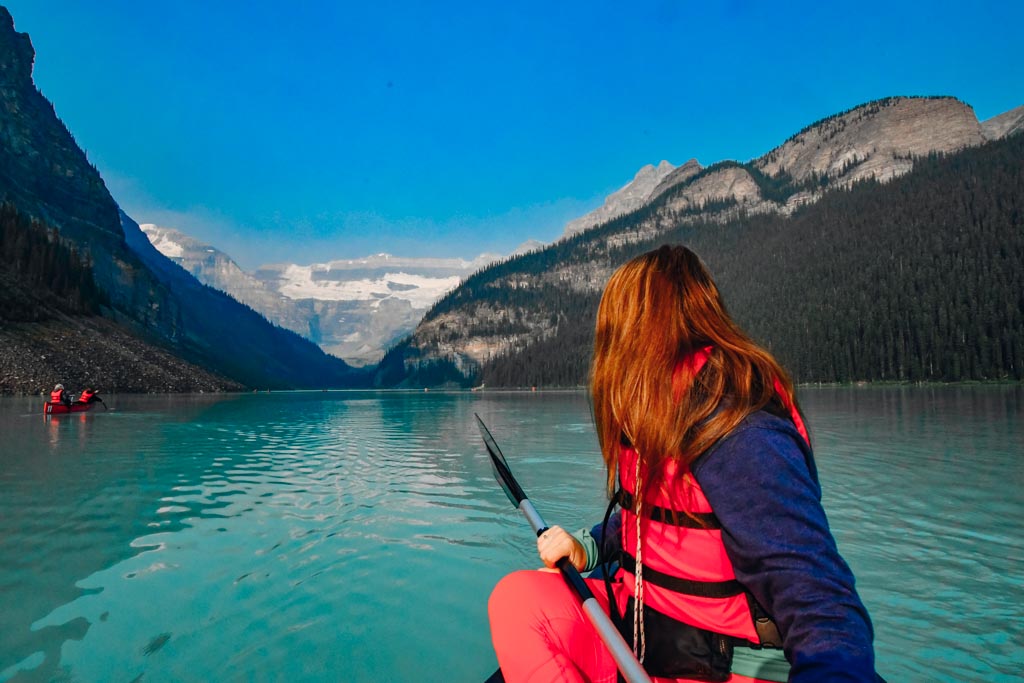 TikTok and Instagram are flooded with the iconic red canoes on the blue lake often making this stop a "bucket list" experience for many visitors. And while it seems like you're looking at a perfectly edited experience, the view only improves in person where you actually feel as if you're standing in a piece of art, a landscape made exclusively for National Geographic. I can say the water really is that blue and the scenery, that amazing.
I literally found myself singing "O Canada" at the top of my lungs at 8:30 in the morning when we embarked on our family paddle in the middle of Lake Louise. The turquoise blue water stood a stark contrast from the red canoes that dotted the horizon as we paddled towards the Victoria Glacier. "With glowing hearts" would forever have new meaning in our home, an ode to our National Parks and the amazing regions where they reside. To see more photos and learn how to plan your own adventure, click here.
What to Do in Moraine Lake
One of the most popular lakes in Banff National Park, Moraine Lake is very closely guarded and protected, this year it is 100% closed to traffic and only accessible via hike, bike, or shuttle.
Moraine Lake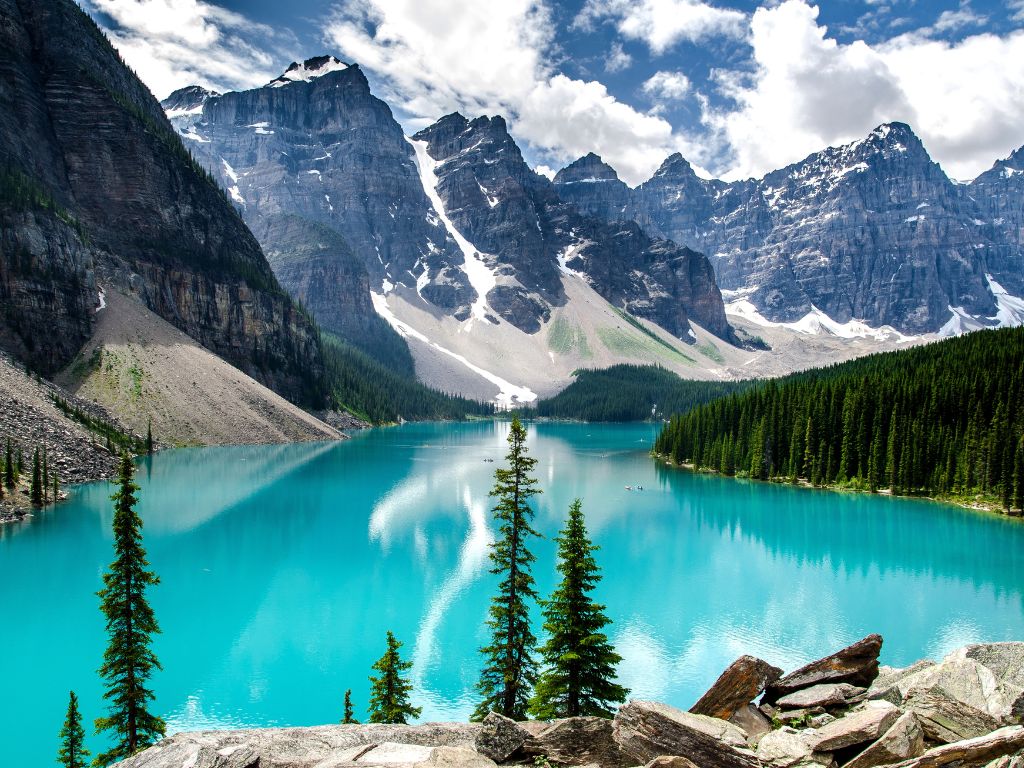 Not to be outdone by Lake Louise, but Moraine Lake is another local lake that truly is a "must-see" while exploring the region. Parks Canada invites you to explore its 1.5 square kilometre lake, boasting crystal clear turquoise waters surrounded by beautiful majestic mountains. Whether you're a day tripper or a world-class adventure seeker, this lake will make you stand still and ask yourself if you are looking at a picture-perfect image coming to life. There is lots to do once you arrive at Moraine Lake including hiking trails and paddling, and photography! Whether you're looking to take in breathtaking scenery, explore the great outdoors, or simply relax in serenity, Moraine Lake is a must-see (and full disclosure, I haven't been there yet! I sourced this information for you from Parks Canada and other local blogs, but I've always wanted to go and visit!).
Where to Stay in Lake Louise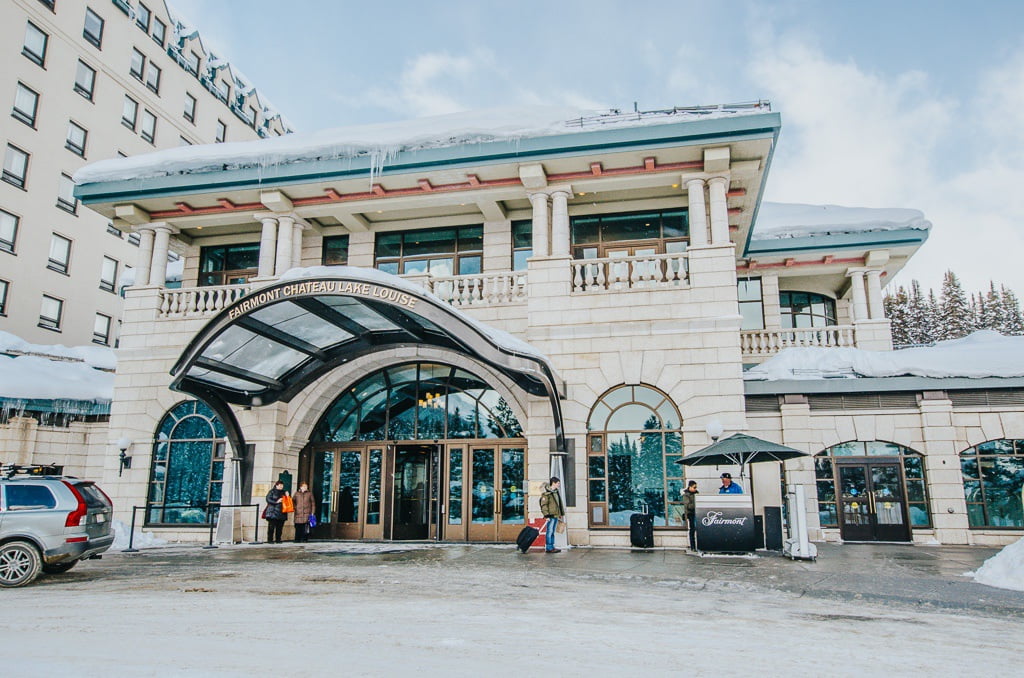 At the base of Lake Louise is the world-famous Fairmont Chateau Lake Louise. Inside the lobby, there's a sign that reads, "Lake Louise is a place for nature, a place for people. This National Park protects a part of the Rocky Mountain ecosystem and it is here for us to enjoy in ways that do not harm the natural environment. National parks are public lands that belong to all of us. Like other precious possessions, we enjoy and cherish our parks. These special places contribute to a global network of protected areas and help ensure that future generations will also experience the wonders of the natural world."
The Fairmont Chateau Lake Louise is a luxury Canadian experience in one of Canada's most iconic spots. From standard rooms to jaw-dropping suites overlooking the lake, the Fairmont offers the gold standard in accommodations and amenities for you to explore. Click here to check out pictures from our winter visit to the Fairmont and insight into a stay that changed my life.
Click here to book your stay at The Fairmont Chateau Lake Louise!
Day 3 – Columbia Icefield, and Glacier Park Lodge
On your Banff to Golden road trip, before you hit the Columbia Icefield there's one iconic lake that you have to stop and take in. It's just so stunning! Drumroll, please…
Bow Lake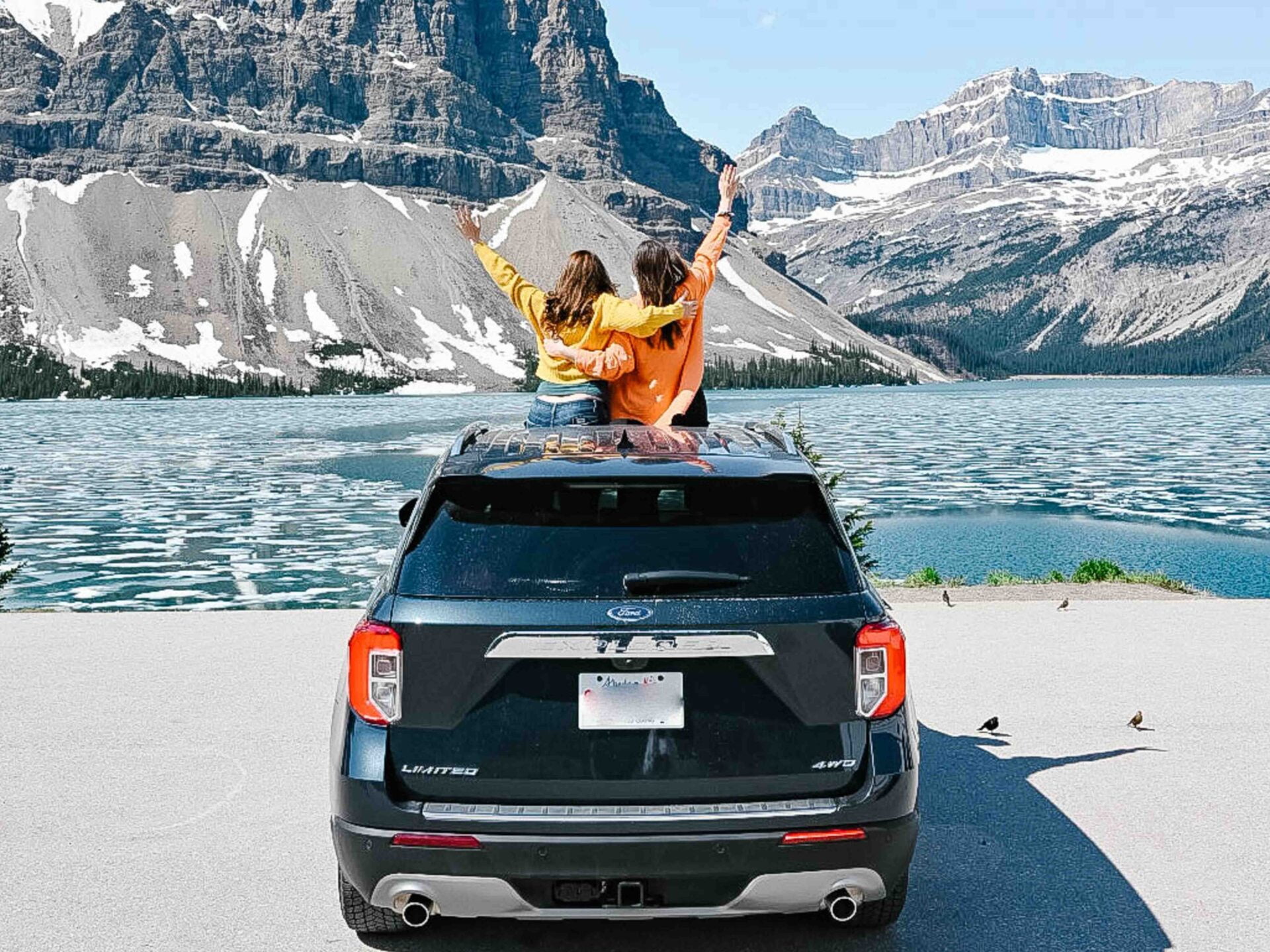 One stop you have to make along the way is Bow Lake. The crystal clear water that falls onto the backdrop of the rocky mountains makes for a picture-perfect stop. On our last stop, we were able to see the ice breaking up, leaving a multitude of textures on the surface and a sight that had me clicking photos in every direction.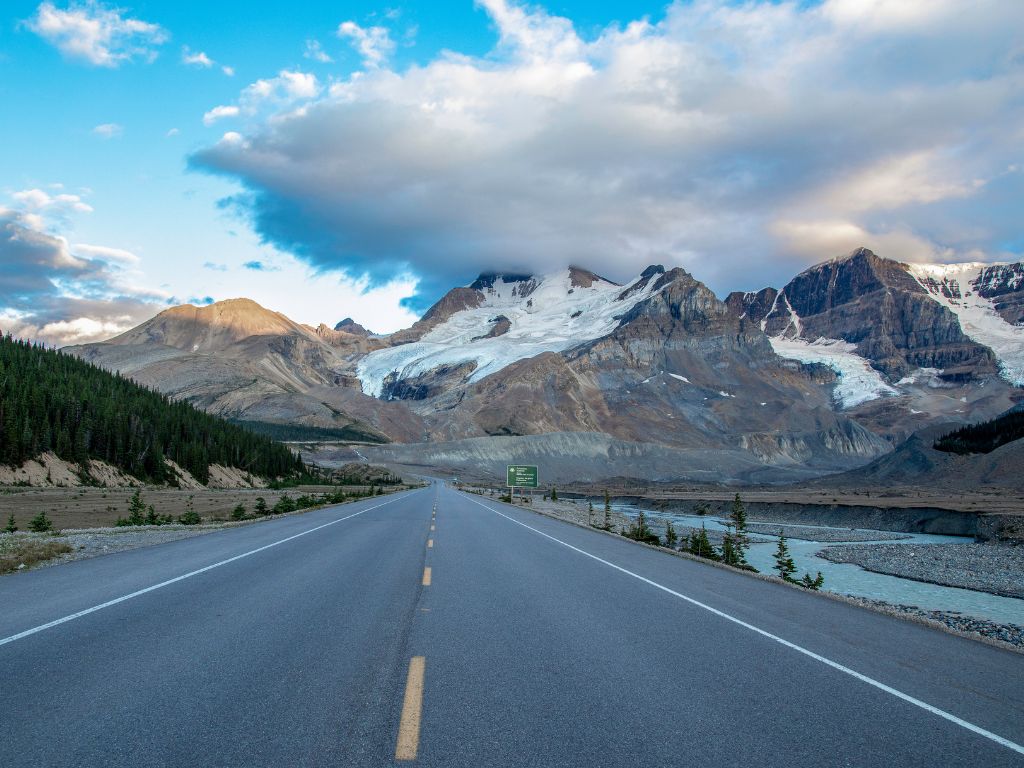 It's time to take your road trip North, heading towards Jasper along the Icefield's parkway. One of the most iconic drives in the world, this no-cell service drive will have you traversing through the mountains, around scenic corners, and undoubtedly stopping for wildlife at least once on your ride. The ultimate destination, the Columbia Icefield and a stay at the Glacier Park Lodge!
What to Do at the Columbia Icefield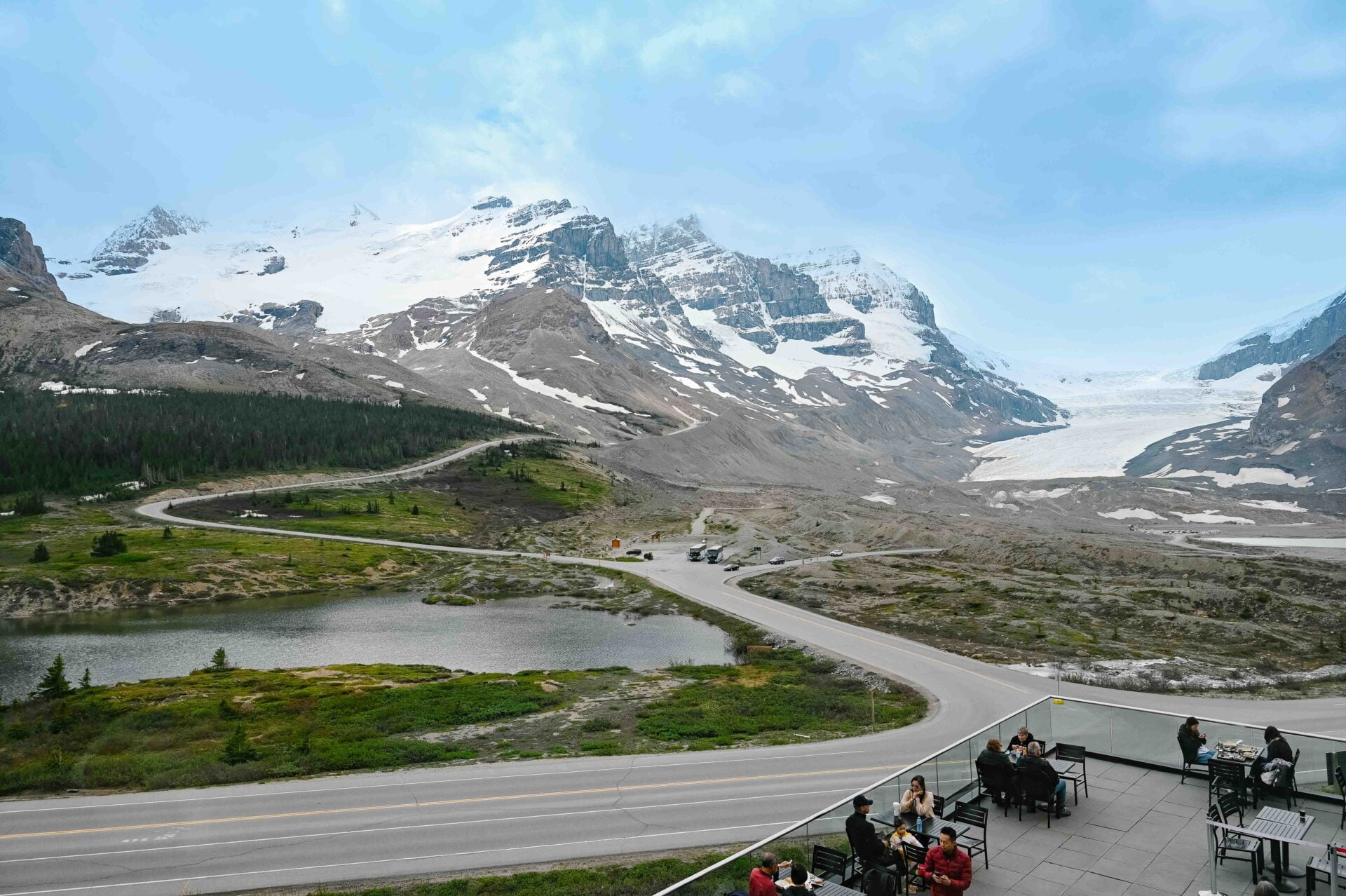 The Columbia Icefield is not only a stunning sight to behold but it is also a is a very sacred place that is worth learning about. The best way to do so is to take a tour and learn from a guide, with the goal of learning about Icefield conservation and protection for future generations.
Columbia Icefield Adventure – Athabaska Glacier
Did you know that 10% of the world is covered in glaciers and that 70% of the world's drinking water comes from these frozen water towers? In fact, these ice water towers supply 25% of all 7.5 billion people on Earth with drinking water. If they all were to melt at the same time our ocean water level would rise by 210 feet, devastating cities and ecosystems worldwide.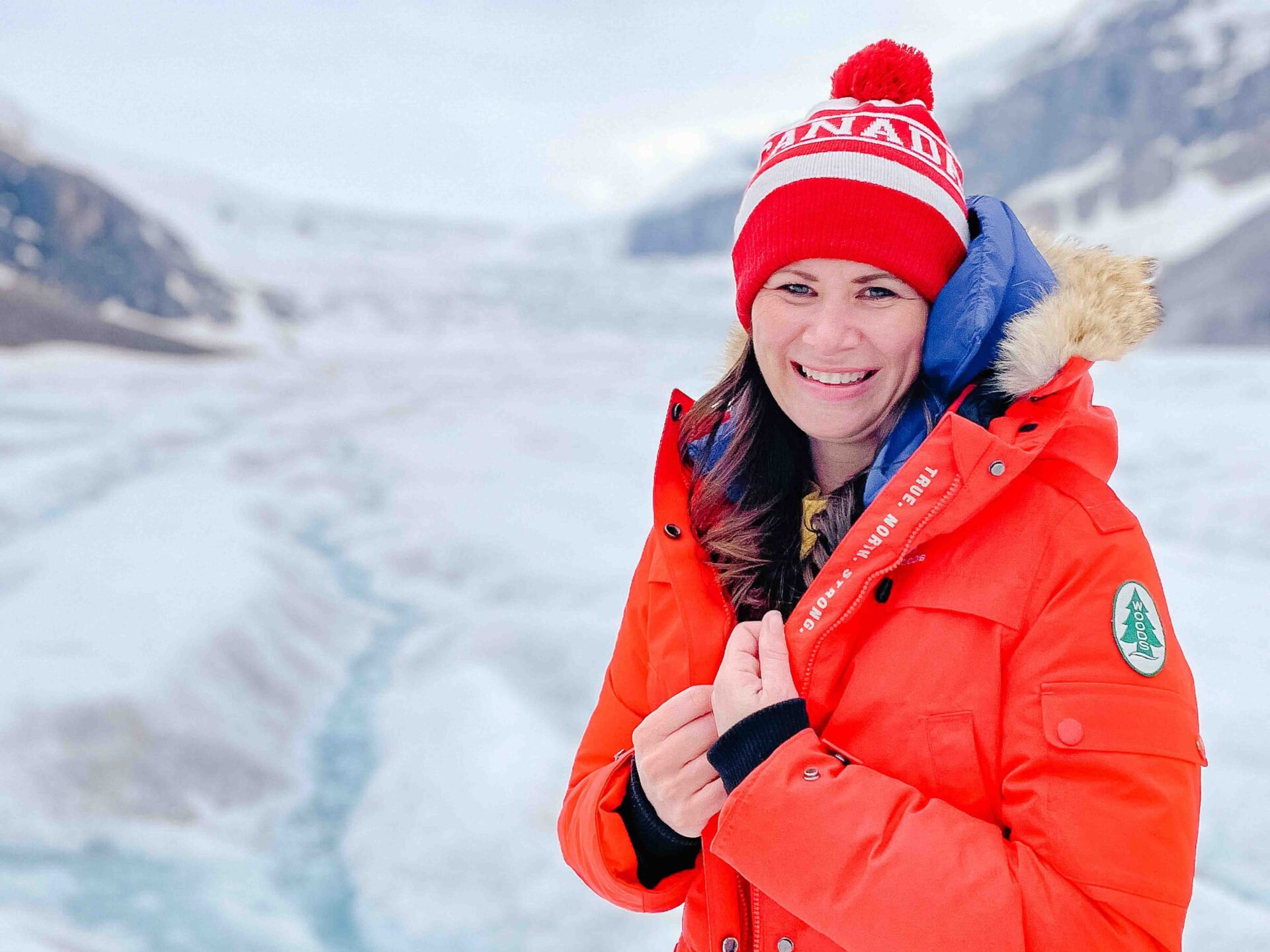 So now that I have your attention, learning about glaciers can be a really cool (see how funny I think I am) and hands-on fun experience. The traditional Indigenous people originally named the Athabasca Glacier "Chawka Tonga", which translates into English as Big Ice. Colonization brought forth the name change (and I hope someday it gets returned to its original name)
Your journey starts off at the Glacier View Lodge where you'll board a bus and then head up to the icefield.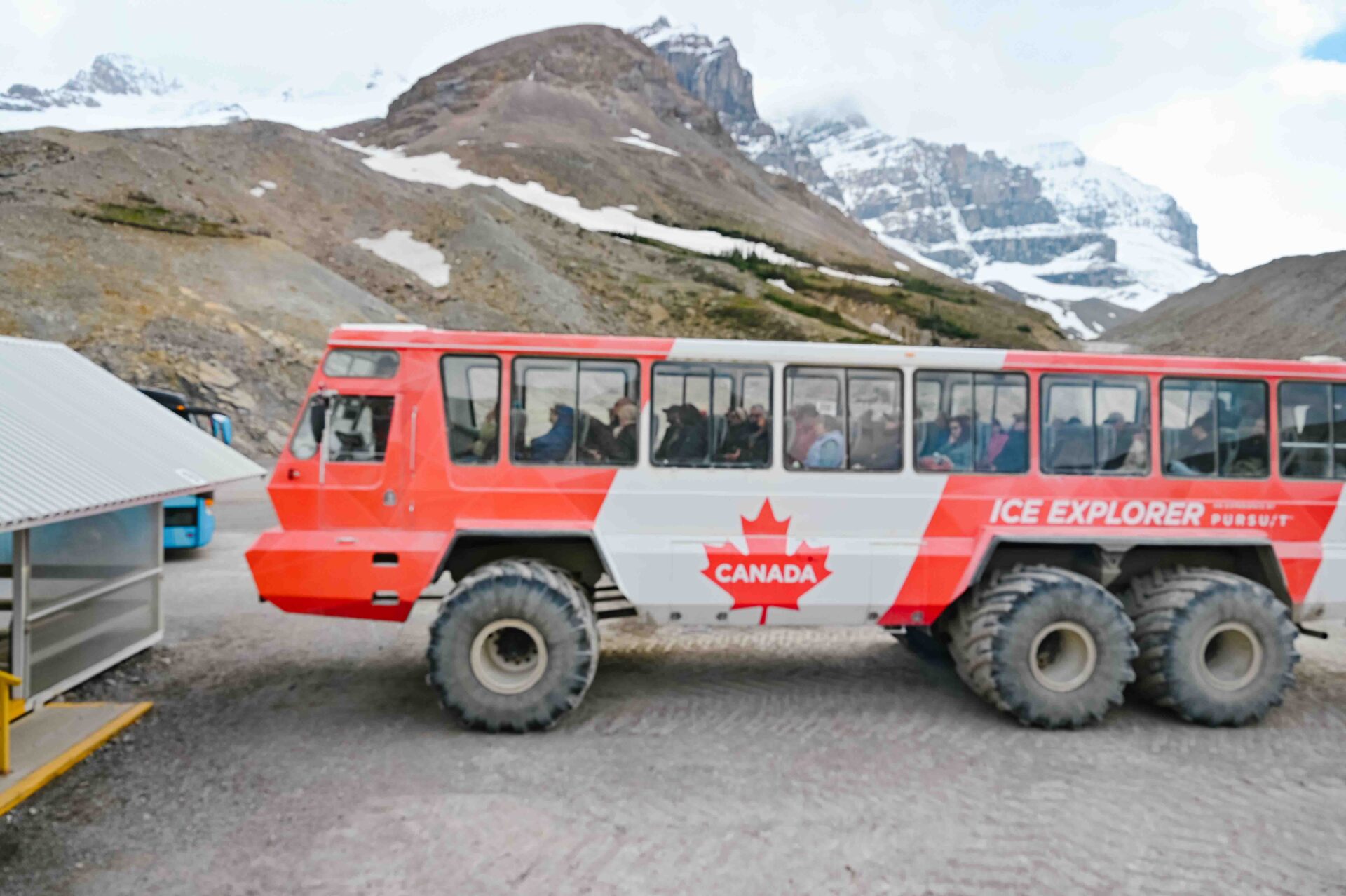 It is here where your group will trade in your bus for an Ice Explorer, one of only 22 in operation worldwide. These 1.3 million dollar vehicles will help you navigate the world's steepest commercially used road (at 32% grade) and after a quick tire washing, you'll head out onto the glacier.
Once on solid ice you can feel the cool glacier water, pose for photos with the Canadian flag, or just sit back and marvel at how tiny your footprint is on this massive glacier. It is hard to see firsthand the effects of global warming and how much the glacier changes each year. It is currently receding at 5 meters or 16 feet per year, giving us a reminder of how we need to protect our earth and do what we can to reduce our carbon footprint.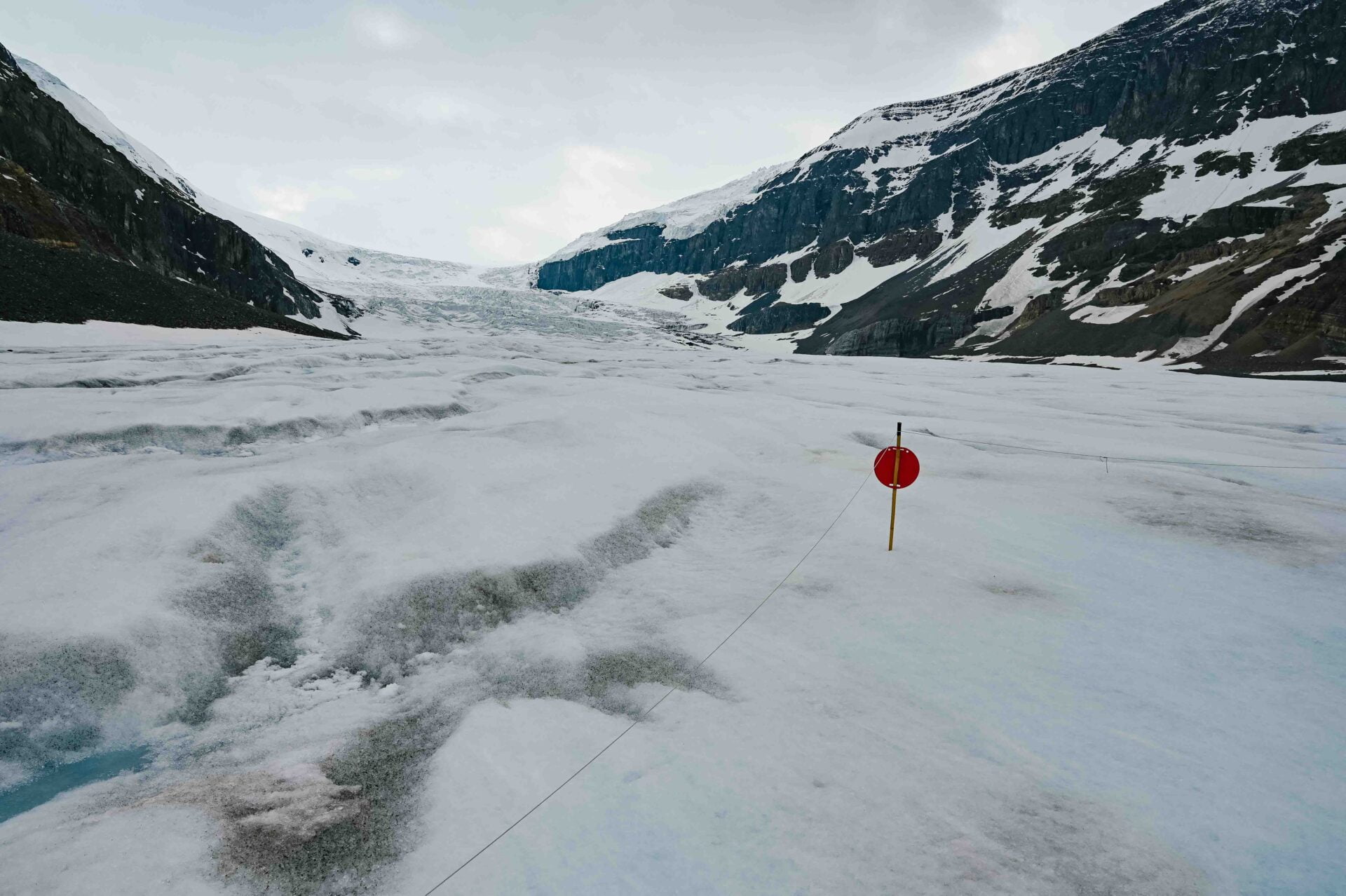 Pursuit owns the Columbia Icefield Adventure and they are actively working towards reducing their carbon footprint by investing in Greenstep certification as well as working towards the first-ever electric ice explorer which they hope to launch in the next two years.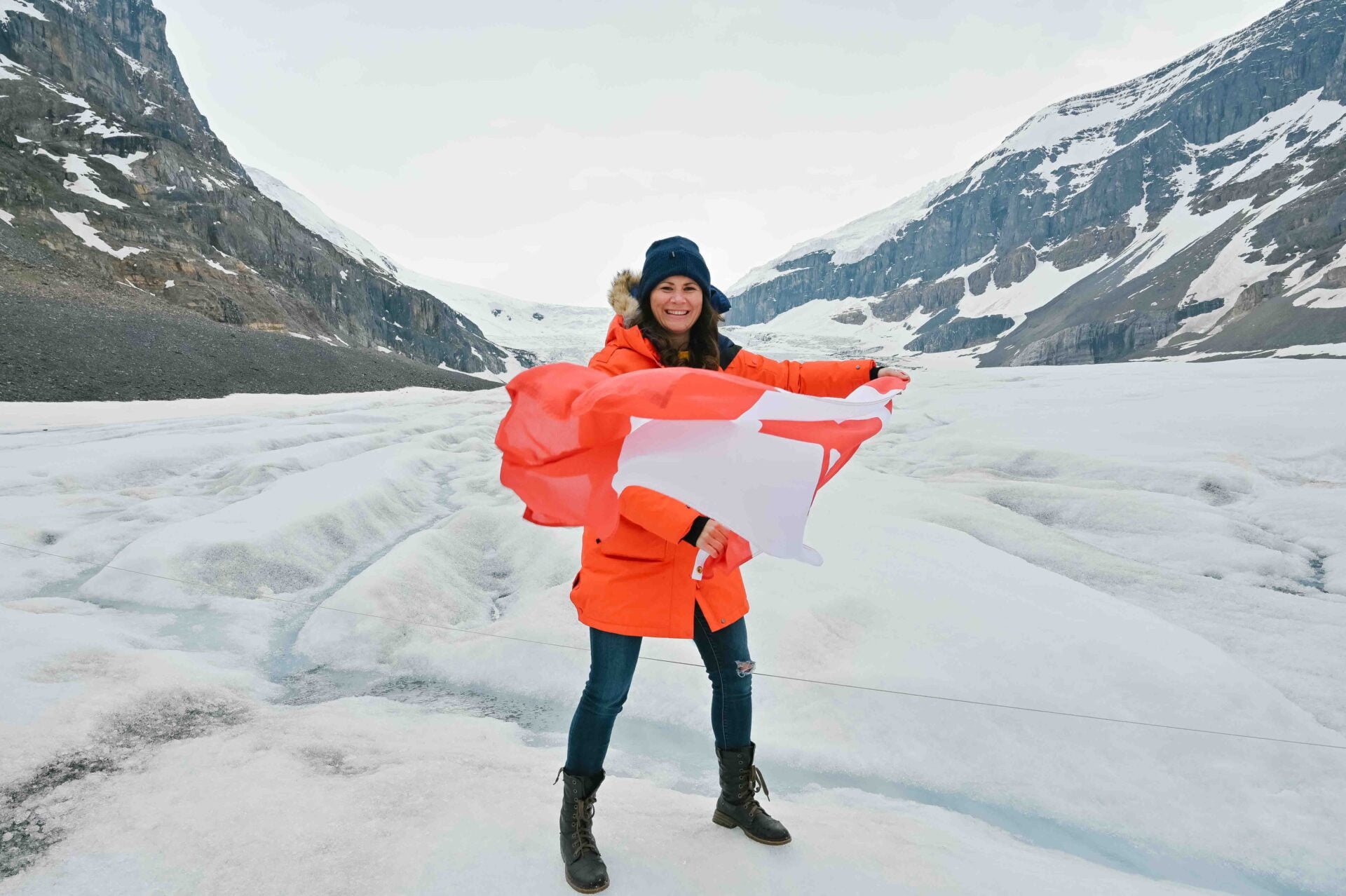 Special "Ishnish" or thank you to our Tour Guide, Rocco for sharing his wisdom as well as his passion for protecting this sacred region for the future.
Columbia Icefield Skywalk
Back onboard your bus you will enjoy a short 12-minute ride to the Columbia Icefield Skywalk. This one is for those that love heights and aren't scared of looking down over the cliffs. (if this isn't your jam, no worries, you can stay on solid ground).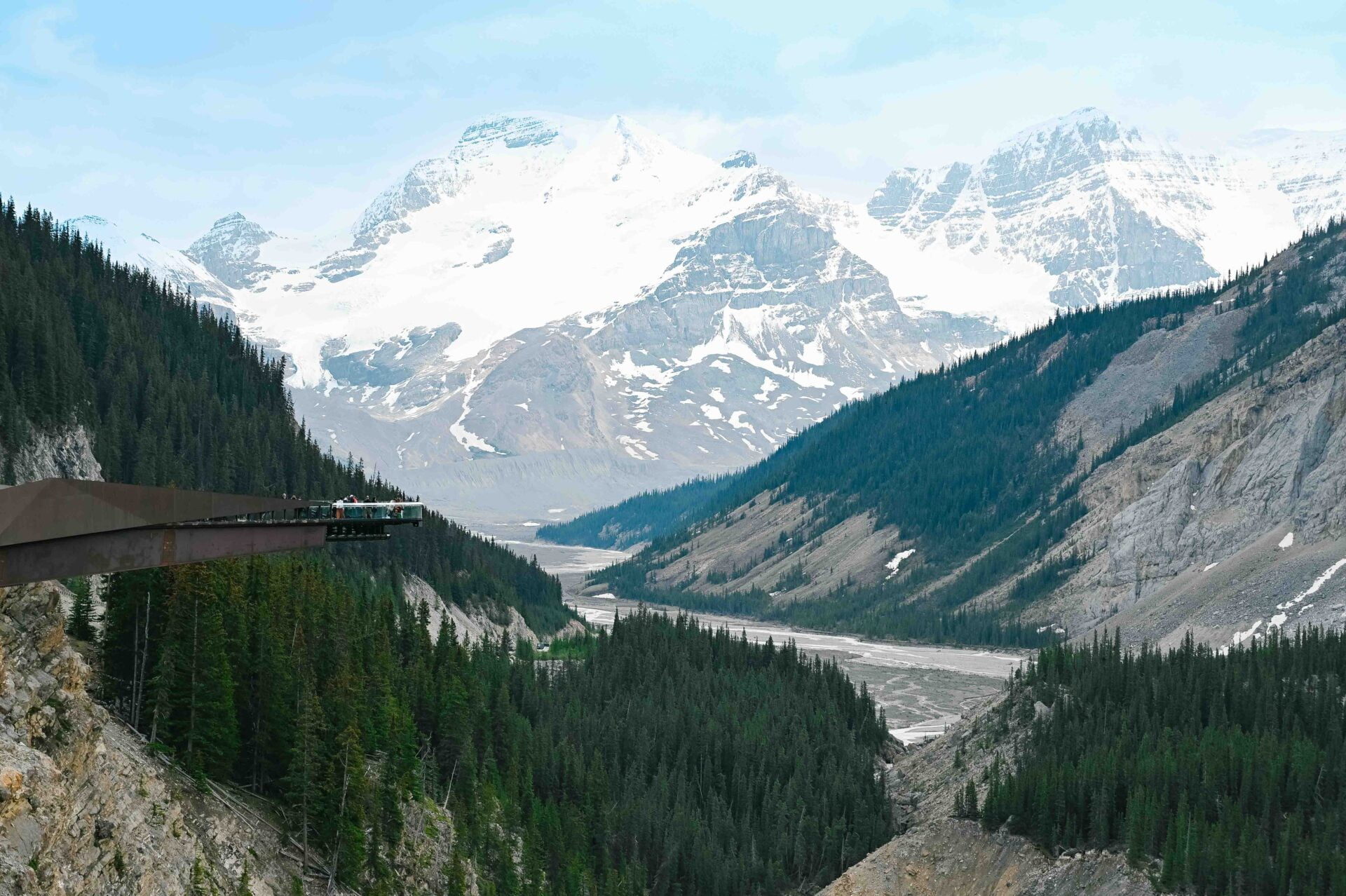 "Be surrounded by the stunning mountain and glacier vistas of the Sunwapta Valley from the Columbia Icefield Skywalk, 918 feet above the ground." After walking alongside the canyon you'll be invited out onto a glass bottom skywalk, where you can have a 360-degree view all around you, including an almost 1000-foot drop below your feet!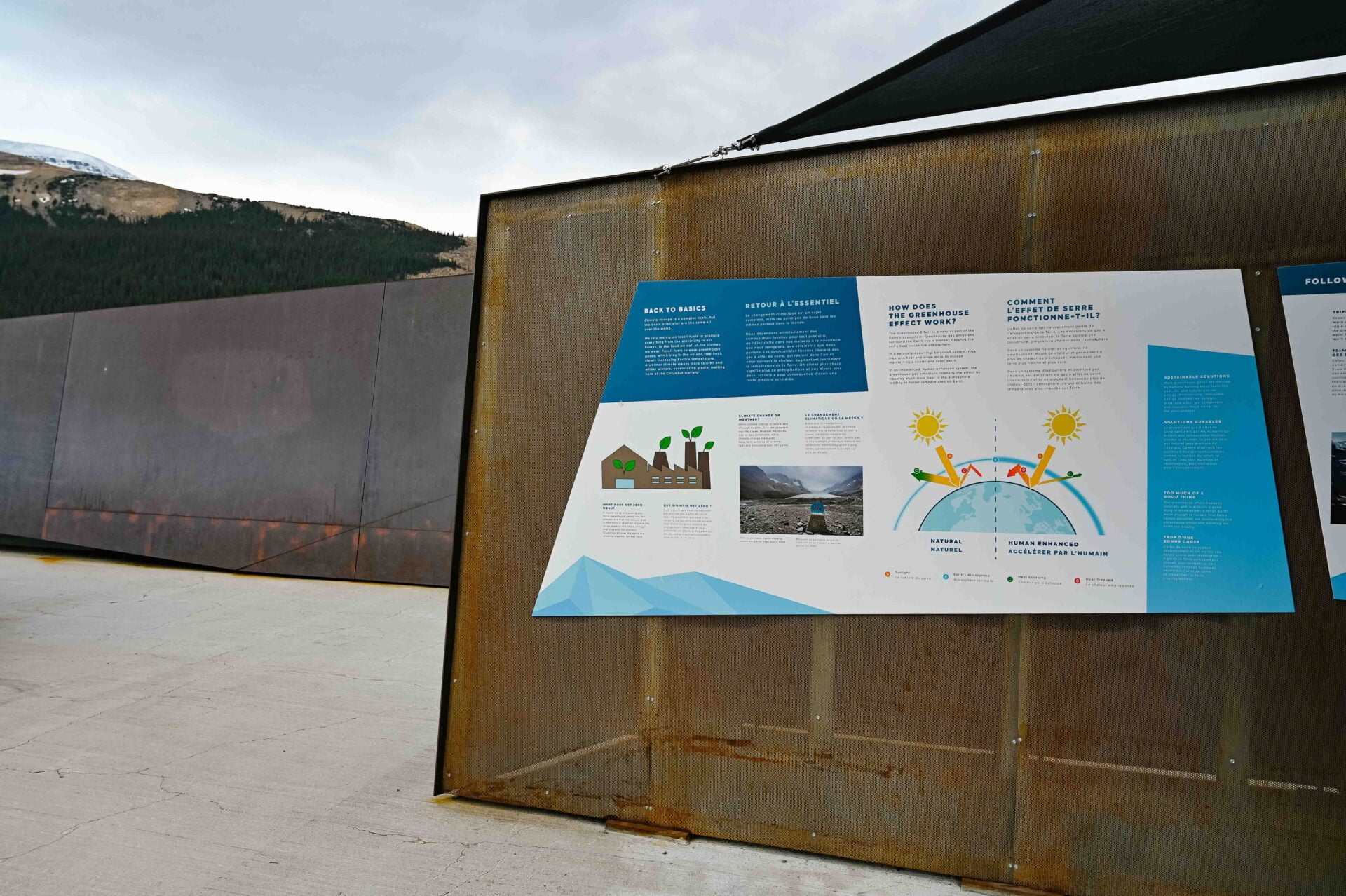 The walk from the bus drop to the skywalk is only a few hundred meters but there is lots to explore along the way. This includes educational signs about local animals, and interactive displays showing skulls from local animals.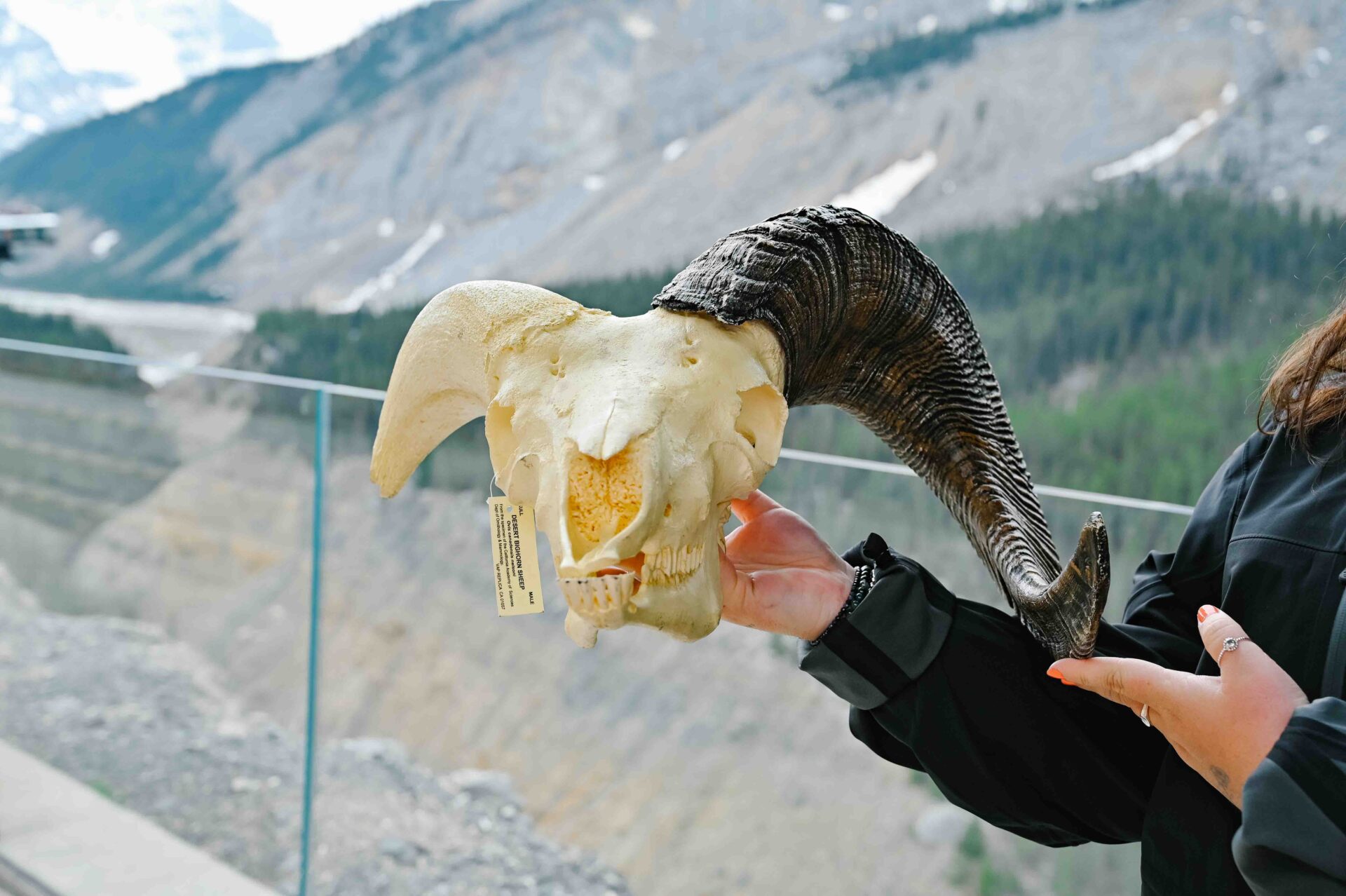 There is a ton of great scientific displays which are great for learning more about the Sunwapta Valley and the drastic surroundings that have you perched on the edge of reality.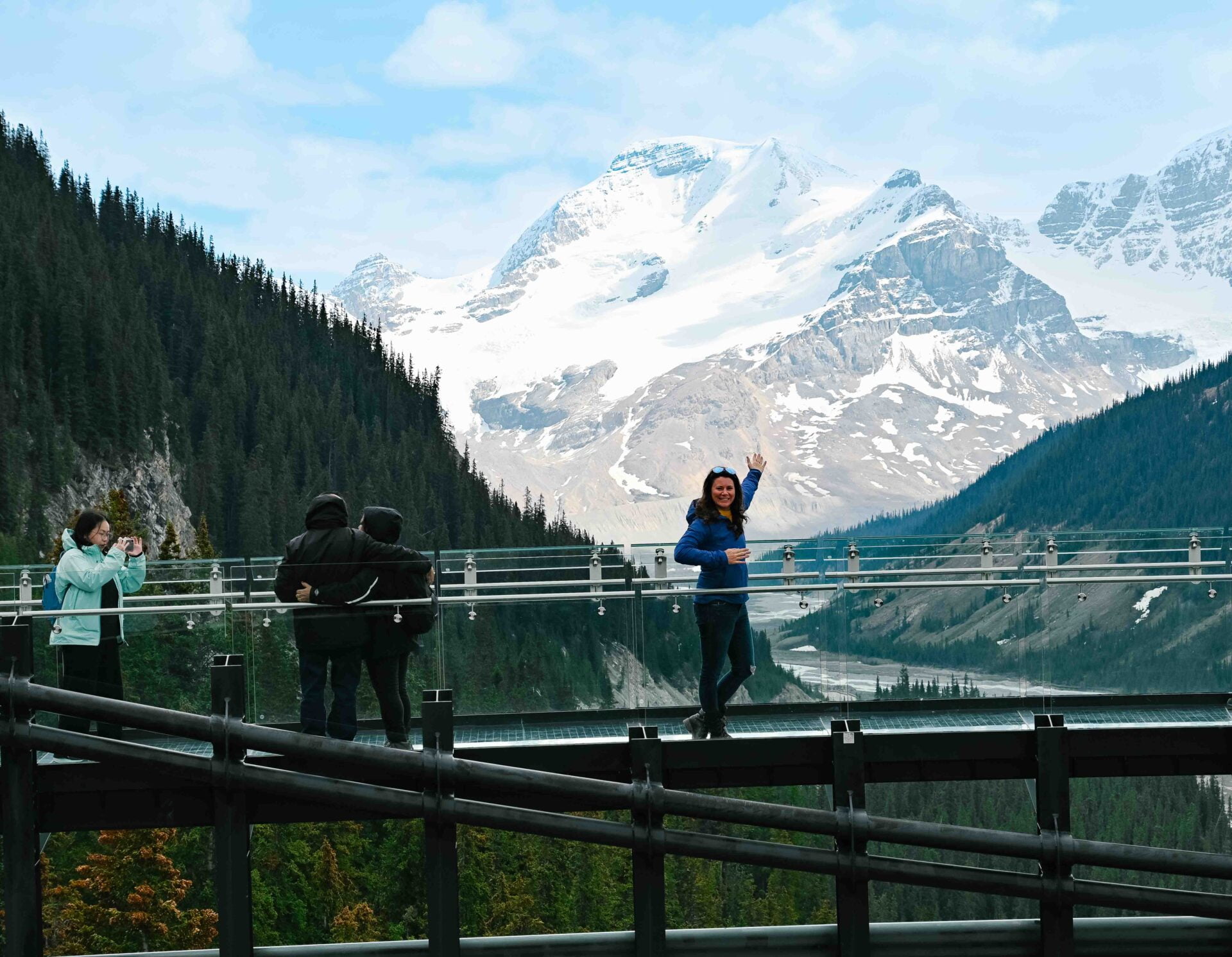 The scenery is stunning but equally entertaining, watching the visitors from around the world and their reaction to the glass bottom and the surrounding views.
Click here to book your Glacier Skywalk Admission ticket!
Where To Stay at Columbia Icefield
Glacier View Lodge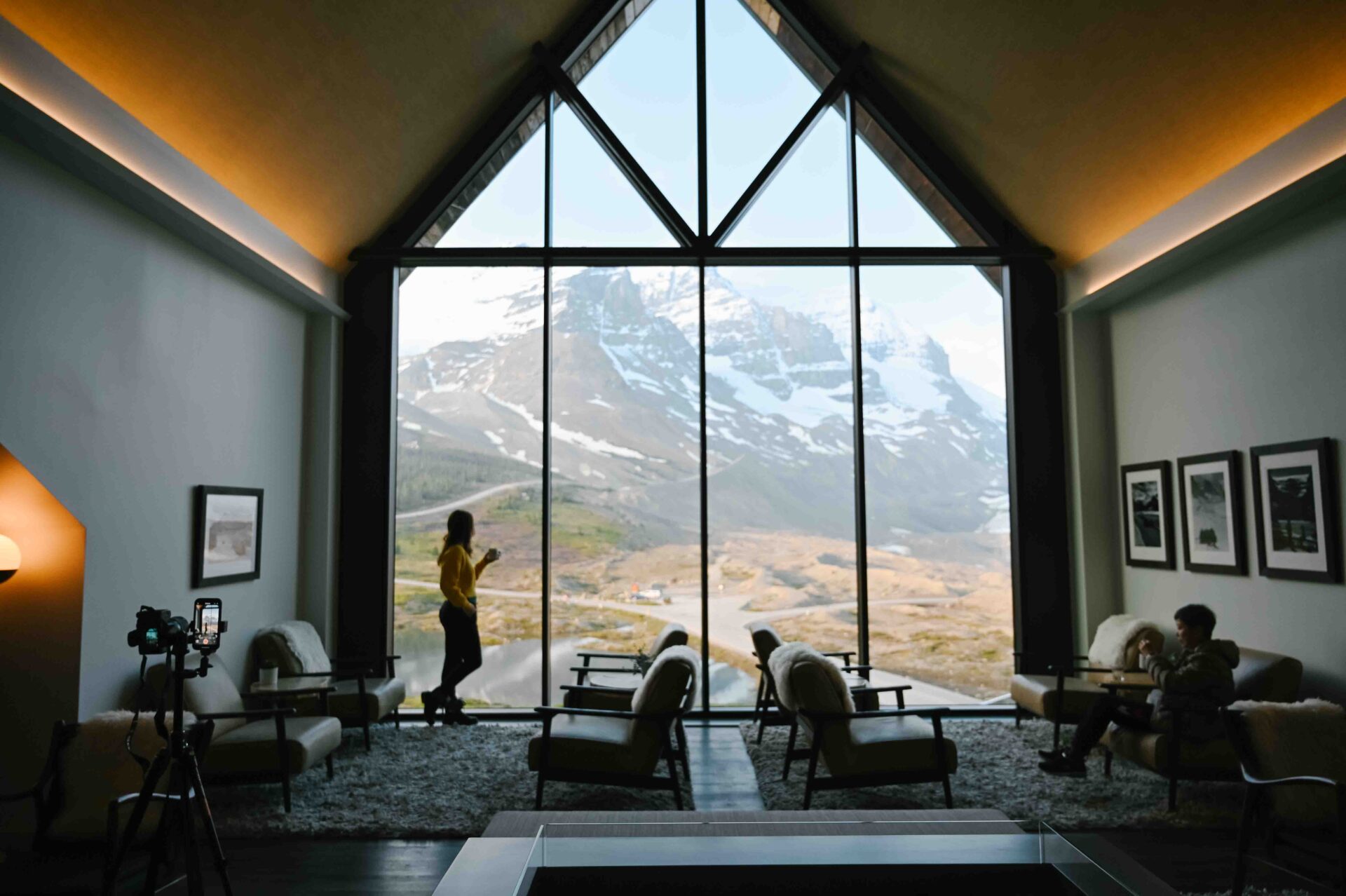 If Instagram was to open its own hotel, the Glacier View Lodge would undoubtedly be its first one. Nestled in a high alpine zone looking out over the iconic Columbia Icefield, the Glacier View Lodge is truly an experience like no other.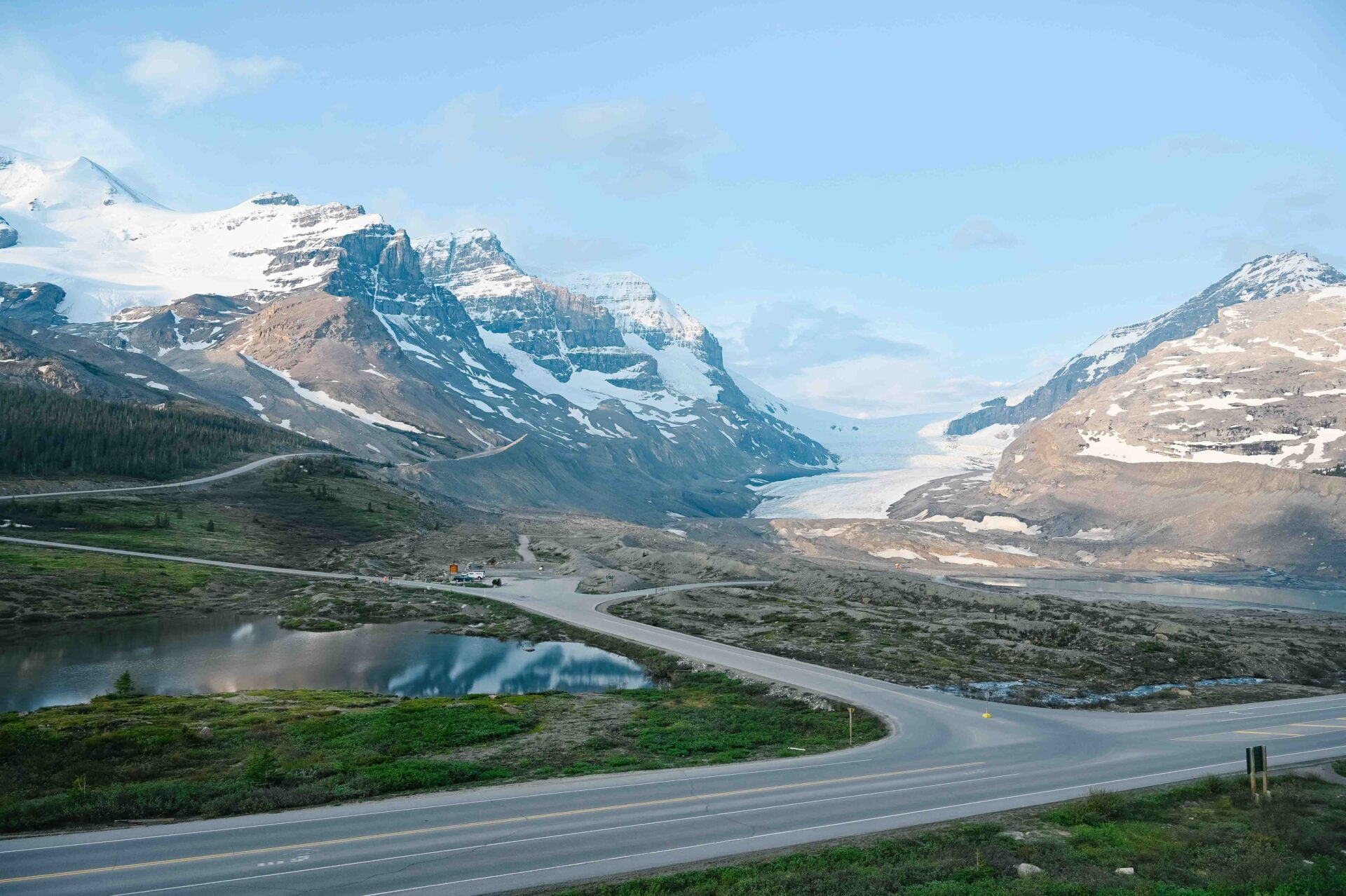 From the moment you step off the elevator, you're surrounded by a sense of awe and a spirit of place, mixing Canadian Wilderness, mother nature, and luxury all into one hosted stay.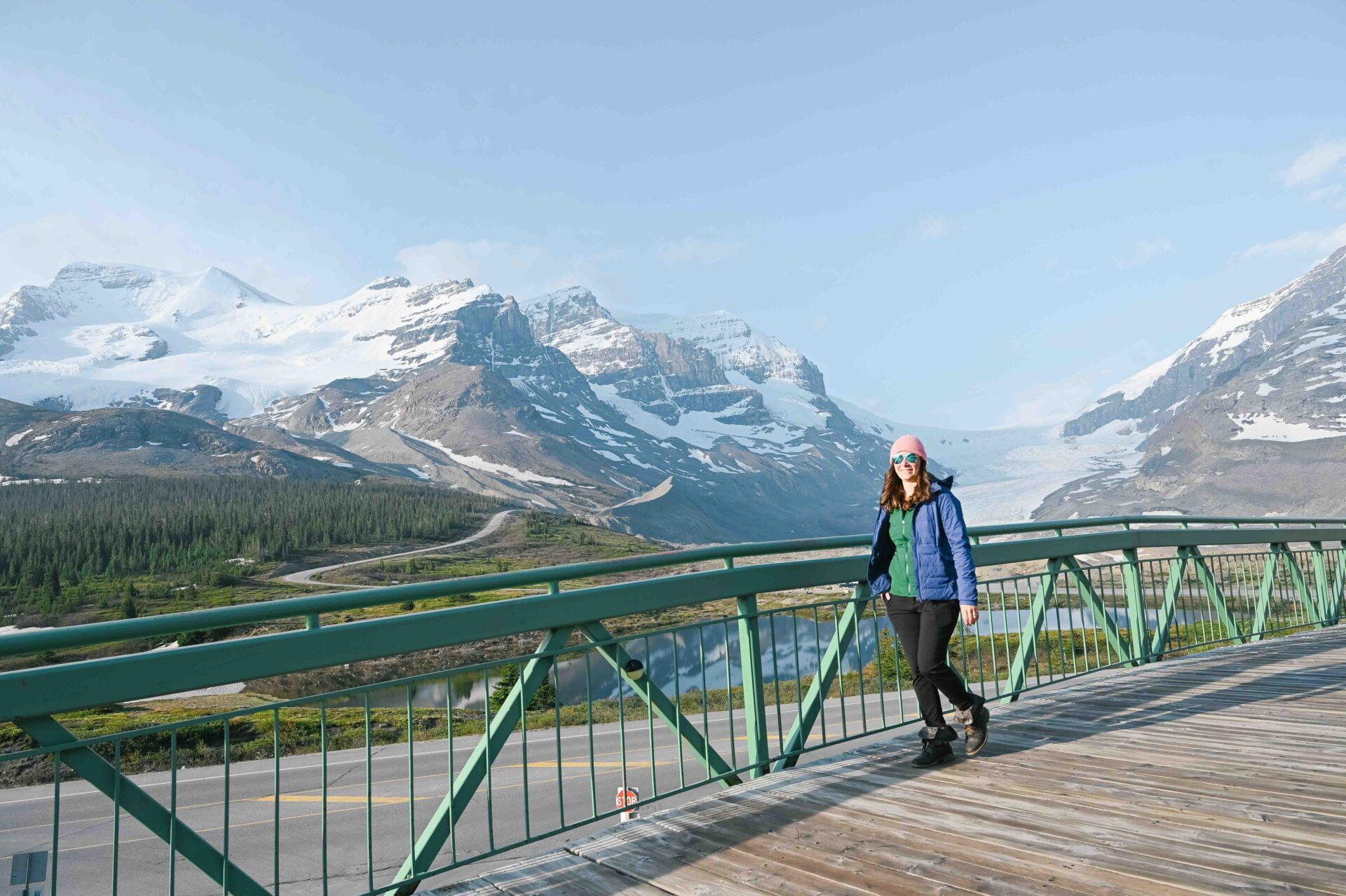 Rooms at Glacier View Lodge
The modern rooms offer comfort and warmth, with your own private windows looking out over the glacier or deep into the forest.
Welcome Reception at Glacier View Lodge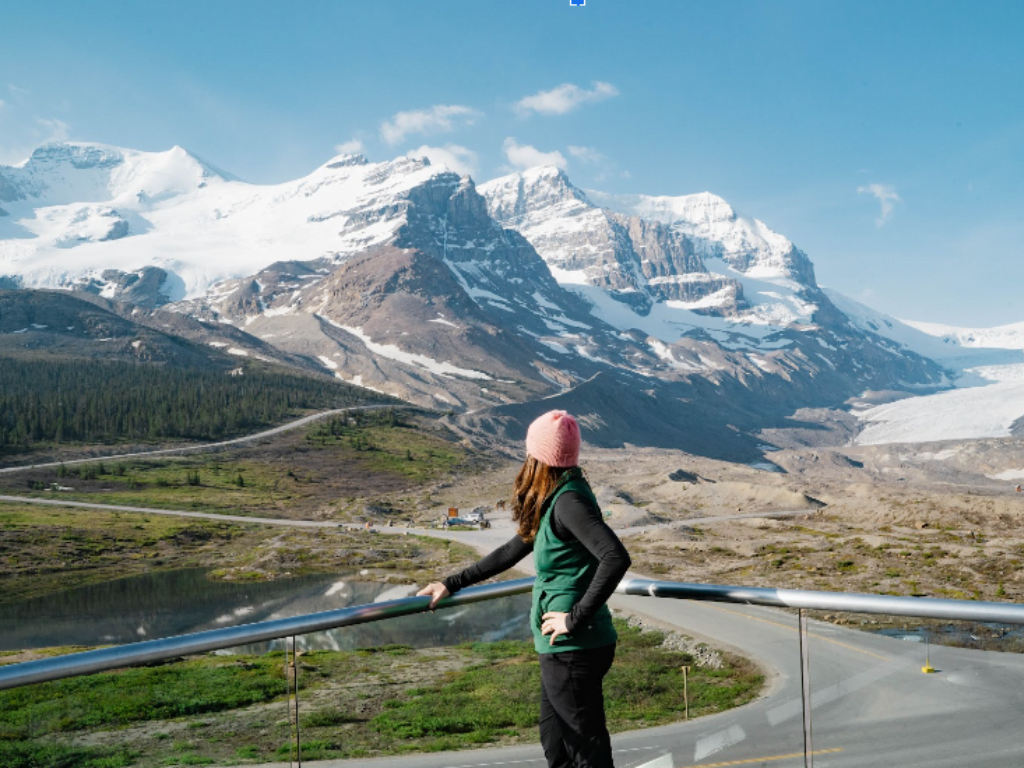 Every evening there is a welcome which is a great time to meet in the scenic lobby, meet up with other guests, and take time to sit and enjoy the majestic icefield.
Book Your Stay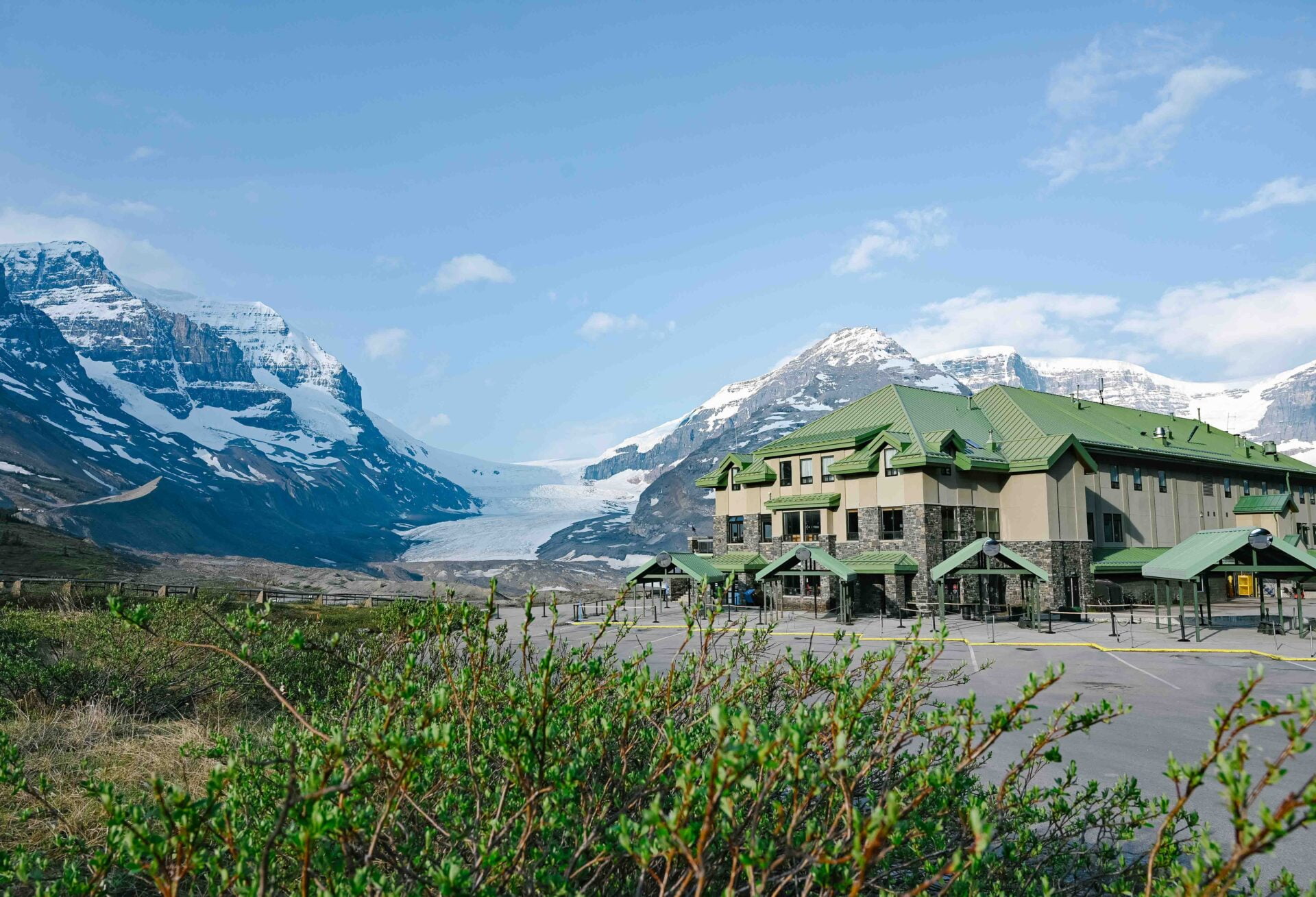 There are two ways that you can plan your stay, room only or room plus guided experience. A stay here is perfect for your Banff to Golden adventure.
Room Only Stays:
Cozy and comfortable guest rooms
Welcome reception
Guest lounge with expansive views over the glacier
Columbia Icefield Guided Experience:
Guided evening tour on the Columbia Icefield Skywalk
Guided Morning Tour on the Athabasca Glacier with hot beverages
Welcome reception
Cozy and comfortable guest rooms
Guest lounge with expansive views over the glacier
Click here to book your stay at the Glacier View Lodge!
Where to Eat
Altitude Restaurant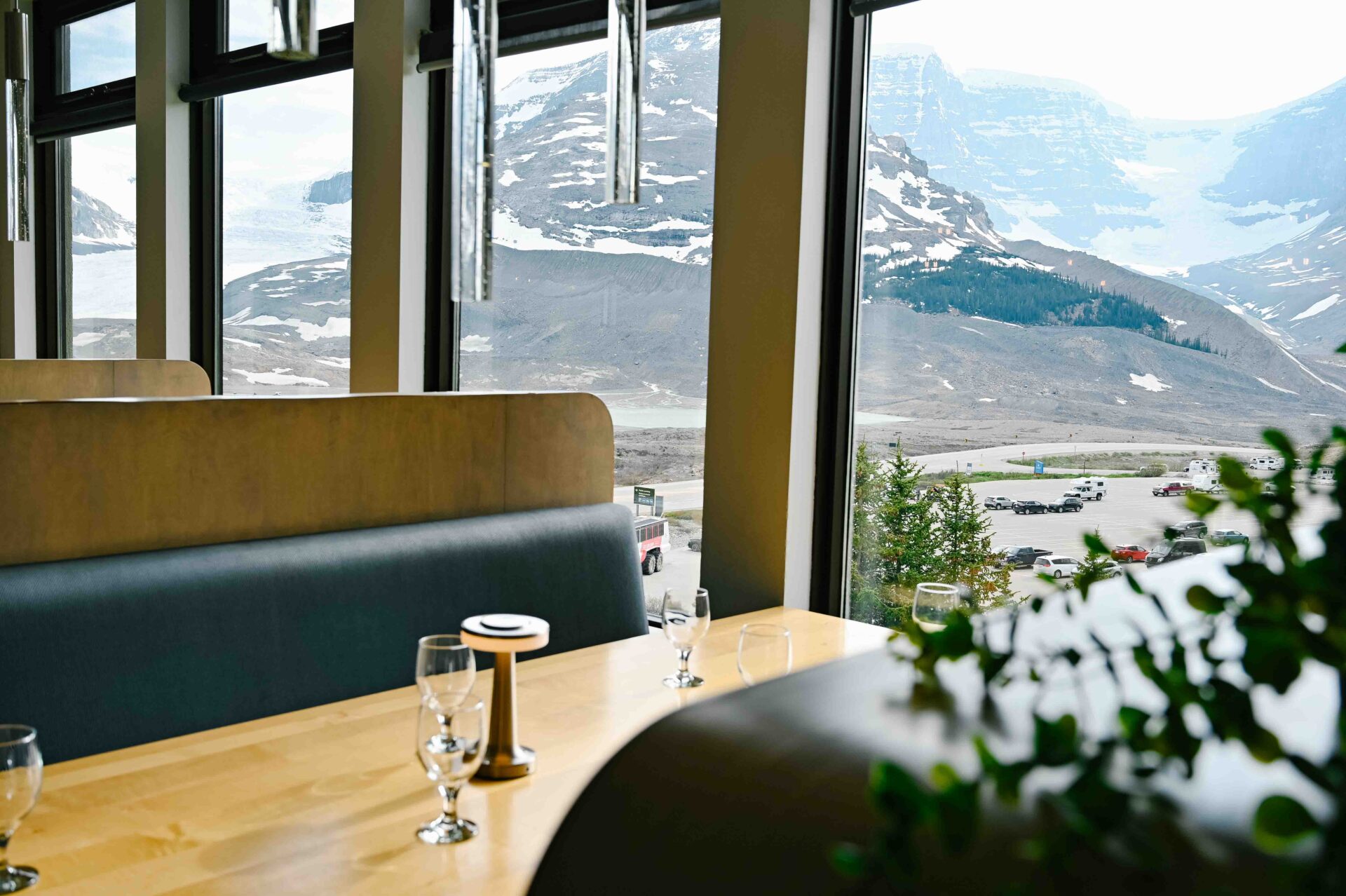 While staying at the Glacier View Lodge, guests get first access to the appropriately named, Altitude Restaurant. With 180-degree views out over the glaciers, and picture-perfect food on the table, we were joking around how impossible it was to put our cameras down, and sat with them in our laps ready for the next click!
Executive Chef Michael O'Neill has designed a menu that is Canadian-inspired and locally sourced inviting you to start your morning off with a delicious breakfast or wind down after an adventure-filled day with a delectable meal.
Day 4 – Columbia Icefield to Golden
Ready to head back out on your Banff to Golden adventure? It is time to head back down the Columbia Icefields Parkway where the views are the same and yet so different when seen from the other direction. A 205-kilometre drive that will take you just over 2 hours, this scenic route will have you traversing from Alberta and into British Columbia where the final destination is the beautiful town of Golden, BC.
Banff to Golden Road Closure
Be sure to check the road conditions and routes when you are travelling as there have been major construction projects in the summits and some closures may force detours. I always check the Drive BC website before heading out on a road trip.
What to do in Golden
Golden, BC is a charming town nestled in the Canadian Rockies. It is perfectly situated in the middle of 6 National Parks welcoming adventure seekers from all around the world who want to explore Golden and its beautiful backyard. From hiking to biking, water sports to exploring history, Golden is truly an adventure seeker's paradise.
Speaking of adventure, the first place you need to stop is The Golden Skybridge!
Golden Skybridge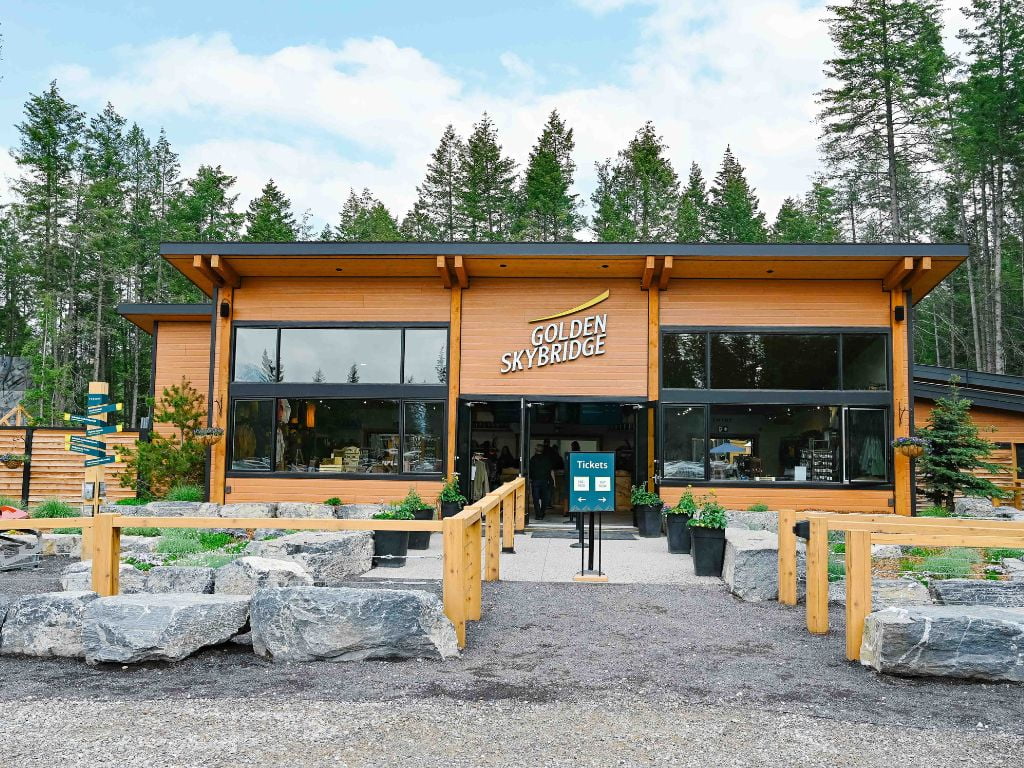 I can confidently say that the Golden Skybridge exceeded every single expectation that I had of it! I was expecting a bridge and iconic lookout but instead was welcomed into an Adventure Hub where there was more to do than time allowed, leaving me wanting to plan my next visit back (and this time bring the kids!). It truly was a highlight of our Banff to Golden road trip.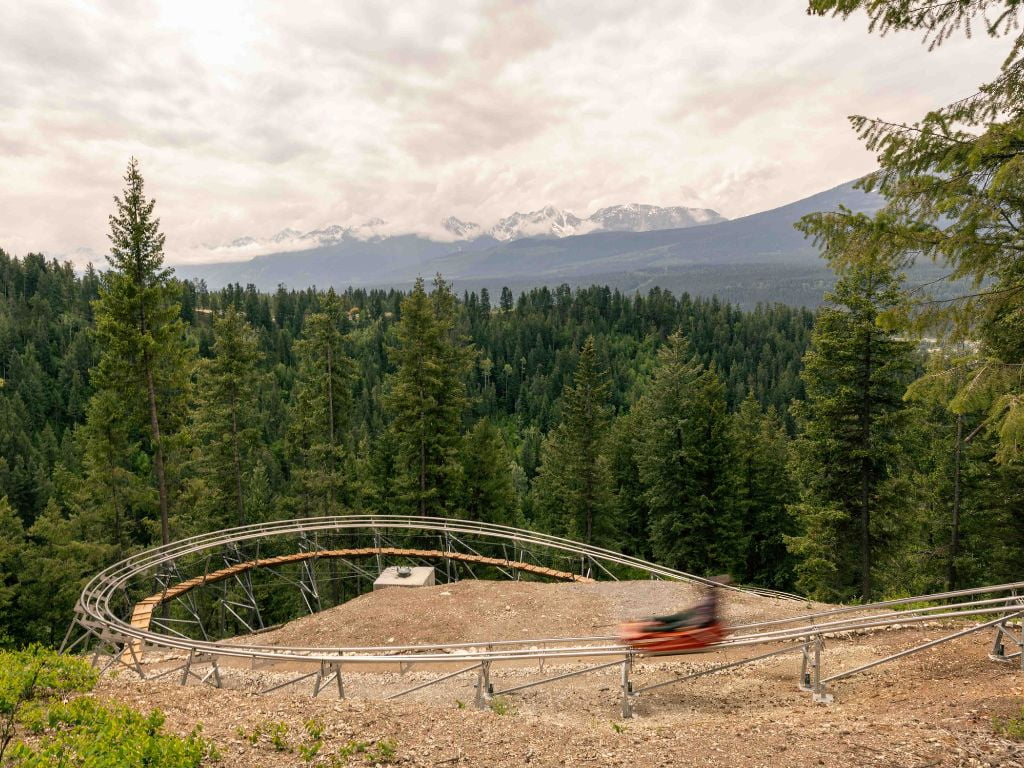 From the Railrider Mountain coaster, the canyon crossing zipline, the rock wall and ropes course, to forest trails, scenic lookouts and dare I saw the best playground I've ever seen, the Golden Skybridge is an adventure mecca and the perfect place to start off your Golden adventures!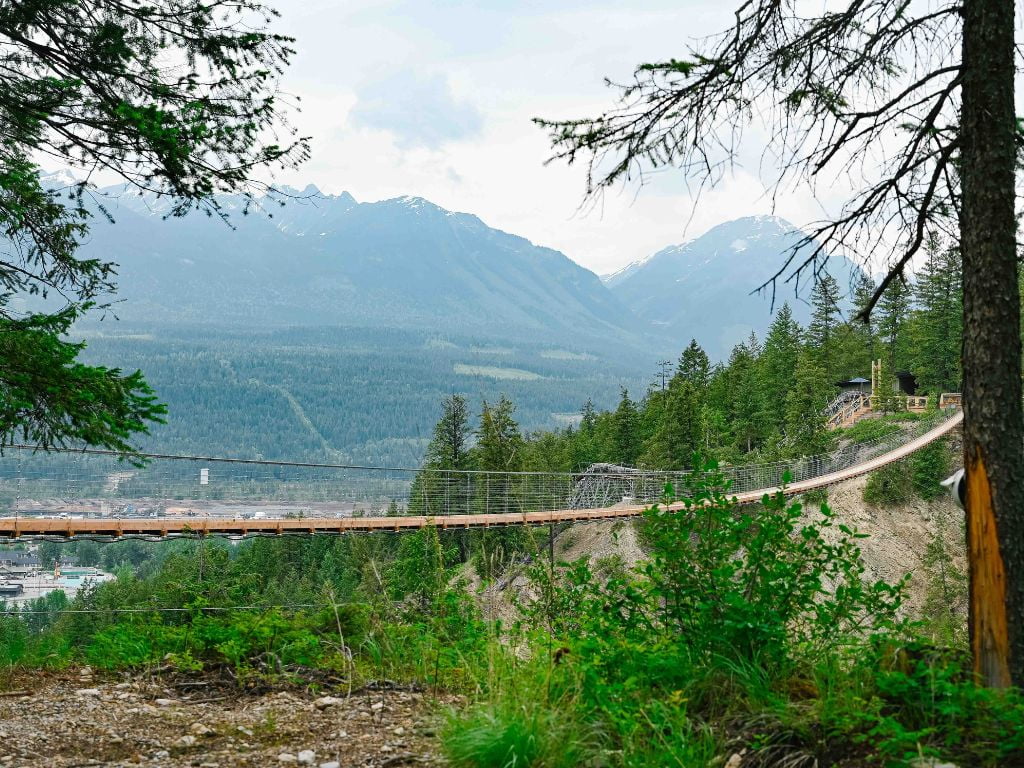 In fact, I loved it so much that I wrote a whole article about it! Check it out for more pictures showing you what to expect and how to plan your own trip there!
Click here to book your admission ticket to Golden Skybridge!
Thank you so much for reading and I hope this helps you in planning the most epic adventure from Banff to Golden! The Canadian Rockies truly are a magical place and there is so much wonder to be explored!
Wishing you an adventure-filled road trip! Be sure to check out these other travel resources and destinations to help you plan the most memorable (and enjoyable) holiday.
---
Be Sure to Check Out These Other Travel Resources & Destinations to Help You Plan the Most Memorable (and enjoyable) Holiday.