"Life is a limited time offer. If you have one, use it. Share it. Don't waste it. There's no warranty. No return policy. Here's a gift for you. The living. A place to pursue the moments that give meaning. The moments of indelible awe.
For life in every form, here was created Banff and Lake Louise. This place is alive. ARE YOU?"
A Photographer's Paradise. National Geographic Worthy. Picture-Perfect Destination.
Every single cliche phrase that has ever been uttered about beautiful places on this planet could easily apply to Banff and Lake Louise. Because this place is truly a world-class destination. One that everyone should experience at least once in their lifetime.
Not only is this region stunning; it is adventure central. A place where visitors can embark on everything from skiing, snowboarding, and snowshoeing, to hot springs, ice caves, gondola rides, tubing, glacier adventures, and so much more. Adventure seekers could easily spend 30 full days here and just scratch the surface on all the great things there is to do.
This picturesque setting mixed with a passion for adventure is what makes Banff and Lake Louise such an iconic Canadian wonderland. A place that will grab your heart, and keep you coming back again and again. And since this area of the iconic Canadian Rockies is only a 2-hour drive west of Calgary, Alberta, it's hard to resist coming back often.
Because here, a classic Canadian winter is always waiting!
Grab a Double-Double and Hit the Road (Where to Go):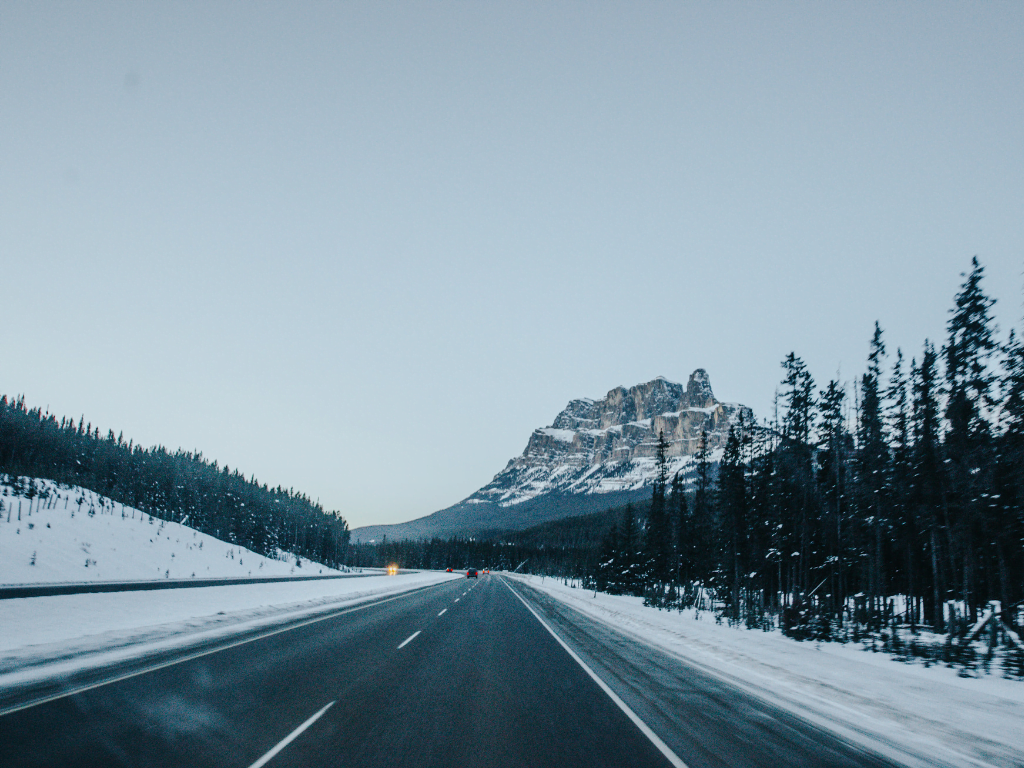 As you hit the road and set your sights on the Canadian Rockies, you'll want to make your way to Banff, which will serve as the basecamp for your classic Canadian winter experience.
Downtown Banff has everything you will possibly need for your experience, from hotels and car rentals to grocery stores, restaurants, guides and more…all within walking distance. From here you'll be able to explore the local mountains during the day and come back at night to enjoy the lively (and delicious) downtown restaurant scene.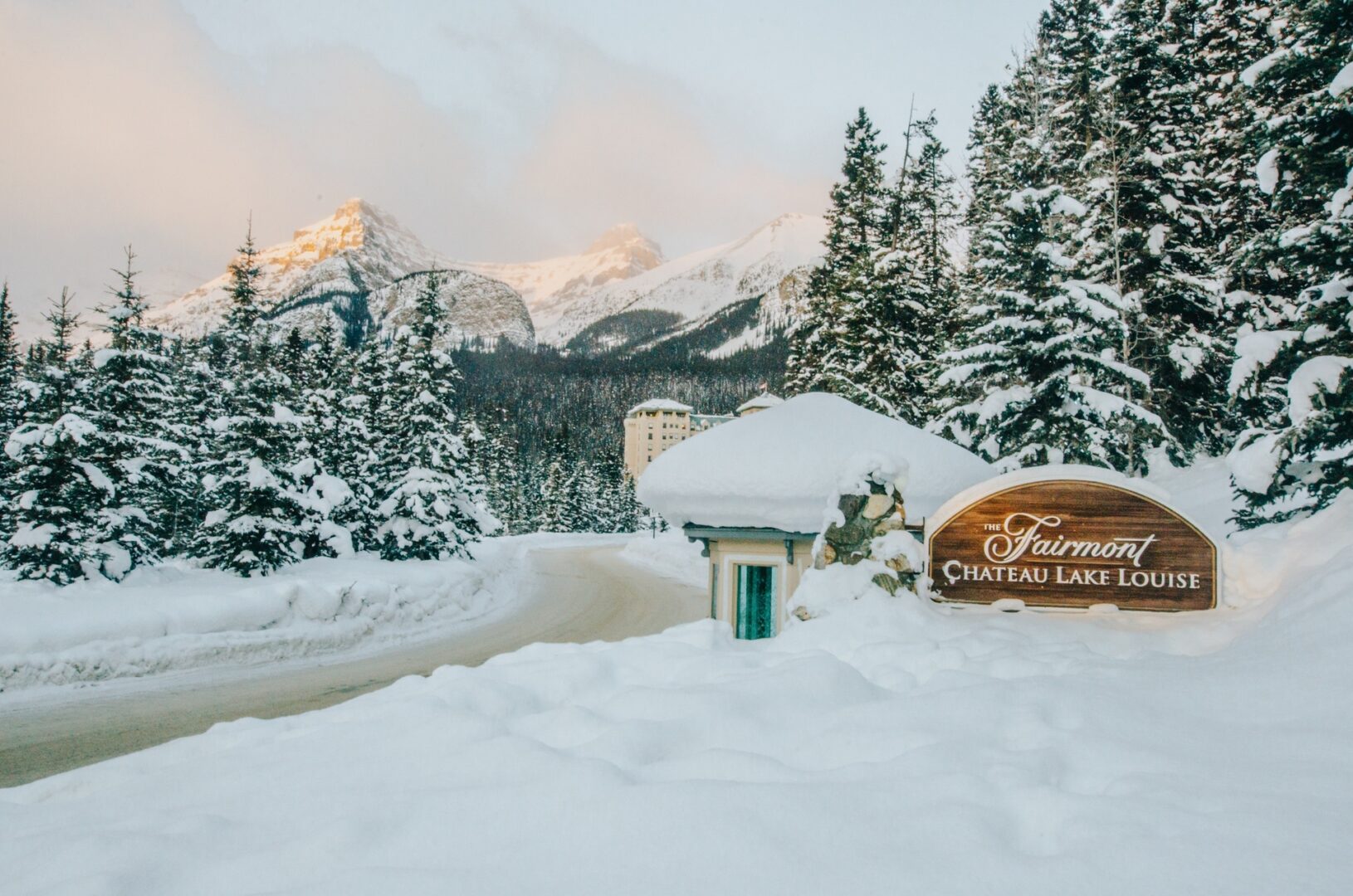 While you could certainly spend your entire trip in Banff, I highly encourage you to pack up your car after a couple of days and take Highway One Northwest for 45 minutes, where you'll find yourself in the remote village of Lake Louise. Here you'll enjoy a 5-star luxury resort hotel, with the most amazing mix of one-in-a-million amenities and one-in-a-million views of Lake Louise.
But don't get too comfortable in your room…a classic Canadian winter full of adventures is waiting just outside your doorstep!
How to Spend Those Loonies and Toonies (What to Do):
Banff Hot Springs
For over a century, locals and visitors alike have come to "take to the waters" at Banff's historic hot springs. And after our visit, it was easy to see why! With its steamy hot mineral waters and majestic alpine surroundings, the Banff Upper Hot Springs was the perfect place for our family to warm our bones after a few days of (cold) fun on the slopes!
Visiting this family-friendly attraction felt like driving up to a European Alpine Retreat, with its restored 1930's Historic Bathhouse, multiple soaking pools and plunge baths, steam rooms, tubs, cafe, outdoor terrace, snack bar and more. Splashing around with the family and taking in the scenery, it was hard to believe we were only 4km away from downtown Banff! But as we were quickly learning, one of the best things about Banff is that everything is super easy to get to – a huge plus for anyone travelling with kids.
Whether it's for a quick soak or a day of relaxation and fun with the kids, a visit to Banff isn't complete without taking a plunge in the historic Upper Hot Springs!
Snowboarding at Sunshine Village
While it's panoramic mountain views make it feel like you're a million miles from civilization (in the best possible way), Sunshine Village is actually a quick 15-minute drive from Downtown Banff. Comprised of three mountains and countless runs for all ages and abilities, Sunshine Village is some of the best skiing and snowboarding you can find anywhere in the world! Sitting right on the continental divide, this family-friendly resort gets some of the most beautiful powder you will ever see – upwards of 9 meters a season!
With 3,300 skiable acres and 12 modern high-speed lifts (including Canada's only heated chairlift), Sunshine Village is the perfect place for your family to experience the classic Canadian winter by shredding the slopes!
If hitting the slopes is the main purpose of your visit, I recommend that you "Ski Big Three", and visit Mt Norquay, Lake Louise, and Sunshine Village all on the same trip. The close proximity to one another makes them easy to reach from Banff, and once you've visited all three resorts you can bring your pass back to Banff and get a special sign to display your accomplishment.
Johnston Canyon
One of the most beautiful displays of nature you'll ever see, groundwater spills out of the rocks at Johnston Canyon, forming breathtaking frozen waterfalls. Beginner hikers and families are welcome to explore the very accessible lower falls trail, while those looking to see the big ice will want to trek up to the higher viewpoint at the upper falls.
Banff Snow Days
Take to the streets of downtown Banff to see some of the coolest (literally) sculptures you'll ever see at the Banff SnowDays Festival! Since 2012, artists from across Canada have come together to show off their snow carving skills in what is a truly magnificent display of vision, talent, execution, science, and art. The 12-day festival coincides with the Lake Louise Ice Magic Festival, generally starting the 3rd week of January. This event is a highlight of the winter season, bringing visitors from around the world to see these amazing displays of Canadian Art (does it get any more Canadian than this?!)
Lake Louise Ice Festival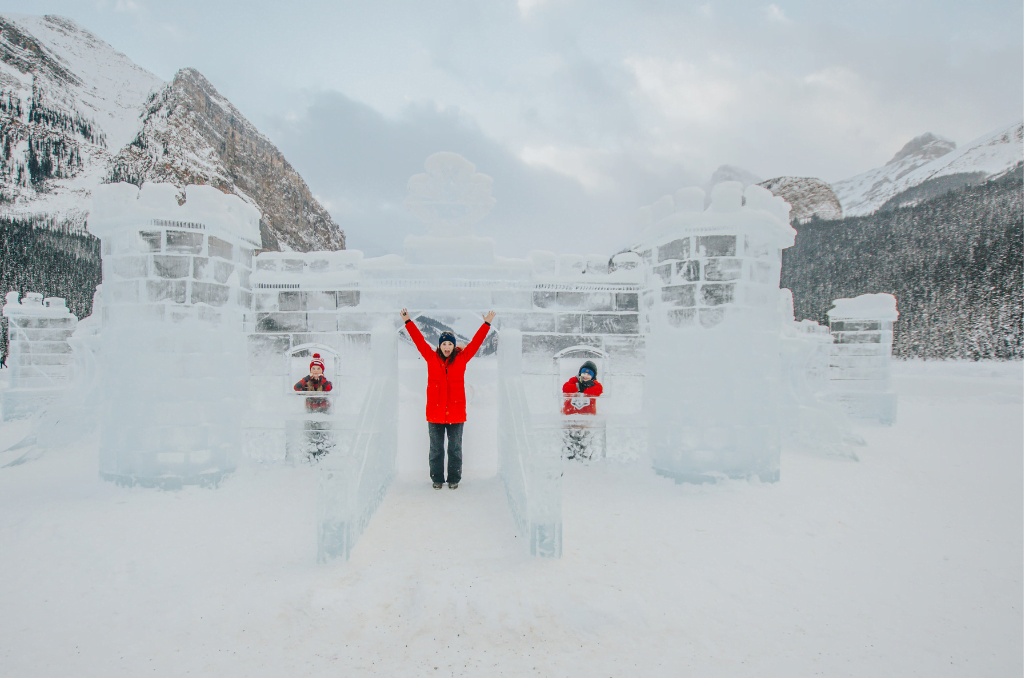 Walking through the doors of the Fairmont Chateau and out to the Lake Louise Ice Magic Festival feels like walking directly into a magical snow globe. From glacier-capped mountains and the world famous Ice Castle to skating, hockey and freshly falling snow, this festival is truly a transformational experience.
Founded in 1984, The Lake Louise Ice Magic Festival has grown from a small ice carving competition to a massive, 12-day festival drawing competitors from around the world. Competing in teams, these talented ice artists are given 34 hours to take 15 blocks of ice and transform them into a winter masterpiece.
The Lake Louise Ice Magic Festival has the power to take your breath away. It's a truly magical experience, filled with wonder and awe, sensational scenery, and the world's most beautiful lake.
Skating on Lake Louise
With Canadians practically coming out of the womb on skates, there's nothing more Canadian than ice skating with the family. But doing it on Lake Louise, with towering mountains looking down on you? Talk about taking an ordinary skating trip and making it something absolutely magical!  
Named one of the "10 Most Beautiful Ice Skating Rinks in the World" by CNN Travel, skating with your family on Lake Louise is a truly transformative experience, and will undoubtedly remain one of your highlights of the journey for many years to come.
Additional Family Fun Adventures
Banff Adventures:

Enjoy complimentary half-day ice skate, ice cleat, or snowshoe rentals to use in and around Banff. 

Eureka Banff:

If your sore ski legs need a break, stretch your mind at this exciting escape room. With two themed rooms and the ability to accommodate groups of two to eight people, you'll be sure to have a blast taking on these immersive puzzles! 

Banff Gondola:

Take in the stunning views from the Sulphur Mountain summit with a ride up the Banff Gondola. With a state-of-the-art informational centre, multiple restaurants, and plenty of great walking paths, you and your family can have a full day of fun atop this mountain. 

Bowling:

If your family is looking to strike up some fun at the lanes while on your trip, Banff has several bowling alleys for you to enjoy, including the "old school" High Rollers located right in downtown Banff.

 

Parks Canada Historic Sites, Museums and Activity Centers

: Take in a part of Banff history with a visit to one of their many museums and cultural centres. From learning about native tribes at the Buffalo Nations Museum to watching thermal waters bubble beneath the surface at the Cave and Basin National Historic Site, there is no shortage of fun, interesting things to see and learn in Banff!

Mt Norquay Tube Park

: Just five minutes from Banff and you'll find yourself at the ultimate adrenaline-filled activity: Mt. Norquay's Tube Park! Featuring eight lanes of tubing fun, you and your family will be screaming, laughing, and grinning from ear to ear with each and every lightning-fast trip down the hill! 
Where to Stay, Eh:
Moose Hotel And Suites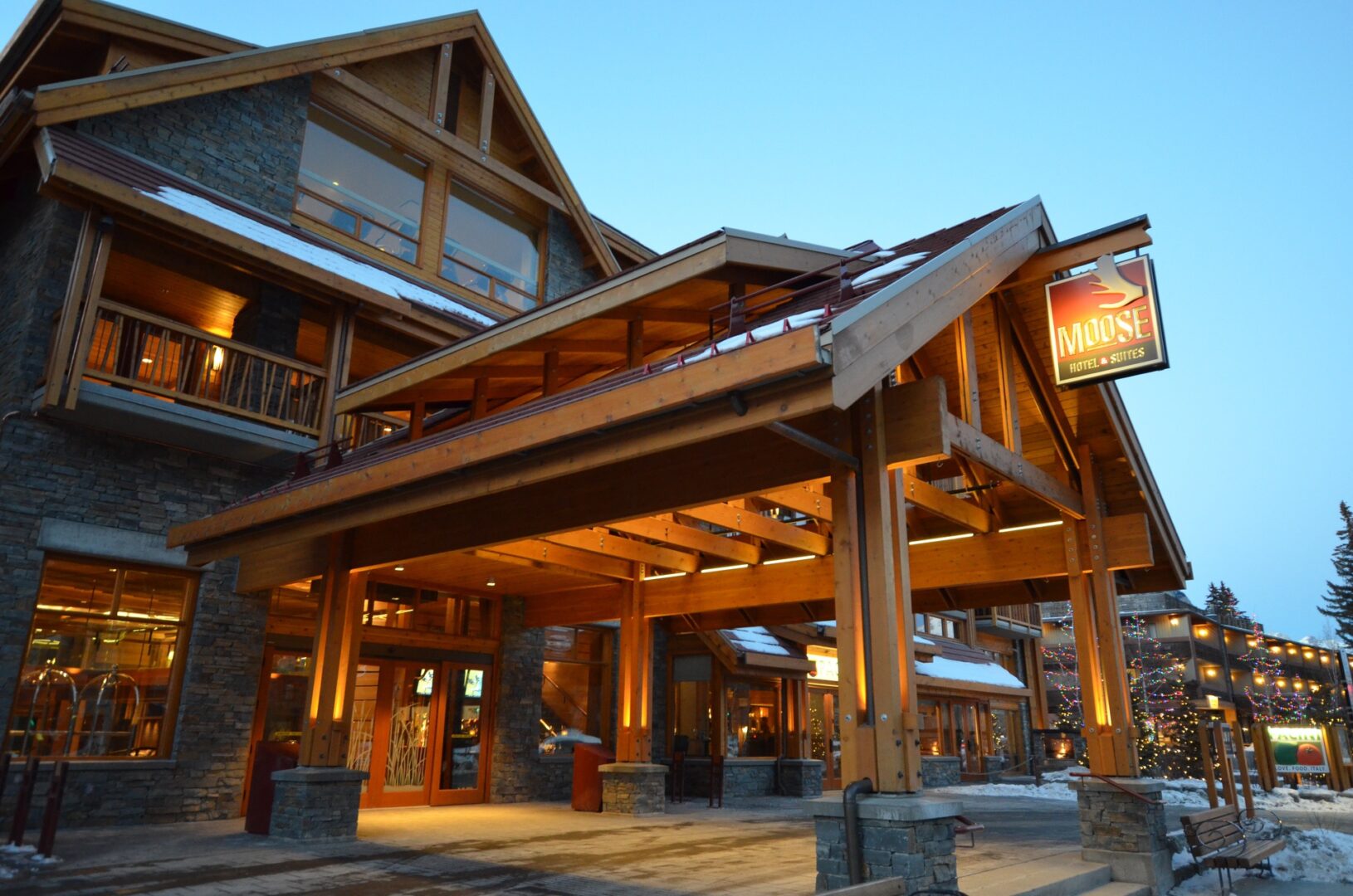 Based in the heart of Banff, this new 4-star hotel property boasts one and two-bedroom suites – each with lots of space and family comforts – and an incredible list of amenities, including two giant rooftop hot tubs overlooking the iconic Mt. Rundle.
With a unique "inside out" design, The Moose Hotel & Suites allows guest rooms to be wrapped by mother nature on all sides, creating beautiful entrances and views from private balconies. Guests are also able to enjoy a world-class spa, exercise room, delicious lobby restaurant, and even an iconic piece of Banff history, all without having to leave the comfort of the hotel. Truly the best of everything!
Fairmont Lake Louise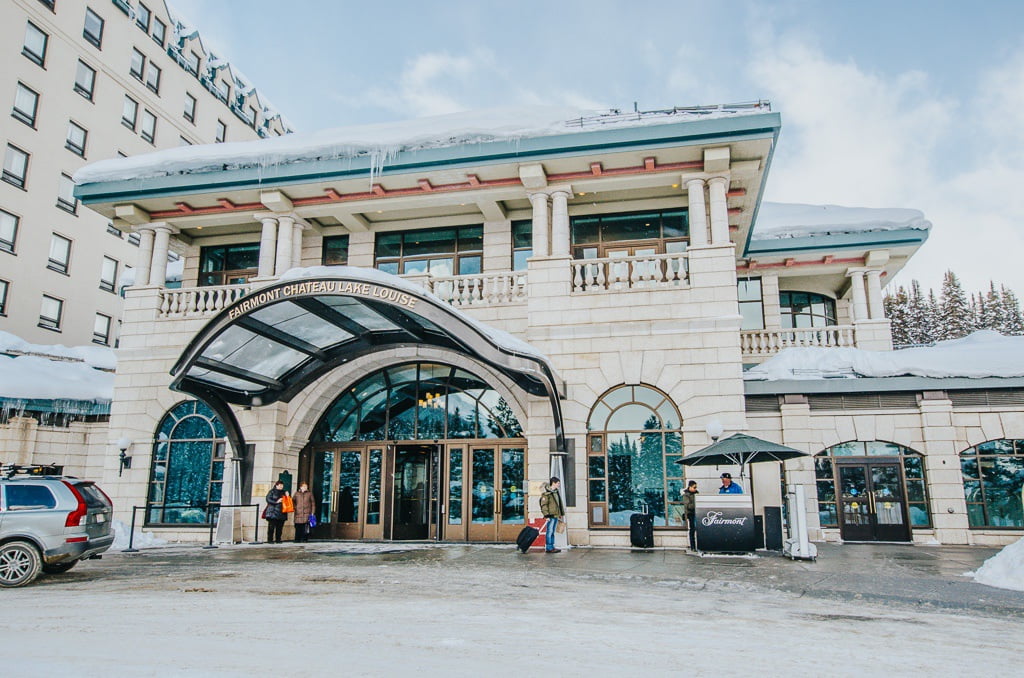 For over 100 years, the Fairmont Chateau Lake Louise has been a once-in-a-lifetime destination, bringing travellers from all around the world to enjoy the luxurious lodging and breathtaking scenery, and serve as a basecamp for the outdoor wonders offered by Banff National Park.
Surrounded by soaring mountain peaks, the majestic Victoria Glacier and a glistening frozen lake, the iconic Fairmont Chateau Lake Louise hotel sits on the hillside like an ancient castle. Located inside a UNESCO World Heritage Site, this luxury resort has a reputation for providing guests with personal, luxurious experiences. While this tradition of exceptional service goes back over 100 years, as a guest you'll feel like you're the Chateau's only visitor, and that your needs – no matter how big or small – are the top priority.
From the amazing rooms, views, and restaurants, to the winter wonderland filled with skating, skiing, snowshoeing, mountain tours and more right outside your door, The Fairmont Chateau is an experience unlike any other.
Pass the Poutine (Where to Eat):
Juniper Bistro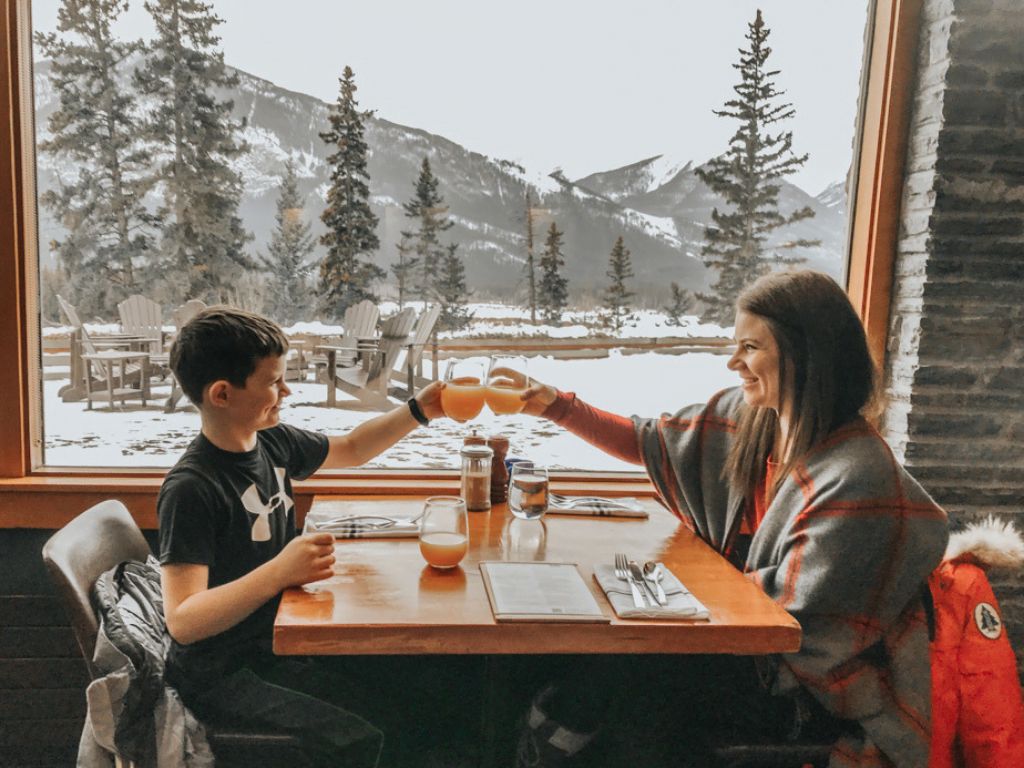 The quintessential Canadian dining experience, this Banff Bistro features 180-degree mountain-filled views that surround you while you dine on an incredible mix of seasonal plates and classic Canadian dishes, including Wild Boar and a Game Duo for Two.
Check Your Canuck Calendar (When to Go):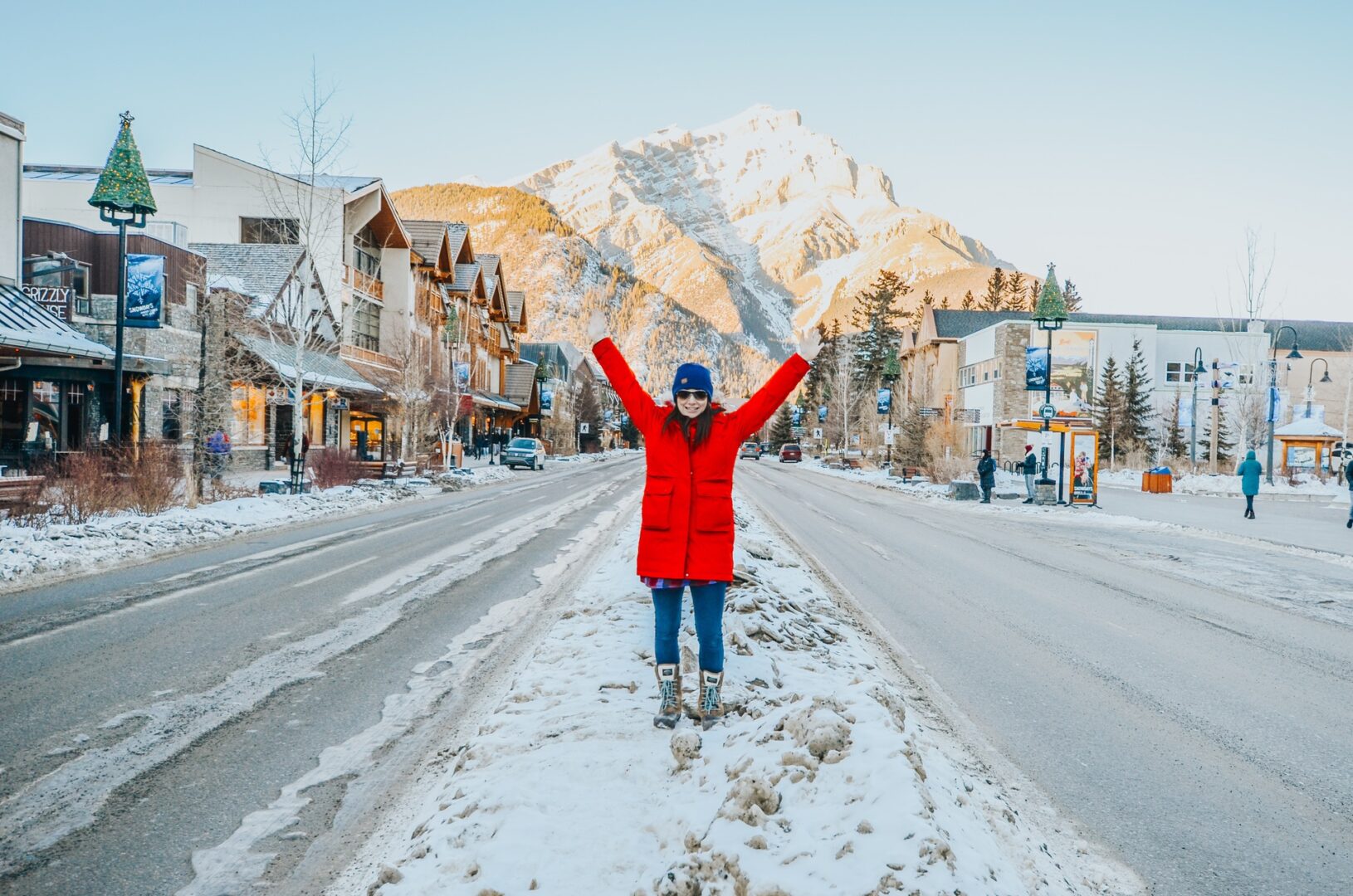 Though it's renowned for world-class skiing, did you know that Banff and Lake Louise are actually more affordable and less busy during the winter months? This means that January to April is the perfect time to pack up the family and take them on a classic Canadian Winter Vacation!
Don't Forget the Toque (What to Pack):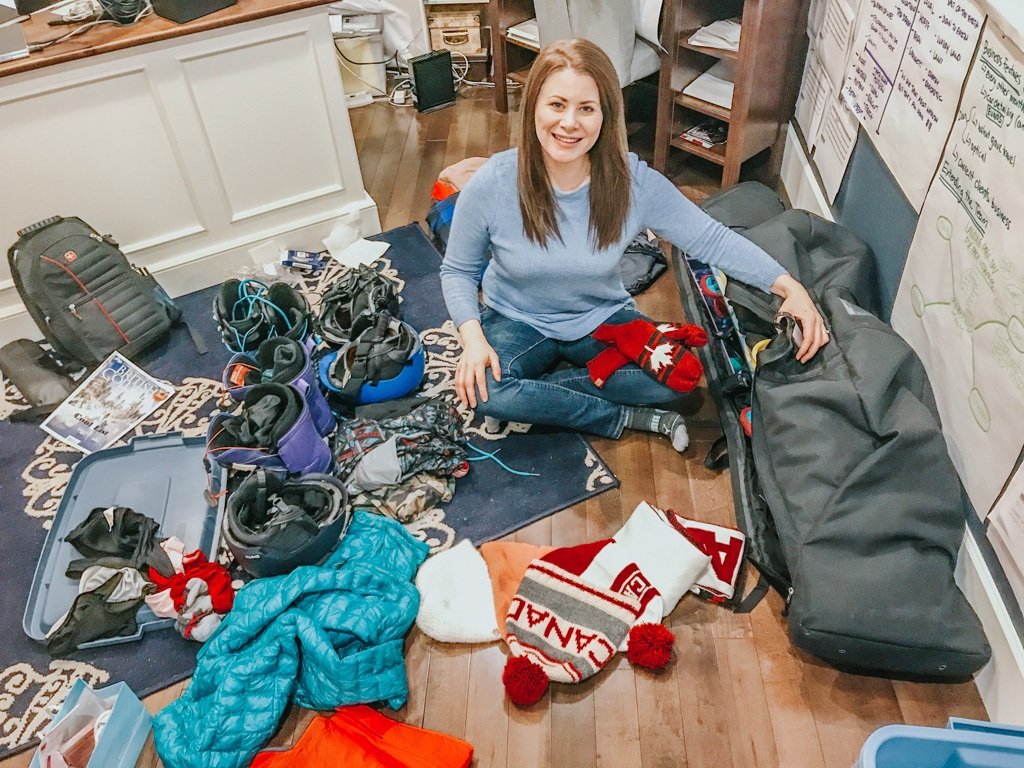 Family + Winter Gear = lots of stuff!
Without a plan, packing for an alpine adventure can be a bit overwhelming. Here are my strategic, "Mom Approved" tips for making winter travel easier on your and your family:
Pack light!

It may seem obvious, but even an experienced packer like me brought too much stuff on our adventures. I recommend fresh underlayers for each day, and re-wearing pants and sweaters to reduce the space needed for packing. For our family, this means one week would require:

4 – 6 pair of underlayers

2 pairs of pants (not jeans or sweats)

1 warm sweater

1 long sleeve shirt

3 short sleeve shirts

1 pair of warm pyjamas

1 jacket & snow pants

5 pairs of socks

2 pairs of snowboarding socks.

Separate Gear Bags from Personal Bags

This way you only need to open up the ones you need in the hotel room.

Stuff Your Stuff

Socks, balaclavas, gloves, and other small items can all fit inside snowboard boots and helmets…capitalize on that usable space!

Weigh Your Bags

Avoid paying extra fees at the airport and make sure your luggage is underweight before you leave the house.

Spending Money

My kids had saved their Christmas money for our trip, which allowed them to do their own shopping and make decisions on how they wanted to spend on adventures and souvenirs throughout our stay.

In the end, our family trip to Banff and Lake Louise was the "Classic Canadian Winter Experience" one dreams about, and one that we'll remember for the rest of our lives. If you've ever thought that you might want to explore the Rockies, I highly recommend you make this spot your destination of choice and take in all the wonders that make this place Canada's Adventure Central.
To learn more, and to plan your own Banff & Lake Louise Adventure, click here.
Here are some articles to help ignite your trip planning to the Rocky Mountains!
Banff Gondola: The Best Views of the Canadian Rockies
Explore Banff National Park by Bus
Recipe for the Perfect Alberta Fishing Trip
Step Above the Ice at the Jasper Glacier Skywalk
Is this a sponsored post?: Yes, but while our Classic Canadian Winter Experience was sponsored, all of our views, thoughts and opinions are our own!