Are you looking for a first-hand Glacier View Lodge Review? As a recent guest, I'm excited to share my experience.
Imagine waking up, with a warm cup of the world's best hot chocolate cuddled in your hands, sitting at the base of the Athabasca Glacier, overlooking its beautiful size and sparkling white surface that leads your eyes right up to the blue sky. Through floor-to-ceiling windows, you can embrace the 180-degree view and while there's lots to take in there's no rush, which is the whole point of staying at the iconic Glacier View Lodge.
Millions of guests will traverse the highway, many stopping to see the glacier, but the only way to truly see it is to be able to take in the whole experience and stay a little longer. As a full-time traveller, I regularly get to enjoy iconic places around Canada and the world, but this was a career highlight for me.
Here's how I spent a full day and full night at the Glacier View Lodge and how you can plan your own ultimate experience.
Disclaimer: While I share my own thoughts and stories about these experiences, should you click on the affiliate links, I may receive a small commission on that sale which helps fund Adventure Awaits.
How to Spend a Day Visiting the Athabasca Glacier and Glacier View Lodge Review
The Athabasca Glacier is one of the most accessible glaciers in the world and welcomes visitors from around the globe every day. Its sheer size surrounded by skyscraping mountains makes it an iconic Canadian Rockies experience. While the glacier is the epicentre of the action there are a lot of other things to see and do in the area, making an overnight stay at the Glacier View Lodge the perfect basecamp for your adventures.
Where To Stay at Columbia Icefield
Glacier View Lodge is the only place to stay at the Columbia Icefield, literally the ONLY place. Other than a few small glamping-style accommodations, the next closest hotels are found in Banff or in Lake Louise, which are both just over an hour away. As a recent guest, I'm going to dive deep and share my Glacier View Lodge review as well as a behind-the-scenes peek at all of the other adventures in the area to explore.
Book your stay at the Glacier View Lodge here!
Glacier View Lodge Review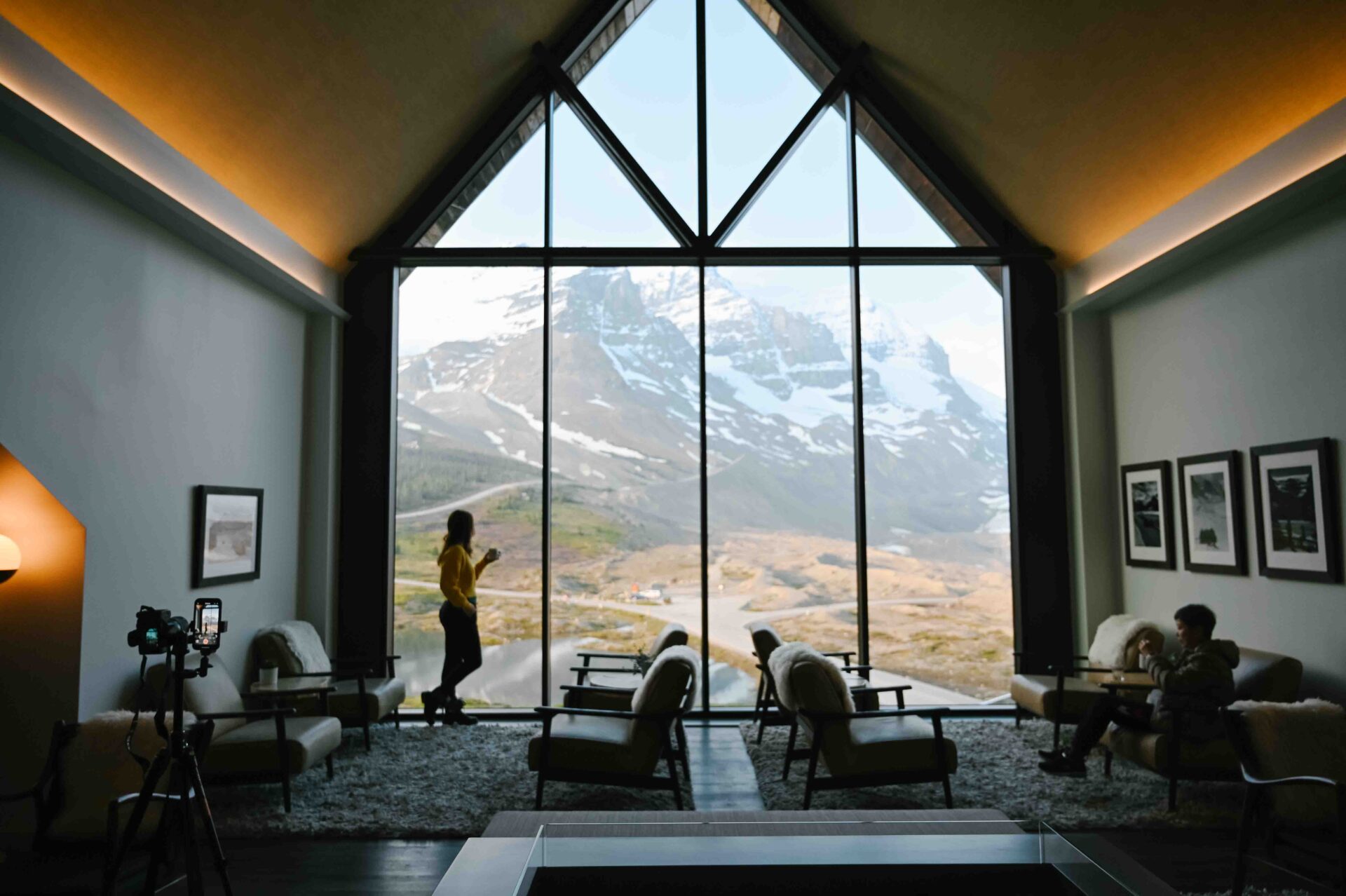 Iconic Canadian, the Glacier View Lodge is a luxury hotel experience nestled into the heart of the Canadian Rockies. As soon as you walk into the main lobby you'll undoubtedly drop your bags and walk over to the huge bay windows that look out over the high alpine onto the Columbia Icefield.
Glacier View Lodge Renovation
Once a Parks Canada facility that would welcome students for field trips, the Glacier View Lodge recently underwent a major renovation, transforming the place from an underused outpost to an adventure centre and boutique luxury hotel. The hotel now has 32 rooms inviting guests from around the world to experience a stay at the base of the Glacier.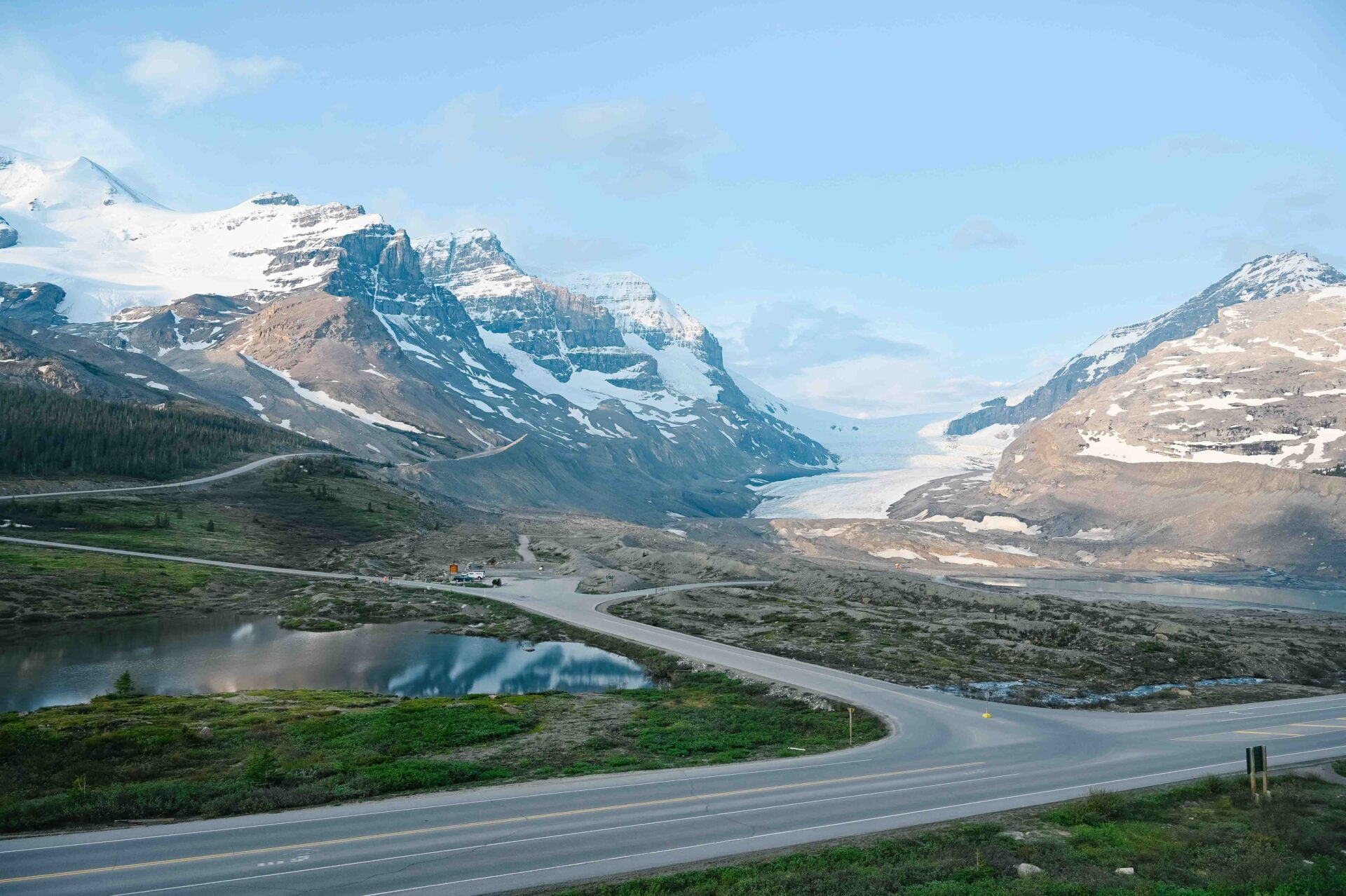 From the moment you step off the elevator, you are surrounded by a sense of awe and a spirit of place, mixing Canadian Wilderness, mother nature, and luxury all into one hosted stay.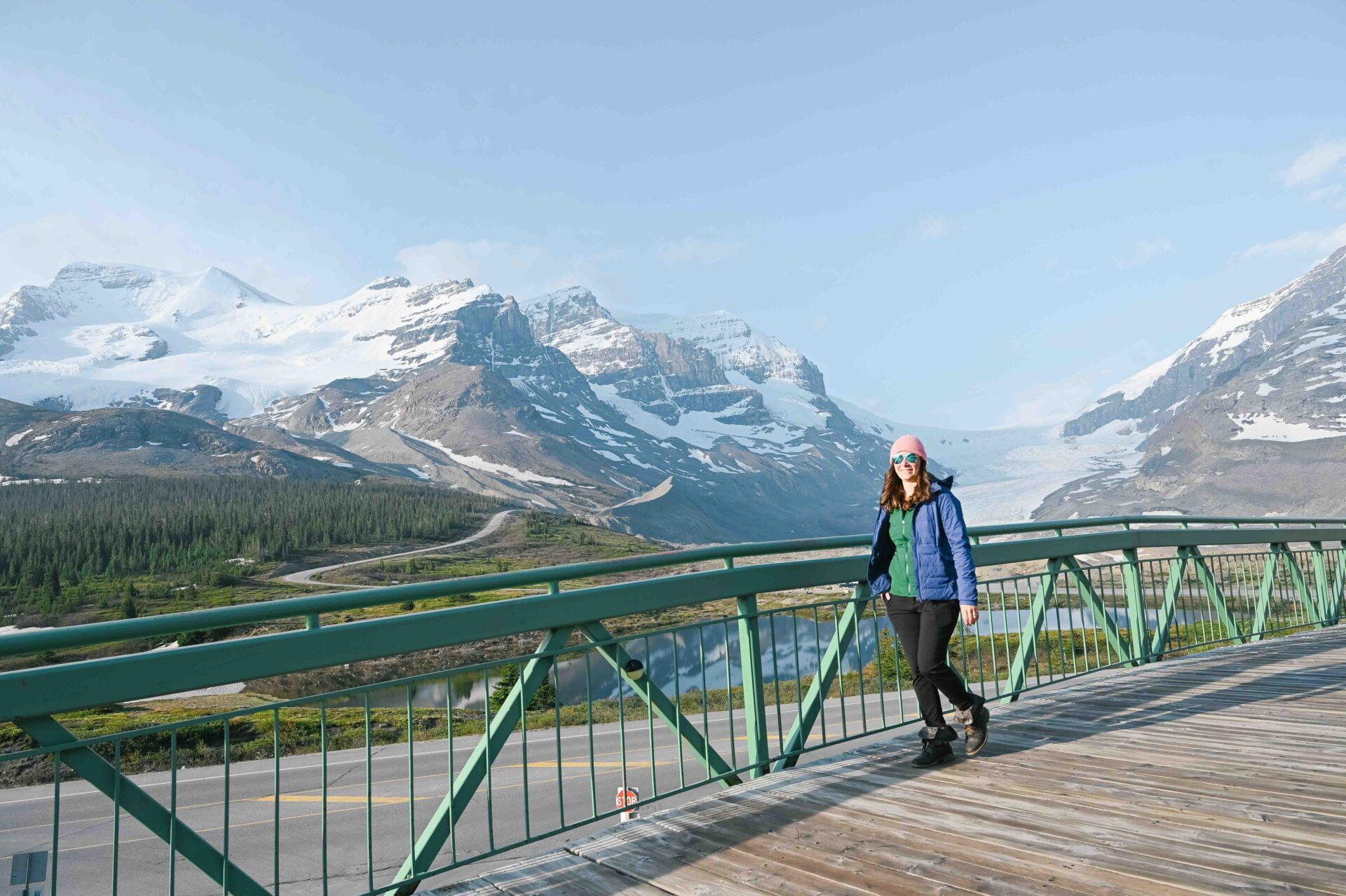 Rooms at Glacier View Lodge
The modern rooms offer comfort and warmth, with your own private windows looking out over the glacier or deep into the forest. I loved curling up in the cozy corner with my book but was distracted in all the right ways by the views outside my window. From watching the sunset over the mountains to watching it start a new day with an incredible sunrise, the rooms are only outdone by the view waiting for you just outside.
Welcome Reception at Glacier View Lodge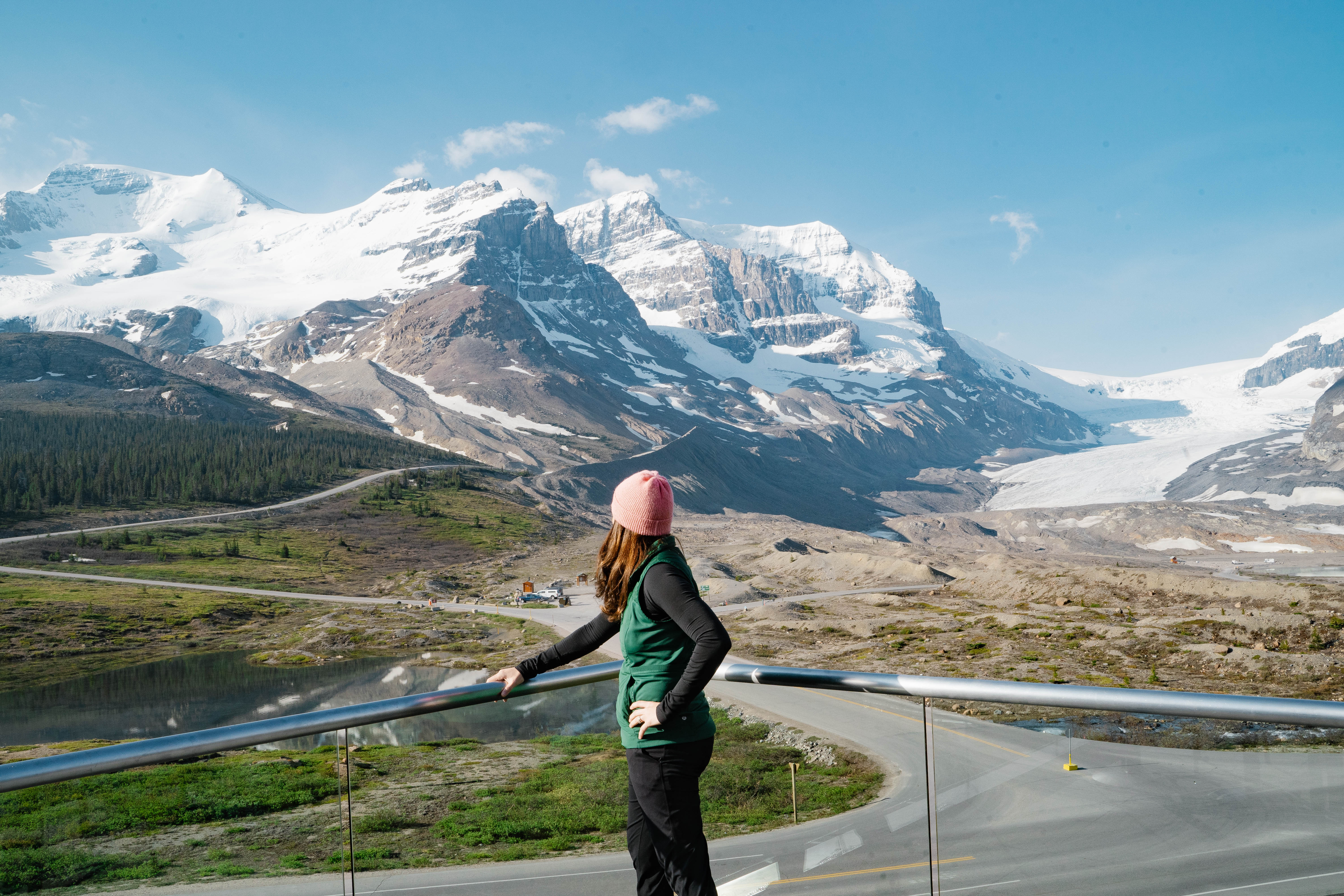 Every evening there is a welcome reception which is a great time to meet in the scenic lobby, meet up with other guests, and take the time to sit and enjoy the majestic icefield.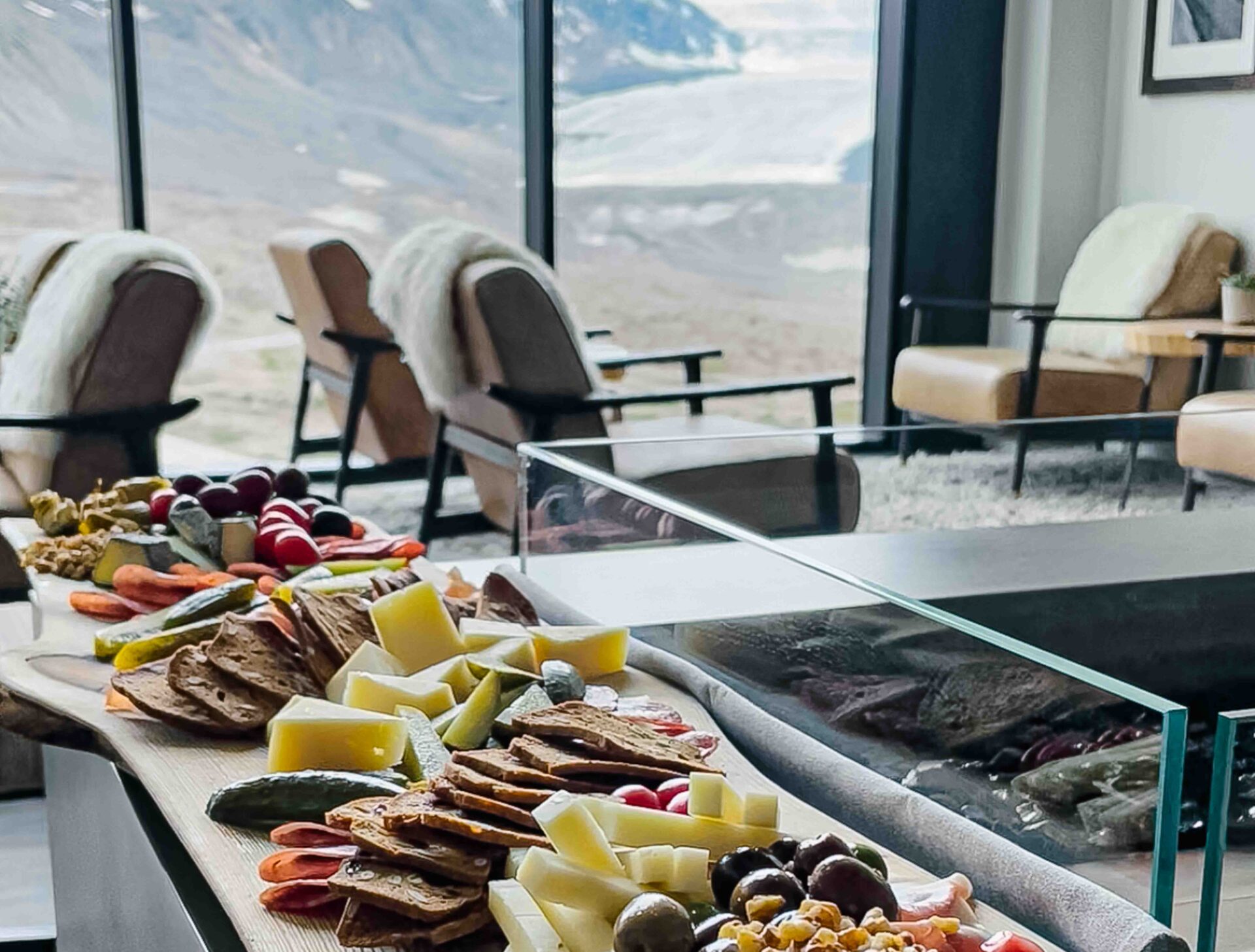 From hosted creative cocktails to large charcuterie boards that were designed to be shared among guests, the welcome reception gives you time to slow down, sip, serve yourself some treats and then indulge in the scenery while visiting with friends new and old.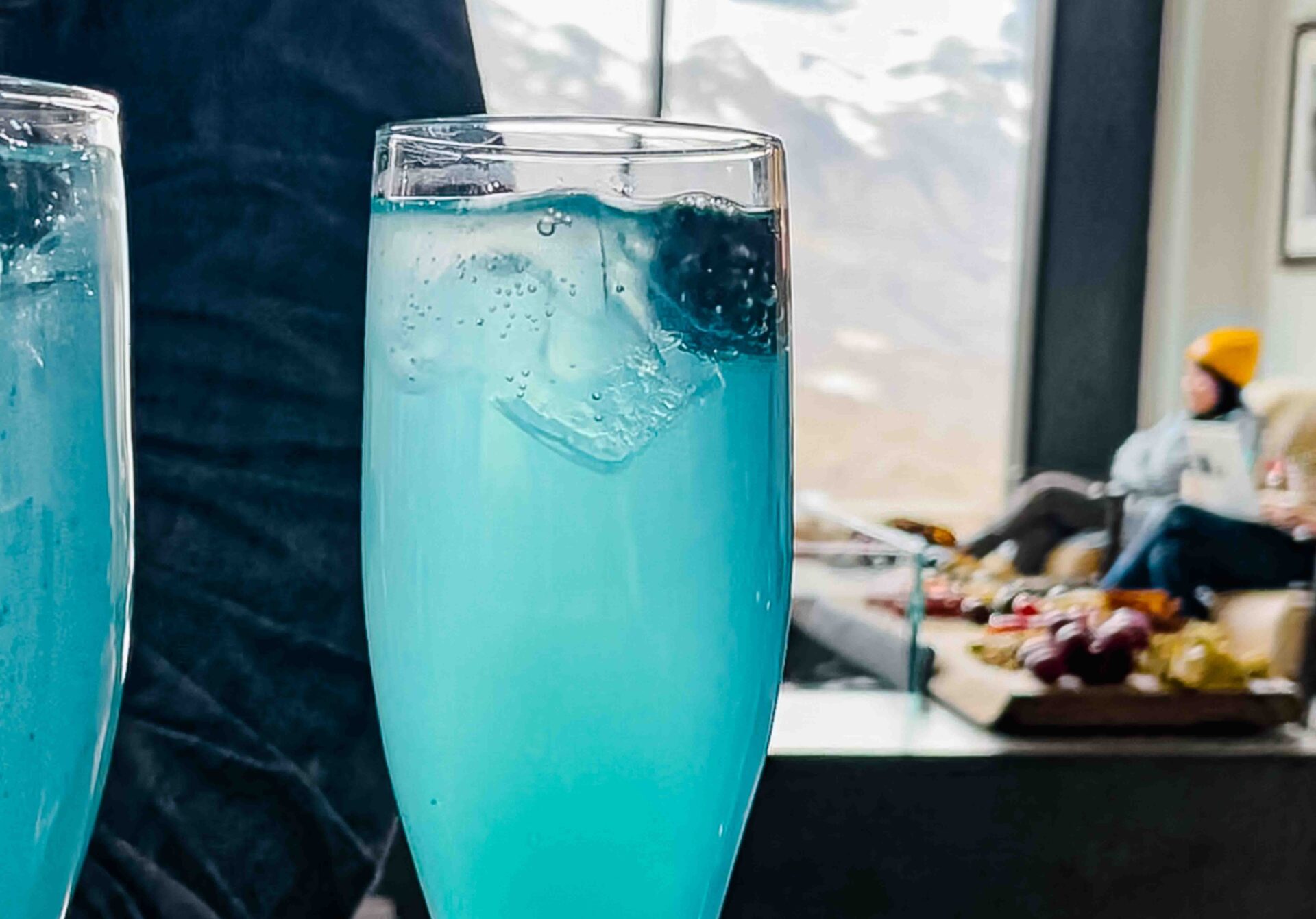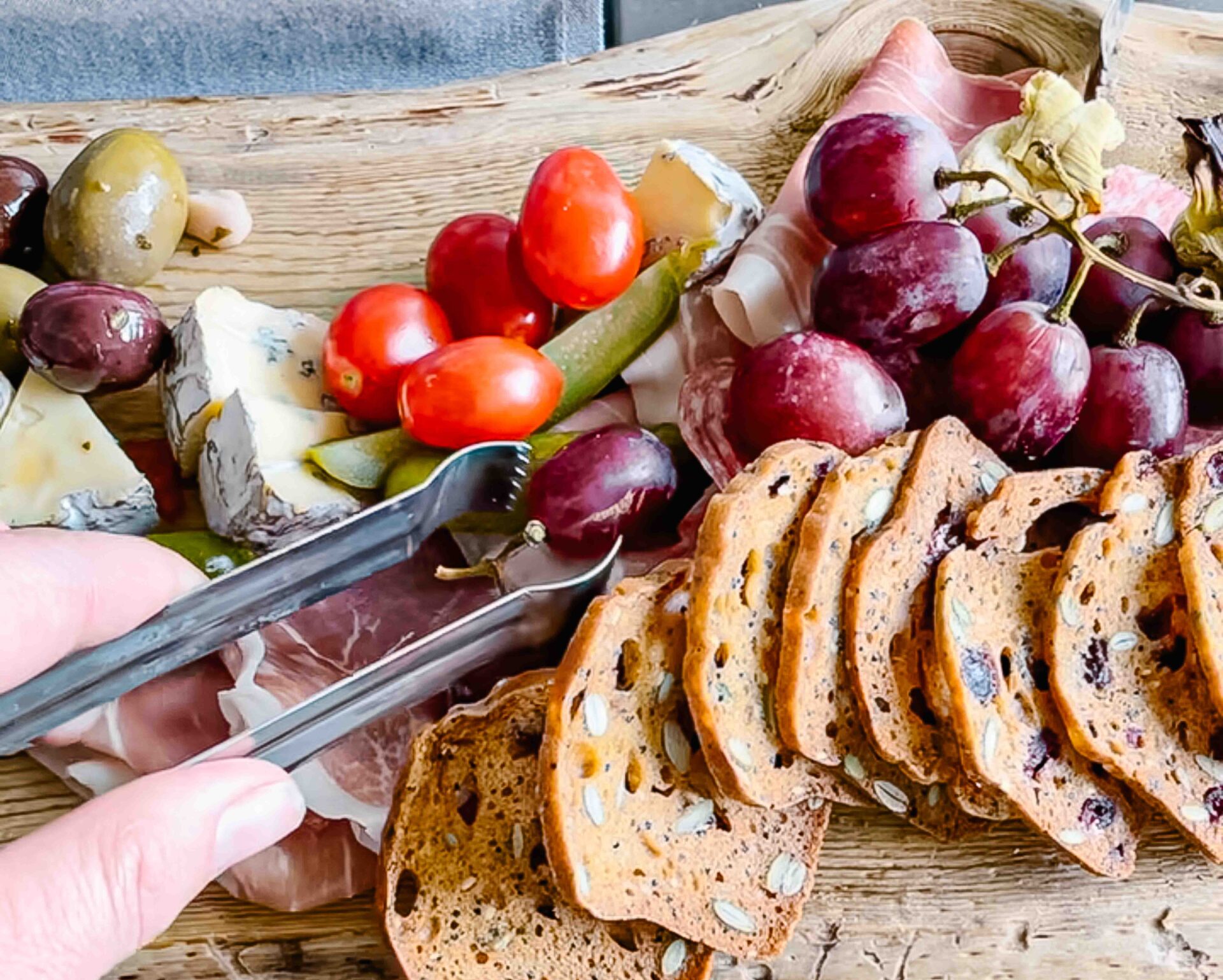 Food At Glacier View Lodge
Altitude Restaurant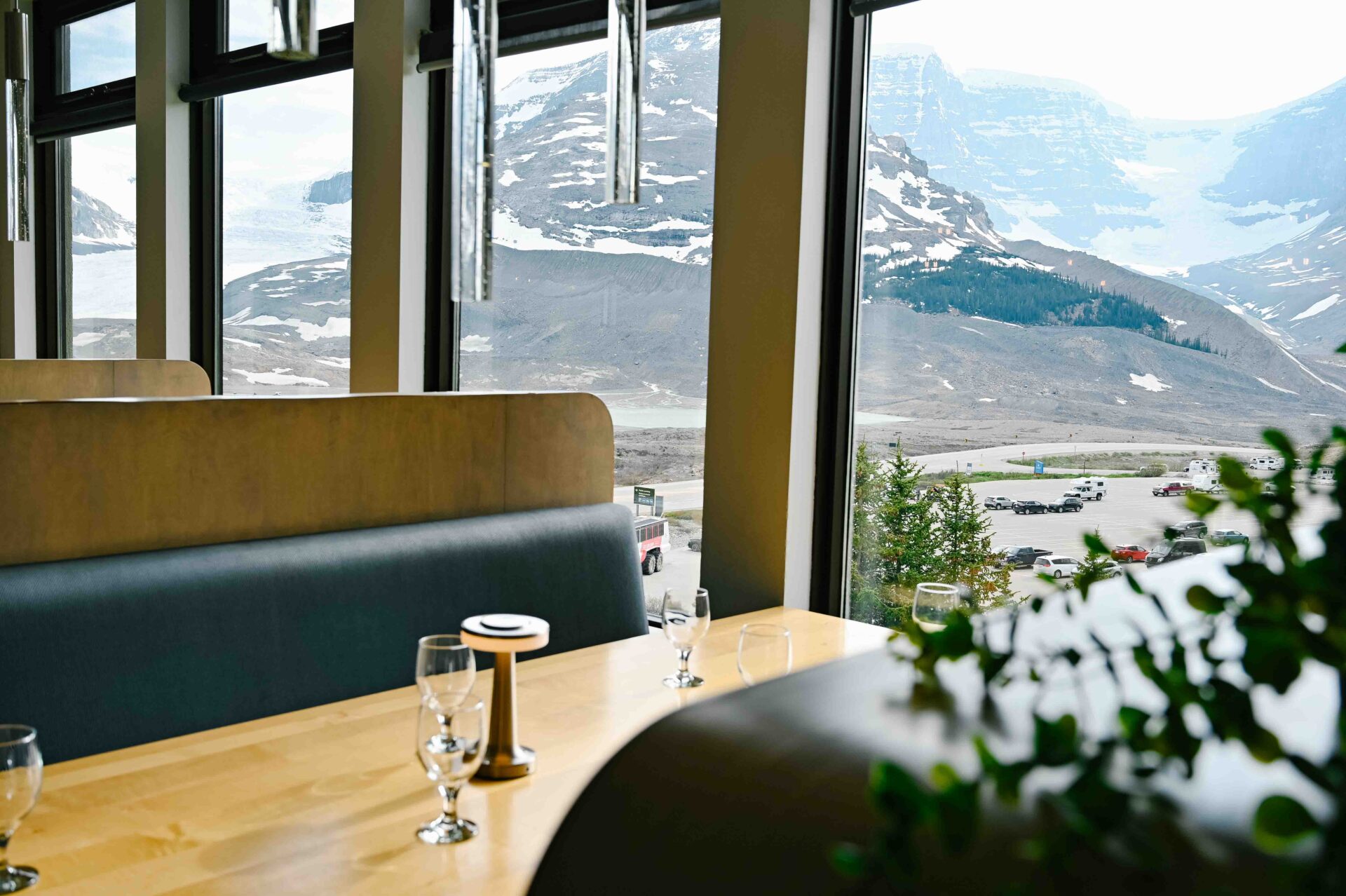 While staying at the Glacier View Lodge, guests get first access to the appropriately named, Altitude Restaurant. With 180-degree views out over the glacier, and picture-perfect food on the table, we were joking about how impossible it was to put our cameras down, and sat with them in our laps ready for the next click!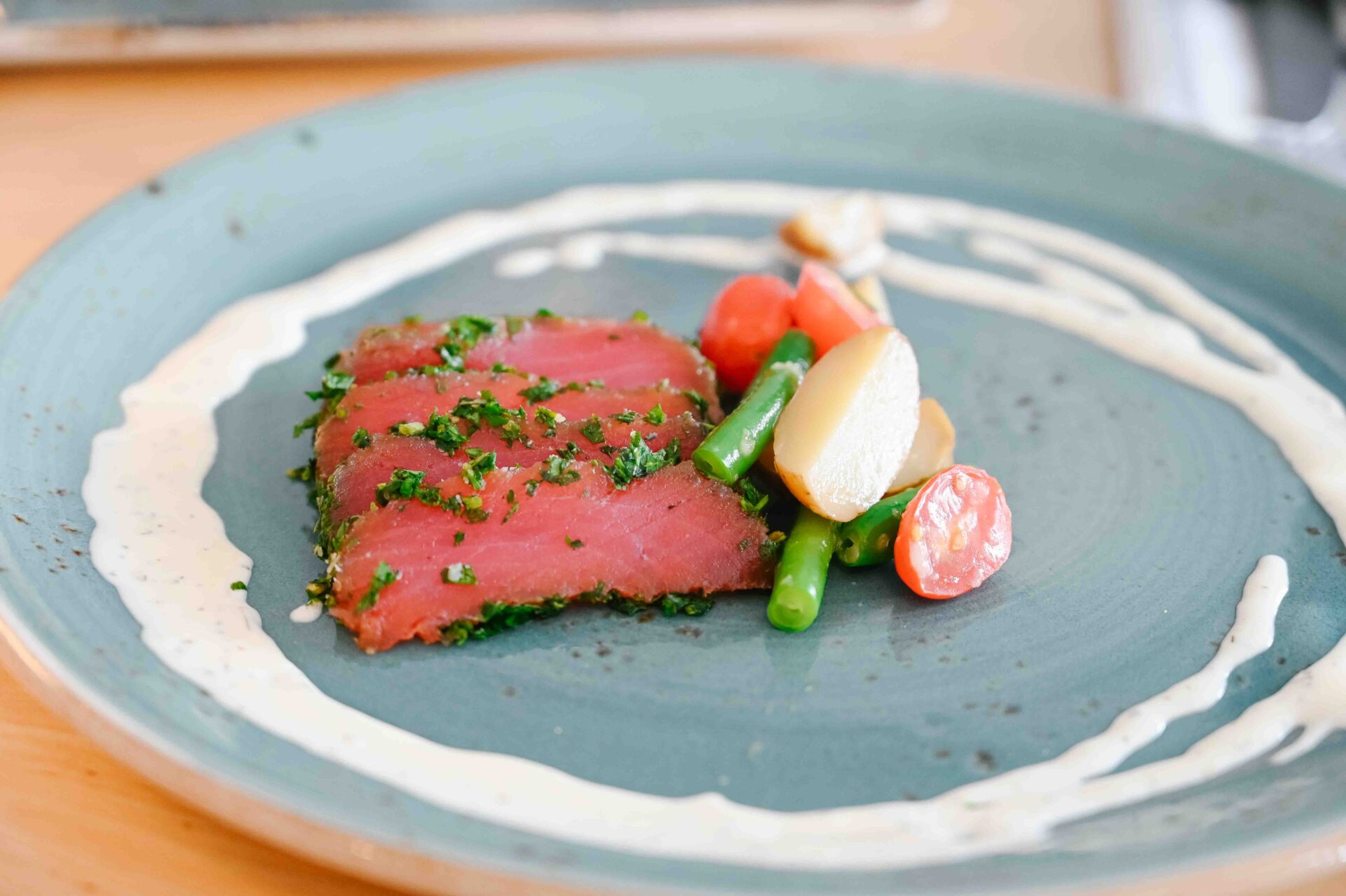 Executive Chef Michael O'Neill has designed a menu that is Canadian-inspired and locally sourced inviting you to start your morning off with a delicious breakfast or wind down after an adventure-filled day with a delectable meal.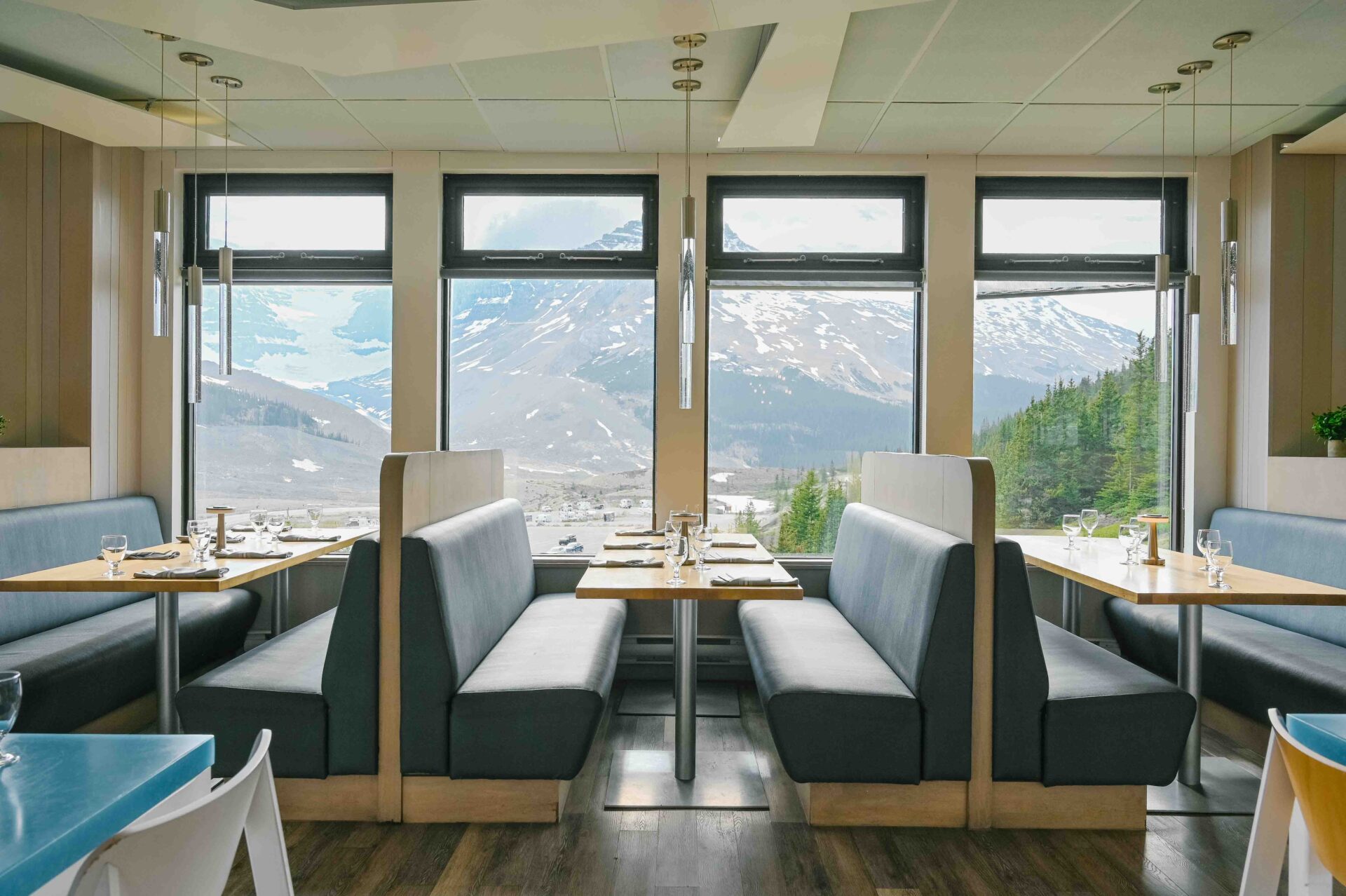 As their website says, "Great Taste, Thrilling Views" and with a booth like this, its easy to see why this restaurant truly is one of Canada's most iconic dining experiences. "Perched Perched at the glacier's edge, offering full table service and sourcing local ingredients, we're proud to feature the highest level of quality and freshness in all our dishes. Delivering wholesome, exciting Canadian dining." Pursuit Collections Website.
Glacier View Lodge Review
Here's what other guests had to say about Glacier View Lodge and their reviews (as well as some of my thoughts):
"The only thing better than the gorgeous view was the staff. From checking in, helping with bags, to making sure we made the tours – they took care of every detail to make guests feel welcome and comfortable. Even the plate of refreshments in our fridge waiting for us after the tour when we weren't able to take some beforehand – truly first class service from the whole team. The staff love what they do – also living in the middle of nowhere not far from the guests – and each pulling multiple duties like a far bigger hotel, but with the intimate experience where everyone knows you and what you like.
Best view in the whole rockies, and best experience for us as well. The living room area with the plush rugs and panoramic windows, with welcoming fire pit and hot drinks. It's everything you want to keep cozy beyond traditional rustic park lodging to modern and sophisticated stay with a touch of class.
Truly the stay of a lifetime. Would happily go back and stay again over and over." -Adonis I.
I concur, the staff at the lodge was really dedicated to crafting the perfect experience for you, and took care of our needs before we even anticipated having them!
"Lovely spot with beautiful rooms and front-row access to the Columbia Icefields. The hotel staff were kind, friendly, and accommodating. They hosted a 5 à 7 in the lounge for guests each day, with free drinks and charcuterie. If you're looking to book a tour of the Icefields or the Skywalk, there's a desk in the hotel for booking tours. Rooms were modern and clean, with lovely amenities." -Katia O.
So many guests like Katia said that they appreciated the 5-7 appies and it definitely was a highlight of my trip as well. Being able to mix and mingle all while soaking in the incredible view made the experience that much more special!
"One of our best stays ever! We loved this hotel, customer service and overall experience! It's absolutely worth it and 5 star in every way! From the lovely comfortable room and glacier views, the gorgeous lobby where you can relax all day, amazing coffee, welcome reception to the staff, everything was perfect! We loved the Rocky Mountain toiletries in our room which was truly amazing after a long drive! Duncan was so helpful, friendly and we really appreciated his service during our stay! All the staff is fabulous and accommodating to make your stay and experience the best they can. We hope we can stay here another time! Worth every bit! Thank you so much to all the staff at glacier view lodge! Until next time :)" -Taarisha K.
I think the best part about this review is "Until next time" of which I couldn't agree more. I know that I will be taking my family back there for a visit and have already recommended it to so many readers!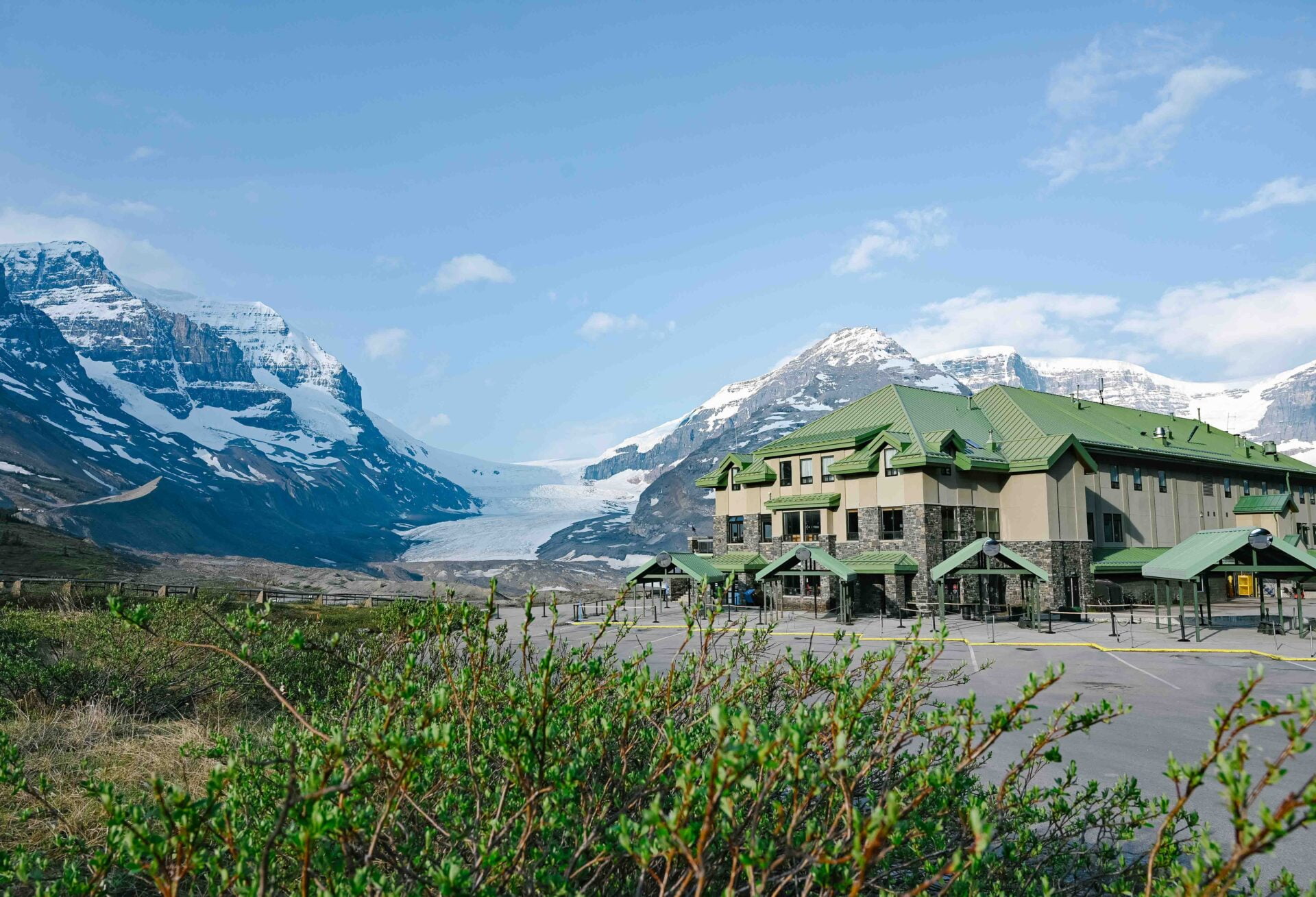 There are two ways that you can plan your stay, room only or room plus guided experience.
Room Only Stays:
Cozy and comfortable guest rooms
Welcome reception
Guest lounge with expansive views over the glacier
Columbia Icefield Guided Experience:
Guided evening tour on the Columbia Icefield Skywalk
Guided Morning Tour on the Athabasca Glacier with hot beverages
Welcome reception
Cozy and comfortable guest rooms
Guest lounge with expansive views over the glacier
Book your stay at Glacier View Lodge here!
What to Do at the Columbia Icefield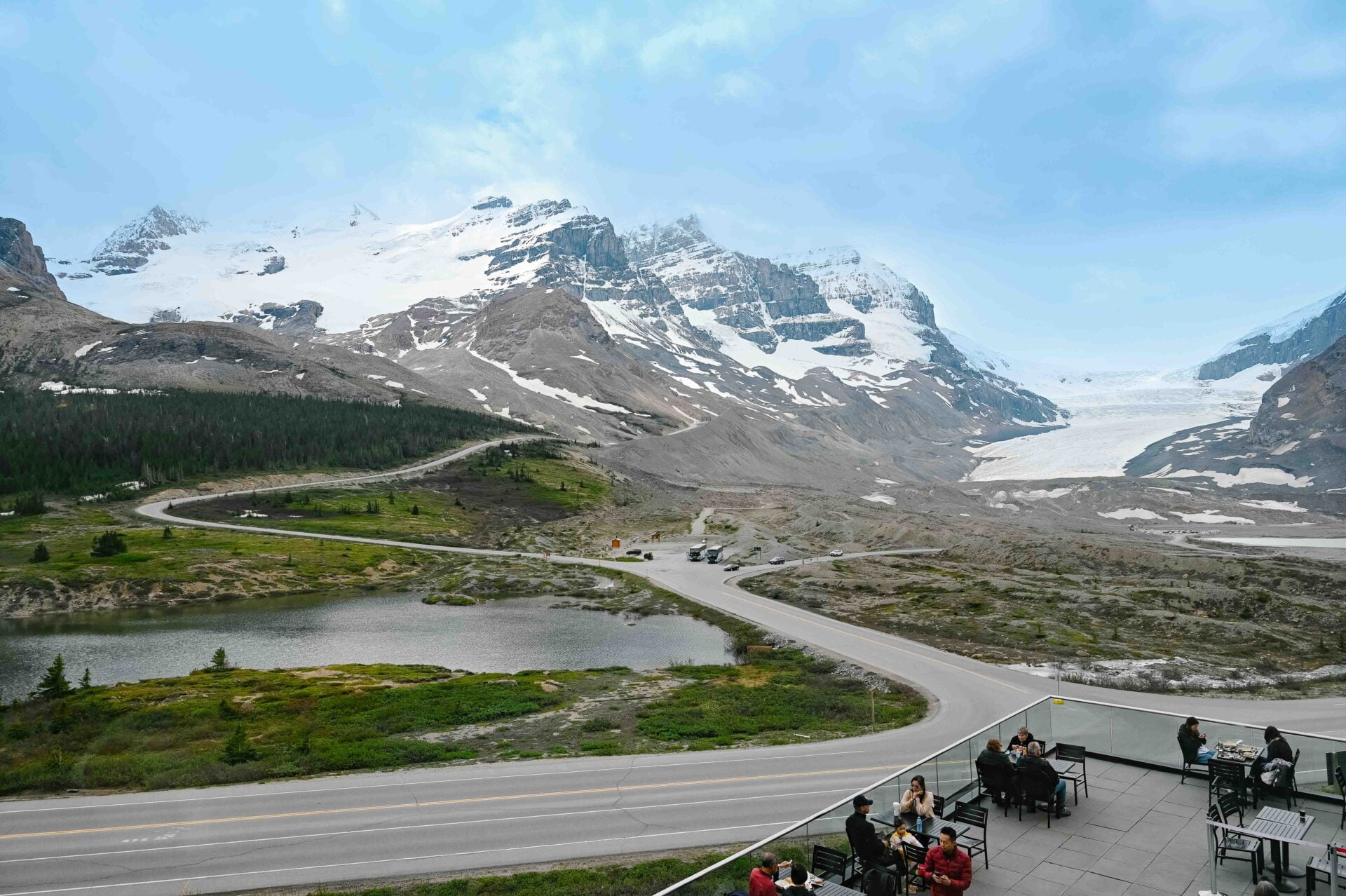 Now that you know where you're staying, here's our list of recommended adventures in the area that are worth exploring!
1. Columbia Icefield Adventure – Athabaska Glacier
The Columbia Icefield is a scared place that is worth taking the time to learn about and one of the best ways to do so is a hosted experience with a local guide. Downstairs from the hotel is an adventure centre that can help you book your guided tour out onto the glacier.
Fun fact: Did you know that 10% of the world is covered in glaciers and that 70% of the world's drinking water comes from these frozen water towers? In fact, these ice water towers supply 25% of all 7.5 billion people on Earth with drinking water. If they all were to melt at the same time our ocean water level would rise by 210 feet, devastating cities and ecosystems worldwide. (Okay the last part isn't so fun, but important to know to understand the role our glaciers play in our ecosystems)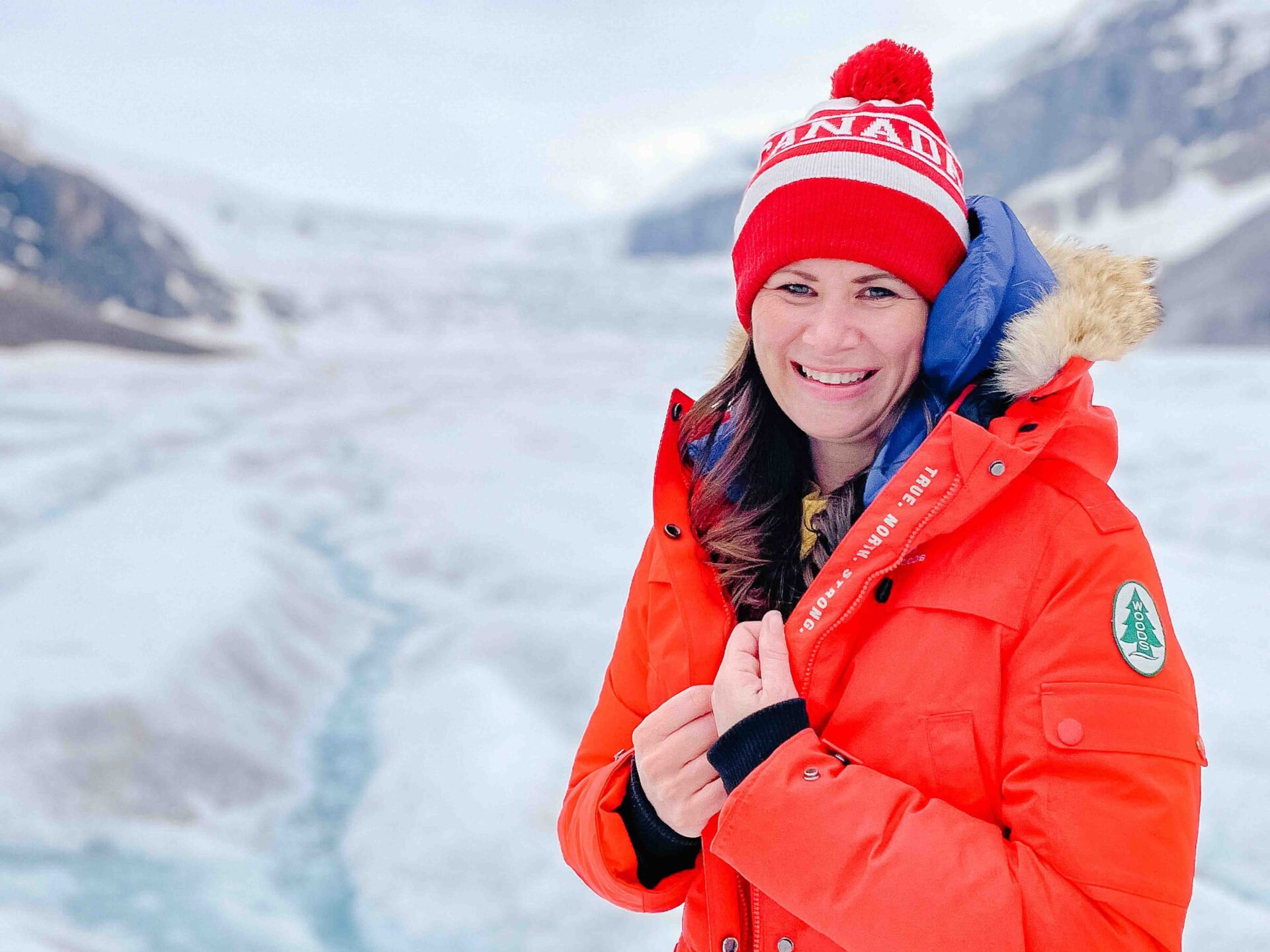 So now that I have your attention, learning about glaciers can be a really cool (see what I did there) and hands-on fun experience. The traditional Indigenous people originally named the Athabasca Glacier "Chawka Tonga", which translates into English as "Big Ice." Colonization brought forth the name change (and I hope someday it gets returned to its original name).
Your journey starts off on the ground floor of the Glacier View Lodge where you'll board a bus and then head up to the icefield.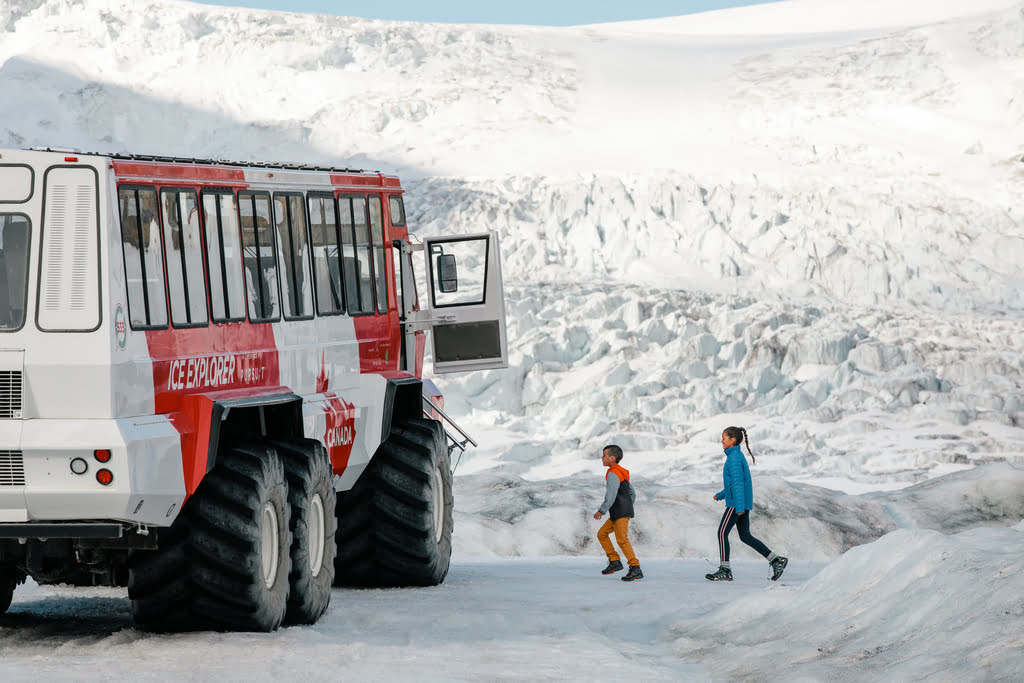 It is here where your group will trade in your bus for an Ice Explorer, one of only 22 in operation worldwide! These 1.3 million dollar (yes, that's not a typo) vehicles will help you navigate the world's steepest commercially used road (at 32% grade). This road was no joke and I felt like I was on the world's slowest roller coaster! After a quick tire washing, you'll head out onto the glacier.
Once on solid ice you can feel the cool glacier water, pose for photos with the Canadian flag, or just sit back and marvel at how tiny your footprint is on this massive glacier. It is hard to see firsthand the effects of global warming and how much the glacier changes each year. It is currently receding at 5 meters or 16 feet per year, giving us a reminder of how we need to protect our earth and do what we can to reduce our carbon footprint.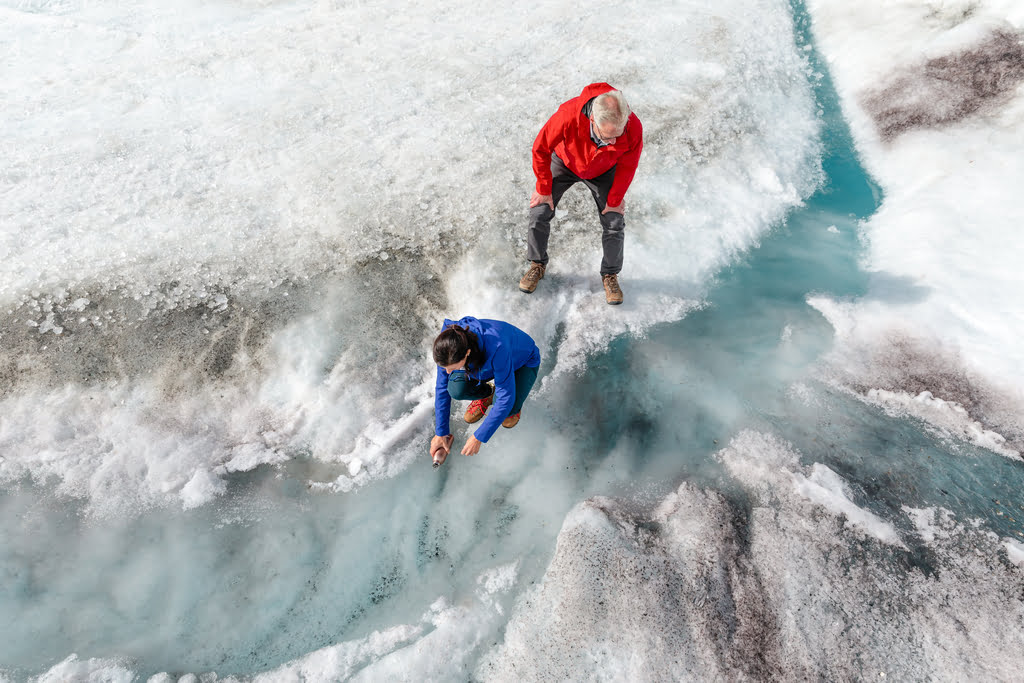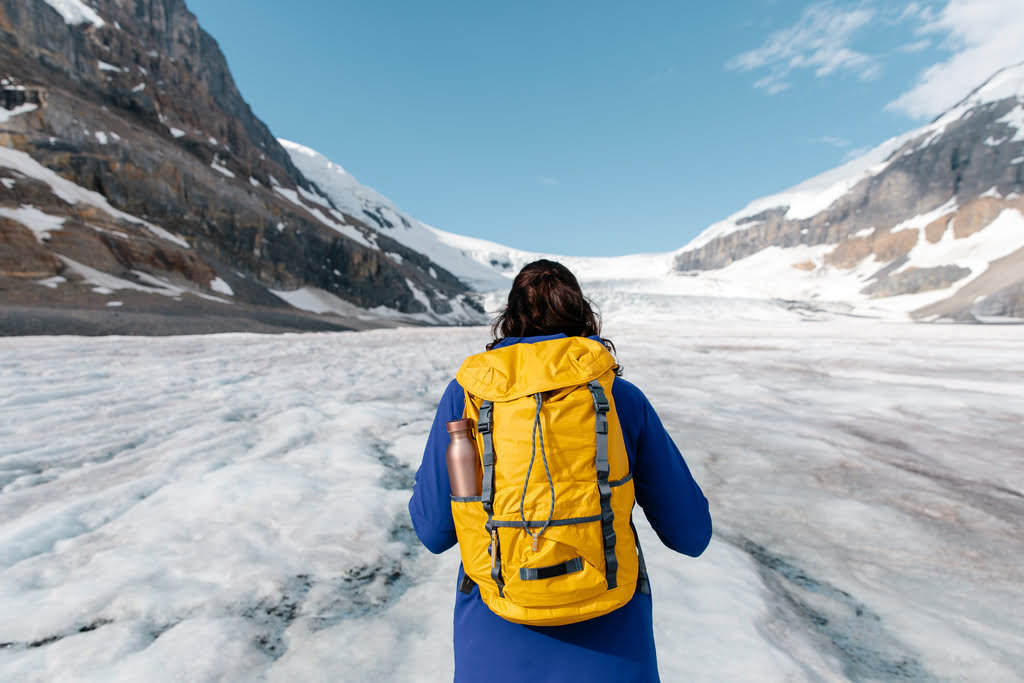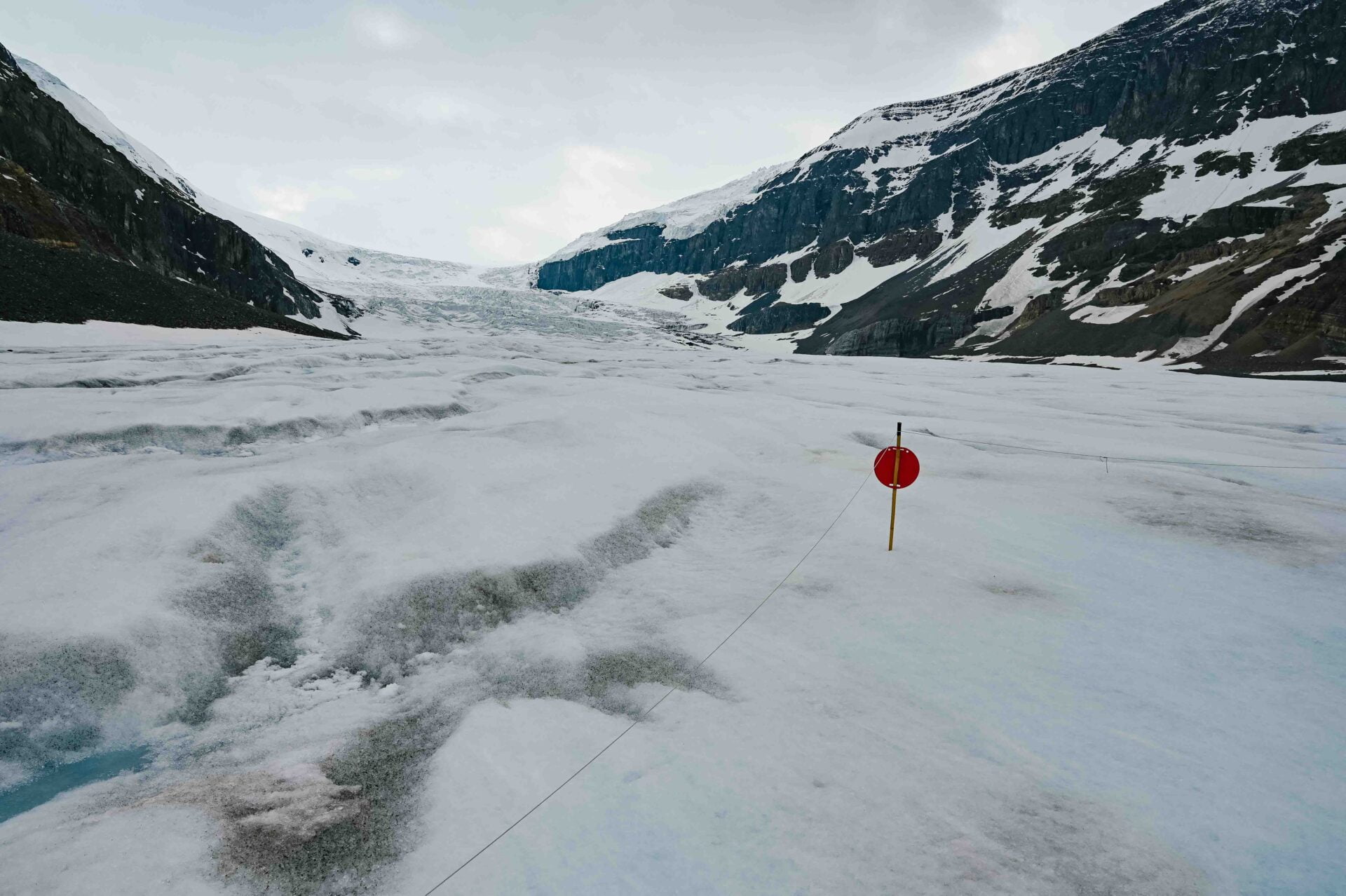 Pursuit Collection owns the Columbia Icefield Adventure and they are actively working towards reducing their carbon footprint by investing in Greenstep certification as well as working towards the first-ever electric ice explorer which they hope to launch in the next two years. I sure hope to be one of the first ones to see that e-ice explorer in action!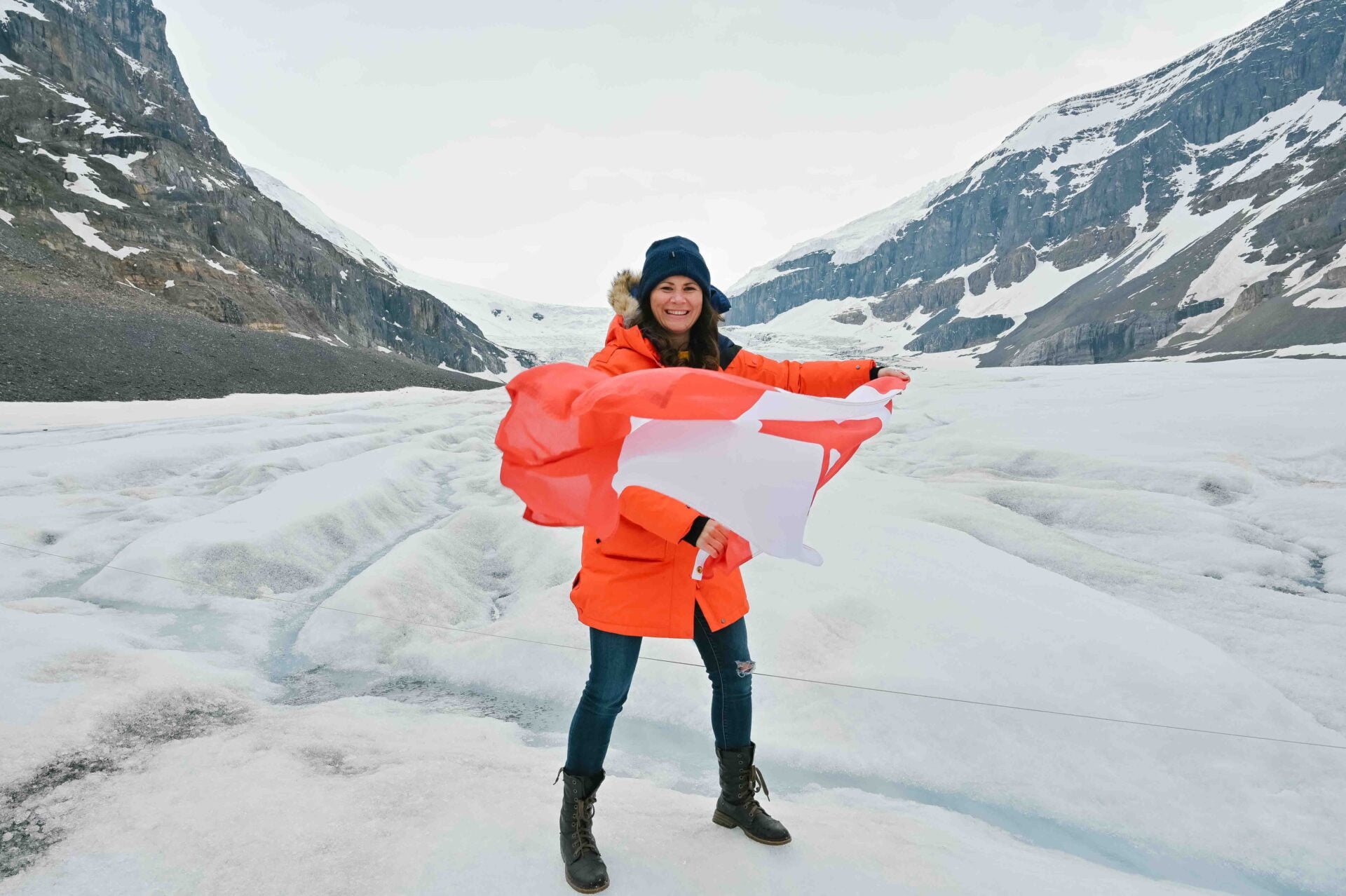 Special "Ishnish" or thank you to our Tour Guide, Rocco for sharing his wisdom as well as his passion for protecting this sacred region for the future. His passion for respecting the Indigenous history and for passing on their lessons (with their permission) is an integral part of understanding the history and how we can protect the glaciers for future generations.
2. Columbia Icefield Skywalk
Whether you choose to do a back-to-back adventure or head out on separate trips, you can plan an itinerary that works best for you right from the ground floor of the Glacier View lodge. On my tour we opted to do our experiences back to back, going straight from the glacier and being picked up by bus and going to the skywalk.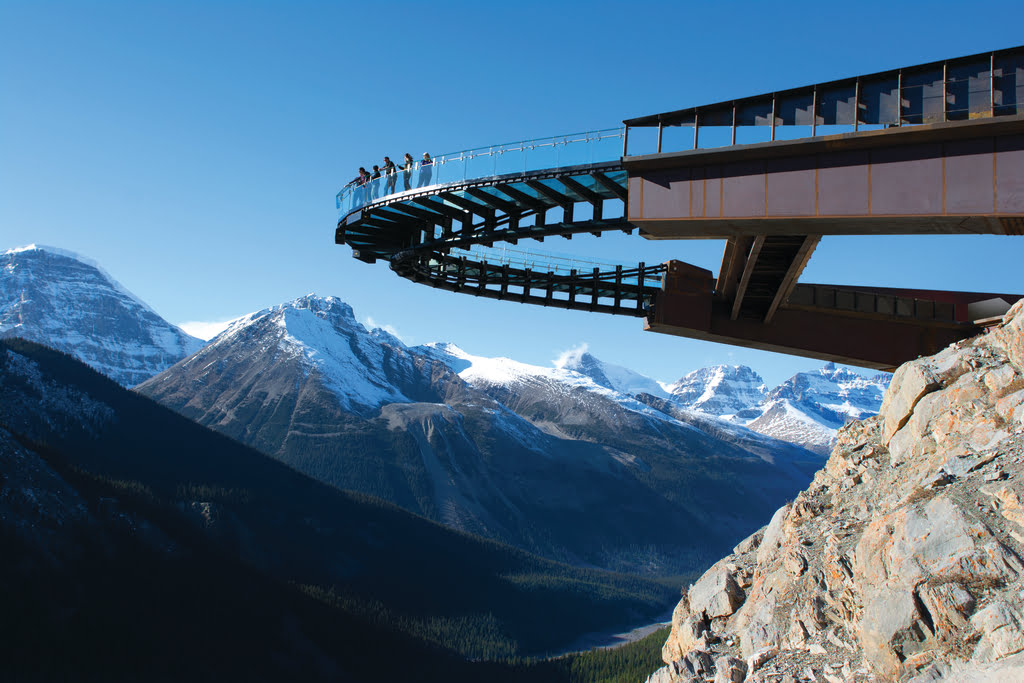 "Be surrounded by the stunning mountain and glacier vistas of the Sunwapta Valley from the Columbia Icefield Skywalk, 918 feet above the ground." After walking alongside the canyon you'll be invited out onto a glass bottom skywalk, where you can have a 360-degree view all around you, including an almost 1000-foot drop below your feet!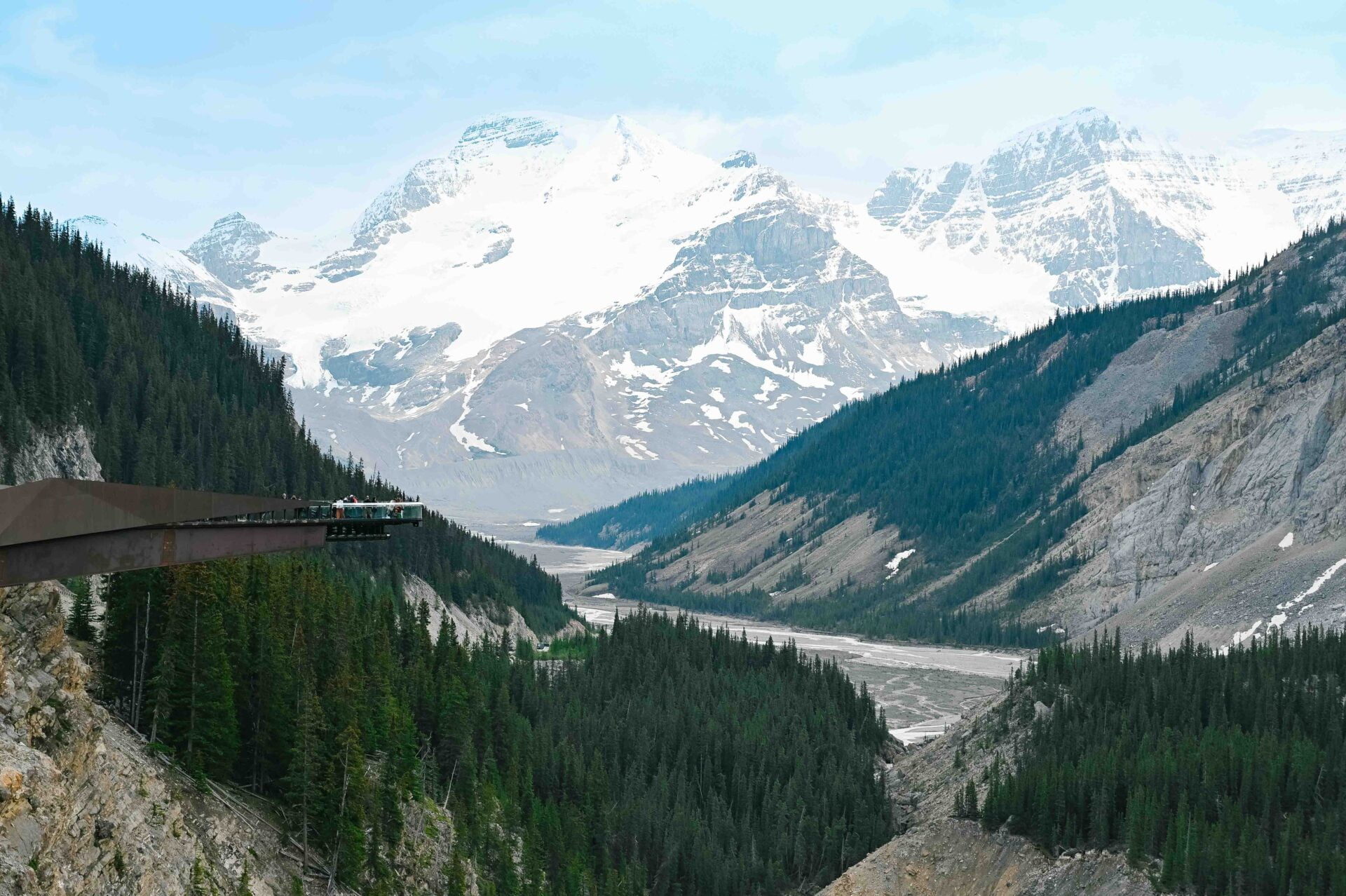 Peeking out over the valley is an architectural masterpiece that blends into the scenery as not to overtake from the natural beauty that it is surrounded by. If you're into the views but not looking to go out on the glass bottom skywalk there are a lot of viewing platforms on solid ground! (We saw some pretty funny faces from visitors who weren't too fond of heights but were challenging themselves to head out and explore!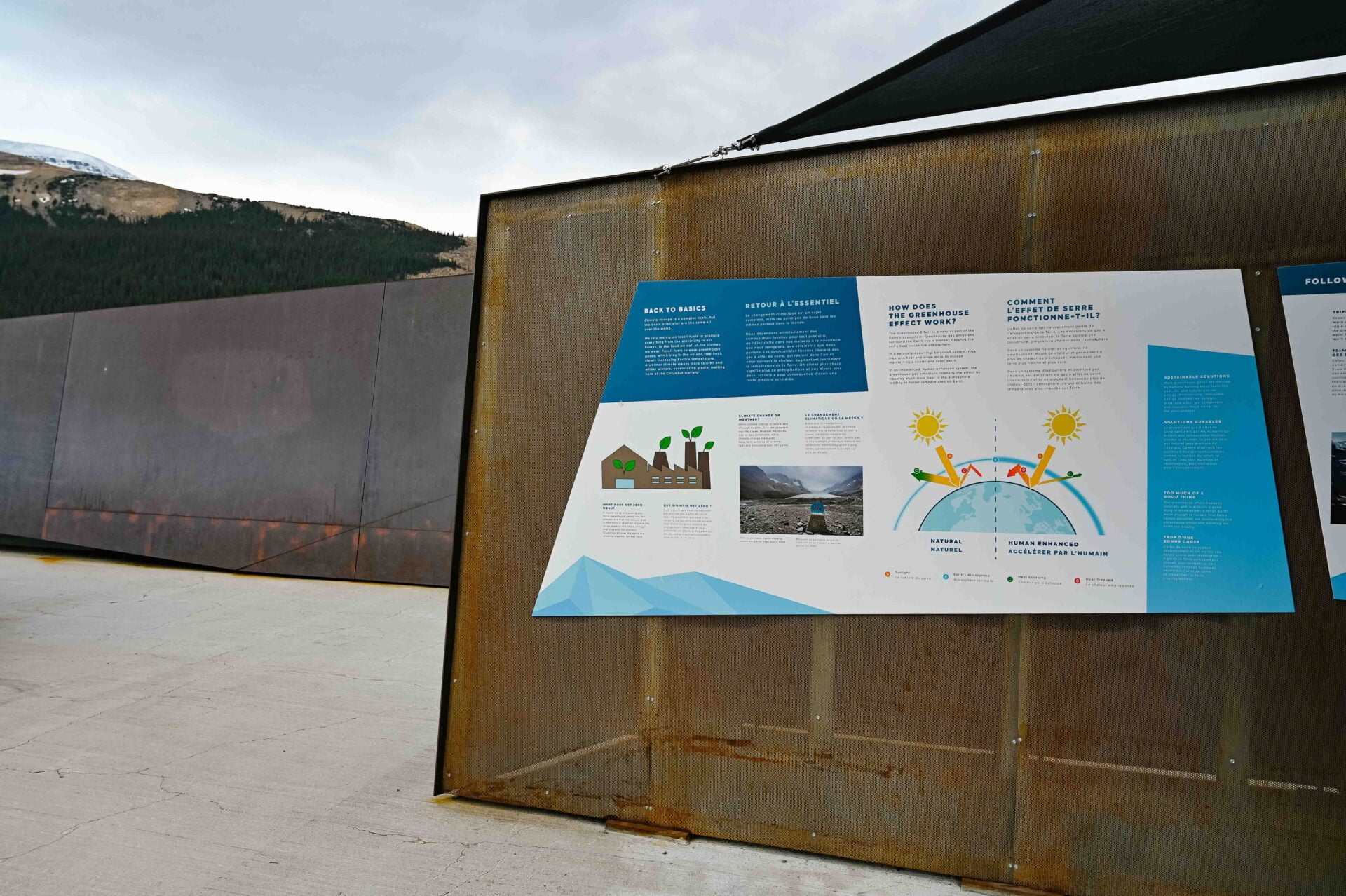 The walk from the bus drop to the skywalk is only a few hundred meters but there is lots to explore along the way. This includes educational signs about local animals, and interactive biology displays showing skulls from local animals.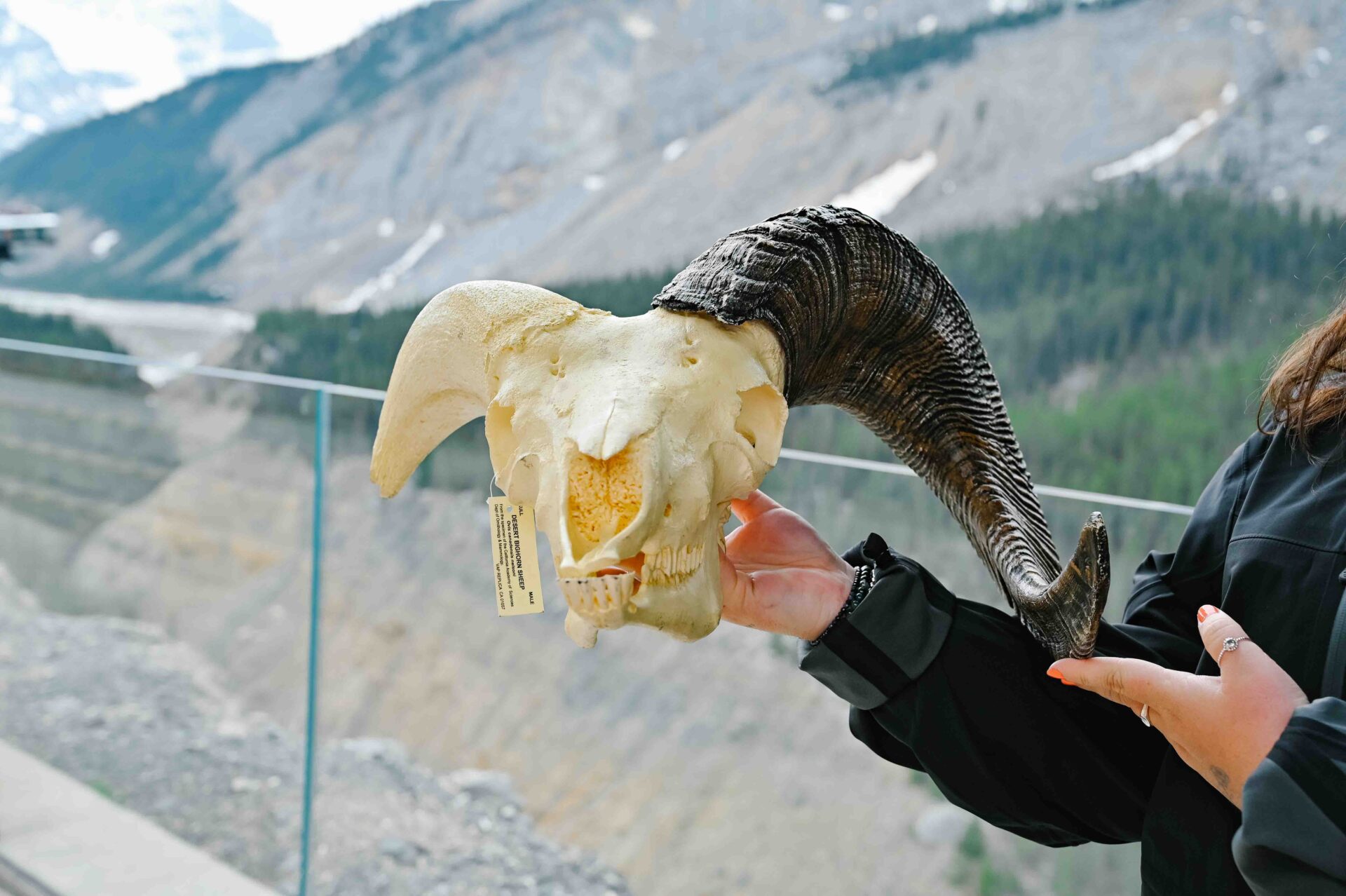 There is a ton of great scientific displays which are great for learning more about the Sunwapta Valley and the drastic surroundings that have you perched on the edge of reality.
If you're looking for the best time to visit the Skywalk, sunset is extra special as golden hour settles in and the mountains get some extra sparkle on their peaks.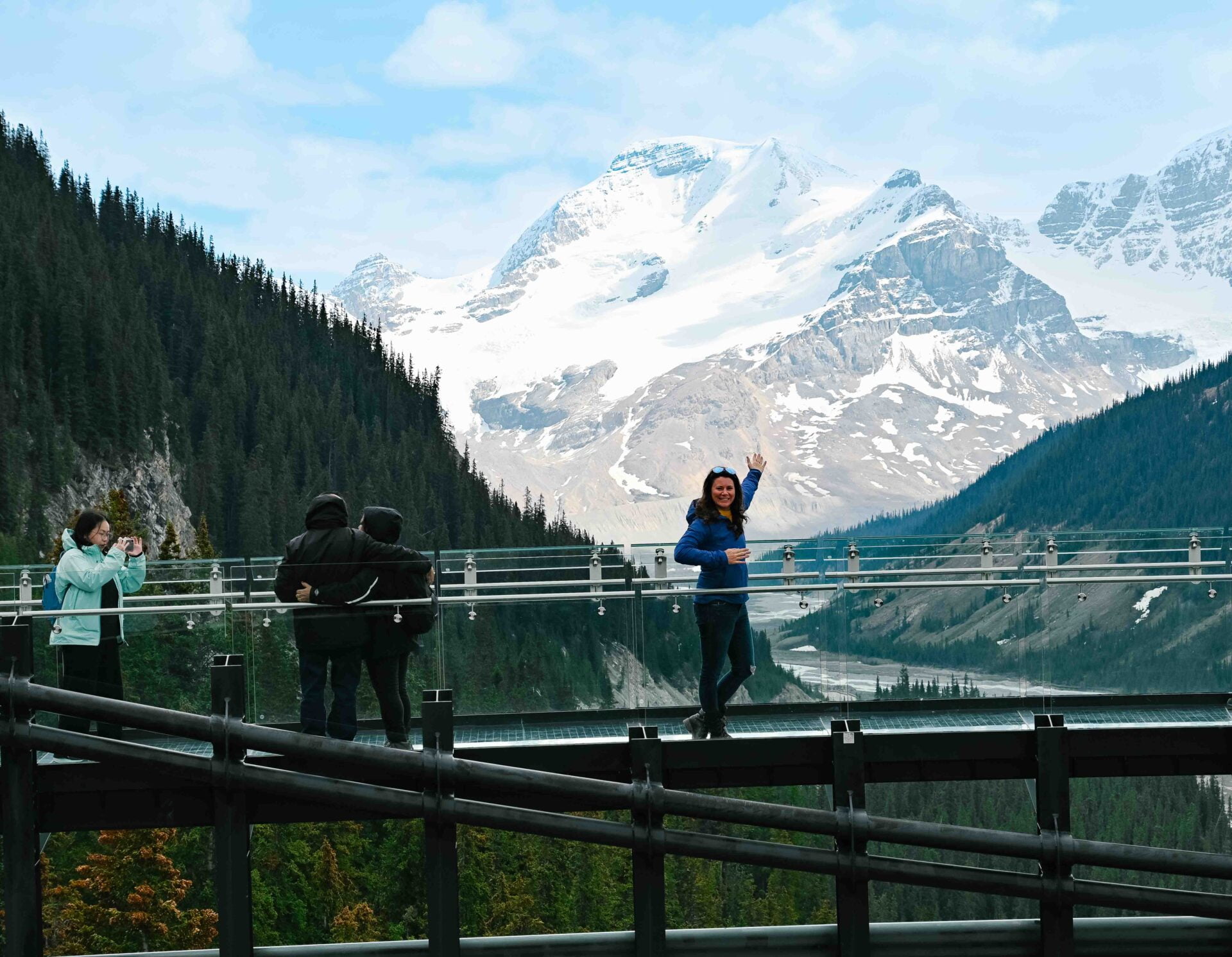 The scenery is stunning but equally entertaining is watching the visitors from around the world and their reaction to the glass bottom and the surrounding views.
3. Stargazing
With the dark sky and no competing light (due to no other buildings in the area causing light pollution) stargazing at the Glacier View Lodge is truly remarkable. Head out onto the deck and look into another world, with the stars being so bright that you'll feel like you can reach out and touch them.
Note: Due to quickly changing weather patterns in the mountains, stargazing may or may not be available during your stay. However the weather changes so much that you can often head out a few hours after your first peek and the clouds may have moved on, showcasing a brilliant sky!
Glacier View Lodge Review FAQs
When is the Glacier View Lodge Open?
The Glacier View Lodges opens in early May and closes around mid-October (weather dependent).
How do you get to the Glacier View Lodge?
Glacier View Lodge is located on the Icefields Parkway (Highway 93), 1.5 hours south of Jasper and 2.5 hours north of Banff at Highway 93 N, Icefields Pkwy, Improvement District No. 12, AB T1L 1J3.
Is it worth staying multiple days?
Yes, I would suggest a minimum 2-night stay. That way you will have plenty of time to do a guided tour of the Athabasca Glacier, experience the Columbia Icefield Skywalk, go on one of the many hikes in the area and sit back and enjoy the sheer beauty of the glacier and surrounding mountains.
Book your Guided Glacier Hike Tour on The Athabasca here!
Do you need to stay somewhere overnight on the way to Jasper?
I highly suggest a stay at the Glacier View Lodge on your way to Jasper. It is a great way to break up the drive to Jasper and allows you to take your time to explore and experience the Columbia Icefields.
Is it cold at the Columbia Icefields?
Depending on the time of year, yes it can be quite cool or even very cold at the Columbia Icefields. I highly suggest wearing multiple layers and a warm/waterproof jacket for when you go on the Athabasca Glacier tour, as temperatures on the glacier can be around -10°C (14°F), get quite windy and even rainy or snowy (depending on the time of year).
Is the stay at Glacier View Lodge worth it?
Yes, a stay at the Glacier View Lodge is worth it. It is a truly spectacular property and allows you to experience the Columbia Icefields in a unique way.
How many rooms are in Glacier View Lodge?
The Glacier View Lodge has 32 rooms.
How much does it cost to stay in a lodge at Glacier National Park?
There are no lodges in Glacier National Park, there are only camping accommodations. If you are looking for lodges or hotels, there are many available in the two closest towns just outside of the park, Golden or Revelstoke.
Book your stay at Glacier Mountaineer Lodge in Golden here!
Book your stay at The Sutton Place Hotel Revelstoke Mountain Resort here!
Is Athabasca Glacier free?
You are welcome to stop and view the Athabasca Glacier from a distance for free, however, I highly suggest booking a tour so that you can fully experience the glacier up close.
Book your Athabasca Glacier Tour Experience here!
Is there anywhere to stay between Jasper and Banff?
Yes, the Glacier View Lodge is a great place to stay between Jasper and Banff. It is a great way to break up a long travelling distance and allows you to explore and experience the Columbia Icefields up close and personal.
---
Check out These Articles for more Rocky Mountain Inspiration!