Families from around the world have Big White Ski Resort on their "ski vacation" bucket list and there's no questioning why. With an average of 24 feet of snow per year (and that's dry, champagne powder to play in) 118 runs, five powder bowls, and terrain park, this mountain is a dream for families who love to ski and snowboard. When you're not on the hill families can enjoy a variety of adventures including snowshoeing, ice skating, tubing, ice tower climbing, dog sled tours, snowmobiling, and mountain hosted special events. Looking to make the most out of your Big White family ski vacation, here's our essential 7 S's to planning your trip!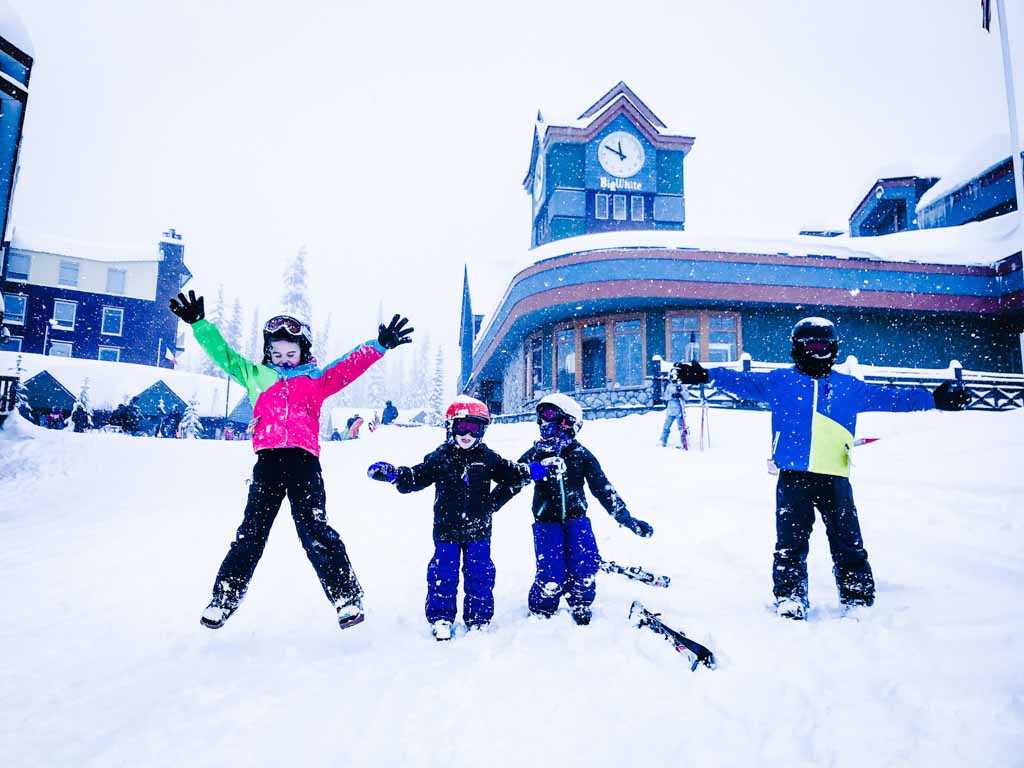 The 7 S's of Big White… Stay, Snowboard, Slide, Skate, Snowshoe, Shop, and Swim!
I had visited Big White Ski Resort 3 years ago and after walking through the village I knew I someday wanted to bring my kids back. Now, as strong riders, I knew that this year would be the perfect year for the long-awaited trip. So I put out the emails to see who was interested and began planning!
Stay – Stonegate is the Perfect Basecamp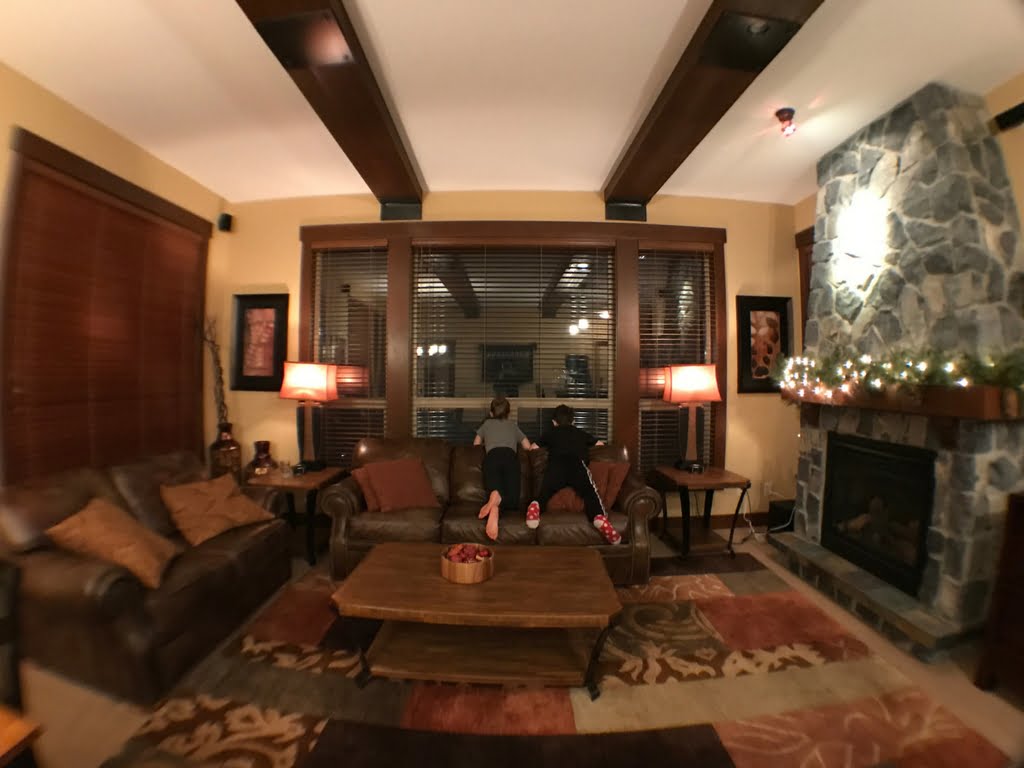 I chose Stonegate because of its ski in ski out central location, great amenities including games room, indoor-outdoor pool, full theatre, and amazing family-friendly condos. We had a huge three-bedroom suite giving the kids their own amazing getaway complete with double bunk beds, PlayStation, and bean bag chairs for downtime. The capacity to ski in and out was a huge win for everyone and Stonegate quickly became a great basecamp for adventure.
Mom Tip: I'd recommend taking a Big White family ski vacation for at least 4 days, giving you time to enjoy both family adventures and downtime. If you're looking to reduce your costs as well as enjoy a quieter mountain it's best to travel Sunday – Thursdays. Central reservations at Big White are very helpful and supportive in helping you plan the best holiday so no matter what your needs are, give them a call and they will be willing to help.
Snowboard – Shred Your Heart Out!
With 14 inches of fresh powder, the mountain was calling at 7 am and we had to wait for first lifts at 8:30. The kids loved riding the green runs as the blues "had too much snow!" We've never encountered this problem before so it was pretty entertaining to see them trying to manoeuvre in all the powder.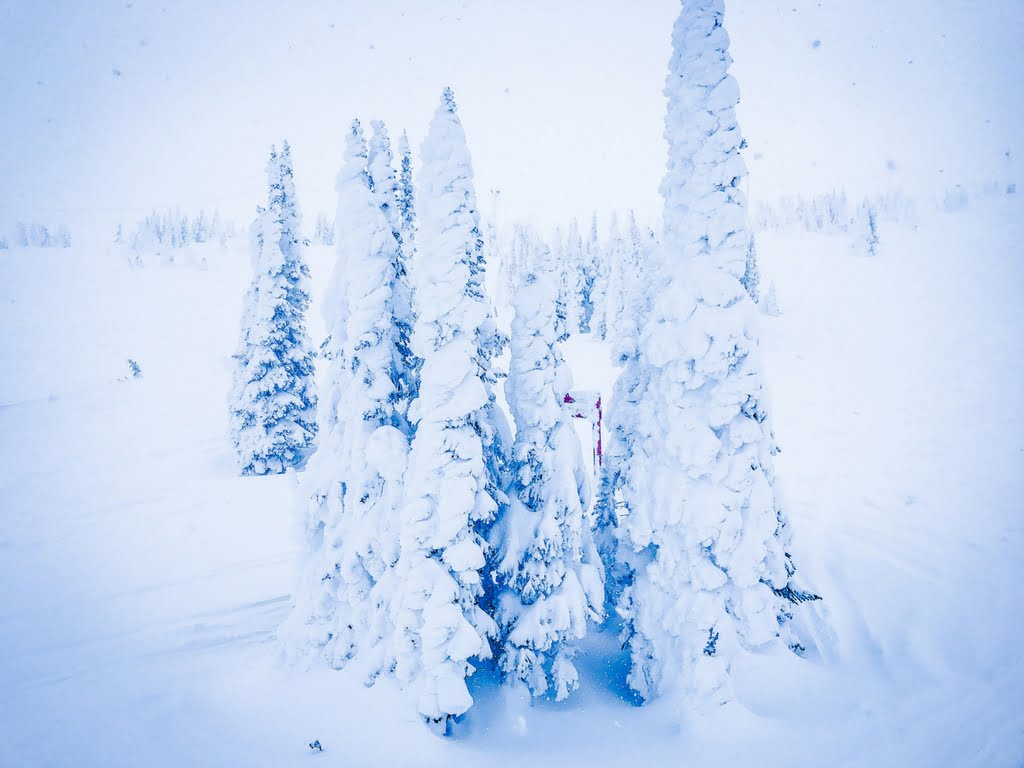 We also quickly got to learn where Big White got its name… the whole landscape was literally white, with big tall ghosts standing amongst the snow.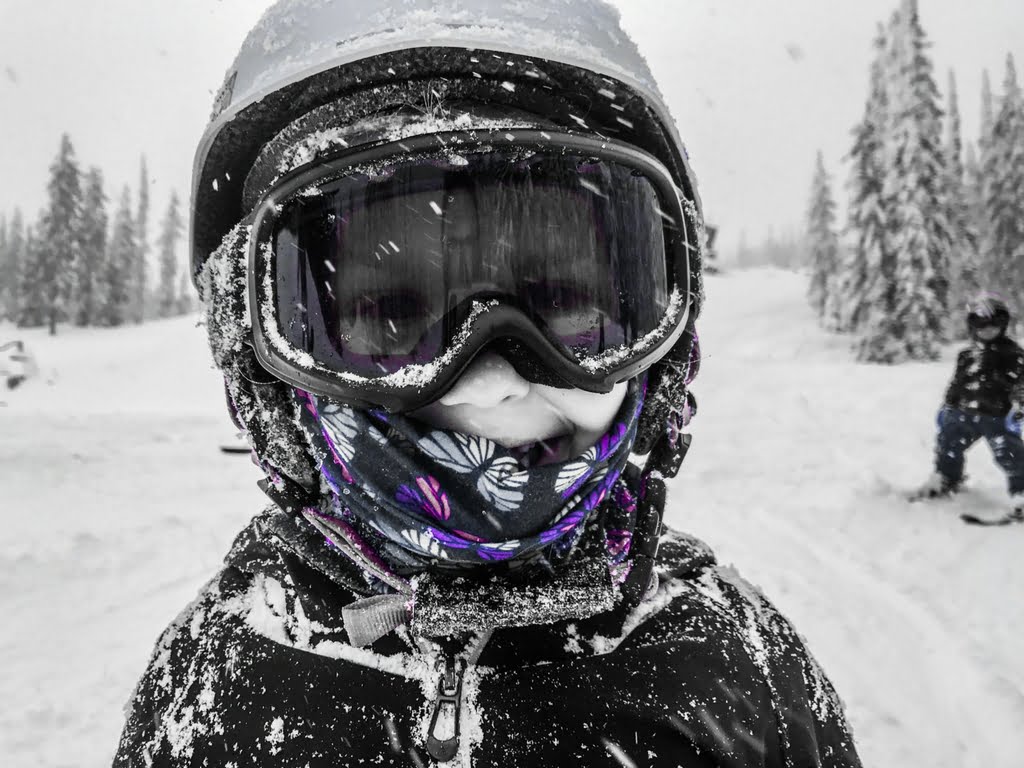 Her smile really says it all!
Mom Tip: The weather at Big White changes rapidly, even from the bottom of the hill to the top of the chairlift. Be sure that your family is wearing full gear including full balaclavas… it gets very windy and a loose one (or not having one at all) can ruin your day! If you need one they sell them in all the shops. And yes, this is a voice of experience talking!
Slide – Tubing Is For Kids Of All Ages!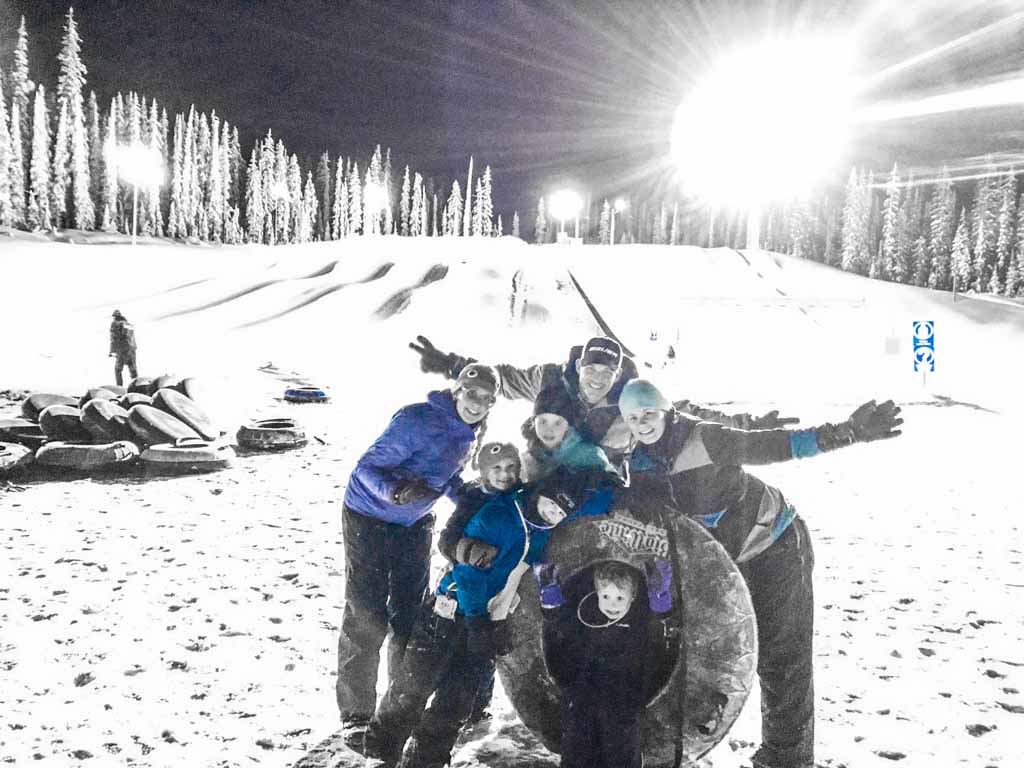 It was 7:30 pm and everyone was bagged but they mustered up some more energy to hit the tube park…. $10 Fridays. Once we were there the "I don't want to go" quickly turned into, "I don't want to leave" and we closed the runs and were the last family to leave!
Mom Tip: Friday night is very family-friendly at Big White and night skiing and tubing are only $10 each (a significant saving). We opted to do BOTH on Friday, riding late afternoon and then catching the last slides of the night at the tubing hill!
Snowshoe – The Perfect Family-Friendly Eco Tour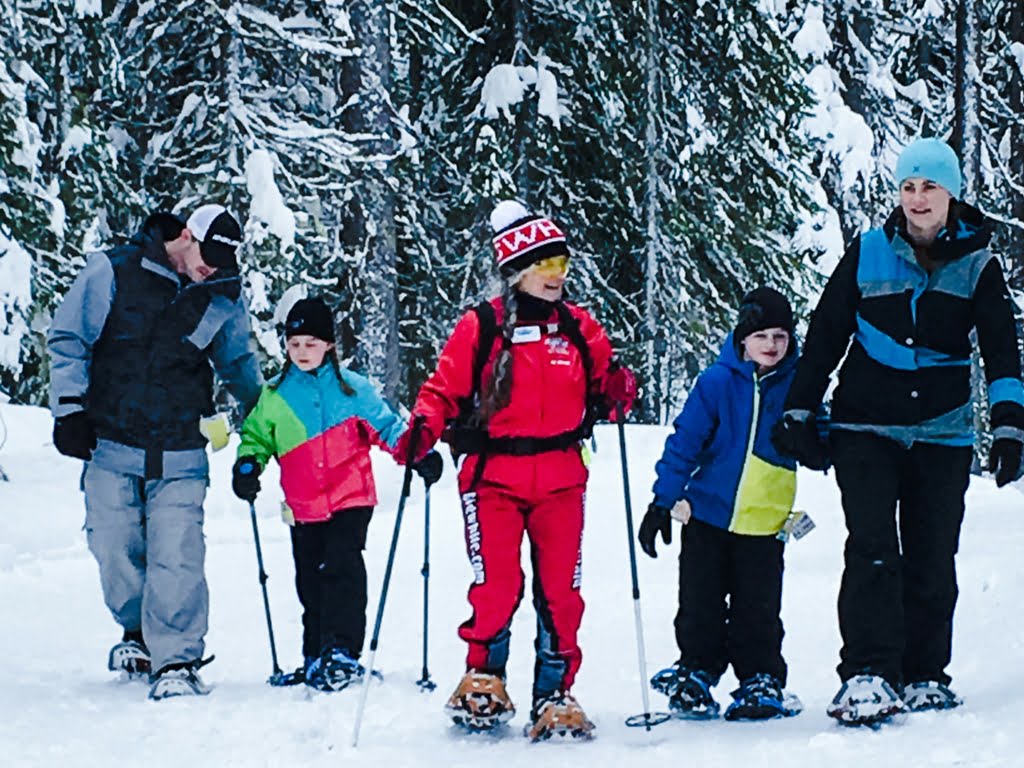 We were invited on the Family Adventure Snowshoe Tour. Sue was our amazing guide and quickly connected with the kids, quizzing them on their snowshoe experience and expectations. She also connected with Nana who was off on her first-ever snowshoe tour and feeling a little nervous! After a quick orientation at the map, we were on our way!
Sue was great and stopped to show us all sorts of flora and fauna along the way. One of our favourite highlights was when we thought we were standing next to a 4-foot tree but she told us how to measure it and it was actually a 10-foot tree, we were just in so much snow!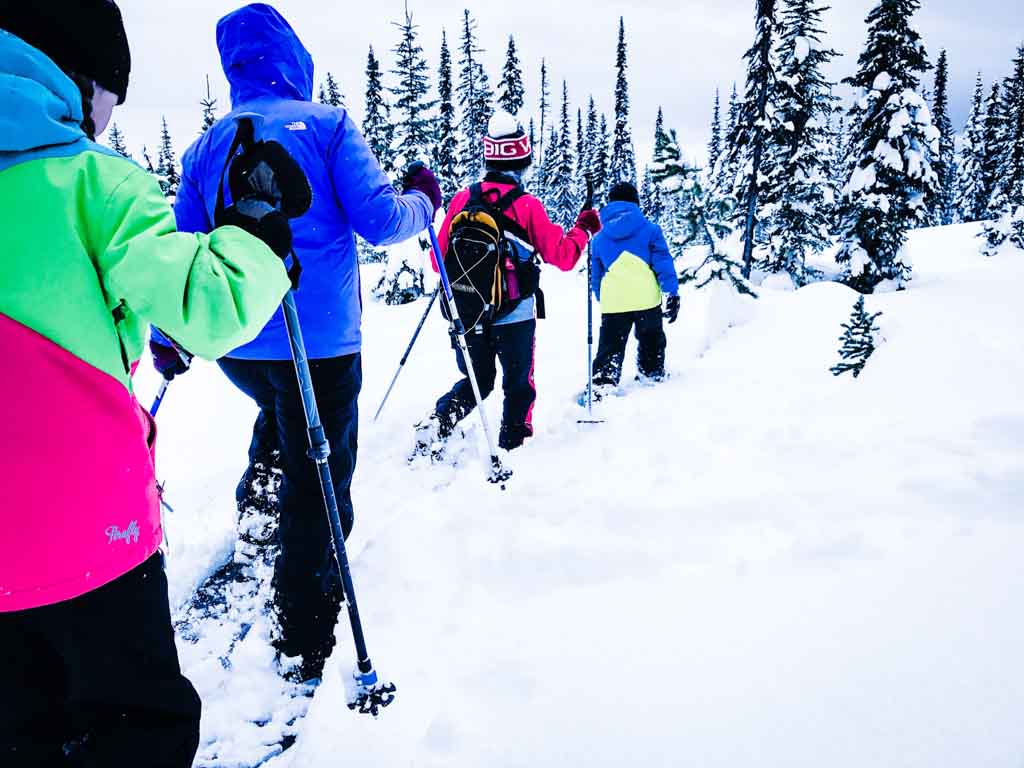 Our tour took over two hours and led us to a beautiful warming hut where we could stop for a snack and warm up. After that, it was time to climb back up through the trees and to where we started!
Mom Tip: Bring your own snowshoes if you want to save on the rental cost. (However, it is only $7 to rent). The trails are well marked and I recommend giving yourself more than one day to explore the area.
Skate – Play A Pick-Up Game Of Hockey!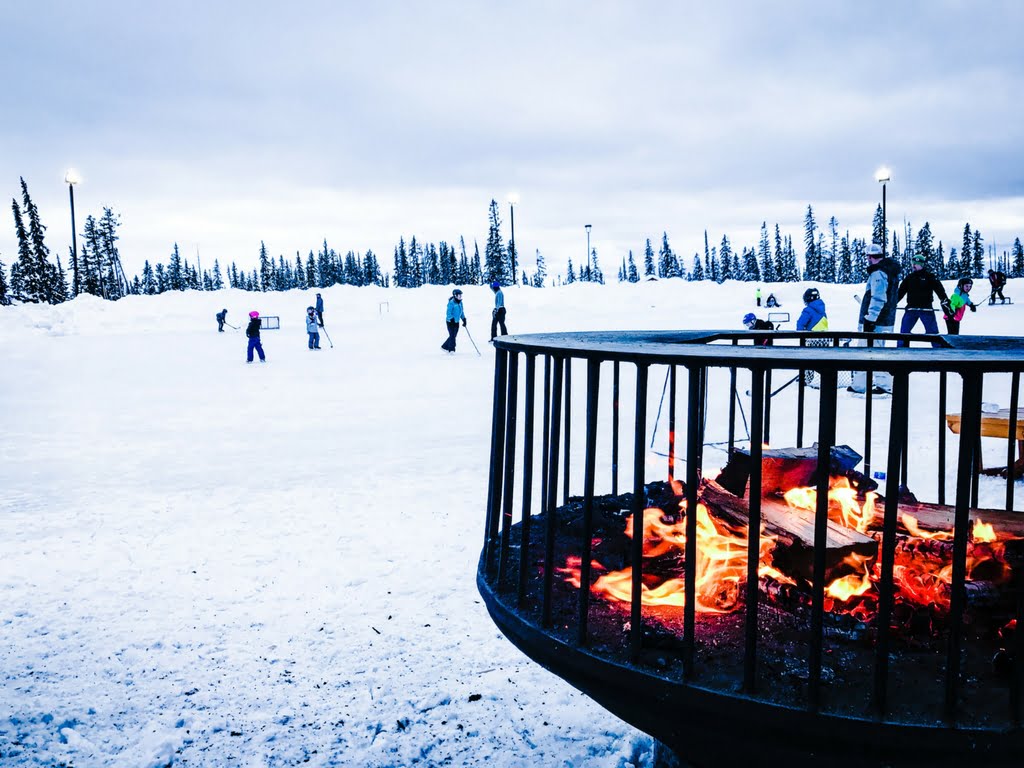 With a slew of hockey players in our group, a trip to the Olympic sized skating pond was inevitable. What surprised me though was how much fun everyone in our group had! From the Dad's who were excited to whip around the ice to the Mom's who wanted to take a few shots on the goalie, the ice rink was the perfect place for the whole family to have fun.
And literally, this face pretty much sums it all up, doesn't it?
Mom Tip: Bring your own skates and helmets to save yourself the rental cost. But if you need skates, helmets, or even hockey sticks they have them in the rental shop!
Shop – A Great Place To Warm Up!
One of my daughter's favourite past times when we head to a new destination is to check out the t-shirts and sweaters, often asking for us to add one to her collection. With some birthday money burning a hole in her pocket we made 7 or 8 trips back and forth to the shops before she finally settled on a toque.
Mom Tip: The kids had to earn their spending money prior to our Big White family ski vacation by doing chores. This helped keep their shopping desires within reason and allowed them to choose their own items wisely. It was the first time I had done this and will certainly be doing this again.
Swim – Apres Hot Tub Anyone?
The best apres snowboard involves apres hot tubs and swims. We were spoiled with multiple options, both on our condo's deck and then the huge indoor-outdoor pool in our amenities room. Not only did we warm up but the kids got to burn off any last energy they had before hitting the bed for the night!
Mom Tip: Bring a swimsuit! This may seem obvious but so many times when we're travelling to a snowy destination we forget them! If you happen to forget head downstairs in the main lodge and there's a snowboarding store with bathing suits at the back!
Unlimited Opportunities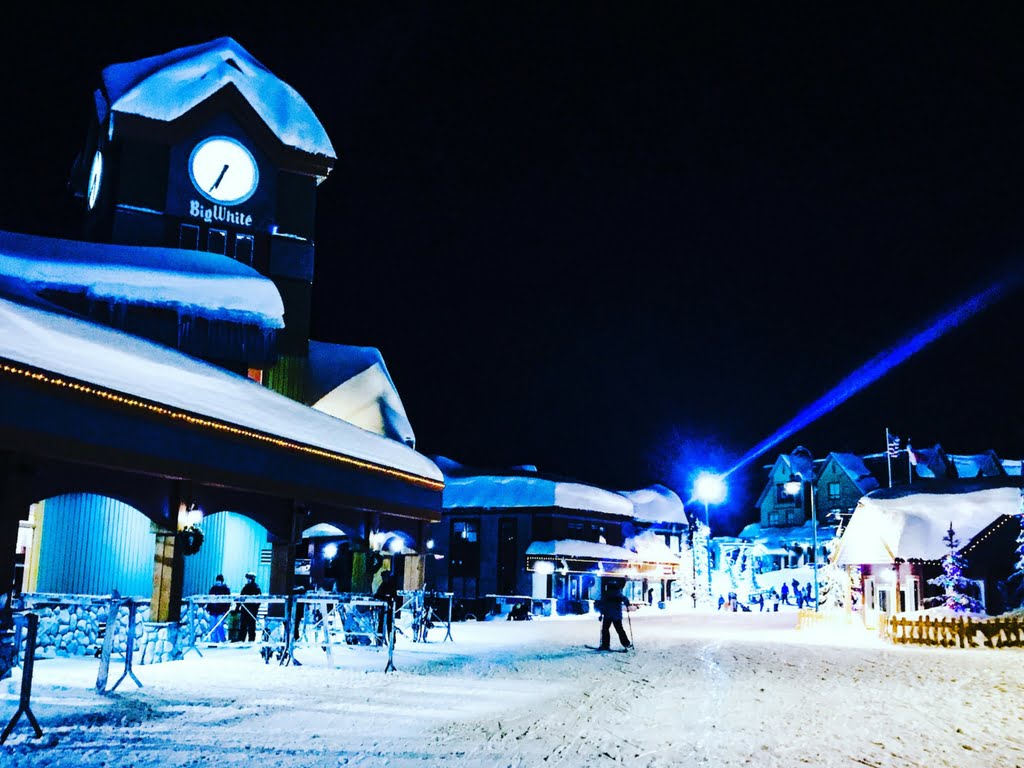 While we've highlighted our essential seven there really is no limit to all of the amazing adventures you'll find at Big White. Even taking a stroll in the village at night leads you to a land filled with lights and an inspiring view to behold. The biggest challenge that you'll face at Big White is what runs to do first in the morning and how hard it will be to leave…
Oh, Big White… Until We Meet Again…
While we did get to experience the essential 7 S's of our Big White family ski vacation, what we all got from our trip was way more than we all bargained for! Read all about how our Family Ski Trip was More Than Just Powder!
Looking for another great winter family destination? Make sure you check out Manning Park Resort!
Planning a ski road trip? We've got the list of the Best Family Ski Resorts in BC!