Ottawa is one of the most beautiful cities in Canada, and it's even more so during the month of November. The crisp air, vibrant colours, and festive atmosphere make it a great time to explore the city. Whether you're visiting Ottawa for the first time or a local who's been here for years, there are plenty of things to do and see this November! Wondering what to do in Ottawa in November? Here's a list of 23 exciting adventures and activities that you can do in Ottawa this season. 
Is a trip to Ottawa in November a good idea?
November in Ottawa is right in between the Fall season, which brings vibrant colours to the trees around the city, and the Winter season, which often covers the city in snow. So people often ask, "Is November a good time to visit Ottawa?" and for me, the answer is YES! With November being off-season for tourism a lot of the attractions are quiet, allowing you to move around them with ease. The shops and streets are decorated for the season, which gives you a great place to get a jump on any Christmas shopping you need to do, all while supporting local. There are also some great hotel deals to be had because of the off-season benefits, so if you're travelling for work and want to add a few days, or just want to visit a beautiful city in November, Ottawa is a great place to visit. 
Disclaimer: While I share my own thoughts and stories about these experiences, should you click on the affiliate links, I may receive a small commission on that sale which helps fund Adventure Awaits.
23 Things To Do in Ottawa in November 2023
1. Visit Parliament Hill
In our national anthem one of the lines I love the most is, "With glowing hearts" and that feeling of Canadian pride is evident when visiting Parliament Hill in downtown Ottawa. Located on the banks of the Ottawa River, the Gothic revival-style building offers awe-inspiring views and provides an exploration of Canadian history. My first stop is always the Centennial Flame, which was first lit on December 31, 1966 by Prime Minister Lester B. Pearson in celebration of Canada's 100th Anniversary of Confederation. There are a lot of great places to wander around and take photos. The actual Parliament Building is currently closed but you can do a tour of the Senate or the House of Commons if you are interested in getting a peek inside one of Canada's most famous buildings. If you are wondering what to do in Ottawa, then this should be at the top of your list.
2. Visit ByWard Market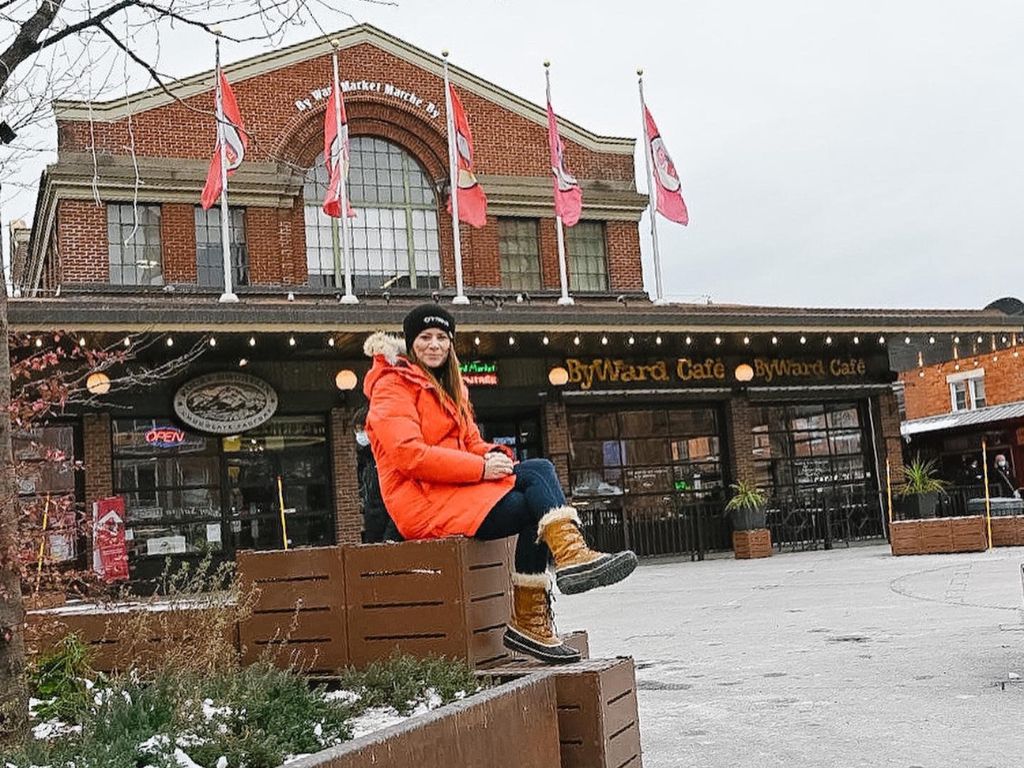 This historic indoor/outdoor market is bustling with energy and a great place to explore as there's something for everyone to love. You'll be amazed at the variety of vendors selling unique merchandise from artisanal jewelry, clothing, and housewares to name a few. There's no shortage of places to eat either; you can pick up something quick on-the-go or enjoy a leisurely meal at one of the neighbourhood restaurants. My favourite was the vegetarian restaurant, Pure Kitchen, located right outside the market. The sights and sounds of community music, buskers, and street performances are sure to captivate. It is also home to several landmarks that have stood since the 19th century, lending allure and charm to the area. If you're visiting Ottawa, I recommend heading to ByWard Market as one of your first stops as it's a hub of activity and a great place to explore, it's one of the many fun things to do in Ottawa this weekend.
3. Strike a Pose with the Ottawa Sign
If you're looking for a great photo opportunity in Ottawa, then look no further than the large "Ottawa" sign! This illuminated installation is a must-see during your visit to the capital city. With its bold and striking typography, it captures the spirit of Canada's fourth-largest city. Perfect for all types of photography, whether posed or candid shots, get creative with unique angles for perfect Ottawa sign photos. Supplement them with captions about what makes Ottawa so special and share your memories with family and friends! The sign also serves as an Instagram hotspot – when in Ottawa, be sure to capture your smiles by its side!
4. Hop Onboard the New Trolly Tour in Ottawa
Once you have finished your tour through ByWard Market I recommend hopping onboard the new Ottawa Cobblestone Trolly Tour. The trolly boards right at the market and allows you to get a great tour of Ottawa and Gatineau, all from a warm and comfortable trolly.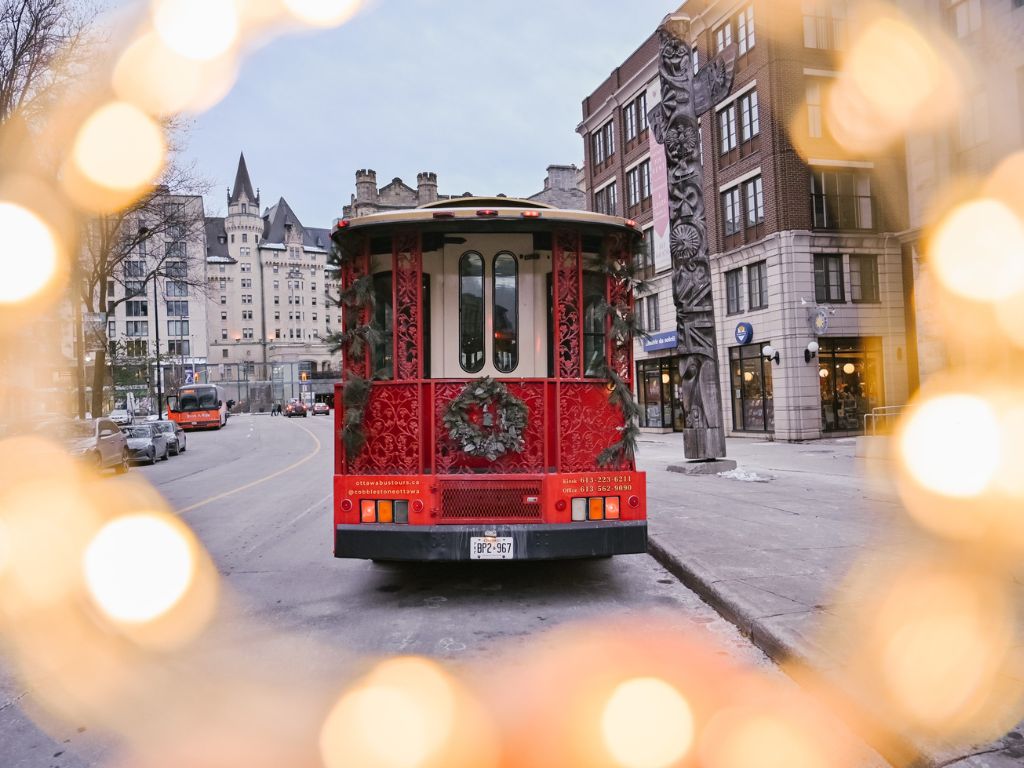 Explore the city, learn about its culture and attractions, and stay warm with this one-hour and 10-minute sightseeing adventure. This local guide-led excursion is in English and French, and the perfect way to make sure you get to see all that Canada's capital has to offer so you can plan out where you want to venture next. Hop onto this cozy trolley and explore two entire provinces in no time!
Click here to book your Cobblestone Trolly Tour in Ottawa!
5. Indulge in a Canadian Classic – The BeaverTail!
Once you're back from your Cobblestone Tour, you'll be ready for a treat and a quintessential part of any tourist's experience has to be indulging in the classic Canadian sweet treat – the BeaverTail. Enjoyed by locals and tourists alike, these deep-fried dough pastries come with delicious extra toppings like Nutella, banana slices, cinnamon sugar, and more that make for an unmissable snack experience. This iconic treat warmly welcomes visitors to Ottawa with its cheerful atmosphere, homey aromas of freshly fried dough, and sweet sugary treats that you'll instantly fall in love with. Discover why everyone who visits Ottawa raves about their time feasting on a BeaverTail – treat yourself during your own trip!
6. Visit the Canadian Museum of History
If you're looking for a trip to remember, then visit the Canadian Museum of History just across the water from Ottawa in Gatineau, Quebec. Visitors are invited to wander the museum's galleries which feature significant historic artifacts and cultural exhibitions. Be sure to check out any special exhibits that are happening on site, as they have a rotating exhibition space that is worth checking out.  I recommend planning your visit during the Christmas Market (which ran Nov 24 – 27 in 2022) where you can meet local artisans, enjoy the incredible holiday atmosphere and take in delicious food, charming Christmas entertainment and enjoy a vibrant energy that's hard to match. I really love how the museum was able to use its atrium space to welcome over 80 vendors into the hall and allow a place where locals and visitors can connect with creators to sell locally made products. It's a unique collaboration and one that I hope other destinations embrace and bring into their own communities. So if you are wondering where to visit in Canada in November, then Ottawa and the Canadian Museum of History should be on your list!
7. Walk on Water in Between Provinces via the Alexandria Bridge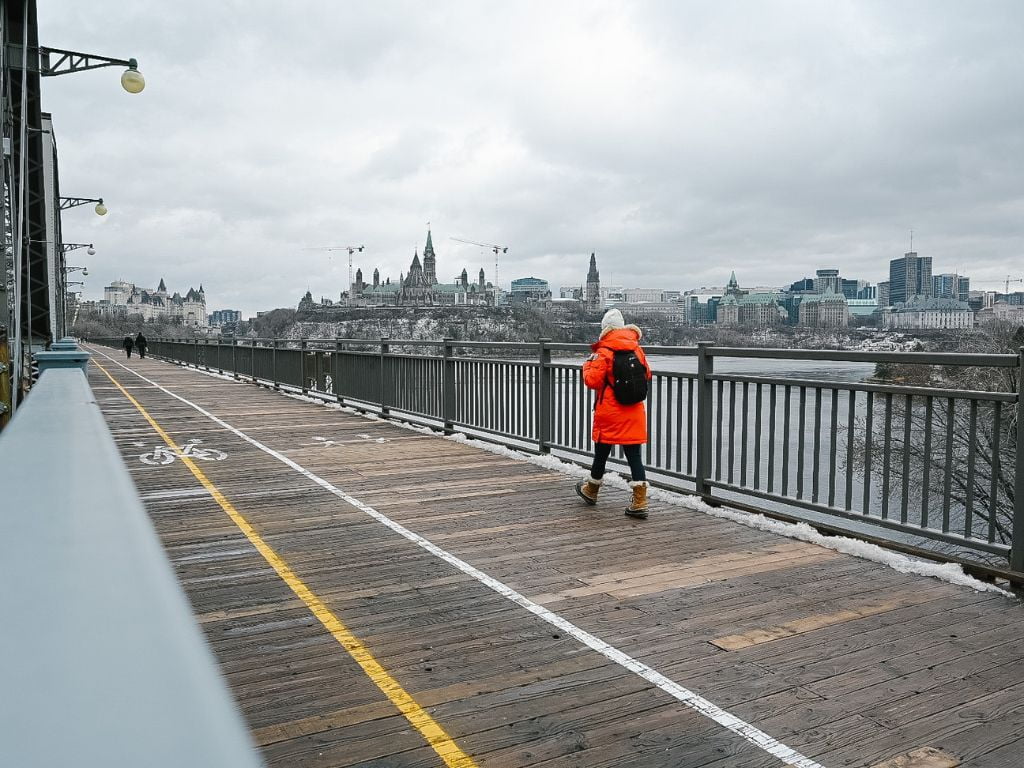 After visiting the Canadian History Museum take a walk back over the Ottawa River and enjoy a scenic view of the Ottawa skyline. It's the perfect place to stop and shoot photos of Parliament Hill, The Fairmont Chateau Laurier, the Canadian History Museum, or sunset, depending on the time of day that you visit. It's neat to walk from one province to the next via the Alexandria Bridge!
8. Visit Ottawa's Unofficial Museums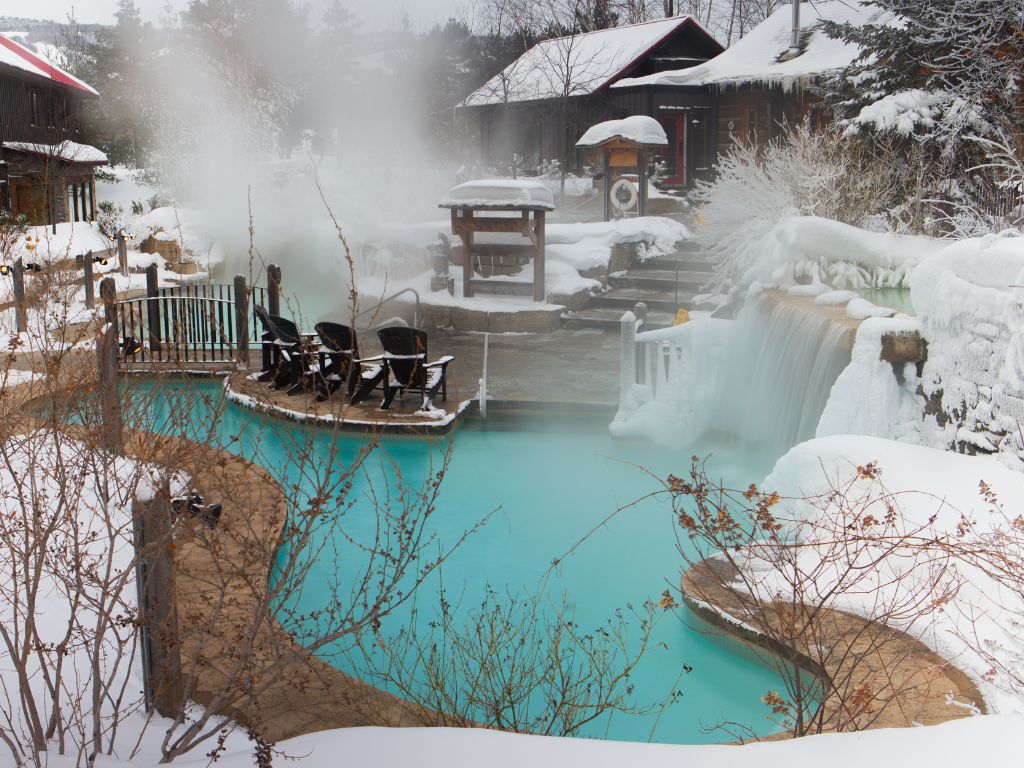 Ottawa is the "Museum Capital of Canada" but with so many incredible places to visit, the local tourism board decided to come up with the "Unofficial Museums" in order, "To show how much more culture the city has to offer, we turned every point of interest into Unofficial Museums." There are TOO many to list but here are some of my favourite Unofficial Museums in Ottawa that I recommend checking out in November:
Unofficial Museum of Scenic Cardio
Unofficial Museum of Treating Yourself
Unofficial Museum of Unplugging
Unofficial Museum of Riddles
Unofficial Museum of Flour Power
Unofficial Museum of Good Stink
Click here to check out all of Ottawa's Unofficial Museums.
9. Take a Tour of the Senate of Canada
While Parliament Hill is under major renovation, Canada's Senate is currently being run out of a newly renovated Senate of Canada Building, which was Ottawa's old train station. This free tour takes you behind the scenes where you can feel the historical past of the train station that used to be there mixed with the innovative renovation that now houses our nation's Senate. Lead by an expert guide, you'll learn about how the Senate contributes to Canadian Democracy, while also seeing some iconic art and learning stories that helped weave the fabric of our nation. Tours last about 30 minutes and tickets are recommended, which can easily be booked here.
10. Take in Seasonal Light Installations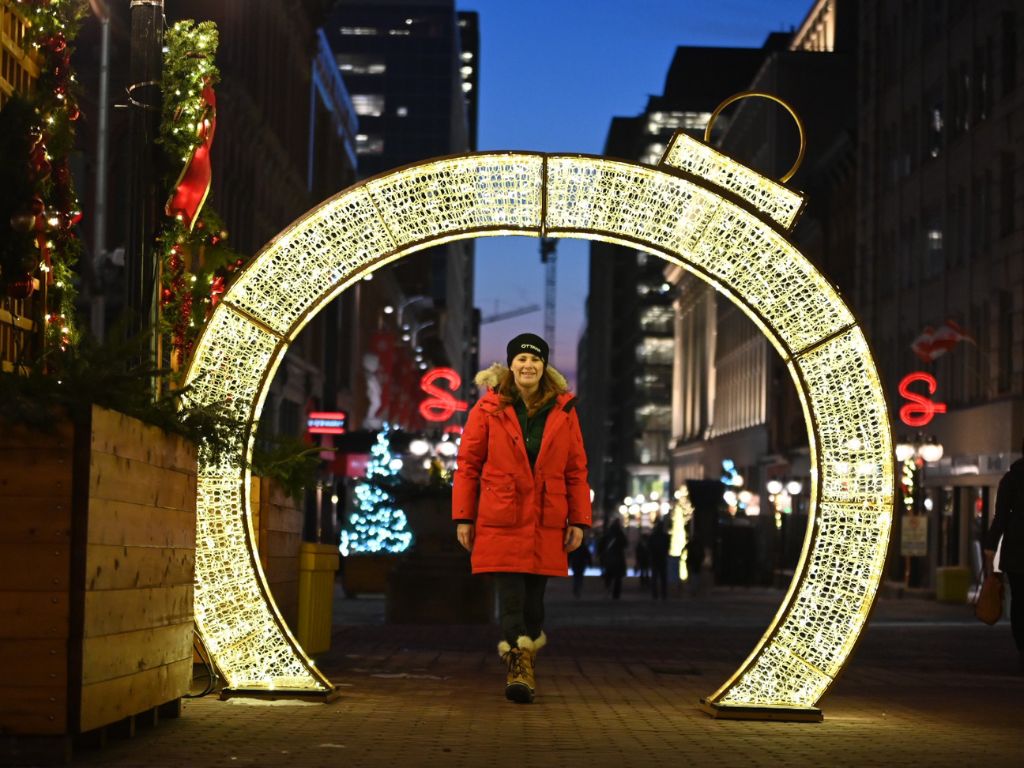 The sidestreets of Ottawa are lit up with seasonal light displays, so if you like capturing photos, be sure to check these out. Located throughout the downtown core, these are fun places to strike a pose and celebrate the season, one of the great things to do in Ottawa at night. For a great article showcasing all of the Light Installations in Ottawa visit this website. 
11. Check out the Ottawa Christmas Market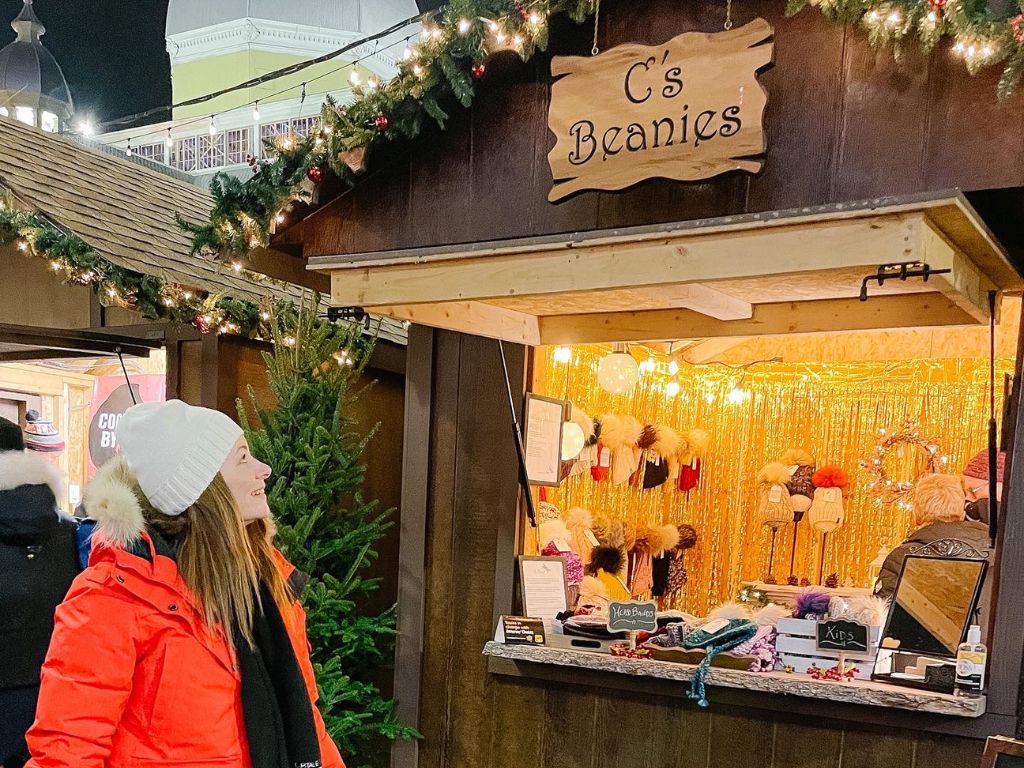 The Ottawa Christmas Market is a delightful holiday event that takes place in the Nation's Capital every year. Located at Lansdowne Park, it is the perfect place to get into the spirit of the season, with a variety of attractions and activities for all ages. The center of the market is the 50+ vendors that are on site selling everything from handmade art, to holiday crafts, to street food, and hot chocolate and ciders.
There's something for everyone at the market, with traditional favourites such as photos with Santa Claus and skating on an outdoor rink, plus live bands and dancing, and lots of photo ops to capture all the action. One of the benefits of visiting Ottawa in November is that you can plan to be there when they light the 40-foot tree! This is one of the many Ottawa November events you don't want to miss. To learn more about the market, and the schedule, and plan your visit check out their website. 
12. Go Skating on the Outdoor Rink
If you're not from Ottawa, skating on an outdoor rink can be a unique winter experience. Just outside the Ottawa Christmas Market is an outdoor rink, and what I'd love to do is "skate under the stars" after visiting the Christmas market. Rentals are not available at this location so visitors need to bring their own or rent some in order to take part in this experience.
13. Visit Mādahòkì Farm
Located only 25 minutes from the bustling city of Ottawa, Mādahòkì Farm is a new all-women-owned and operated business that is welcoming guests to their land to enjoy a unique, Indigenous experience. (okay, there's one gentleman that helps out occasionally so we do need to recognize his contributions). Mādahòkì Farm is located on 200 of the traditional and unceded territories of the Algonquin peoples and their descendants. There they invite you to slowly explore the property and engage in their educational and entertaining activities. One of the most popular attractions on the farm is to visit the endangered Ojibwe Spirit Horses. These beautiful and welcoming horses are stunning to see, and a guide can share their importance in saving this breed and what the Mādahòkì Farm is doing to support these beautiful horses.
Also on the farm, you can experience traditional dance performances, and farm-to-table culinary experiences and visit the Indigenous Marketplace which promotes products made by local Indigenous artists. To learn more and plan your visit check out their website.
14. Lunch at the New Metcalfe Hotel in Ottawa
Formally a YMCA building, the New Metcalfe Hotel in Ottawa knows how to make a strong first impression. The second you walk through the doors you know you're somewhere special, and the foyer keeps you wanting to wander around and soak it all in. With natural light flowing in from alive and a mix of elements of wood, plants, trees, and fabrics, this luxury design lets you know you're somewhere unique. Their on-site restaurant is called Cocotte, offering modern authentic French Cuisine with a heavy focus on locally sourced food and drinks. The staff are warm and friendly, ensuring your experience is as wonderful as the ambiance that first welcomed you. It's the perfect place to stop for a meal, or if you're looking for a hotel in Ottawa, this one is my new favourite!
15. High Tea at Fairmont Chateau Laurier Ottawa
High Tea at this landmark location is an unforgettable experience full of luxury and sophistication. Spend your afternoon in the beautiful traditional lobby, surrounded by vibrant colours and antiques. Indulge yourself with succulent finger foods like smoked salmon and cream cheese bagels, thinly sliced cucumber sandwiches filled with homemade cream cheese, and fluffy macaroons that melt in your mouth. You'll be welcomed with a warm brew of fine teas from around the world – or if you're feeling particularly indulgent you can upgrade to a glass of champagne. Enjoy the serene piano music while being served by attentive staff who will make sure to top up your teacups often! High Tea at Fairmont Chateau Laurier Ottawa is a magical setting for your best tea time yet.
16. Bank of Canada Museum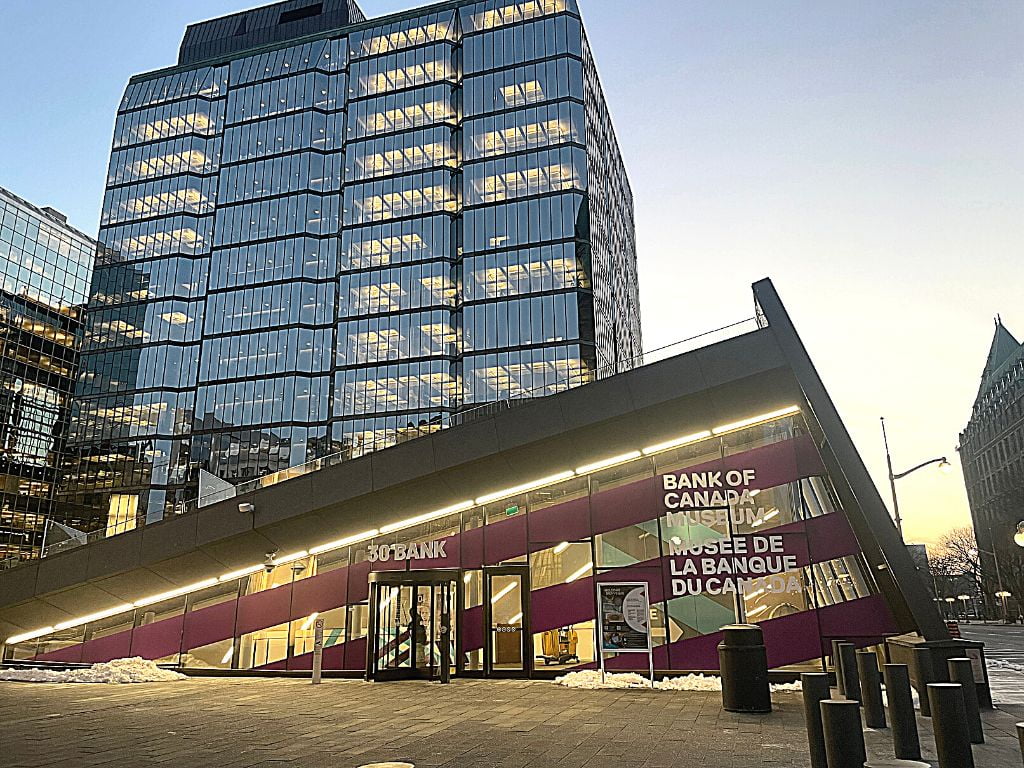 This museum is the perfect place for tourists to gain an in-depth understanding of the history of Canada's banking and monetary system, from historical coins and currency to financial policy. The words museum and bank don't visually sound all that exciting but the museum has done a wonderful job of creating interactive exhibitions, multimedia displays, educational activities, art installations, and other interactive tools making it an engaging way to explore and learn. Learn more and plan your visit, check out their website.
17. Take Part in an Indigenous Creative Workshop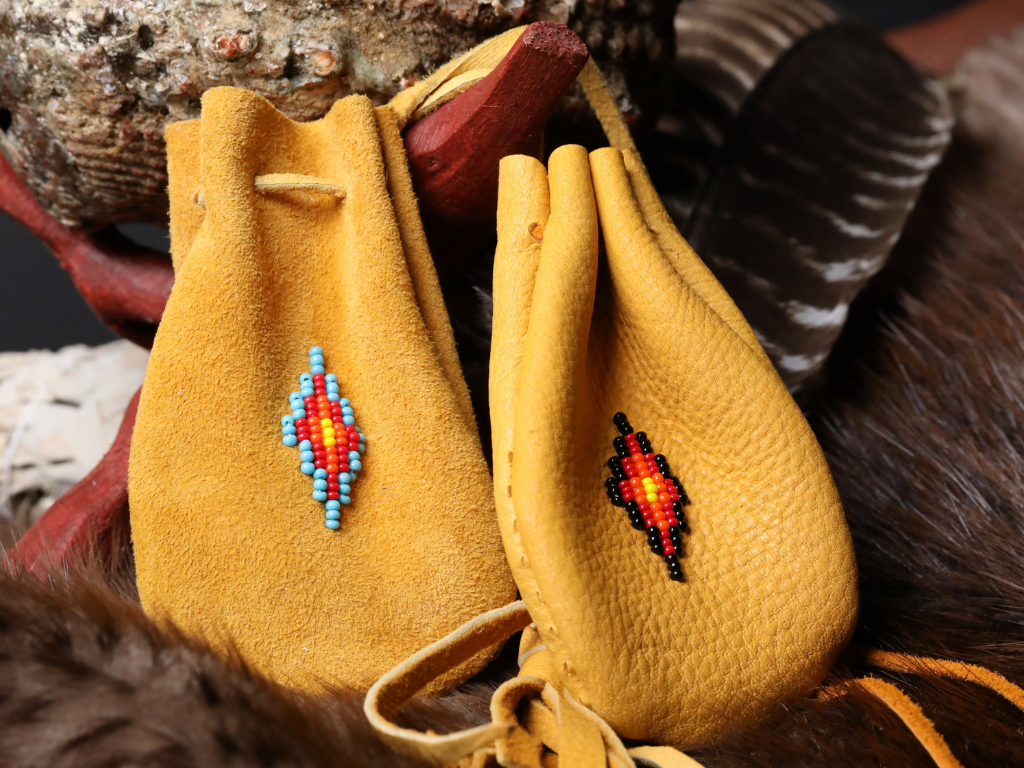 The best way to learn is through the act of doing, and Makatew Workshops invites you to take part in one of their hands-on workshops allowing you to create your own Indigenous piece of art. From medicine bags, native hand drums, rattles, and dream catchers, your facilitator will walk you through how to create your own piece of art and share the history and cultural significance through storytelling. To learn more or book your workshop visit their website.
18. Ottawa's Farmers Market – Year-Round Market
If you're in Ottawa on a Sunday, a trip to the Ottawa Farmer's Market is the perfect stop. This year-round market welcomes vendors from the surrounding 100 kilometers to come together at Lansdowne to sell everything from fresh produce to furniture! In November you'll find locally produced vegetables, meats, and cheeses, as well as foods prepared from scratch that you can take home to enjoy. Or you can be like me and find the gluten-free booth and indulge in your treats on-site! 
The best part about the market is meeting with local producers, artists, and makers who are so passionate about their products and the story of their businesses. From crafts to art, to jewelry and decor, to kids' toys, and sweets treats when they say "there's something for everyone" there really is at the Ottawa Farmers Market. To plan your visit hop over and visit their website.
19. Get Tickets to the Ottawa Canadian Film Festival
Boasting an ambitious program and an exceptional selection of Canadian films and filmmakers, the Ottawa Canadian Film Festival is the ultimate destination for film lovers. Typically hosted in November, it's the perfect event to add to your itinerary if you're looking for what to do in Ottawa in November.
With an eye to the future, this festival has established itself as an innovative event that is uniting Canadian communities to recognize and promote Canadian cinema in a thrilling atmosphere. Amazing features like shorts at home, spotlights, captivating screenings, and open conversations are just some of the exciting possibilities awaiting people attending this incredible event.
20. Take in the City's Best Window Displays on Bank Street
Bank Street in Ottawa is one of the city's most storied hubs. Known as 'The Main', Bank Street has become a treasure trove of culture and activity. With its beautiful art deco buildings and bustling street-side living, Bank Street is filled with a unique energy that beckons visitors to stay and explore. Famous for its dining scene, patrons can expect a plethora of delicious international options as well as a stunning array of boutiques and shops. Here are some of the "must-see" places worth visiting:
Knyota Drinks – Perfect for me (as a non-drinker) Knyota Drinks is a non-alcoholic drink store that offers visitors an opportunity to indulge in non-alcoholic beer, no-alcohol wine, zero-proof distilled spirits, and ready-to-drink mocktails and mocktail recipes.
Strategy Games – A well-stocked game and games accessory store that sells some of the coolest board and strategy games you'll find in the city!
Planet Botanix – A wonderful wellness store that is committed to helping you along your path to wellness. From education to natural body care, to fair-trade and eco-friendly products.
Book Bazaar – Whenever time allows I love to visit second-hand stores while travelling. Book Bazaar is the largest independent used book store in Ottawa! Give yourself lots of time to explore this incredible store.
Beaded Dreams – This Indigenous store supports local Indigenous artists and culture. A great place to hear stories, see local art and pick out a special piece.
21. Go Out in Glebe – The Foodie Neighbourhood
Explore the historic and picturesque Glebe Neighbourhood in Ottawa, an area that dates back to the 1880s. Located close to downtown, the area is filled with beautiful streets lined with trees, heritage buildings, and little boutiques and restaurants. Here's a list of just a few of the restaurants as recommended by the locals:
Kettleman's Bagels: Have you ever had an oven-fired, Montreal Style bagel? Kettleman's Bagels brings your bagel experience to a whole new level, and is open 24 hours a day so you can get your bagel on your schedule! Early mornings or late nights, there's always a bagel waiting for you!
The Rowan: The Fraser Brothers run this tasty gastropub in the heart of the Glebe neighbourhood. You'll find a lot of locals hanging out at this restaurant which tells you one thing… this place is good!
Crust and Crate: Pizzas, pastas, tacos, and more! With friendly service and a huge menu, Crust and Crate is a great place to go for a meal (or two, because let's be honest with that many options you know you'll be coming back for more!).
22. Recognize Remembrance Day by Attending a Ceremony on Parliament Hill
Ottawa pays rightful respect to all those who have served the country. Remembrance Day ceremonies in Ottawa are an impressive sight – and an impactful experience. Every November 11th, Centennial Flame and War Memorial marks a solemn gathering with a vigil at dusk until dawn accompanied by a tribute performance from military bands or choirs.
Whether you are in Ottawa on November 11th or not, a visit to the Canadian War Museum in November would be suitable as you take a moment to learn and pay tribute to those brave men and women who made their sacrifices for our beloved nation's freedom. If you are looking for places to visit in Canada in November, then a visit to the Canadian War Museum should be added to your list. To learn more, visit their website.
23. Check out the Sunset in Ottawa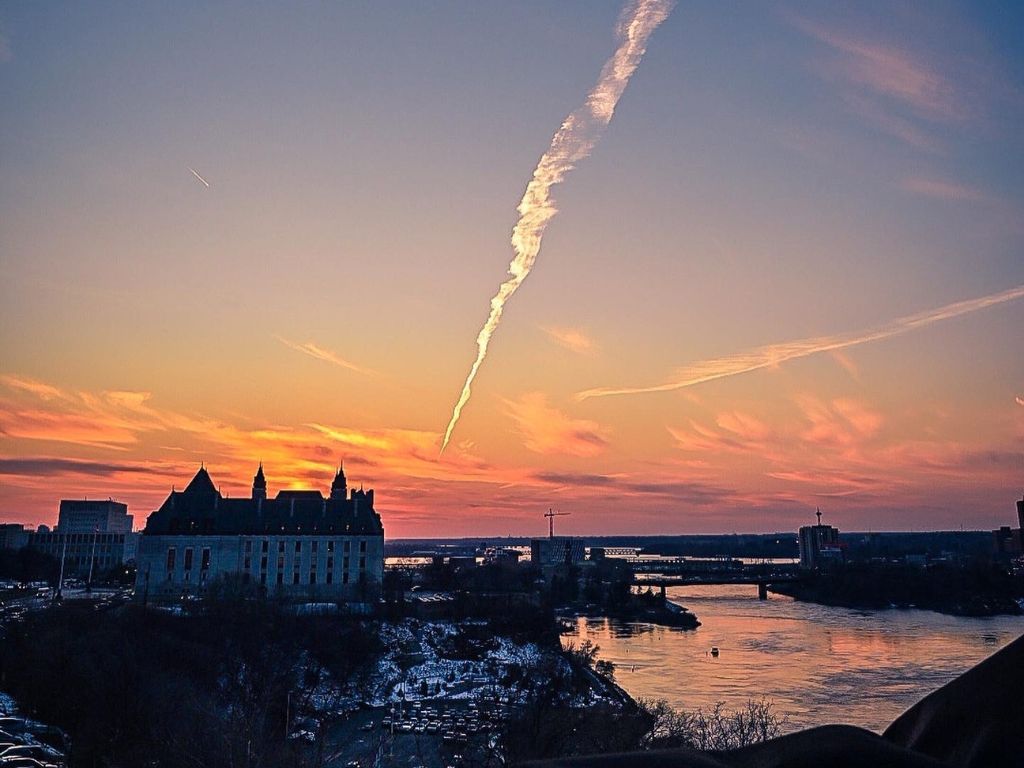 Experiencing the sunset in Ottawa is truly something special. The city's view of the sky when twilight hits provides an unforgettable experience that never fails to amaze onlookers. While watching the rolling hills become cloaked in dusk, you will be mesmerized by the subtle shades of pink and purple and orange that stretch out endlessly in all directions. Doing so while surrounded by trees at a nearby park is even better, as one can soak in the beauty of nature right alongside the phenomenon of day turning into night. Tip: If you can get to a viewpoint that overlooks the Ottawa River, that's the best view to be had. Behind Parliament Hill (if it is open) is great, as well as from the Alexandria Bridge.
What to do in Ottawa in November FAQs
Where to go in Ottawa in November?
From visiting Parliament Hill to taking photos with seasonal light installations, there are plenty of ways to enjoy what Ottawans have dubbed "The City Of Lights" this November! With our list of 23 exciting activities, we hope that you'll have an amazing time exploring all that this city has to offer at any time of year but especially as winter sets in and we embrace what makes the city truly special. So grab your coats and bundle up – and go explore some fun things to do in Ottawa this season!
Is 2 days enough in Ottawa?
The short answer is "No" as there is so much to see and do in our country's capital. However, if you only have 2 days to visit Ottawa you can still have an excellent experience and get to see lots. One of the benefits is that it is a relatively small city and getting around is quite easy, so you get good "bang for your buck" as you can get a lot done in a day!
Is ByWard Market open in November?
The ByWard Market is open until the end of November, and November is a great time to visit as it's not as busy as peak season and they have lots of great local gifts, food, and treats for you to shop for.
Is Ottawa cold in November?
The typical weather in November ranges between 5 degrees celsius and -2. So for this Vancouverite, I was dressed in full winter gear and found it chilly. But for most Canadians (or those from cooler climates) this is typically late fall temperatures. I recommend bundling up so you are comfortable and can take off layers if needed. 
So if you are wondering what to do in Canada in November, a trip to Ottawa should be in your plans!
---
Check out these Articles for More Ontario & Quebec Adventure Inspiration: