If there's one thing I love best about small towns, it's the people. Everyone seems to welcome visitors with open arms. They are willing to dedicate those extra moments to help you with whatever you need, to ensure you have the best experience while visiting their beloved town.
So when we were invited to visit Cranbrook, a tiny town in the heart of the Canadian Rockies, we jumped on board!
After a quick flight from Vancouver we quickly settled into the amazing Days Inn.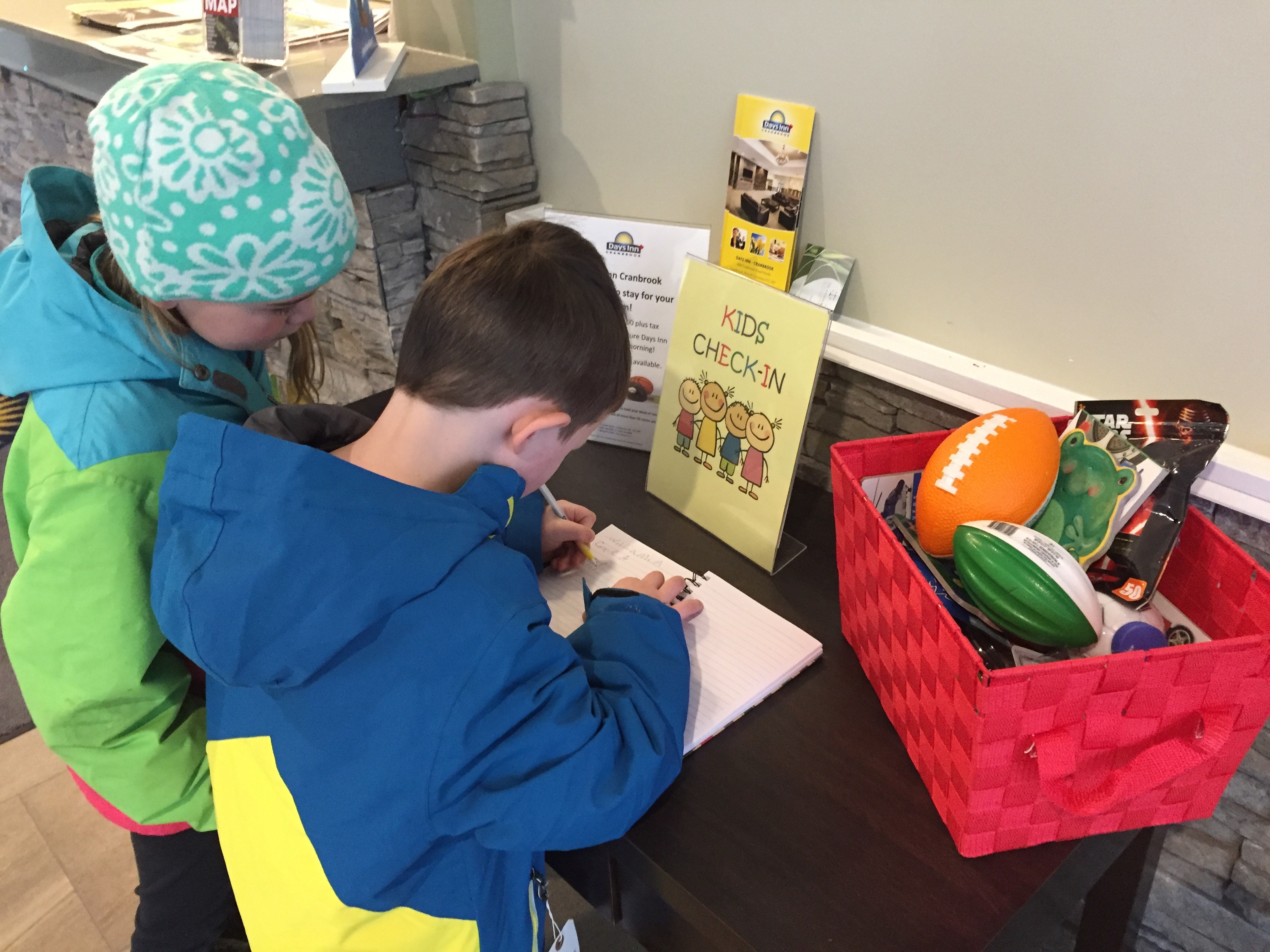 The kids absolutely LOVED the kids' check in, where they got to write their names in the guestbook and choose a special welcoming gift.
After stocking up on groceries and settling into our hotel we were excited for our weekend of activities and adventures!
Day 1 Activity – Waves and Waterslides
Only a kilometer from the hotel is the local Rec Centre which boasts a huge arena, wave pool, and recreation facilities. 
Upon arriving at the pool we were pleasantly surprised to find a wide range of activities for the family to enjoy. Waterslide – check. Rope swing – check. Wave pool – check, check, check! We spent a couple hours jumping back and forth between the different pools and activities. We ended off the day with a lovely hot tub, and the kids were ready to head back to the hotel and crash for the night.
Day Two Activity – Busses and Big Snow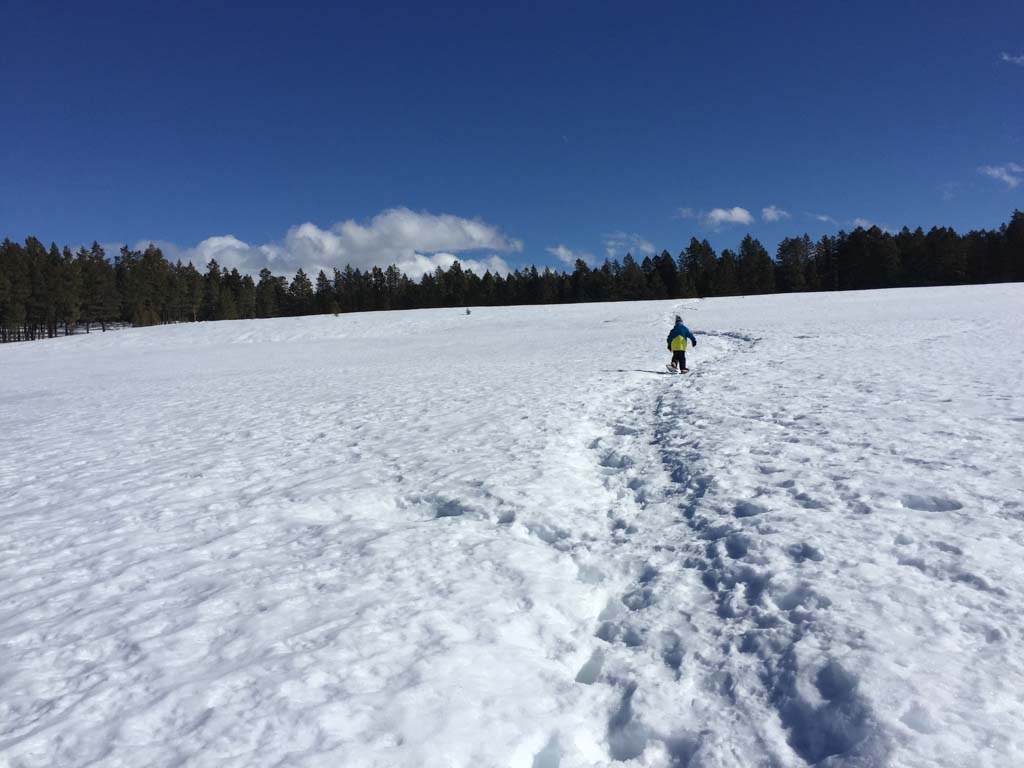 After a lazy morning and a big brunch we were ready to head back to the local Rec Centre to board our first bus! It was hard to find the bus stop as it was surrounded completely by snow. Some of the snowbanks in Cranbrook are taller then my 8 year old! Once we found the bus stop we only had a short wait before we were picked up.
A few minutes and two stops later we were at the College Of The Rockies (or just the College as the locals call it). We headed through the parking lot and were quickly connected with the Cranbrook Community Forest Trail system. We strapped on our snowshoes and we were off!
The trails were wide open and easy to navigate. My son took the path of least resistance, making his journey easier, while my daughter enjoyed treading through deep snow off the trail. The forest was wide and open and beautiful, and there was so much sun that we were all quickly peeling off layers!
Once we cleared the forest we came out to a huge field that gave us an incredible view of the town and the beautiful surrounding mountains. While I stopped and went picture crazy, the kids fought about who got to be the leader next. Letting them take turns leading has been a great way to keep them engaged and entertained on the trail.
We kept our eyes open for animals and while we weren't lucky enough to see any, we enjoyed seeing a lot of animal tracks… including bunny prints!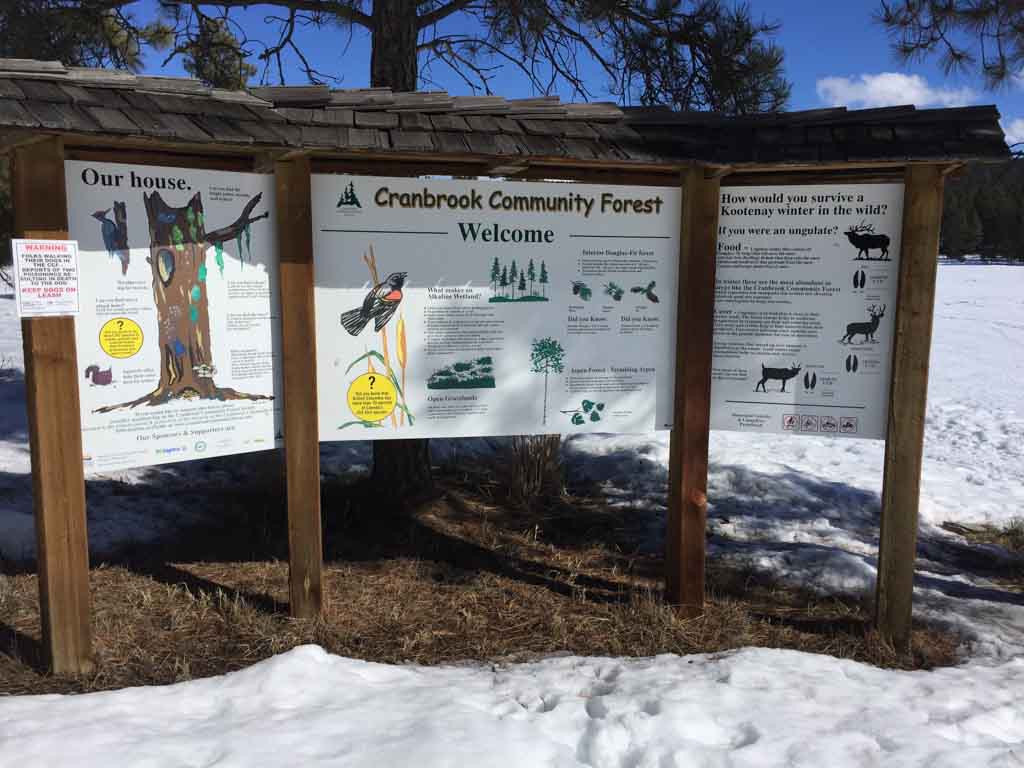 Once we reached the official Cranbrook Community Forest sign the kids loved learning about the area and were very confused that they couldn't see the lake. I kept saying "it's right there" but if you've never seen a frozen lake before do you really know what you're looking for? (Even I was confused!)
The kids loved snowshoeing and we could have explored the park for hours had we brought more snacks! I highly recommend families check out the park and make a day trip out of it. And with the convenient bus stop located within meters of the trail head, it makes it all that much more accessible!
Day 3 Activity – Skating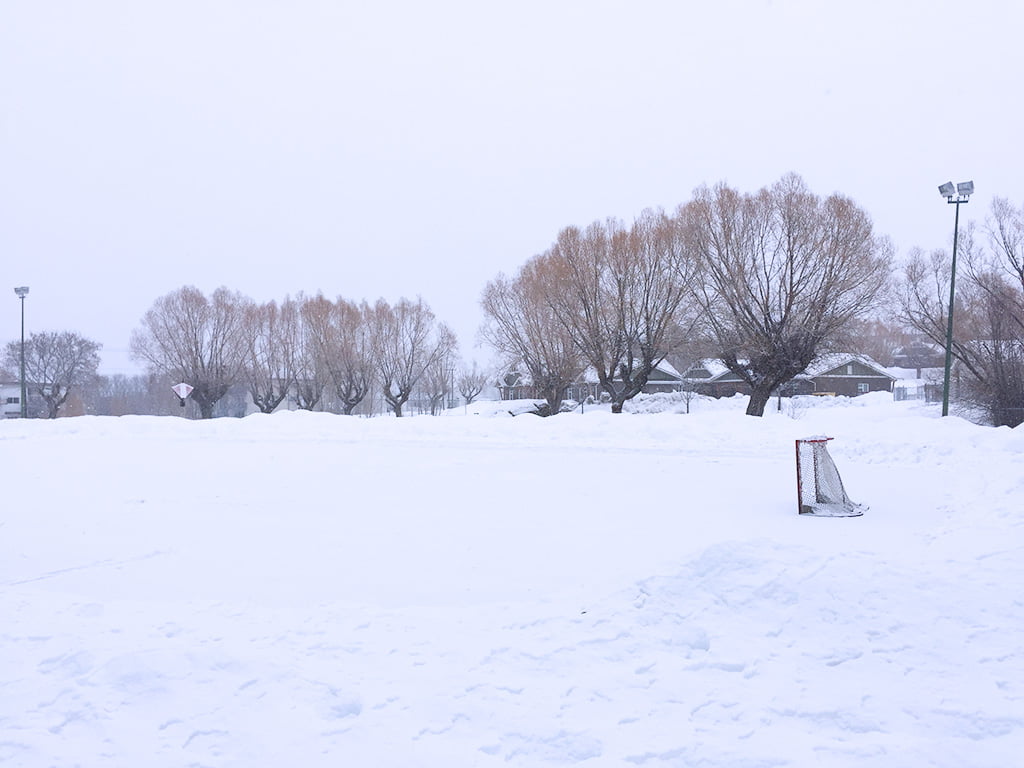 Sunday morning started early as we loaded up our skates and helmets and headed off to Baker Park. Upon arrival we found an outdoor skating rink with a new cover of snow. A quick peek around and we discovered a hand made shovel and I quickly found my new role as "Zamboni Mom".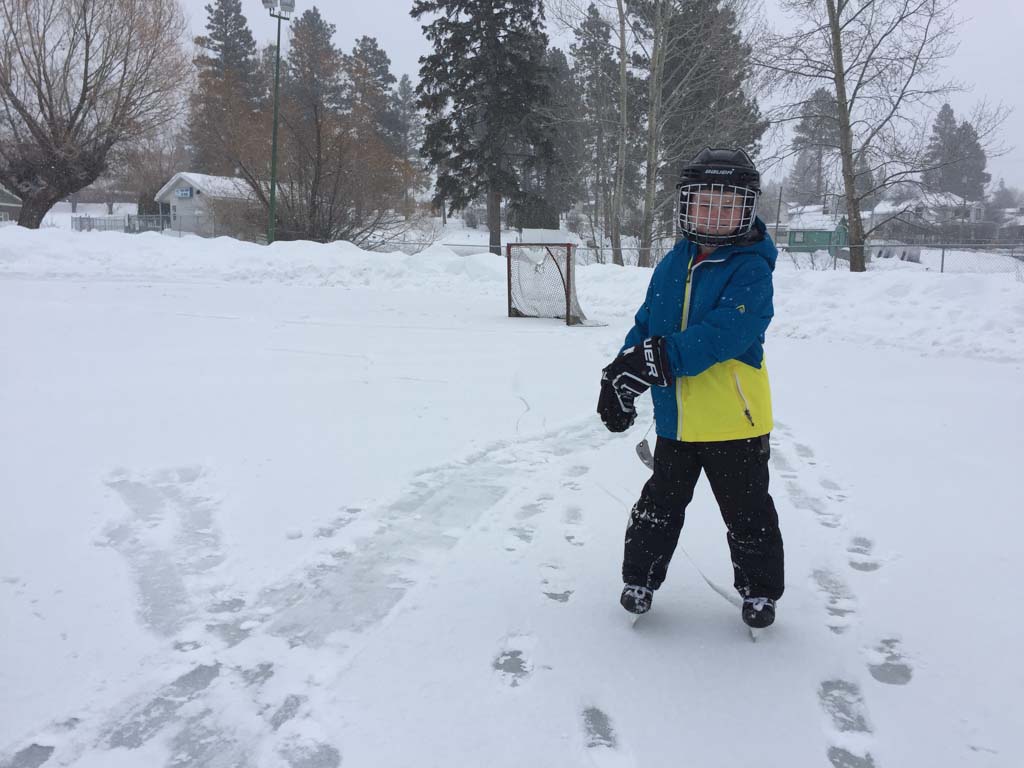 We had the whole place to ourselves as my son whipped circles around my daughter… however, if she read this blog she'd argue otherwise! Her need for a more stable ice surface free of bumps and cracks was evident while my son just loved being able to slap on the skates and go.
It was really cool to see a field transformed into an outdoor rink, something us from the Lower Mainland rarely ever get to experience.  Another thing that we noticed was that the birds were chirping feverishly, perhaps we were on their territory or interrupting the day. The sound of the snow falling, mixed with the birds chirping, and my kids laughing made for the ultimate Sunday morning.
Additional Activities to Consider while visiting Cranbrook
Striking out at Juniper Bowling Lanes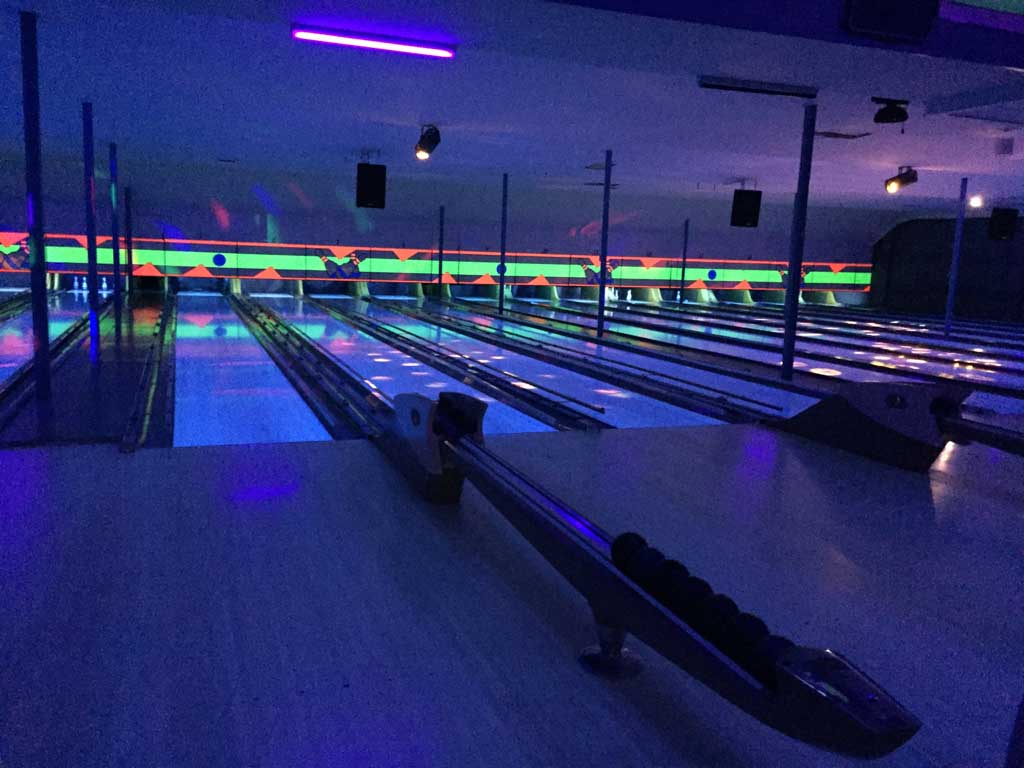 On Saturday night we headed to the local bowling alley, Juniper Lanes, for their Saturday Night Laser Bowling. My kids loved the black lights and loud music…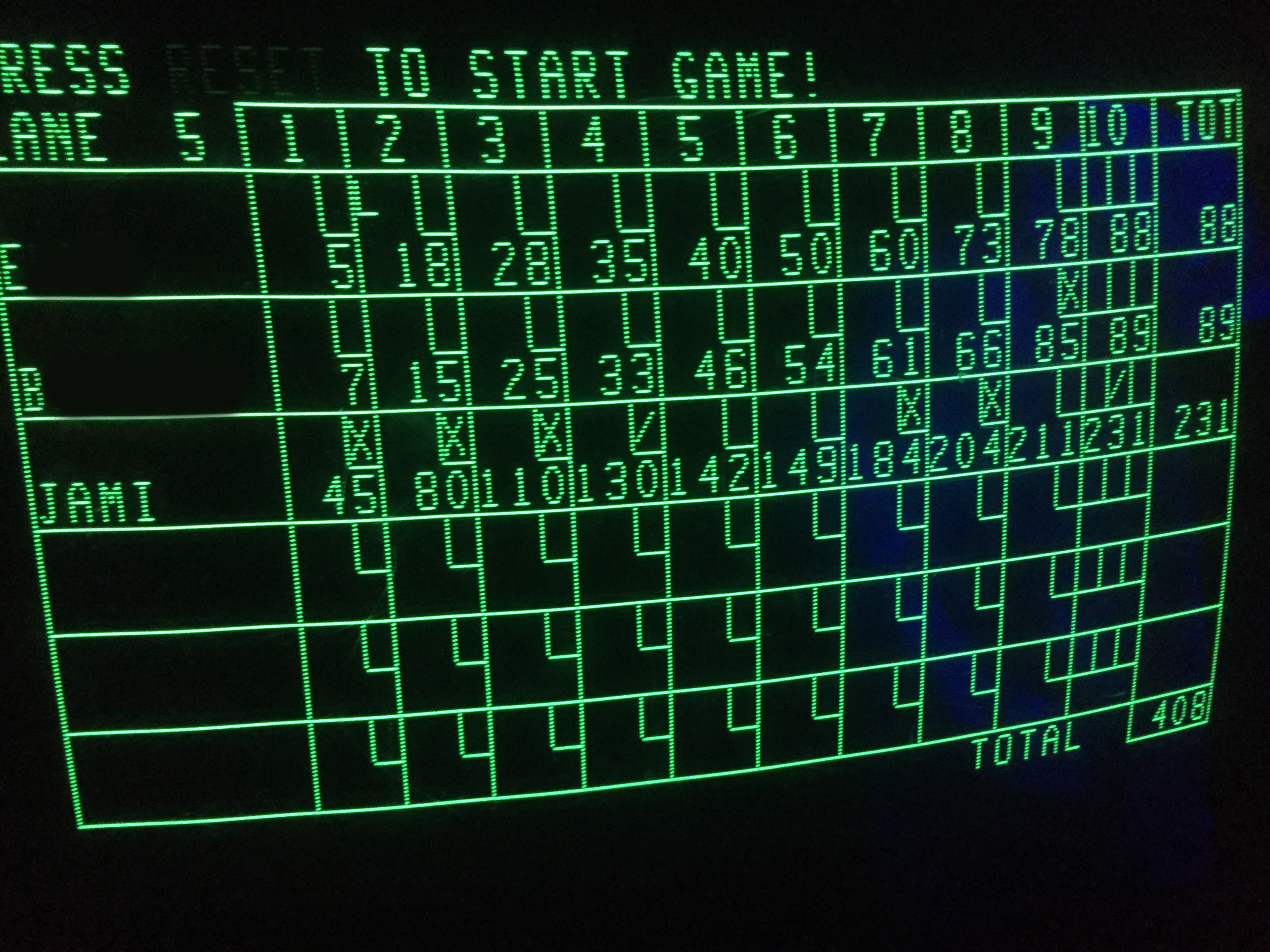 I loved that I had 5 strikes in one game. (And yes, here's a picture to prove it!) If you're going to go, they recommend that you call ahead to book your lane.
Sledding and Idlewild Park
Idlewild Park is where the locals head to when looking to go sledding. The long hill is perfect for kids as they can get going at a good speed and have a lot of fun riding down the hill but it's not too far that they can't hike themselves back up. We quickly found out that there are a lot of different routes to take as my daughter launched herself off a huge jump and ended up landing hard on her back. After we wiped off the tears she was ready to go again, although down a track with less jumps! My son on the other hand loved all of the obstacles and could have spent the whole day there. We highly recommend this stop.
Thank you to the people of Cranbrook for welcoming us with open arms. From the hotel staff to locals answering questions on social media, it was clear you're passionate about the town you live in and wanted us to have the best experience possible.
Is this a sponsored post?: Our trip was generously sponsored by BC Transit, however all our views and opinions are our own and we are so excited to share them with you!
Check out some of our other adventures we've had around BC as we #ExploreBCbyBus:
–Adventure Awaits in Prince George 
–Embracing the Staycation in Abbotsford