Travel Alberta curated the perfect Alberta experience, catch and release fly fishing! High-quality guides, an amazing destination, and a few traditional Canadian surprises made the experience extra special!
We were attending Go Media, an international travel conference hosted by Destination Canada. Day one was all about getting to know the region we were in and I chose fishing as my adventure. An early wake-up call had me in the hotel lobby at 6:30 am and we drove two hours through Kananaskis Country to old man river where we would base our adventures for the day.
Here are the ingredients that made fly fishing such a memorable and iconic Alberta adventure:
Classic Canadian Guides
Donning hip waders over a black and red plaid jacket, complete with an all Canadian toque, Brando looked like he was straight off the cover of a Canadian tourism magazine. Not only did he look the part but his kind demeanour, brilliant smile, and contagious energy made us feel welcome and excited about our upcoming fishing adventure.
World Class Scenery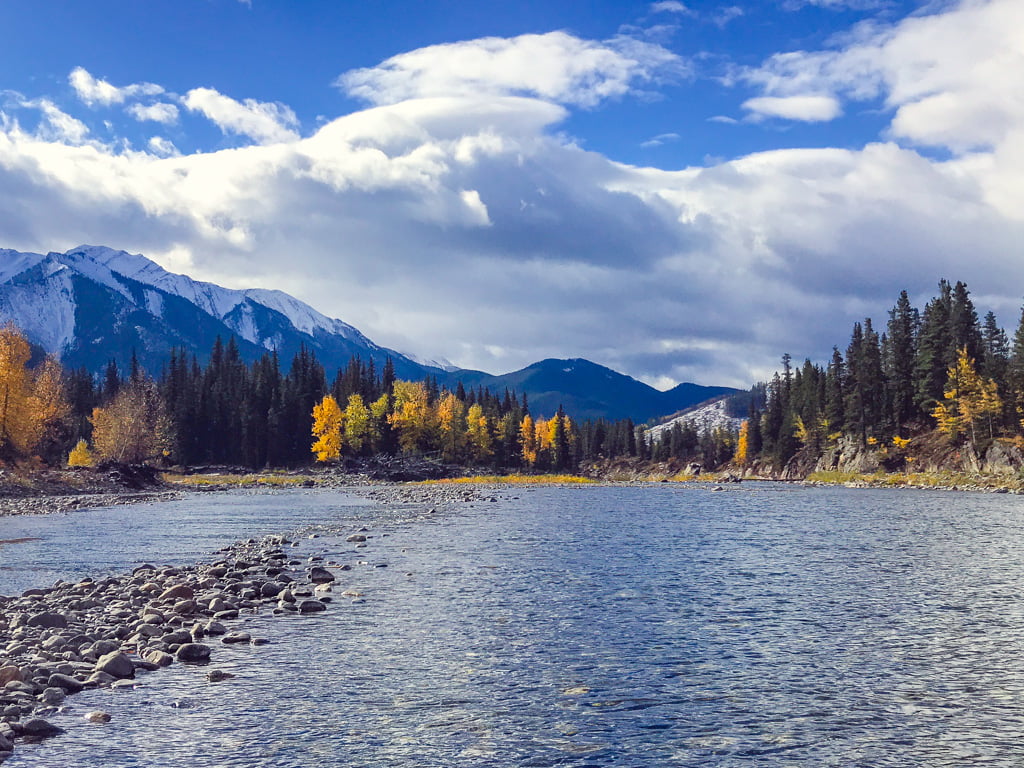 Fall had arrived in Southern Alberta. As we stood in the water we could see the autumn colour rocks, as if they had transformed their appearance to match up with the surrounding trees. Vibrant yellows, oranges, and reds greeted our shutters as we clicked photos at every turn. A light dusting of snow had even made its way on to the mountain tops, as if to remind our international guests that yes, Canada is known for the white stuff. The perfect scene had been set and we were ready for our fishing expedition!
The Perfect Fly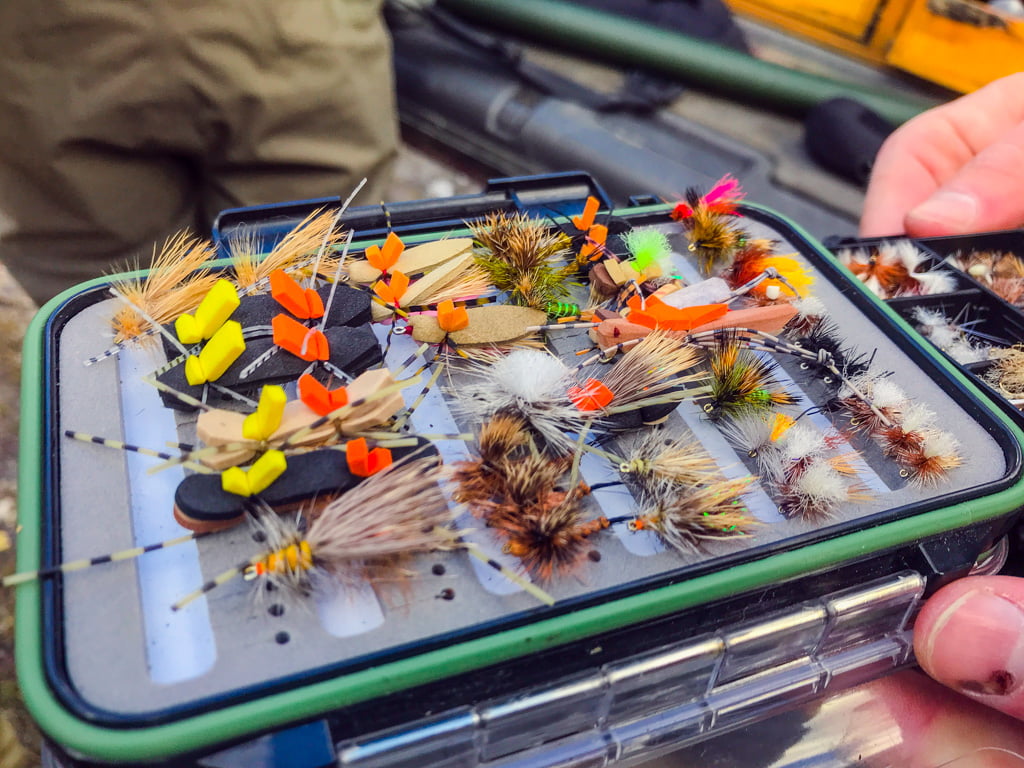 Before we could cast our first reel we had to learn what exactly fly fishing was! Brando unveiled kit upon kit of flies teaching us the difference between each one, and how we may go about deciding which to use.
Learning How to Cast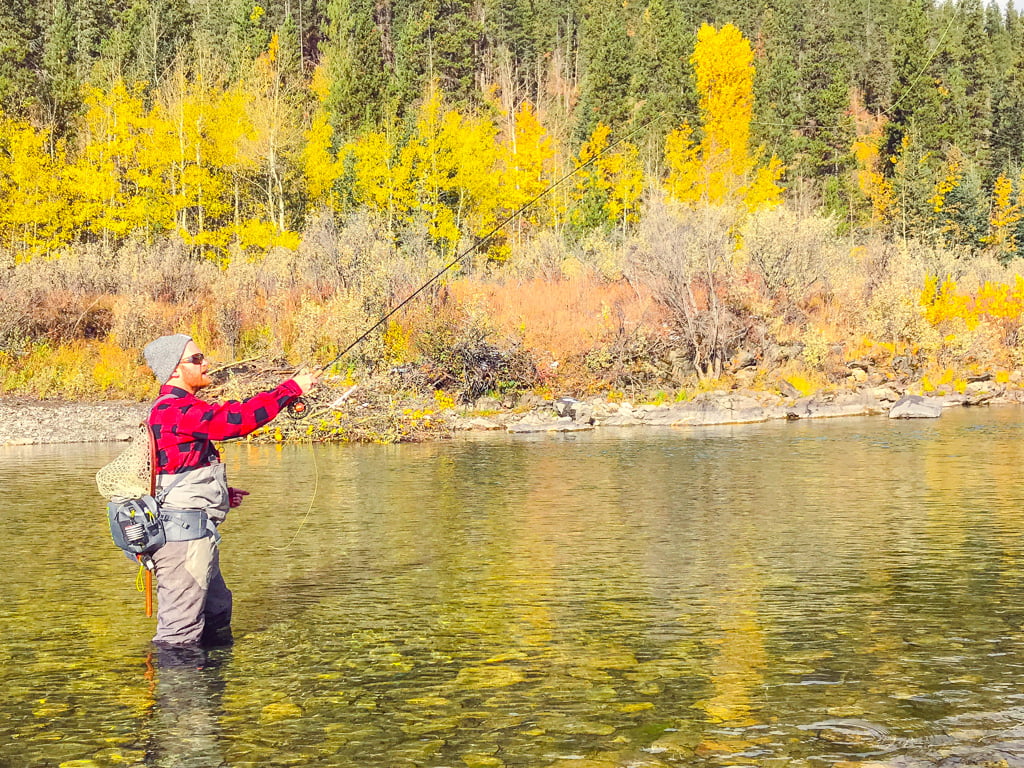 After a demonstration from our guides, it was our turn to hit the river and try casting.  After one whip of my arm, I realized that our guides, Brando and Devon, were really good at making this look easy! However, with enough space and hands-on mentoring, I quickly found myself in the groove!
Casting Call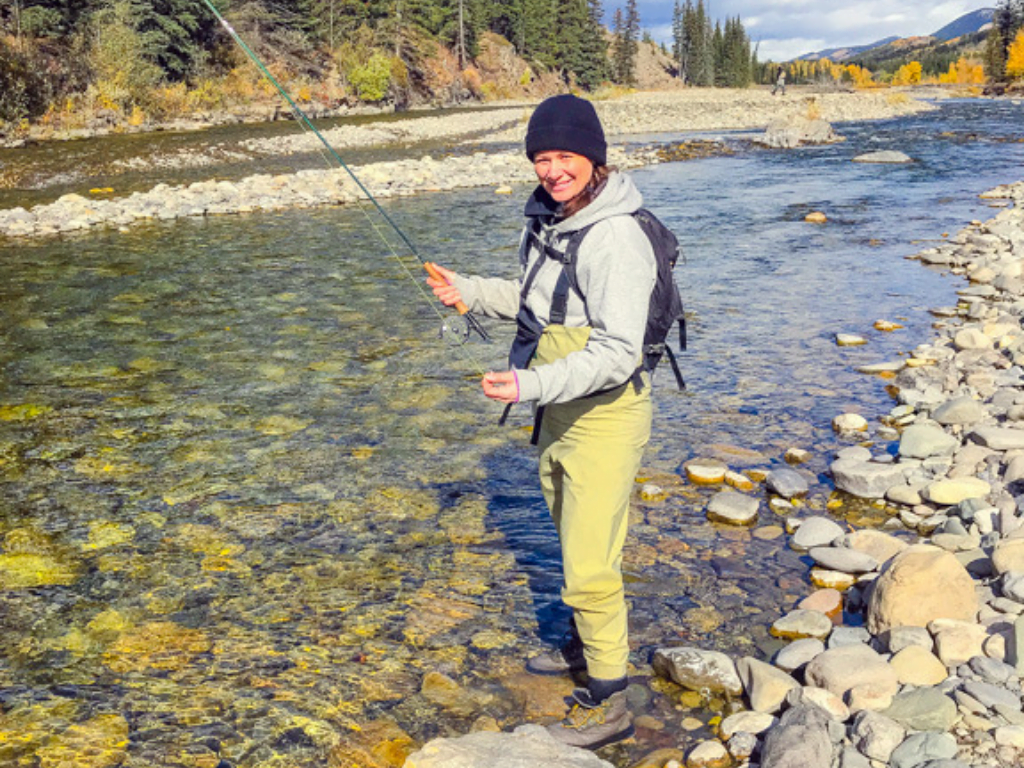 Once I had proven my skills on the riverbank, I was invited up to the actual river where the fish were swimming around. This was a whole new way to fish for me and I felt like the fish were taunting me… I've never been fishing where you could SEE what you were trying to catch! And sure enough, the fish bit time and time again, (5 to be exact) but I hadn't managed the technique of pulling up and hooking them, leaving the score for the fish 5-0.
Here Fishy Fishy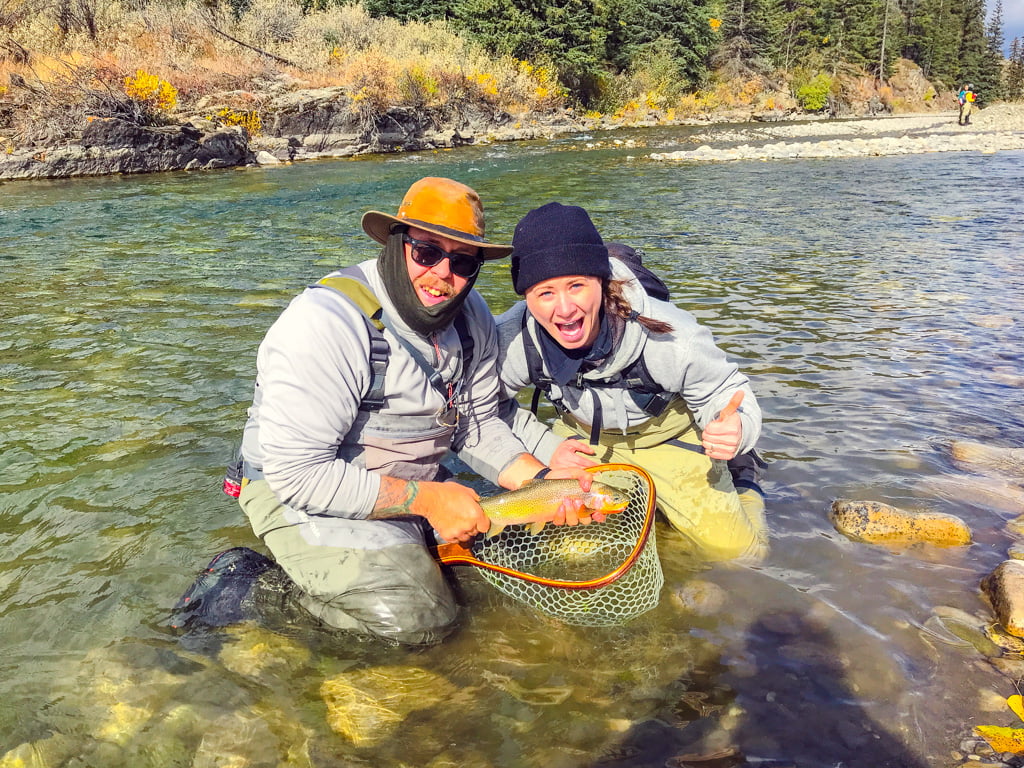 "You got one, you got one!" The adrenaline ran through my body as my guide confirmed the hook. With five failed attempts I was starting to worry I wouldn't catch a fish. But suddenly I had hooked one, and now all I had to do was reel it in! Once I had it in the net, I posed for my selfie with my first ever cutthroat trout!
An Extra Special Experience
At this point in the story, this fly fishing Calgary adventure went to a whole new level. We could hear the mooing and bellowing noises as the cows were coming around the bend and we knew they were getting closer. And then all of a sudden, the gates opened and 1400 cattle came roaming through our fishing grounds. Yes, 1400!  At the front and along either side of them was 20 or so cowboys and cowgirls (men and women) steering the herd in the right direction. The vocalizations from the cows, the sounds of their hooves on the hard-packed ground, the splashes they made as they crossed the river and the shouts and calls the cowboys and cowgirls were making to keep the herd on track was an incredible sight to witness.
Canadian Celebrity Appearance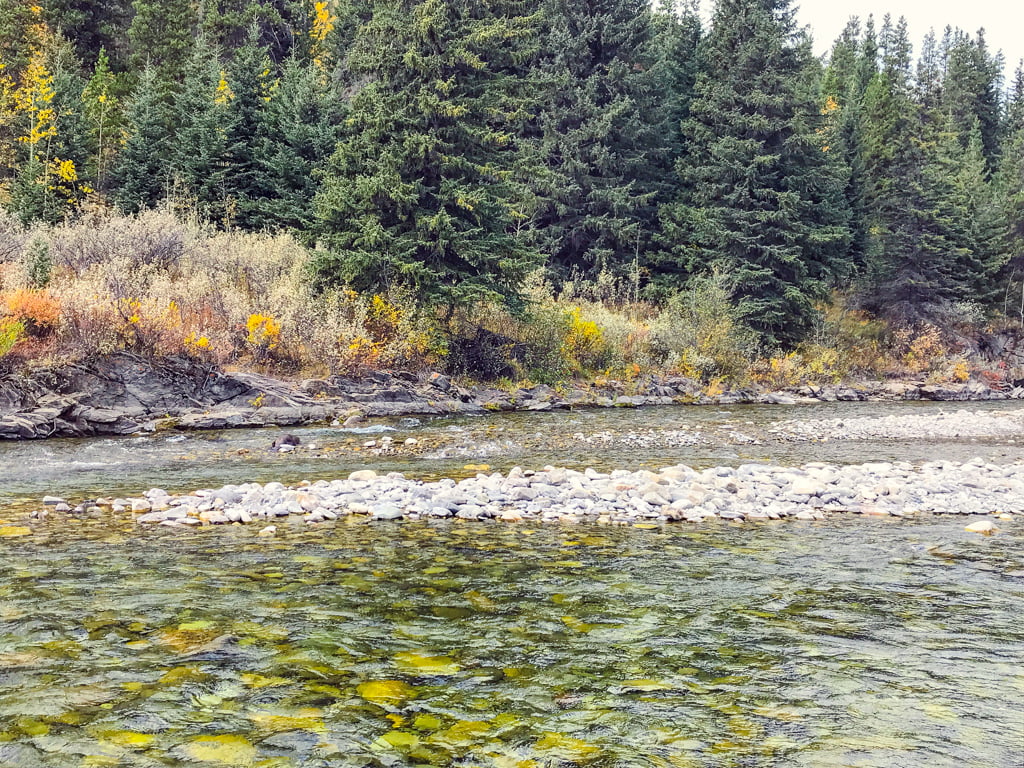 I know what you are thinking, this day couldn't get any better right? We had the ultimate fishing guides, the most beautiful scenery, we had caught fish, and been a part of a 1400 cattle drive. But then we were overwhelmed with Canadiana when a BEAVER popped out of his den and went for a swim in front of us. All of the commotions from the cows made it anxious, so it wanted to get out and go for a tour around the river. The day did get even better and had the most epic ending!
If you're interested in having your own perfect day out on the water check out Top Water Fly Fishing Calgary and give Brando a call to create your own custom experience! This adventure is perfect for all ages and they love bringing kids and families out onto the river. 
There are so many incredible adventures and experiences in Alberta. Check out these blogs for travel information and inspiration!
Roadtrip Through the Canadian Badlands
Surfing, Snorkeling & SUP at Lake Newell
Banff Gondola: The Best Views of the Rockies
Explore Banff National Park by Bus
Is this a sponsored post?: While we were invited to experience Top Water Fly Fishing Calgary by Travel Alberta, all our thoughts and opinions are our own.