Imagine a land where stories are told for centuries, creating legends that make you believe fiction over fact. Where a drive through the country unveils homes that are dated by centuries, not decades, and the family culture is woven into their herds of sheep that roam. Where everyone greets you openly, knowing you're not from there, but hoping that you'll stay a while. Where adventures are around every corner, welcoming visitors to physically connect with the majestic landscapes that make the destination so sought after.
This is Northern Ireland.
Located on the North end of Ireland, this United Kingdom empire has a rich culture that is it's own. The civil rights movement 40 years ago brought internal wars to the country, and tourism was a challenging industry, to say the least. The peace walls are up and Northern Ireland is welcoming guests from around the world, reinventing itself, excited to showcase their amazing country, culture, and community that makes each town so special. "The past is an important part of who we are today, and the future is bright, and we couldn't be more excited to welcome you to Northern Ireland."  If you're looking for the places to go in Northern Ireland with kids, we've got a day by day itinerary for you!
Northern Ireland with Kids – The Ultimate Itinerary for Families
Day 1 – 3 – Dublin
For families coming from overseas, the time change and travel can be hard, especially on the younger members of the family. So before you head up to experience Northern Ireland with your kids, I recommend that you spend a couple days in Ireland's Capital City, Dublin. The top 5 family-friendly attractions include:
Dublin Zoo- You can spend a few hours or all day, there is so much to see. Arriving early means you can check the feeding times for certain animals and come back when they're on.
Rainforest Adventure Golf-  Mini golf in a rainforest! Located in Dundrum, this novelty mini golf is a big winner with both little and big kids.
Aqua Zone at the National Aquatic Centre- An underwater playground for kids, with a pirate ship, and wave pool, as well as some water slides for grown-ups.
Airfield Estate- Located in Dundrum, this working farm allows guests of all ages to learn about farming, food, and nature.
Malahide Castle- You can pay to visit the castle, or just explore the grounds and the playground, with a zipline, and tonnes of space for kids to run around.
Day 2 – 4 – Newcastle
A two-hour drive from Dublin through the greenest fields, farm filled hillsides, cute cottages, and traditional farm homes and you arrive at Newcastle. This seaside resort lies in the Irish Sea, with the ocean in the front and the Mourne Mountains surrounding it like a warm hug. Children and adults alike will enjoy staying at the historical Slieve Donard where every guest is made to feel like royalty. Children will love the huge pool, while parents can settle into the infinity hot tub overlooking the ocean.
After you're settled into your hotel join the crew over at Life Adventure Centre and cruise on bikes around Castlewellan and up through the mountains to lookout points! Grab a quick lunch at their cafe and then head over to the Mourne Mountains for some afternoon hiking and take in the views over the stunning Slieve Donard Hotel.
Spend the rest of your time in Newcastle roaming the streets and checking out the amazing eateries and stores. Take a moment at Bloody Bridge as you process the historic events that occurred at that spot. Head down to the beach and build sandcastles in the sand. Or check out many of the other outdoor adventures in the region, including kayaking, sea kelp spa, biking, and more!
Where to eat: Brunels
Mom Tip: Hold your kids closely when you're on the road, and be sure to always look left when crossing the road. I had a couple of close calls, so be extra careful with the kids!
Day 4 – 6 – Fermanagh & Finn Lough
For a bucket list adventure like no other, book family accommodations at Finn Lough. Choose between Lakeside Lodges, waterside cottages, catered suites, or my favourite, the bubble dome experience. Imagine having a hard time falling asleep as you're eyes dart back at forth at the canopy of stars above you. These bubbles are not only Instagram perfect but the experience is beyond what you could expect, with heated beds, a mini kitchen with coffee and homemade shortbread, and a hot shower to clean off in after your adventure-filled days!
As welcoming as the bubbles are, the outdoors call you from the moment you wake up. There's lots of activity to do at the resort, including walking, trail riding, mountain biking, water sports, fishing, swimming, evening lakeside campfires, and of course, their amazing Forest Spa.  
Perfect Day Trips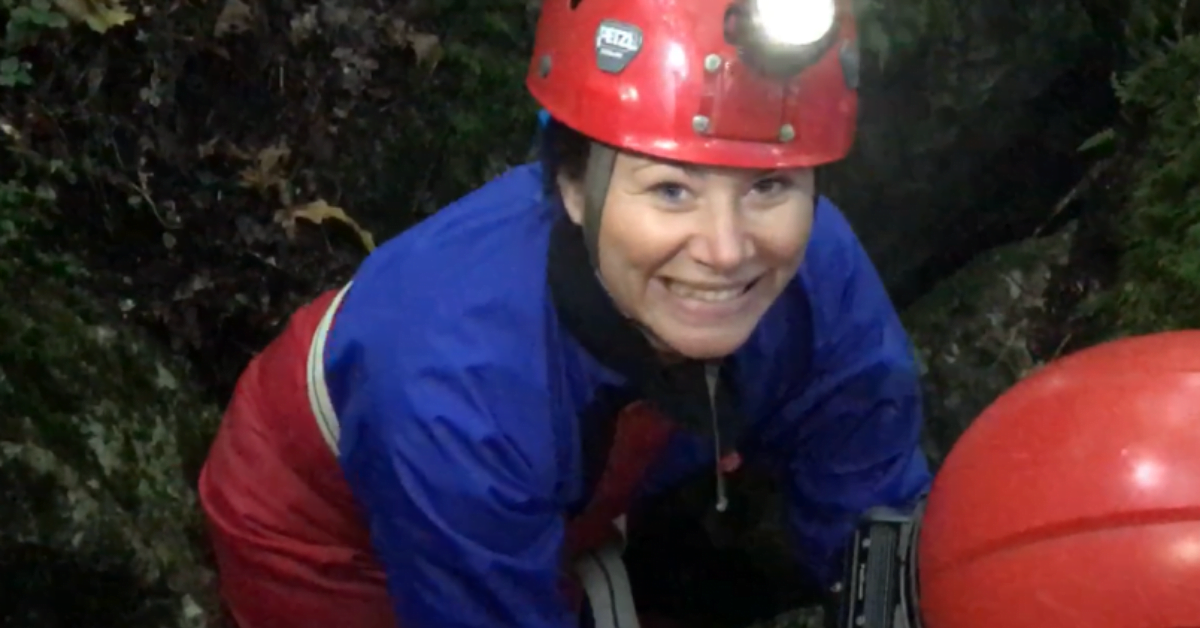 Looking for the ultimate family adventure? Gear up and go underground at the Marble Arch Caves, where 1.5 kilometres of caves is ready to be explored!
Looking for something more moderate? Head over to the River Blackwater and go canoeing with The Mobile Team Adventure to the Argory House.  A short and easy paddle, with treats along the way and an epic estate to tour once you arrive, this trip is both fun, and educational, keeping every member of the family happy!
Where to eat: The restaurant at Finn Lough is some of the best food I've ever had!
Mom Tip: Finn Lough is the perfect place to slow down and let the kids explore at their own pace. So give them the activity list and let them lead the way.
Day 7-10 – Derry & Portrush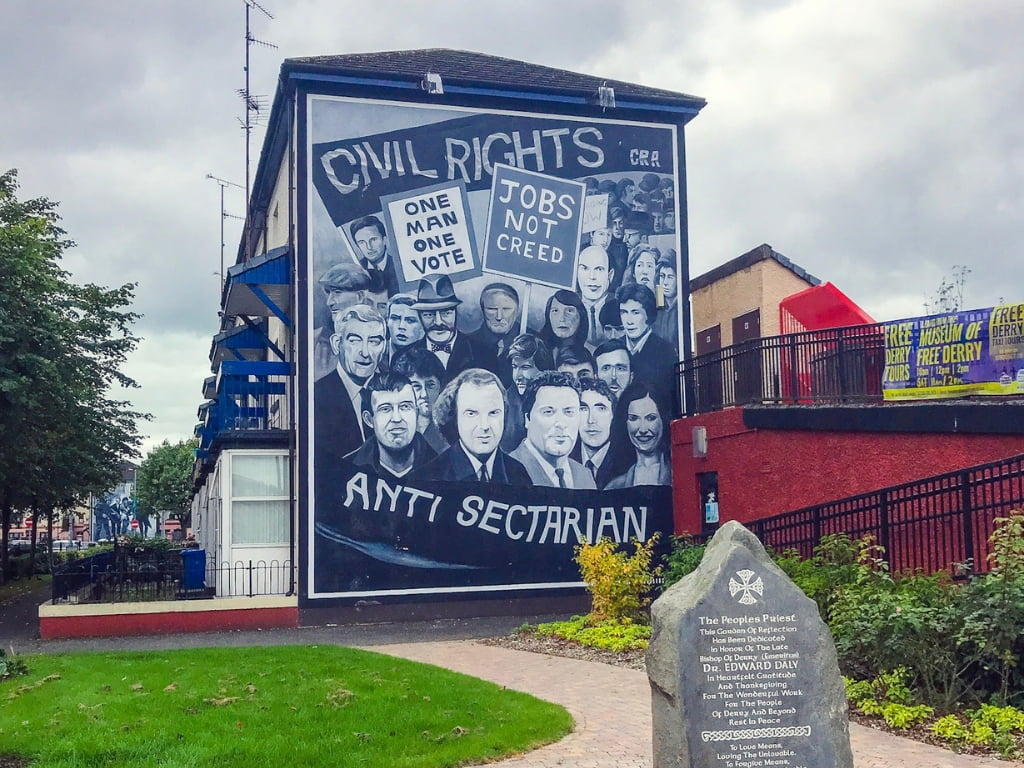 To really understand the history in Northern Ireland with kids you need to take the family to Derry. This is where the start of the civil rights movement began and where today, large murals are portrayed throughout the city, reminding, educating, and honoring the towns history.
Where to eat: Grab a bite along the river at the best food truck in town!
Mom Tip: I highly recommend working with a tour guide to take you around the city to tell you the stories behind the murals, as well as take you into the walled city to learn all about the towns 400 year history.
Longboarding
Take a new adventure and mix it with history and cobblestone roads and you have Longboarding with Far and Wild Adventures. Kids and adults can quickly learn how to longboard and experience touring a city in a whole new way. One of the most profound moments of the tour was riding across the Peace Bridge. At 10 years young, this bridge unites the North and the South residents both physically and symbolically, helping reconcile the past and build for a stronger future.
Mom Tip: Do it. There are going to be Mom's that will read this article and want to sign their husbands and kids up for this experience. Don't be a passenger or let this adventure intimidate you, I promise it's easier than it looks and you will have a lot more fun riding with your family than being on the side taking photos!
Rock Climbing in at Runkerry

A warm summer afternoon wind led us down the trail, past a castle, and to the site of the iconic cliffs we had only seen in the Lonely Planets Facebook posts, always teasing us, but this time our moment was here. The goal was to learn how to rappel and climb these epic cliffs, which after a quick orientation, we all quickly embraced our inner mountain goat and were on our way. This family-friendly adventure is one I highly recommend, not only for the epic views and amazing scenery of which you're climbing in, but also for the great team at Climb NI and the entry level, accessible climbing routes that they have laid out.
Mom Tip: Make sure everyone goes to the bathroom before your adventure. And bring water and snacks… lots of little pocket snacks are ideal while children are waiting in between turns.
Blokarting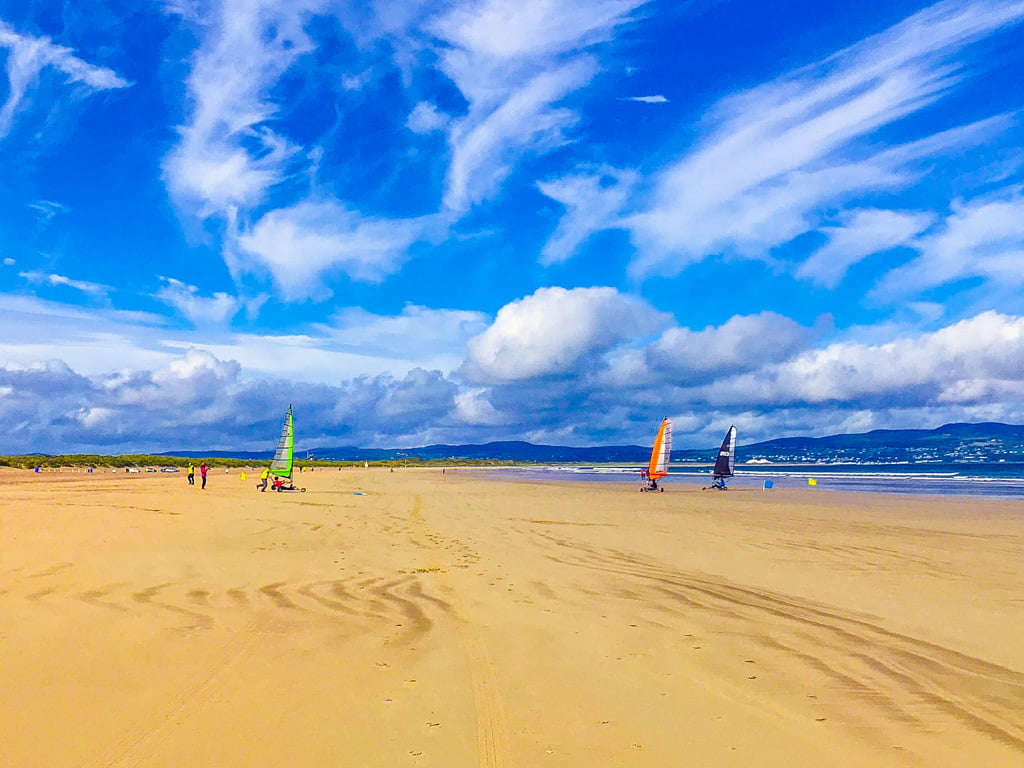 Imagine buckling in, and then racing off after your children down the beach, the wind powering your sails and your feet reaching for a break that doesn't exist. The wind picks up and you topple over, hoping to learn from your mistakes so it doesn't happen again. Welcome to the sport of Blokarting, where children as young as 8 years old can race their parents on the long sandy beaches of Benone Strand.
Surfing in Port Rush
Was the best adventure saved for last? Hard to say, with so many amazing outdoor experiences available in Northern Ireland. Choosing favourites wouldn't be an easy task. However, the warm ocean waters and the surfboard under my arm led for an incredible afternoon of surfing with Alive Surf School. Voted the best family adventure in Northern Ireland for three years, this is a definite must on every family's itinerary!  
Where to eat: Harry's Shack
Sunset at Giants Causeway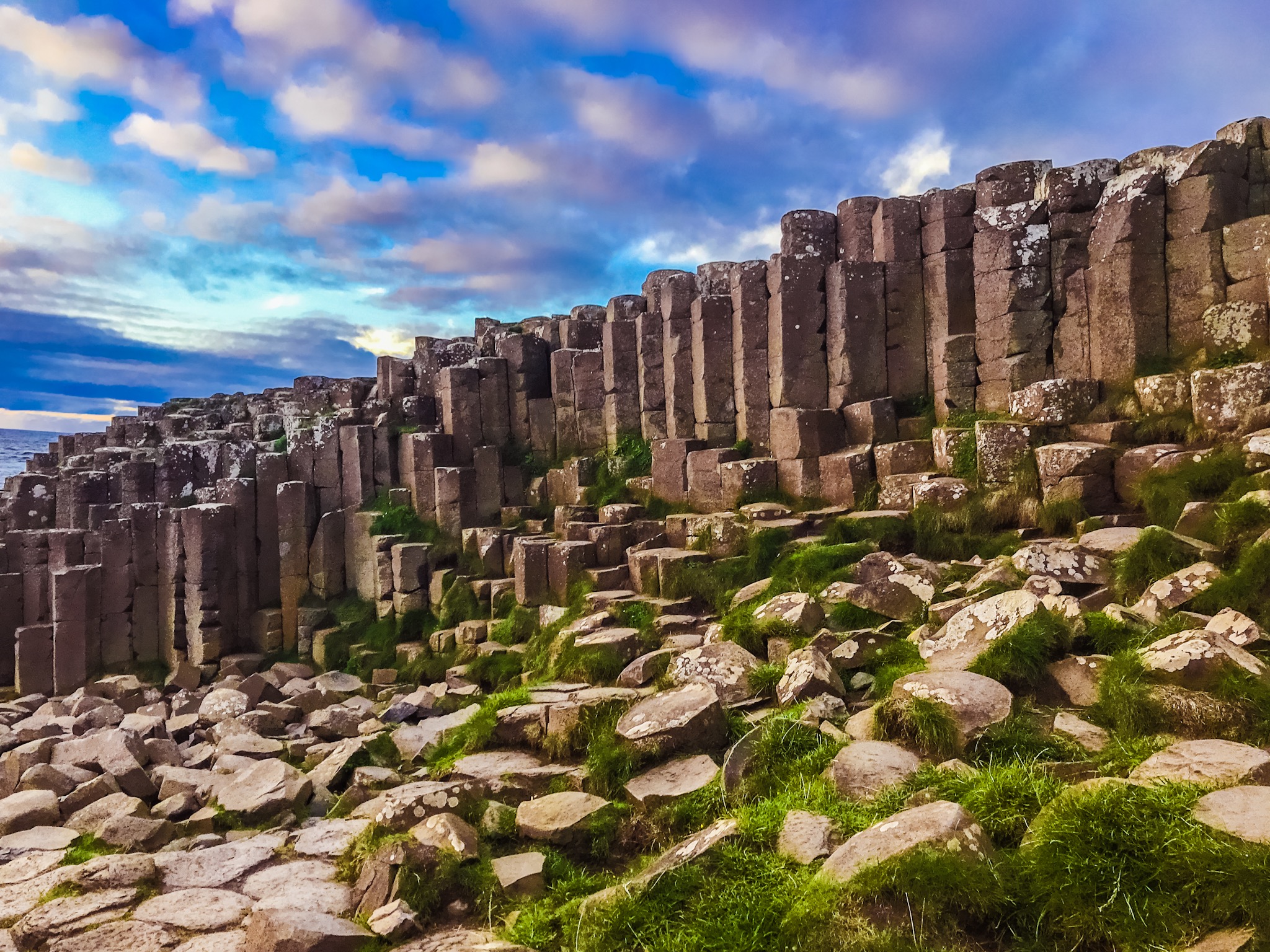 A UNESCO World Heritage Site, and Northern Ireland's most visited natural attraction, The Giants Causeway is an area of about 40,000 interlocking stone columns, the result of an ancient volcanic fissure eruption. Although, according to legend, the columns are the remains of a causeway built by a giant! Whichever origin you choose to believe, this dramatic landscape is sure to impress.
Day 10 – 12 – Belfast
A trip to Northern Ireland with kids wouldn't be complete without a visit to Belfast. Plan to spend a day at the Titanic Experience Centre, where all members of the family will be engaged in the educational and hands-on displays. Grab one of the readily available tourist maps and wander through the town's little quarters that have been home to the Irish for centuries and centuries. Drive the family down Peace Wall and take time to photograph the inspirational murals, and process the messages they are portraying. Settle into one of the amazing pubs (family-friendly) or restaurants and enjoy your last meal in Northern Ireland.
Before You Go:
I don't typically hire guides when I travel, but after my amazing tour guide, Dee, I will definitely be looking into this for future trips! Not only are they able to help educate you on your surroundings and the history, but they know EVERYONE! So if you're needing to change activities, missing a critical item or want to explore something unscheduled they can help facilitate it quickly and easily! For visiting Northern Ireland with kids I highly recommend you email [email protected] for the best Tours!
Are you interested in more ideas for family adventures? Check out these articles for inspiration.
Ultimate Family Eco Tour in Kauai