The town of Banff is a popular vacation destination for visitors from all over the world. On average there are around 3.5 million tourists per year that come to indulge in all the incredible activities that Banff has to offer.
Most people who come to Banff do so by private vehicle, whether that be in a car, motorhome or truck and camping trailer. As you can imagine, that means a lot of extra vehicles in a town that already has 8,000 residents.
When you are visiting, you don't want to spend your time searching for a parking spot and potentially missing out on a spectacular opportunity. Using public transit is an affordable way to see the sights, reduces your carbon footprint and helps to maintain the pristine environment that makes the National Park what it is!
So leave your vehicle at your campsite or hotel and make use of the public transit and the Banff National Park Bus shuttle systems that are throughout the town and park.
Here are the key features of exploring Banff by Bus!
Bus Right From Your Campground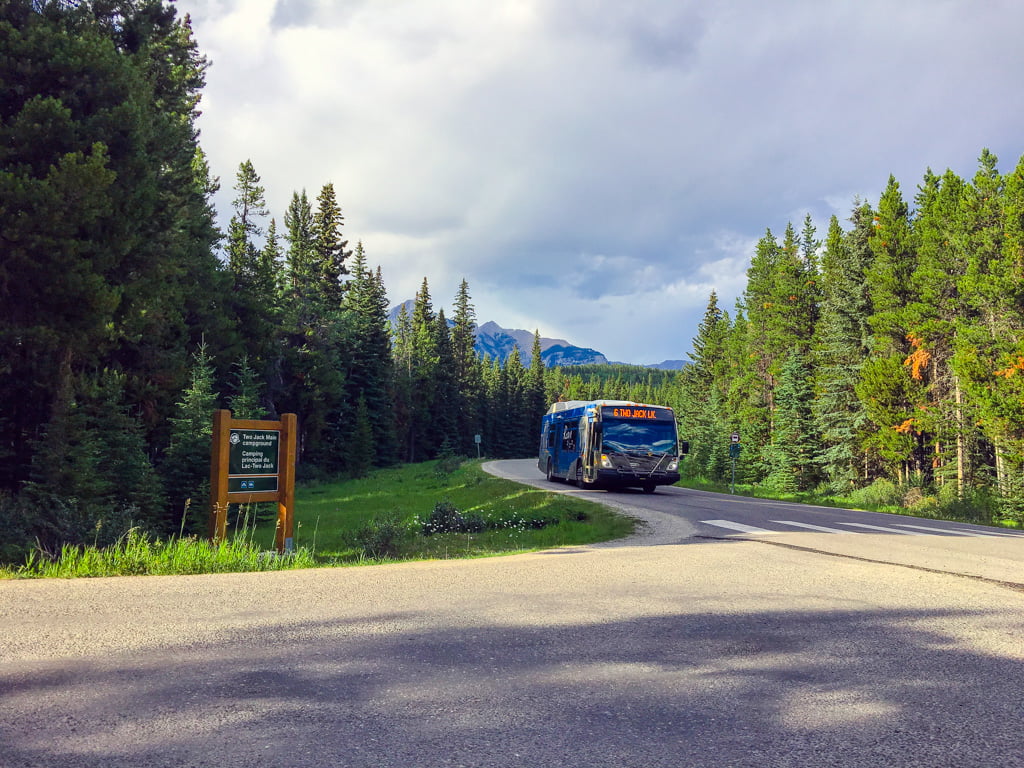 No need to drive into town, the Roam transit buses stop at both Two Jack Campgrounds (Main and Lakeside) and Tunnel Mountain Campground.
Best part, the buses out of the campgrounds are free and take you right into downtown Banff! They leave right out front of each campground and they make convenient stops at the Banff Train Station (where the Parks Canada shuttles depart for Lake Louise and Johnson Canyon) and downtown. From downtown, you can easily switch to the next bus to take you to your adventure destination.
These buses leave approximately every 30 minutes starting from around 8:30 am to go into town and the last bus from downtown Banff back to the campgrounds leaves around 8:00 pm (for up-to-date times, visit the Roam Transit website).
Parks Canada Shuttles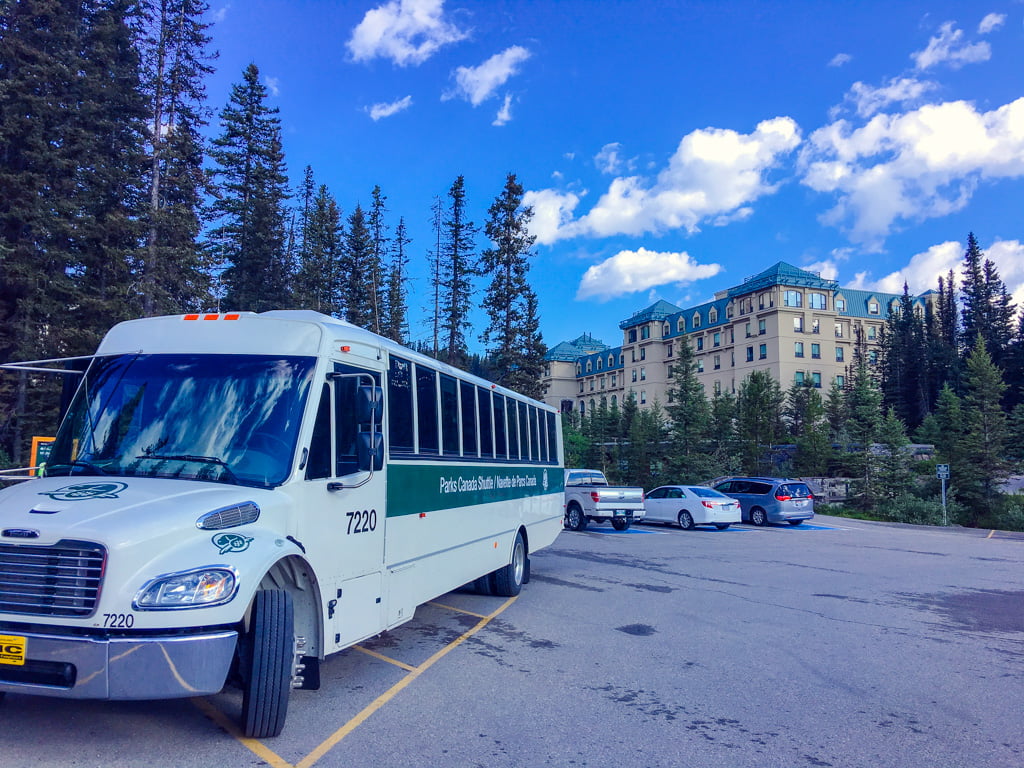 One of the most popular attractions in Banff National Park is Lake Louise. This is one stop that truly sees a ton of vehicle traffic. Not only is it a destination that people like to stay the day at (or multiple days) but it is also one place that people who are "just passing through," either into BC or up to Jasper, like to stop at.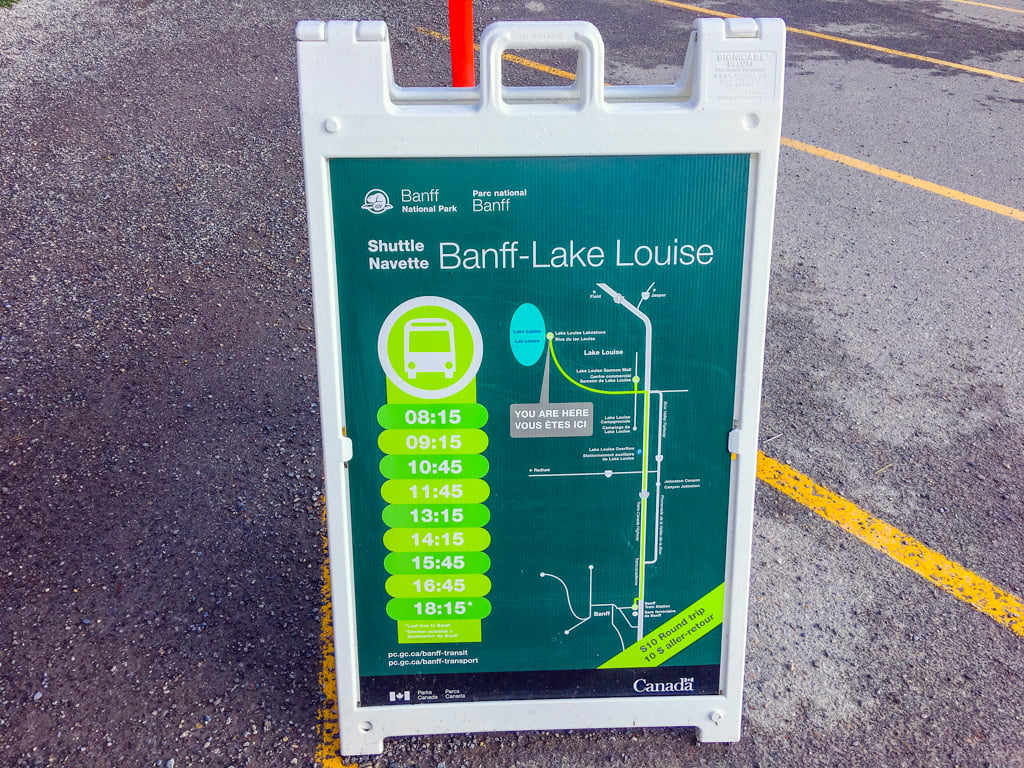 Parks Canada operates a convenient Banff National Park Bus shuttle service right from the Banff Train Station to Lake Louise. Once in Lake Louise, the shuttle drops you off in the main parking lot adjacent to the Fairmont Chateau Lake Louise Hotel. The lake is then a quick 2 minute walk from where the shuttle drops you off. The Roam transit bus will take you from your campground right to the train station where the shuttle leaves from. It makes for an easy transition.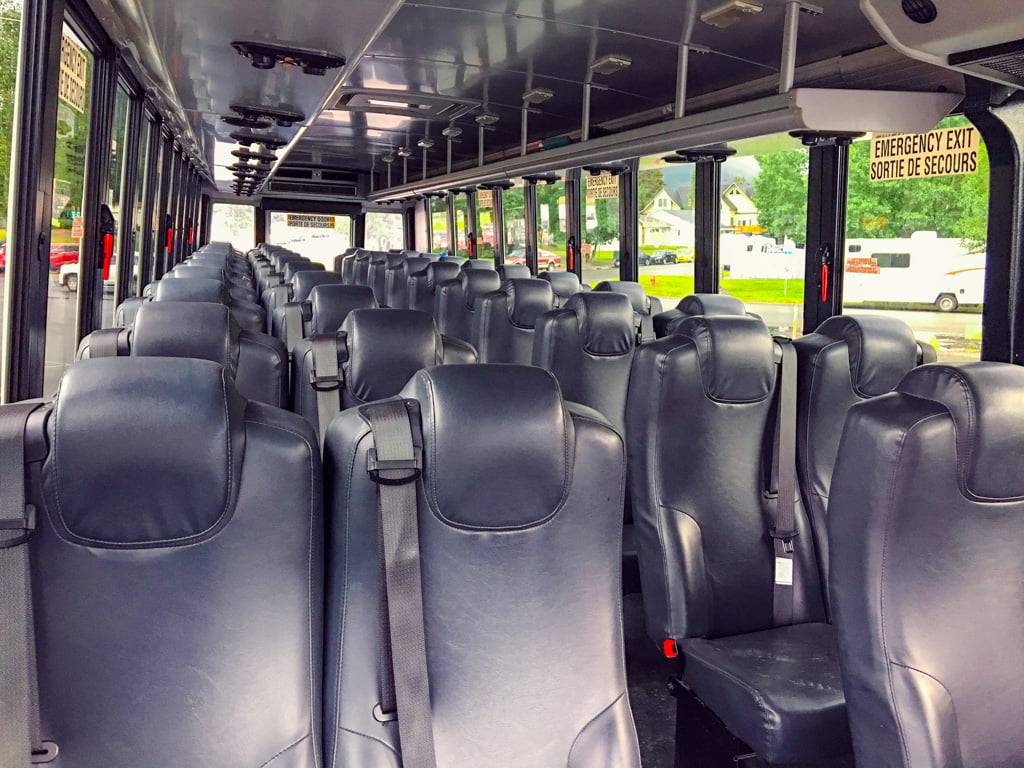 These are not your ordinary shuttle buses either! They are super comfortable (and they have seat belts!), making the 45 minute drive to Lake Louise super enjoyable. We got seats right up front and were able to sit back, enjoy the scenery and have a snack while someone else did the driving.
Return tickets are $10 for adults and free for anyone 17 and younger. For an up-to-date schedule, please visit the Parks Canada shuttle website.
Park and Roam
If you are just spending the day in Banff, there are 5 park and roam parking lots (3 of these allow for RV Parking). This makes it easy to park your car, hop right onto the bus and begin your exploring right away. These lots allow you to park for free from 8-9 hours in duration, so you don't have to worry about rushing back every 2 hours to move your car if you had chosen to park on the street. One of the biggest and less busy of all the lots is the one adjacent to the Banff Train Station and the first one you will come to when you arrive into town.
Affordable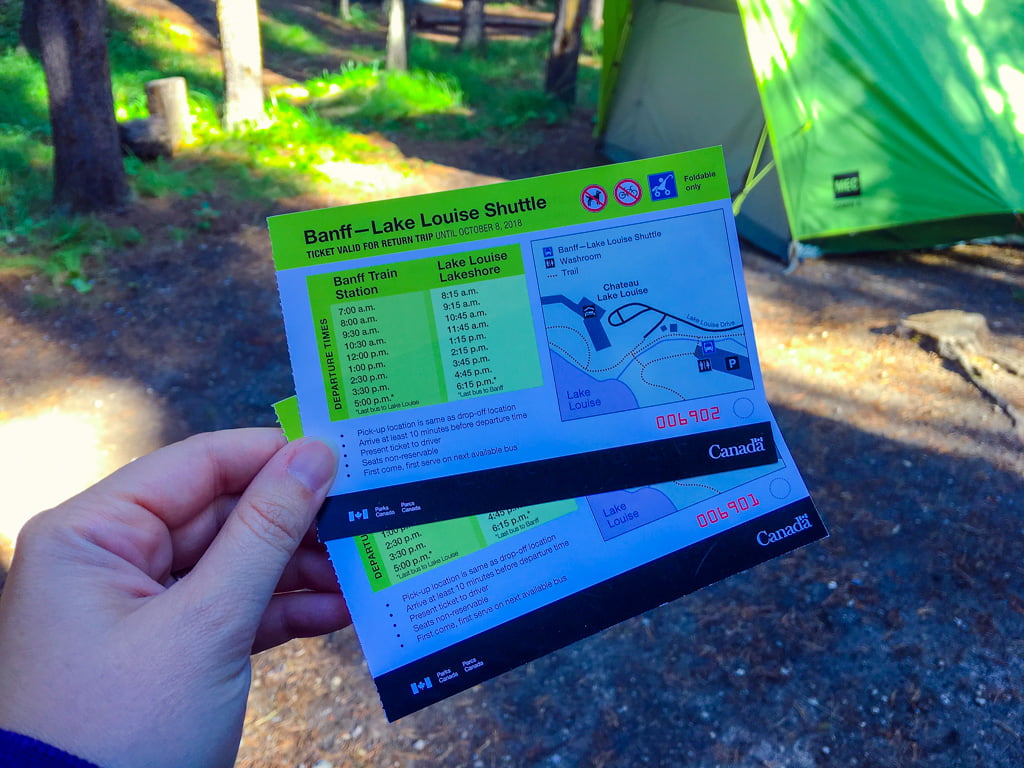 Both the Roam Transit and the Parks Canada Shuttle systems are affordable, making it a great alternatively for families. A single cash fare on Roam Transit is $2.00/adult and $1.00/youth (age 6-18). If you plan on making multiple trips in one day, we highly suggest purchasing a 1 day pass which costs $5.00/adult and $2.50/youth (1 day passes are sold only on the bus, cash only). Don't forget, registered campers at the Two Jack Main Campgrounds and Tunnel Mountain Campground, you get free departures into town, return tickets are $2/adult and $1/child.
The Parks Canada Shuttle to Lake Louise is $10 round trip/adult and free for youth age 17 & under. Parks Canada also offers a shuttle service to Johnson Canyon at the cost of $5.00 round trip/adult and free for youth.
Main Attractions
The bus stops at all the key attractions in town. Making it easy and convenient to visit the Banff Park Museum National Historic Site, Cave and Basin National Historic Site, Banff Upper Hot Springs, Banff Gondola and Tunnel Mountain.
Want to head out of Banff and explore some of the neighbouring communities? Roam transit will take you to Canmore and Calgary!
Free Shuttles
There are a few free shuttles that leave from the downtown area to many of the popular attractions. We headed to the Elk & Avenue Hotel to get on the free shuttle to the Banff Gondola. It was a quick ride to the base of the mountain and we are glad we did. The small parking lot at the Gondola was packed and we arrived just a few hours after opening.
Mom Tips:
be prepared for weather changes. It was pouring rain and thunderstorms in Banff, yet when we got to Lake Louise it was sunny. The weather can change quickly in the mountains.
taking transit and the shuttles means you need to be a bit more prepared, as you will have to make sure you leave your campsite with everything you need for the day, as returning back if you forgot something isn't as quick and easy when you are relying on the bus.
Interested in learning more about the Rocky Mountains? These articles are full of ideas and tips to help you make the most of your adventures!
Is this a sponsored post?: While we were graciously hosted in Banff, our thoughts and opinions of the Banff National Park Bus are our own.