Are you looking to visit FlyOver Canada this Halloween?
If you're like me, then you love finding new ways to celebrate the season and FlyOver Canada in Vancouver has the perfect show to add to your Halloween activities in 2023. Children will love joining "Broomelda" the witch, on an unforgettable Halloween themed flight over Canada. The show ends with a Halloween music festival, where your VIP tickets bring you in backstage and let you soar over the massive crowd that leaves you feeling like a rockstar.
With a 360 degree pre-show, spooky decorations, and a ride that has you soaring over Canada all while chasing Broomelda through the skies, this Halloween experience is the perfect mix of magic and adventure for your family.
As a local Vancouverite, we've been going to the Halloween show for years now and even as the kids get older, they still love this Fall experience, often inviting friends to fly with them to spread the Halloween cheer.
Disclaimer: While I share my own thoughts and stories about these experiences, should you click on the affiliate links, I may receive a small commission on that sale which helps fund Adventure Awaits.
FlyOver Canada Halloween
Breaking out our best zombie dance seemed like the only appropriate way to transition from one part of the HowlOver Canada attraction to the next. The flickering lanterns overhead, mixed between cobwebs, spiders, and oozing candles set the scene. The spooky (yet oddly upbeat and fun) Halloween music had us dancing as we officially kicked off the Halloween Season at FlyOver Canada.
When is FlyOver Canada Halloween?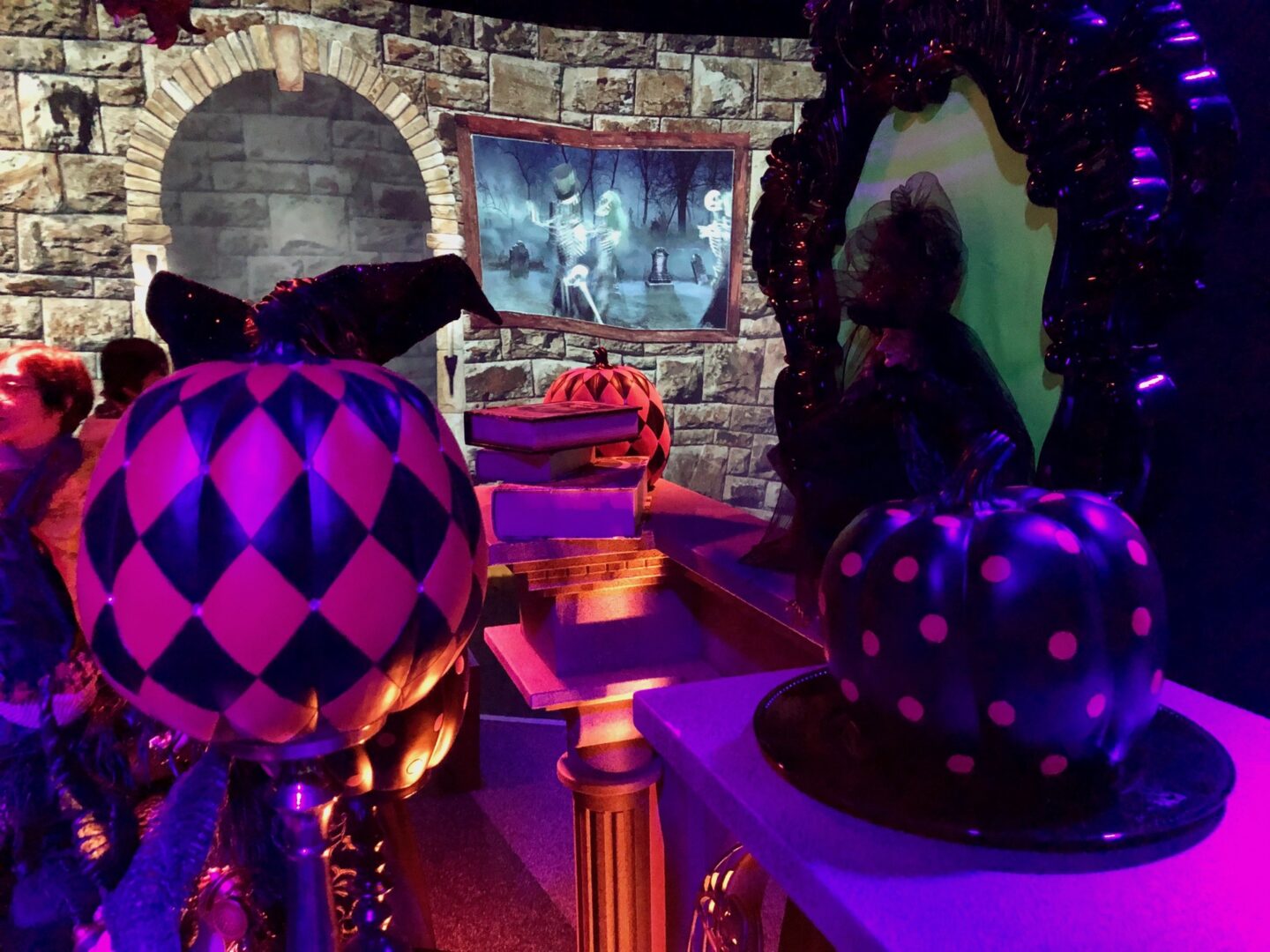 FlyOver Canada's Halloween Show "HowlOver Canada" runs at Canada Place from Thursday September 28th to Tuesday October 31st, 2023. One of my favourite Halloween traditions with the kids is to pick them up after school and then surprise them with an afternoon in Vancouver, visiting FlyOver Canada as our first stop!
Get your FlyOver Canada Halloween tickets here!
Where is FlyOver Canada Halloween?
FlyOver Canada is located at the far tip of Canada Place, just above the cruise ship terminal. Their address is 201 – 999 Canada Place, Vancouver, BC V6C 3E1. We recommend taking the skytrain if possible to save on parking.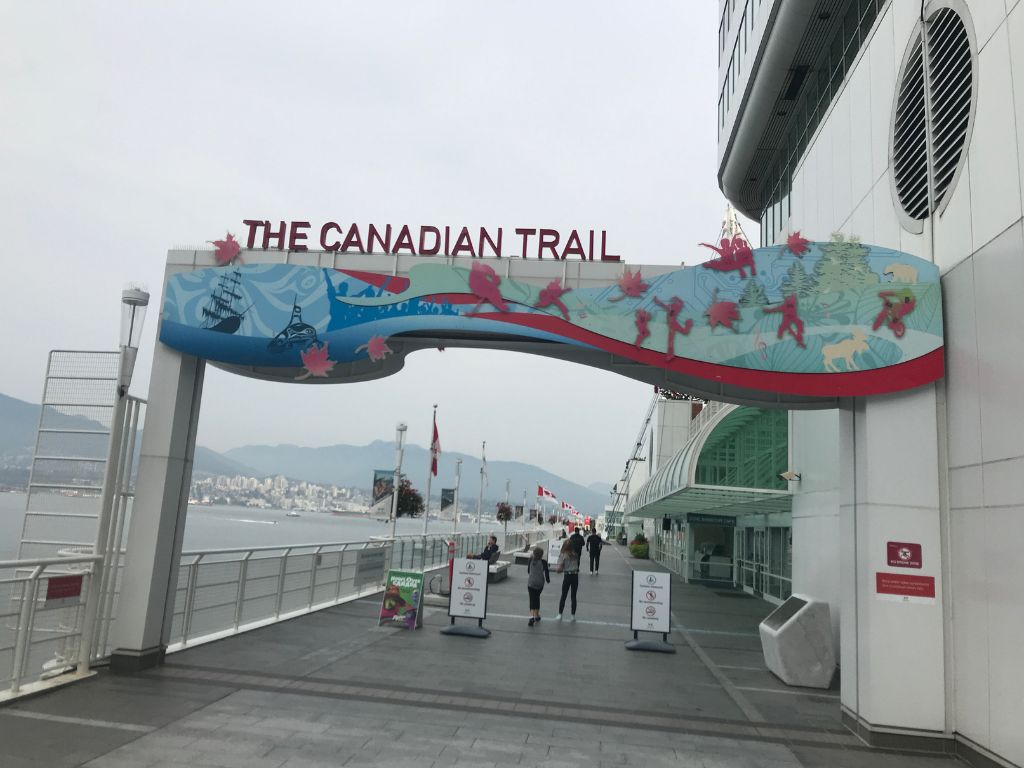 The walk from the skytrain to FlyOver is beautiful because as you walk the west side of Canada Place, they have you walking "through" each province and reading the major cities in each Canadian province with marked tiles below. Our family loves to point out all of the cities that we've been to and also note the ones that we are still left to visit!
FlyOver Canada Halloween Hours
FlyOver Canada Halloween rides run every fifteen to twenty minutes daily from 10am to 9pm. On weekends only, the attached Flying Whale Café offers additional Halloween programming from 10am to 2pm, including creepy crafts, petrifying photo ops, scary scavenger hunts and frightful face painting to go along with any treats you might eat.
FlyOver Canada Halloween Duration
The complete Halloween at FlyOver Canada experience will last between 20 – 25 minutes including:
The FlyOver Canada Halloween, an adventure filled 8-minute flight ride experience
Broomelda's Witches Academy Themed Pre-Show
A Witch Academy Diploma to take home
Halloween theming and spine-tingling decorations.
FlyOver Canada Halloween Preshow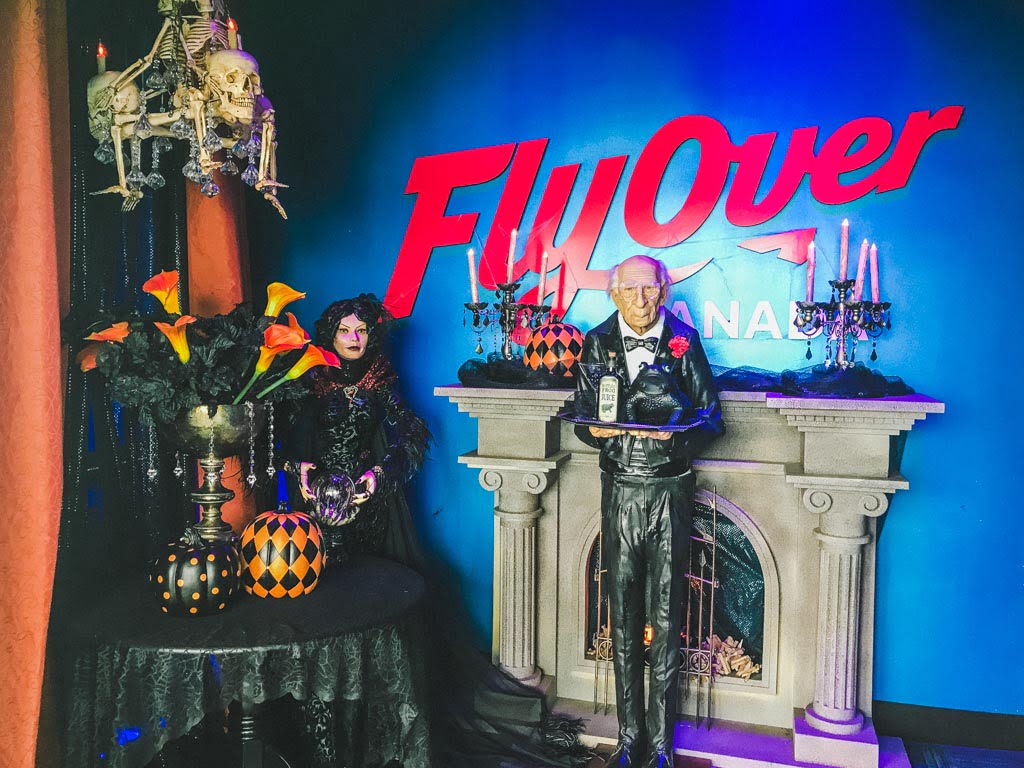 One of the reasons I go back to FlyOver Canada, again and again, is because each time we go it's a completely different experience. The pre-show for the HowlOver Canada was no exception, with their decor going to a whole new level, embracing the spirit of Halloween with the unique mix of antique and vintage decor combined with elements to ensure it was always family-friendly and not too scary for the littles!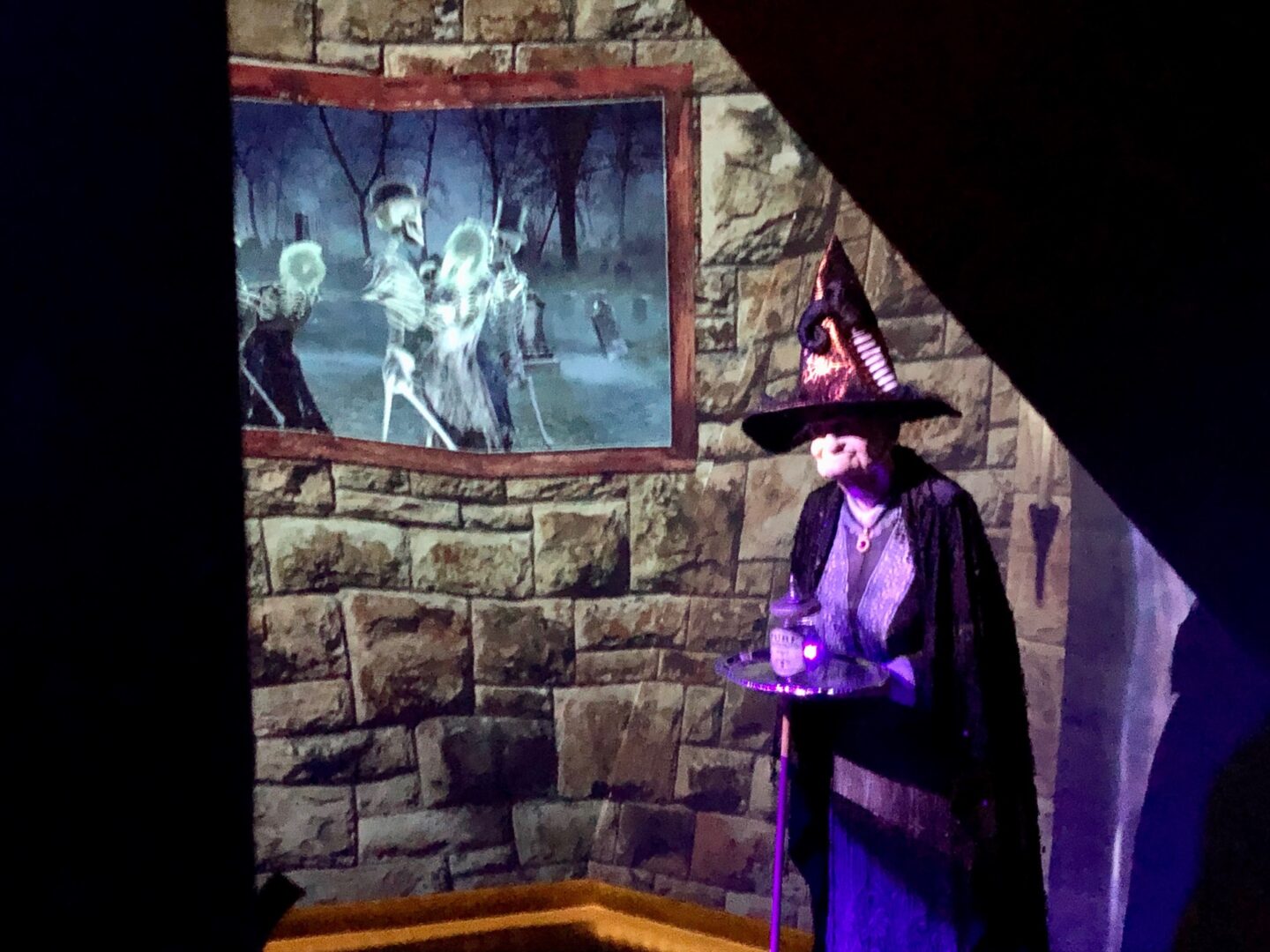 The kids were spellbound, taking in every word and cackle as Broomelda, FlyOver Canada's resident witch and headmistress of the Haunted Witches Academy, introduced herself during the pre-flight briefing video. As ghosts flew around the dimly lit, spookily decorated room, the younger kids clung a little tighter to their adults than usual.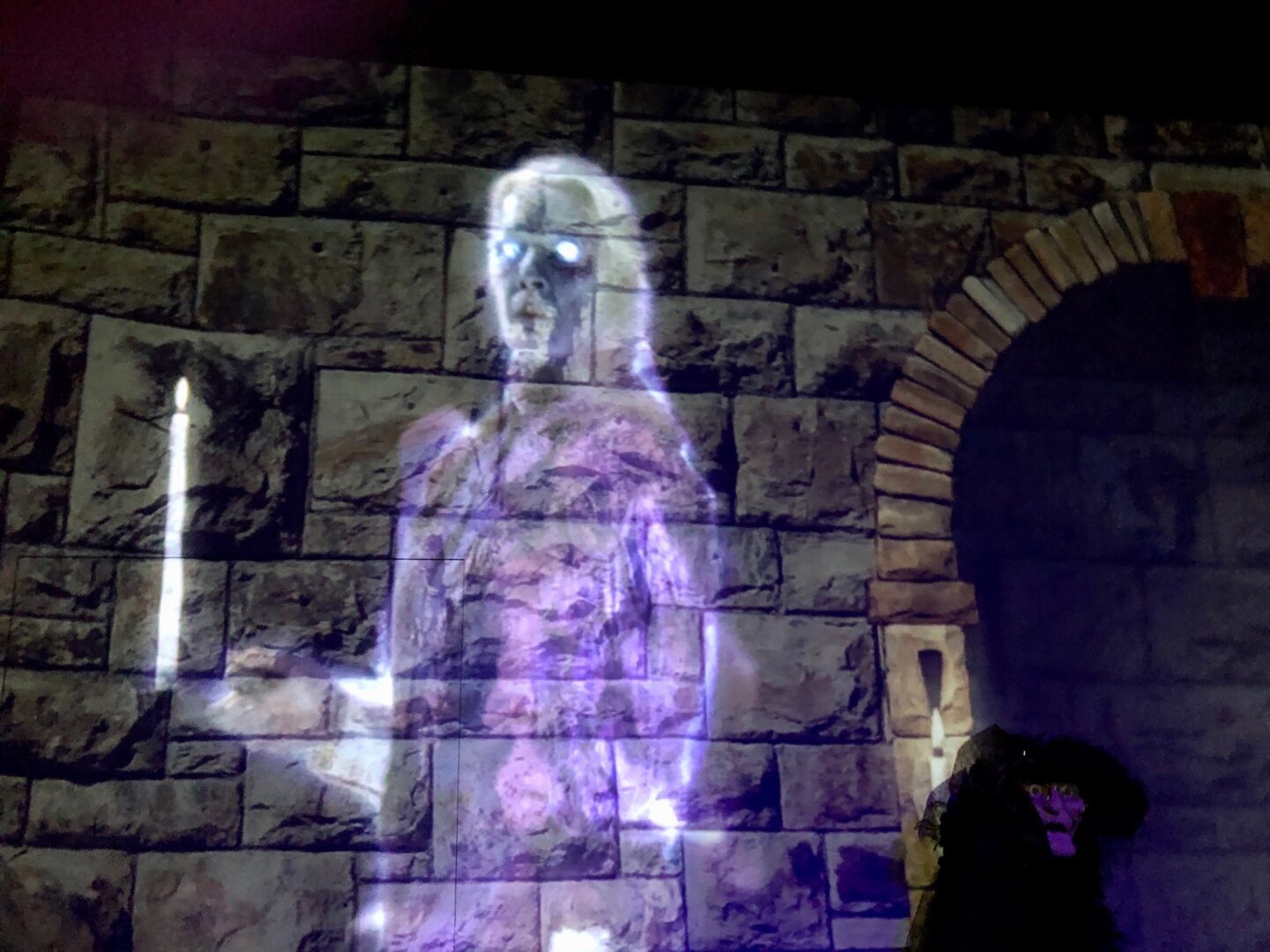 It's not for the faint of heart; Broomelda told the story of her cat, who was on life number nine already after a series of unfortunate accidents. In an interview on FlyOver Canada's website, Broomelda mentions a student who accidentally turned another pupil into a frog – permanently. Thankfully, no such incident occurred during our lesson. But my kids were hooked, and this was just the pre-show.
FlyOver Canada Halloween Ride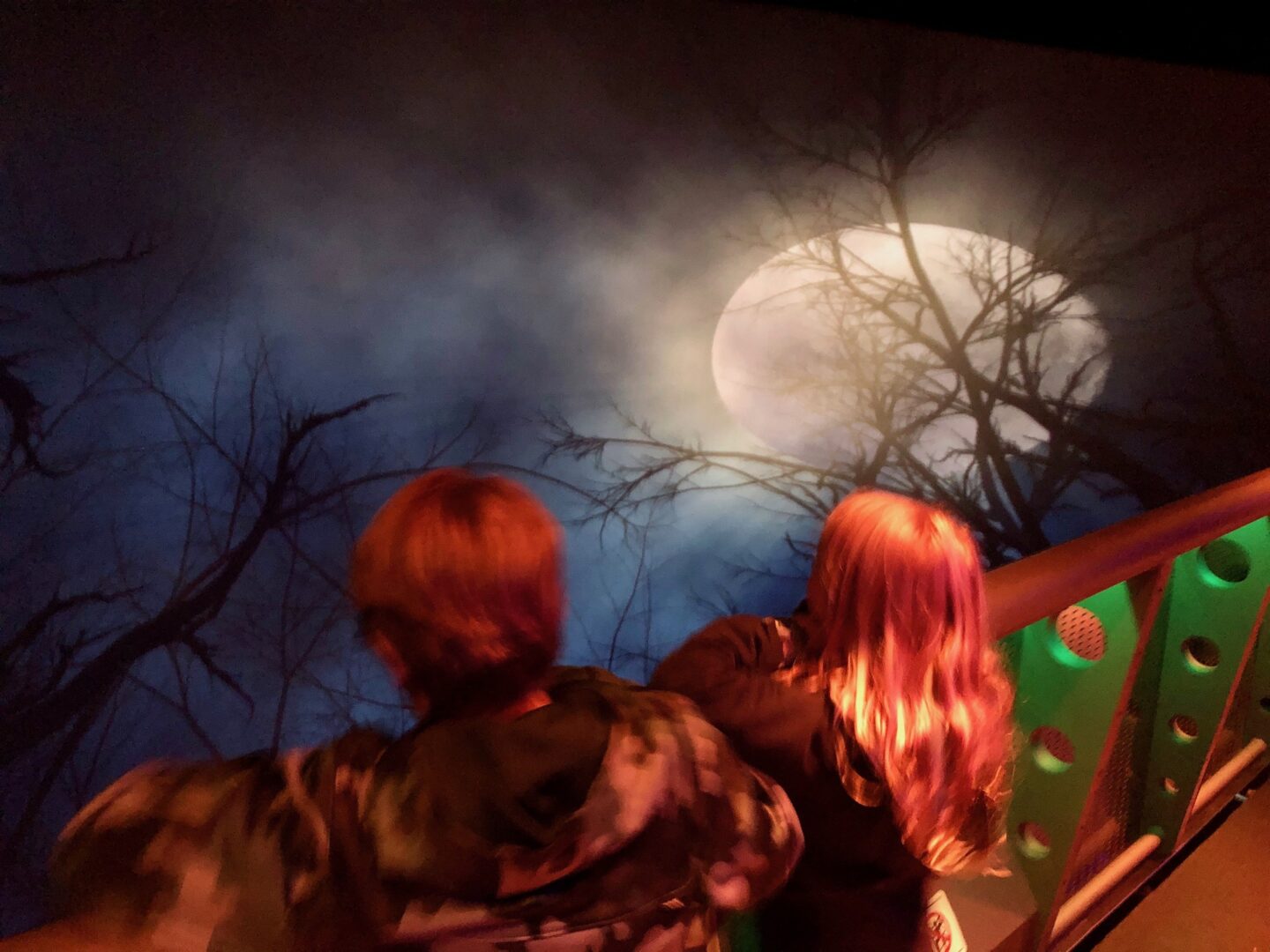 The FlyOver Canada Halloween ride is amazing, and remains the backbone of the attraction. It uses state-of-the-art technology to create a multi-sensory immersive cinematic experience. A twenty-meter spherical screen is combined with stunning cinematography, suspended seats that move, and a few other surprises to simulate actual flight.
On the FlyOver Canada ride you can expect to experience:
20 meter spherical screen which makes you feel fully immersed in the flight.
Flight motion seats.
Feel wind & mists that connect with the visuals happening on screen.
Smell the scents of nature, with delicate sensory experiences intertwining your visual, physical and smells resulting in a fully 4D immersive experience.
And trust me, it does just that! The first time I visited FlyOver Canada, I giggled uncontrollably as my initial fear gave way to exhilaration and delight. And I enjoyed it just as much this time – the experience was mesmerizing.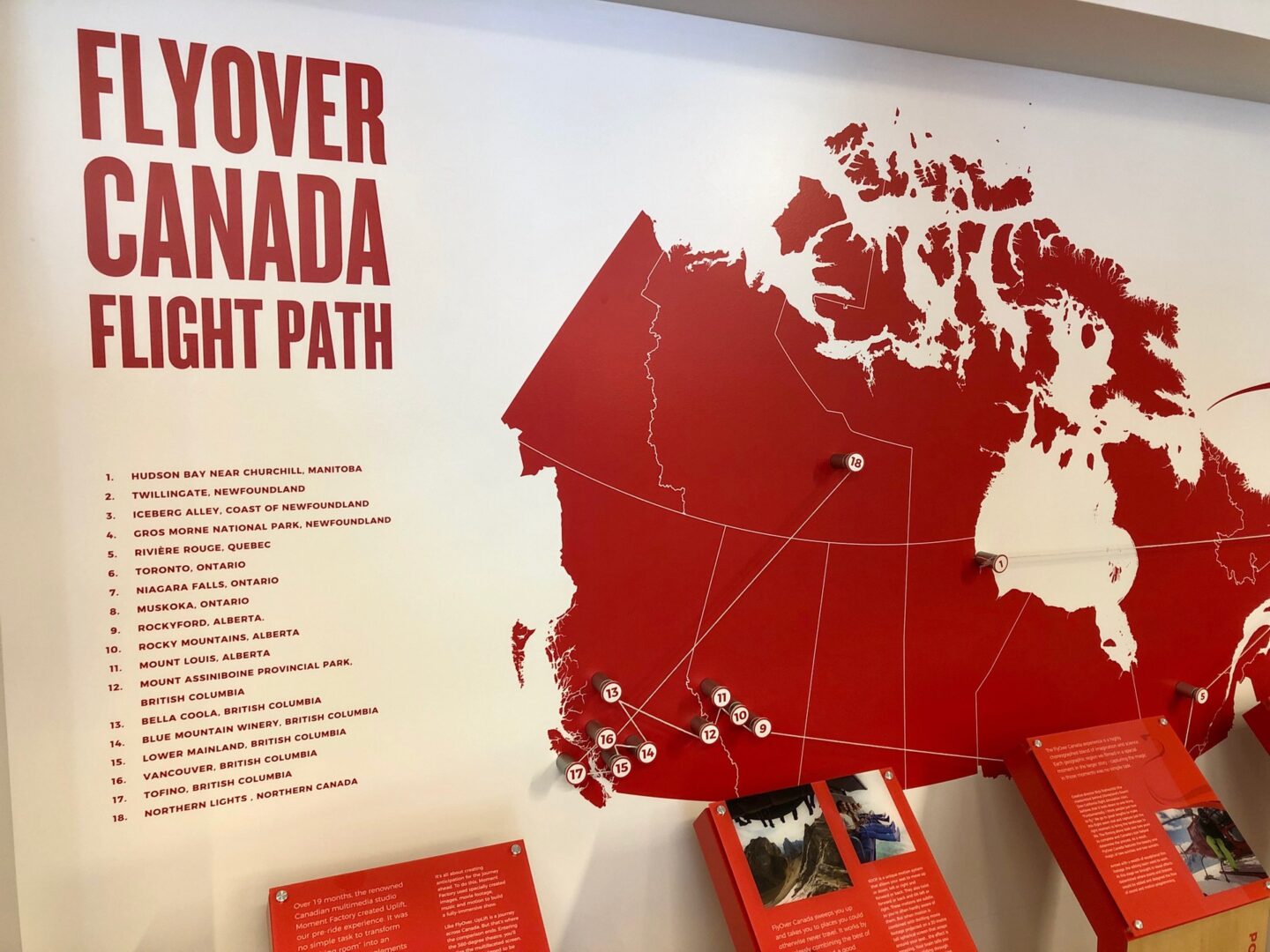 After buckling up, the room went pitch black and when the screen came on again, our feet were twenty feet off the ground and we were soaring. In moments, I forgot that I was actually seated safely in an indoor theatre. The next eight minutes were spent visiting some of Canada's most stunning vistas. There was one part of the flight where my stomach dropped – I won't give it away except to say that for those with a fear of heights, well, it's a good chance for you to face your fear head on. Once airborne, keep your eye out for Broomelda as she flies along with you across the country!
The best part of the Halloween edition of the show was the finale, when we navigated through a graveyard and ended up at a Halloween concert, a rock show like no other!
Get your FlyOver Canada Halloween tickets here!
Is FlyOver Canada Halloween Scary?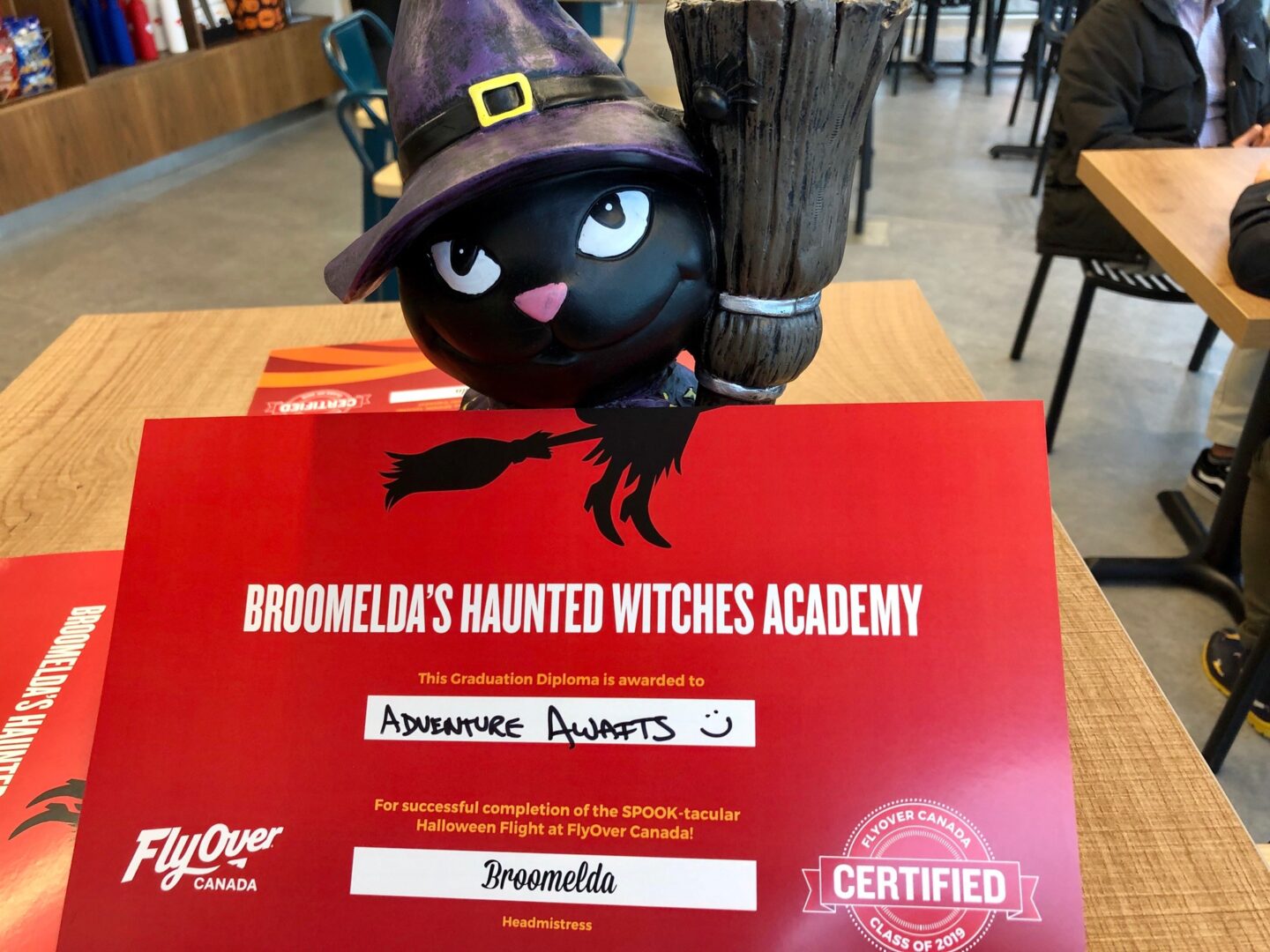 The Halloween experience adds a unique layer of frightful family fun to an already unforgettable experience. But don't worry, the fright factor isn't high – the show is suitable for children ages four and up, though you know your child best – the pre-show does have some scarier elements in it. Along with the FlyOver Canada ride itself, spooky Halloween additions include Broomelda's Witches Academy themed pre-show, your very own official Witch Academy diploma, and spine-tingling decorations. Witches and wizards of all ages are encouraged to dress up in their favourite Halloween costumes (Broomelda is particularly fond of such antics and has been known to show preferential treatment to costumed pupils).
A Two-Eyed Chocolate Cake Pop? I'll Take Two, Please!
There's nothing like stopping for some fun eats and sweets after the show… isn't that what Halloween is all about?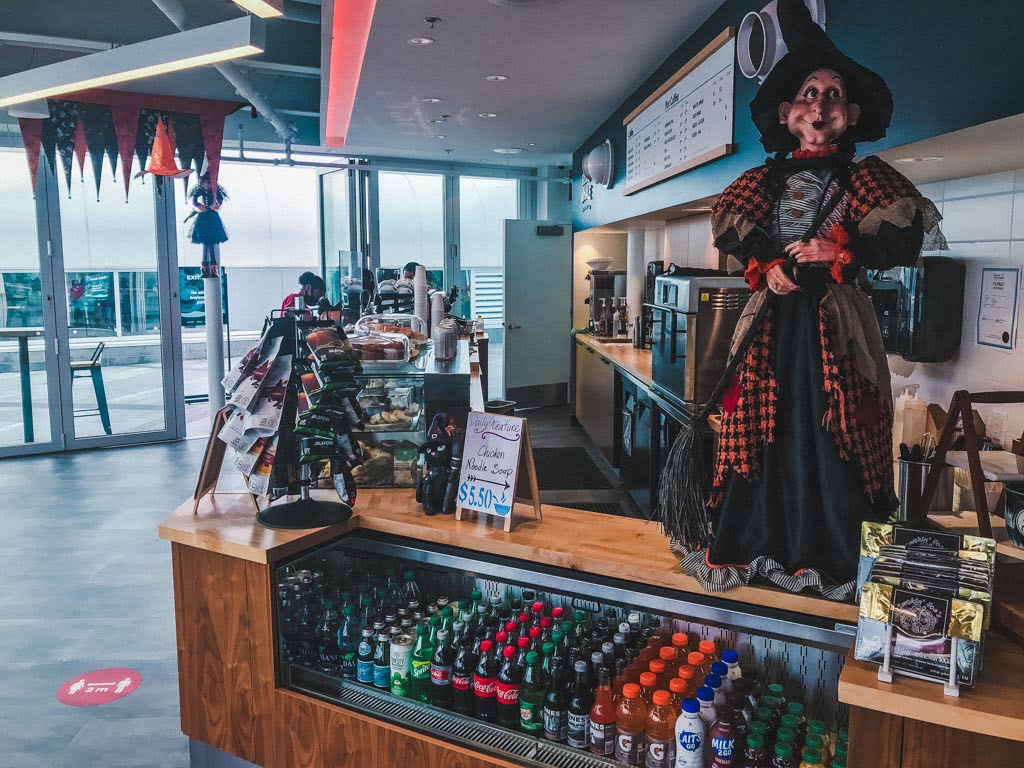 After the show you can visit the Flying Whale Café which is just to the right of the exit from the show. The Flying Whale Café changes out their décor to match the theme of the show, and for HowlOver Canada, you'll be greeted by witches, goblins and ghosts. From sugary treats for the littles to more decadent indulgences for the adults, the on-site café is a great place to sit and enjoy the view and share your post-show highlights with the family.
One of my favourite things about the café though is the view, I could spend hours sitting out at the waterfront café watching the seaplanes come and go, and the visitors and locals as they mingle along the world famous Seawall.
FlyOver Canada Store
The FlyOver Canada store is stocked with a variety of locally sourced treasures that locals and tourists can both enjoy. Every time we visit, my children either find something for themselves or the perfect gift for us to purchase for an upcoming birthday (or in this case, Christmas!). And with all the "Adventure Awaits" themed content they had this year, it was hard not to stock up on items for my own home!
How To Book Your HowlOver Canada Adventure!
Whether you're looking to bring the grandparents down for some Halloween fun, book a family SundayFunday or looking for fun ways to safely celebrate the season, a HowlOver Canada adventure is the perfect fit. We always recommend buying your FlyOver Canada tickets online in advance, as this guarantees your visit (as you buy tickets for a specific day) and it saves you money.
Get your FlyOver Canada Halloween tickets here!
In Summary: Halloween at FlyOver Canada in Vancouver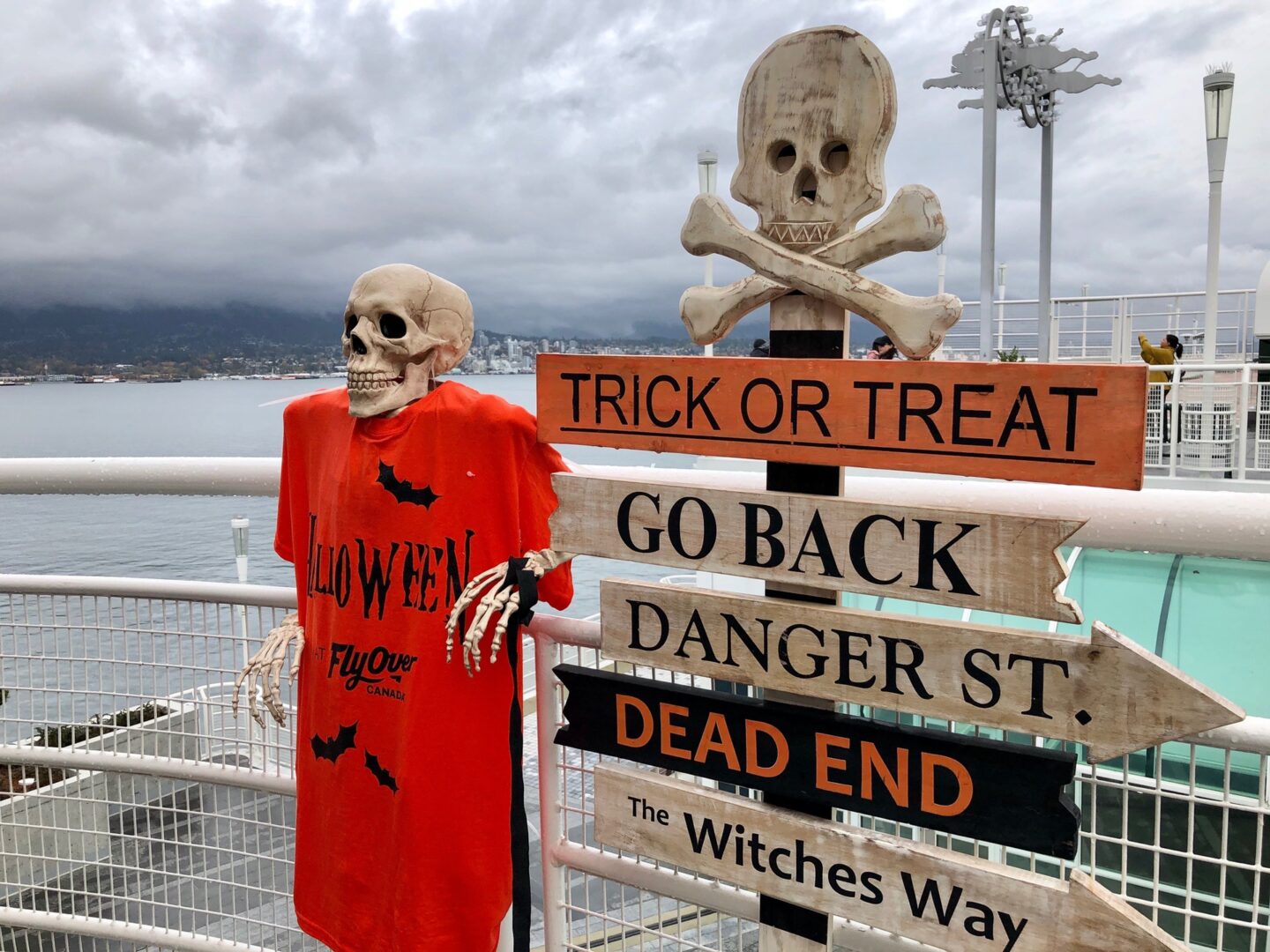 This is a fun Halloween-themed family event, and makes a great trip on its own or as an add-on to an already planned downtown Vancouver activity. FlyOver Canada is located at the far tip of Canada Place, just above the cruise ship terminal. Skytrain is a great travel option as it saves on parking fees ($30 at Canada Place), and Waterfront station is just a couple of blocks away.
The flight experience and pre-show only takes about half an hour from start to finish, but plan for a little over an hour, to include wait times and some time to check out the Port of Vancouver's Discovery Centre, located next door to the FlyOver Canada ticket booth. This free, interactive display is full of facts about the Port of Vancouver and proved to be one of those unexpected little discoveries that can really add to a trip. My kids enjoyed learning about the port and its history, or maybe they just liked the fact that they were in charge of a massive set of interactive video screens – probably a little of both.
FlyOver Canada Halloween FAQs
Can I wear a costume to FlyOver Canada Halloween?
Absolutely? While not required, little pirates and princesses are invited to show up in costume to add to their Halloween Howl experience!
Fly over Canada Minimum Age
While there is no minimum age to ride the FlyOver Canada Halloween experience, keep in mind that to partake in the ride children must be at least 102 cm (40 inches) tall. Children 14 years and younger must be accompanied by an adult.
FlyOver Canada Halloween Reviews
Overall I love how they've taken a local attraction and transformed it into a Halloween experience. From the moment you walk up the stairway entrance you're surrounded by Halloween themed decor and every step of the experience has a Halloween infusion. The actual ride is fun and I'll say it again, the best part is the rock show at the end.
I do wish however that the ride was longer, it's such a cool experience that I didn't want it to end! It would have been fun to stay soaring over the rock concert a little longer, or have more scenes added in to extend the experience.
What Others Had to Say:
"An immersive simulator that makes you feel as though you are flying over Canadian landscapes complete with the wind blowing in your hair and rain spraying in your face." Forbes
"An immersive simulator that makes you feel as though you are flying over Canadian landscapes complete with the wind blowing in your hair and rain spraying in your face." Jess, Google
In Conclusion
If you like flying (without an airplane), stunning scenery, and a little Halloween hijinks, check out FlyOver Canada's Haunted Halloween experience before it ends on October 31, 2023.
---
Looking for more fall-friendly activities? Check out these articles for inspiration!
Is this a sponsored post?: Yes, while we were graciously invited to enjoy the HowlOver Canada experience, all of our views and opinions are our own.