Are you looking for the best family friendly hikes in the Fraser Valley that the kids will approve of?
I've been hiking with my kids since they were small enough to fit inside a backpack and have seen them progress into passionate hikers over the past ten years (now they are big enough to carry me!).
Best Family Friendly Hikes Fraser Valley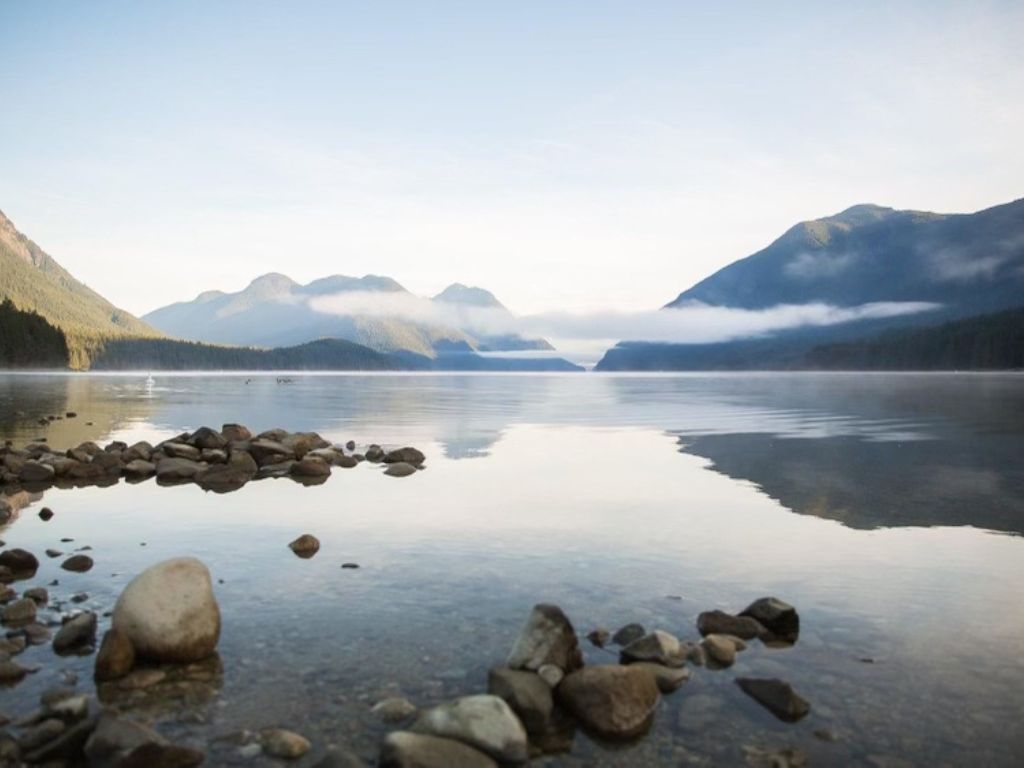 This article contains some of the best kid-approved hiking trails in the Fraser Valley, including places to go for a walk with the family or head into the hills and hike. From fun trails to explore n the forest, to the best animal spotting, to scenic views, we've combined accessibility, trail difficulty, and kid approval rating to put together this list of our top 30 Family Friendly Hikes in the Fraser Valley.

If you're looking for a perfect day trip adventure, be sure to check out the family-friendly hikes in Squamish and Whistler, included at the end of this article. Check out our in-depth article Hiking with Kids: A Guide for Families for fabulous family hiking tips.
30 BEST FAMILY FRIENDLY HIKES FRASER VALLEY:
Hikes in Abbotsford
1. Ambidextrous Trail – Abbotsford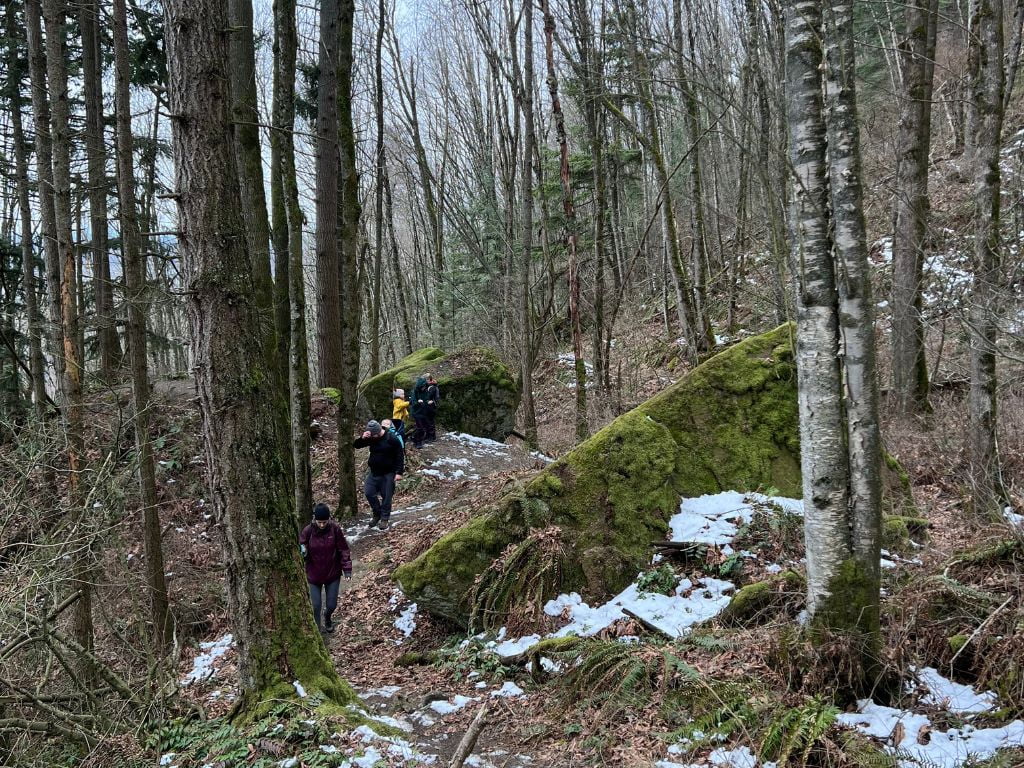 Level: Intermediate
Time: 70 – 80 minutes
Distance: 4 km
Stroller Friendly: No
This trail not only has a fantastic name, but it's also a popular place to go hiking in Abbotsford. Be on the lookout for mountain bikers as they can come by you pretty fast (wave and say hi!) as well as dogs, as both are welcome on this trail. With 129 meters in elevation gain, this is great for little hikers to face some challenging terrain, but still be able to easily overcome it and do the trail.
This trail is a part of the multi-use trail system around McKnee Peak. The trail starts in Highlands, from Bassani Park. Kids love this trail as there are lots to see including old-growth trees, caves, and even waterfalls. Be sure to stop at the Devon waterfall which is right at the entrance!
2. Abby Grind – Abbotsford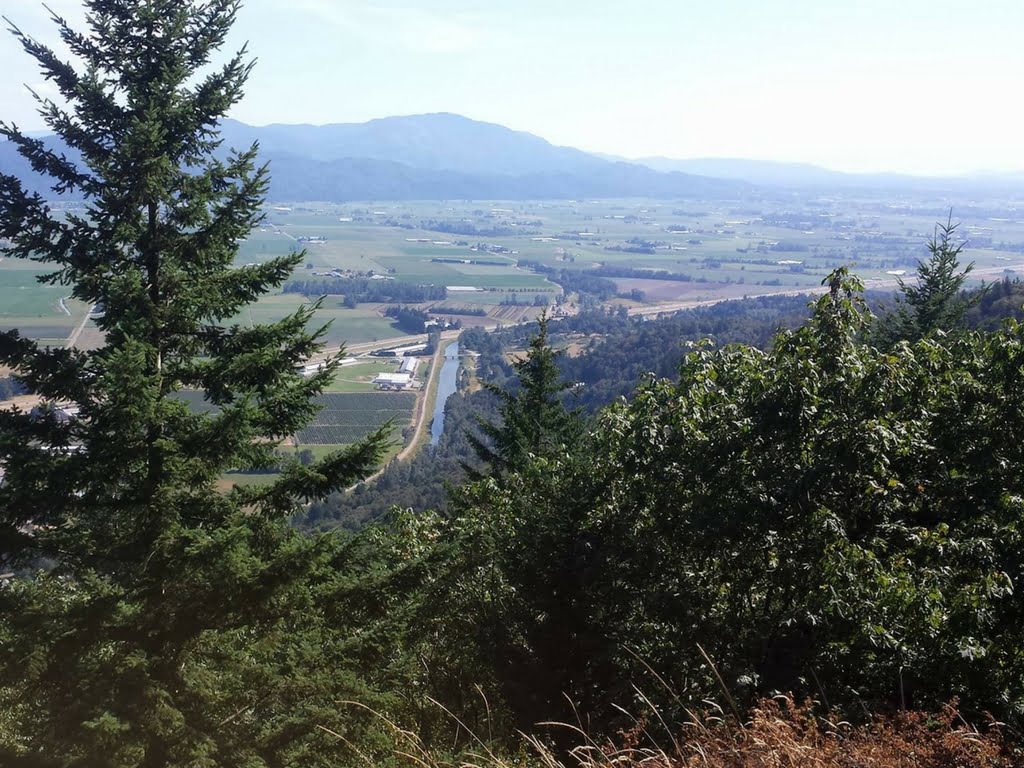 Level: Intermediate
Time: 1+ hours
Distance: 3.5 km
Stroller Friendly: No
This Sumas Mountain hike has an ascent of 390.26 m, so is best suited for families with some hiking experience under their belts. Your hard work on this short but steep trail will be well rewarded with a stellar view, perfect for photography and sightseeing. Be aware there is a shooting range within earshot of the parking lot but is really only noticeable near the bottom.
Walks in Abbotsford
3. Clearbrook Park & Downes Bowl Trail, Abbotsford
Level: Easy
Time: 1+ hour
Distance: 3 km
Stroller Friendly: Yes
Situated in Abbotsford, this trail contains plenty of green space and areas for hiking, biking, and walking. The trails are easy enough for beginners and children. The area contains benches, picnic tables, and sheltered rest spaces. A variety of bird species visit the area, including songbirds and waterfowl, so it will make for a fun sightseeing trip. A 4.4 km loop is also available for those up for a more challenging but still one of the family-friendly Fraser Valley hikes. There is even an off-leash dog park if Fido wants to come along.
4. Discovery Trail, Abbotsford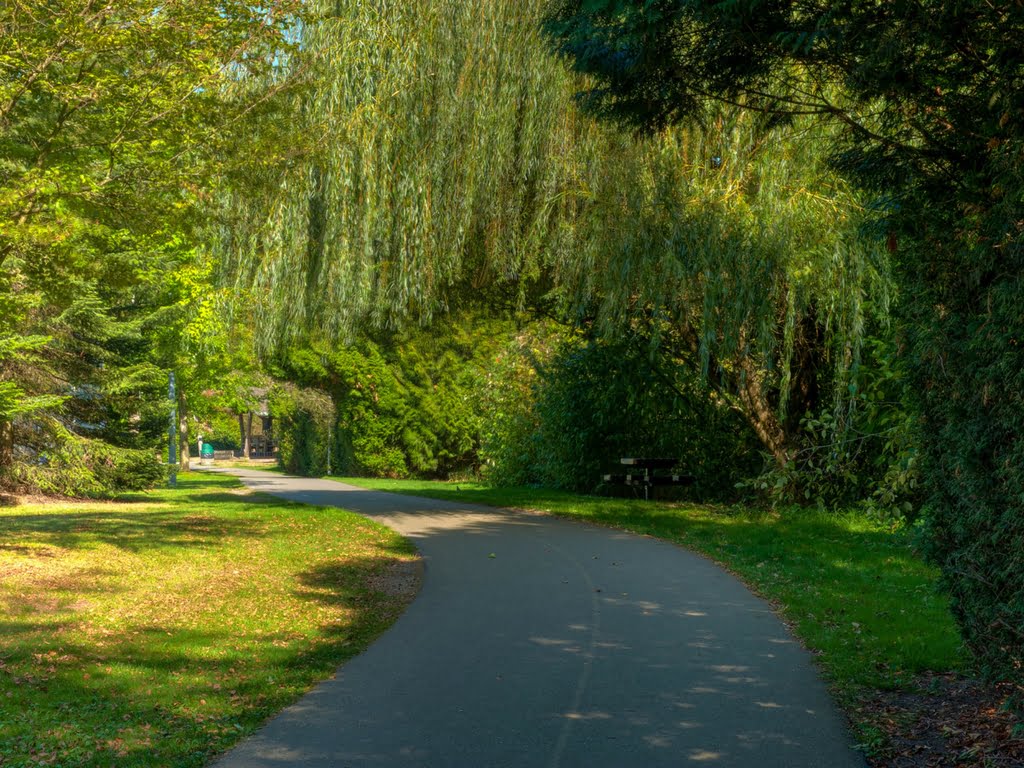 Level: Intermediate
Time: 2+ hours
Distance: 14 km
Stroller Friendly: Yes
Discovery Trail is a wonderful, very long trail system throughout Abbotsford, which connects you to tons of parks. This family-friendly Fraser Valley trail is good for hiking, bird watching, horse riding, picnicking, jogging, and rollerblading. The long hiking paths connect marshes, greenlands, farmlands, and wetlands Large sections are wheelchair and baby-stroller-accessible.
5. Mill Lake, Abbotsford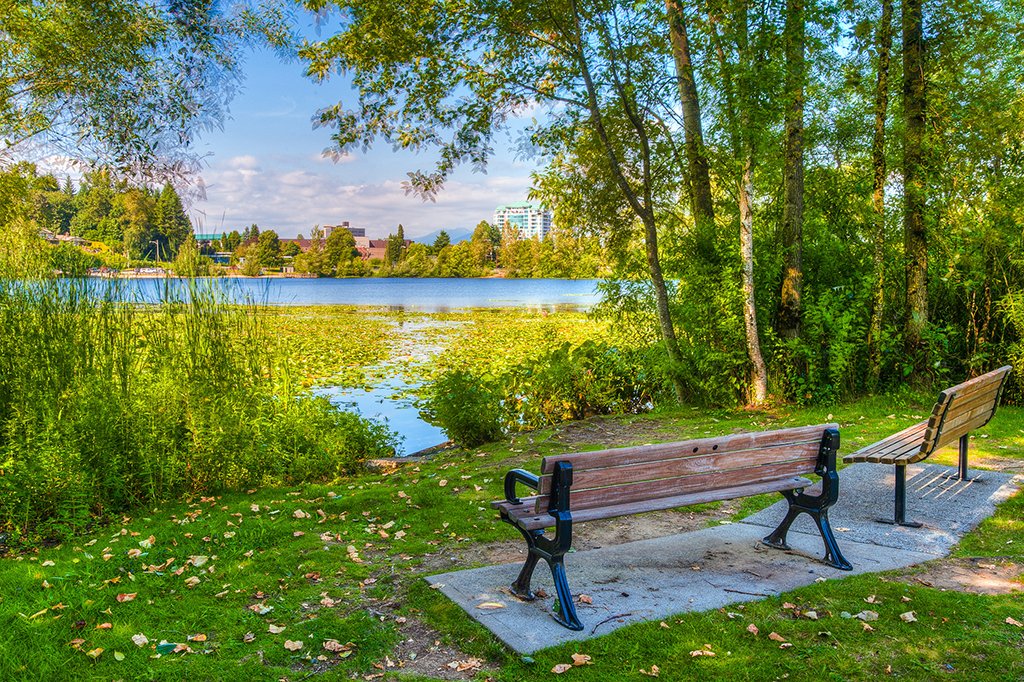 Level: Easy
Time: 1 hour (or longer if you bring a picnic!)
Distance: 2.6 km
Stroller Friendly: Yes
Mill Lake Loop in Abbotsford is a picturesque trail that offers visitors a tranquil escape from the surrounding city. The 2.6-kilometre walk takes you around Mill Lake, offering a sanctuary experience that is honestly surprising on your first visit. Kids love to be able to see the birds on the lake, walk over the floating boardwalks, and stop and play on the playgrounds (there are 5 along the way!) Whether you're looking for a scenic walk, a nature fix, or just want to enjoy a leisurely stroll, the Mill Lake Loop offers something for everyone.
Family Friendly Hikes Fraser Valley – Chilliwack Hikes
6. Mt. Thom, Chilliwack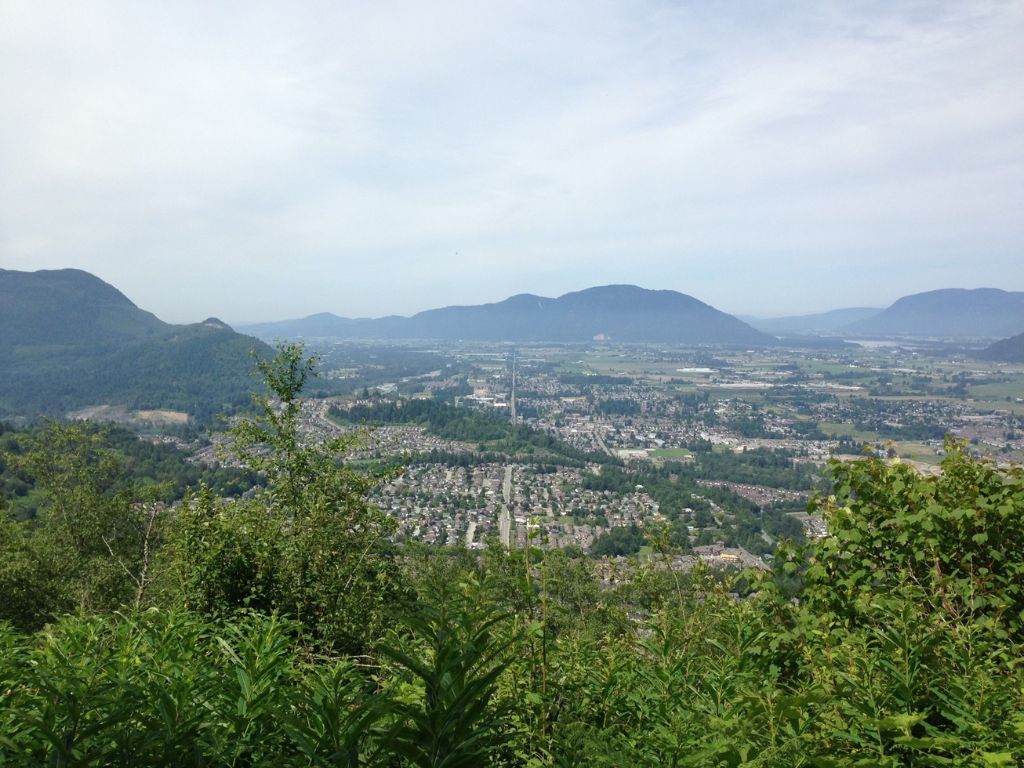 Level: Moderate
Time: 3 Hours
Distance: 2.6 km
Stroller Friendly: No
Mt. Thom hike is a perfect out-and-back hike for families with a little hiking experience. This trail is moderately challenging and longer, taking the average hiker almost 3 hours to complete so this is perfect for those looking for a moderate challenge for their little hikers. The trail is shared with horseback riders and runners so keep an eye out! This trail can be very saturated in the off-season so the best time to visit is March through November.
Chilliwack Walks
7. Great Blue Heron Reserve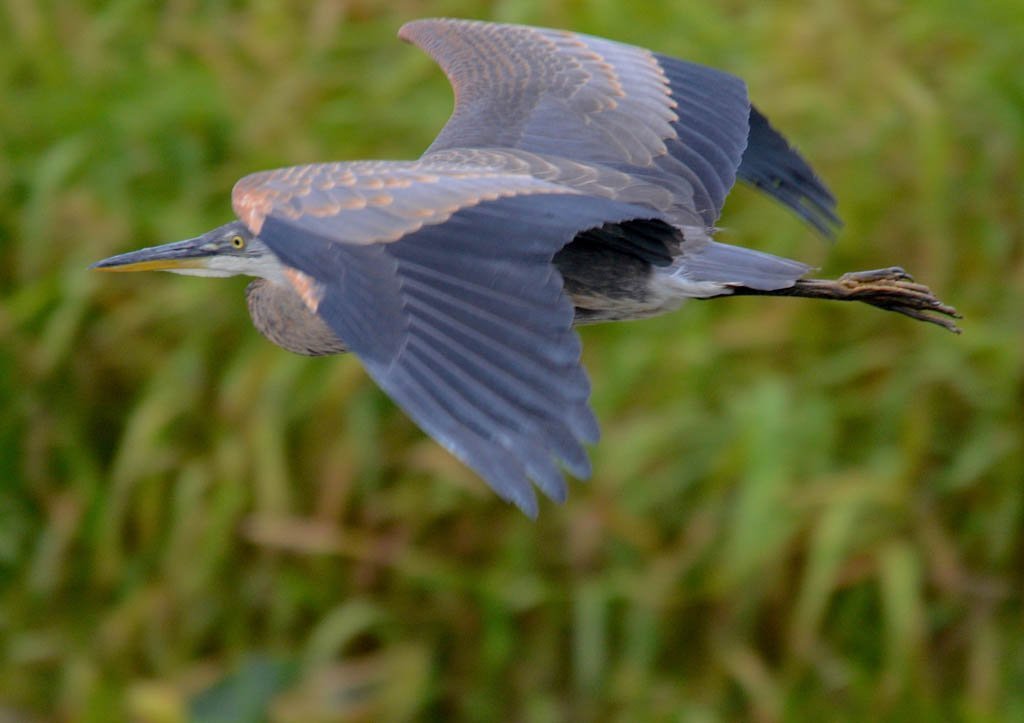 Level: Easy
Time: Different trails range from 15 minutes – 1 hour+
Distance: Different trails range from 0.5 km – 3.6 km
Stroller Friendly: Yes
Located between Abbotsford and Chilliwack, the Great Blue Heron Reserve offers a variety of hiking and walking trails for any outdoor enthusiast with even a moderate amount of experience. A gorgeous assortment of water, vegetation, and wildlife await you on these different and equally exciting easy hikes in the Fraser Valley.
Family Friendly Hikes Fraser Valley – Maple Ridge Hikes
8. Gold Creek to Halfmoon Beach In Golden Ears Provincial Park, Maple Ridge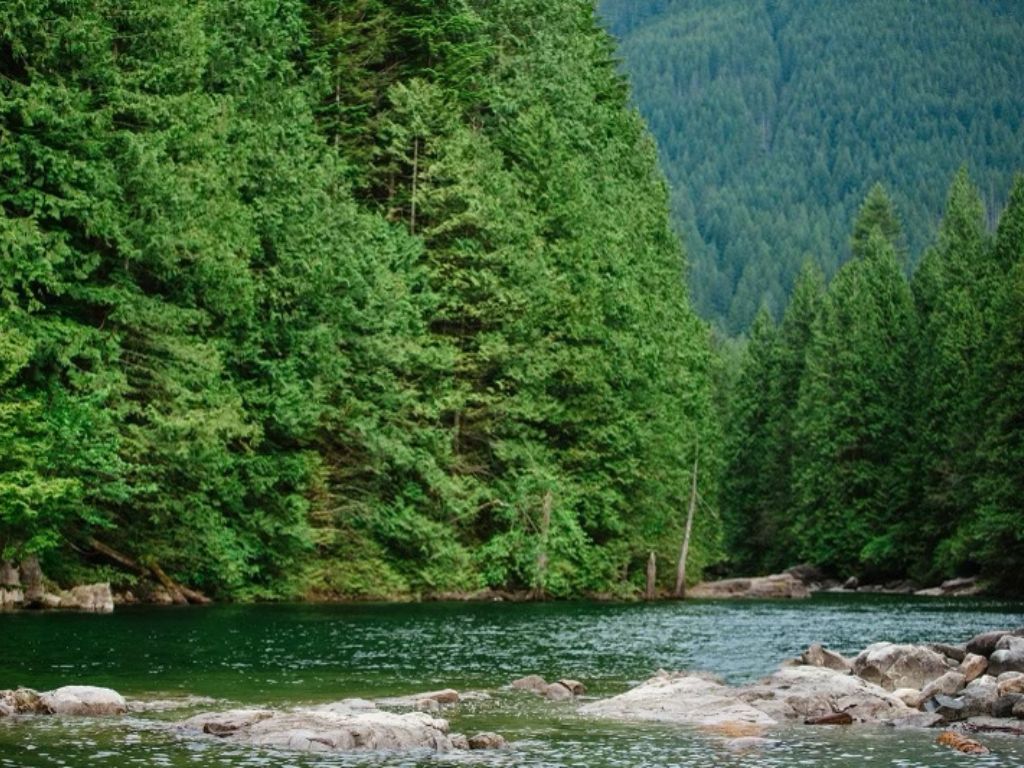 Level: Easy
Time: 1 Hour
Distance: 5 km
Stroller Friendly: Yes
Families looking for a beautiful day hike can't go wrong with the Gold Creek to Halfmoon Beach trail in Golden Ears Provincial Park. This picturesque trail winds through the lush forests of the park and offers stunning views of a cascading waterfall and tranquil streams. As hikers make their way to Halfmoon Beach, they'll pass by stunning wildflower meadows and dense brush. Once at the beach, families can take a break, relax and take in the natural beauty of the area. Kids can explore the shoreline, build sandcastles or wade in the shallow water.
9. Lower Gold Creek Falls, Maple Ridge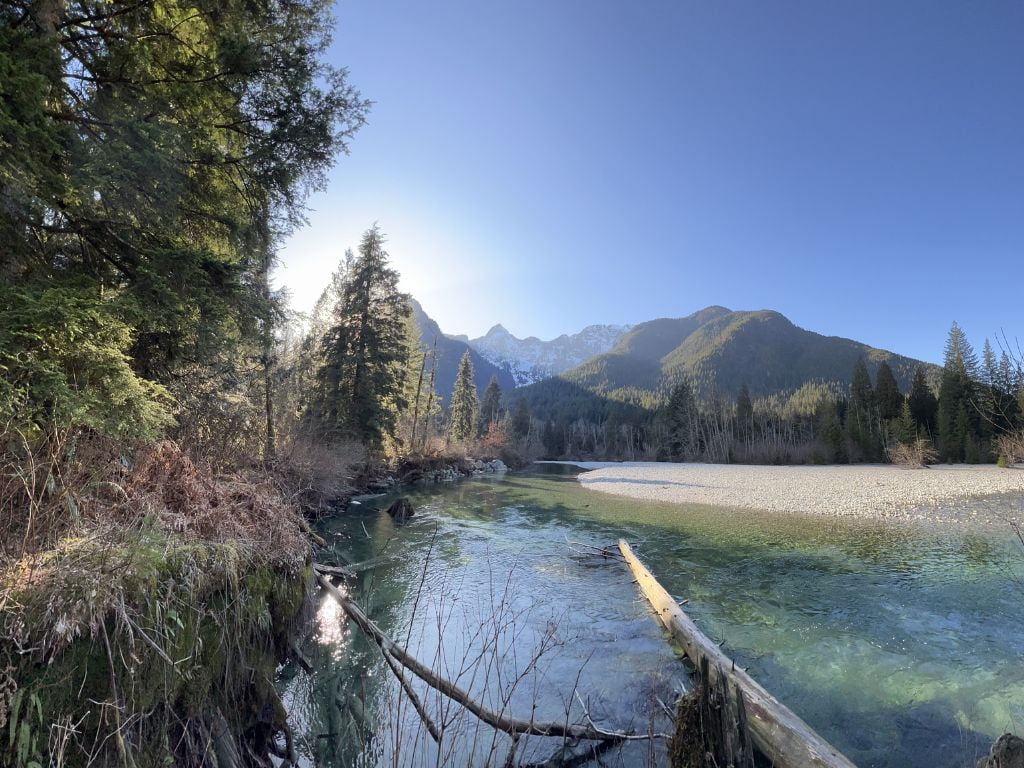 Level: Easy
Time: 80 minutes
Distance: 5 km
Stroller Friendly: Yes
One of our family's favourite trails that we return to time and time again is the Lower Gold Creek Falls in Maple Ridge's Golden Ears Provincial Park, so we knew we had to add this one to our family friendly hikes Fraser Valley list. This trail drops you into the heart of the forest surrounded by large overarching mountains. The gravel trail is wide and easy to navigate, all while maintaining the sense of being deep within nature. There are a lot of great places to stop and changes of scenery including "fern forest" (named by my kids), the lazy river, where you can stroll along the riverbanks, and then the end of the trail is the beautiful waterfalls, the perfect place for a stop and snack.
10. Malcolm Knapp – UBC Research Forest, Maple Ridge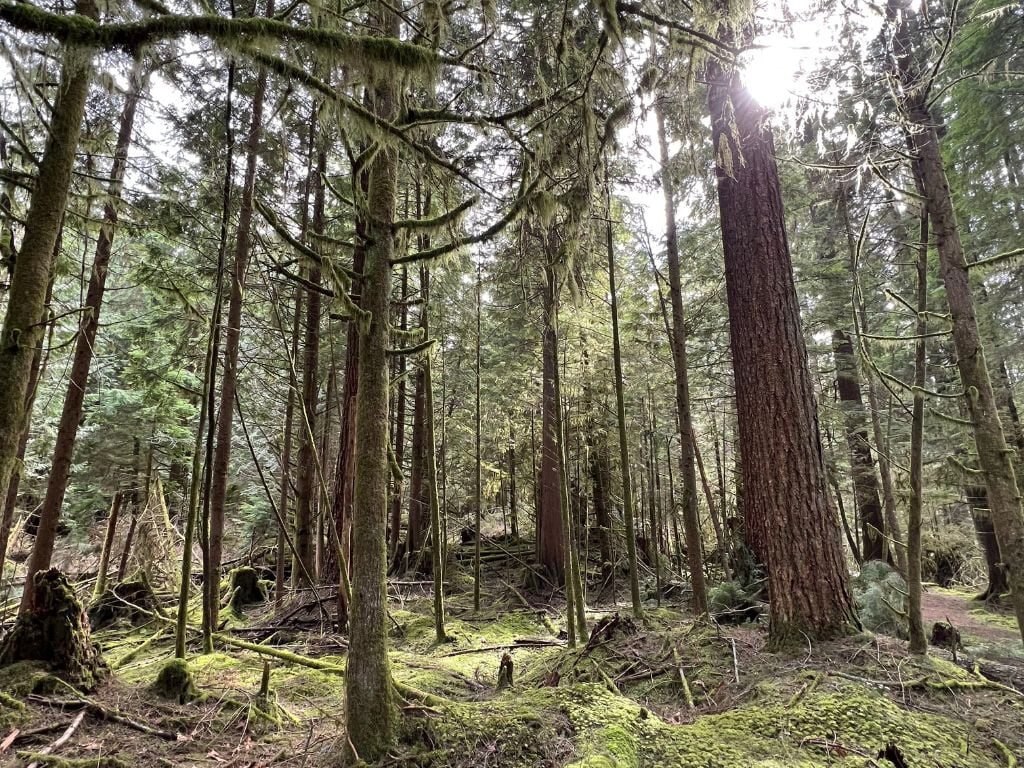 Level: Easy
Time: 60 minutes
Distance: 4 km
Stroller Friendly: No
The Malcolm Knapp Research Rorest is a family-friendly trail that offers a lot of climbing opportunities for the littles to explore. With lots of big roots, swooping turns, and some steep terrain, this is a place to climb around and explore (strollers would struggle on this trail, so leave them at home). Puppies also aren't allowed on the trail so you'll have to leave them at home as well. 
But this trail is definitely worth the trek (about 20 minutes from Langley) as it's a stunning route through some beautiful forests and has so many fun places for the kids to explore! For more details on the trails within the Malcolm Knapp Research Forest, click here!
11. Thornhill Trail, Maple Ridge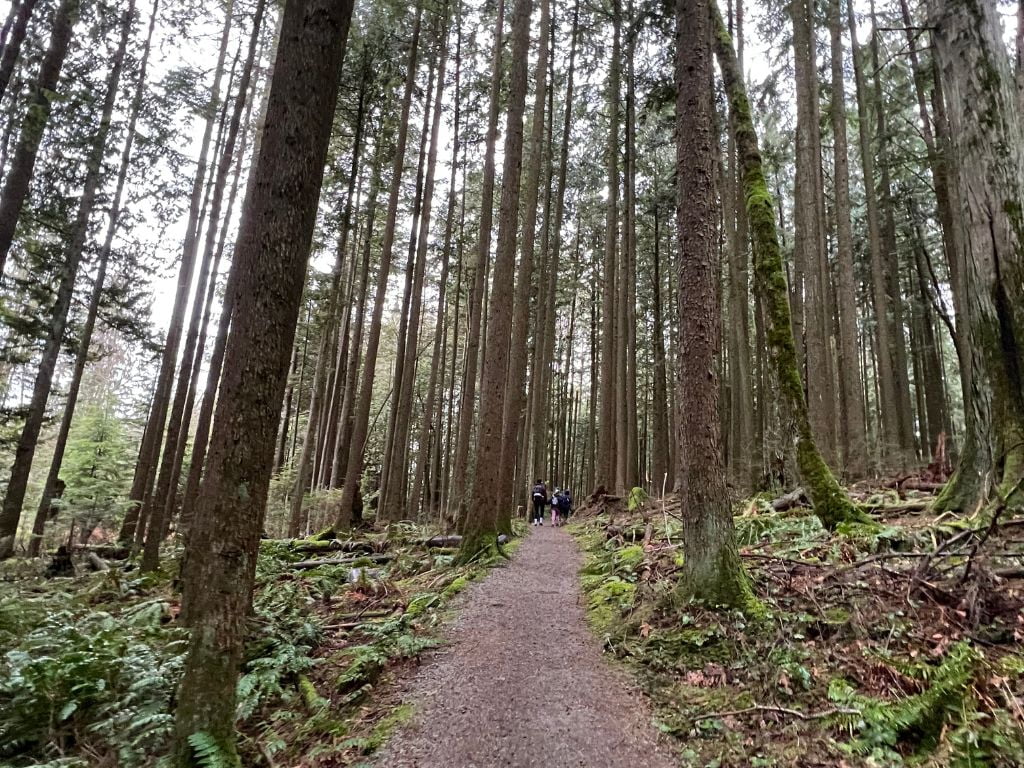 Level: Moderate
Time: 1.4 Hours
Distance: 5.3 Km
Stroller Friendly: No
Nestled in the heart of Maple Ridge lies the Thornhill Trail, a hidden gem just waiting to be explored. With its winding paths and lush greenery, families can expect to experience a tranquil and peaceful hike that is perfect for all ages (hint, invite the grandparents). As you make your way along the trail, you will be met with breathtaking views of the surrounding mountains and forests, providing the perfect opportunity to immerse yourself in nature.
12. Mike Lake, Maple Ridge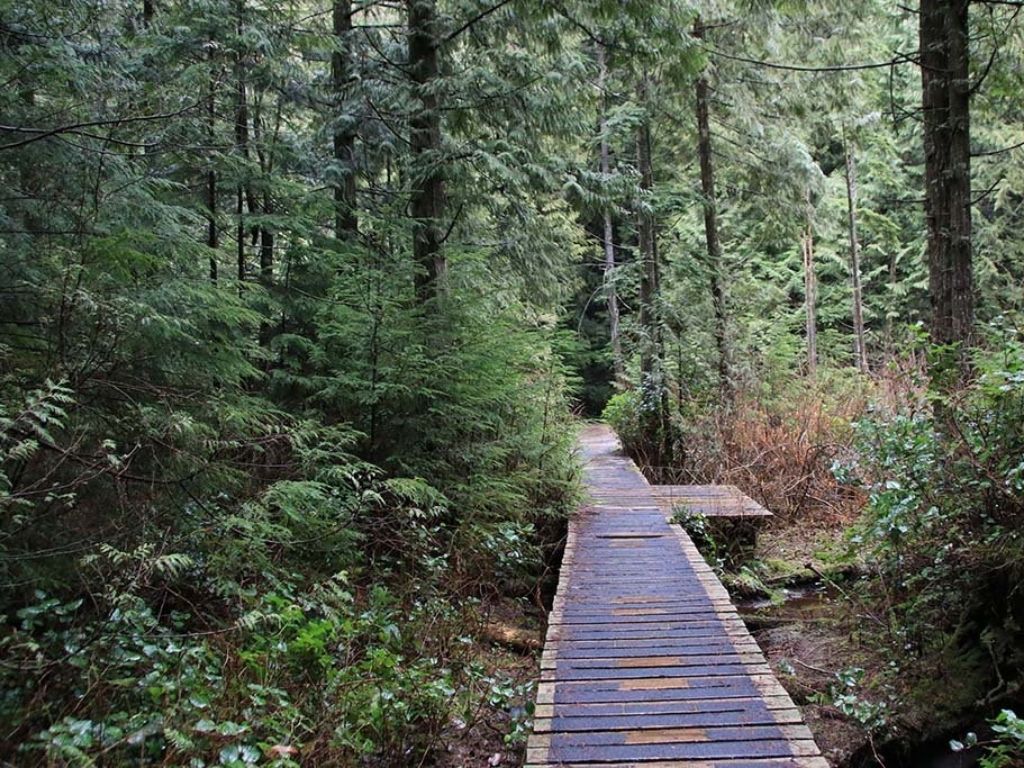 Level: Easy
Time: 1 hour
Distance: 2.0 km
Stroller Friendly: Yes
If you're looking for family friendly hikes Fraser Valley with lakes, Mike Lake in Maple Ridge is the perfect spot! Located in Golden Ears Provincial Park, Mike Lake is the quintessential family-friendly Fraser Valley hike. Only a few minutes from Maple Ridge, this hike feels like true wilderness. The mostly flat, but always a muddy and tree-rooted trail, offers just enough challenge for younger children. Stop at the Mike Lake dock after for a snack or even some fishing!
Maple Ridge Walks
13. Speira Trail, Maple Ridge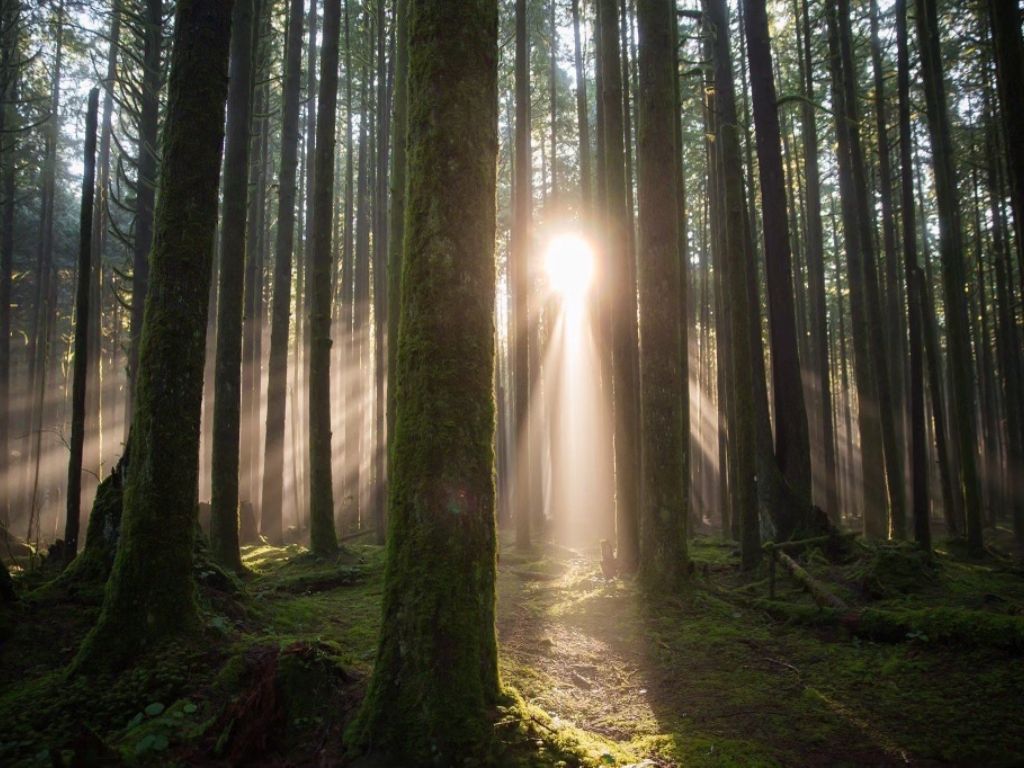 Level: Easy
Time: 9 minutes (not a typo) Add this on to another hike in the region.
Distance: .8 km
Stroller Friendly: Yes
The Speira Trail is a fun little stop when you're on your way to explore another trail in Golden Ears Provincial Park. This trail winds through old-growth trees, winding streams, and boardwalks that are lined with educational signage, teaching visitors about the protected region. I wouldn't go out of my way just to stop at this trail but recommend you stop here before heading off to a longer trail in the area.
14. Alouette River Dykes Trail, Maple Ridge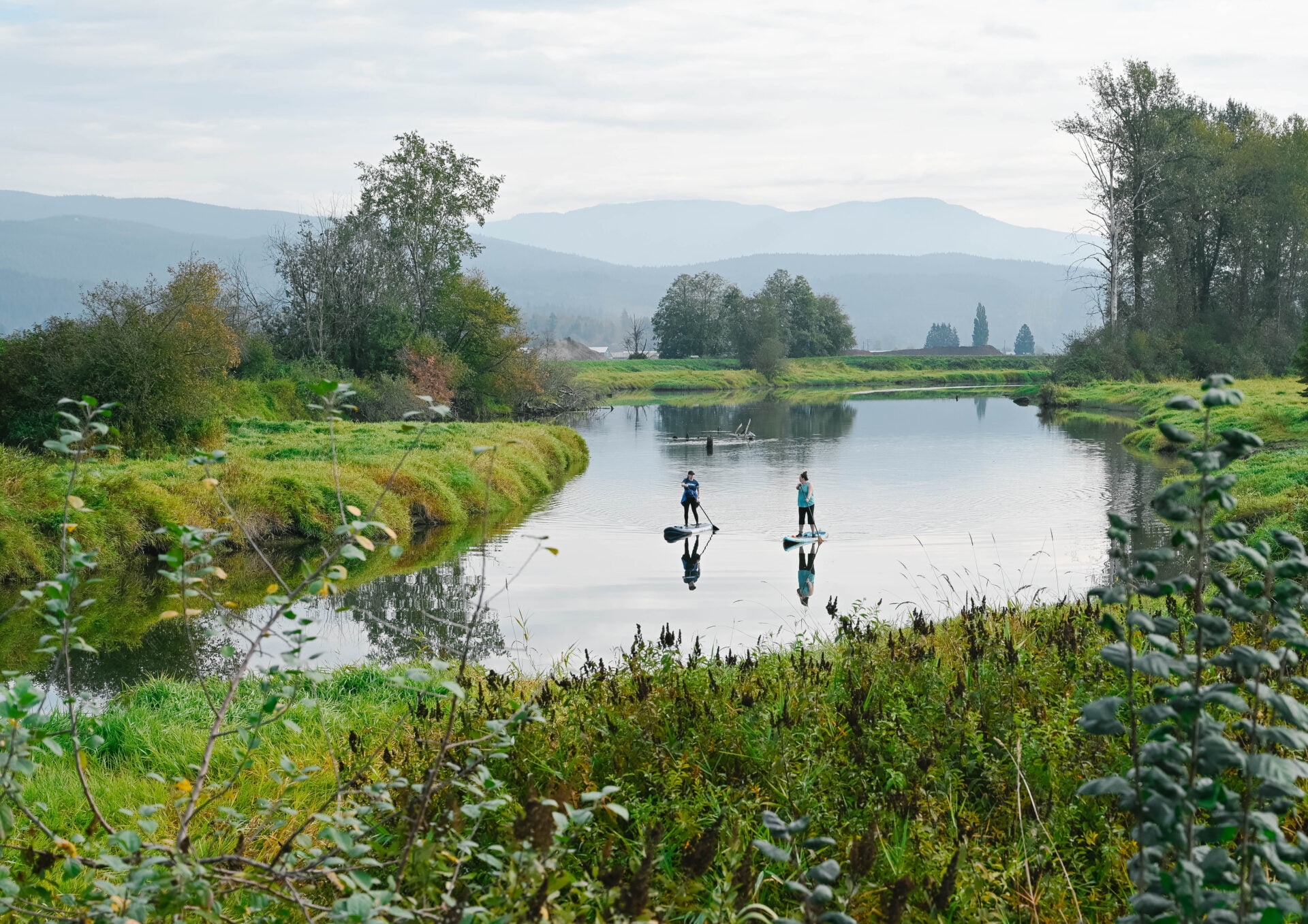 Level: Easy
Time: You choose! We normally go for about an hour, but if you do the whole route it can take up to 2.5 hours to complete.
Distance: 14 KM
Stroller Friendly: Yes
I'm not sure why it took me 30 years to discover this trail, but it's quickly become a family favourite when we need to get outside and go for a quick stroll. The Alouette River Dykes trail is a 14 km gravel trail that runs next to the dyke system, making for an easy stroll all while looking out on stunning views. We've spotted kayakers and paddleboarders enjoying the blue water trail, as well as eagles, fish, and blue herons.
This is an accessible trail so expect to pass strollers, big and little bikers, as well as horses. Be sure to add this to your family friendly hikes Fraser Valley list!
Family Friendly Hikes Fraser Valley – Mission Hikes
15. Rolley Lake, Mission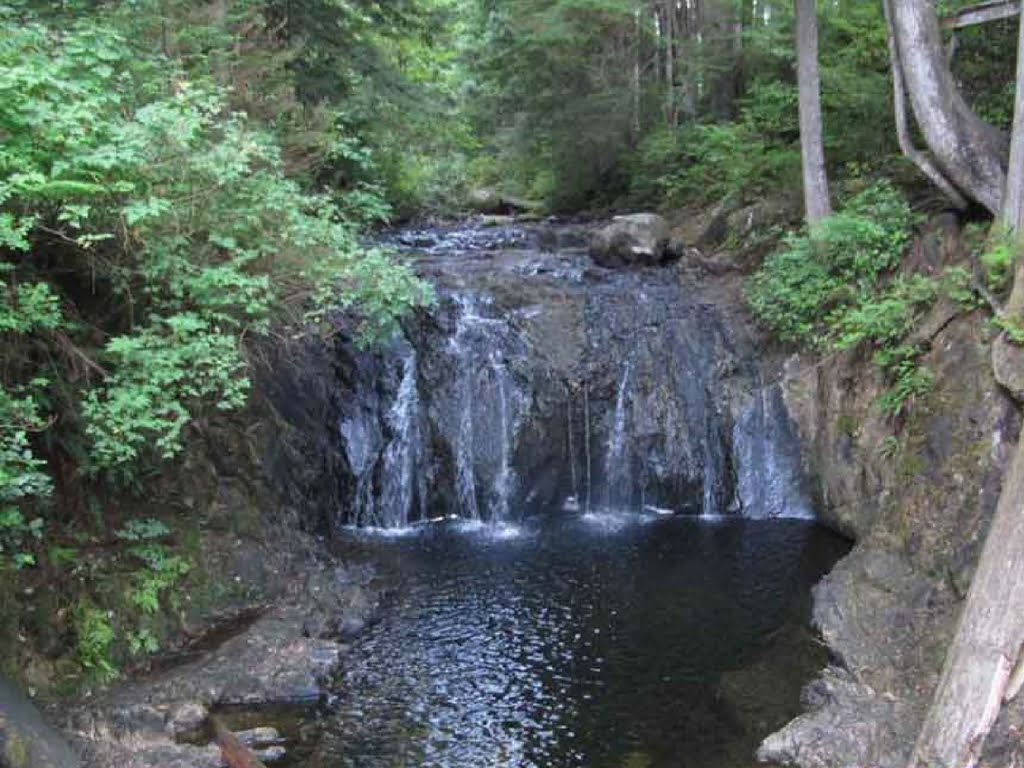 Level: Easy
Time: 2 hours
Distance: 5 km
Stroller Friendly: Yes
Rolley Lake offers free parking, a scenic walk, and smoothed gravel trails. It's an easy hike and great for families with younger children. It is located just northwest of Mission and contains camping areas, picnic tables, a children's playground, and a small beach area. It's a very diverse space with something for everyone, whether you want a long, meandering walk amidst nature or lunch and games outdoors.
Family Friendly Hikes Fraser Valley – Langley Hikes
16. Aldergrove Lake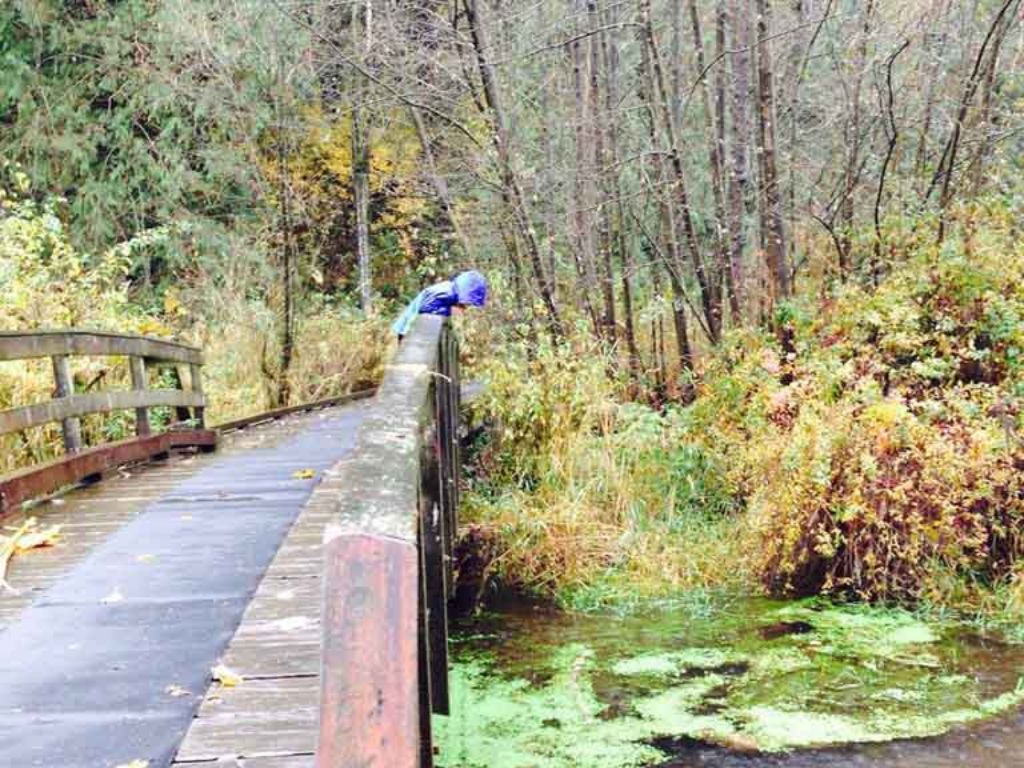 Level: Easy
Time: 2+ hours
Distance: 5 km
Stroller Friendly: Yes
Aldergrove Lake used to be a man-made lake but it was filled in; now it is a series of loop trails making it a perfect one for the family-friendly Fraser Valley hikes list. The trail is dog-friendly (on leash) and sports easy with picnic sites, wild play areas for the kids to explore, and scenic views that just can't be beaten. These trails are popular for horseback riding as well.
17. Houston Trail, Langley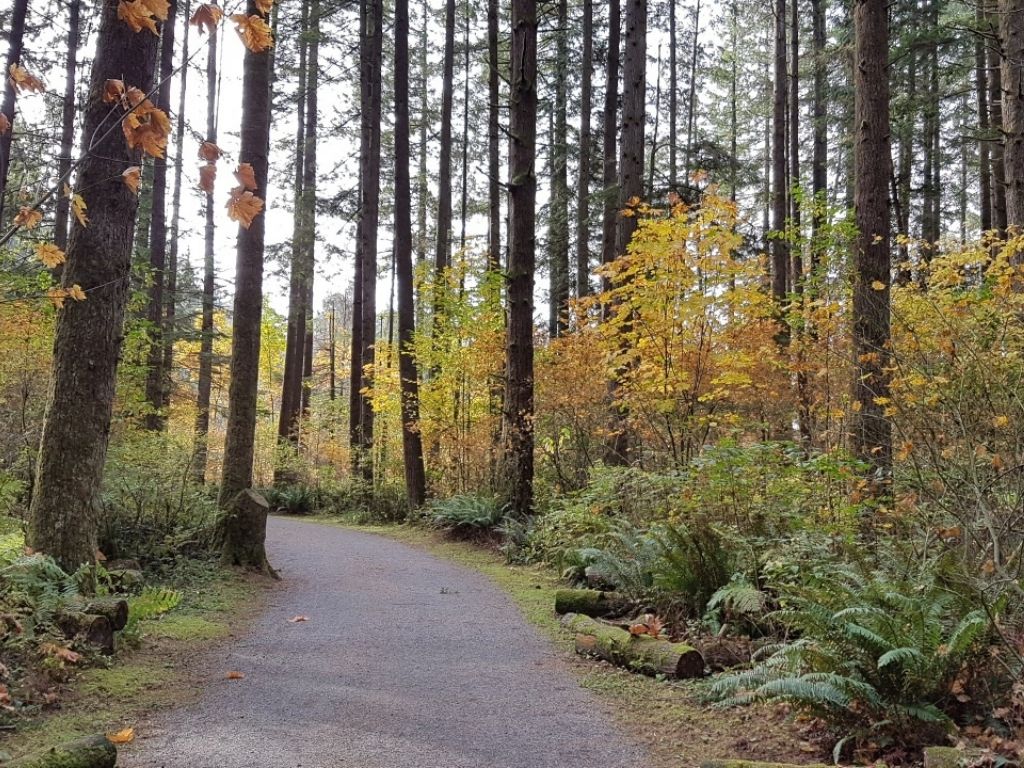 Level: Easy – Intermediate
Time: 1 – 1.5 hours
Distance: 4 km
Stroller Friendly: Yes (although there's a steep hill that can be tricky with a stroller so I'd opt for a baby carrier instead)
Only five minutes from historic Fort Langley, the Houston Trail in Derby Reach Regional Park is a forested walk on a well-maintained wide gravel trail. Though it has a couple of steep sections, it is mostly flat and suitable for younger children if they can handle the 4 km length… or if you are willing to piggyback them! There is a fantastic raised lookout over a wetland for wildlife viewing.
Langley Walks
18. Fort To Fort Trail
Level: Easy
Time: 1 hour and 40 minutes (if you do the whole thing, we often break this up into sections)
Distance: 8 km
Stroller Friendly: Yes
A favourite among locals and visitors, the Fort to Fort Trail takes you from Derby Reach through Fort Langley on an almost 8 km long gravel trail. You can opt to do just a section of the trail or the whole thing as there are lots of entry and exit points along the way. There are a lot of great lookouts over the Fraser River and McMillan Island, as well as a lot of birds to be spotted and heard (there's one spot in Bedford Landing where the birds are sometimes so loud you can't hear yourself talk!). Many people will start or end their walk in Fort Langley, where shops and restaurants await! If you're making a day of it head over to the Fort Langley National Historic Site for a visit (or stay overnight in an oTENTIk for a real Fort Langley experience)!
19. Derby Reach Edge Trail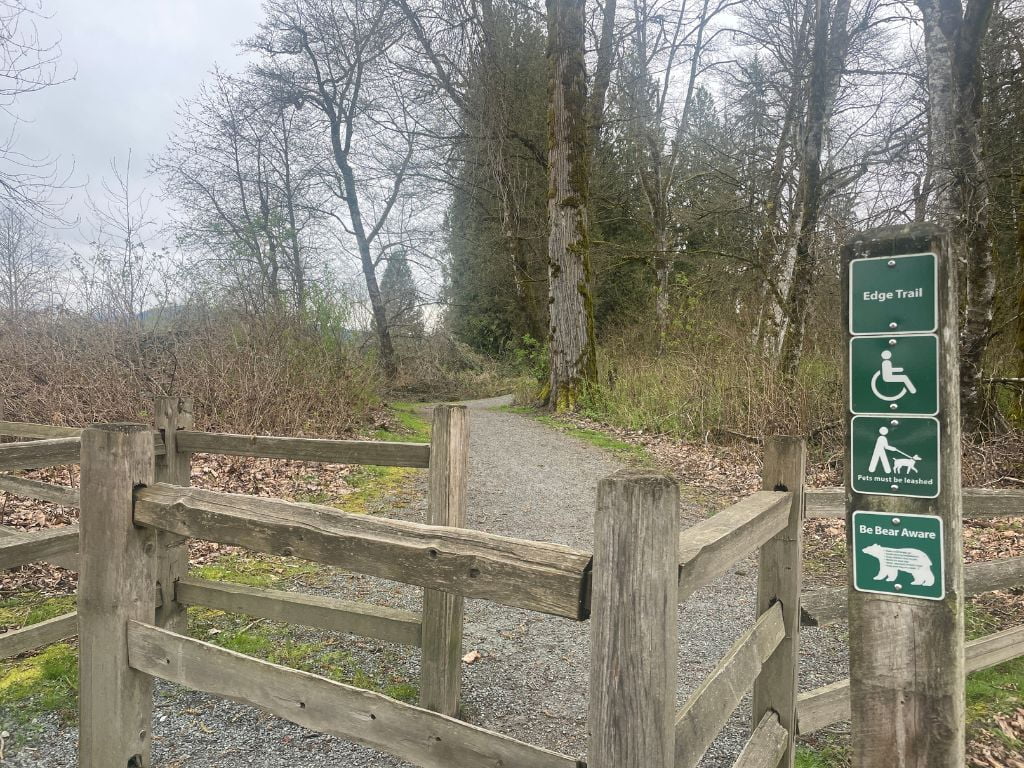 Level: Easy
Time: 30 minutes
Distance: 2.6 km
Stroller Friendly: Yes
A great little trail located close to Fort Langley, this is the perfect outing for those short on time, or if the weather isn't cooperating and you want a little loop without a big commitment of a whole hike. If you arrive early you could try to secure a campfire at Derby Reach and enjoy a hot dog roast and smores over your campfire post-hike (don't forget your must-have campfire items)! For a list of the best places to have a campfire check out this article.
20. Little River Loop Trail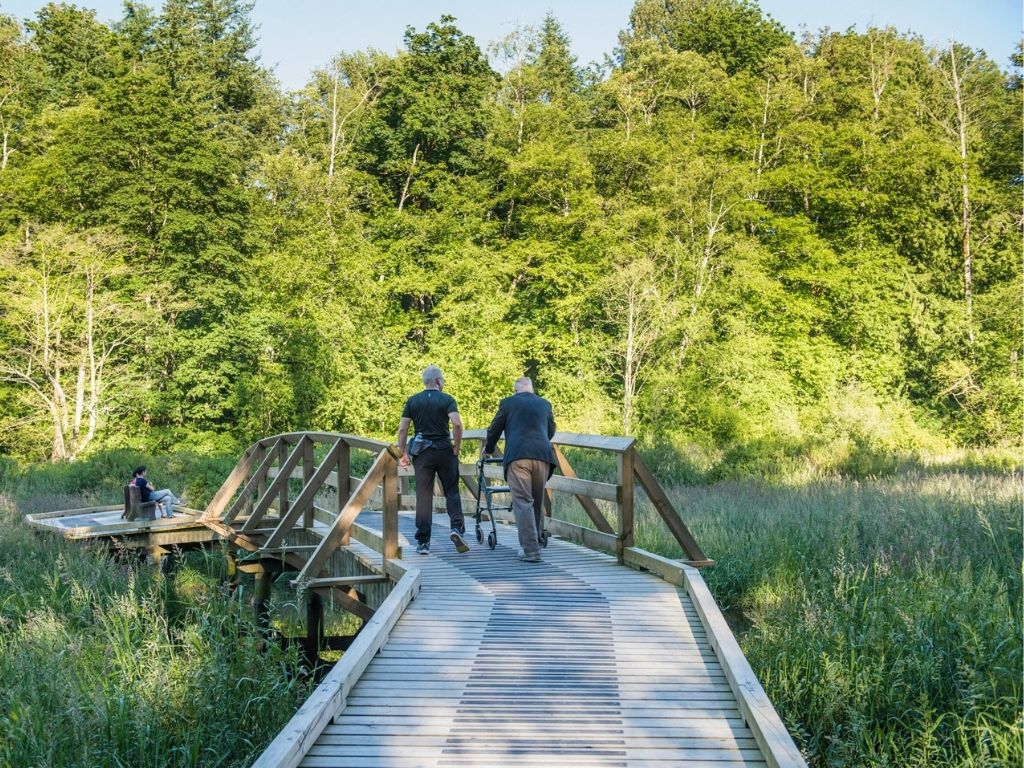 Level: Easy
Time: 30 – 45 minutes
Distance: 2.3 km
Stroller Friendly: Yes
The Little River Loop Trail in Campbell Valley Regional Park is a short, wheelchair-accessible trail that crosses the Little Campbell River twice. Raised boardwalks keep this trail in good shape even during our rainy winters. This short hike is suitable for very young children and pairs well with an after-hike wiener roast at the nearby Old Orchard Picnic Area.
21. Williams Park, Langley
Level: Easy
Time: 30 – 45 minutes
Distance: 2.4 km
Stroller Friendly: Yes
A lovely little oasis in the Fraser Valley, this walk is more of a meander, allowing you and the little hikers to explore a variety of paths through the forest. Wander down to the river and see if you can spot the salmon or some of the other aquatic beings that live below the waterline! Dog and stroller friendly, making this perfect for all members of the family. Bring lunch and have a picnic at the naturally inspired playground!
Family Friendly Hikes in the GVRD
Surrey Walks
22. Tynehead Regional Park, Surrey
Level: Easy
Time: 30- 90 minutes based on the route you take
Distance: 4-7 km depending on the route you take
Stroller Friendly: Yes
This was the park where my love of the outdoors was born, and where I grew up and have been visiting for over 35 years! Tynehead Regional Park is a sprawling park that encompasses over 260 hectares of old-growth forests, wide open meadows, and long meandering trails.
While the park is open year-round one of our favourite times of year to visit is during the Fall when the salmon run is happening and you can spot the bright red fish rushing against the current in Tynhead streams. There is an active hatchery on site and they sometimes have programming for the public available. The park also has large picnic areas for group gatherings, so it would be a great place for a family picnic!
23. High Knoll Park, Surrey
Level: Easy
Time: 30-60 minutes
Distance: Varies based on the walking trail.
Stroller Friendly: Yes
I'm always grateful to those who came before us and saw beautiful pieces of land that were worth preserving for future generations… and that's exactly what High Knoll Park in Surrey is. An old-growth forest in the middle of a suburban area, Doris Kathleen Skelton gifted the land to the City of Surrey in 1974, passing it on for future generations to enjoy for years to come.
The park is filled with easily walkable trails, with lots of logs and fun forested areas for the kids to climb on. If you have time, take the trails down to Brydon Lagoon, a beautiful bird-filled lagoon where kids can watch a variety of bird species play in the little lake (most people who live in Langley don't even know that it's there!).
Coquitlam Hikes
24. Minnekhada Regional Park – High Knoll Trail
Level: Moderate
Time: 60 – 80 minutes
Distance: 4.5 km
Stroller Friendly: No
If you're looking for an amazing hike to explore in the Fall, the Minnekhada Lookout is our family favourite. While you can go anytime during the year, the fall is truly special as the lookout showcases all of the cranberry fields in full colour, red radiating through the valley and providing stunning scenery for you to enjoy. This one has some bigger roots to climb in the middle of the hike that our kids loved, they were "scrambling" up the side and racing each other along the way!
25. Buntzen Lake Trail, Coquitlam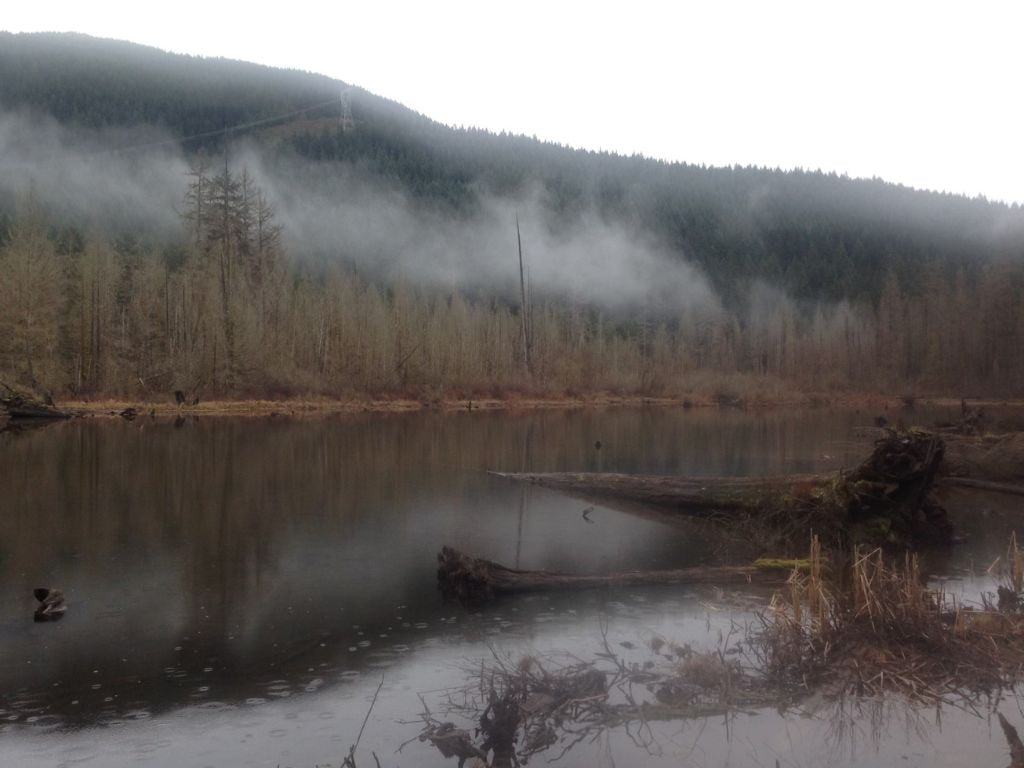 Level: Moderate-Hard
Time: 3 hours
Distance: 10.5 km
Stroller Friendly: Definitely not
A popular Coquitlam hike, this 10.5 km loop takes you around Buntzen Lake on a moderately challenging trail. This is definitely one of the most difficult hikes on this list, so be sure to pack your 10 essential hiking items, ensure you have lots of snacks and water and hikers that are up for a longer hike and more challenging terrain. However, the work is worth the reward as this is a stunning hike and being able to hike all around the lake is a unique opportunity that keeps you motivated, even when it gets a bit challenging!
26. Coquitlam Crunch
Level: Moderate
Time: 2 hours
Distance: 6.1 Km
Stroller Friendly: No, this hike consists mostly of stairs
If you're looking to get your heart pumping and burn calories, the Coquitlam Crunch is a great urban hike (often used to prep for hiking on forested trails). Those who like the idea of putting their heads down and working hard will love this crunch, or if you're trekking with kids you can take your time and work your way up the trail.
North Vancouver Hikes
27. Dog Mountain, Mt. Seymour, North Vancouver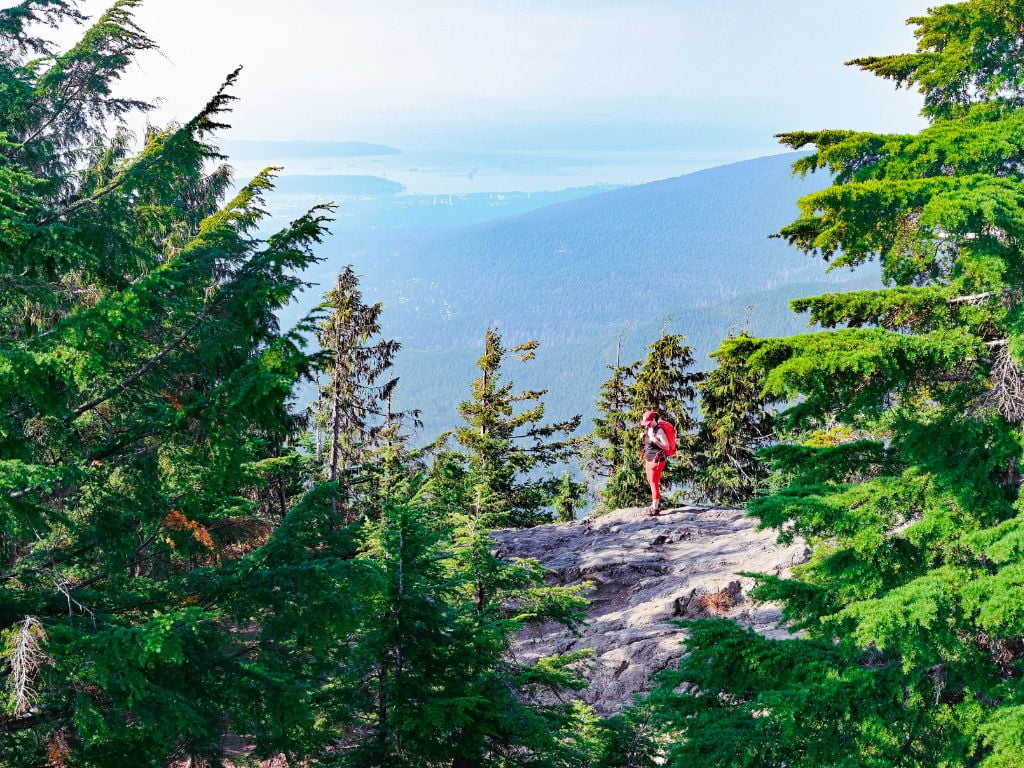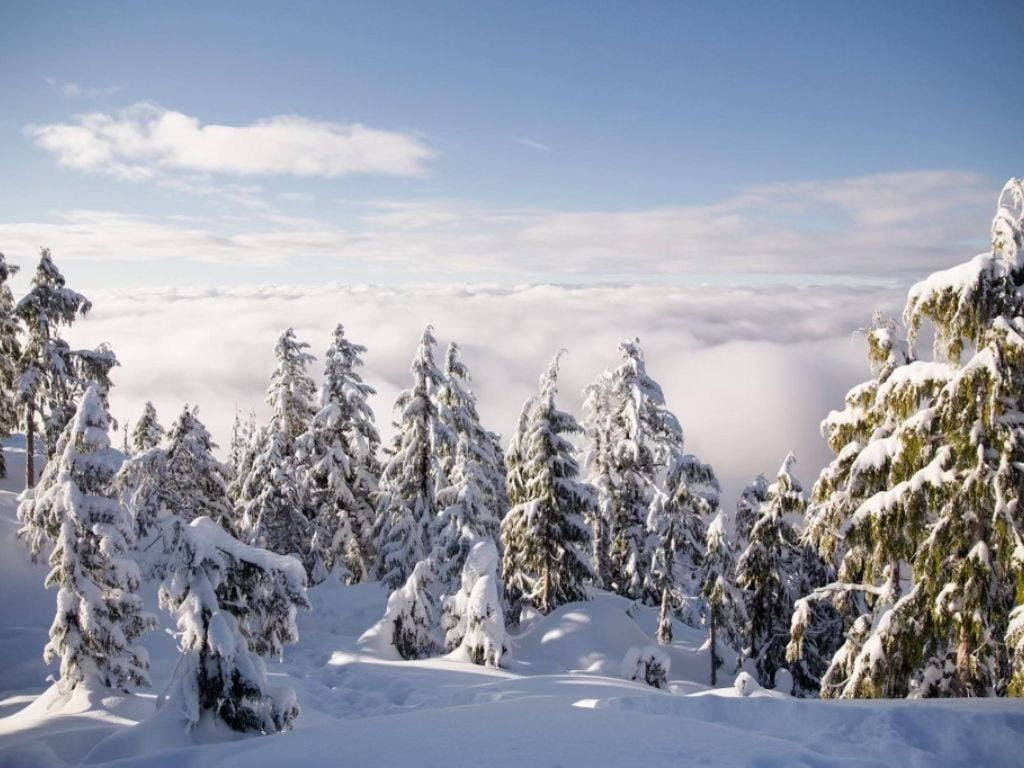 Level: Moderate
Time: 1.5 hours
Distance: 5.6 km
Stroller Friendly: No
This is a trail you can take your family on any time of the year! From snowshoeing up in the winter to enjoying uninterrupted views out over Vancouver Island in the summer, this moderate hike is perfect in every single way. First of all, it's broken up into two sections, the first half taking you to Lost Lake, a scenic little stop. In the fall it's extra special as the mountain foliage transforms into colours of reds, oranges, and yellows. In the winter the trees look like they are straight out of Whoville as they are perfect marshmallow puffs of snow. Kids love the trail as there are lots to see and traverse across. I recommend heading there during off-peak times as it can get busy on weekends. Also, if you're going during peak season be sure to get a day pass from BC Parks.
West Vancouver Hikes
28. Lighthouse Park, West Vancouver
Level: Easy
Time: 1 hour
Distance: 5.5 km
Stroller Friendly: Yes (except for the beach path)
There's nothing more special than the moment you come out of a trail only to discover a 180-degree view of the ocean. Lighthouse Park is a special hike in Vancouver that allows you to stroll down an easy path and end up looking out over the lighthouse as well as the Vancouver city skyline. This easy path is stroller friendly and my kids loved the beach part of the experience where they could beach comb, climb on the rocks, and explore in the warm sun. Check out old family photos at this park and one of the first articles I ever wrote here.
Best Day Trip Hikes from Vancouver With Kids
Squamish Hikes
29. The Stawamus Chief, Squamish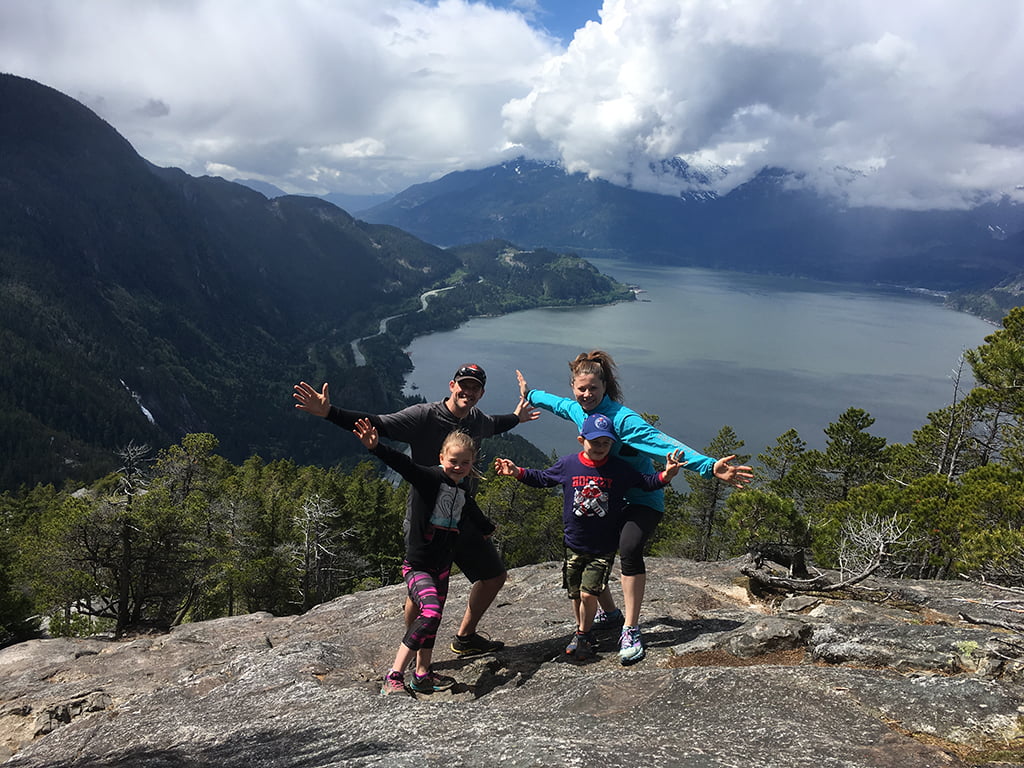 Level: Hard
Time: 3.5 – 6 hours depending on how many peaks you do (shorter route recommended for families).
Distance: 11 km for all three peaks, but much shorter if you only do the first peak.
Stroller Friendly: No
A bucket list style hike, The Chief is a hard hike but one that is worthwhile when you've reached the summit. From scrambling across boulders to climbing ladders to maneuvering through crevices, it is a unique west coast hike that is both fun and challenging. Okay, it's hard!
Let's repeat though, this is a HARD hike and in order to embark on this trail you need to be in good physical fitness and be a well-prepared hiker. Every year too many people are injured and need support, so please help prepare yourself properly. Here's an excellent video to help you prepare. Also note, reservations for the hike open at 6 am daily and book up fast, so if you want to go be sure to be prepared to make your reservations. Limiting the number of people on the trail helps preserve the ecosystem for future generations to come. This might be a goal hike to add to your family friendly hikes Fraser Valley bucket list!
Take a look at our experience from a few years ago including photos of what you can expect here.
Whistler Hikes
30. Train Wreck Trail, Whistler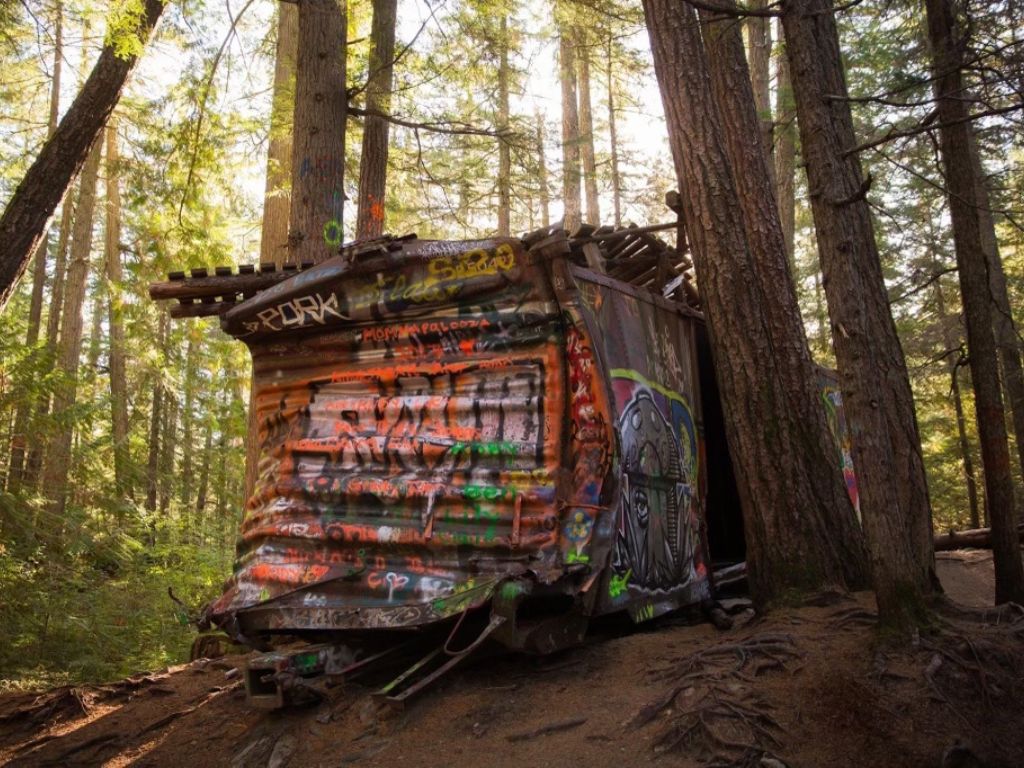 Level: Easy
Time: 35 minutes
Distance: 2.3 km
Stroller Friendly: No
The Whistler Train Wreck trail is a fun hike that kids will love. This forested trail spans 2.3 kilometres and takes you through the lush forests before reaching the trail's most famous feature, an actual train wreck site. Since the 1950's the train cars have been left abandoned in the woods, and have since been covered in graffiti, providing a unique insight into local art culture. This easy trail is suitable for travellers of all physical levels and makes for a great stop on your way to or from Whistler. Expect to encounter a variety of wildlife along the way, including black bears and deer, so be sure to stay alert and practice safe hiking. With its stunning views and fascinating history, The Whistler Train Wreck trail is an experience that should not be missed.
Family Friendly Hikes Fraser Valley FAQs
What age is appropriate for hiking?
When it comes to hiking, age is just a number. While children as young as babies can accompany their parents on short hikes, it is important to consider their physical ability, attention span, and overall interest in the activity. Generally, kids aged 6 to 12 years old are old enough to enjoy and participate in longer hikes, although adult supervision and guidance are still necessary. Teenagers and young adults, on the other hand, can challenge themselves with more difficult trails or multi-day hikes, provided that they have the proper gear and a good understanding of safety measures. Ultimately, whether you are 8 or 80 years old, hiking can be a fantastic way to connect with nature and stay active, as long as you choose a trail that matches your fitness level and goals.
What are the essential 10 items to bring on every hike?
Embarking on a hike can be one of the most rewarding experiences, but it can also turn dangerous if you forget to pack the right gear. After all, being ill-prepared can put you and your family at risk of getting lost, injured or exposed to the elements. Here are the ten must-have items to pack on every hike:
Flashlight
Fire making kit
Whistle or mirror
Extra food and water
Extra clothing
Navigational / communication aids
First aid kit
Emergency shelter
Pocket knife
Sun protection
How do I hike safely knowing there is wildlife around?
The key to hiking safely with your family is to have a plan. Before hitting the trail, research the types of animals that are common in the area and learn their behaviours. It's also important to bring along a reliable map and familiarize yourself with the trail. While on the hike, make noise to alert animals of your presence, pack away all food in bear-proof containers, and avoid areas where wildlife has been spotted. Always remain alert and aware of your surroundings, and never approach or try to feed any wildlife you may encounter. To get our full guide to hiking safely click here.
These are just a few of the best family friendly hikes Fraser Valley, each one appealing and valuable in its own way. Any one of these trails is a great day trip for healthy, outdoorsy family fun on any weekend or holiday.
What's your favourite family friendly hikes fraser valley from the list – and why?
Message us on Instagram so we can keep updating this article for our readers (and check out the new trails ourselves!).
---
Check out These Articles for some Hiking Inspiration!