I folded my arms and laid back into the tandem kayak, letting my daughter paddle for the two of us, quietly giggling to myself. It only took her a moment to realize I wasn't pulling my weight and we both started laughing as I picked up my paddle again and started contributing to our Harrison Lake kayaking tour. It's these little magical moments with my kids that I will forever cherish.
It was a rainy June morning, the perfect BC day with a lot of liquid sunshine to start off our day, but an equally warm temperature made heading out on the water the perfect way to kick off our morning. Our guide Molly had been a Kayak Tour Guide for 6 years and quickly had us out on the Harrison Lake and over to visit the iconic Hot Springs before we headed down river for our tour.
Harrison Lake
Harrison Lake is the largest lake in the southern Coast Mountains of Canada, it is about 60 km in length and at its almost 9 km across. The resort community of Harrison Hot Springs is located at the Southern tip of the lake, and they like to remind people from Vancouver and the GVRD that they are
#JustUpTheRoad and only a short 1.5-hour drive from Vancouver, making it the perfect weekend escape for everyone.
Harrison Eco Tours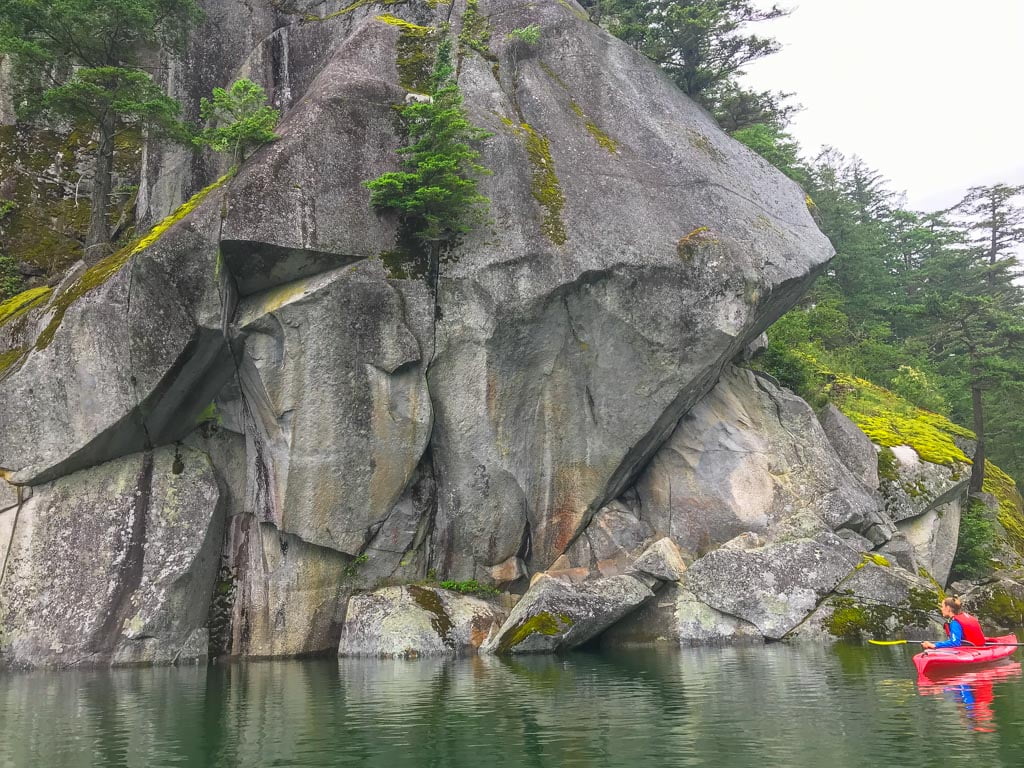 Harrison Eco Tours is a small family fun company based out of the lobby of The Harrison Hot Springs Resort. They offer a variety of eco-tours including paddling, jet boat tours, and hiking tours that will introduce you to the majestic clean water shorelines and the wildlife that calls the Harrison region home.
Hitting the Water
After our safety briefing, life jacket fitting, and pedal adjustment it was time to launch into the water. With the ages of our children (9 and 11) we opted for tandem kayaks, allowing them to be able to take rest breaks if they needed it. The tandem kayaks also allow us some quality one on one time with the kids, and we may have enjoyed a mini "girls versus boys" water fight!
Magic of The River
Our guide offered us the perfect combination of eco-education showcasing the wonders of the river, combined with the peaceful solitude of quiet allowing us to paddle through the uninterrupted waters.
Kid-Friendly Explorations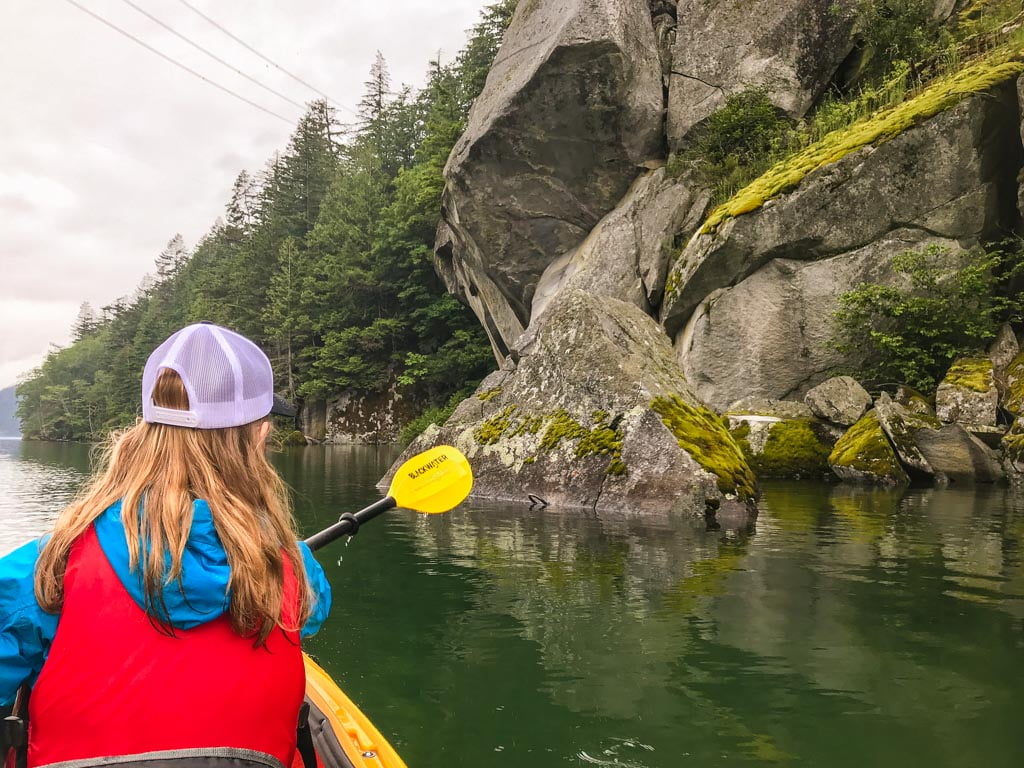 One of the questions I often get asked is, "Are my kids old enough to go on a Kayaking tour". The recommended minimum age for a two-hour kayak tour is 12 years old, however since my children are experienced kayakers we chose to take them out on this trip. Kids need to have the perseverance and patience to last 2 full hours, both physically paddling for the duration of the trip and also taking time to listen to the stories and enjoy their natural surroundings.
Animal Encounters
The kids loved seeing and learning all about the local residents and we were fortunate enough to see baby ducks and an eagle catching his breakfast. We were also on the lookout for the resident seals, did you know that they follow the salmon up the river and for the past 15 years have been making a colony in Harrison Lake?
Cultural Connection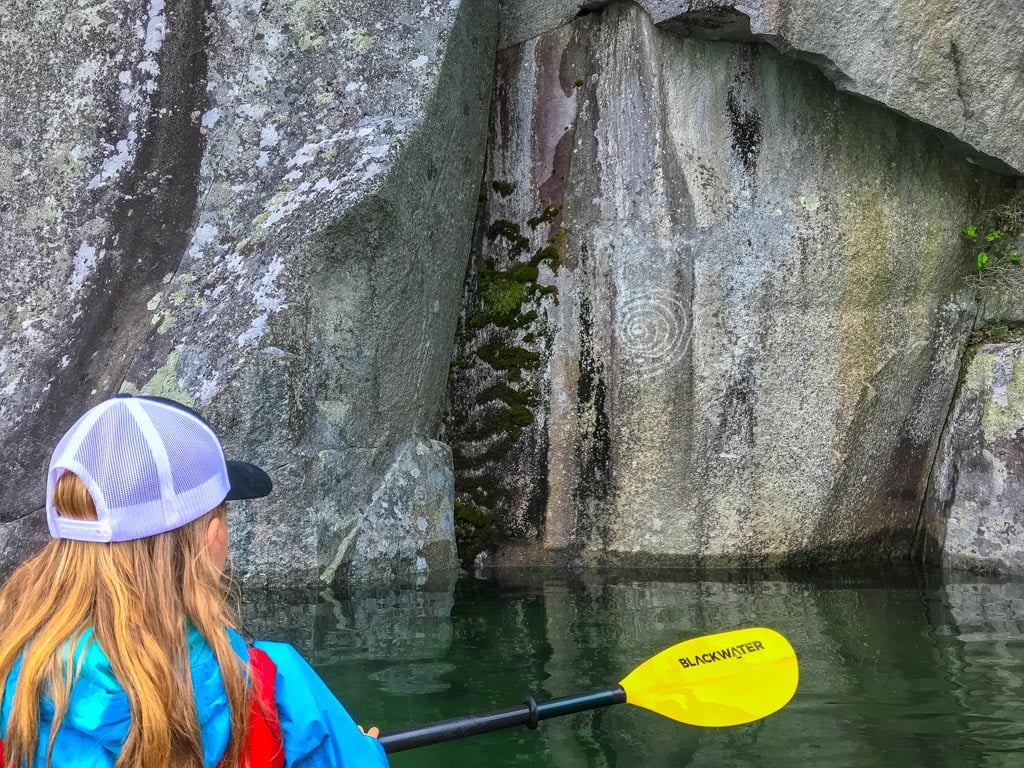 A quick scan of the rocks and we would have missed an amazing treasure that was 2000 years old! Our guide was able to show us pictographs and art that were left by the local Aboriginals, over two centuries ago. It's a unique way to learn more about the culture that has been living off this land for a lot longer than we have!
Connected Family Time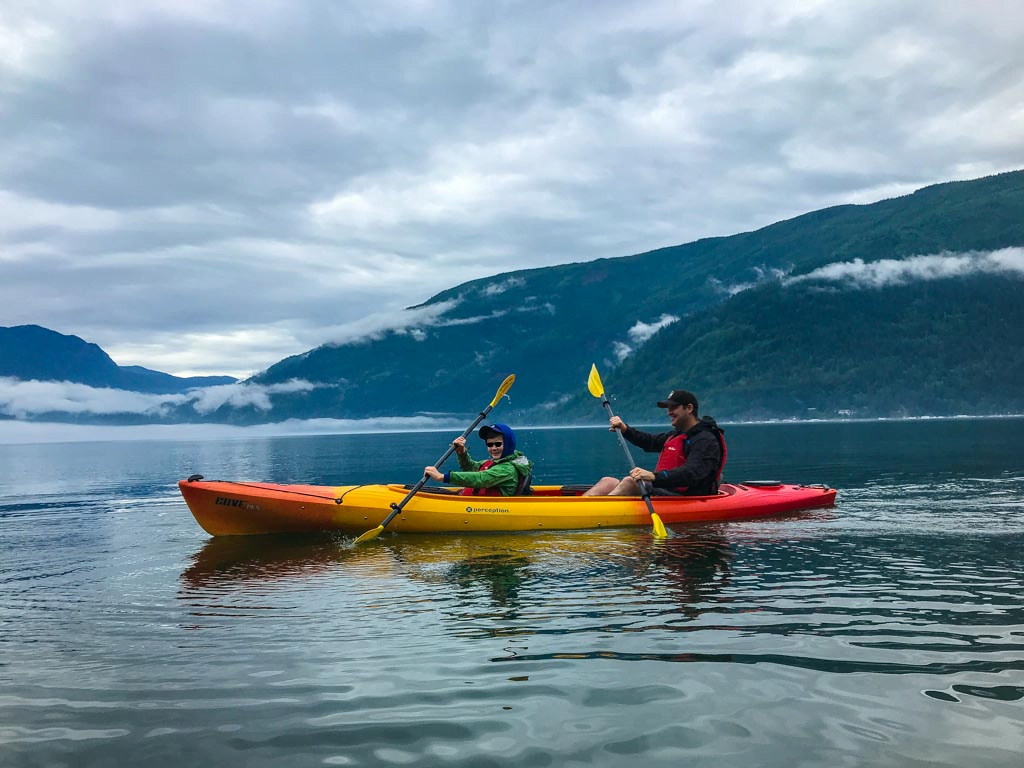 There's nothing better than living life in 3D and being completely removed from screens, news feeds, and radio noise. Being able to exercise, explore, and engage with our environment as a family is an investment in our relationships as well as in the legacy we support – teaching our children to love and protect the environment. "We do not inherit the earth from our ancestors, we borrow it from our children". – ancient Indian proverb.
What To Bring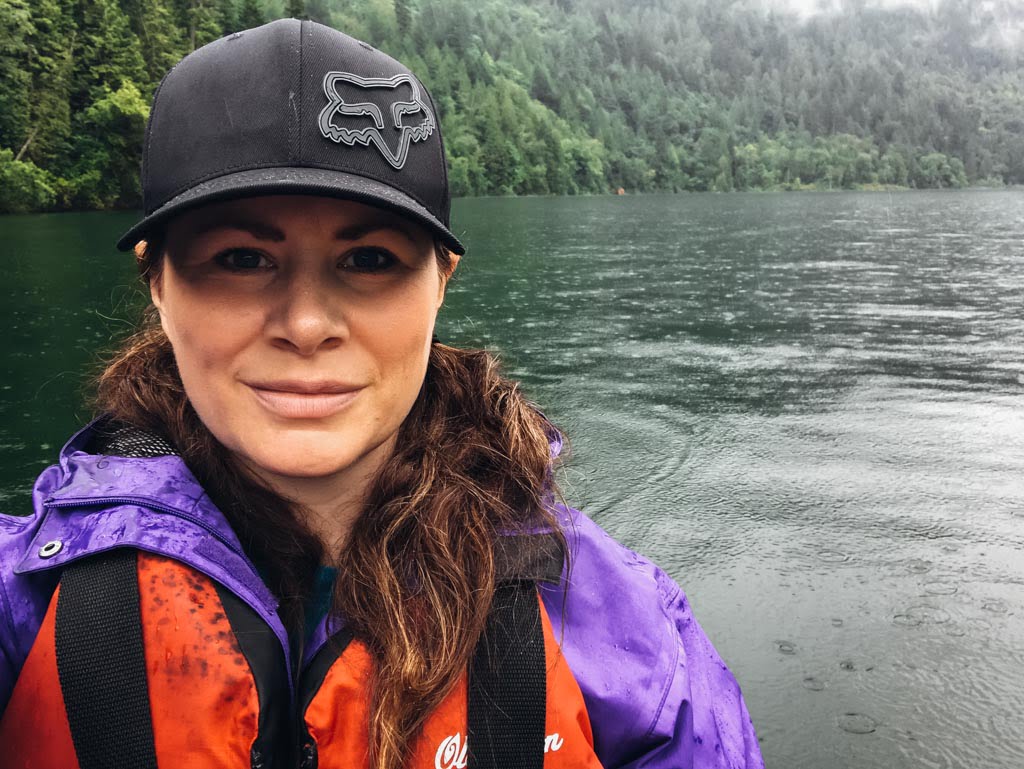 Kayaking is a great all-weather activity as you're bound to get a bit wet at some point, so a little bit of rain shouldn't bother anyone. Plus the rain on the lake normally means fewer boaters, giving you the feeling like you have the place to yourselves!
Being prepared with a few little tips can help make for the best Harrison Lake here's what to bring on your Harrison Lake Kayaking Trip:
Dress for the weather

Sun = sunglasses, sunscreen, hat, and sun protection.

Cloudy / rain = light rain jacket, hat

Treats – When travelling with kids it's always good to bring a "pocket snack" for when they need it. If you're worried about them lasting the whole two hours I recommend a sweet treat (like sour patch kids) that can be quickly shared and give the extra little morale boost for the final push.
---
Feeling inspired to get out there? Check out our other family-friendly adventures!
Is this a sponsored post?: Yes. While our Harrison Lake kayaking adventure was sponsored, all thoughts and opinions are our own.