Just a few days earlier, I was standing in my kitchen making lunch for the kids…
Yet here I was, with a 150hp metal beast racing me across jagged ice fields and around the frozen ice peaks of the Arctic Ocean. Looking out into the vast nothingness that laid out on the horizon, -30° air whipping in my face, I couldn't help but ask: is this all a dream?
Thankfully, it was very much real. And it was all thanks to Inukpak Outfitting.
As part of my journey to Nunavut, I knew I just had to find myself back on a sled. An avid snowmobiler as a kid, I felt this was the perfect time to reconnect with this childhood passion and explore the incredible terrain of the Arctic. To make this dream come true, I was connected with Nunavut's own Inukpak Outfitting – one of the most well-respected, reviewed, and revered guide companies in the entire province.
Inukpak is an Inuit word that translates to "gentle giant". As soon as I met founder Louis-Philip Pothier, I immediately saw why the company was named as such. A towering man, Louis-Philip is as kind a person as one could ever meet. Together with his wife Martine and a handful of professional, experienced guides, they run Inukpak Outfitting – offering a variety of Nunavut adventures, including snowmobiling, snowshoeing, kite skiing, ice fishing, igloo building, dog sledding and so much more.
Before I knew it, I was racing snowmobiles through the arctic!
Investigating Igloos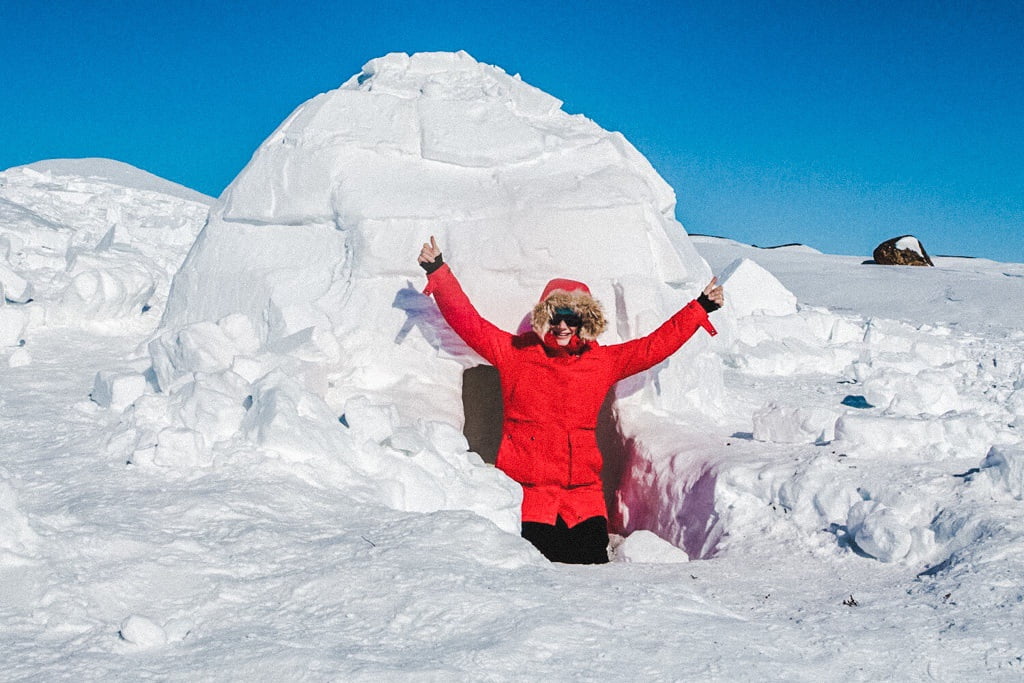 Before we took off on our Iqaluit snowmobile tours adventure we made a quick stop to Sylvia Grinnell Territorial Park. Martine had gotten word that many of us had never seen a real-life igloo, and so she drove us right up to one for us to experience it first-hand. This was one of the many moments of this journey that felt surreal – like it was ripped straight from a movie. Since I was a little girl, I had always heard of igloos – learning about them in school, and building my own crude versions with friends in snowbanks. Yet here I was, laying my hands on a real-life one. Such an incredible experience!
Gear Up and Go
Upon arrival at Inukpak's headquarters, it was immediately clear that we were going to be facing some pretty harsh conditions out on the trail. Thankfully, the team was there to ensure each of us in our group of riders was equipped with everything we needed to tackle the trail. Working from our feet to our heads, each rider geared up with socks, boots and special outer boots. From there, it was pants, snow pants, and shells, base layers, jackets, and outer coats, then face masks, balaclavas, toques, helmets, goggles and more. While most of our group came prepared with all their own winter gear, Martine was kind enough to lend odds and ends for those that were missing any elements of the complete Arctic riding ensemble.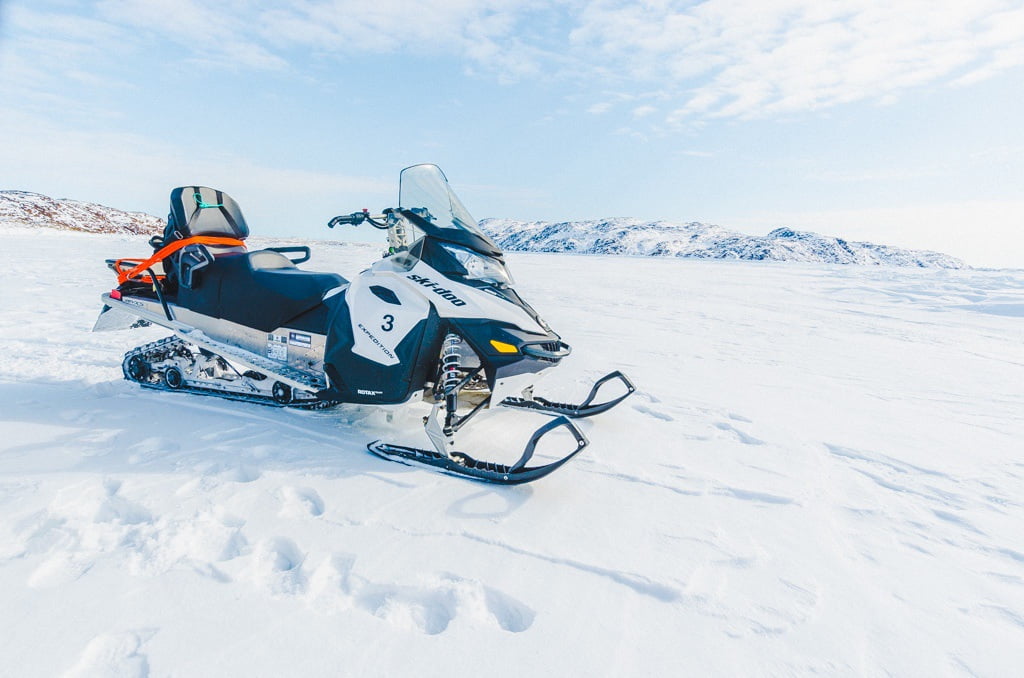 After gearing up, Martine got us all familiar with our snowmobiles, and then we were off – departing their Apex headquarters and heading out into the Arctic.
Navigating the Ice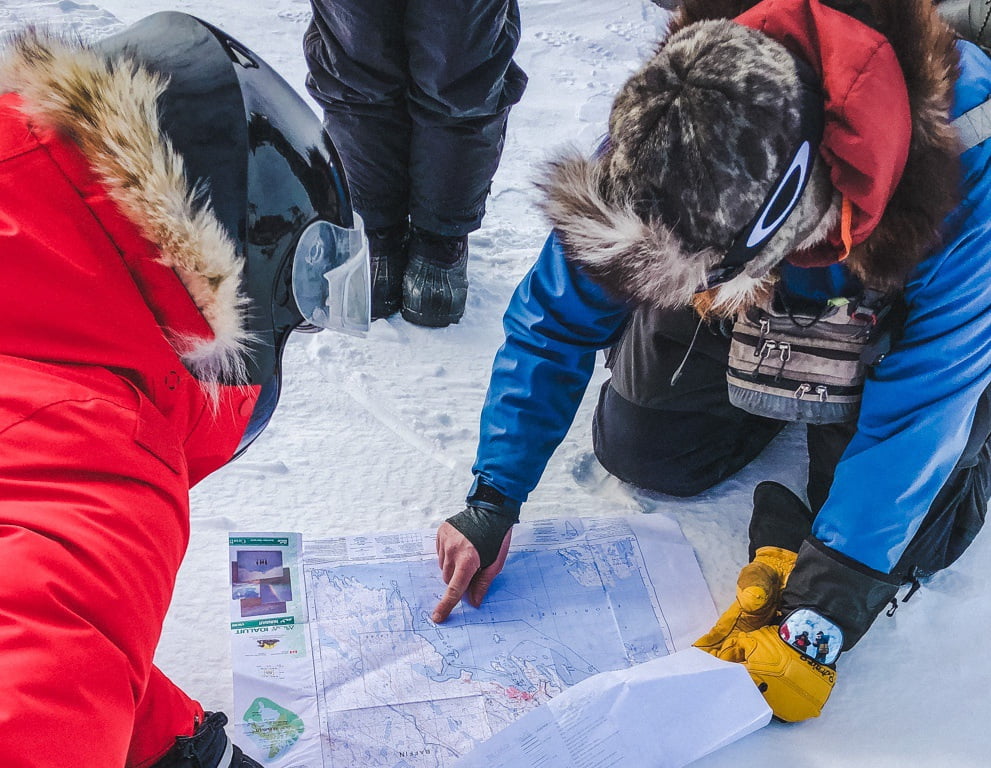 As Martine explained, this area of the Arctic has the second largest tidal swings on Earth. Meaning that constant shift in water level creates for some crazy terrain. As we reached the edge of the ice, we could immediately see what she was talking about. Bashed-up and jagged, it took us all some time to get used to this unique riding surface. Thankfully, Martine was there with us every step of the way, guiding us on how to best navigate and become comfortable with this style of riding. With her help, it only took a few kilometres before we were all riding like pros!
Middle of Nowhere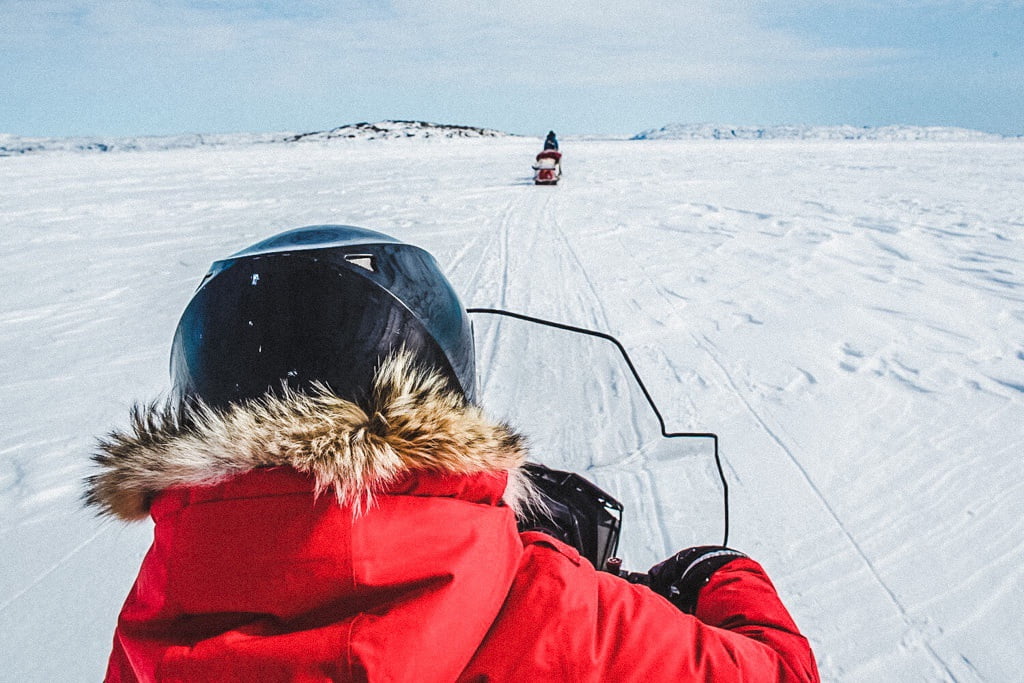 As we continued to ride further and further towards the horizon, I was struck with just how open the landscape was. It really felt like we were in the middle of nowhere, and a humbling reminder of how incredible this planet really is, and how much beauty Canada has to offer. Thinking about all the warm weather summer adventures my family takes around the parks of Vancouver, I couldn't begin to comprehend that this Arctic wonderland was actually part of the same country. Truly incredible!
The Ice Wall
Continuing our Iqaluit snowmobile tours ride, Martine guided us to a massive ice wall. As we came to learn, this ice actually does a disappearing act with the tide. When the tide is out, you're greeted with the massive wall. Yet when the tide comes back in, the wall all but disappears. Massive sheets of ice, just bobbing up and down with the tide…another example of the incredible natural wonders of the Arctic!
Break Time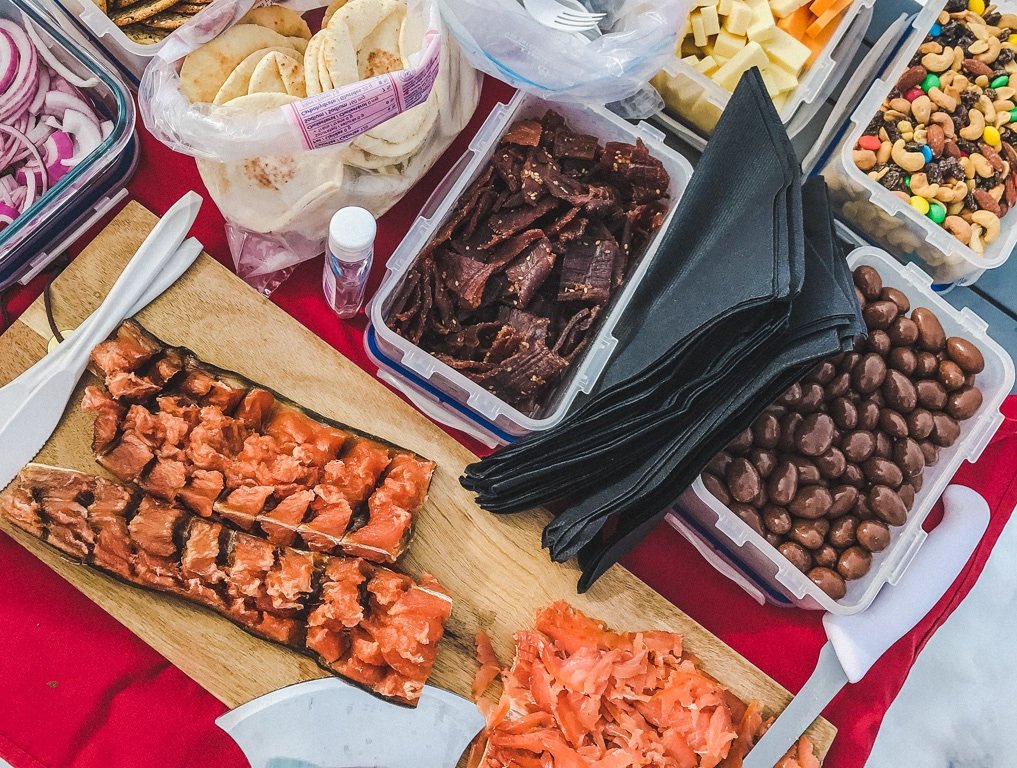 We continued our Iqaluit snowmobile tours journey, riding hard for many more kilometres, and taking in the sights of the landscape and the famous Inuksuk sculpture that dots it. After a while, Martine knew it was time for us to rest our legs and warm our bellies, and so she guided us to a sheltered bay for a break. From her stow bags, Martine produced the most incredible lunch spread for us – amazing smoked Arctic Char, warmed caribou stew, trail mix, chocolate covered almonds, cheese, crackers, coffee, tea and so much more. Quite honestly the best spread I have ever had on an adventure like this, and the perfect fuel to keep us going for the remainder of the Iqaluit snowmobile tours trip.
Tracks by the Pond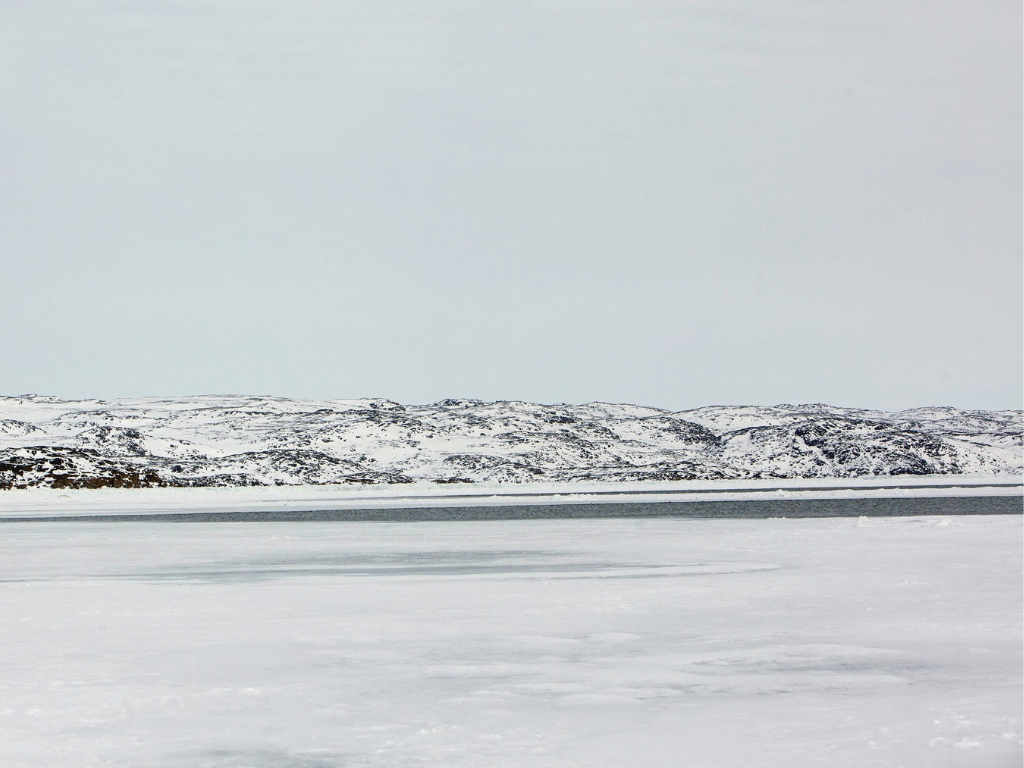 Back on the sleds, Martine guided us towards a large polynya – a body of water surrounded by sea ice that never freezes. We stopped for a bit so that she could explain to us why these polynyas are so important to the local wildlife, serving as the main hunting ground for polar bears and seals. Unfortunately, we were unable to see a polar bear in the flesh that day, however, we did have the amazing experience of coming upon a fresh set of polar bear tracks – possibly just one or two days old.
Sitting there admiring the massive size of these bear's paws, knowing that hours before (and likely, hours later), they'd be roaming this space looking for food for themselves and their cubs, I couldn't help but be hit with that sense of wonder and awe that had become so prevalent throughout my journey to Nunavut. Everywhere we turned, I was seeing something and experiencing something for the very first time. Truly wonderful…
After our track sighting, we made our way back towards Apex and the Inukpak Outfitting headquarters. While I was tired from a full day of riding, I was so sad to see the day come to an end. My time with Martine and our fellow adventurers exploring the Arctic was something out of a dream. An experience I'll never forget, and one that will forever reshape how I feel about Canada and the planet as a whole.
Want to learn more about Inukpak Outfitting, and potentially book a journey of your own? Check out their website!
Check out my other Nunavut adventures and learn more about us!
Nunavut: Experience the Spirit of the Arctic
9 Things to Know Before Your Trip to Nunavut
On Top of the World: My Day Dogsledding Across the Arctic
Who are the faces behind the blog? Meet the Savages!
Is this a sponsored post?: Yes, while my trip to Nunavut was sponsored, the opinions and views in this article are strictly my own.