Standing in the middle of the Arctic ice, wind rippling around me, and nothing but a small wood shack and a tiny fishing hole to call home, it dawns on me: I'm exploring one of the most remote regions on earth, and yet haven't even left Canada.
For centuries, this top-of-the-world destination has been a well-kept secret. A place that was inhabited solely by the Inuit communities born there, as well as a few very brave explorers looking for the ends of the earth. But the secret is out, and Nunavut is quickly becoming a can't-miss travel destination. A place to explore the coldest, most remote stretches of our planet.
In fact, Nunavut has even found itself onto prominent travel lists such as The Top 10 Alternative Destinations as well as Fodor's 2019 Best Places to Travel Guide. Having experienced this wonderful place in person, I do very much want to encourage everyone to make it their mission to visit. However, I do this with one caveat: if you're going to come to Nunavut, come for the right reasons.
If your intentions for Nunavut is to simply "cross it off your list" – to snap a few photos and buy a few souvenirs – then I must politely ask that you reconsider. Nunavut is not for the light-hearted traveller looking for an instagrammable moment. It's a place where life has gone on for thousands of years without losing its unique culture. Yet like many places that become "hip", bucket-list travel destinations, the influx of the wrong kind of tourist can rob this uniqueness from them in a blink of an eye.
If you do come to Nunavut, come for the people. Come for the culture. Come to engage with the community. Come to experience the spirit of the Arctic. And come because it's small, quaint, and less accessible. And do your part to keep it that way.
If These Ice Walls Could Talk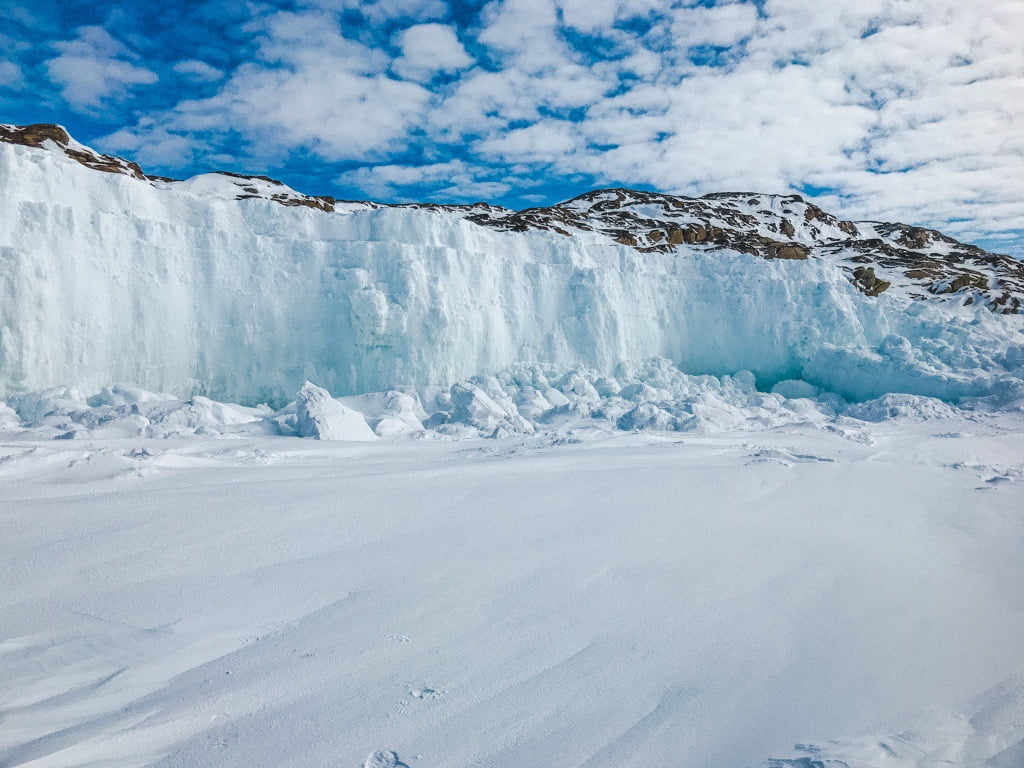 Standing 12 meters above the sea level, these ice walls patiently guard the coast, awaiting the sea to rise to meet it with the turn of the tide. The contrast of the bright blue sky against the crisp white ice makes for picture perfect photography but also begs viewers to stop and recognize the power of mother nature working behind the scenes.
The towering cliffs of Frobisher Bay greet tidal swings of 26 to 39 feet twice a day (the second highest tides in the world after the Bay of Fundy in Nova Scotia). The view looking over hundreds of kilometres of frozen Arctic ice begs the Canadian in me to ask: "Is this where the phrase 'From Far and Wide' originated from in our National Anthem?"
The cold air in your lungs is a temporary condition of adventuring to the Arctic, but the scenic imagery and sense of awe will stay with you long after you're back in your warm home.
Adventure Awaits in the Arctic
One of the best ways to embrace the spirit of the Arctic is to take part in adventures that immerse you in the landscape and allow you to explore as the locals do. Winter activities include everything from dog sledding and snowmobiling, to snowshoeing, kite skiing, igloo building and more, with local guides that will outfit you, and take you out to explore the region. Visitors can expect a fully immersive experience, from riding shotgun in the dog sled to steering their own snowmobiles. Along the way you'll learn the significance of the land and the history of the space you're exploring, and also learn why and how they are protecting it for generations to come.
Embrace the Spirit of the Inuit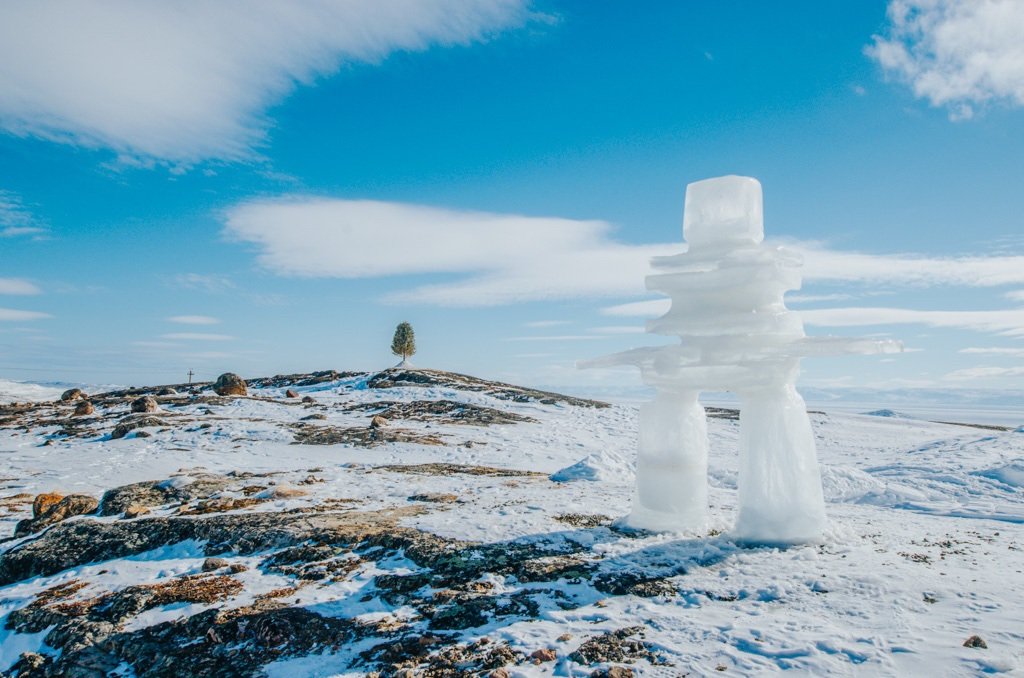 As soon as you touch down at the airport and are greeted in Inuktitut, you'll be welcomed into a community where Inuit culture is a thriving cornerstone of daily life. From the building design and outdoor art to the food, the clothing, the mix of traditional and contemporary music, and the beautiful, beautiful art (it's reported that Nunavut has more artists-per-capita than anywhere else in the world), everywhere you turn you'll be connecting with the Inuit way of life.
Connect with Canada's History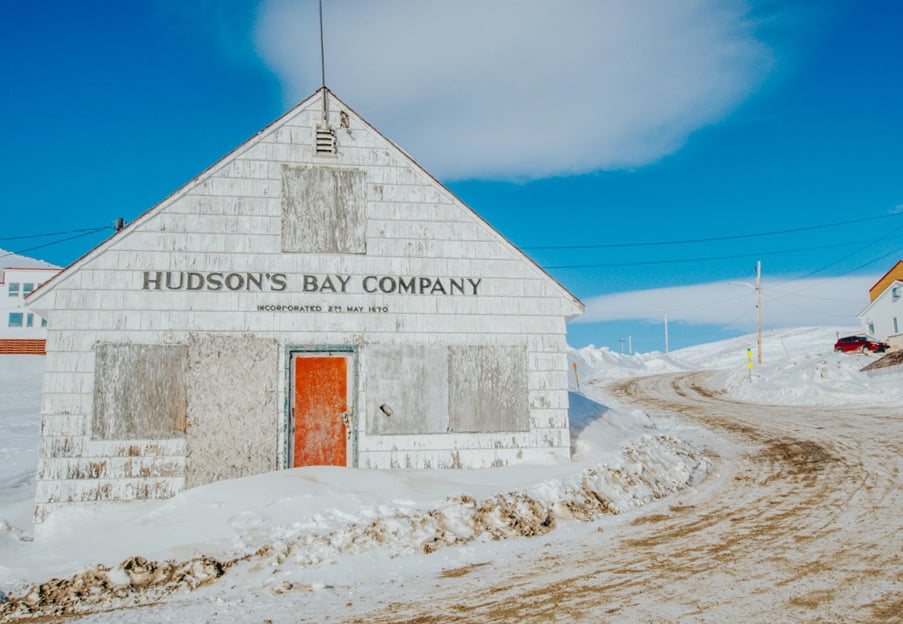 The Nunavut area plays a rich part in Canadian history, with roots that go back many centuries. The iconic Hudson's Bay Company launched one of its first outposts here all the way back in 1814. By the 1870s whaling and fur trading were major industries here, and while the whaling died out in the early 1900s, fur trade continued to thrive.
During WWII, the American's built an Air Force base on the Kooiesse Inlet. This, along with the relocation of the original Hudson Bay Outpost, and the settlement of Frobisher Bay was born. The population here rose as high as 1,200 (with about 40% of that being Inuit) during the Cold War. To support this growth, the Canadian government shipped in teachers, doctors, administrators and more.
In 1987, the community changed its name back to the original Inuktitut name Iqaluit. And in 1995 Iqaluit was chosen to be the capital of the new territory of Nunavut — which officially came into being on April 1, 1999.
As you can see, this remote place has quite the Canadian history, and is the perfect place to reconnect with your roots!
There is Incredible Closeness Within the Community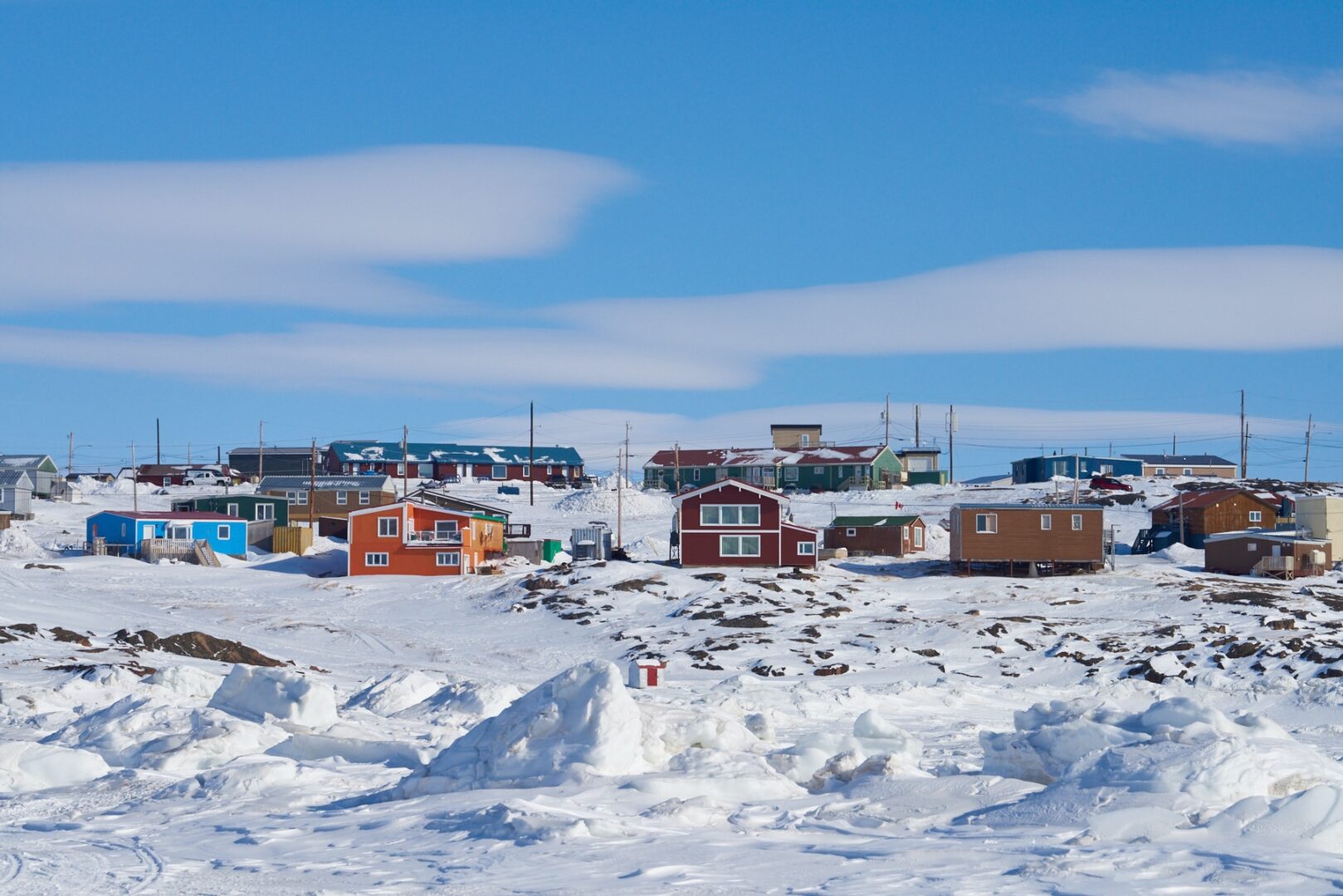 Nunavut has an incredible, deep sense of community. Living in such a remote area, it's clear that everyone makes a point to take care of one another. They lend a hand when needed, and are always there for their neighbours. Even more amazing is that they do the same for visitors to their village. My group and I obviously stood out as tourists, yet no matter where we went, locals were coming up to us asking if we needed anything, or if there was anything they could do for us. It was a heart-warming display of compassion and care for others.
"I'll Stay While I'm Happy…"
One of the most profound moments of my adventures up North was connecting with adventurers who intended to only come for a short visit but ended up calling Nunavut home. Being such a remote place – with chilly temperatures for the majority of the year –  I just had to ask our guide Kevin: "What makes Iqaluit home for you?".
Kevin responded: "We promised ourselves when we moved here that 'we'll stay while we're still happy,' and 17 years later we are so lucky to be a part of this amazing community and thrilled to be raising our family here. Will we stay forever? If we're happy! This place has been such an incredible home and we love being a part of it."
Kevin wasn't alone, Martine from Inukpak outfitters also came for a one-year stint and 17 years, a wedding, and 3 kids later, now owns one of the busiest adventure companies in town.
I love the spirit of exploring new places and these adventurers' willingness to dedicate themselves to the mantra "I'll stay while I'm happy". If only we could all embrace this willingness to play big roles in communities, and remaining there so long as we are fulfilled…it's a great lesson to take away!
Nunavut is a place that cannot be described on a page or captured on a lens. The magic is in the people, in the land they call home and the activities they partake in daily. A unique mix of culture, adventure, and beauty that is unlike any place on earth. For anyone with a sense of adventure, I suggest you pack your bags and go experience the spirit of the Arctic first hand. I promise it's a trip that will stay with you for a lifetime…
Check out my other Nunavut adventures and learn more about us!
The Rush of Racing Snowmobiles Through the Arctic
9 Things to Know Before Your Trip to Nunavut
On Top of the World: My Day Dogsledding Across the Arctic
Who are the faces behind the blog? Meet the Savages!
Is this a sponsored post?: Yes, while my trip to Nunavut was sponsored, the opinions and views in this article are strictly my own.