It was September of 2018 and I was invited for a tour through The Merchant Hotel in Belfast. After walking into the grand room and looking up at the two-story-high room, I was surrounded by history, art, and luxury all in one place. The largest chandelier in Ireland hangs in the middle of the room, welcoming you to immerse yourself in this luxury Belfast experience.
When it comes to finding the best place to stay in Belfast, there's no better option than The Merchant Hotel. This luxurious hotel offers guests a variety of amenities and services that are sure to make their stay as comfortable as possible. From its prime location in the heart of the Belfast city centre to its award-winning restaurant and impeccable customer service, The Merchant Hotel is a favourite choice for both business and leisure travellers. Here are 10 reasons why this hotel is considered one of the best in Belfast.
1. Luxury Hotel meets Living History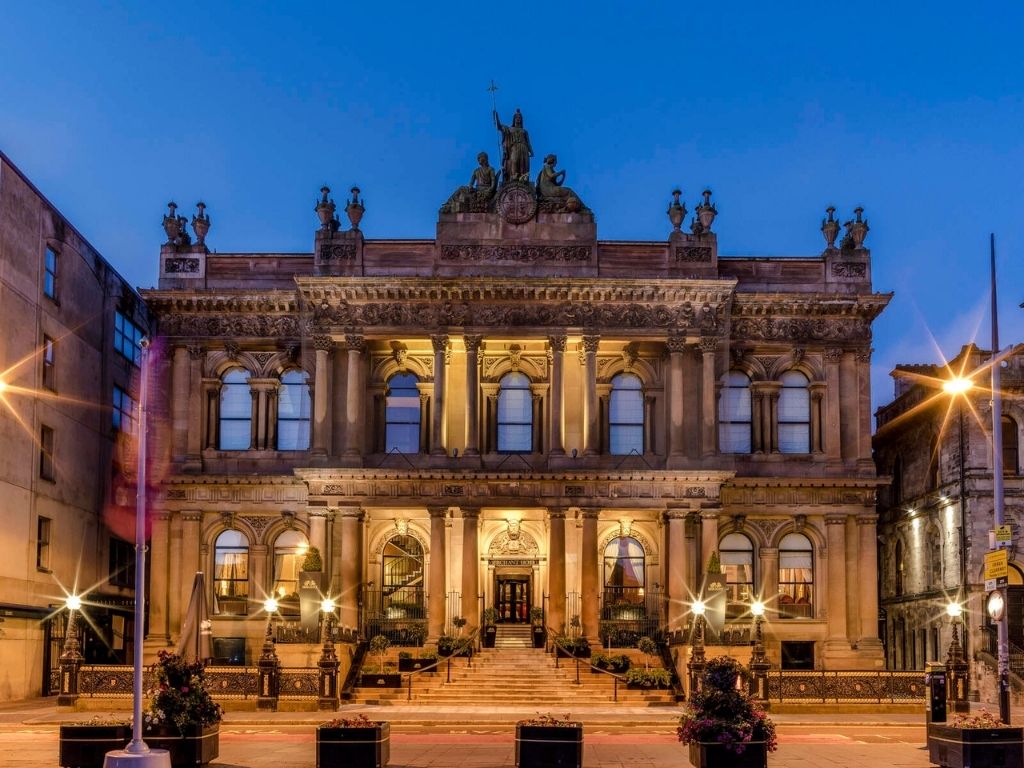 The Merchant Hotel is located in a historic building that dates back to 1867, and it has been meticulously restored to its original Victorian-era glory. The hotel is situated in the heart of Belfast's city centre, and it offers guests a unique experience that combines modern luxury with old-world charm. You can enjoy all of the luxuries of today's travel while soaking in all of the incredible histories of the past.
2. Prime Location in Belfast's Downtown Core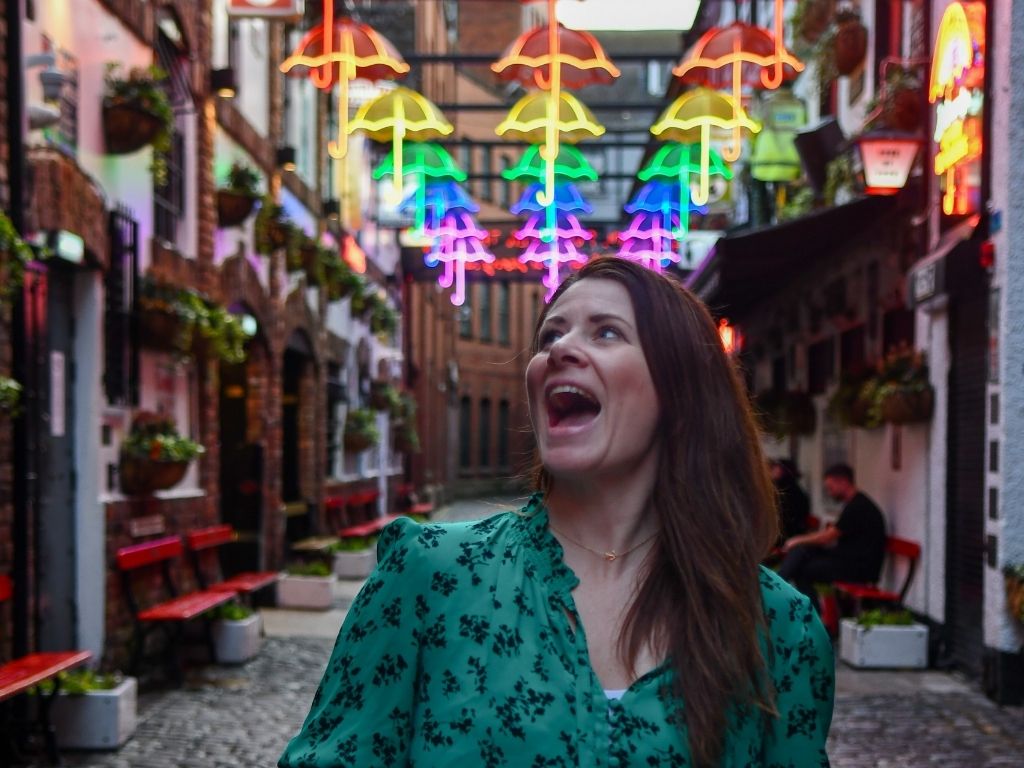 The Merchant Hotel is perfectly located in Belfast's vibrant downtown core. Guests can enjoy easy access to a variety of local attractions, shops, and restaurants. My husband and father-in-law loved being able to pop out to a different local pub (or a few) each night. The hotel is just a short walk away from, the waterfront, St. George's Market, and the Albert Clock. For guests who want to explore further afield, the Titanic Belfast Visitor Centre is just a 30-minute walk or a quick taxi ride away. While the hotel cost us a bit more as it is a luxury experience, we easily made up the difference by being centrally located and not having to taxi around. It also enabled everyone in the family to connect more with the local scene and was a great spot when exploring Ireland with kids.
3. Award-Winning Restaurants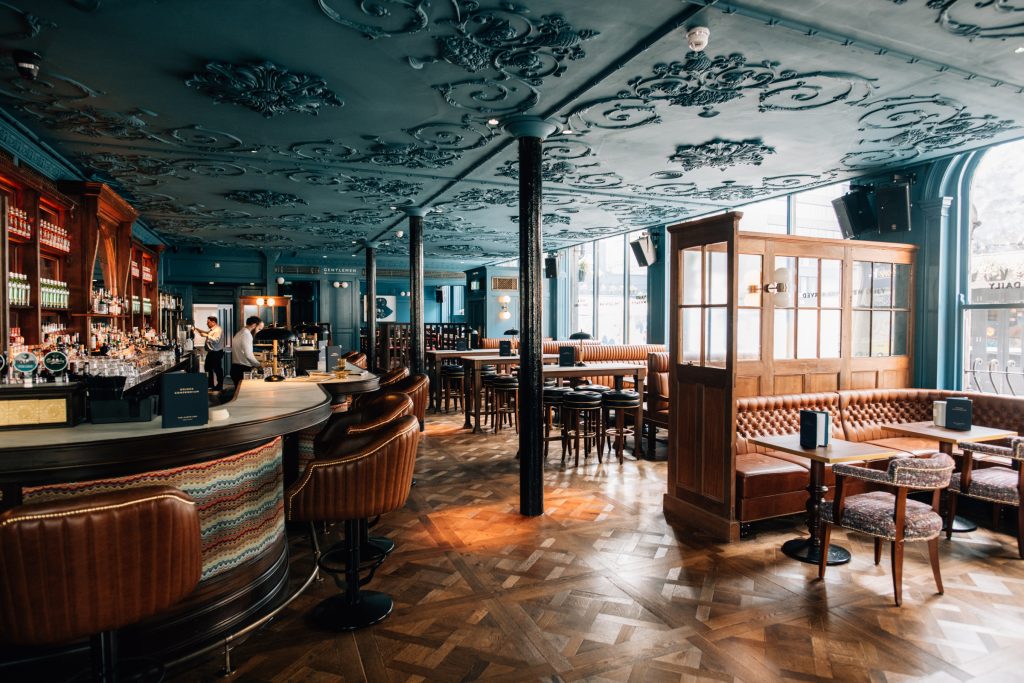 The Merchant Hotel is home to two award-winning restaurants: The Great Room and The Cloth Ear. The Great Room is an elegant dining space that offers a menu of classic British dishes with a modern twist. The Cloth Ear offers a pleasing twist on the quintessential Irish pub experience. We enjoyed our mornings in The Great Room for breakfast and then settled in each night at The Cloth Ear. Their menu offers "cleverly curated food offering changes regularly to reflect the very best in seasonal, local produce." Basically, for our family, this meant traditional beef or fish entrees, which were the perfect way to refuel after being out exploring all day.
4. Allergy-Friendly Menus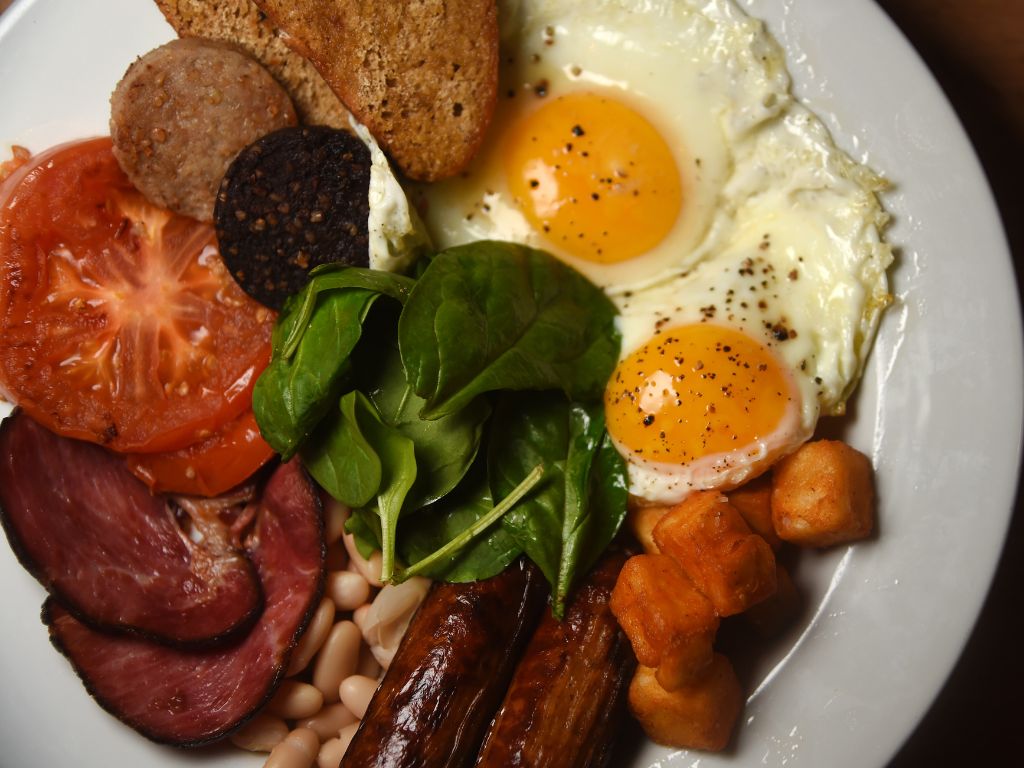 In Ireland, the top 9 allergens have to be identified on each menu item, which as an allergy family was incredible to see. Not only do they take allergies seriously, but they create an environment that ensures your safety from the moment you arrive at the restaurant. In the Great Room, they even offer completely different menus: nut-free, gluten-free, vegan, and of course, a regular menu. Being able to eat incredible food while on vacation was the biggest treat and we may just plan another vacation back to The Merchant just to have this experience again.
5. Impeccable Customer Service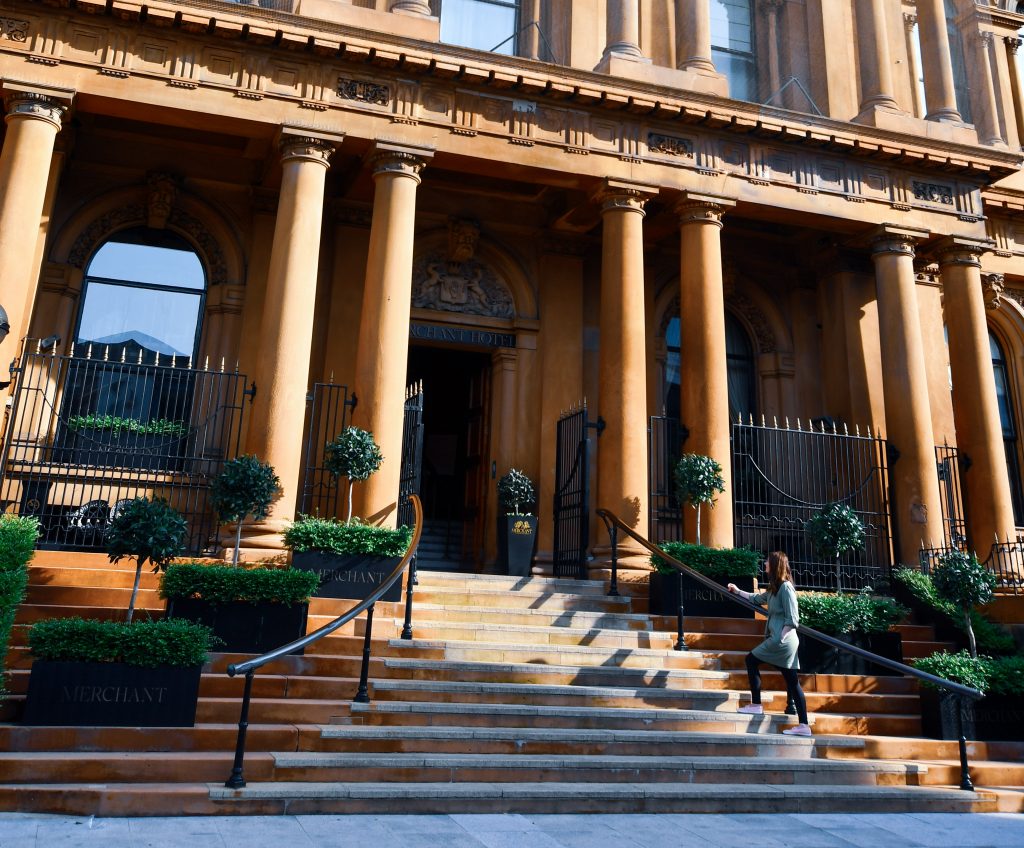 While the servers and staff didn't actually wear white gloves (well some of them did) there was nothing short of a 5-star experience with every interaction we had at the hotel. From welcoming us upon arrival to ensuring my kids had everything they needed, the staff were first class and helped make our welcome into Belfast so very special.
6. Luxurious Rooms and Suites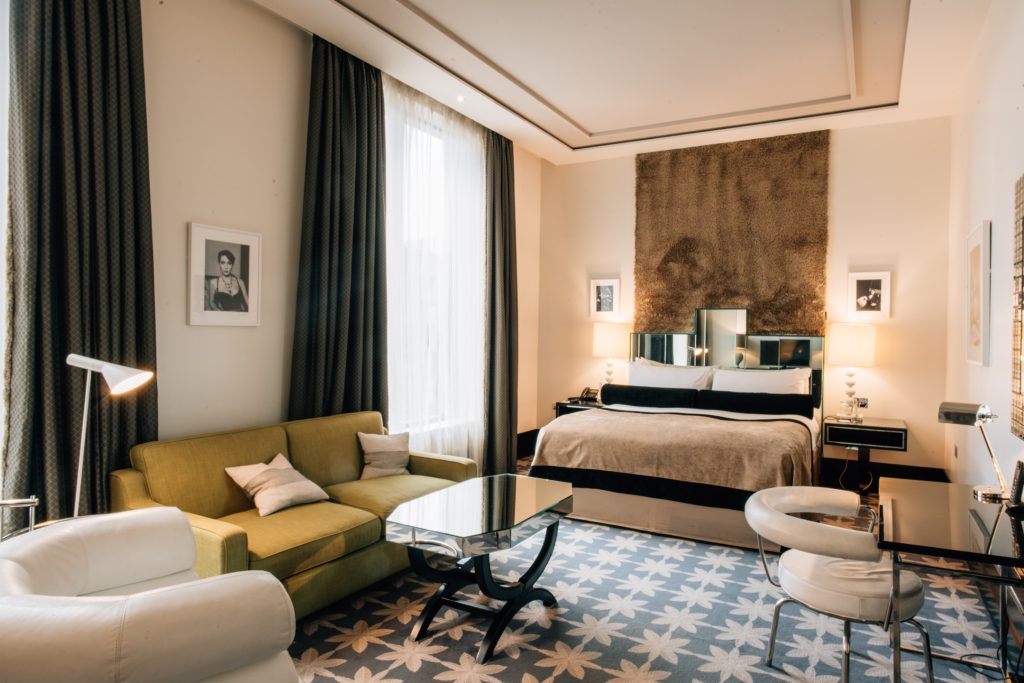 The only problem with the rooms is that they are almost too nice! While we were in Belfast to check out all of the history, attractions and explore, once my family saw the room, they were happy to settle in for the night and just hang out there. With two experiences to choose from, modern room decor and a more traditionally decorated room you get to craft your own stay at The Merchant Hotel.
7. Rooftop Hot Tub with Spectacular City Views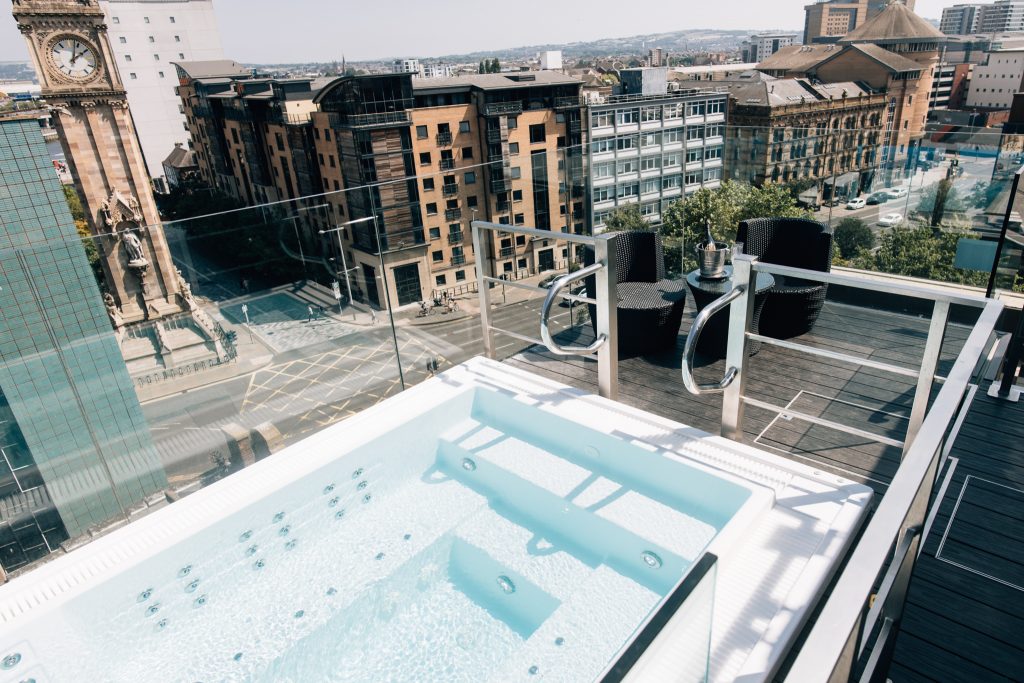 This picture pretty much speaks for itself! Guests over 18 are invited to the rooftop to explore one of the best views in the city, from the hot tub of course! Hot tubs aren't as common in Europe as they are in North America so finding a hotel with a hot tub is a unique experience… and all vacations are better when there's a dip in the hot tub on the itinerary.
8. Shopping is Steps Away at the
Victoria Square Shopping Centre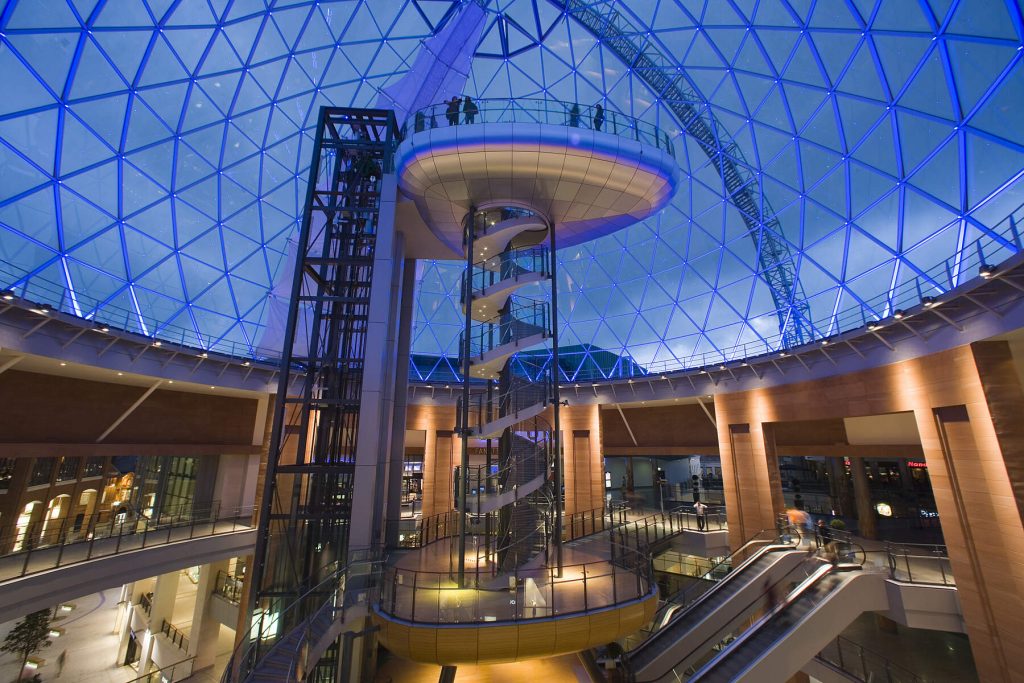 My daughter grabbed her Nana and they were off to the local shopping centre for some international retail therapy. The Victoria Square Shopping Centre in Belfast is a state-of-the-art facility that offers a wide range of shops and services. Visitors can expect to find a variety of retail outlets, including high-end fashion stores, electronic stores, and department stores. The shopping centre also features a food court with a variety of international cuisine, as well as a number of cafes and restaurants. In addition, the Victoria Square Shopping Centre offers a wide range of entertainment options, including a cinema complex and a bowling alley. Once we caught up with the little shoppers, we headed to the top of the mall, where after climbing a few sets of stairs (I didn't let them take the elevator) we had reached the pinnacle and a 360-degree view of Belfast awaited!
9. Afternoon Tea at The Merchant Hotel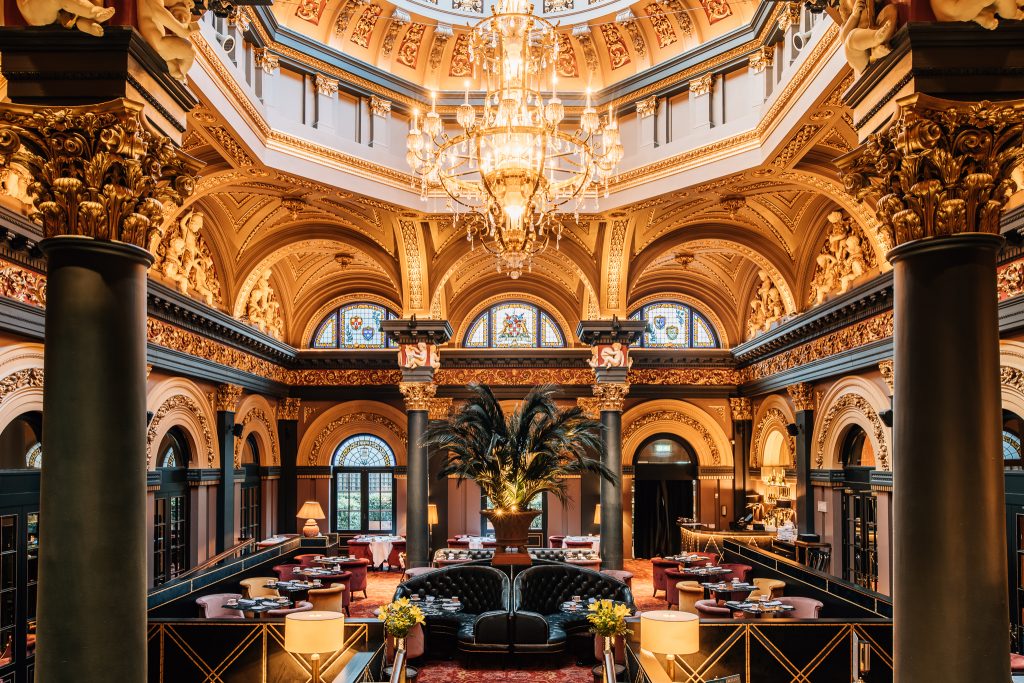 Afternoon tea is a quintessentially British tradition that dates back to the early 19th century. At The Merchant Hotel, they strive to create an immersive and elegant experience for our guests. Their stunning Great Room provides the perfect setting for enjoying afternoon tea. Visitors can expect to find a selection of finger sandwiches, scones with clotted cream and preserves, and a variety of cakes and pastries. They also offer a selection of fine teas, as well as champagne for those looking to add a touch of luxury to their experience. Allergies? They welcome them by offering nut-free, vegan, and gluten-free high tea menus!
10. Electric Jazz Bar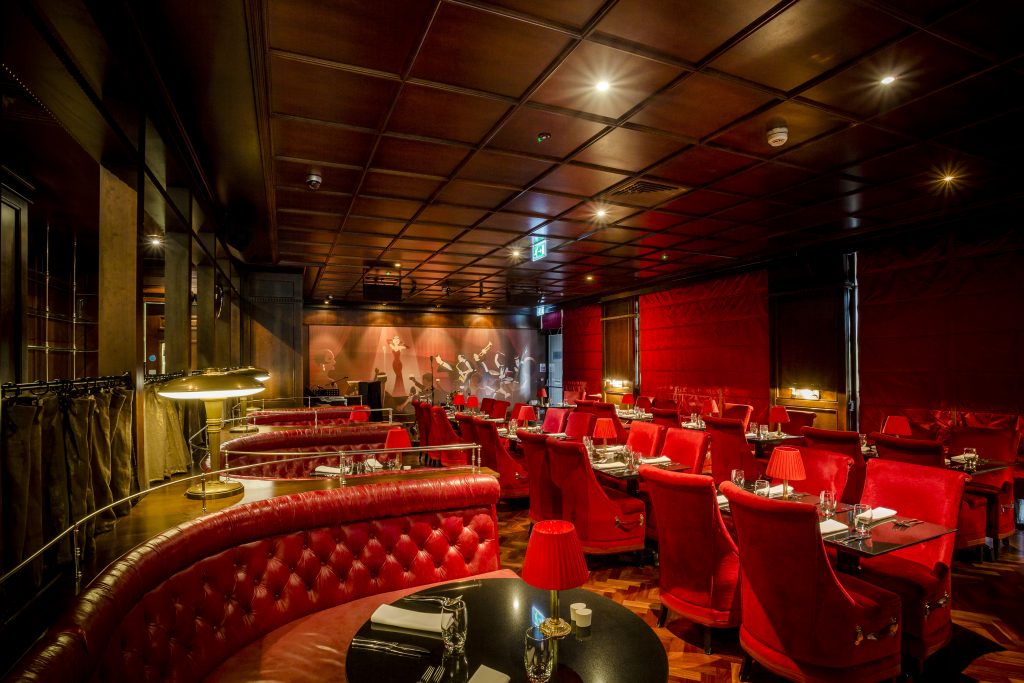 The Jazz Bar at The Merchant Hotel in Belfast is the perfect place to enjoy a drink and some live music. The bar offers a wide range of cocktails, beers, and wines, as well as a menu of small plates. Visitors can expect to find a relaxed and atmospheric setting, with comfortable seating and a stage for live music. The Jazz Bar also has a terrace overlooking the city, making it the perfect spot to enjoy a summer evening. The music policy at the Jazz Bar is focused on jazz, but visitors can also expect to hear a range of other genres including soul, funk, and blues. The live music is often complimented by DJ sets, making for a truly enjoyable experience. Whether you're a fan of jazz or not, the Jazz Bar at The Merchant Hotel is definitely worth a visit.
Interesting Facts about The Merchant Hotel in Belfast:
Who owns The Merchant Hotel?
Bill Wolsey is the owner of The Merchant Hotel in Belfast. He has worked in the hospitality industry for over 30 years and has been a hotelier for much of that time. Wolsey is originally from Northern Ireland but has lived and worked in various parts of the world, including London, New York, and Hong Kong. In 2010, Wolsey purchased The Merchant Hotel with the intention of restoring it to its former glory. The historic property had been built in 1860 but had fallen into disrepair over the years. Wolsey undertook an ambitious renovation project, which involved gutting the entire hotel and starting from scratch. The project took several years to complete but was ultimately successful, and The Merchant Hotel is now one of the finest hotels in Belfast. Wolsey's story is an inspiring example of what can be achieved through hard work and dedication.
What bank was The Merchant Hotel?
The Merchant Hotel in Belfast was originally a bank. The building was constructed in the late 19th century and served as the headquarters of the Belfast Banking Company. In the early 20th century, the bank merged with the Ulster Bank and the building was sold to a private company. It was converted into a hotel in the 1980s and has been renovated several times since then. The hotel is now a luxury property with an award-winning spa and a Michelin-starred restaurant. Despite its modern facilities, the hotel still retains many of its original features, including its grand marble lobby and sweeping staircase. The Merchant Hotel is a popular choice for business travellers and tourists alike, offering a unique blend of history and luxury.
How Many Rooms Are in The Merchant Hotel?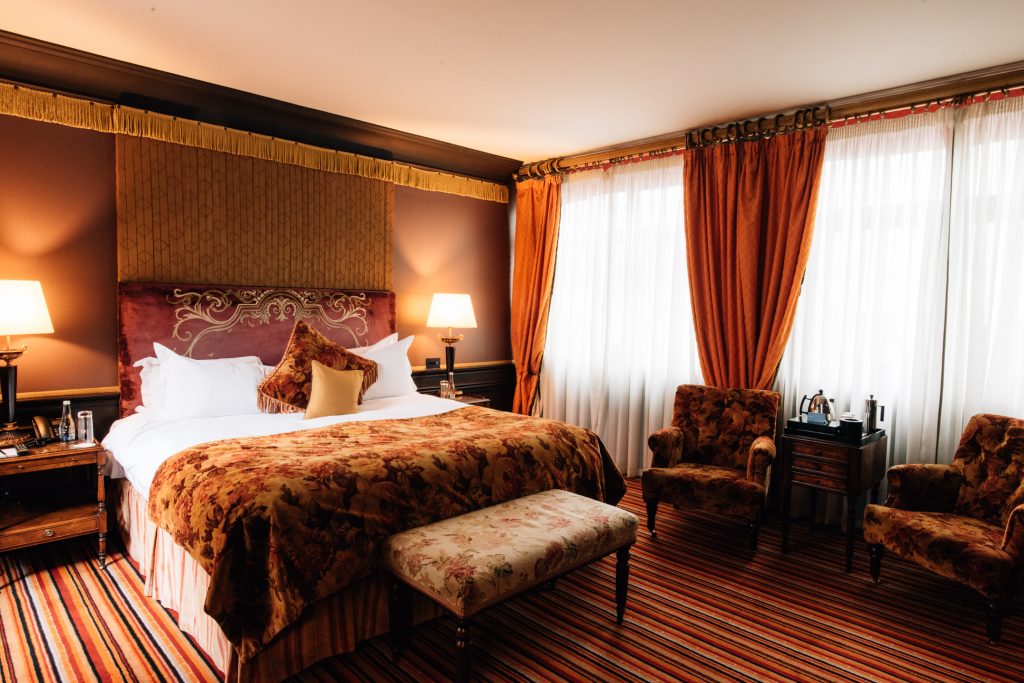 The Merchant Hotel in Belfast is a beautiful, historic hotel with a total of 62 guest rooms. The rooms are spread out over several floors, and they come in a variety of sizes and styles to suit the needs of all kinds of travellers. Whether you're looking for a cozy single room or a luxurious suite, you're sure to find the perfect accommodations at the Merchant Hotel.
When was The Merchant Opened?
The bank headquarters were transformed into The Merchant Hotel in Belfast in 2006. The hotel was then greatly enhanced in 2010 after undergoing a multi-year and several million dollar renovation which included 38 new bedrooms, a meeting and events floor, and a jazz bar.
---
Looking for more Ireland Travel Inspiration? Check out these blogs: