I suddenly found myself hanging upside down with gravity pulling me down toward the sand. My laughter only put more pressure on the seatbelt, as I called for my guide to flip me back over. Apparently, my need for speed and inability to follow directions had landed me on my head, and it was hilarious. This was the start of my blokarting Northern Ireland experience!
Blokarting is the art of soapbox racing combined with sailing, and this was my first experience doing so. Set on the sandy shores of Benome Strand, beginners can take a one hour lesson and learn how to whip around on the long, quiet, and delightfully windy shores. The beach has a flagged off area as well as checkered flags, and we were ready to count our laps as we whipped around the beach… some more skillfully than others!
Pre-Lesson, Lesson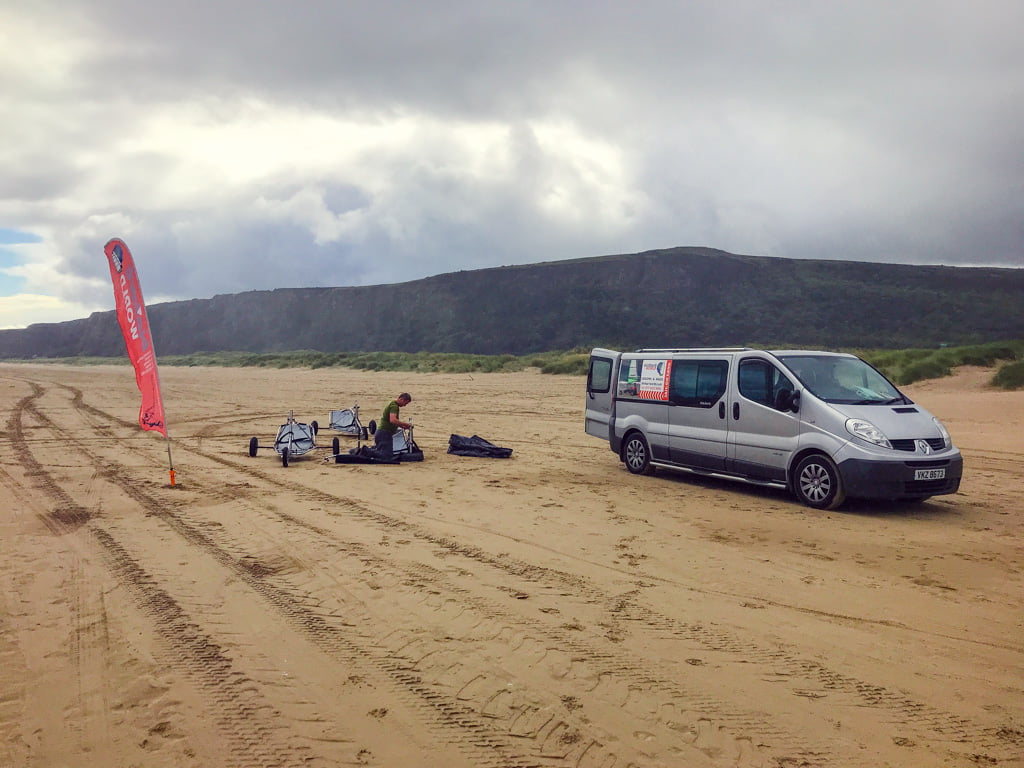 Pat and his crew set out on the shores prior to our lesson with what appeared to be a very large minivan. With anticipation, we watched from the sidelines as they took each cart out of a compact travel bag and assembled it into a full, rideable cart!
Rules of the Road
After we were geared up with safety equipment, Pat taught us the rules of the road, including how we'd be doing laps in figure eights, what to do if we perceived a collision (hit, turn right), and since the vehicles are without brakes, how to utilize the wind to slow down.
Practice Crash
After a full steering and sailing orientation, it was time to do the inevitable, practice crashing. With the help of our instructor each of us were dunked on our heads so that if it did happen on the course we wouldn't be scared.
And We're Off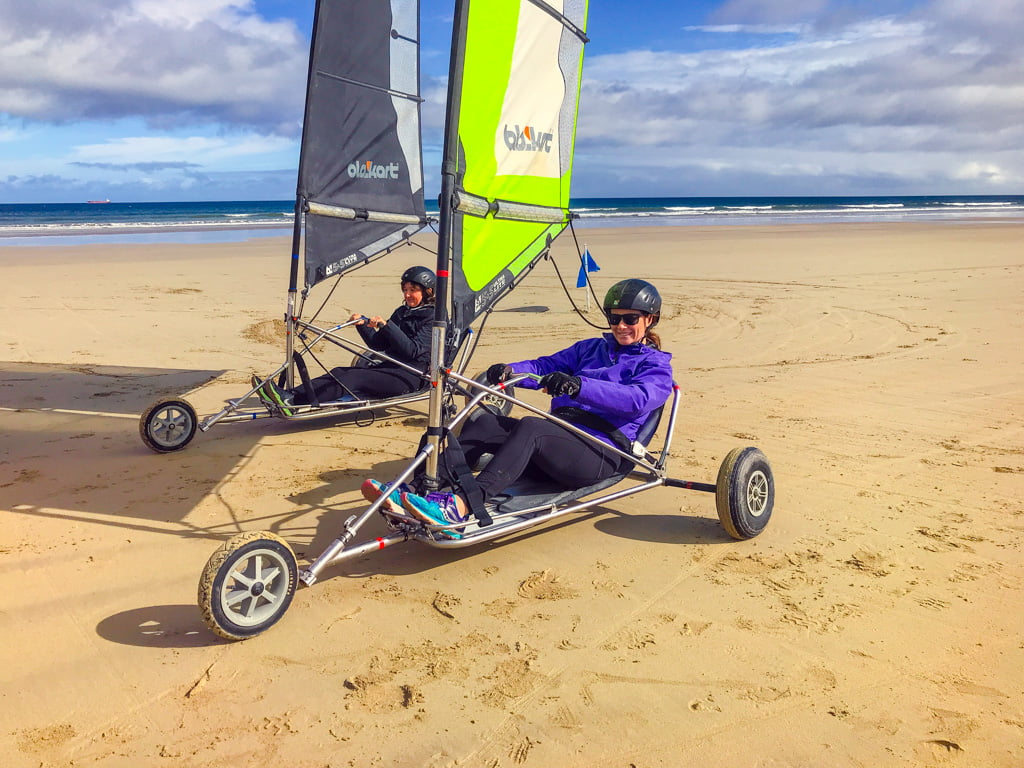 With a quick push one by one, we were let out onto the course where the slower wind provided a great learning platform for us to practice our moves. With the wind changing speed and directions, our speed and direction also changed, and we had to react by steering and pulling our sail in and out to adjust to the environment. It was fun, challenging, and invigorating.
Crash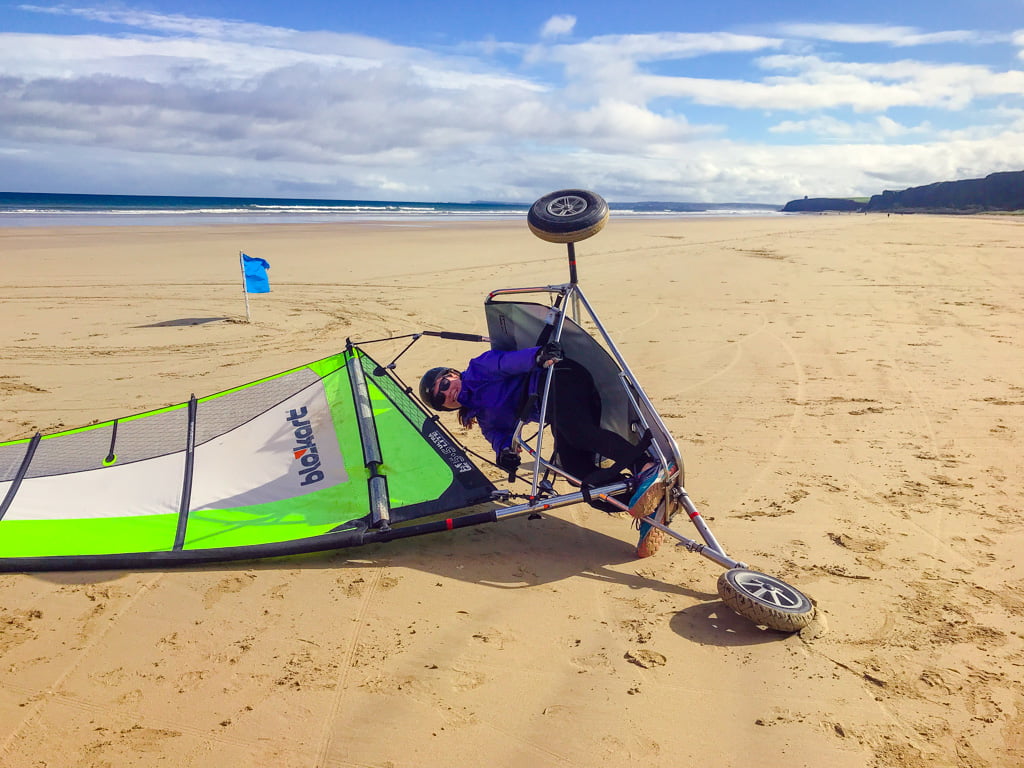 With a slower cart coming up on my left and one steering straight in front of me, I slightly panicked and let my sail out and turned hard to the right. Instead of doing a sweeping turn to avoid a collision, I managed to flip myself upside down, landing on my head. It was the best "crash" I've ever had, slow in speed, time to think, and by the time I was over we were all laughing our heads off at the incident. All in all a seriously fun way to explore the beach.
Family Friendly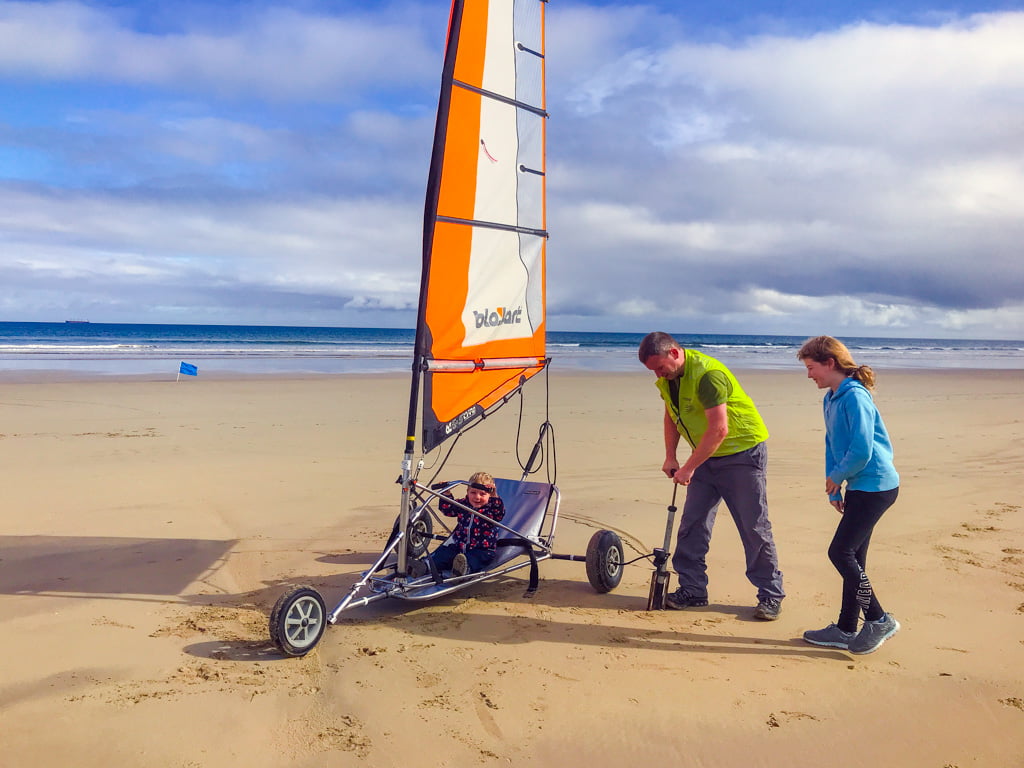 What I loved the most about this activity was how family friendly it was. Not only was it an affordable activity, but it also allowed children as young as 8 to be in the driver's seat! Younger family members could ride in a copilot seat next to their parent drivers. What a unique and adventurous way to explore Ireland's North coast with the family!
Post Race Playtime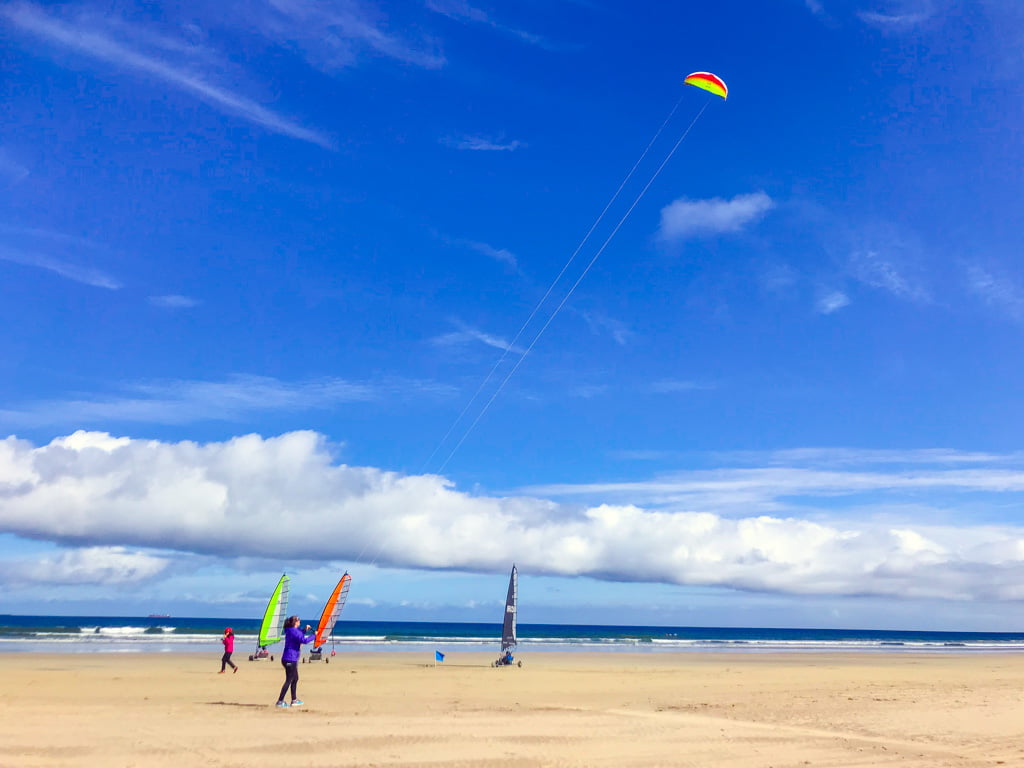 After blokarting, Pat and his mates had kites set up for us to fly. While I originally turned down the invite, I quickly changed my mind and found myself steering a massive 7-foot kite through the sky. The size made it equally thrilling and challenging to manoeuvre above me, and my guide helped get me to get it airborne again as quickly as possible after I'd hit the ground. From loop de loops to figure eights, kite flying was the perfect way to end off our blokarting Northern Ireland adventure.
What to Bring:
Warm waterproof clothing and footwear

Sunscreen

Snack and water for after

Camera

Picnic lunch and sand toys for some family free time after your adventure
If you're heading to Northern Ireland a morning on the beach blokarting is definitely an adventure you don't want to miss! To learn more about Pat and his company or book your own adventure visit his site here.
Excited to learn more about Northern Ireland? Check out these articles for information and inspiration!
Is this a sponsored post?: Yes, but while we were graciously welcomed to partake in this Blokarting Northern Ireland experience by Tourism Ireland, all of our thoughts and opinions are our own.