Are you looking for an epic adventure? Do you want to explore the greenest country in Europe? If so, then you need to check out this 10-day trip to Ireland with kids itinerary that is designed for those looking to experience the adventure-filled country! This itinerary is perfect for those who want to see as much of Ireland as possible exploring the Wild Atlantic Way, one adventure at a time. We have included everything from hiking in the mountains to exploring ancient castles and more sharing our insights and experience. My best advice, give yourself at least 10 days and be ready for a big adventure!  
Disclaimer: This article includes affiliate links from which I may earn a small commission if you choose to purchase your tickets. Money goes to help fund Adventure Awaits and keep more informational and educational articles coming your way!
Ireland with Kids: An Ultimate 10-Day Adventure Filled Itinerary
Day 1 – Enjoy a "Soft Landing" In Dublin
A soft landing is a day when you arrive but have no set itinerary, allowing your family time to transition to the time zone, rest, and refuel. This is important when travelling with children and seniors so that their bodies have time to adapt, which can set the tone for the rest of your trip.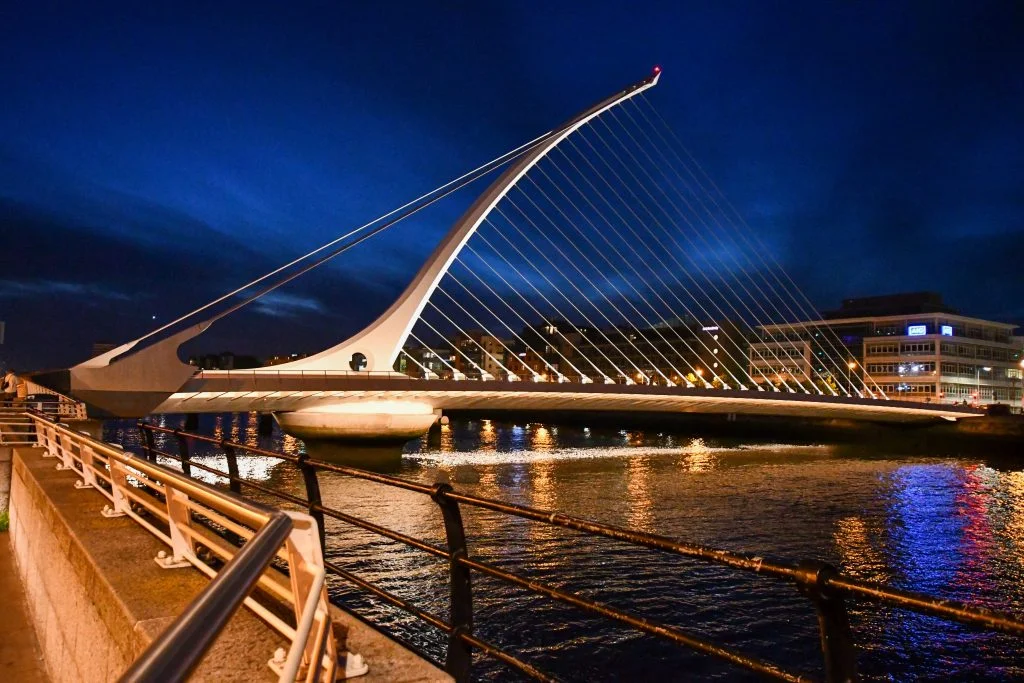 Once you've settled into Dublin and are ready to explore you can head out on foot and start exploring this history-filled city. For families, we recommend starting at St. Stephen's Green, a beautiful park in the heart of Dublin. It is surrounded by the shopping district (which made my teenage daughter very excited) and then you can walk through Temple Bar (the iconic restaurant and bar scene) and down to the river where you can capture many incredible photos of the iconic city. If you're looking for family-friendly attractions you can visit the Dublin Zoo.
Want a great overview of Dublin? Click here to book your ticket for a hop-on hop-off bus tour ticket!
Day 2 – Head to Belfast, Northern Ireland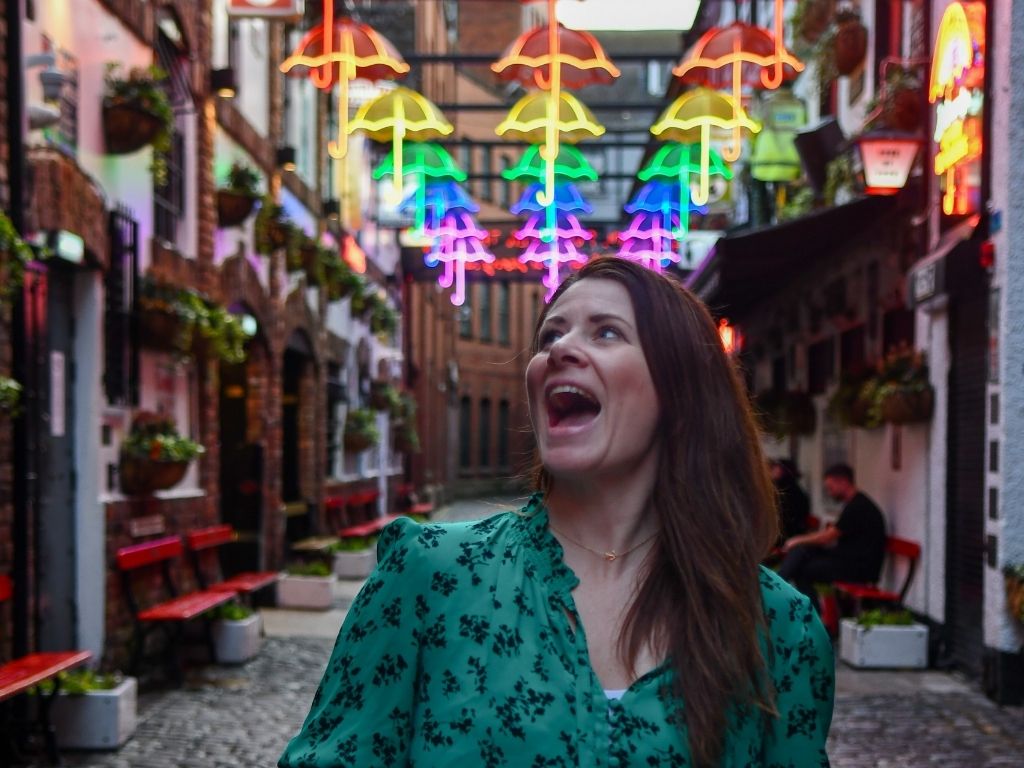 Belfast is a great city for families to visit. It is a vibrant city with a rich history where you will be welcomed by friendly locals, who are excited to welcome you to their city. A city with a difficult history has shown the power of peace has equated to a bright future, and Belfast is now a vibrant, diverse, creative, and welcoming city. With beautiful walks along the river and through the bustling downtown corridor families can have an itinerary-free day and still have an action-packed adventure exploring this incredible place. We opted to take a tour around town allowing us to visit Queens University, Storment (Northern Ireland's Parlement) as well as some of the important historical sites including the Peace Wall. Be sure to check out my Northern Ireland with Kids – Guide for Parents for more info on where to visit in Belfast. However, if you invest in anything in Belfast I highly recommend you hire Dee Morgan, a Blue Badge professional tour guide to take you around town and showcase her city. You can email Dee at: [email protected]
Where to Stay in Belfast, Ireland with Kids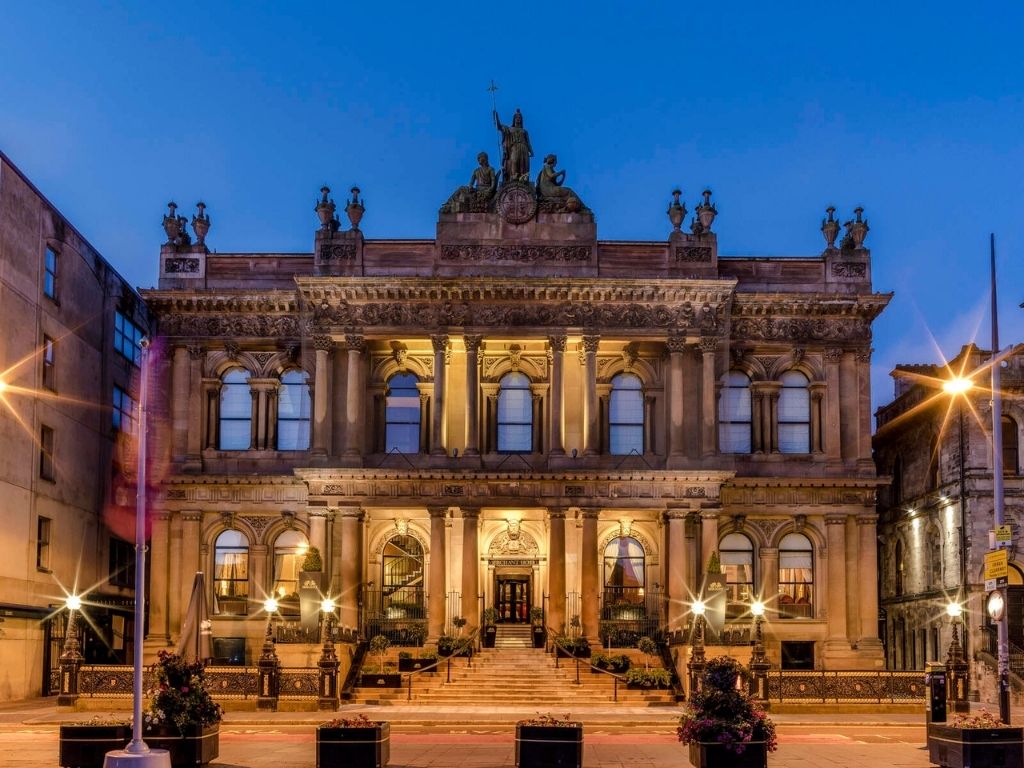 It was 2018 and I first walked into the Merchant Hotel, I knew I'd someday bring my family back. The now transformed hotel used to be a bank, and was restored to her incredible original state and is now the most luxurious hotel in Belfast. Staying at the Merchant was one of the highlights of our family trip to Ireland.
The Merchant Hotel in Belfast is a great place to stay with kids for a number of reasons. First, the hotel is located in the heart of the city, meaning that there are plenty of things to do and see within walking distance. Second, the hotel offers a variety of family-friendly amenities, including a babysitting service and a kids' menu (and allergy-friendly menus). Third, the rooms are spacious and well equipped, with everything you need to make your stay comfortable. Fourth, The Merchant Hotel is situated close to some of Belfast's best attractions, including the Titanic Belfast museum and the Ulster Museum. And finally, the staff at The Merchant Hotel are experienced in catering to families and are always on hand to help make your stay as enjoyable as possible, always going above and beyond expectations to ensure you have an incredible stay. So if you're looking for a great place to stay in Ireland with kids, look no further than The Merchant Hotel in Belfast.
Click here to book your stay at The Merchant Hotel in Belfast!
Day 3 – Titanic Museum & Historic City Tour
Belfast is the perfect place to learn about the history of the Titanic. This world-famous ship was built in Belfast, and you can learn all about its construction at the Titanic Museum. This modern museum showcases the community that build the Titanic (15,000 people worked on the ship), see replicas of staterooms, engage in interactive displays, even rides, and learn about the ill-fated sinking of the ship. When you're done I recommend going across the street to the Titanic Hotel where you can have lunch in the drafting room where the Titanic was designed (it's a surreal experience). 
Click here to purchase your tickets to the Titanic Museum!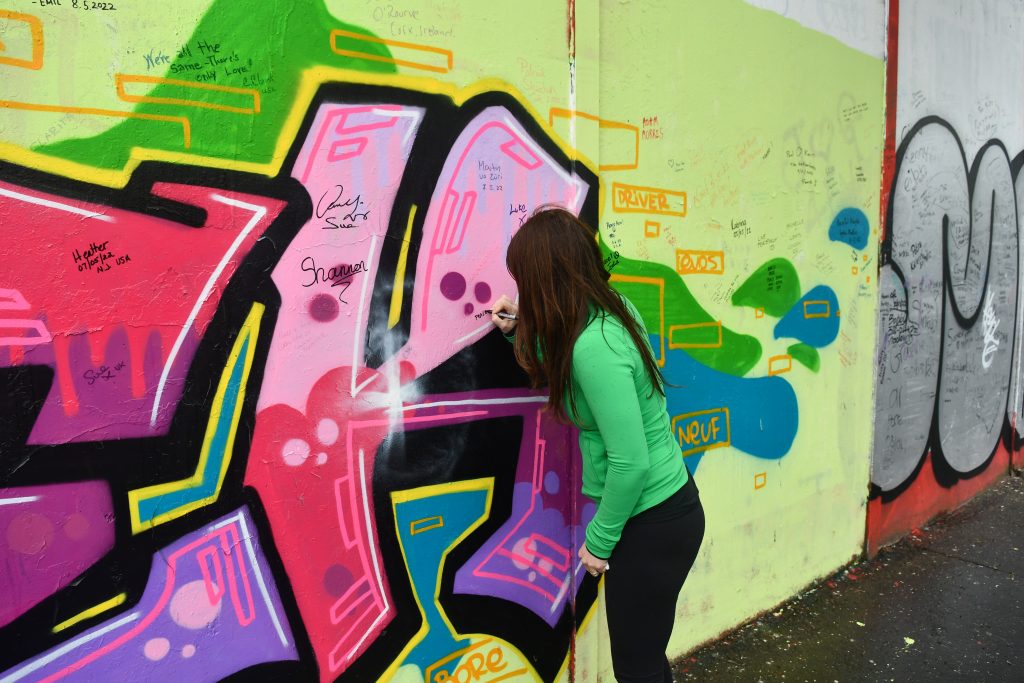 For the afternoon I recommend hiring Dee, a local tour guide who grew up in Belfast who can drive you around town and share the stories and insights of the civil unrest of the past and how it has transitioned over the past 23 years since the signing of the Good Friday Agreement. Be sure to stop and sign the Peace Wall.
Day 3 – Introducing the Wild Atlantic Way in Ireland with Kids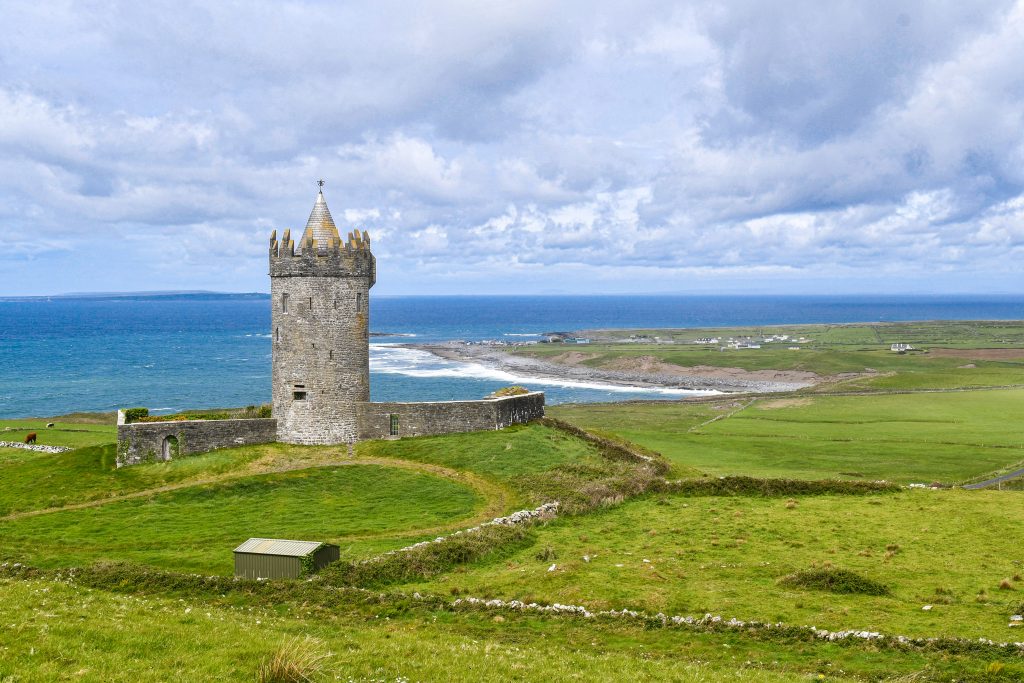 By now your history and culture buckets will be full and you'll be ready to hit the Wild Atlantic Way and start exploring the great outdoors that Ireland has to offer. The Wild Atlantic Way was an initiative that started in 2009 and is a coastal driving route that stretches for over 1500 miles and takes you past some of the most stunning scenery in the country. Many of the stops that we recommend in this article will be along the Wild Atlantic Way. While travelling keep a lookout for the Wild Atlantic Way icon that showcases points of interest and helps direct travellers on where to go.
Giants Causeway, Bushmills, Northern Ireland
My number one favourite spot, can't miss adventure in Northern Ireland is the Giant's Causeway. My husband has heard me talk about Giants causeway for years. But until he was standing there he didn't get why this place was so incredible.
The Scientists will tell you that The Giant's Causeway is a naturally occurring phenomenon over an area of about 40,000 interlocking basalt columns, which were formed by a volcanic eruption over 60 million years ago. The unique landscape has been used as a backdrop for many films and TV shows, and it was even designated as a UNESCO World Heritage Site in 1986.
The legend will tell you that Northern Ireland was once home to a giant named Finn McCool. When another giant, Benandonner, threatened Ireland Finn retaliated by tearing up great chunks of the Antrim coastline and hurling them into the ocean. The newly-created path – the Giant's Causeway – paved a route over the sea for Finn to reach Benandonner. However, this turns out to be a bad idea as Benandonner is a massive giant, much bigger than Finn! In order to save himself, Finn retreats to Ireland and is disguised as a baby by his quick-thinking wife. When Benandonner arrives, he sees Finn disguised as a baby and realizes that if a mere baby is that big, the father must be far larger than Benandonner himself! Following this realization, Benandonner rushes back to Scotland, tearing away as much of the Causeway as he can in his haste to put as much distance between Ireland and himself as possible. And thus, the myth of the Giant's Causeway was born.
Seeing it in person it's so hard to believe, so when travelling to Ireland with kids, this stop is a must. These perfectly shaped hexagon rocks of varying levels are under each step. While I want to believe scientists it is right out of a storybook type of experience.
Rock Climbing the Coastal Causeway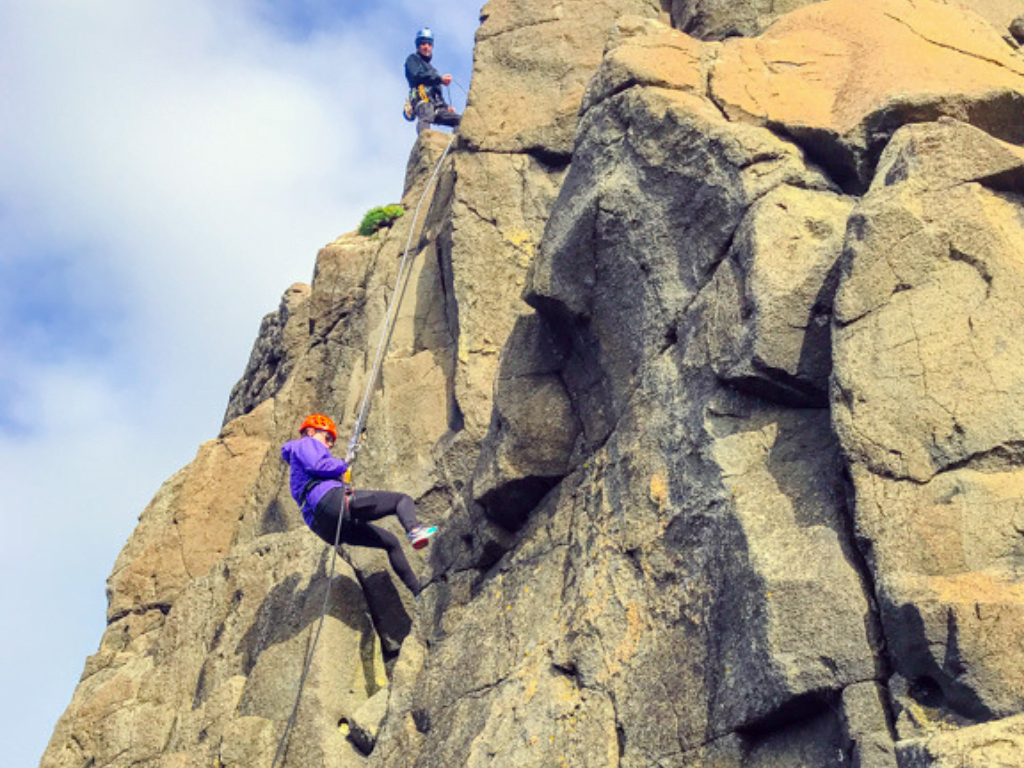 If you're looking to get up close and personal with the geology and geography that is Northern Ireland's rugged coast there's no better way than taking the family rock climbing. "As we rounded the corner, I could already hear the sounds of waves crashing against rocks. This is where our rock climbing adventure would begin in Northern Ireland!" Click here to learn more about our rock climbing adventure and plan your own experience.
Surfing in Port Rush, Northern Ireland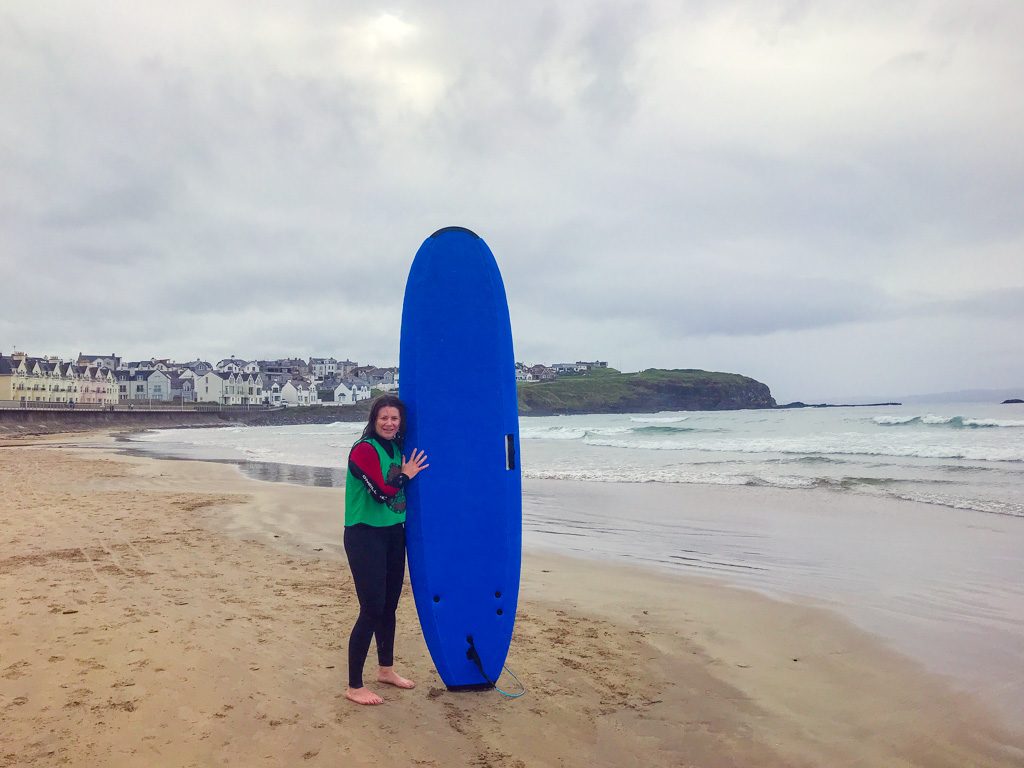 Weather is no factor when it comes to surfing in Northern Ireland, and Port Rush is the perfect beach town to take the kids to and settle in for a vacation. I loved hitting the beach with Alive Surf School and hitting the waves on the Northern Coast. Voted the "Best Family Activity provider" it's the highest-rated surf school in Ireland and Trip Advisor. To see more pics from our surfing trip and plan your adventure click here.
Day 4 – Visit the Walled City, Derry, Northern Ireland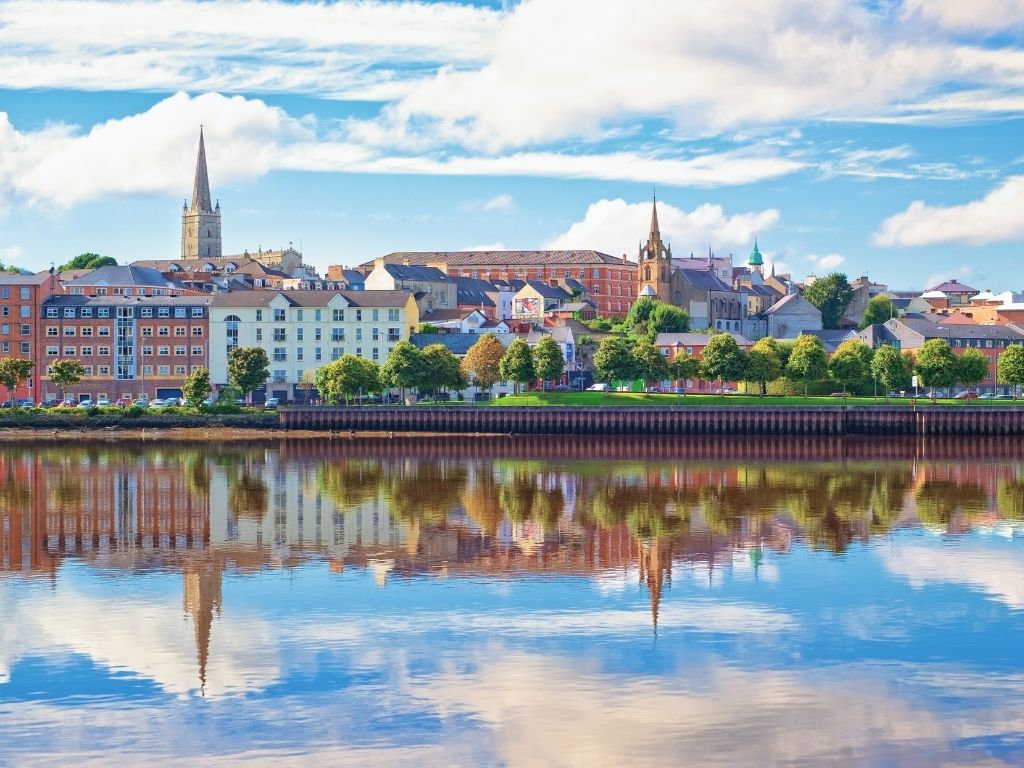 Nestled on the banks of the River Foyle, Derry is a charming walled city with a rich history and culture. Founded by the Irish in the 6th century, it was later conquered by the English and renamed Londonderry. Today, Derry is a vibrant community with a strong Irish identity. The city's ancient walls are a testament to its past, and offer visitors a unique perspective on its history. The walls also offer stunning views of the river and surrounding countryside. Derry is also home to several excellent museums, including the Museum of Free Derry and the Tower Museum. Visitors can learn about the city's turbulent past, as well as its more recent efforts to promote peace and reconciliation. With its rich history and beautiful setting, Derry is an ideal destination for a family vacation.
Where to Stay in Derry – Shipquay Hotel
The Shipquay Hotel is located in the heart of Derry, Londonderry, a historic city with a rich cultural heritage. The hotel is situated within walking distance of many of the city's attractions, including the Museum of Free Derry and the Tower Museum. The Shipquay Hotel offers a variety of room types to suit your needs, and all rooms are stylishly furnished and equipped with modern amenities. The hotel also has an on-site restaurant, bar and coffee shop, and 24-hour room service is available. Whether you're visiting Derry, Londonderry for business or pleasure, the Shipquay Hotel is the perfect place to stay in Ireland with kids.
Click here to book your stay at the Shipquay Boutique Hotel!
Day 5 – Road Trip Around the Province of Donegal while Visiting Ireland with Kids

After leaving Derry it's time to hit the Wild Atlantic Way to explore more of the rugged terrain that only the Ireland Coast can offer. Here's an action-packed and long adventure day to tour the region, starting in Derry and ending in Donegal. (Note, your family doesn't need to include all of these adventures in your itinerary in one day, but it would make for an epic experience)
Fanad Head Lighthouse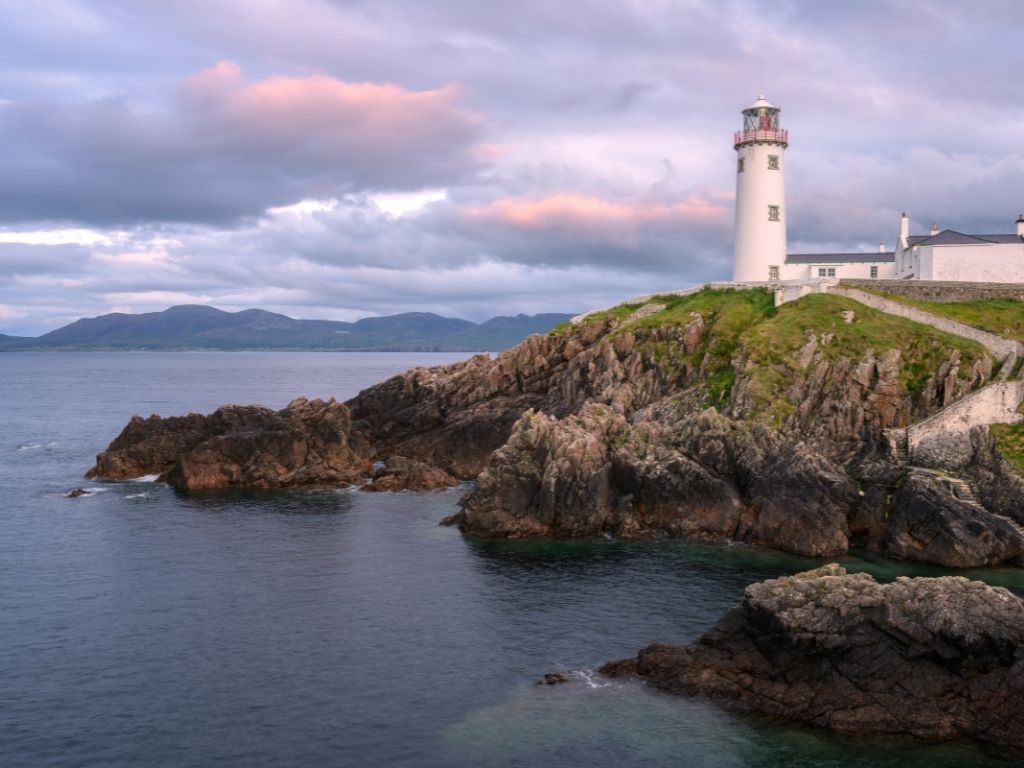 The Fanad Head Lighthouse is one of the most iconic landmarks in Ireland. Situated on a rocky outcrop on the northern coast of Donegal, it has been guiding ships through treacherous waters for over 200 years. Today, the lighthouse is open to the public, and visitors can enjoy stunning views of the surrounding coastline. For those who are feeling adventurous, there is even a staircase that leads to the top of the lighthouse, where you can get an up-close look at the powerful light that still keeps sailors safe. Whether you are looking for a picturesque spot to enjoy the view or an exciting adventure, the Fanad Head Lighthouse is worth a visit.
Glenveagh National Park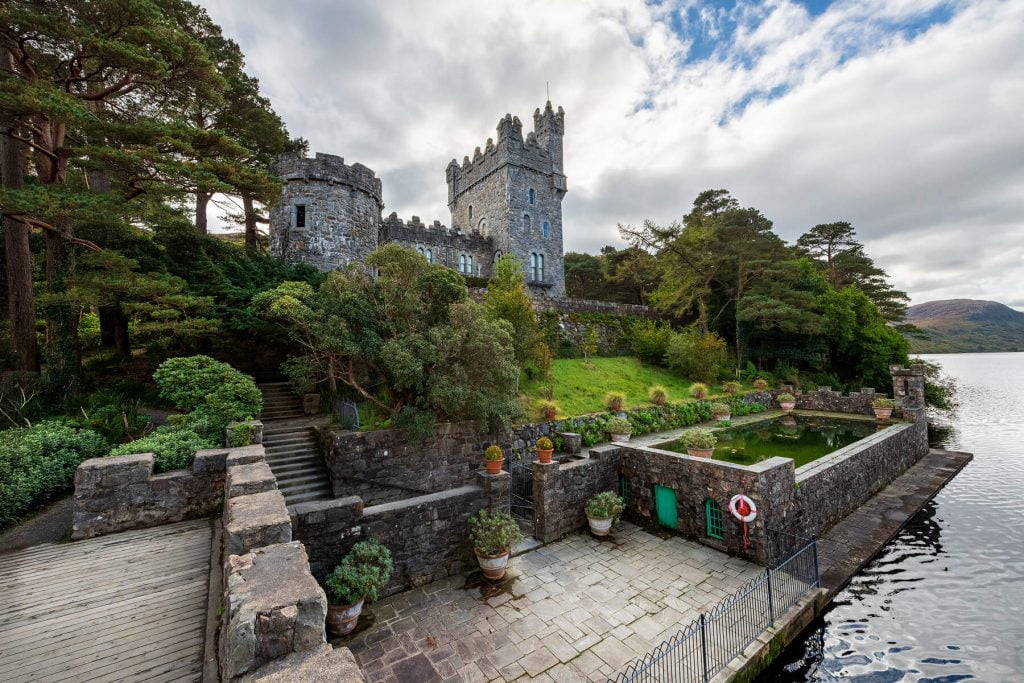 Glenveagh National Park is one of the most popular tourist destinations in Ireland. The park is home to a variety of wildlife, including red deer, foxes, and golden eagles. Visitors can explore the park by foot, bike, or boat, and there are several scenic walking trails to choose from. One of the most popular attractions in the park is Glenveagh Castle, which was built in the 19th century. The castle is surrounded by a beautiful garden, and visitors can take tours of the castle's interior. 
Ardara – Weavers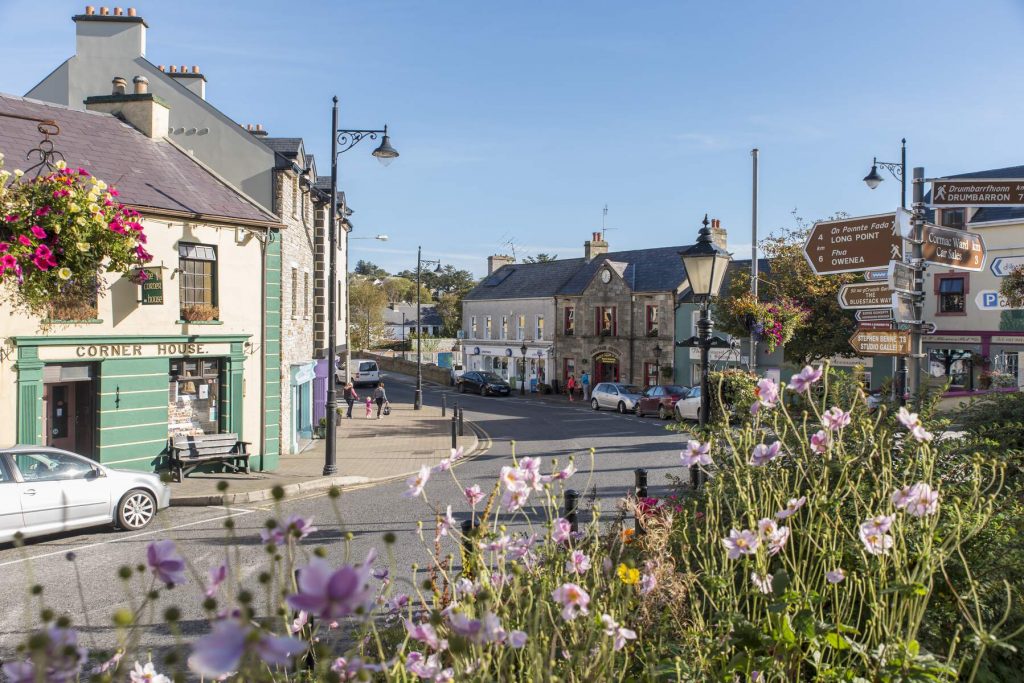 Have you ever wanted to see how a traditional Irish weaving loom works? Or learn about the history of this centuries-old craft? If so, then you should pay a visit to Ardara. Nestled in County Donegal in the northwest of Ireland. Ardara is home to many weavers who still practice this traditional craft using the same methods that have been passed down through generations.
During your visit, you'll have the chance to see the weavers at work and learn about the different processes involved in creating these beautiful textile creations. You'll also be able to purchase some of their handiwork to take home with you as a souvenir. So whether you're interested in history, or culture, or simply want to pick up a unique souvenir, be sure to add Ardara to your travel itinerary, it's a great stop when travelling in Ireland with kids.
Sliabh League Cliffs
The Sliabh League Cliffs are one of the most popular stop-offs along the Wild Atlantic Way in Ireland. Standing at over 600 metres tall (That's 3 times taller than the Cliffs of Moher), the cliffs offer stunning views out over the Atlantic Ocean. They're also home to a variety of wildlife, including seabirds like fulmars and kittiwakes. For the more adventurous visitors, there are some challenging hiking trails that wind their way up to the top of the cliffs. Whether you're looking for a breathtaking vista or an adrenaline-pumping hike, the Sliabh League Cliffs are sure to leave you with lasting memories.
Donegal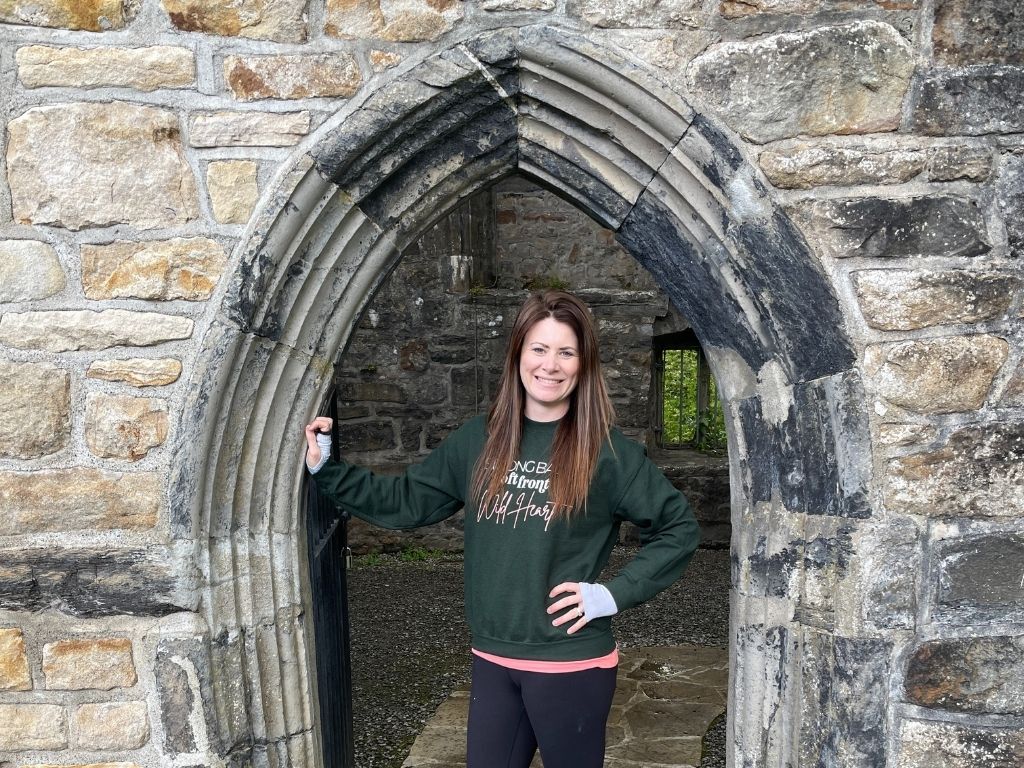 After an action-packed day, settle down in the quaint town of Donegal for the night, where you can see the modern mix of new and old collide. Walk around town and find the perfect place for a family dinner or window shop and check out all the local fashions that are trending for this season. Stop at the Donegal Castle and pose inside the archway after touring the castle and imagining what life was like living in one of the beautiful abodes. Donegal is the perfect place to rest up and get ready for your next adventure!
Day 6 – Caving and Cuddling Under the Stars in Ireland with Kids
Go Caving at Marble Arch Caves
After spending a day above ground gear up and head underground by visiting the Marble Arch Caves. Nestled in the hills of County Fermanagh, the caves are a series of tunnels and chambers that have been carved out by the water for millions of years. Visitors can explore the caves on a guided tour, which takes them through the Great Hall, the Devil's Hole, and other features. The Marble Arch Caves are home to a variety of plant and animal life, including bats, eels, and the rare cave shrimp. The caves are also an important archaeological site, with evidence of human habitation dating back to the Mesolithic period. Today, the Marble Arch Caves offer visitors a unique opportunity to explore a natural wonder that has been millions of years in the making. Check out our caving in Ireland experience.
Sleep Under The Stars in a Bubble Dome at Finn Lough
If there ever was an Ireland Bucket List experience it's sleeping under the stars of a Bubble Dome at Finn Lough Lake. The bubble domes are clear, inflatable tents that offer 360-degree views of the night sky. With cozy furnishings and an en-suite bathroom, the bubble dome is also surprisingly luxurious and private. If you're looking for an unforgettable way to experience Ireland, sleeping in a bubble dome at Finn Lough should be at the top of your list. Click this link to see more pictures from my experience and learn about how to plan your stay (available only to guests who are 16 and older).
Click here to book your stay at Finn Lough Hideaway Bubble Domes!
Day 6 – Seaside Adventures Around Sligo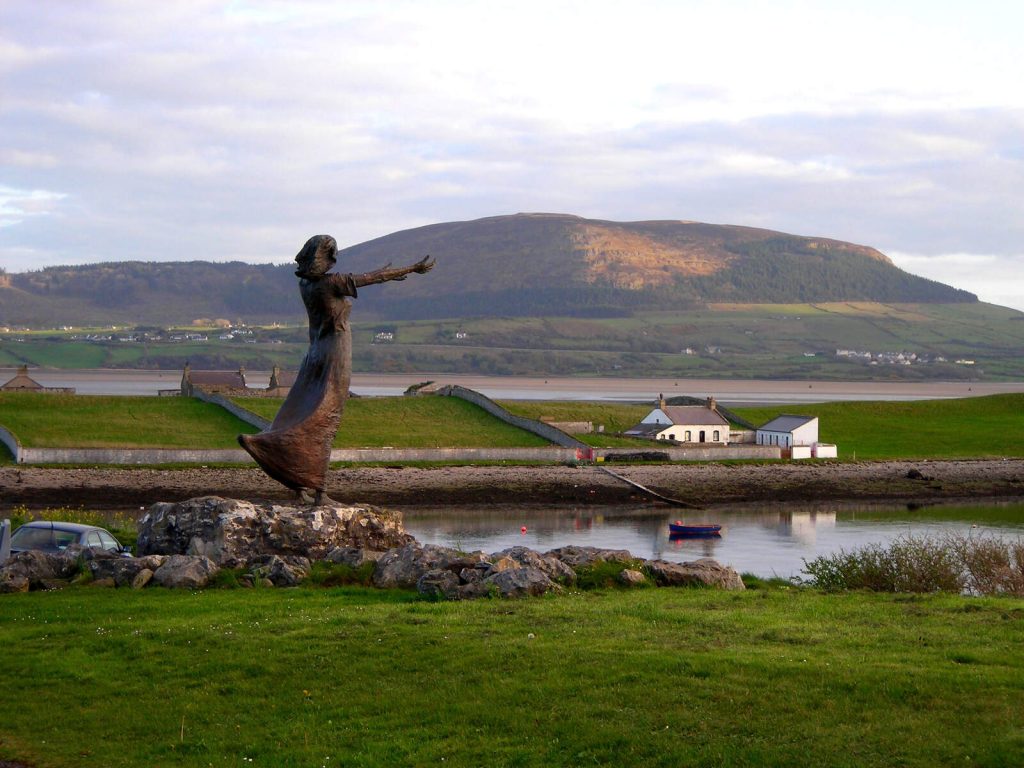 Rosses Point is a small seaside town in County Sligo, Ireland that is teeming with history and natural beauty. The town is situated on a peninsula that juts out into the Atlantic Ocean, offering stunning views of the sea. Rosses Point is also home to several important historical sites, including the wreck of the Spanish Armada ship La Trinidad Valencera. Families can explore the town's rich history by visiting the Museum of Irish Antiquities, which houses a collection of artifacts from the Stone Age to the present day. If you're looking for more adventure your family can go horseback riding or surf in this cute beachside town.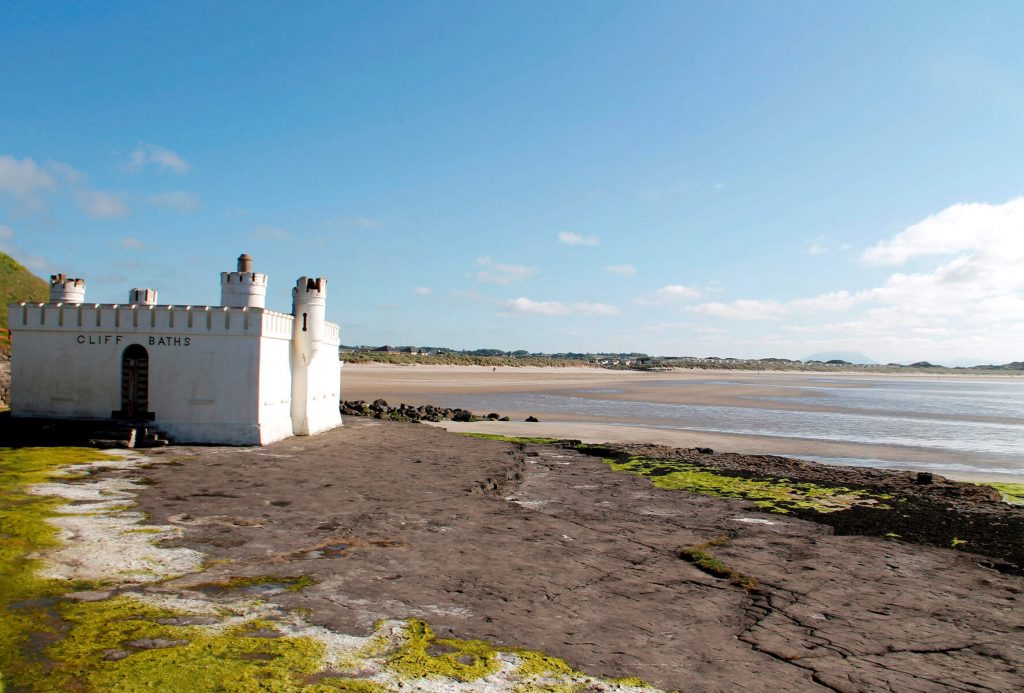 Enniscrone is a small town in County Sligo, Ireland. It is situated on the Atlantic coast, in the shadow of Mount Errigal. The town has a long history, dating back to the Bronze Age. Today, it is a popular tourist destination, due to its beautiful scenery and diverse range of activities. Visitors can enjoy plenty of outdoor pursuits, such as golf, surfing, and hiking. There are also several historical sites to explore, such as the nearby five-castle estate. Whether you're looking for an active adventure or a relaxing break, Enniscrone has something to offer everyone.
Day 7 – Adventure Filled Day in Mayo
Mayo is a county in the west of Ireland that is full of history, culture, and natural beauty. Your family will love exploring the many castles and ruins that dot the landscape, as well as the beautiful beaches and mountains. Mayo is also home to many traditional Irish festivals, so you can experience the country's rich culture first-hand. And if you're looking for a little adventure, you can try your hand at fishing, sailing, or even surfing. Whether you're interested in history, culture, or just spending time outdoors, there will be more to choose from than time will allow, so take a peek at the top-recommended attractions below and start planning:
Adventure Awaits in Achill Island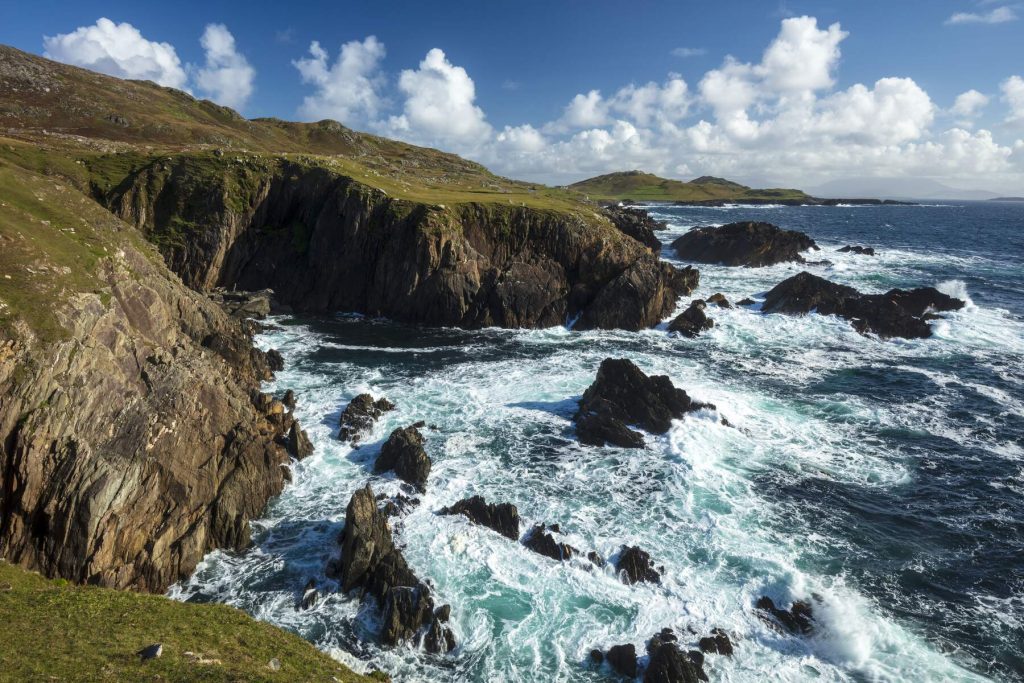 If you're looking for a truly unique vacation destination, Achill Island is the perfect place for your family. This remote island off the coast of Ireland is renowned for its unspoiled natural beauty, from its rugged cliffs and sweeping coastline to its pristine sandy beaches. But that's not all Achill has to offer; the island is also home to several businesses, including a woollen mill, a cheese factory, and even a brewery. And with a wide range of activities on offer, from horseback riding and hiking to kayaking and kite-surfing, there's something for everyone to enjoy.
Climb St. Patrick's Mountain in Croagh Patrick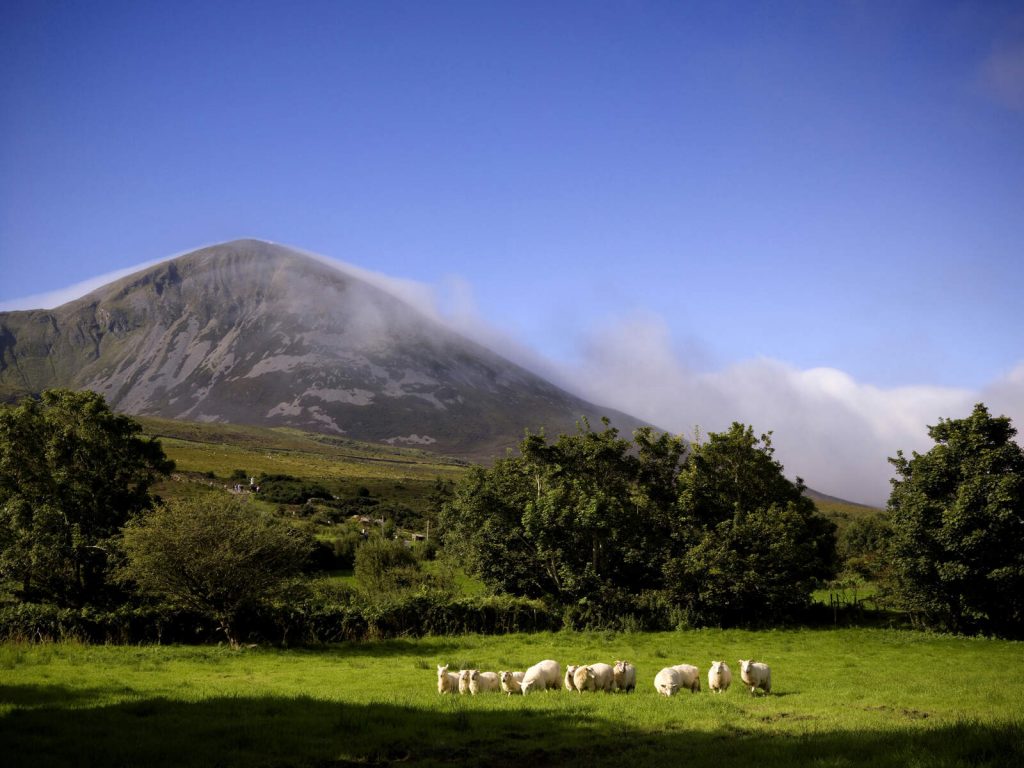 For centuries, pilgrims have been climbing to the top of Croagh Patrick, a mountain in County Mayo, Ireland. Legend has it that Saint Patrick fasted on the summit for 40 days, and today many people make the ascent as a way to connect with their Irish heritage. The climb is not difficult, and the views from the top are truly breathtaking. On a clear day, you can see all the way to Clew Bay, with its hundreds of tiny islands. The sense of achievement you feel after reaching the summit is unlike anything else. Whether you're Irish or not, climbing St. Patrick's Mountain is an adventure your whole family will enjoy.
Set Sail with Clew Bay Cruises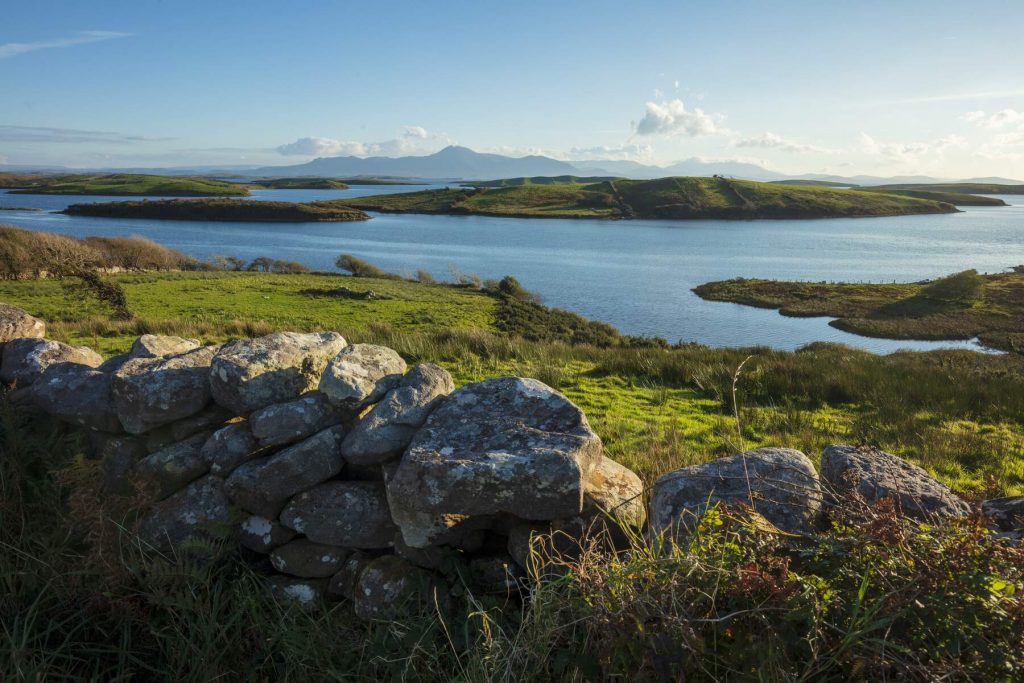 Setting sail from the ancient city of Mayo, our cruises take you on a journey through some of Ireland's most breathtaking scenery. As you cruise along the coast, you'll have the chance to see an array of wildlife, from dolphins and seals to eagles and otters. And if you're lucky, you may even catch a glimpse of the legendary Clew Bay monster! Whether you're seeking excitement or relaxation, their cruises offer something for everyone, a great family-friendly activity to do while travelling in Ireland with kids.
Test Your Photography Skills At Westport House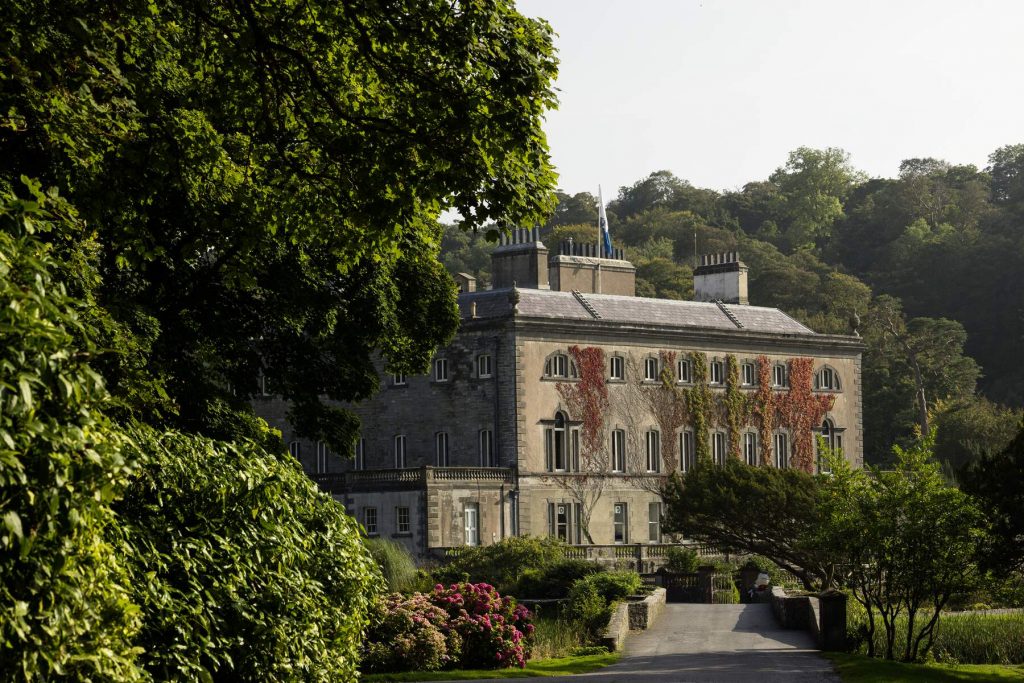 Located in the heart of Mayo, this beautiful historic estate showcases sprawling gardens, an Instagram-perfect grand house, and even an on-site pool. There are also plenty of activities for kids, including a playground, petting zoo, and puppet show. In addition, Westport House is situated close to some of Mayo's most scenic coastline, making it the perfect place to enjoy a day at the beach.
Days 8-9 – Galway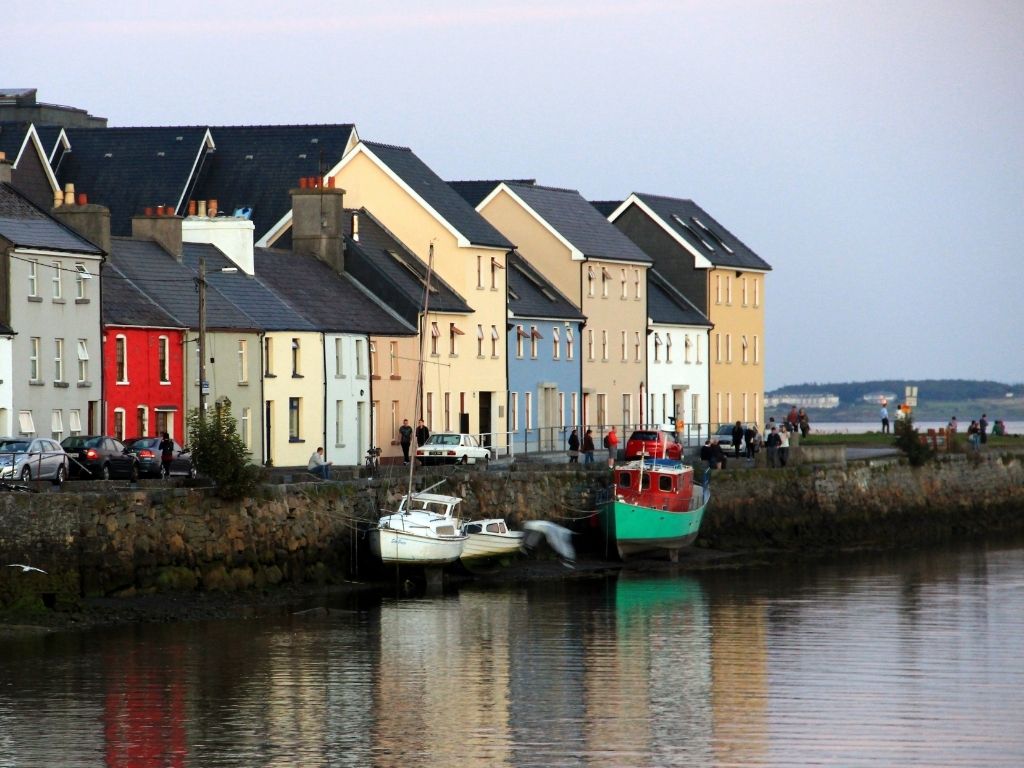 There are so many reasons why your family should spend at least 2 days in Galway, Ireland. First of all, the city is absolutely beautiful. The streets are lined with colourful shops and cafes, and there's always something to see and do. Plus, the people are incredibly friendly and welcoming. You'll feel right at home in no time. In addition, there are plenty of activities to keep everyone entertained. From exploring the medieval castles to hiking in the stunning countryside, there are so many experiences to be had and Galway is the perfect basecamp to see you off on your adventures. Here are some of our top recommended experiences for you and the family to explore (it's tough to narrow them down so we wish you luck!).
See Sheepdogs in Action at Killary Sheep Dog Farm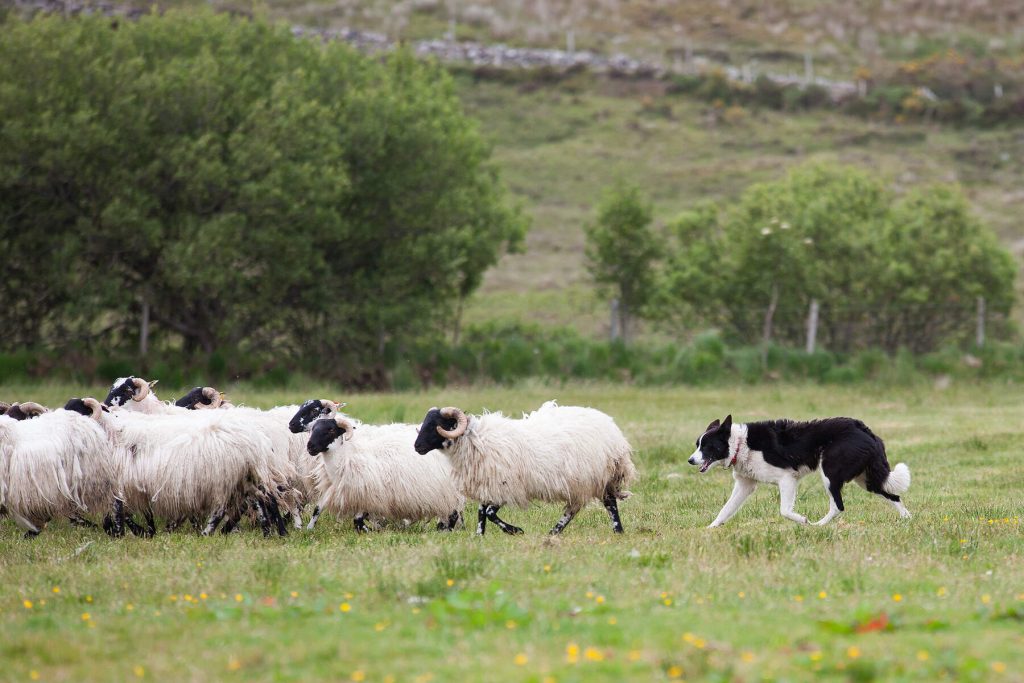 If you're looking for an adventure the whole family will enjoy, look no further than the Killary Sheep Dog Farm experience. Located in the heart of Ireland's stunning countryside, the farm offers a unique opportunity to see sheepdogs in action. You'll be able to watch as the dogs work together to herd the sheep, and you may even get the chance to try your hand at sheep-dogging yourself. The farm is also home to a variety of other animals, including goats, pigs, and chickens, making it the perfect place to spend a day in nature. And with plenty of activities for kids, the Killary Sheep Dog Farm experience is sure to be a hit with everyone in the family.
Step Into The Past At Kylemore Abbey & Gardens
If there's one place I'm kicking myself about not being able to visit on our trip it's Kylemore Abbey & Gardens. Nestled in the heart of the Connemara region, the Abbey is surrounded by beautiful scenery and offers a variety of activities for all ages. Visitors can take a tour of the Abbey, sleep in the on-site dormitories, or explore the sprawling gardens. The grounds also include a walled garden, a Victorian greenhouse, and a model farm. In addition, there are plenty of opportunities for hiking and biking in the surrounding area. With its picturesque setting, I know it's a place I will soon venture back to but recommend you don't make the same mistake I did and miss this must-see stop on your trip!
Aughnanure Castle
Aughnanure Castle is a 16th-century tower house located in County Galway, Ireland. The castle was built by the O'Flaherty clan and has been occupied by various families over the centuries. Today, the castle is open to the public and is a popular tourist destination. There are many reasons to visit Aughnanure Castle with your family. First, the castle is a beautiful example of Irish architecture. The towers and turrets are fascinating to explore, and the views from the top of the castle are stunning. Second, the castle is full of history. You can learn about the lives of the people who lived there and how they defended the castle against attack. Finally, Aughnanure Castle is a great place to have fun. The grounds are perfect for picnicking or playing games, and there are often special events taking place at the castle, such as jousting tournaments and archery competitions. So if you're looking for a fun-filled day out, be sure to add Aughnanure Castle to your list of places to visit.
Get Your Adrenaline Rush at Moycullen Adventure Wildlands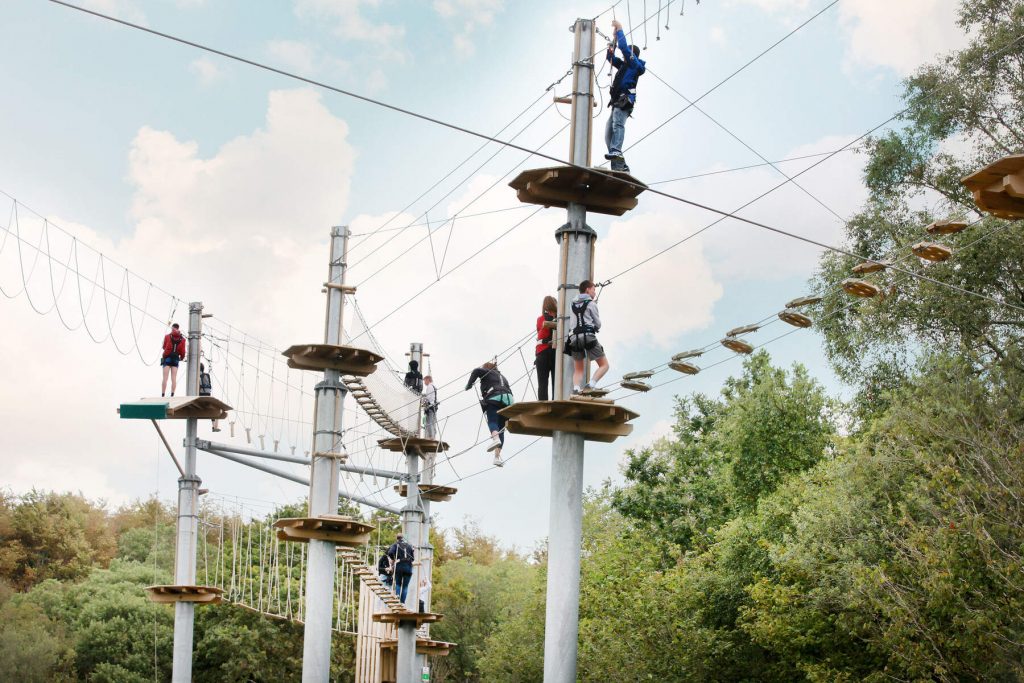 Moycullen Adventure Wildlands is the perfect place for those who crave excitement and adventure. Situated in the heart of the Irish countryside, this sprawling outdoor complex offers a range of activities to suit every taste. For thrill-seekers, there are zip lines, climbing walls, and off-road karts. Those looking for a more leisurely experience can enjoy a round of golf or a stroll through the nature reserve. And for families with young children, there is a secure play area with a variety of colourful play equipment.
Capture The World-Class Cliffs of Moher by Land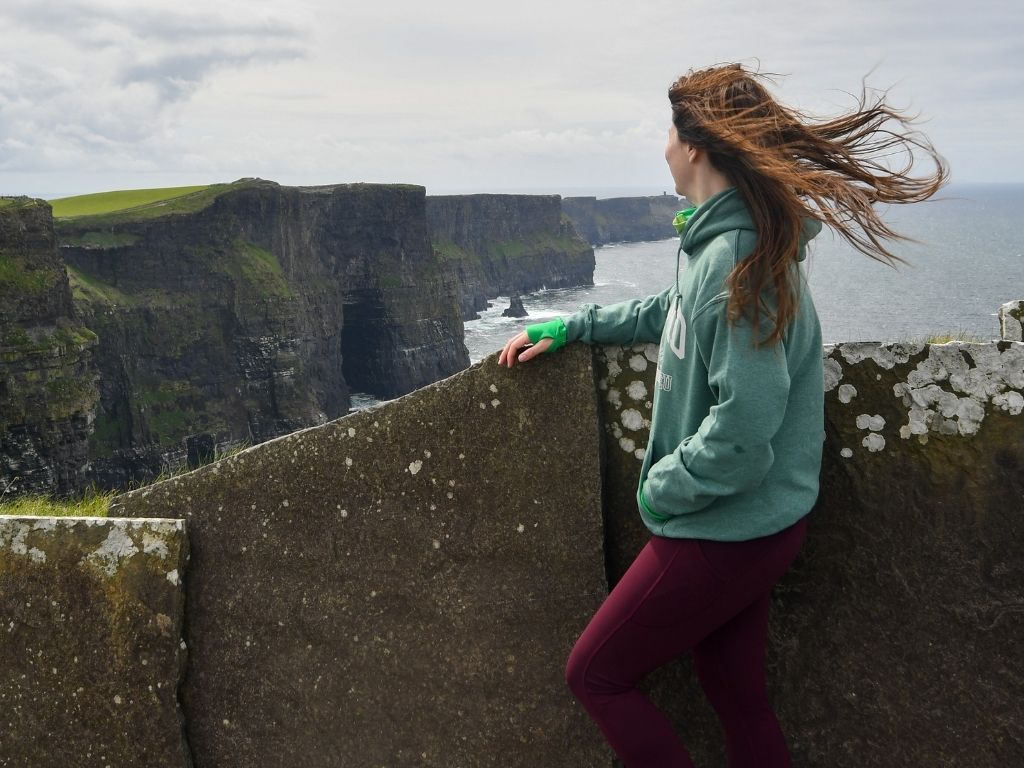 My son was very excited to see The Cliffs of Moher, one of Ireland's most popular tourist destinations. The cliffs rise majestically from the Atlantic Ocean, offering breathtaking views of the coastline. Visitors can walk along the cliff edge and take in the stunning scenery, or they can take a boat ride out to sea to get a closer look at the cliffs. There is also a visitors' center where you can learn more about the history and geology of the area. My recommendation is to spend time in the region and not just drive to see the Cliffs and then back to Galway as there are so many great towns and activities in the region that are worth exploring.
See the Cliffs Of Moher By Boat Or Visit The Aran Islands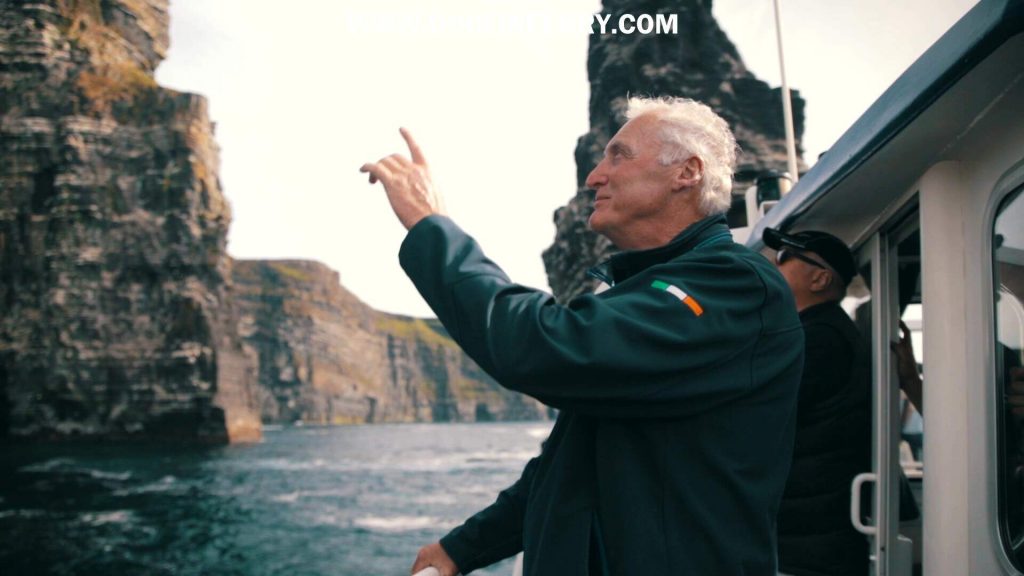 Departing in the small town of Doolin, a small town in County Clare, are ferries to the Aran Islands and the Cliffs of Moher. Two ferry companies operate out of Doolin: Doolin2Aran Ferries and Aran Islands/Cliffs of Moher Cruise. Both companies offer daily departures to their respective destinations. The journey to the Aran Islands takes about an hour, while the Cliffs of Moher Cruise takes approximately two hours. Both experiences are well worth the time and effort and are sure to create lasting memories.
Soak in the Surfing and Golfing at the Lahinch Golf Club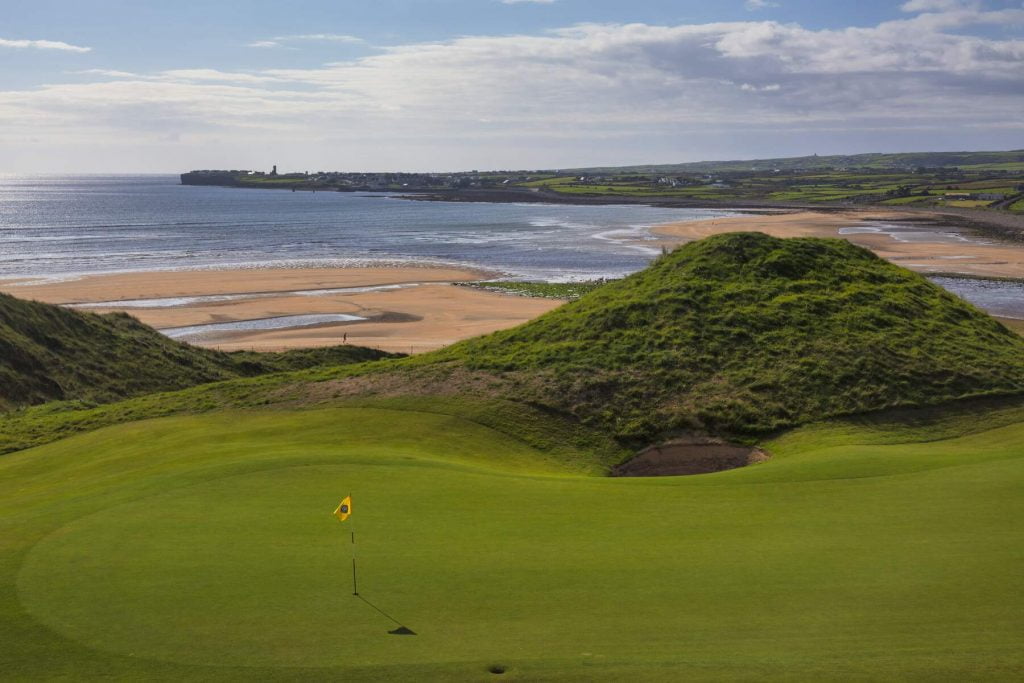 Lahinch Golf Club is located on the west coast of Ireland and is a popular spot for both golfers and surfers. The golf course has been rated as one of the best in the world, and the surfing conditions are ideal for both beginners and experienced surfers. The waves here are some of the most consistent in Ireland, and there are plenty of surf schools in the area if you need help getting started. Whether you're looking to hit the links or catch some waves, Lahinch Golf Club is the perfect destination.
Loop Head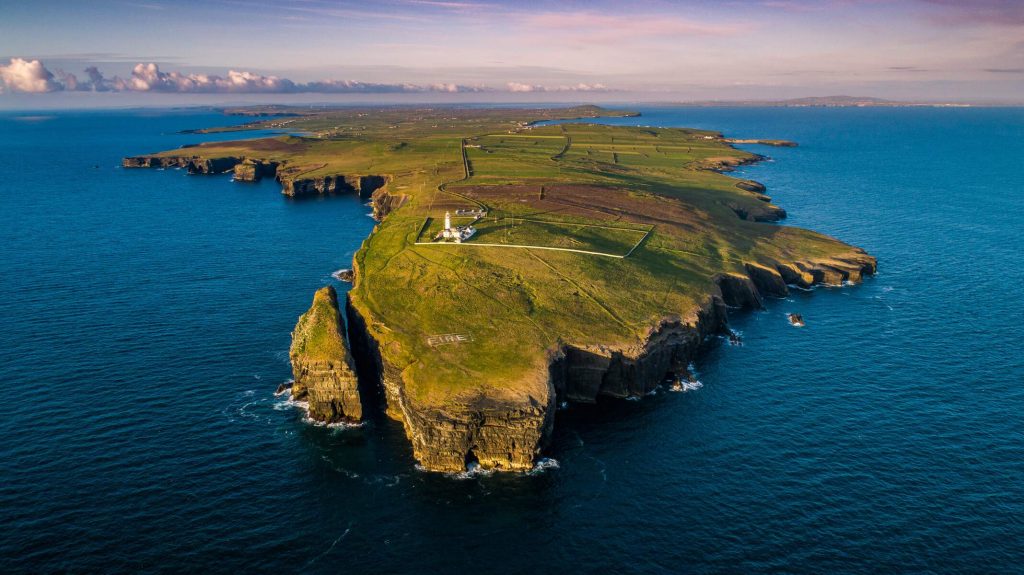 Nestled on the southwestern coast of Ireland, Loop Head is a place of wild beauty and rugged charm. The region is best known for its dramatic cliffs, which rise up from the crashing waves of the Atlantic Ocean. However, Loop Head is also home to many sheltered coves and sandy beaches, making it a perfect destination for a relaxing vacation. In addition to its natural attractions, Loop Head is also rich in history and culture. The region was once an important landing point for trading ships, and today it is home to several traditional Irish pubs and restaurants.
Bridges of Ross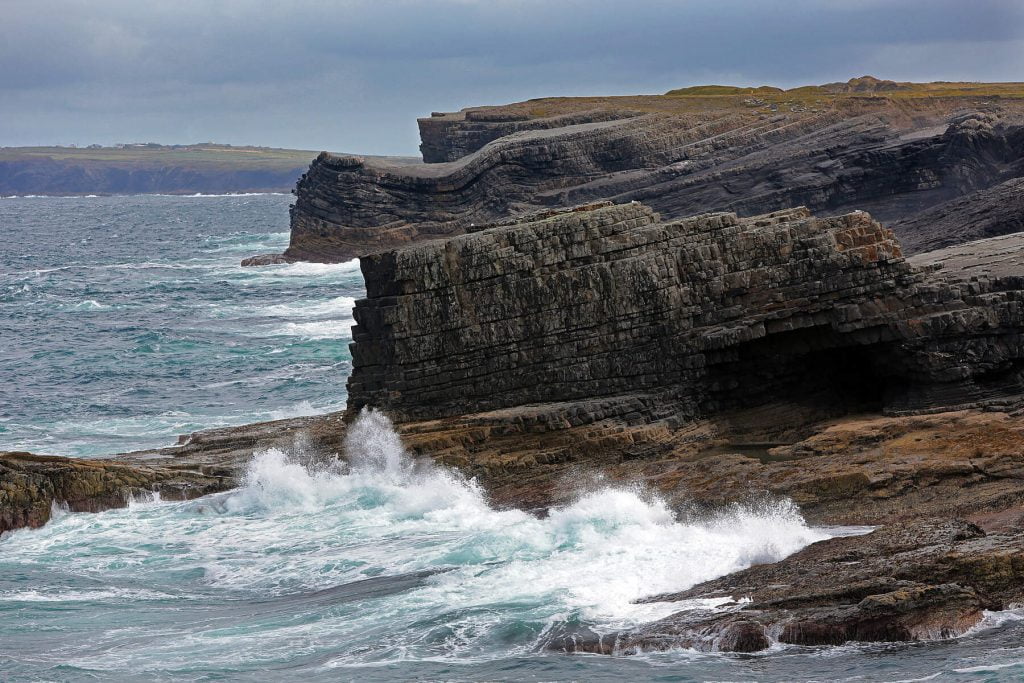 The Bridges of Ross are a series of limestone arches that span the River Shannon in western Ireland. The bridges were formed over millions of years as the river carved out a path through the rock. Today, the Bridges of Ross are a popular destination for climbers and adventurers. The arches vary in height from 15 to 30 meters, and the span between them ranges from 6 to 12 meters. The bridges are also home to a variety of wildlife, including bats, birds, and otters. For those looking for a challenge, several routes can be climbed without any equipment. And for those who prefer to simply take in the view, the bridges offer stunning views of the river below.
Hang with the Locals and go Dolphin Watching in Carrigaholt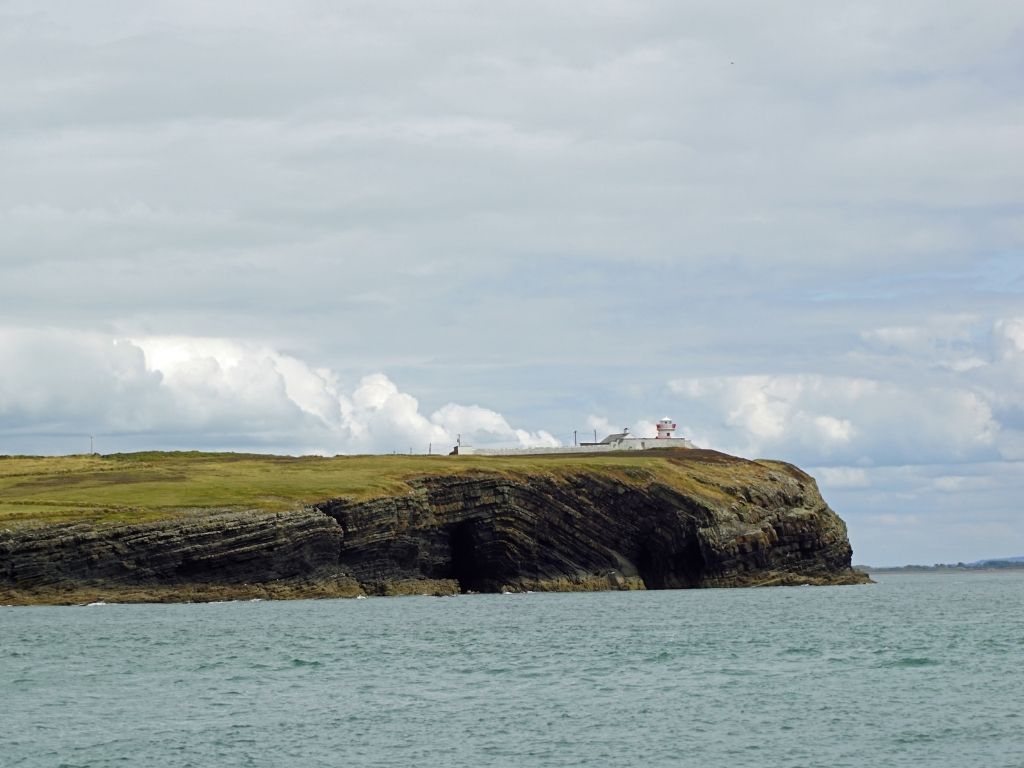 Carrigaholt is a small village on the west coast of Ireland, and it is the perfect place to go dolphin-watching. The village is situated on the banks of the River Shannon, and there is a large dolphin population in the river. Dolphins are very curious creatures, and they often approach boats and swim alongside them. Carrigaholt is one of the best places in Ireland to see dolphins, and it is an unforgettable experience. There are several boat tour operators in the village, and they all offer different times and prices. However, all of the tours include a guarantee that you will see dolphins, and they are well worth the price.
Day 10 – Dublin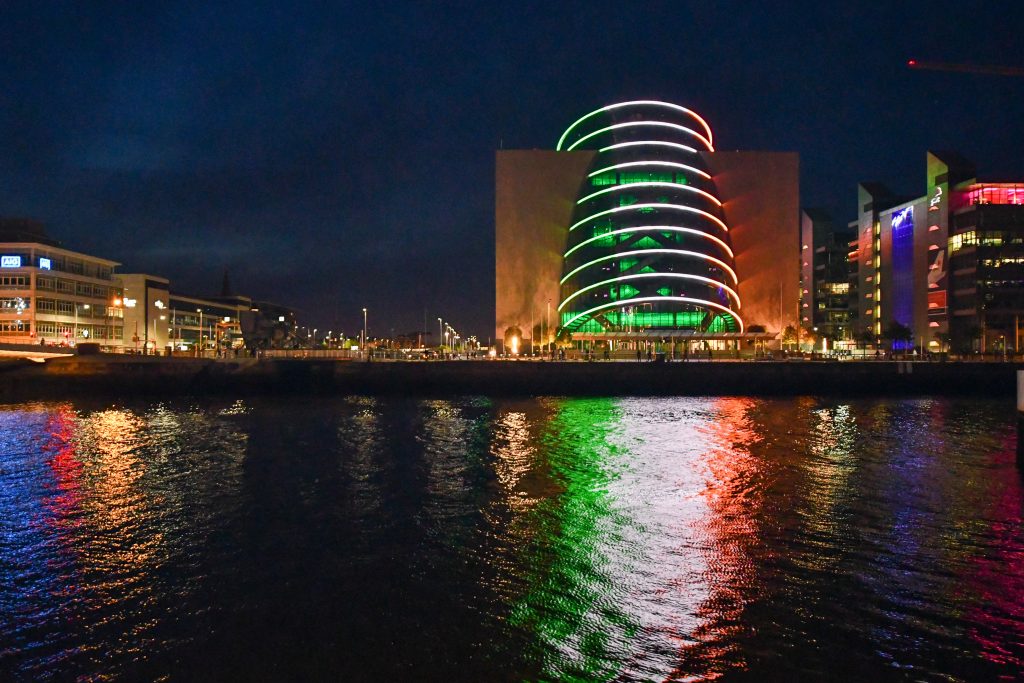 After an epic and adventure-filled 9 days on the road you and the family will be ready to return to Dublin to get your last hours of Ireland in and prepare for the transition back home. We recommend that you keep this day as a "soft exit" day allowing you to take in any last-minute activities, shopping, or downtime that is needed for you or the members of your family. As you can tell I like to plan an action-packed itinerary but it's always good to have some downtime for the crew as well.
Ireland is an adventure-filled destination with something to appease everyone in the family. Be sure to add hiking, museums, longboarding, city walks, mountain biking, climbing, blokarting, surfing, canoeing or cave exploration to your list of activities to see and do while visiting Ireland with kids.
Frequently Asked Questions About Visiting Ireland With Kids:
Is Ireland a good place for kids?
Are you wondering if Ireland is good for families? Ireland is a land of myth and legend, and it's no surprise that kids love it here. From legends of giants and fairies to castles and Viking raids, there's something to fire the imagination at every turn. And with so much green space and fresh air, it's the perfect place to run around and let off steam. Plus, there are plenty of activities on offer to keep kids entertained, from horse riding and cycling to surfing and exploring ancient ruins. With so much to see and do, Ireland is the perfect destination for a family adventure.
What is there to do for kids in Ireland?
Ireland is a great destination for families with kids of all ages as there are lots of things to do in Ireland with kids. The trick to success in making the most out of your Ireland adventure is to get out of the cities and explore the Wild Atlantic Way and all of the adventures that are awaiting. From surfing, rock climbing, caving, hiking, biking, and exploring UNESCO World Heritage sights, you'll have more adventures waiting than time will allow… that's perhaps why I've been to Ireland 3 times and am planning my next trip back!
What are the things to do in Northern Ireland with kids?
Northern Ireland is a great place to explore with kids. From its wild coastline to its towering mountains, there are plenty of things to see and do. One of the best ways to experience the country is to go on a hike. Northern Ireland has some of the most scenic hiking trails in the world, and many of them are suitable for young children. another great way to spend time in Northern Ireland is by visiting one of its many castles. Some of the most popular castles include Dunluce Castle, Carrickfergus Castle, and Belfast Castle. There are also plenty of museums and galleries to explore, as well as mother nature's amusement parks (beaches, mountains, and more) to explore. In short, Northern Ireland is a great destination for families who are looking for an active and adventurous vacation.
Is Ireland child-friendly?
Ireland is often thought of as a country full of history and culture, and while this is true, it is also a great place for families with young children. There are plenty of child-friendly activities to enjoy, from exploring castles and playgrounds to visiting farms and taking part in fun activities at museums. And with so much beautiful scenery to admire, kids will never get bored on a trip to Ireland. Plus, the friendly locals are always happy to share a bit of Irish culture with young visitors. Whether you're looking for a relaxed family vacation or an action-packed adventure, Ireland is the perfect destination for families with young children.
How much does a family trip to Ireland cost?
The cost of a trip to Ireland will depend on many factors, such as the time of year, the number of people in your party, and the type of accommodations you choose. However, there are ways to save money on your trip. One way is to book your flight and accommodation well in advance taking advantage of any sales and using air miles. Another way is to travel during the off-season when prices are typically lower. For our most recent family trip, we travelled with my in-laws allowing us to split the cost of hiring a driving service, and it was so incredible it may be the only way we travel going forward!
What is the best month to go to Ireland?
Many people believe that the best time to visit Ireland is in the spring when the weather is mild and the days are longer. However, there are several reasons why the fall may be a better time to go. For one thing, airfare and lodging tend to be cheaper in the off-season. In addition, fall is a great time to enjoy the natural beauty of the country, as the leaves on the trees change colour and the landscape takes on a golden hue. Finally, fall is a quieter time of year, which means that you can avoid the crowds and really get to know the local culture. So if you're looking for a truly memorable Irish experience, consider planning your trip for October or November.
Is Dublin a good family vacation?
There is plenty to see and do in Dublin, and the city is very visitor-friendly. Dublin is home to a number of world-famous museums, including the National Museum of Ireland and the Irish Museum of Modern Art. The city also has a vibrant nightlife, with a wide variety of bars and clubs to suit all tastes. Families can also enjoy a range of activities outside the city, such as horse riding, cycling and hiking in the nearby Wicklow Mountains. With its mix of culture, history and outdoor activities, Dublin is the perfect place for a family vacation but I wouldn't recommend spending your whole time in the city. I'd use it as a starting or ending point and head to the smaller towns around the country to make the most of your Ireland family vacation.
What to pack when travelling to Ireland with kids?
Travelling to Ireland with kids? There are a few things you'll want to make sure to pack. First, pack plenty of warm clothes. Even in summer, the weather can be cool and rainy. Second, pack comfortable shoes. You'll be doing a lot of walking, and you want to make sure your feet are comfortable. Third, pack some snacks and drinks. Irish food is delicious, but it can be expensive and there's nothing like the comforts of home when you're needing some quick fuel. And fourth, pack a sense of adventure! Ireland is an amazing country full of history, culture, and natural beauty so think beyond the main tourist attractions and get your family travelling off the beaten path. 
---
Looking for More Inspiration about Travelling to Ireland with Kids? Check out these articles.
Is this a sponsored post?: Yes, while we were invited by Tourism Ireland to enjoy some of these experiences, our views and opinions are our own.