The zodiac speed up past a group of belugas and I immediately knew that our driver had spotted something that was about to take us off course. Within minutes we rounded the corner and you could hear the squeals come from all sides of the boats as we spotted our first ever polar bear. Laying in the sun, belly up in the air, like he had just eaten a big thanksgiving dinner and needed to unbuckle his pants and let his food settle, there wasn't a care in the world as the lovely polar bear basked in the summer Churchill sun. This was just the beginning of our incredible polar bear tours in Churchill Manitoba.
A lifelong bucket list item, there I was, with my son sitting next to me watching this magnificent creature laze in the rocks. As we bobbled on our zodiac in the bay our eyes darted across the rocks, looking for other signs of movement, and were quickly rewarded with a mom and cubs coming to play in the rocks right in front of us. It was a #PinchMeAmIDreaming moment in my life that brought me face to face with a day in the life of a polar bear.
Good Morning Churchill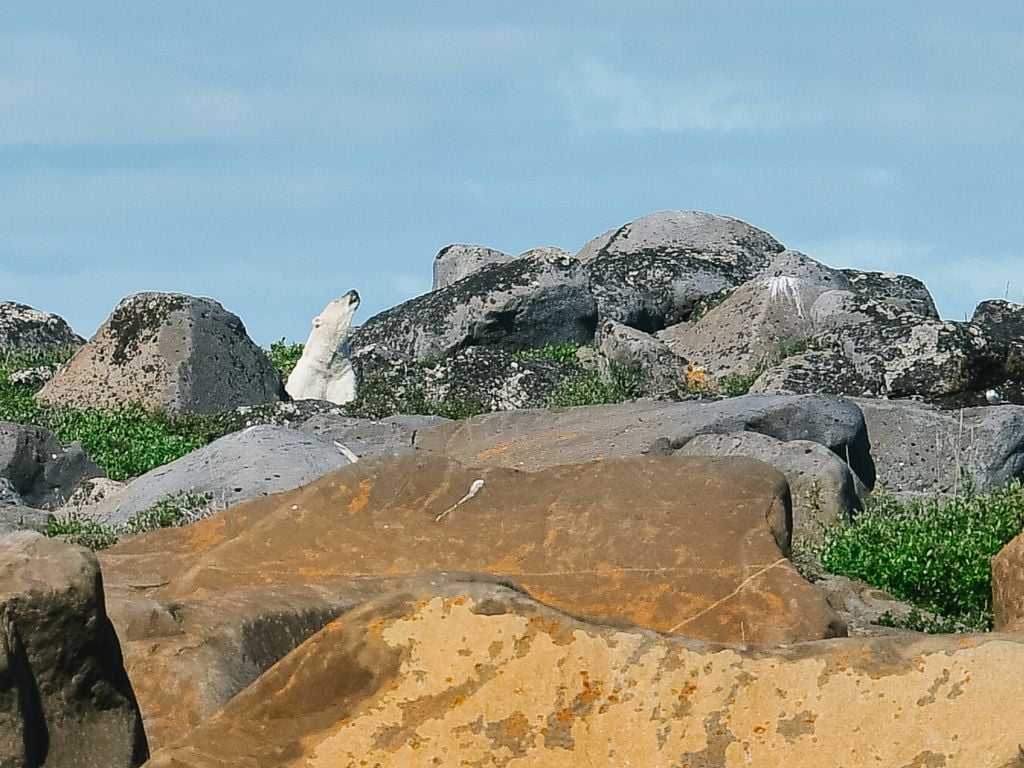 During the summer months, the ice in Hudson Bay melts, and the polar bears transition from living out on the subarctic ice to living on land. Their migration path brings them directly through Churchill Manitoba, where they meet at the convergence of the Churchill River and the Hudson Bay.
Breakfast For Bears?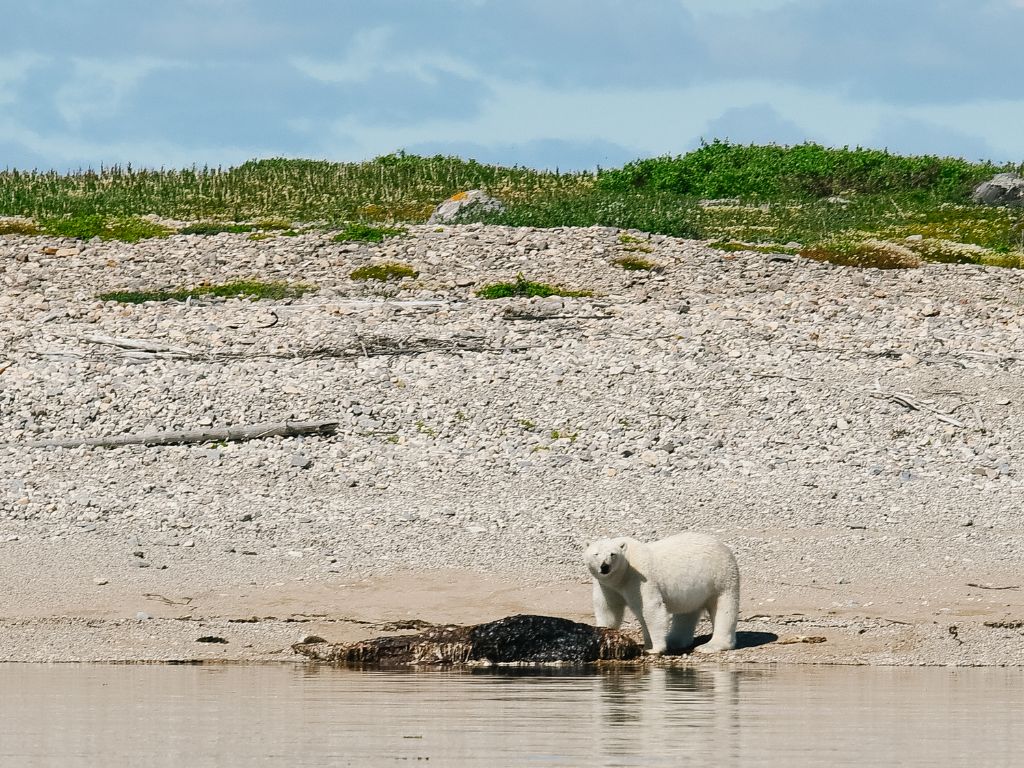 When polar bears come off the ice they are well fueled and nice and fat as their time on land will primarily be spent resting. They go into a fasting mode where they don't eat while on land, pulling off of the fat stored in their bodies. Polar bears can go up to 180 days without eating, with most in the region spending an average of 130 days. This is up from the 80s when they were going an average of 107 days, an unfortunate result of global warming.
So when this group of bears came across a dead beluga it was an unexpected breakfast surprise… an opportunity to fuel up and score some extra calories for their summer!
Nap Time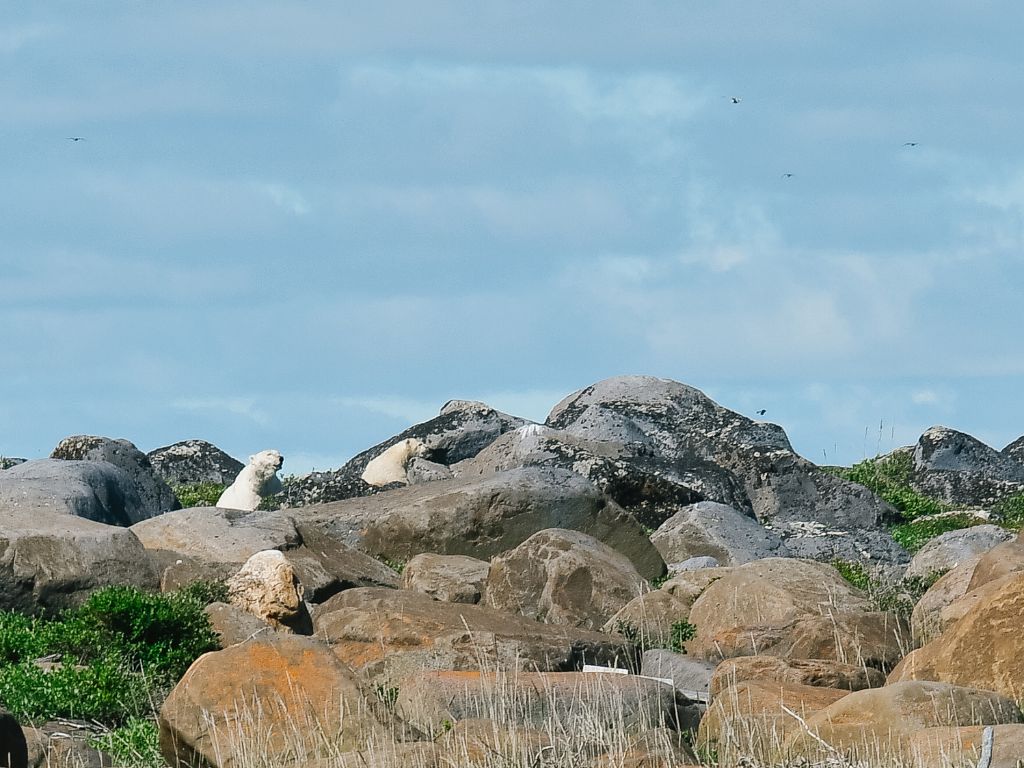 Polar bears are professional nappers… and they will nap anytime, anywhere, especially after a big feed. We giggled as we spotted a few polar bears, bellies up in the air, and heads titled back as they basked in the sun. I wonder if I'm part polar bear… I love naps!
Polar Bear Swim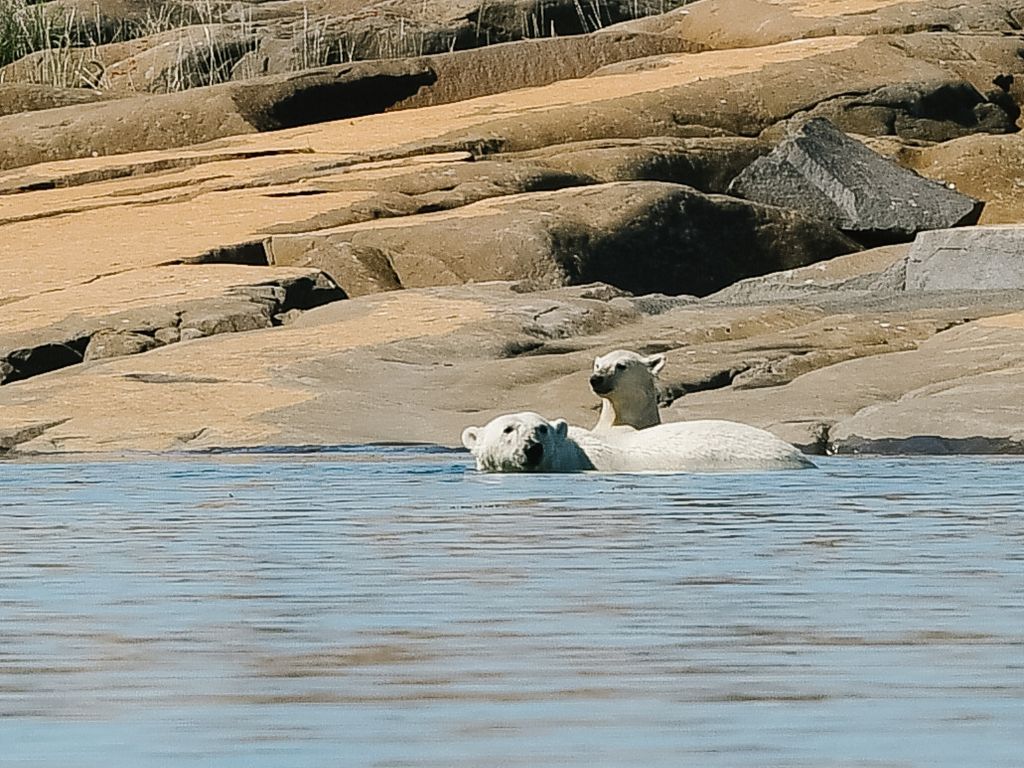 While the big male was enjoying his naptime, Momma bear had to keep her little one entertained so they headed down oceanside and lounged in the sea for some wrestling and playtime. My son said it reminded him of us… we wrestle all the time, even in the pool!
Tourist Watching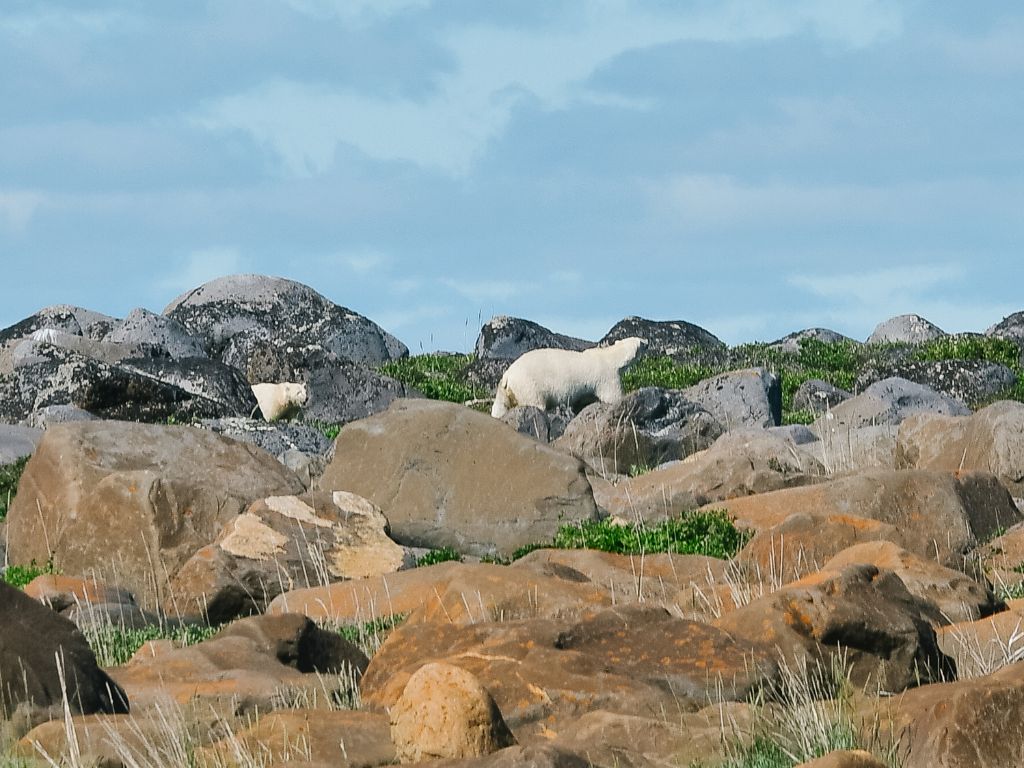 Back on shore, it was time for the bears to soak in the scenes… us! As visitors to their homes they were equally curious about our little zodiac boats floating out on the ocean, and regularly kept an eye on us in between rolling on the rocks.
A Bears Life…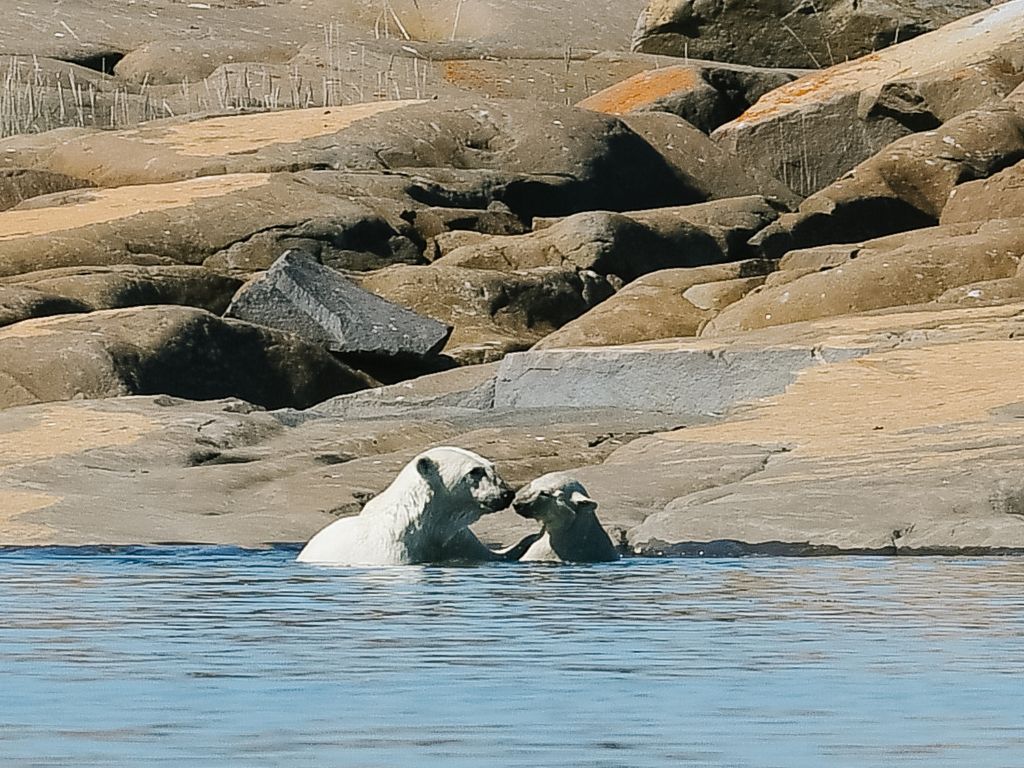 While we didn't stay the whole day alongside the polar bears our guides assured us that this cycle (rest, play, rest, watch) would continue on through sunset. A typical day in the life of a polar bear in Churchill Manitoba.
And while it may have been a typical day for the polar bears it was an extraordinary day in our life for this Mom and her baby boy.
Fun Churchill Manitoba, Polar Bear Facts
Hotel Signs
When you go to leave your hotel (or any building for that matter) you'll see a "look" sign on the right-hand side of the door. This reminds visitors that they need to "look both ways" before they head out to ensure there are no unexpected surprises from polar bears who may be transitioning through the city.
Unlocked Doors
There's an unwritten rule in Churchill that you don't lock your doors or car doors. Children are taught in school that if they come across a polar bear and need a quick place to escape that they can rely on the closest door to be open!
Wide Corners
Children and visitors are taught to "take wide corners" allowing extra time to spot polar bears that may be around a hidden corner. I found myself still taking wide corners when I returned home to Vancouver even though the only polar bears that could be spotted would be on a twoonie!
Police, Fire, Ambulance, Polar Bear
Another interesting fact is that all Churchillians know the local emergency numbers, for police, fire, ambulance, and of course Polar Bear! 204-675-2327(BEAR) is where residents can call if they spot a polar bear in town and the Churchill Polar Bear Alert line where local staff monitor the number 24 hours a day keeping bears and people safe.
Frontiers North – Best Polar Bear Tours In Churchill Manitoba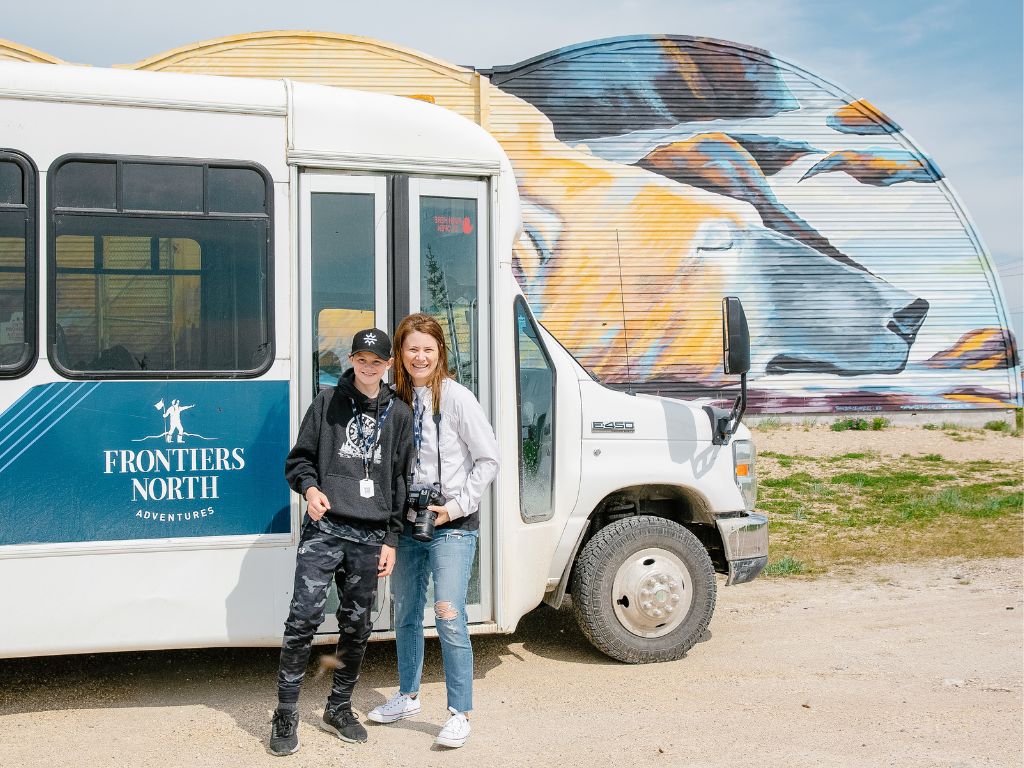 We were invited to see the polar bears in Churchill Manitoba by Frontiers North Adventures. Frontiers North is Churchill's first company to welcome guests to Churchill to see the polar bears with their iconic Tundra Buggy they also offer beluga and bears tours, inviting visitors to come and experience Churchill in the summer and see these animals in a different season. Frontiers North Adventures set out to be the industry leader in 1987 and continues to lead with a focus on regenerative travel. As Canada's only certified B Corp tour company they recognize the opportunity to lead by example and the responsibility of working in their region. They have created a model of tourism that protects the animals we all come to see and helps leave the environment, the community, and the animals in a better place.
Polar Bears International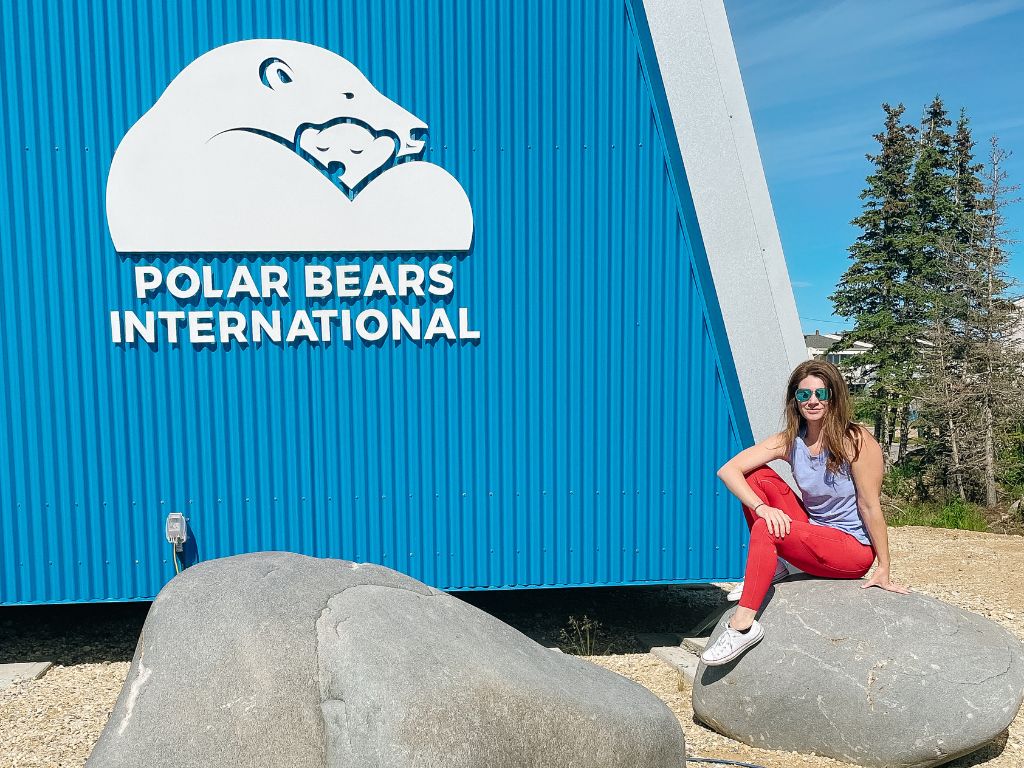 Frontiers North Adventures is a platinum sponsor for Polar Bears International "Our mission is to ensure the polar bears long-term survival – and we invite you to join us on this journey. Together, we can make sure that the polar bears roam the sea ice for generations to come and improve conditions for people too. After all, the polar bear's future is not separate from our own. Their story is our story. And as a visitor to Churchill, and a citizen of the world, you too, are a part of this story."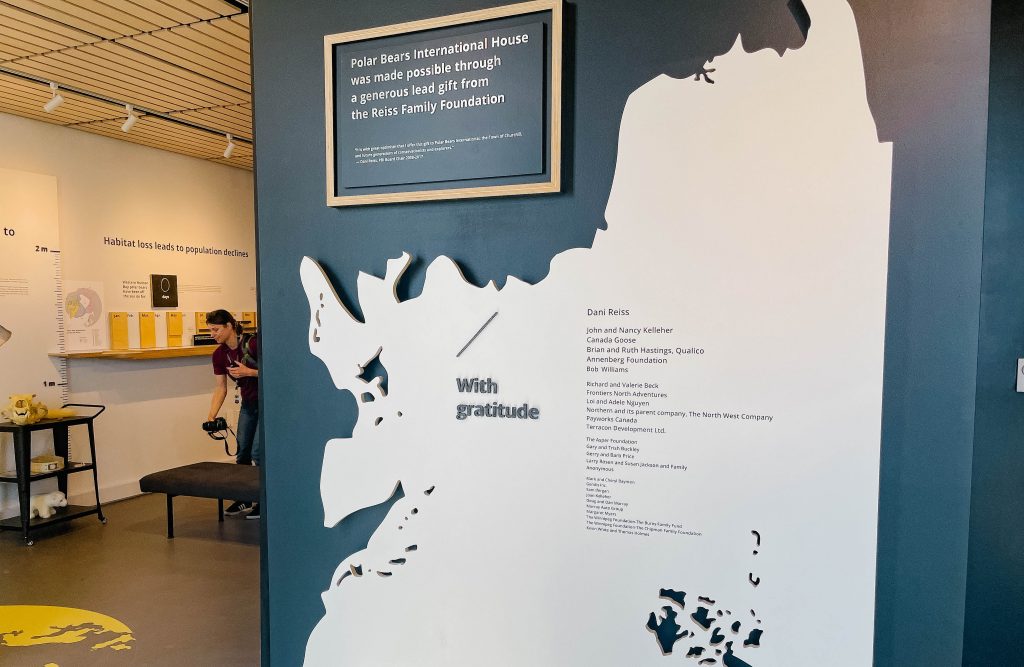 Frontiers North also offers PBI a Tundra Buggy to head out on the tundra and take part in research and educational classwork throughout the year. This year they worked with scientists around the world and "brought" them to Churchill via Tundra Buggy. They also welcomed 100,000 children into their virtual classroom! You too are invited to watch the live streaming of polar bears from the PBI cameras by clicking this link. (As I write this post there are currently 3 bears out on the rocks playing!)
Who offers the best polar bear tours in Churchill, Manitoba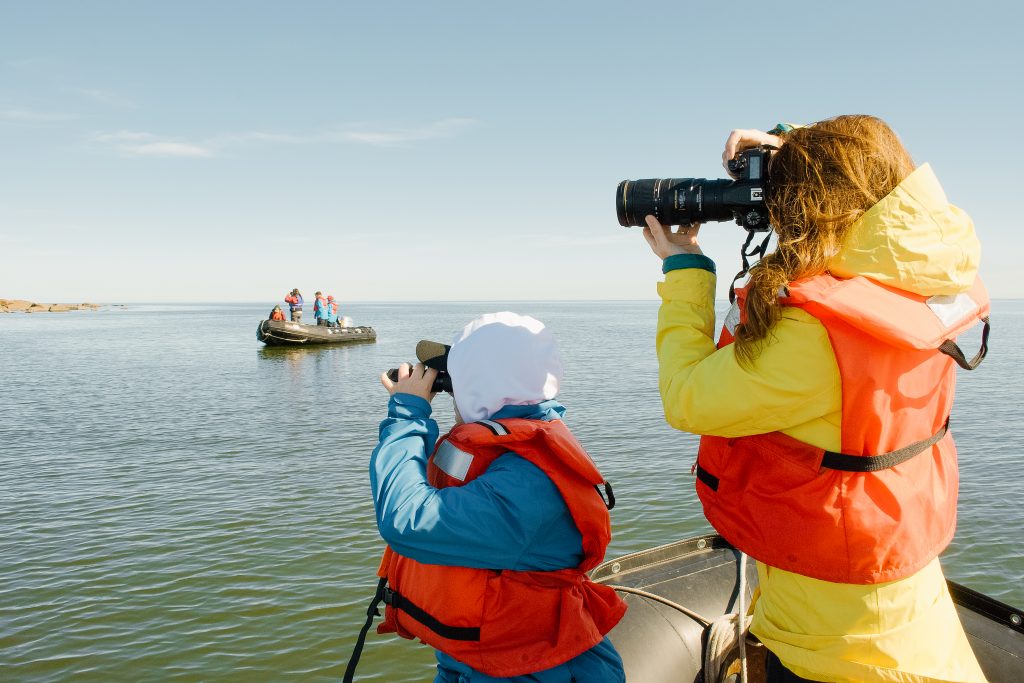 When trying to determine who offers the best polar bear tours in Churchill Manitoba, google will lead you through a variety of providers, ads, and information. With many different operators in Churchill, it can feel a bit overwhelming when deciding. To be transparent, Frontiers North Adventures invited us on this tour, however, I am confident recommending them and being so bold as to say they are the best for these reasons:
They are Canada's only Certified B Corp Tour operator, showcasing their commitment to ethical tourism and being industry leaders.

They are platinum sponsors of PBI and give a license and Tundra Buggy to scientists to help support education and research with the goal of protecting the region and its residents for generations to come.

Tours are ethically sourced with a commitment to the community, to indigenous culture, art, history, and education.

Interpretative Guides are all scientists and passionate about educating guests about the flora and fauna of the region.

When you invest in a company that upholds so many values, your trip is part of the movement that is positive tourism.
FAQs about Polar Bear Tours in Churchill Manitoba: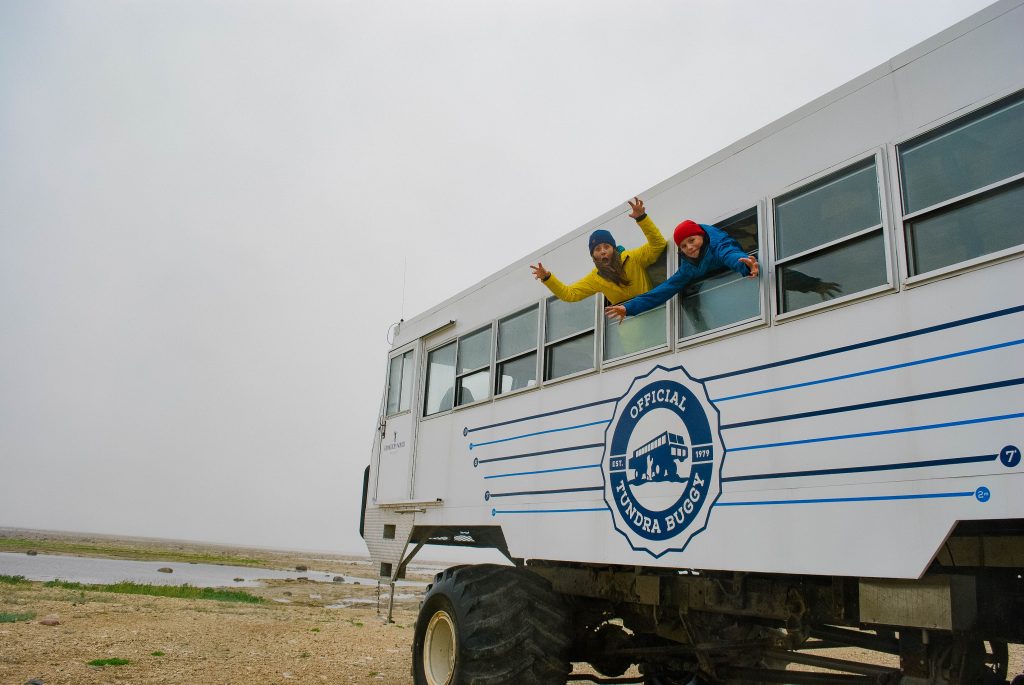 What is the best time of year to see polar bears in Churchill?
The best time to see polar bears in Churchill is in the fall when they congregate near the town waiting for the Hudson Bay to freeze over. October and November offer the best chance to see these magnificent animals, as they wait patiently on the shoreline or venture out onto the ice in search of seals. With a population of over 900 bears, Churchill is one of the best places in the world to see polar bears in their natural habitat. For those looking for a truly unique experience, there are many tour operators that offer trips to see the polar bears up close. These tours typically take place in October and November, when the bears are most active. However, it is important to note that Churchill is located in a remote region of Canada, and weather conditions can be extreme. As such, visitors should be prepared for cold weather and pack accordingly.
We were invited to come and see the beluga whales in the summer (they are there from mid-July to mid-August) and we were fortunate to see polar bears during our visit. So while there are more around in the fall you can see them in the summer as well.
What to wear on a polar bear-watching tour?
The must-haves for any season are layers, layers, layers, as the weather can change quickly on a day-to-day basis. Don't forget binoculars, camera, tripod, water bottle and a daypack, plus these seasonal specific items-
Summer Packing List:

Walking/hiking footwear
Windbreaker and nylon pants or waterproof jacket and pants
Bug repellent and/or bug jacket (mosquitoes and black flies are very prominent during the summer)
Hat and sunglasses
Winter Packing List:
Warm hooded parka
Snow/ski/wind pants
Warm gloves/mitts
Wool hat or toque
Warm, rubber-soled boots
How much are polar bear tours in Churchill?
With Churchill being the Polar Bear Capital of the world there are a variety of tours for visitors to choose from. You can choose a self-guided arrival and do a day tour, do a multi-day immersive experience, or do an 11-day long experience out on the ice. Prices obviously vary based on duration, activity, tours, food, and accommodation. Day trips start around $500 per person and immersive experiences average about $1000 per day. Churchill is a remote town, so visitors should be prepared to pay for their transportation costs in addition to the cost of the tour itself if they are opting for the self-guided experience (transportation to and from Winnipeg is included in packages). Experiencing polar bears in their natural environment is an unforgettable experience that is well worth the investment.
Where can I see polar bears in Churchill Manitoba?
Churchill, Manitoba is one of the best places in the world to see polar bears in their natural habitat. Every year, polar bears migrate through this small town on the edge of Hudson Bay. As the bears wait for the bay to freeze over, they can often be seen lounging on the shoreline or roaming through the tundra, or even in town as they transition in between locations. If you're there during the polar bear season you'll most like spot at least one polar bear, especially if you head out on a tour (and probably more!).
While polar bears are typically peaceful creatures, they can be dangerous if approached. For this reason, visitors are advised to stay inside their cars and observe the bears from a safe distance and follow the guidance of their tour leaders. With its large population of polar bears and its unique position on the edge of the Arctic, Churchill is truly a one-of-a-kind place to see these amazing animals up close.
Are there polar bears in Churchill now?
The peak season for spotting polar bears in Churchill is October and November before they head out on the sea ice for the winter. They can also be spotted in the summer when they come off the ice and wait for winter to come.
How many polar bears are in Churchill Manitoba?
Scientists estimate that each season between 900 and 1,000 call Churchill home while they wait for the sea ice to return. The area is home to one of the largest populations of polar bears in the world, and the polar bears are a major tourist attraction. Every year, thousands of people come to Churchill to see the bears in their natural habitat. While most visitors see the bears from the safety of a tour bus, some choose to go on more adventurous " bear-watching" expeditions, such as the Tundra Buggy experience. Regardless of how they choose to view them, there is no doubt that Churchill's polar bears are a truly amazing sight.
Where can I watch polar bears in Canada?
Canada is one of the best places in the world to see polar bears in the wild. Every year, polar bears congregate on the shores of Hudson Bay to wait for the ice to freeze so they can begin hunting for seals. The best place to see polar bears is in Churchill, Manitoba, which is located on the edge of Hudson Bay. Visitors can take guided tours by bus or Tundra Buggy to see polar bears up close. Other good places to see polar bears in Canada are in Nunavut, Northwest Territories, and the Yukon.
Is this a sponsored post?: Yes, our polar bear tour adventure is sponsored. However, all of our views and opinions are our own.
---
Looking for more Family Adventures in Manitoba? Check out these Articles: