Elbows up on the dashboard and eyes pressed hard into the binoculars, my son was living his best life, one animal sighting at a time. Our interpretive guide, Jen knelt next to him, helping him spot the eagles, herons, and subarctic birds darting around outside the Tundra Buggy®. Jen too was living her best life, immersing guests in her favourite eco system and helping educate them on the flora and fauna that surrounded them. The fostering of a passion for this region is something that lives deep in the bloodlines of each and every Frontiers North staff, especially during their Tundra Buggy Adventure.
Frontiers North Adventures are the true pioneers in the exploration of Churchill, Manitoba. In 1971 Leonard D. Smith converted an old Ford F750 plow truck chassis into the first ever Tundra Buggy®. A Churchill resident, Leonard was passionate about exploring this unique region of Canada and wanted to create a way to experience the majestic animals and ecosystem that make this place so special.
So an old plow truck, monster tires, and backcountry engineering that is often only fostered when resources are limited, and the first-ever Tundra Buggy® was invented and the Tundra Buggy Adventure company was formed. In 1987, Lynda and Merv Gunter formed Frontiers North Adventures and in 1999 bought the Tundra Buggy Adventure company when Leonard retired.
Today Tundra Buggies are custom-built all-terrain vehicles that are used by explorers and scientists to photograph and study polar bears in the Churchill Wildlife Management Area. Fun Fact: The Tundra Buggy® is a registered trademark of Frontiers North Adventures and refers to one specific type of vehicle that is exclusively operated and found in Churchill.
Disclaimer: While I share my own thoughts and stories about these experiences, should you click on the affiliate links, I may receive a small commission on that sale which helps fund Adventure Awaits.
Climbing Onboard the Tundra Buggy®
The bus doors swung open and a stairway with 12 steps welcomed us to climb up to the top deck. Standing 6.5 feet (or 2 metres) above the ground, the Tundra Buggy® is only accessible from second-story access, a custom loading deck that the Tundra Buggies back onto. Like giant lego 4X4 creations just seeing these beasts sparks your excitement knowing you're about to head out on one epic adventure.
Inside the Tundra Buggy®
Once onboard guests are each spoiled with their own seat. While the Tundra Buggies have 40 seats Frontiers North Adventures will only seat a max of 20 for their packaged tours so that each guest gets their own window seat (note, day tours seat at full capacity of 40 guests). We were spoiled with an extra small group allowing for us all to be able to wander around the Tundra Buggy®, peeking out each window to ensure nothing got missed.
Hint: The best seats of the house are right at the front next to the driver so snag them up if they are free!
Do Tundra Buggies have Toilets?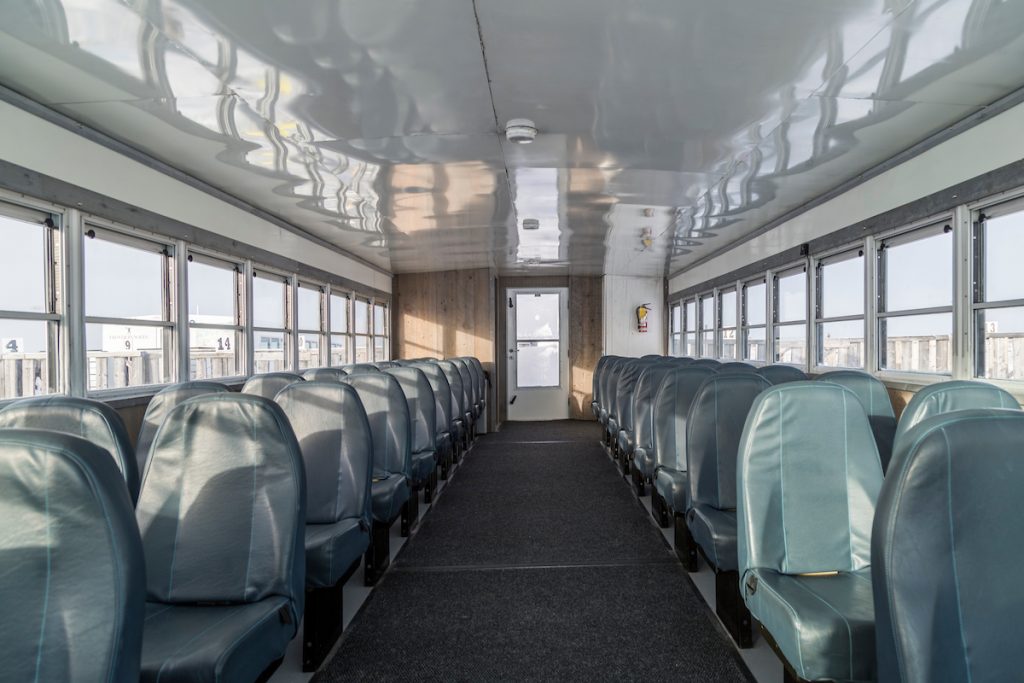 Yes, Tundra Buggies have RV-style toilets. The Captain's rule is that washrooms are only to be used when the vehicle isn't in motion, so either take your pit stop when the truck is stopped or ask the driver to "pull over" if you need to go (there's nowhere to pull over, they just stop on the trail and everyone keeps an eye out for sightings while you take the pit stop).
Map of the Tundra Buggy Adventure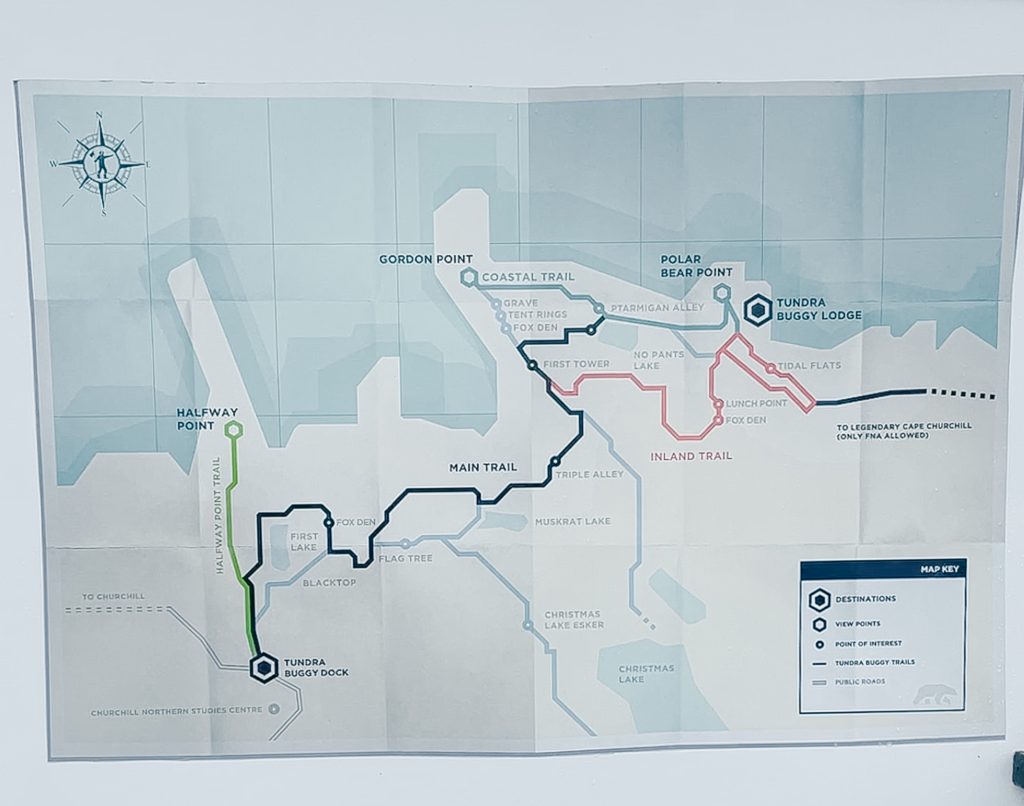 When you're looking out on the tundra it can be difficult to determine which way is North, never mind where on the trail we are! However, our trained guides know each route and were great and shared with us where in the park we were and what we could expect.
Interesting Fact: Once a driver has been with Frontiers North Adventures for 10 years they get their "own" Tundra Buggy® and their name put on the side of the Buggy!
Mucking In The Mud
During the summer months, the Tundra Buggy's big tires are perfectly equipped with 5-foot tall monster tires to head out on the rugged terrain and swamp through the mud. My son loved the bouncy ride, navigating through big ponds, and being able to start to see some wildlife within minutes of leaving the big departure deck.
Animal Encounters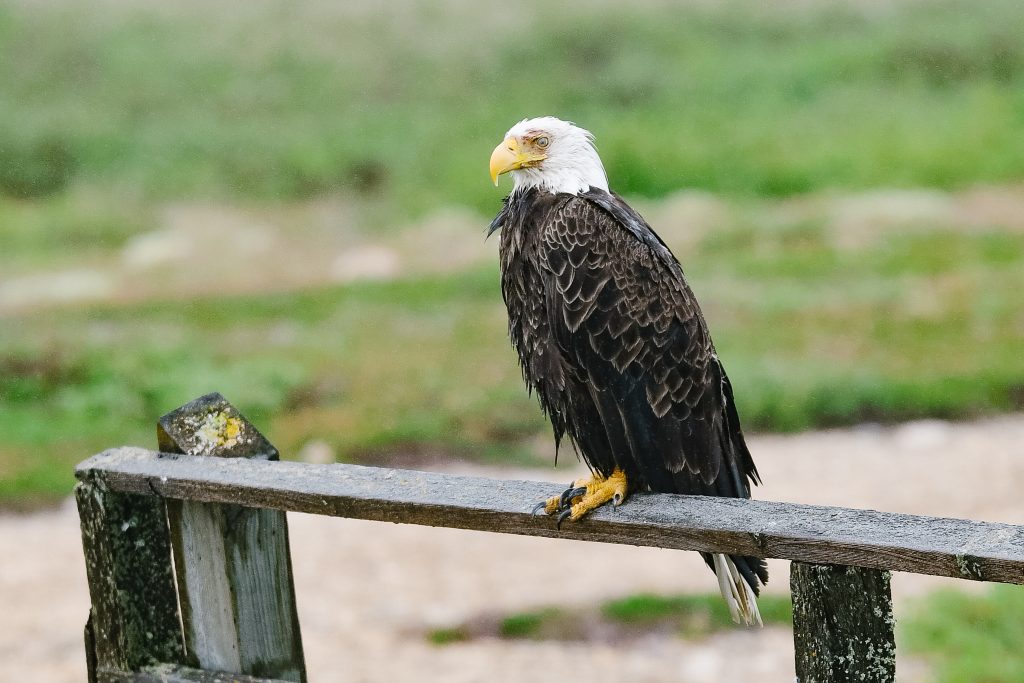 The Tundra Buggy® is designed to spot all types of animals, not just the coveted polar bear. From nesting birds, to "Eddie the eagle" to arctic foxes, arctic hares, and of course, the polar bear, being this high up in the sky allows for perfect viewing of the tundra and all of the members that make up this unique community.
Tundra School With "Teacher Jen"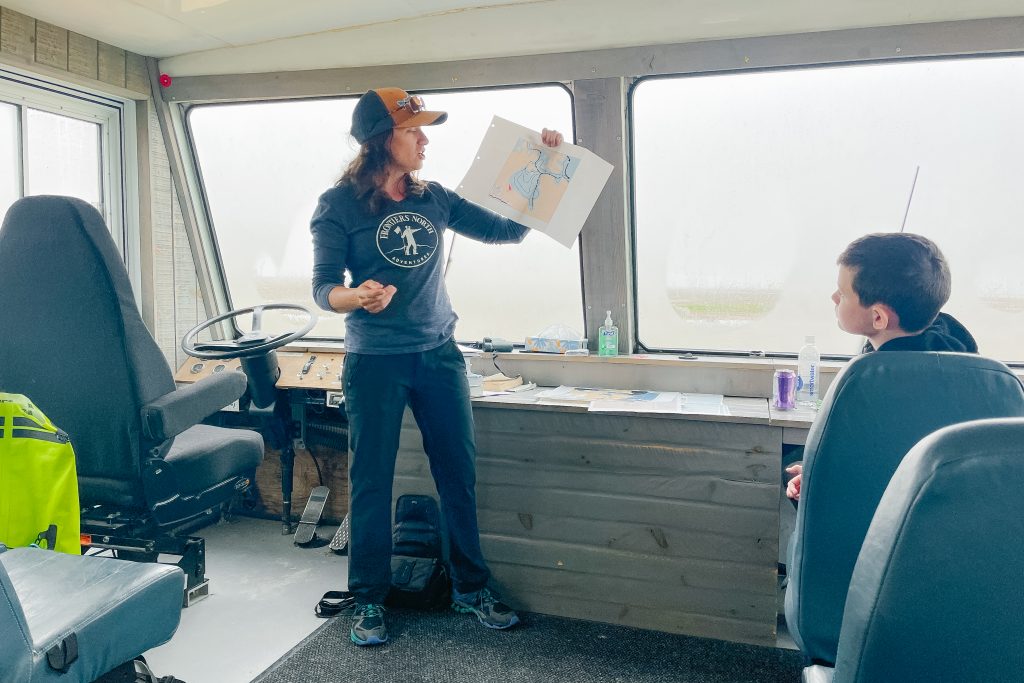 In between animal encounters we were fortunate to attend "Tundra School" an on-deck anecdotal interpretation by Interpretative Guide, Jen. From explaining why Churchill is the Polar Bear Capital of the world, to migration paths, tracking maps, to books and bird guides, there wasn't a question unanswered or an educational opportunity missed!
Onboard Library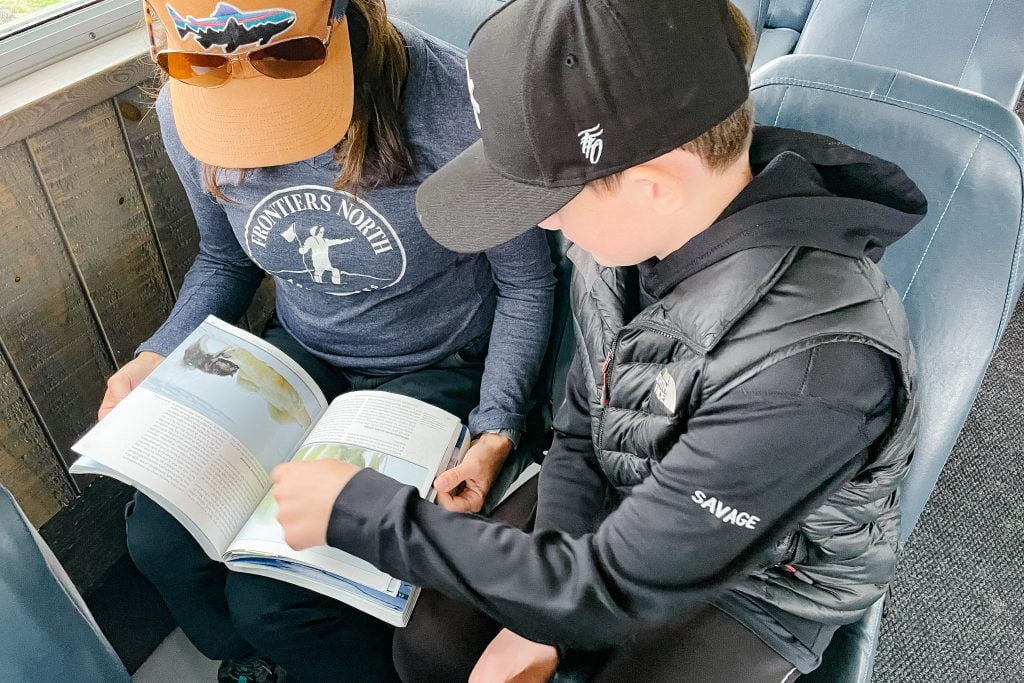 Many of the animals in the arctic change their fashion as if they were models on the cover of Vogue. Winter is all about white and being able to camouflage in the snow, whereas summer often brings colours of browns, greys, and earth tones, perfect for the season. Jen was able to whip out the bird books and help show my son what the species that we were watching looked like at different seasons throughout the year.
Tundra Buggy Adventure Lunch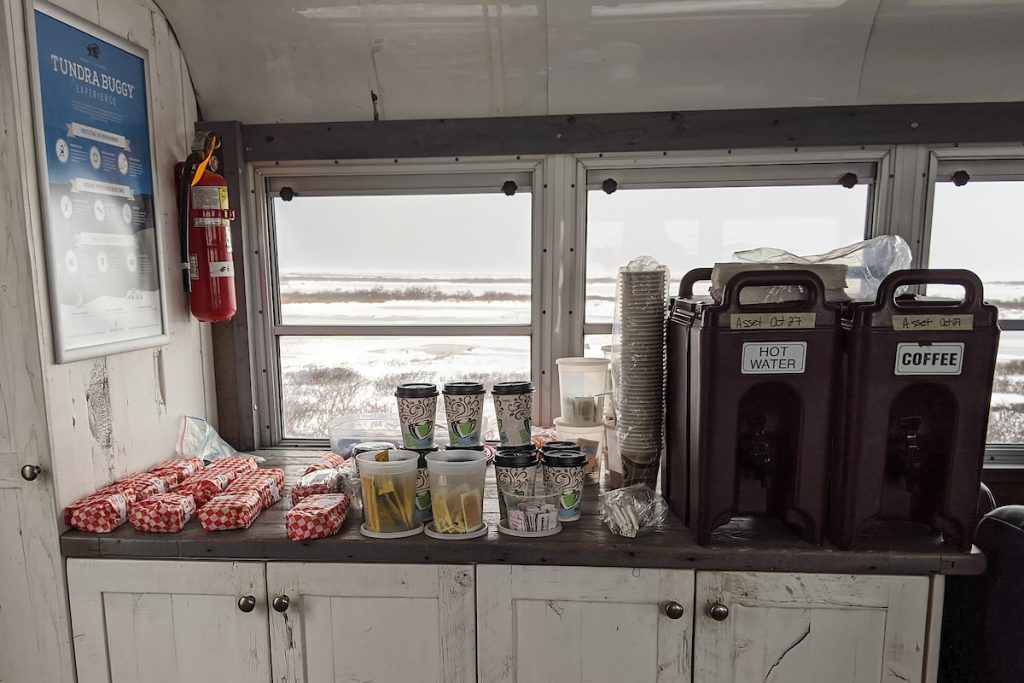 Once out on Polar Bear Point, it was time to fuel ourselves and with the support of one of the local restaurants we were fed delicious sandwiches, salads, soups, and treats. Coffee, tea, and hot chocolate were also favourites. As someone with a ridiculous amount of allergies, I was especially grateful for their ability to accommodate my dietary restrictions and even spoiled me with a dairy-free and gluten-free brownie! (I'm still thinking about it!).
Polar Bear vs. Black Bear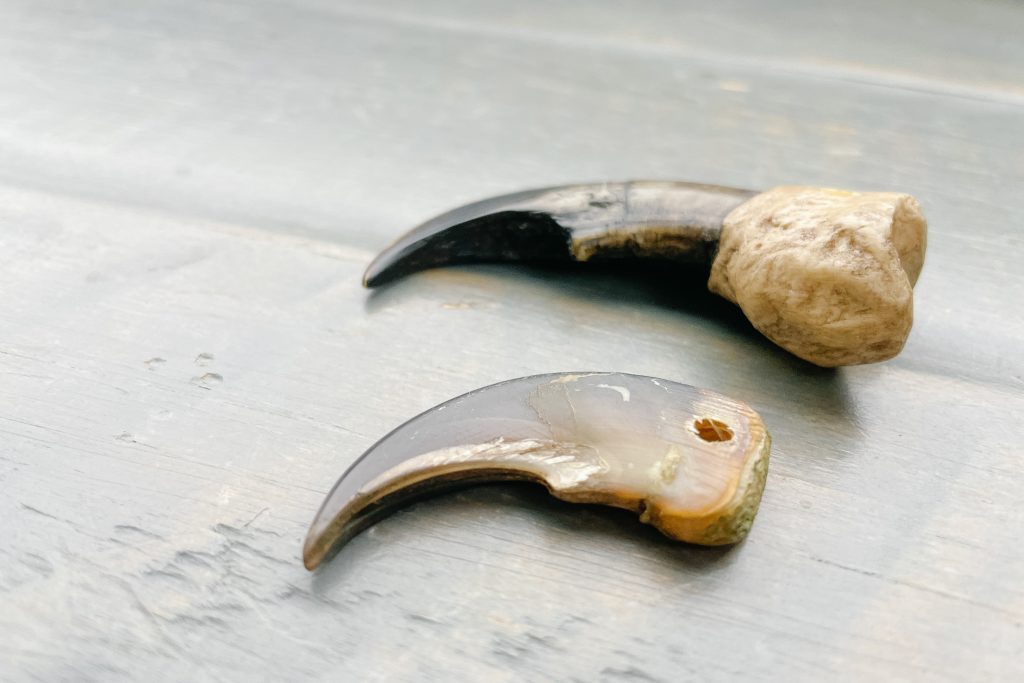 Have you ever wondered about the difference between a polar bear and a black bear? Our interpretive guide Jen had brought one fake claw of each, showing us the difference. The black bear is much smaller and designed for picking berries (herbivores) whereas the polar bear's claw was much sharper, and meant for tearing meat (carnivores) (this was one of my son's favourite parts of the whole tour and we were fortunate enough to be able to find a fake polar bear claw in town at one of the souvenir shops!).
Injured Bird or Academy Award-Winning Actor?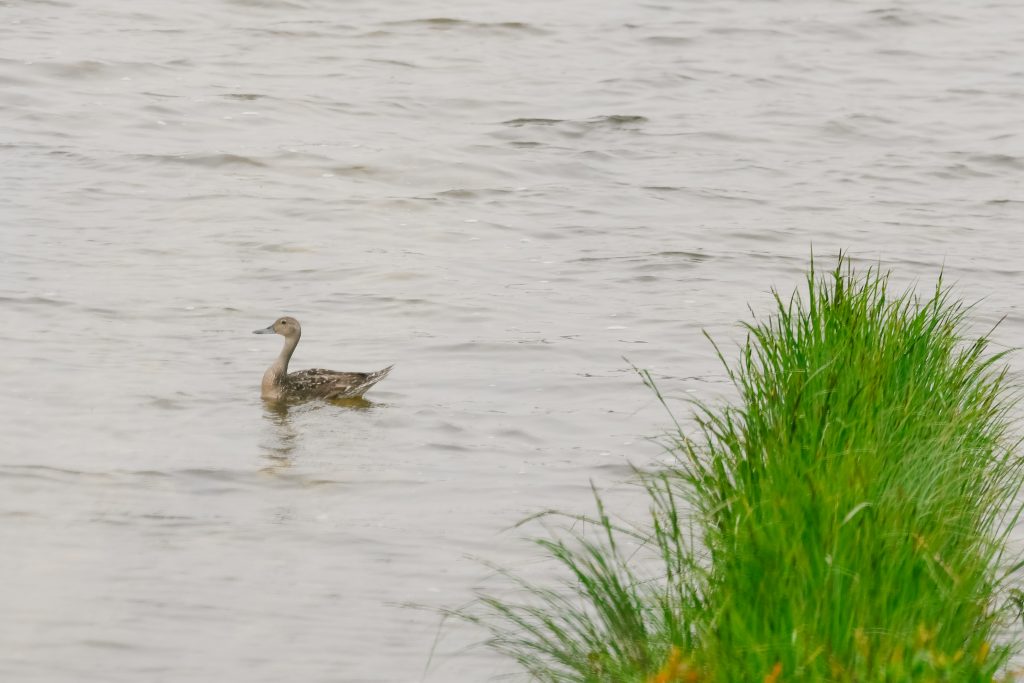 We came across a blue-winged teal with her ducklings. We stopped and watched her quickly hide her babies in the grasslands next to the lake. Then, as our interpretive guide explained, we watched Mom come back out and get in our path, faking a broken wing and swimming circles. The Mom was willing to sacrifice herself in order to save her babies, Mother Bear's instinct working in plain view. We quickly took an alternative path so as to not cause her any more worry and allow her to get back to her babies quickly and continue on down the gravel road.
Touchdown on the Tundra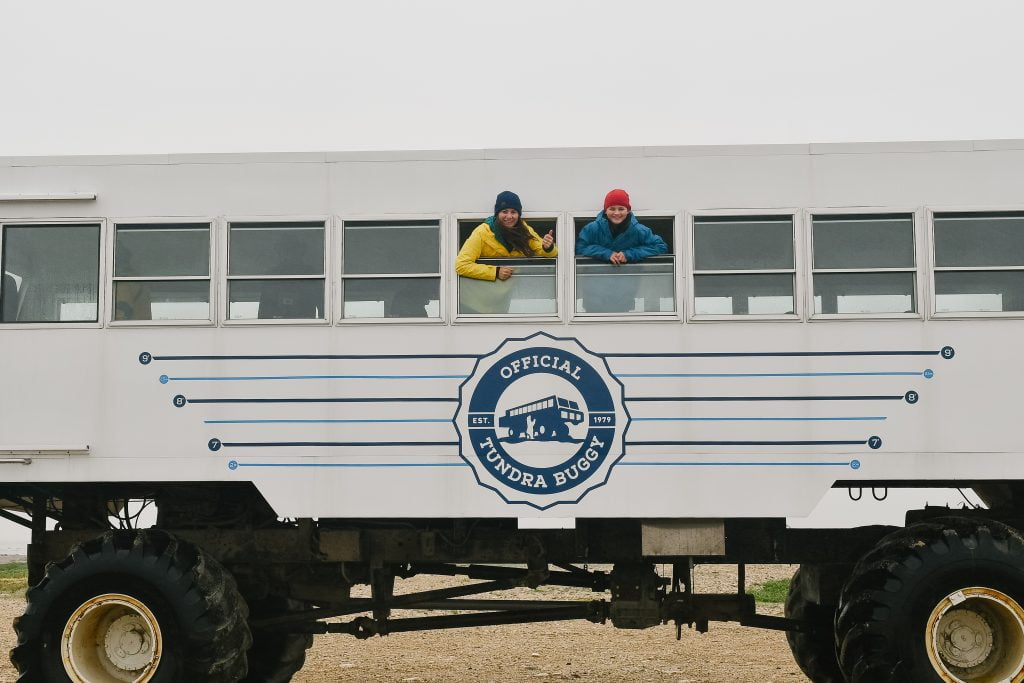 Being able to touchdown in the tundra in Churchill Wildlife Management Area is something few people are able to do. With the polar bears still out on the ice, we were able to lower the stairs and touchdown on the tundra. Being able to walk around, see the sheer size of the Tundra Buggy® from the side, as well as pose for some fun photos, was a treat.
Look Closely: See the lines with numbers on the side of the Buggy? That's to show how tall a polar bear is when they stand up next to the Tundra Buggy®! (9 feet… whoa!) They are HUGE!
How Tall is the Tundra Buggy?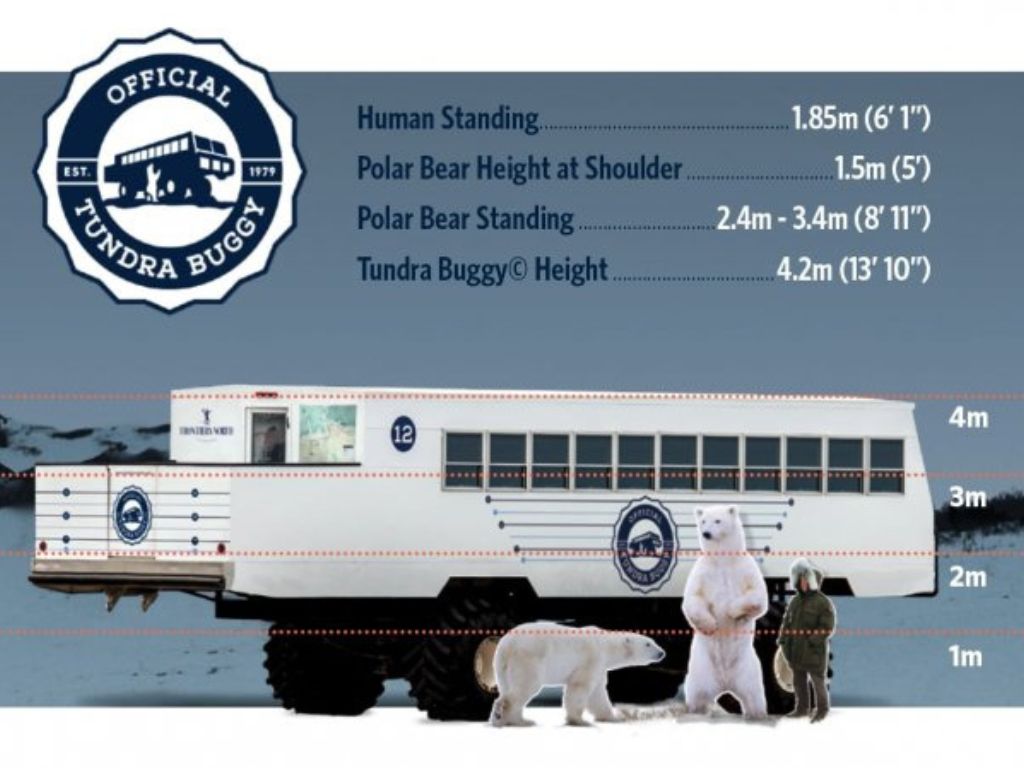 Eagle Eyes Jim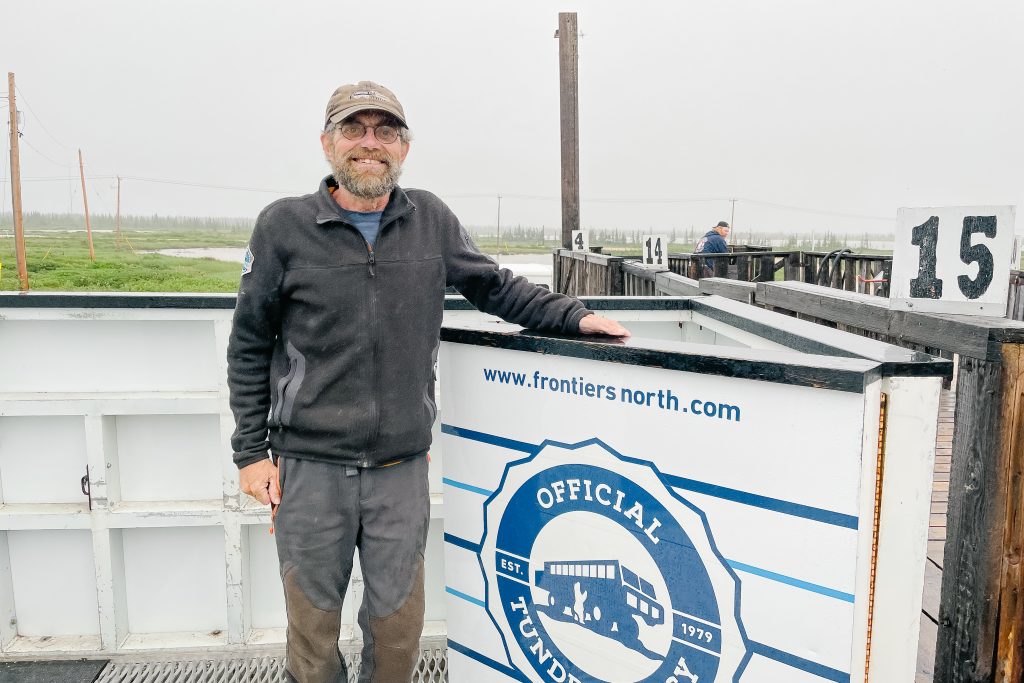 With eagle eyes darting across the horizon, Captain Jim didn't miss a movement across what looked to me like just a scenic view. Jim's eyes allowed the terrain to come to life and when tag-teamed with our interpretive guide's detailed explanations we were on a subarctic adventure with animals of all sizes around us. From the giant sandhill crane to the teenie tiny teal-winged ducks scattered in the ponds, our six-hour tour flew by as there was so much to see around every corner.
Protecting the Tundra Today… for Tomorrow…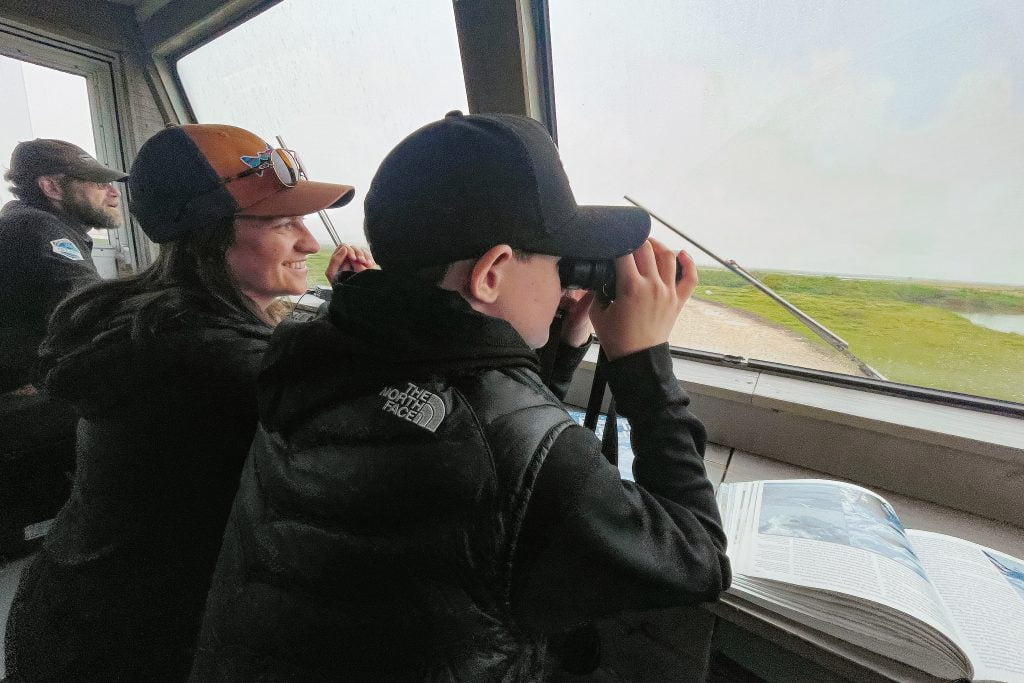 As passionate stewards of the sub-arctic region, Frontiers North Adventures are industry leaders in sustainable and regenerative travel. Frontiers North is Canada's only BCorp-certified tour operator which means they go through a rigorous process to ensure they are providing the highest level of ethical, environmentally regenerating travel experiences for their guests. Frontiers North Adventures is also a platinum sponsor of Polar Bear International investing in their research and educational outreach to support the long-term protection and conservation of polar bears worldwide.
Inspiring Fact: Frontiers North donates one of their Tundra Buggies and operating license to PBI to allow them to do in-fieldwork with scientists around the world. You can follow along and stream the polar bears live by visiting this site: https://explore.org/livecams/polar-bears-international/polar-bear-cape-churchill-cam
FAQs: Tundra Buggy Adventure
What is the best tundra buggy company to book within Churchill?
With knowing that Frontiers North Adventures is the industry leader, providing world-class leadership in conservation and education, there's no question that booking with them is the best investment you'll make when choosing a tour in Churchill. After all, they invented the experience and have been perfecting it for guests for over 30 years! Book your Tundra Buggy Adventure here.
What to pack on a Tundra Buggy Adventure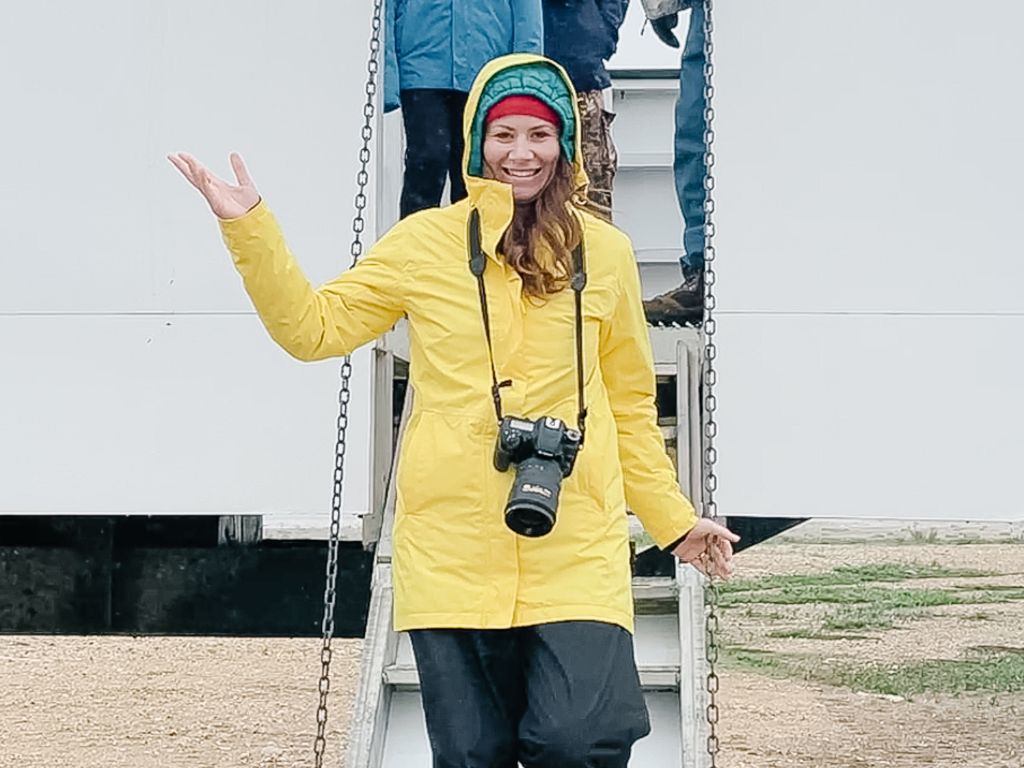 Dress in Layers: The weather in Churchill changes quickly so we always left the hotel dressed in layers. This included base layers (tank top, long pants, thin long shirt) and then a warm layer (sweater), then the outer layer (rain gear, hat, sunglasses), and of course, comfortable shoes.
Gear Guide: Most of the guests on our trip opted to bring their iPhones for photos, however, we brought a bit more gear so we could capture the moment more! For my son I bought a single-scope telescope, making it easier for him to use to spot the animals. For myself, I brought my camera and my 70-200 lens, tripod, extra discs, and extra charged batteries.
Kid Friendly Add-ons: When travelling with kids it's always nice to take into consideration their attention span and opportunities to keep them engaged. So my pack also had a deck of cards (that we didn't use, but had if needed) as well as small candy treats including a sucker and a small toy candy game, so that even when we were transitioning my son was entertained.
Are you guaranteed to see polar bears in Churchill?
There are no guarantees that residents or guests will be able to see polar bears on Tundra Buggy® polar bear tours. Tour operators can not guarantee a particular day or in a specific region as these are wild animals that roam freely through the whole sub-arctic area. However, since they converge in Churchill it is very common to see polar bears and most guests get to go home with several amazing memories of seeing these majestic mammals.
How to Book a Tundra Buggy Adventure In Churchill
Head over to tundrabuggy.com to learn more about how to plan your own epic experience out on the tundra! Have questions about our experience? Feel free to email or message me through social and I'd be happy to chat more and answer any questions you may have.
What Others are Saying:
"Amazing day buggy tour! Although we were on the tour at the end of August we were lucky to see a polar bear with 2 cubs! And our guide Kevin shared with us so much great information and experiences. Perfect!" ~H. Plechatá
"Although our Tundra Buggy tour was in July, we managed to spot a polar bear. Kevin, our driver and guide, was an amazing storyteller and kept us all entertained. A great experience!" ~F. McQuiggin
"The Driver Jim and the guide David Reid were fantastic. Very knowledgeable and willing to help you get great shots of active polar bears. Would definitely recommend as a once in a lifetime trip." ~M. Dianne
"Such an unbelievably mind-blowing adventure. The Tundra Buggy tour is an exceptional way to view wildlife in their natural habitat with minimal disruptions. The tour guide was very informative and I learned so much about polar bear behaviours. Saw a total of 34 bears over 2 days. Will come back again and recommend highly." ~E.K.
Is this a sponsored post?: Yes, this adventure is sponsored. However, our views and opinions are our own.
---
Looking for more Family Adventures in Manitoba? Check out these Articles: