Leaning out over the side of the boat and looking out over the water, I spotted a friendly set of eyes looking up from below, equally curious about what was going on at the breaking of the water. Two creatures, coming from two different worlds, intrigued by each other, wanting to see more at the waterline where our worlds get to collide. This was it, we were beluga whale watching in Churchill Manitoba!
To see one beluga whale up close would be a wonderful experience. Over 2 days we saw hundreds as we engaged with families of belugas swimming in the Churchill River. Moms and babies frolicking and playing, teenagers showing off and waving their tales, large elders slowly swimming and grazing, as most seniors tend to do. The intersection between our desire to see them was met with their playful nature. Sitting at the back of the boat we had 4 following us, close enough to the back of the boat that I could reach out and touch them!
Spiritual. Unforgettable. Uninterrupted.
As Mother Nature would intend it to be, Frontiers North Adventures has crafted an interactive animal-first focused experience by welcoming guests to Churchill, Manitoba in this engaging eco-tourism experience. Working with Churchill Beluga Whale Tour Operators Association (CBWTOA) to ensure best practices for animal encounters, Frontiers North Adventures brings you to the Polar Bear and Beluga Capital of the world, where Beluga whales come together every summer to graze on the abundance of capelin and raise their young in the sheltered waters of the Churchill River and the Hudson Bay.
As Canada's only certified Bcorp, Frontiers North Adventures is committed to being a business leader in the community they serve. They care about their employees, the environment, and their impact on the world and use their company as a force for positive change, locally and globally. They are the next generation of leaders that are relentlessly in pursuit of creating a better future for all.
Welcome to the Beluga Capital Of The World – Beluga Whale Watching Churchill Manitoba
Standing behind "Stinky" a beluga whale skull and 6-foot-long spine, Interpretative Guide Jen introduced our crew to the skeleton and kicked off our short and informational intro to beluga whales and their history in the region. Did you know that beluga snot is an important research tool? Yes, researchers collect beluga snot as it contains hormones that tell us stress levels and may even reveal the potential causes of their stress! #NowYouKnow
All Aboard The Beluga Boat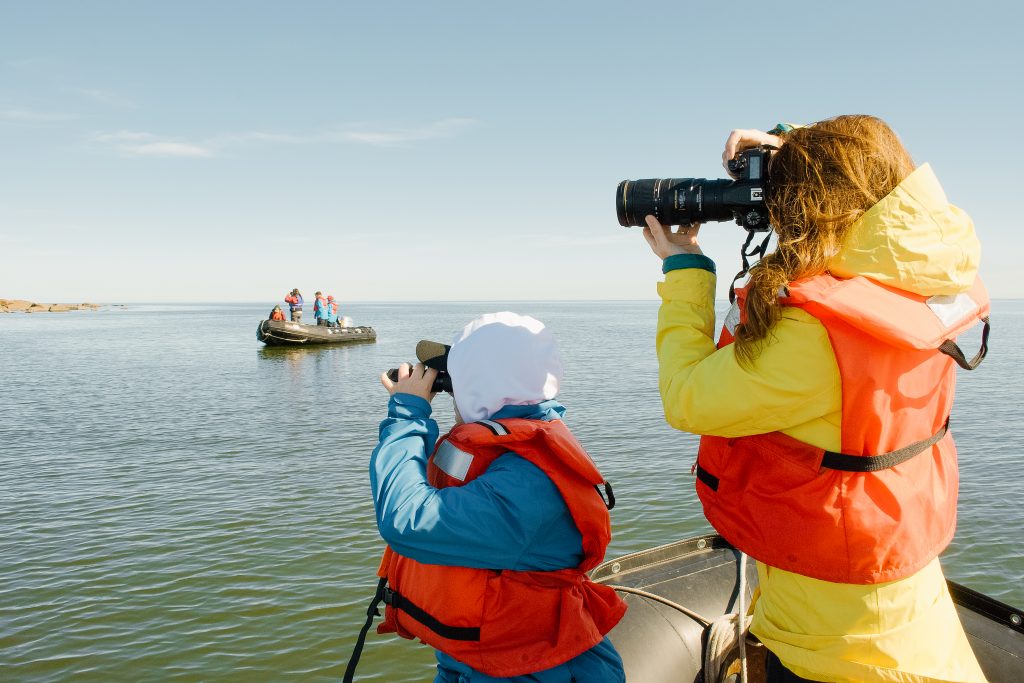 With a tug on the lifejacket, a throw of the backpack over the shoulder, and a spray of sunscreen on exposed skin and we were off, doing "sailors arms" as we loaded into the zodiac. With only ten people onboard, we had lots of room to manoeuvre around the boat. After doing beluga whale watching in Churchill Manitoba by zodiac boat, I can say this was the best way to experience the belugas as we were practically eye to eye with the animals, being right at sea level with them.
Sights and Beluga Spotting
The shiny white backs sparkle off the water, making spotting the beluga whales easy. As we slowly made our way towards our first pod of whales the boat was filled with excitement. Everyone was pointing and yelling out "over there!" and "did you see that?" as our eyes darted back and forth looking for the dashes of white. Little did we know that once our presence was known, the pod of belugas quickly made their way over to give us a proper Churchillian welcome!
Coming up right to the boat, and following us around it was clear to see we were a welcome visitor in their home. Our guide dropped a microphone down into the water and we could hear their songs. My son and I were guessing what were they saying down below the waves. "Hello, nice to meet you," I said… "What are you?" he guessed they may be wondering. Once they had said hello the belugas decided to stick around and play, coming up to say hello and showing off their tails as they twisted and turned around. Belugas are one of two whales that have a flexible spine giving them the freedom of movement like a bee darting from flower to flower at will.
What You Can Expect to See While Beluga Whale Watching Churchill Manitoba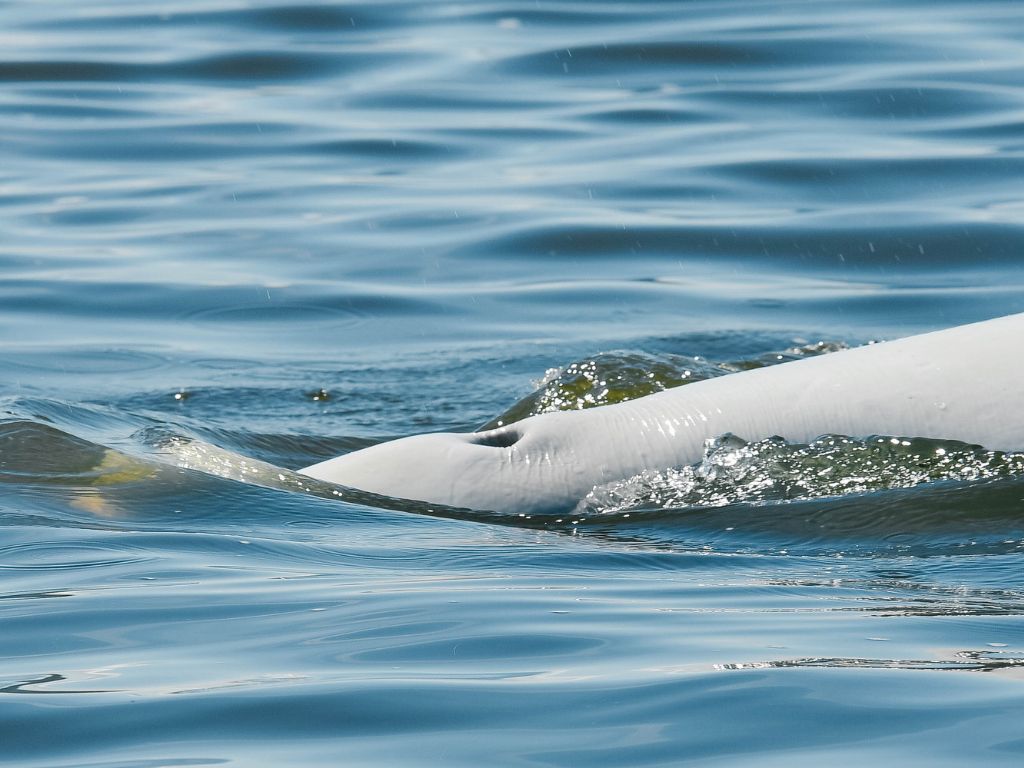 One of the things that surprised me the most about beluga whale watching in Churchill Manitoba was the sheer volume of belugas surrounding the boat. At first, I was trying to capture them all, but I had to decide to narrow it down to one area and just take photos of whales in that area. This still resulted in 1500 photos in one hour! Here are some of my top favs from the day so you can know what to expect when going on a beluga whale watching in Churchill Manitoba.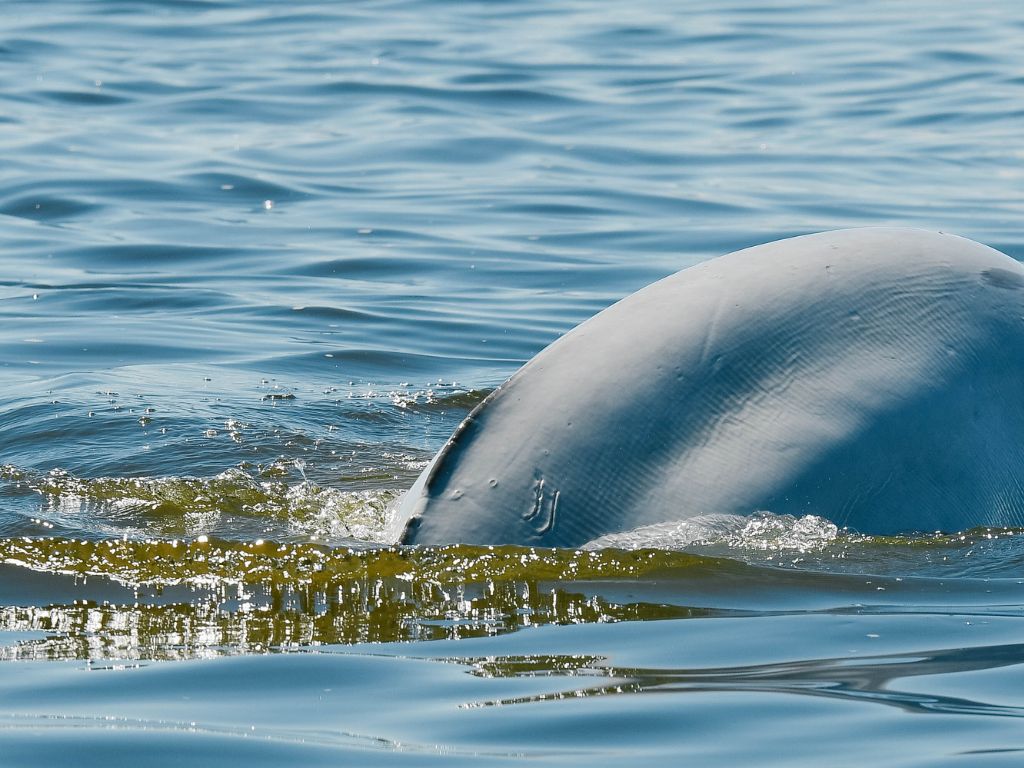 Adventure Stop – Exploring Prince of Wales Fort National Historic Site
The Prince of Wales Fort National Historic Site is a must-see for any history buff or nature lover who's visiting Churchill. The fort, which was built in the 18th century, took 40 years to build! Situated in the middle of a tundra you can see why construction was so difficult. The worst part is that it was only used for 10 years before being destroyed by the French!
While there you explore the rooms that used to house up to 40 men, who survived the harsh life under extreme weather conditions. Head up to the top and overlook the Hudson Bay and Churchill river through the firing holes cut out for the canons. The park surrounding the fort is a great place to see Arctic wildlife including polar bears and in the summer months, the Churchill River is teeming with beluga whales. No matter what time of year you visit, the Prince of Wales Fort is sure to offer an unforgettable experience.
Where Can I Interact with Beluga Whales?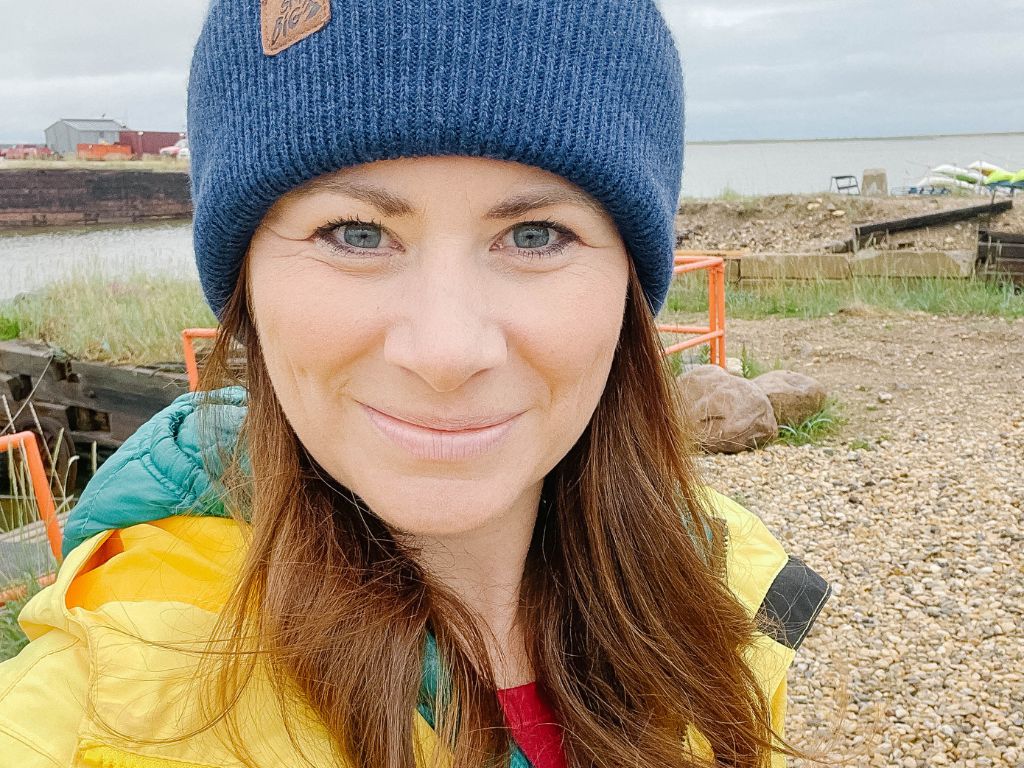 While you can spot the whales from shore there's nothing like being out on a boat in the middle of the water, surrounded by whales. From watching them play to leaning over the side of the boat to blink eyes, to seeing them take in their own facial behind the boat prop, these close encounters are the best way for you to interact with belugas when in Churchill.
What to Wear on a Beluga Watching Tour
The weather out on the water can change, we saw rain one day, while we were in the hot sun the next. For both days we opted for layers:
Baselayer

Sweater / Mid layer

Rain pants / Rain Jacket

Bug net in the bag (in case the bugs came out to do some human watching / snacking)

Hat

Sunscreen

Tip money for Guides (standard tip is recommended at $10 per person)
What Gear to Bring on a Beluga Whale Watching Tour
There's a balance to be struck when heading out on an excursion like this… if you're into photography you'll want to capture some photos of these beautiful creatures. If you like video content you'll want to capture that and be able to relive the moments. However, be sure to also take time to just sit back and enjoy the experience and the absolute magic that surrounds you.
For this experience we brought:
70 – 200 lens set at F 2.8 1/2000 and continual shooting so I could get action shots.

Hand-held single binocular (pocket-sized so it was easy for my son to use)

iPhone – Which I dunked many times to get underwater shots (NOT recommended!)

GoPro – My guide had a GoPro which he trusted (eeeek!) my son to put below the boat and do some shooting. For best shots, sunny days help get more light below the water, so we noticed a big difference in video quality between an overcast day vs. a sunnier day.
But is it Over? What to do When your Beluga Whale Watching Churchill Manitoba Tour is Over
If you have time in your itinerary I'd recommend heading up to the rooftop patio on shore and bringing a picnic lunch to hang out and watch the whales while you eat. Being able to look out and see belugas never gets old so by extending your time near the water you get to enjoy the experience even more!
What are the Other Ways to See Belugas in Churchill?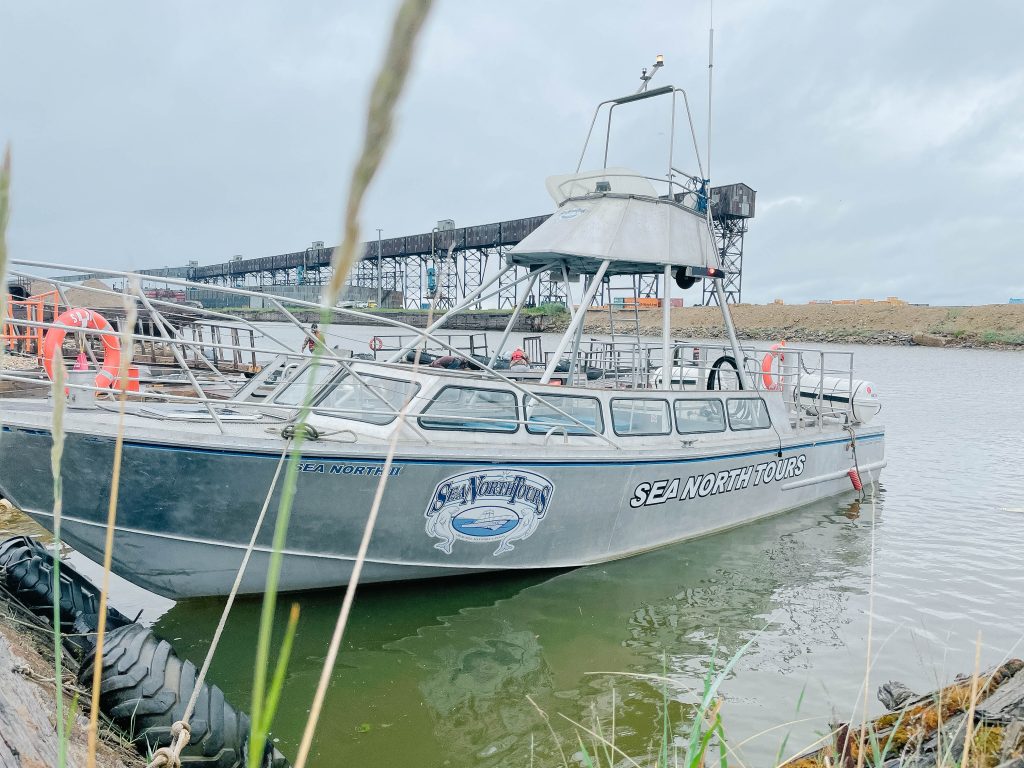 Whether you're more comfortable in a big boat, or want to get real up close and personal on a kayak or SUP, there are multiple ways to get out on the water to interact with beluga whales in Churchill.
FAQs About Beluga Whale Watching in Churchill Manitoba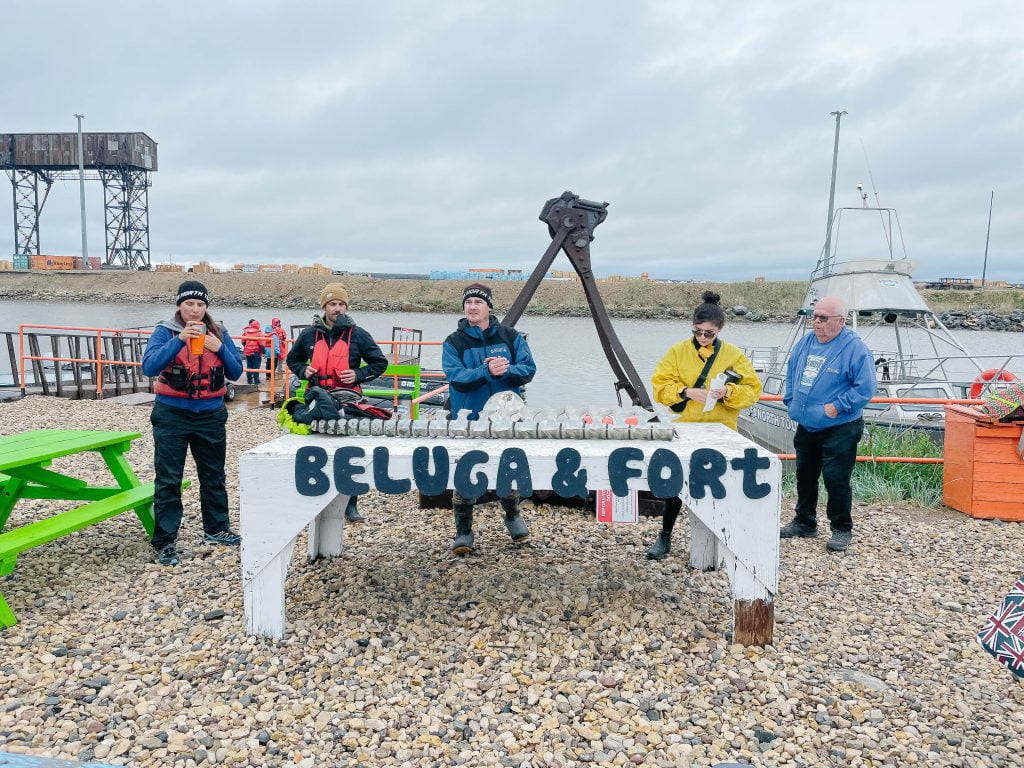 Can you see belugas in Churchill?
As you can tell from this experience, yes, you can see belugas in Churchill. Whether you're in town and watching from the beach or going for an immersive experience that brings you up close and personal with these beautiful creatures, if you visit Churchill in the summer you're practically guaranteed to see hundreds of belugas.
Where is the best place to see belugas?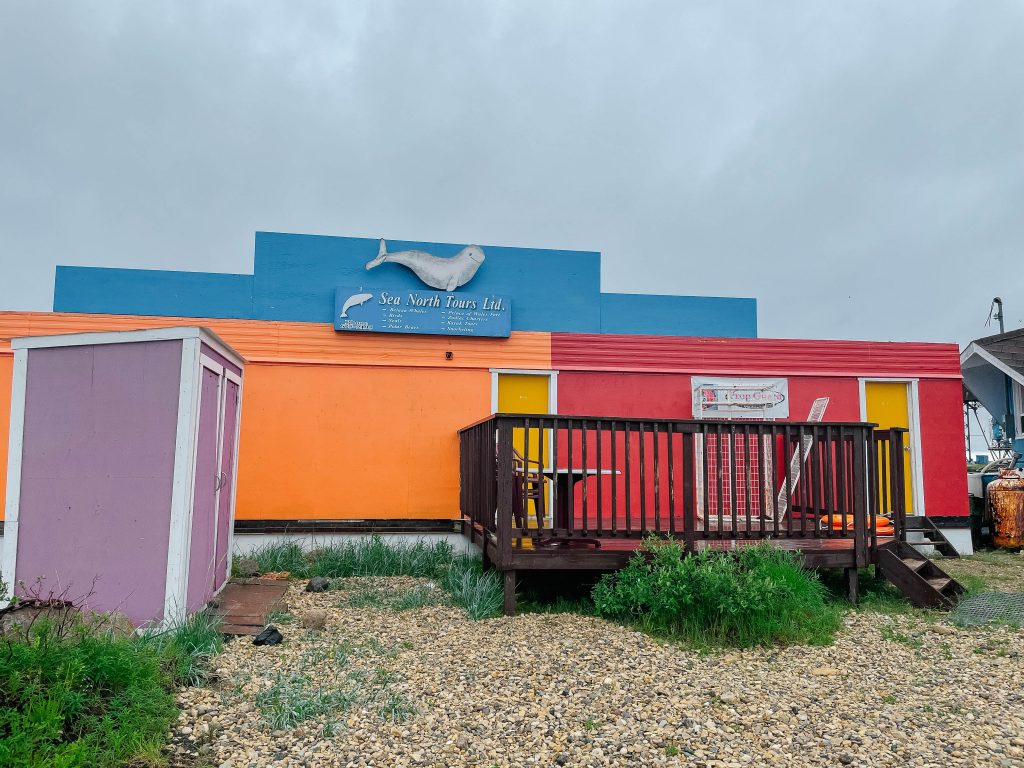 Churchill is known as the beluga whale capital of the world with 47,000 belugas making their way into the Hudson Bay each year and 4000 visiting the Churchill estuary, making Churchill the best place to see Belugas during the summer months.
When do you see beluga whales in Churchill?
The best time to go to Churchill to see beluga whales is during the summer months when they are playing in the Churchill Estuary. The second half of July and the first half of August is when beluga visitation is at its peak so it's best to plan your trip during that period.
Can you swim with belugas in Churchill?
Are you looking to go swimming with belugas in Churchill Manitoba? For the safety of both the animals and the guests, swimming with belugas in Churchill is no longer an option. There are various other ways to interact with these "Canaries of the Sea" though, so don't worry you can still fulfil your Beluga Bucketlist!
Is this a sponsored post?: Yes, our beluga whale watching Churchill Manitoba adventure is sponsored. However, we take the responsibility of shared posts VERY seriously and only work with partners we can wholeheartedly recommend and services we would purchase ourselves.
---
Looking for more Family Adventures in Manitoba? Check out these Articles: