We were strolling down the streets of Powell River, window shopping and checking for souvenirs when we came across this sign:
West Coast Thick … hmm… worthy of checking out for sure!
Inside we were welcomed to the coolest boutique shop I'd ever seen! Everywhere I turned I was surrounded by custom designs featuring mountains, wildlife, and outdoor activities, all focused on the local Powell River Backcountry! Colours of blues, greys and greens jumped off the shelf and designs made you tilt your head and pulled you in to read more. T-Shirts of the softest touch and cozy sweaters made you wanted to try them all on.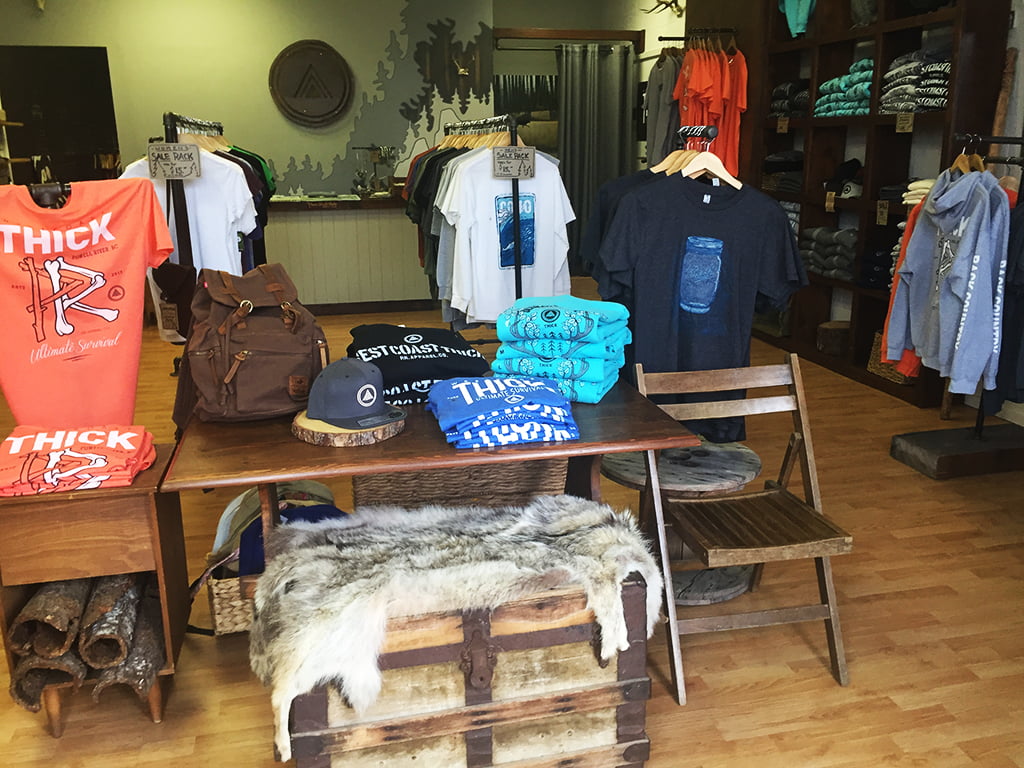 I was on serious sensory overload. Adventures AND clothing in one store? It's like the store was made for me!
The store owner Jeanette came over and introduced herself. While she was happy to help us as potential customers, her true passion is for Powell River backcountry, so she was excited to grab her map and start showing me family-friendly trails that we could check out. So yes, she pretty much made it to the top of my favorite people list right away. (Keep in mind, at this point she had no clue about me or my blog)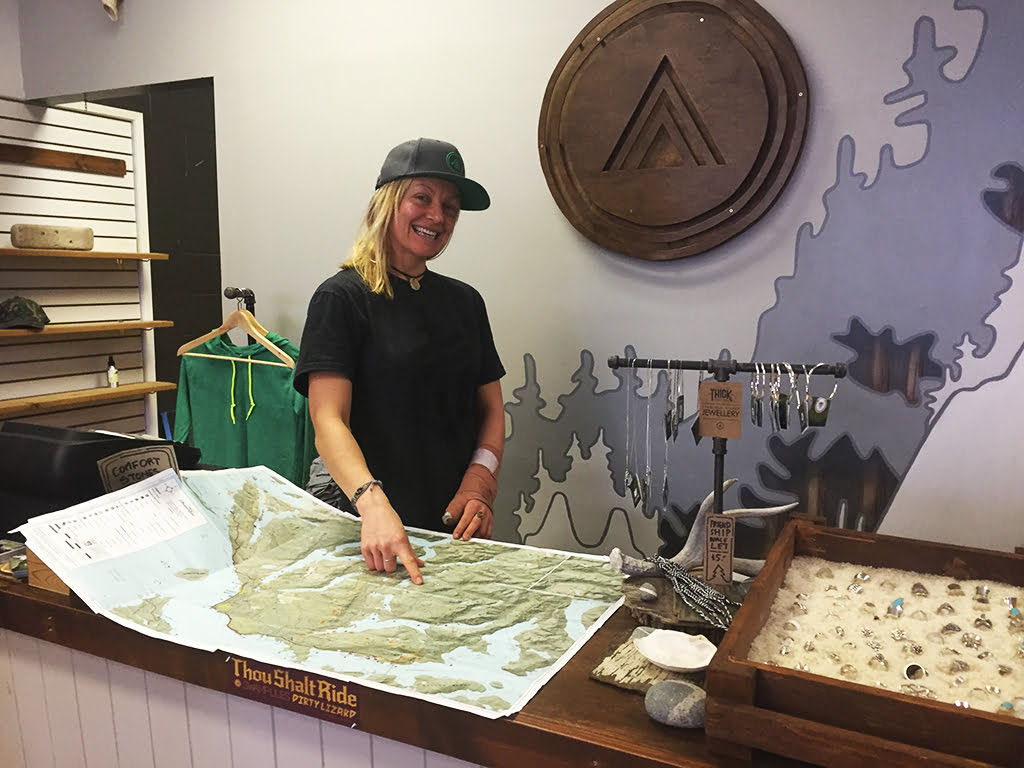 Once I saw her passion for the outdoors and learned how she had turned it into this badass business, I knew I had to learn more. Two trips and hours later I've narrowed it down to the top five things I adore about Jeanette's store:
Locally Owned
This store is as grass roots local as they come. I love that she's a female entrepreneur who's taken her passion and turned it into a thriving business. On her website she states, "OFTEN IN LIFE TO MAKE THE THINGS YOU DREAM OF HAPPEN, YOU JUST HAVE TO JUMP RIGHT INTO THE THICK OF IT!  READY OR NOT."
Locals supporting Locals
The T shirts are made locally. Literally. They are designed in house and then made two doors down the street. 
Powell River Centered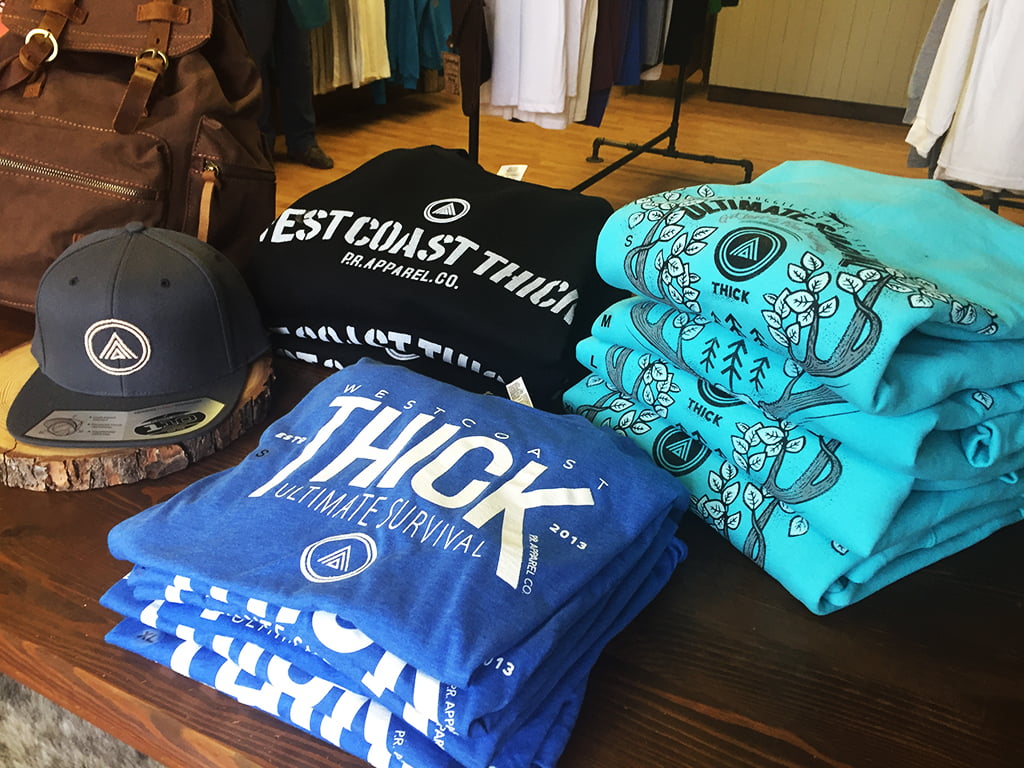 The whole focus of the store is Powell River backcountry. I don't think I've ever been in a store that was so centered on one niche, nor screamed community pride like this one!
Passionate about sharing the outdoors 
The fact that her priority when meeting me was not to sell me clothes, but on how to get my kids to experience Powell River's backcountry, gave her A's in my book. It was like a clothing store and a visitor information centre all in one! This is what happens when passion and purpose collide.
Custom graphic design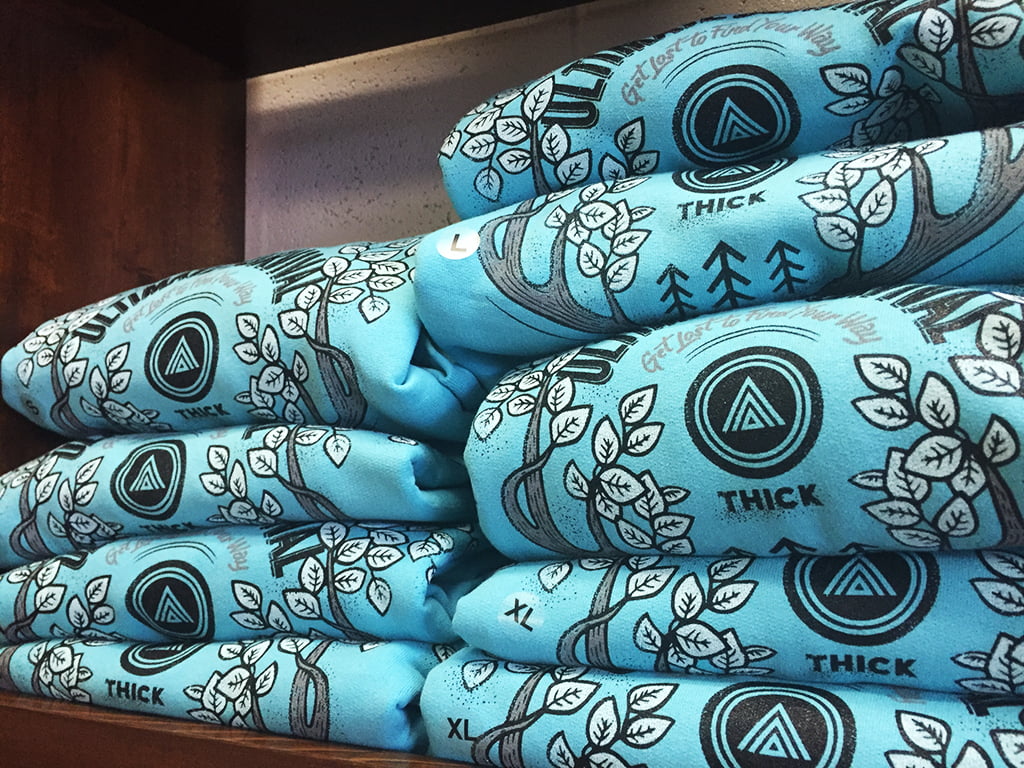 I loved that all of the designs were named after mountain biking trails, mountain peaks, or back country hangouts. And the designs are just damn cool.
So whether you're heading to Powell River to check out the Sunshine Coast Trail, visit Desolation Sound, or head straight for the hills, be sure to plan a stop at the West Coast Thick store!