Have you ever had to sit through a holiday slide show?
Many of you might be too young to remember, but there was once a time where the only way friends and family could share memories of their travels was to turn their film into slides and project them onto a screen, often accompanying each slide with a drawn-out explanation. It certainly wasn't riveting, but what could you do? This was all we had…
Nowadays, the options for travel photography are endless. For those so inclined, SLR cameras have never been more advanced or more economical. And if the professional route isn't your cup of tea, we all have an amazingly powerful camera built right into the back of our phone, with seemingly endless storage space thanks to the cloud.
While it's great to have the ability to take photos of our travels anytime, anywhere without concern of remaining film, storage space, or the cost of putting the picture on a slide, all these technological advances have created a new problem…
What to do with travel photos?
I am sure many of you have returned home from a family holiday with hundreds of great pics sitting on your phone or memory card. But what comes next? If you're like most, the unfortunate realty is that these images forever live on your phone, only being enjoyed during the occasional deep dive of your photo library while killing time waiting for an appointment or on the train.
Well, as a travel photography lover, I am here to tell you that it's time to set your photos free! Travel memories are special, and they deserve to be shared and enjoyed well beyond the limits of a 4" screen. And doing so is a lot easier than you may think…
To get you started, here are my Top 9 Tips for What to Do with Travel Photos:
1. Make an "Instagram Wall"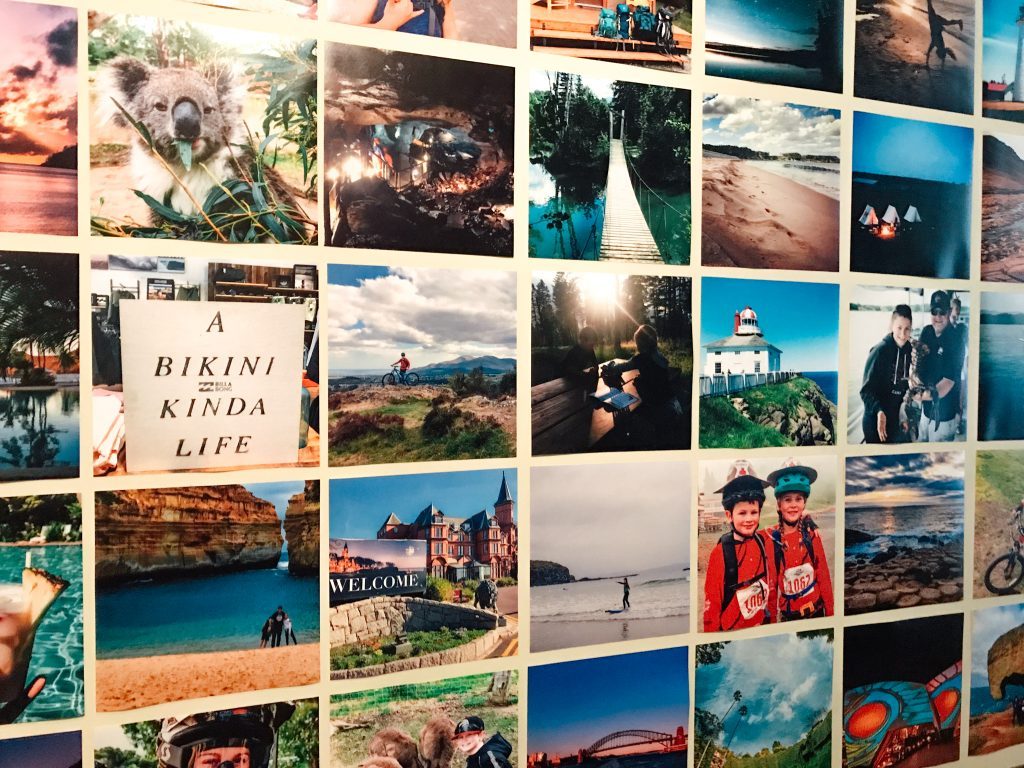 One of the easiest ways to enjoy your travel photos is to get them off your screen and onto the wall.
I recommend creating an "Instagram Wall" each time you return home from a trip. Sit down with your family and go back through your IG feeds from your holiday. Let everyone pick out their favourite posts, and compile them into one file. Send this file off to a local print shop and have them turn each one into an 8×8 inch square.
Once ready, get the family together and find a wall to decorate (our family selected a special wall in the basement just for this purpose). Put a loop of tape on the back of each image, and start building a grid. In no time you'll have a real-life social media feed dedicated to your most recent travels, and one you can enjoy each time you're in that part of the home. And best of all, this great decorating opportunity is super cost effective, with 8×8 prints usually going for no more than $0.10 apiece!
2. Create a Panoramic Poster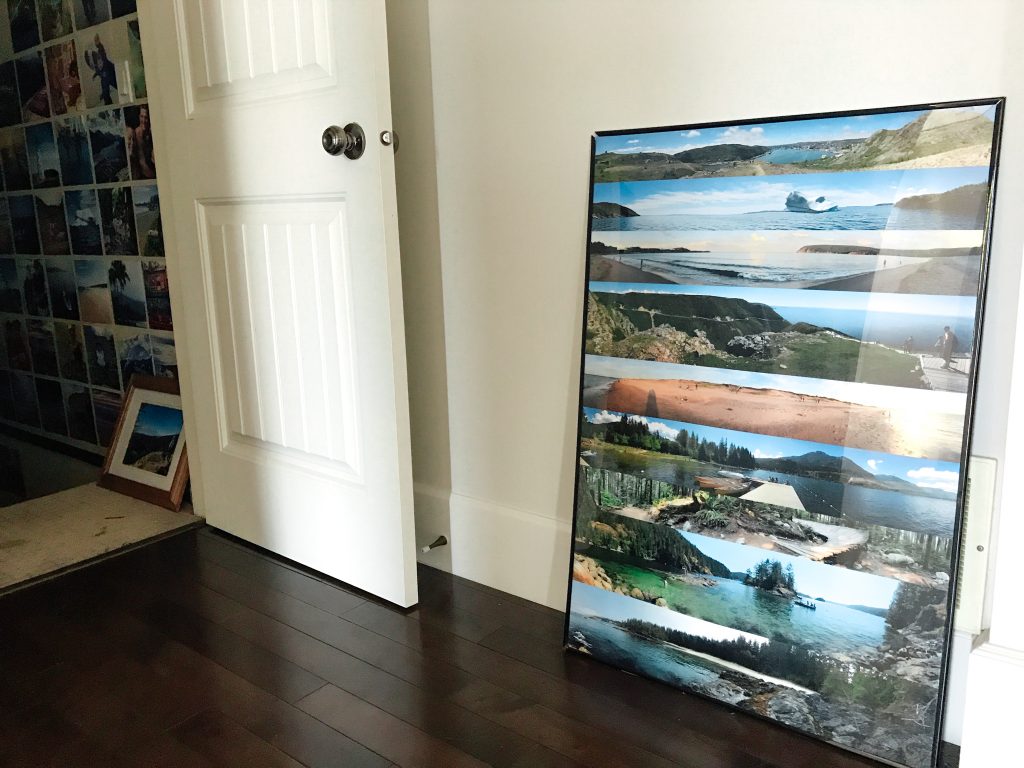 One of the best features to come out of modern photo camera technology is the ability to take beautiful panoramic photos in just seconds. But like many of our photos, these often remain stuck inside your phone for eternity.
Why not bring these beautiful travel photos to life by creating a panoramic poster?
Years ago, I purchased a simple 2×3 foot frame and found a great space to hang it up. Then once a year, I select my favourite panoramic shot from one of our trips and have it printed out professionally. I swap the poster into the frame, and then have a full year to enjoy the beautiful, wide-angled memory every single day.
3. Take a "Professional" Family Photo Each Trip
One thing I insist on every time my family travels is ensuring we capture at least one professional-looking family photo. Of course, there is no need to hire an actual professional photographer – just ask a tour guide or friendly local to snap it on your camera. But take the time to scope out a beautiful local backdrop, and ensure everyone packs an outfit worthy of the photo opp.
It takes but a few minutes to snap 10-15 family photos in various poses, ensuring you end up with at least one or two great shots. Upon return, these images are perfect candidates to blow up and frame around your home!
4. Update the Frames Around the Home
Speaking of frames, your travel photos can serve as perfect updates for the frames around your home. While we often think of a framed photo as forever, why not refresh your frames with each trip?
Pick out the highlights from your last journey and get them printed out on 4×6, 5×8, and any other frame sizes you have around the home. Then go around and swap them out accordingly. You'll be amazed at how fresh your décor will look with these simple changes, and how much more you'll enjoy your pictures when they're out on display.
5. Make Family Photo Albums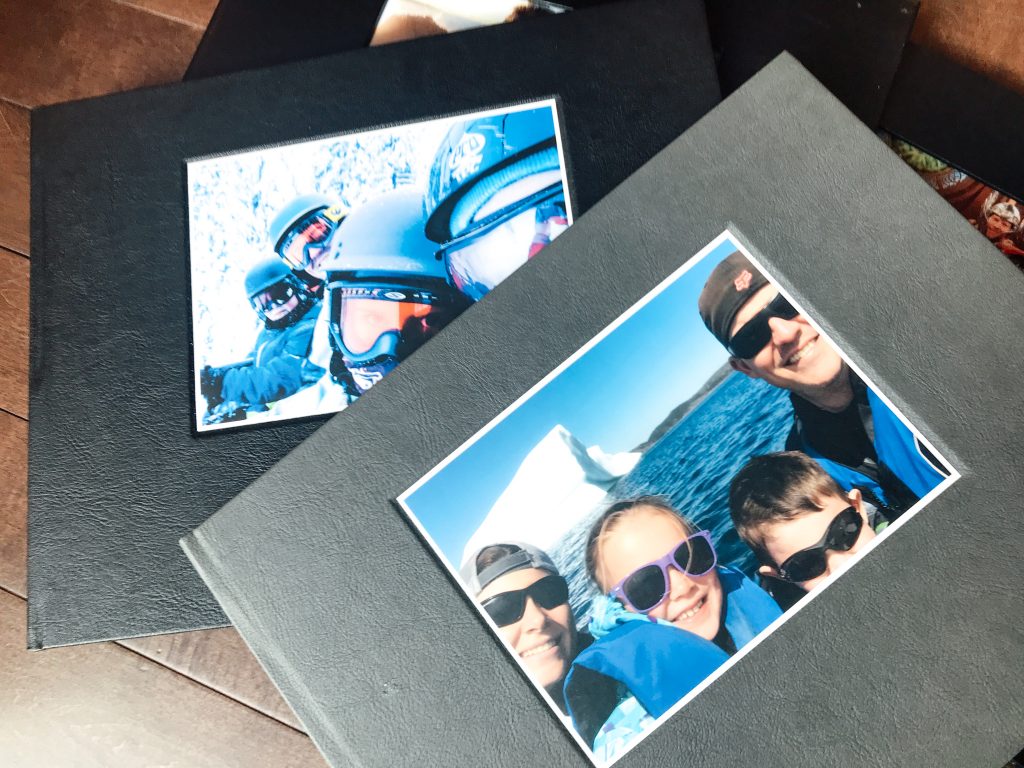 When thinking about what to do with your travel photos, be sure to include making a family album on your list. While the idea of a photo album may seem a bit outdated, technology has actually made the photo album relevant again. There are many great online print services where you can upload your photos and build a custom album with just a few clicks. Edit, arrange, resize, add stickers, captions, and more – these tools allow you to customize until your heart's content. When ready, print out a couple of 11×15" albums and share them with your family!
Mom Tip: you'll often find great deals on these albums around the holidays. Keep your eyes peeled and you'll be able to save significantly…so much that you can afford to give you kids each their own album. Over time they'll build a tangible collection of books that they can look back on for the rest of their lives, remembering each amazing trip you took together.
6. Mail Photos to Family and Friends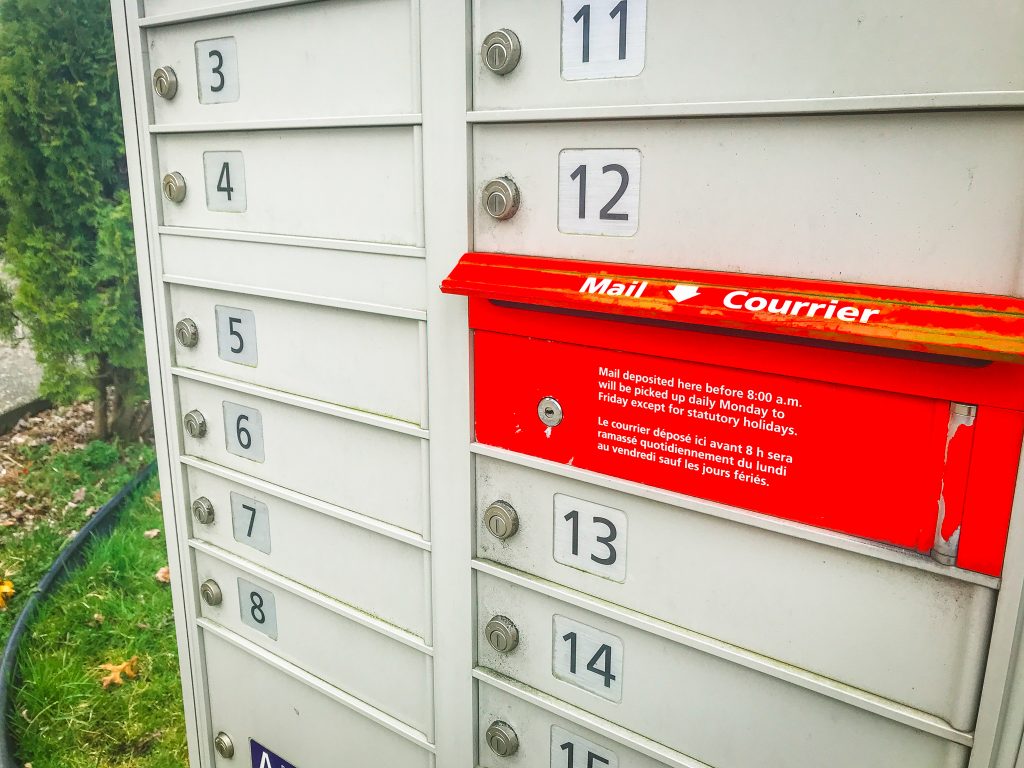 Just as photo albums are in again, so is sending mail. Who doesn't love to receive a piece of mail from a loved one? It's so rare and refreshing these days!
When you return from a trip, print up some inexpensive travel photos and send them out to your nearest and dearest. I can tell you from first-hand experience that grandparents absolutely LOVE receiving holiday prints in the mail. And since it costs but a few dollars, why not go ahead and share a stack of memories with all those you love?
7. Give Your Kids a Stack of Photos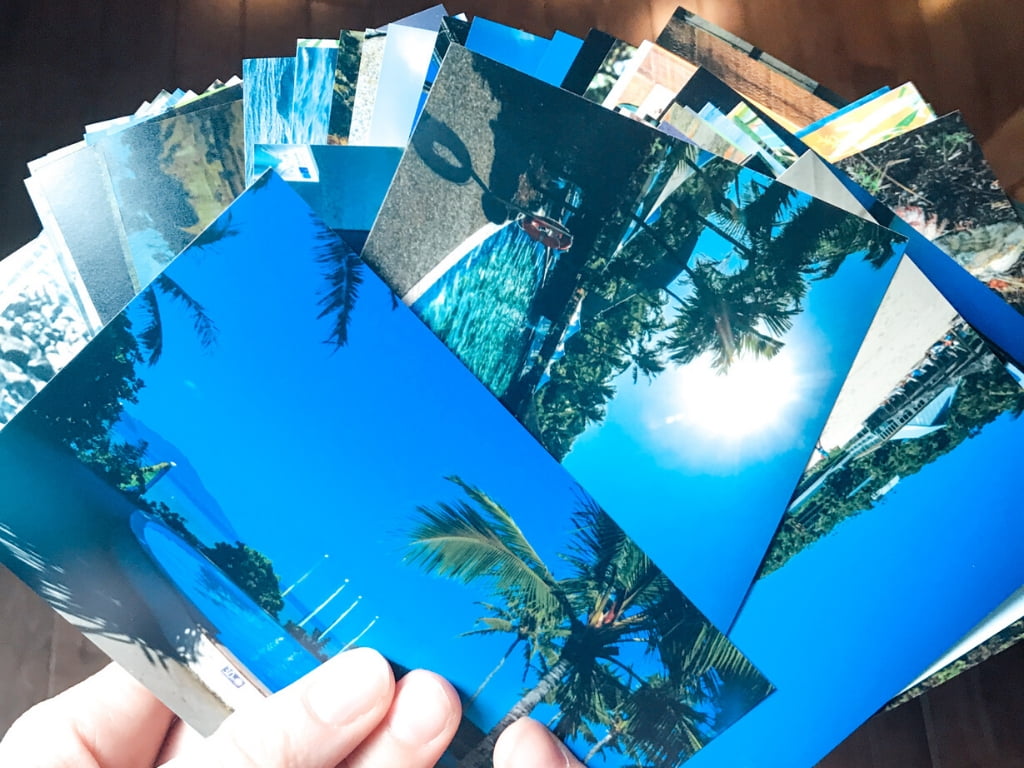 While printing off a stack of travel photos to mail out to loved ones, be sure to print a stack for your kids as well!
I love giving each of my children a stack of pictures every time we return home from a trip. I make it clear that these images are completely theirs, and that they are free to do whatever they like with them. They've used prints to decorate their rooms, cut-up for scrapbooks, and even included some in school projects. And in the process, they get to revisit and review our trips together, further cementing the memories we created as a family.
8. Print Off Show Stoppers
Because they serve as reminders of incredible places you've been and things you've experienced, travel photos are perfect candidates for large, show-stopping pieces of décor in your home.
My husband and I chose to allocate the large wall behind our headboard as home for such a travel show stopper. Every few years, we pick out a new favourite image from one of our adventures, and send it off to have it printed into a large 5ft x 3ft poster that we hang above the bed. There's nothing more magical than walking into a space and being greeted by an amazing bold print you took. Not only does it look great, but it serves as a daily reminder of the incredible moments and memories we've experienced traveling together.
9. Create a Family Photo Tradition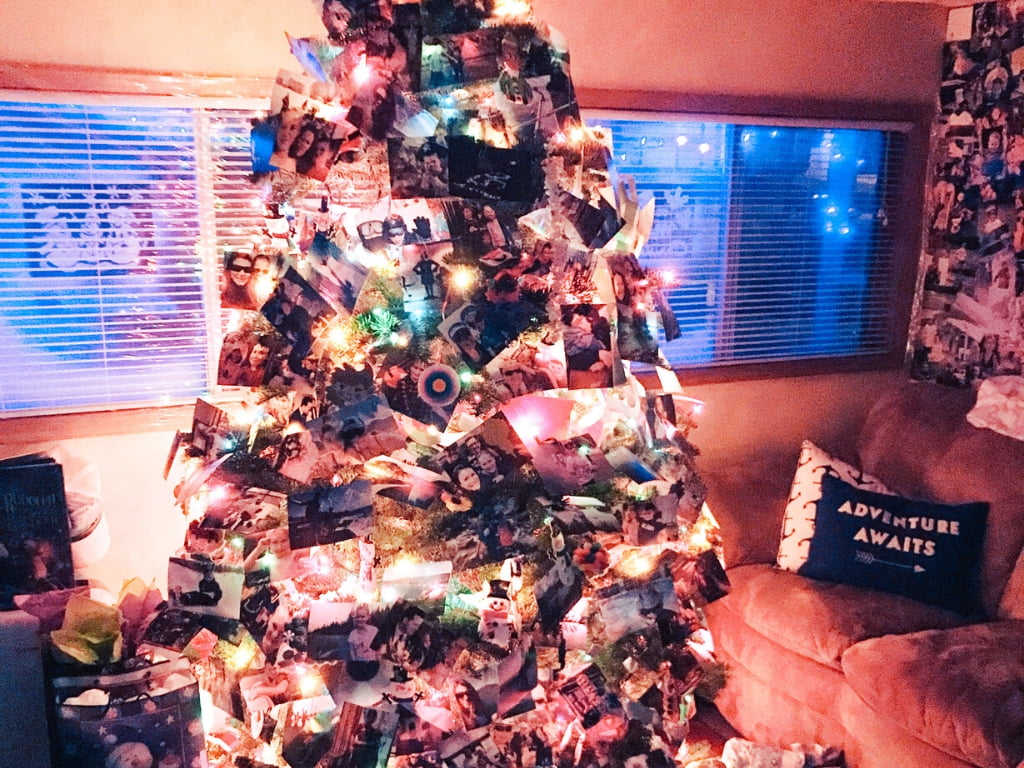 One of my absolute favourite things to do with travel photos is to create a new holiday tradition. For us, it's holiday photo Christmas tree ornaments. Every Christmas Eve, I hand-select a special travel photo for each member of my family, and attach an ornament hook. We then pass out each of these photo ornaments and go around in a circle sharing our memories from that specific moment and that specific trip. Afterwards, we hang the image on the tree to enjoy for the rest of the holidays.
Not only does it warm our hearts to share the memories of our annual adventures, but it reinforces a mindset in our home that it's more important to invest in experiences than things. By revisiting all our amazing family adventures, our kids get a nice reminder that while we may not put a ton of tangible gifts under the tree, the real gift we give ourselves throughout the year comes in the form of incredible lifelong memories of our journeys.
Bonus Travel Photo Tip: Manage Your Library As You Go Along
One of the main reasons many people fail to do anything with their travel photos is that the task can sometimes feel daunting. A way to make things easier on yourself is to manage your photos day-by-day. As we're settling in each evening on our trip, I like to spend a few minutes going through each photo I took that day, deleting the ones that didn't turn out well or that I know will never be used. This ensures that by the time we're on our way home, my library is filled exclusively with quality photos I love.
For those really looking to get a jump on things, you can upload this clean library of images while waiting at the gate for your flight (airport wi-fi willing, of course!), and send them off to get printed before you even leave your destination!
As you can see, figuring out what to do with your travel photos doesn't have to be difficult.
There are a ton of ways to get your travel pics out of your phone and into a space where they can be enjoyed for many years to come. You don't have to spend a lot of money on large scale prints or fancy frames. Just be creative and remember that there are no wrong answers.
Travel photos are meant to be enjoyed, so get out there and start snapping and sharing yours!
---
Interested in learning more about our adventures? Check out the blogs below!
Is this a sponsored post?: No, we just wanted to share our tips for what to do with travel photos!