Hands up if you find yourself looking for ways to escape winter. I often find people use their vacation days to seek refuge from the cold, snowy season. But what if instead of running from it, we embraced it—even just one time.
That's what we wanted to do. We wanted to immerse ourselves in a Canadian winter. To experience part of Canada in the season it is most famous for and, on our way, discover the best of the activities and adventures it has to offer. Starting in Ottawa, we went a little bit North, and whole lot East, as we made our way to Quebec City. What we found far surpassed our expectations of what winter can be—as long as you bundle up for the occasion. I'm so excited to share it all and help you to plan your own Canadian winter road trip.
Winterlude Festival in Ottawa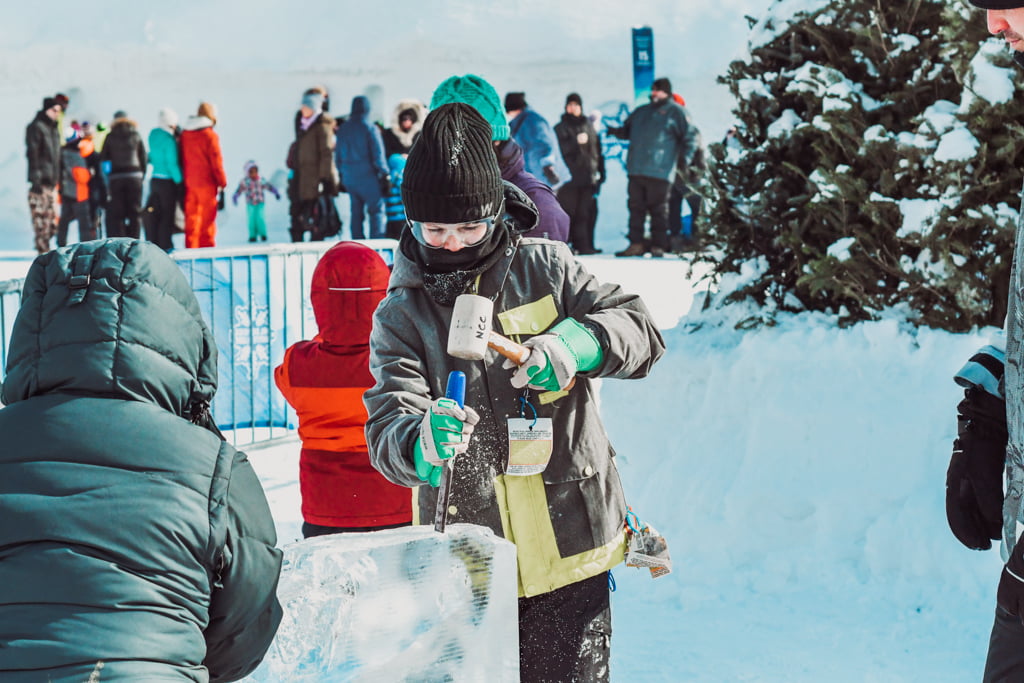 We kicked off our trip in our nation's capital during their winter festival, Winterlude. It is Ottawa's family-friendly, interactive festival that takes this cold, snowy time of year and turns it into a party. There is something for everyone to enjoy and we have the guide to help your family get the most out of your time there.
Skating on the Rideau Canal
We strapped on our skates and took to the ice on the largest naturally frozen ice rink in the world. The Rideau Canal winds 7.8 km through Ottawa and this year marked its 50th season open for skating. It is historic, iconic and had been on my own mother's bucket list for years. Helping her check this particular item off her bucket list was a huge highlight of this trip for our family.
Parc Omega
It was time to say goodbye to Ontario and move on to Quebec. Our first stop was a visit to some of Canada's resident wildlife at Parc Omega. We drove through the park's trail, spotting all kinds of curious animals who came right up to our car looking for carrots and attention. It was such a great way to see and interact with this piece of the natural world.
Ice Fishing
I wasn't exactly jumping up and down with excitement to go ice fishing—but my son was! So while I went a little bit begrudgingly, by the end of our hands-on adventure with wonderful guides in a picturesque setting in Quebec, I had changed my tune. If only this fish would bite!
Indoor Skydiving at Sky Venture Montreal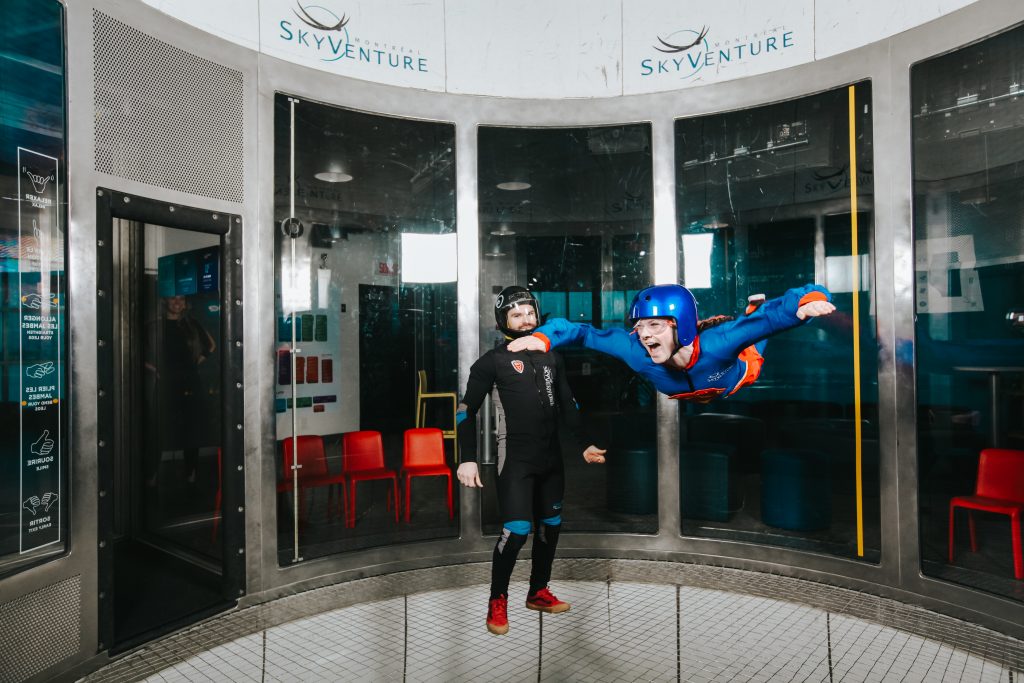 Our adrenaline was still pumping hours after this adventure was over. All four of us donned flight suits and defied gravity in this truly one-of-a-kind free-fall experience. The best part? Nobody had to actually jump out of a plane.
Maeva Surf Indoor Surfing Experience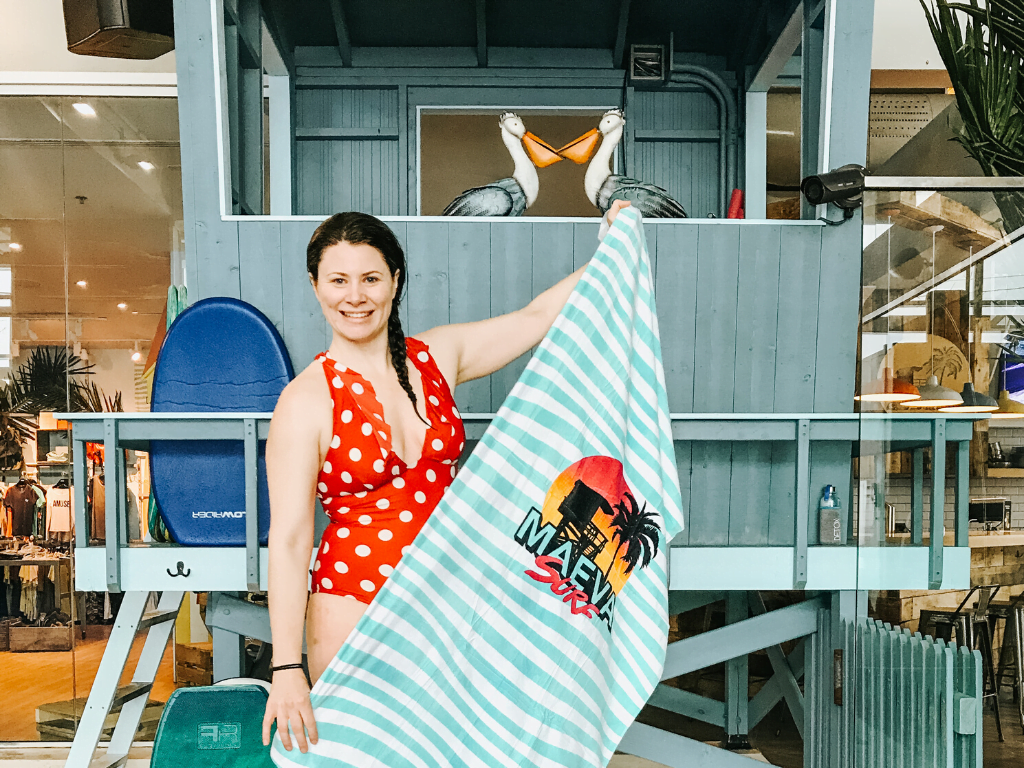 We may have been on a winter road trip but that didn't mean swimsuits and surfing were out of the question. Maeva Surf welcomed us in for a little beach time at their indoor surfing facility. We played hard on the waves and, of course, had a good wipeout or two.
Chalets Lanaudière
The perfect combination of outdoor winter fun and cozy cabin time. From snow-tubing and snow-shoeing to board games and a crackling fire, Chalets Lanaudière will give you all the feels of being the main characters in a wintertime storybook. This is a place where memories were made.
Snow Tubing at Les Super Glissades St-Jean-de-Matha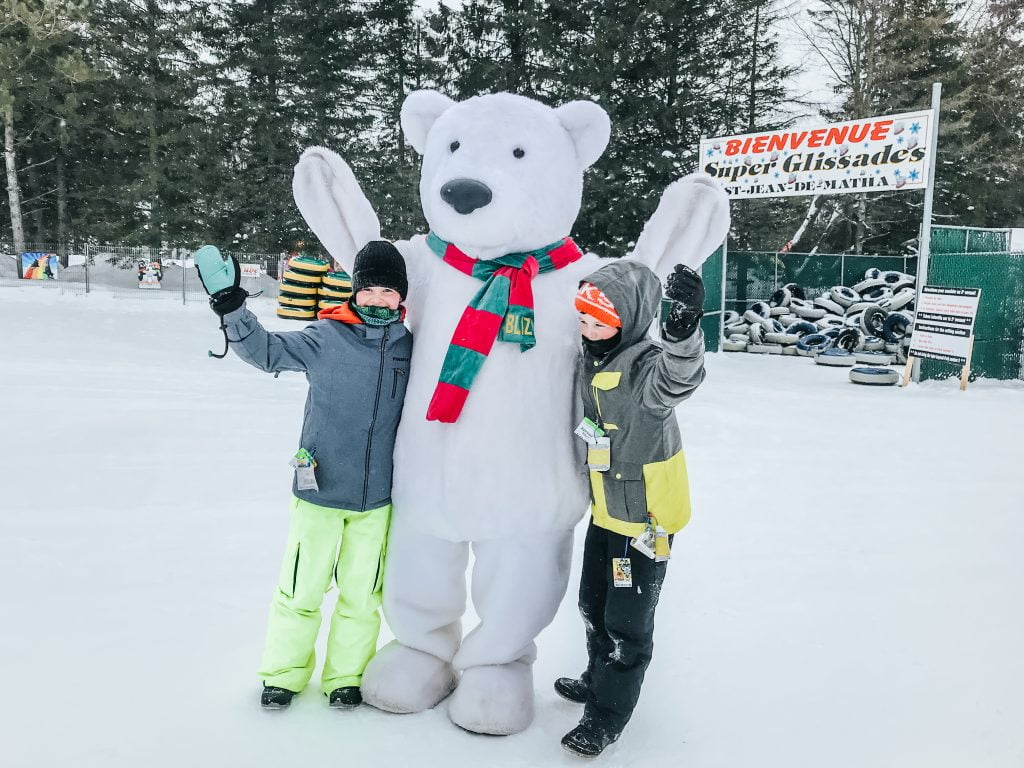 Have you ever seen a snow tube that holds up to 12 people? Neither had we until we discovered Les Super Glissades St-Jean-de-Matha. This was a snow-tubing adventure like nothing we had ever seen before. From gentle slides to high-speed downhill thrill-rides, it was not just the kids having fun.
Le Baluchon Éco Villégiature
Have you ever built something up in your head so much that when you finally experience it, it is disappointing? This was NOT one of those times. I have dreamed of visiting Le Baluchon Éco Villégiature—an eco-driven resort—for many years. Experiencing it first hand was nothing short of a dream. They have beautifully integrated the resort experience and the outdoor world. I challenge anyone to visit and not leave with a renewed perspective on living wonderfully and harmoniously with nature.
Skating Through The Forest in Quebec
An old favourite winter activity with a new twist. Trails of the most pristine ice curved through the forest at Patinage en Fôret. It was such a unique way to immerse ourselves in the Hardwood Forest of Quebec. Put simply, it was magical.
Hôtel de Glace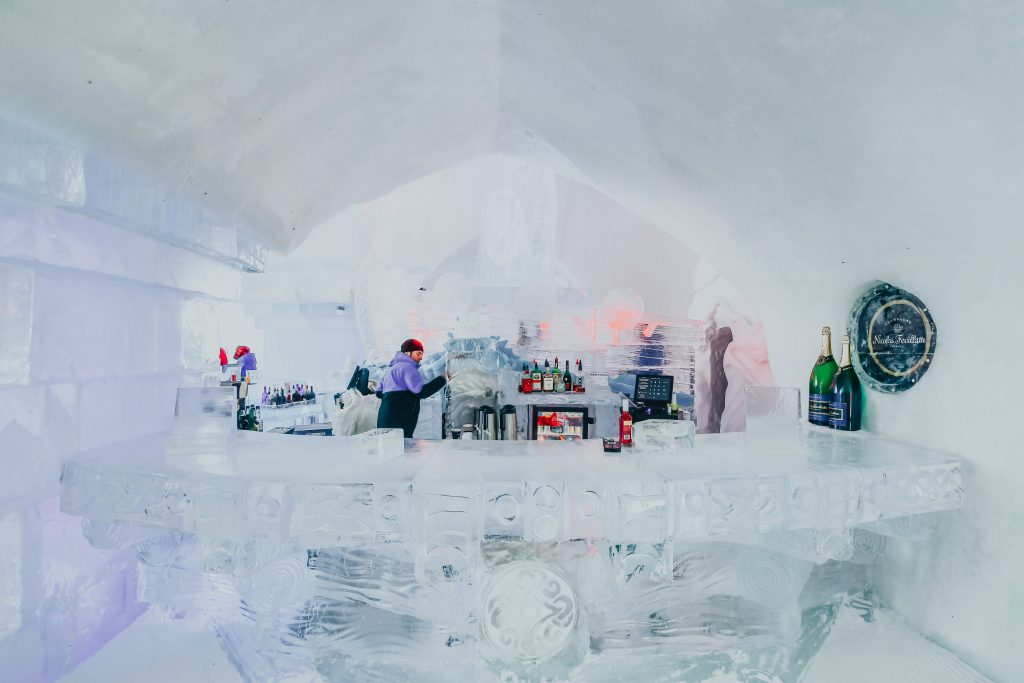 It truly felt like we were entering another world as we stepped inside the only hotel in North America made 100% of ice and snow. The Ice Hotel beautifully brings the outside-in. Every turn held a new ice sculpture and each themed room was awe-inspiring. Stay overnight or visit for the day, either way it is absolutely a must-see.
Carnaval de Québec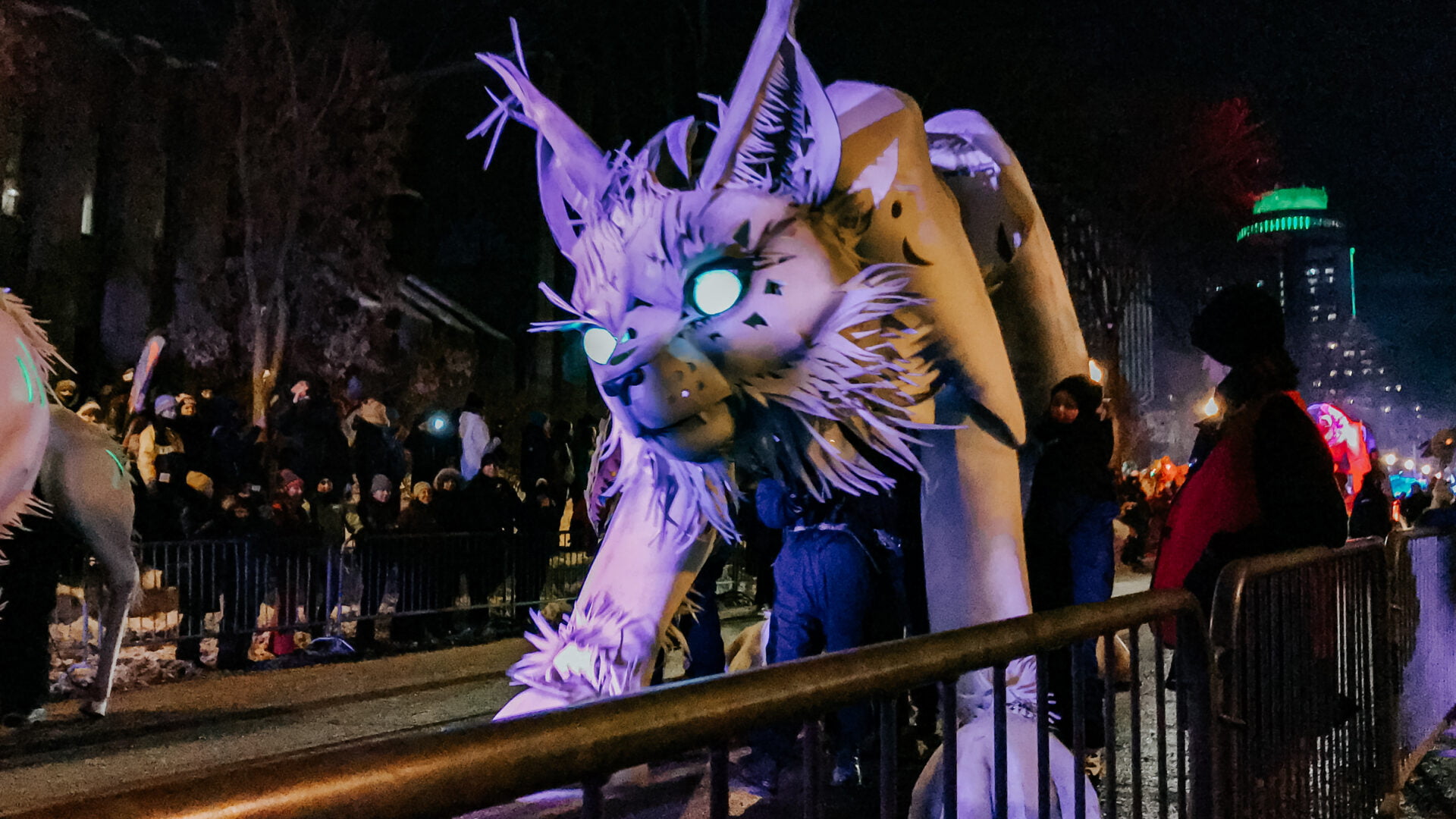 I left my heart where we closed out our trip—in beautiful Quebec City. The Quebec winter carnival was in full swing during our stay and we found ourselves dancing in the streets to celebrate. Quebec traditions combine with activities and seasonal events to make this annual carnival the highlight of winter in Quebec City.
And that's a wrap! It was a jam-packed-adventure-filled 9 days across Ontario and Quebec. We made the kind of amazing memories that can only happen in the midst of a cold, snowy winter and have the photos of red cheeks and noses to prove it. I promise you won't regret embracing winter on your next getaway and sharing with your family all the amazing things Canada has to offer when covered under a blanket of snow.
Thinking of planning your own Canadian winter road trip? Let me help you get the process started.
When To Go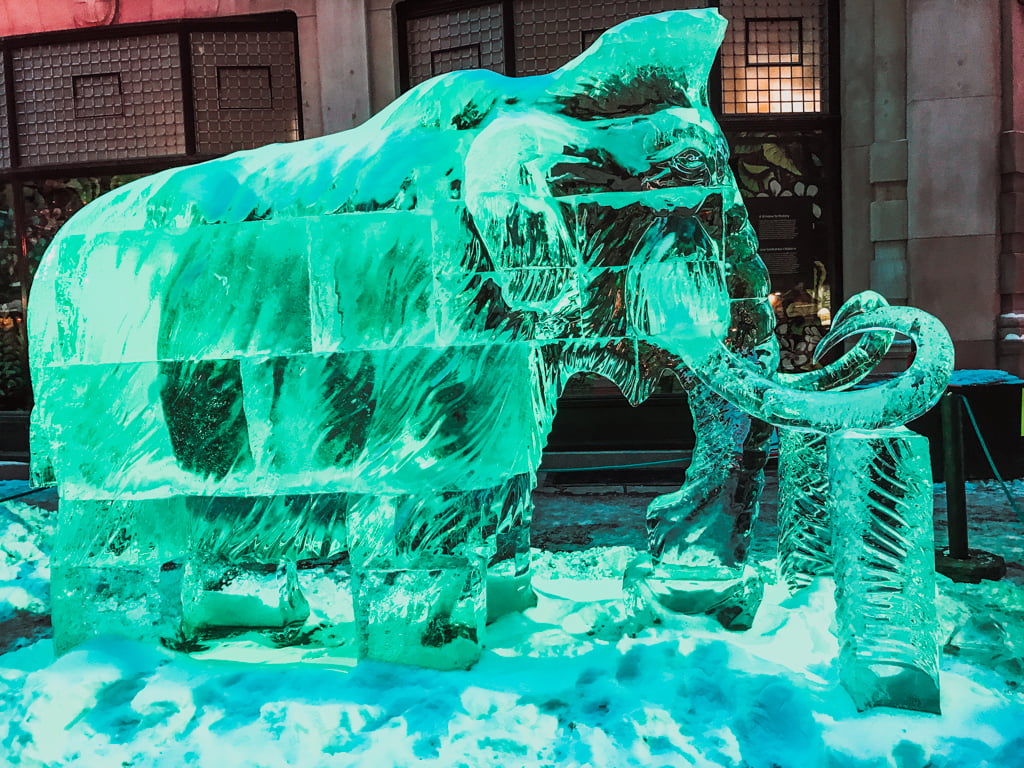 One thing we knew we wanted out of our winter road trip was for it to be rooted in Canadian spirit, tradition and celebration. That's why we built our itinerary around the winter festival loop from Winterlude in Ontario to Carnival in Quebec. Both festivals immersed us in Canadian culture with fun activities, music, adventure and more. Check their websites for next year's dates and map out the rest of your trip from there.
Tip: If you have any must-do winter activities on your list—such as skating on the Rideau Canal—be sure your dates match up with their open season so as you aren't disappointed.
What To Bring
There is no sugar-coating it—winter in Canada is cold! But don't let that scare you away. As long as you're prepared, the cold will not put a damper on your experience. Just know from the get-go that you will not be packing a small overnight bag for this road-trip. No, for this trip you will need the big suitcase.
You want to be prepared to come against temperatures as low as -30o C. This means layers. Gloves, socks, toques and neck-warmers—if you have room to bring extras, bring them. You want to have the option to cover up all exposed skin so don't forget the balaclavas and goggles or sunglasses. Along with your warmest jacket, snow pants and boots, you will be ready to face the cold and have an amazing time doing it.
Oh I almost forgot… Hand-warmers! Lots and lots of hand-warmers.
Where To Visit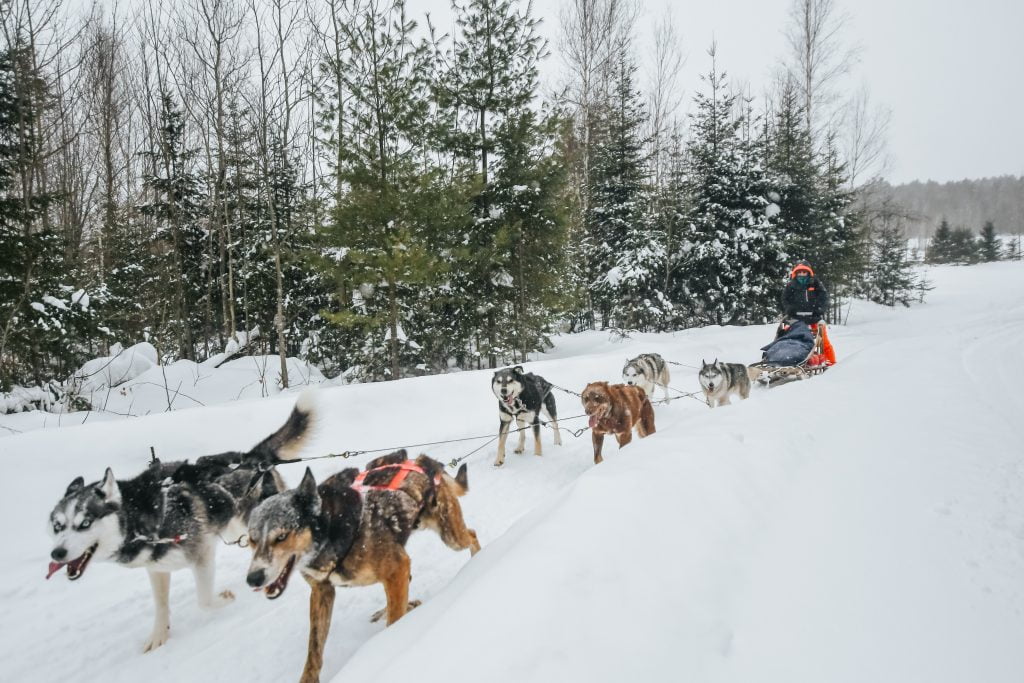 From east to west, when it comes to Canada the places to visit are limitless. While the sun soaked beaches of the world are a tempting and relaxing escape in the winter, there are snow many adventures waiting for you all across our amazing country. Our route through Ontario and Quebec was jam-packed with indoor and outdoor fun around every turn and yours can be too. A relaxed trip to the beach is lovely but the memories you will make discovering Canada in all its winter glory will be unforgettable.
Why You Should Choose A Canadian Winter Vacation
People travel to Canada from all over the world. Our landscape is vast, diverse and absolutely stunning. We have a chance to show our children what this country is and a responsibility to maintain it so that one day, their children will be able to experience it as well. If we invest our own travel budgets back into our country, we help it to thrive.
You should choose a Canadian winter vacation because this country has taken what is often harsh—the snow, cold and ice—and created tradition, fun and adventure. You should choose it because its secrets will surprise you and its beauty will leave you breathless. You should choose it because it is waiting for you.
---
Inspired to check out Quebec and Ontario? Read the blogs below for some ideas from our trip!
Is this a sponsored post?: Yes while our Our Ultimate Canadian Winter Road Trip is sponsored all thoughts and opinions are our own.