Are you deciding if you should book a visit to The Armstrong Hotel in Fort Collins?
Nestled on the corner of College Ave in the Downtown Fort Collins district, The Armstrong Hotel has welcomed guests for over 100 years. As soon as I grabbed the heavy brass handle and walked through the large wooden doors into the hotel lobby, I knew that this hotel was truly unique. The staff greeted me with a warm welcome by name, a special benefit that only a small boutique hotel can offer.
The building was as personalized as the hotel staff, inviting you to be a part of the story during your stay. The intimate lobby mixed the historical architecture of warm red brick with modern design elements including portrait photography, black and white wallpaper with their signature sparrow, and large oversized couches ensuring that you felt cozy and welcome to stay and hang out for as long as you wanted.
Up in my room, I immediately dove into my free-standing tub… a luxury that will forever be timeless. After my oversized adult bubble bath, I took a tour around my room, photographing all of the beautiful design elements that showcased historical colours, modest textures, and local Colorado integrations that helped build a connection to Colorado and FoCo.
Within an hour of checking in at the Fort Collins Hotel, we both quickly said, "We want to bring our families back." The welcoming staff, the unique property, and the location were the perfect combination for our Fort Collins adventures.
The Armstrong Hotel Fort Collins
The Armstrong Hotel is a cornerstone of the Fort Collins community, which has been looking out over the historic downtown core for over a century. With a newly renovated design that mixes its Fort Collins heritage with a modern upgrade, The Armstrong is the perfect hotel for those looking for an intimate experience. The staff prides themselves on creating authentic connections with their guests. They will try to know you by name and even text you to check in and see if there's anything they can do to help, one of my favourite surprises upon our visit. The hotel rooms themselves each offer a unique experience as well as lots of things to do right outside your doorstep. The Armstrong Hotel is a place where you can stay again and again, each time experiencing something new.
For design, aficionados be sure to pay close attention to the detail during your visit. The hotel's architecture reflects the "simple, symmetrical, and "clean form" of the early 1920's era.". If you're looking at the east and south-facing facades you'll be able to see the prismatic glass tiles that were used to diffuse light into the original lobby and retail spaces. Each corner of the hotel features an elegant tile cartouche with a floral motif, a non-utilitarian embellishment from its original days of inception.
The Armstrong Hotel Rooms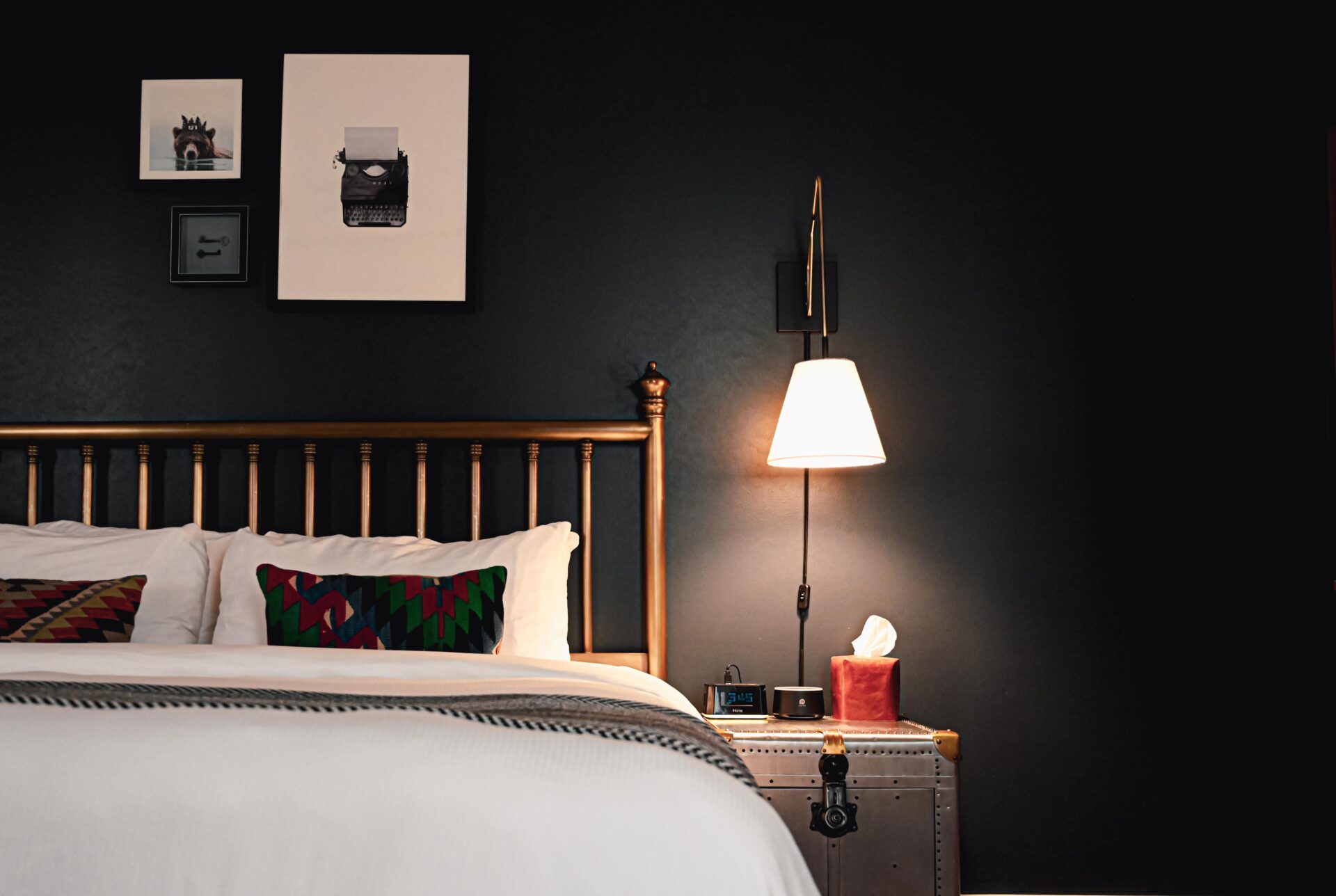 What are the rooms like at The Armstrong Hotel?
Before I had even put my bags down in my room, I had my camera out and was playing with the curtains to control the lighting as it cascaded across the king-sized bed. The reality was that I felt like I was living inside an article in Travel + Leisure Magazine where the images that surrounded me looked picture-perfect. I wanted to capture the essence of the room before I muddled it up with my bag and freshly hiked in gear.
The Armstrong Hotel rooms have been carefully curated to represent a mix of historic ambiance, a modern twist on hotel comfort, and a light infusion of Colorado elements that make for a welcoming Fort Collins retreat. Each room is different allowing you to stay in different rooms and experience new stays.
Queen Bedroom – 215 sq. ft.
If you're looking for a classic and cozy stay, the Queen bedrooms invite you to come in and enjoy a rest-filled retreat in Fort Collins. The curated design elements combined with the classic comforts ensure a great stay.
King Bedroom – 237 sq. ft.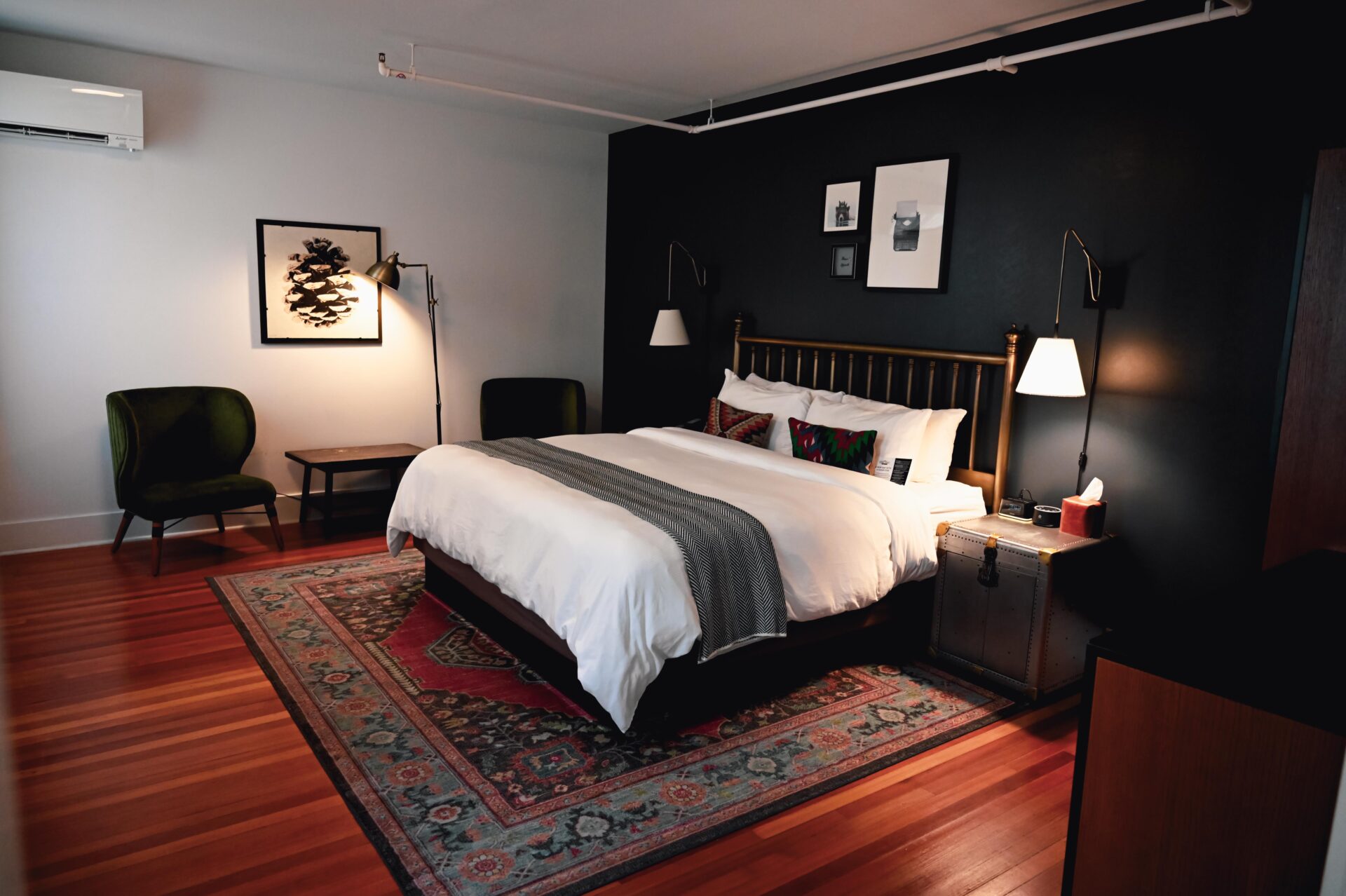 I was spoiled with a King bedroom when I stayed at The Armstrong Hotel and it was incredible. Other than having a huge king bed to myself I was also spoiled with a free-standing soaker tub that I snuck into multiple times on my visit.
One Bedroom Suite – 377 sq. ft.
If you're looking for a bigger suite with separate sleeping and sitting areas, then this is the room for you. Whether you're travelling with family and friends, or want to get some work done, the king suite offers a separate sitting area allowing you to have more space during your stay.
Corner Suite – 409 sq. ft.
The pride of the hotel, the Corner Suites are the largest suites available in the hotel and invite you to enjoy a King bed and separate living room. The rooms are "infused with period style details newly designed to offer all the amenities you expect and lend themselves equally to special celebrations or longer visits." Whether you're celebrating something special or just want more space during your stay, a Corner Suite may be the right fit for you.
How Many Rooms Does The Armstrong Hotel have?
The Armstrong Hotel has 54 rooms that are spread out over three stories. There is an elevator but the staircases in the hotel are so perfectly decorated with historical photos and beautiful wallpaper that we preferred to take the stairs (except for when we had our heavy luggage!).
Book your stay at The Armstrong Hotel here!
Armstrong Hotel Fort Collins History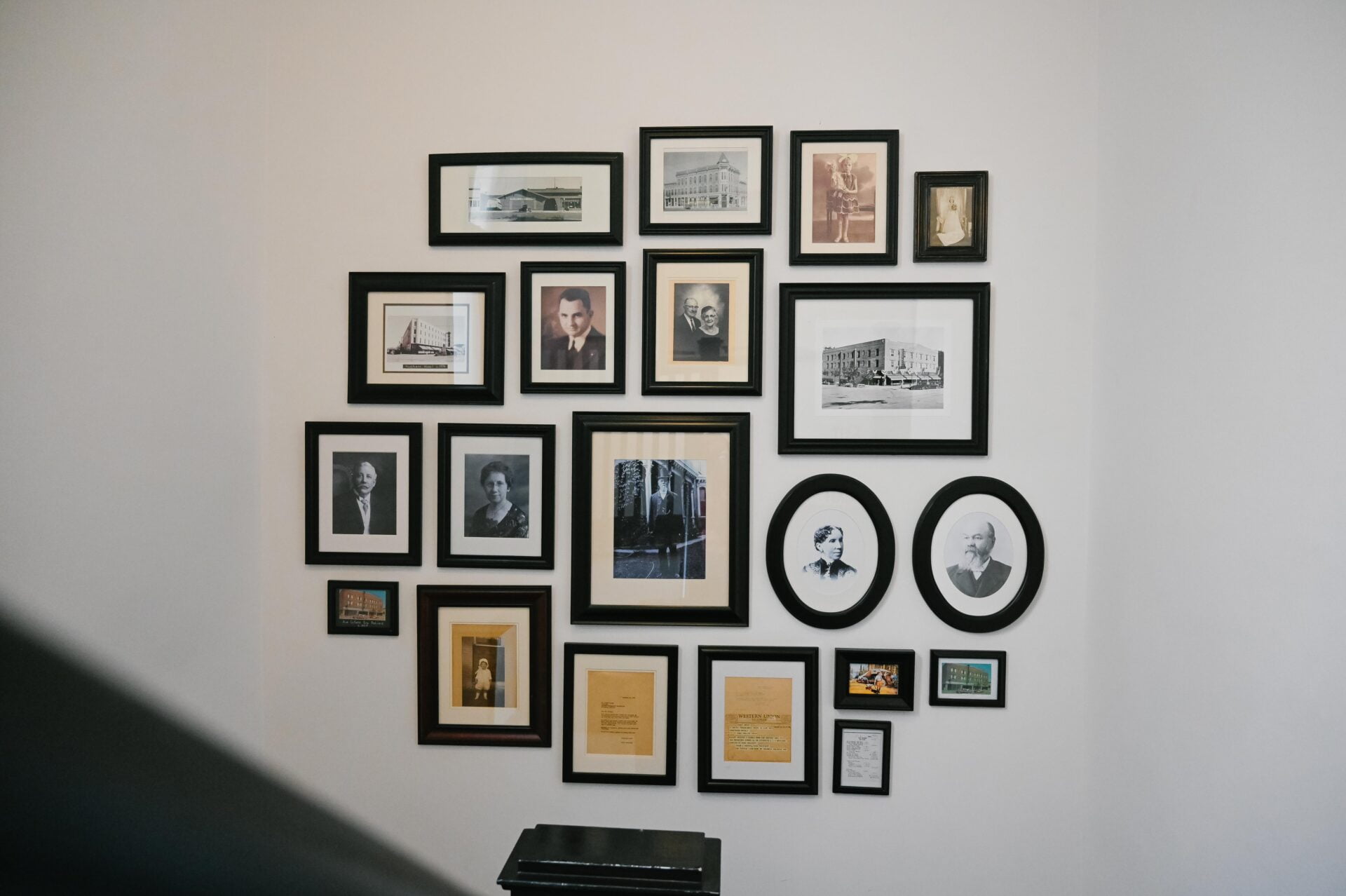 The Armstrong Hotel in Fort Collins was first opened in 1923 by owners Charles and Carolyn Mantz. The hotel was named after Carolyn's father who had passed, Andrew Armstrong. Andrew's house once sat on the property and 100 years later, after a few name changes during tumultuous times, the hotel has reverted back to its original name and proudly displays its iconic and well-photographed Armstrong sign.
At the time of opening, Charles and Carolyn promoted the hotel as the "ideal location" for guests to use as a base camp for visiting the Poudre Canyon and Rocky Mountain National Park. With 41 guest rooms, two elegant dining halls, and multiple retail shops, it really was a new, modern, and hip place for guests to stay during their time in Fort Collins. It also boasted bragging rights of being Fort Collins's tallest building at three stories tall!
Locals also loved the hotel, as they opened their doors to the community as a "home away from home" (a feeling that still resonates today). With the locals growing "love affair" with the new evolution of the automobile, The Armstrong Hotel housed the first chapter of the American Automobile Association.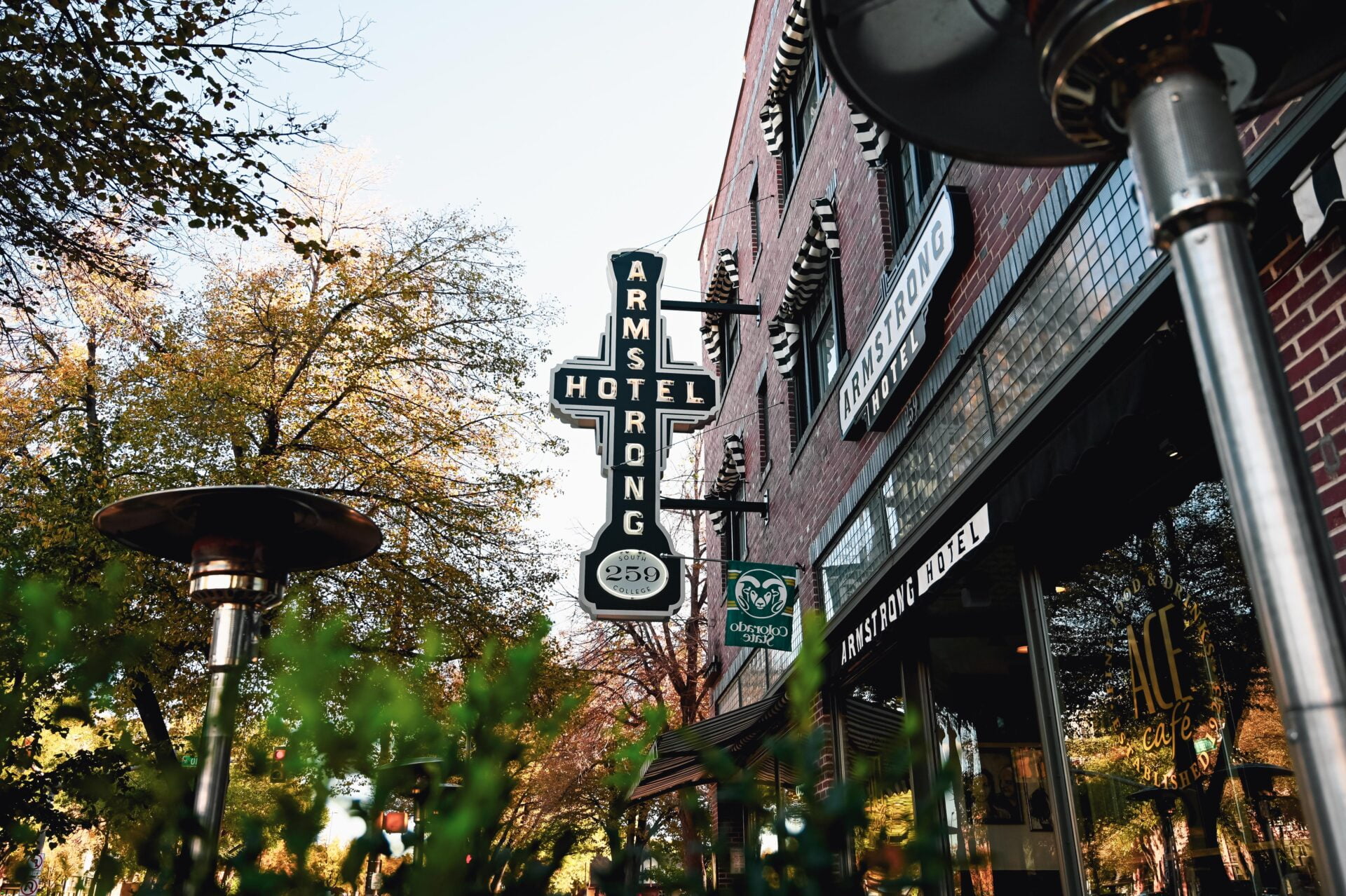 While the hotel had its glory days, it also went through some challenging times, and in the 1970's the hotel slipped into disrepair after the downtown Fort Collins business community fell into decline. Visitors opted to stay at newer hotels and in 2000 the hotel had to close its doors.
In 2002, locals Steve and Missy Levinger saw the sparkle that was The Armstrong Hotel and purchased the property. They started a two-year renovation project with the goal of preserving and restoring the building as much as possible, including the historic fabrics and character that make The Armstrong so special. In keeping with being a part of the fabric of the community, the original 1940s neon sign was recreated and hung over the College Avenue entrance where it still welcomes guests today.
I love how the Levinger's, Fort Collins local entrepreneurs, were willing to invest in their community history as well as the future of Fort Collins and re-ignite the property to its formal glory. The legacy not only lies within the local community that gets to have this wonderful property in their neighbourhood but within each guest who gets to savour their time spent in Fort Collins and gets to take those special memories home with them.
How Old Is The Armstrong Hotel?
The Armstrong Hotel first opened its doors in 1923. After a closure in 2000, it was reopened in 2002 and has become a beacon in the city ever since.
Photos of The Armstrong Hotel
The hotel is a photographer's dream as each corner showcases a collection of new and old, with stories waiting to be told. From the morning glow to late-night neon lights, there was ample content to capture, and we just needed more time in our two-day visit! Here are some of my favourite photos from our Fall stay at The Armstrong Hotel.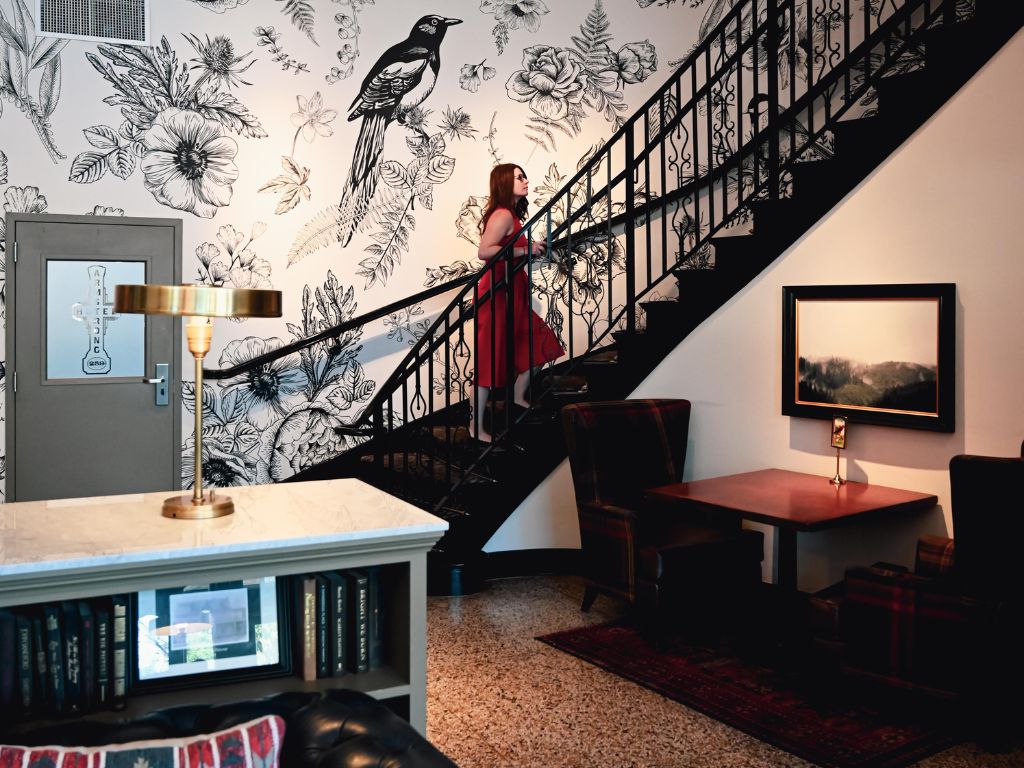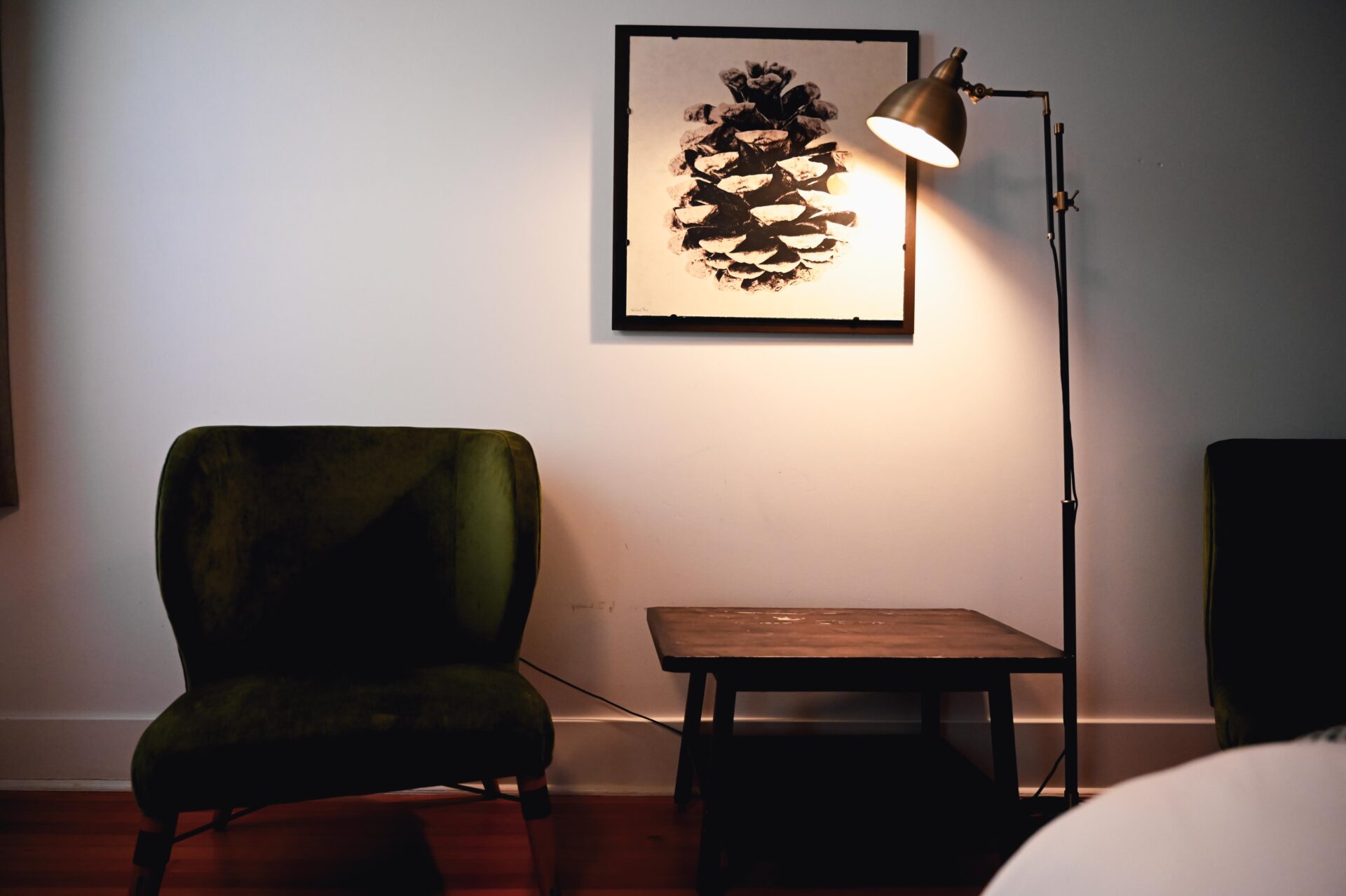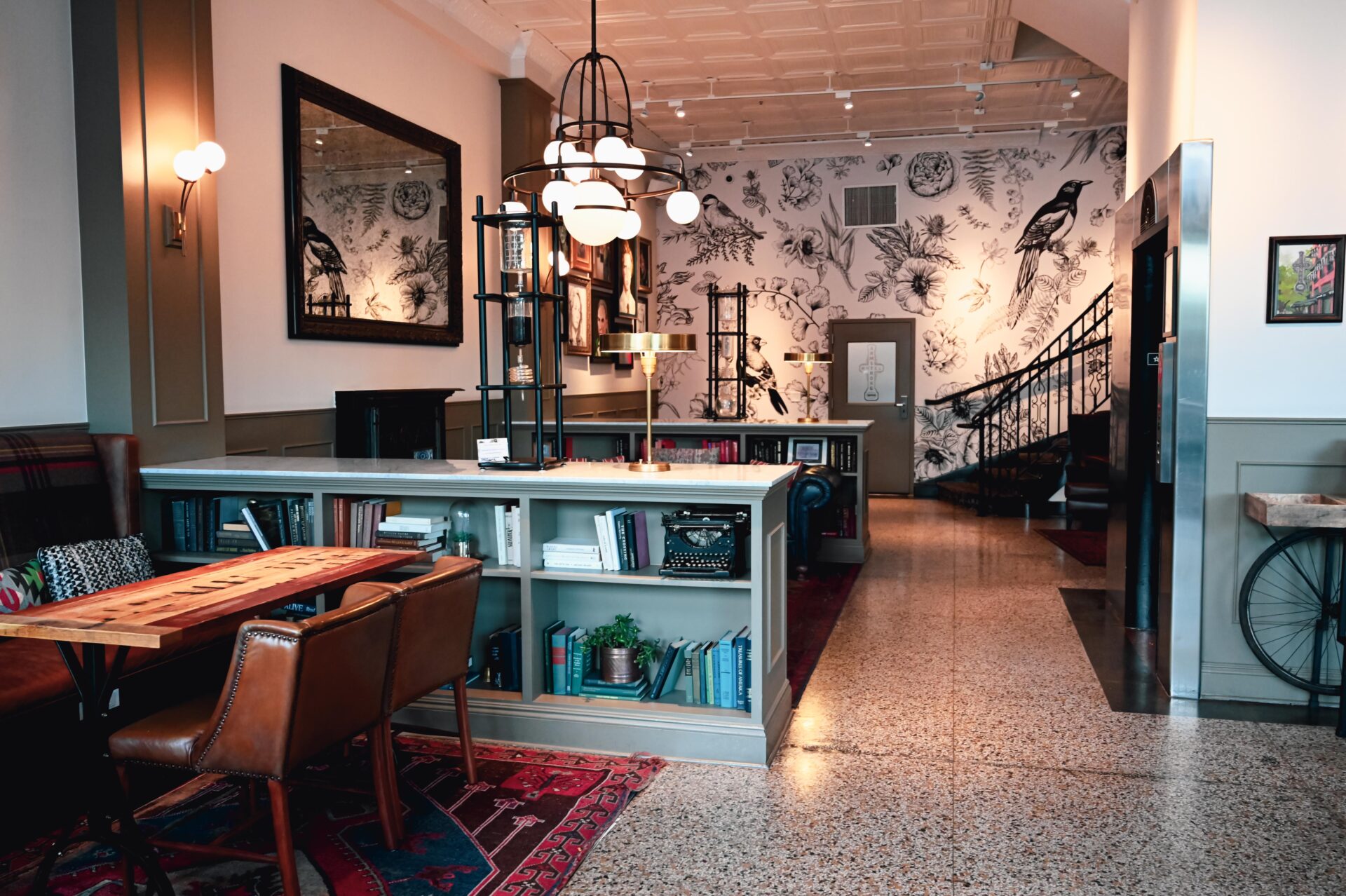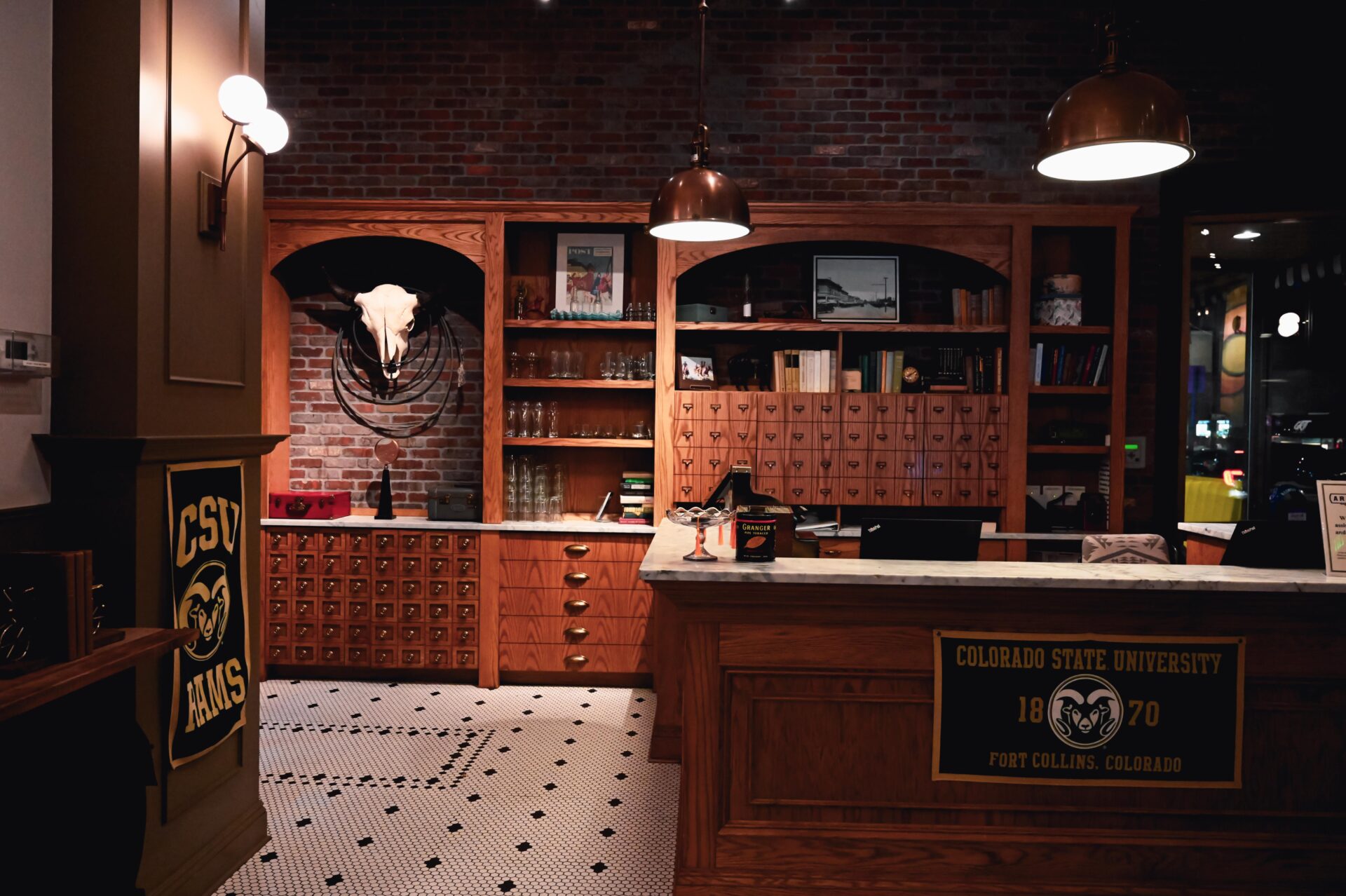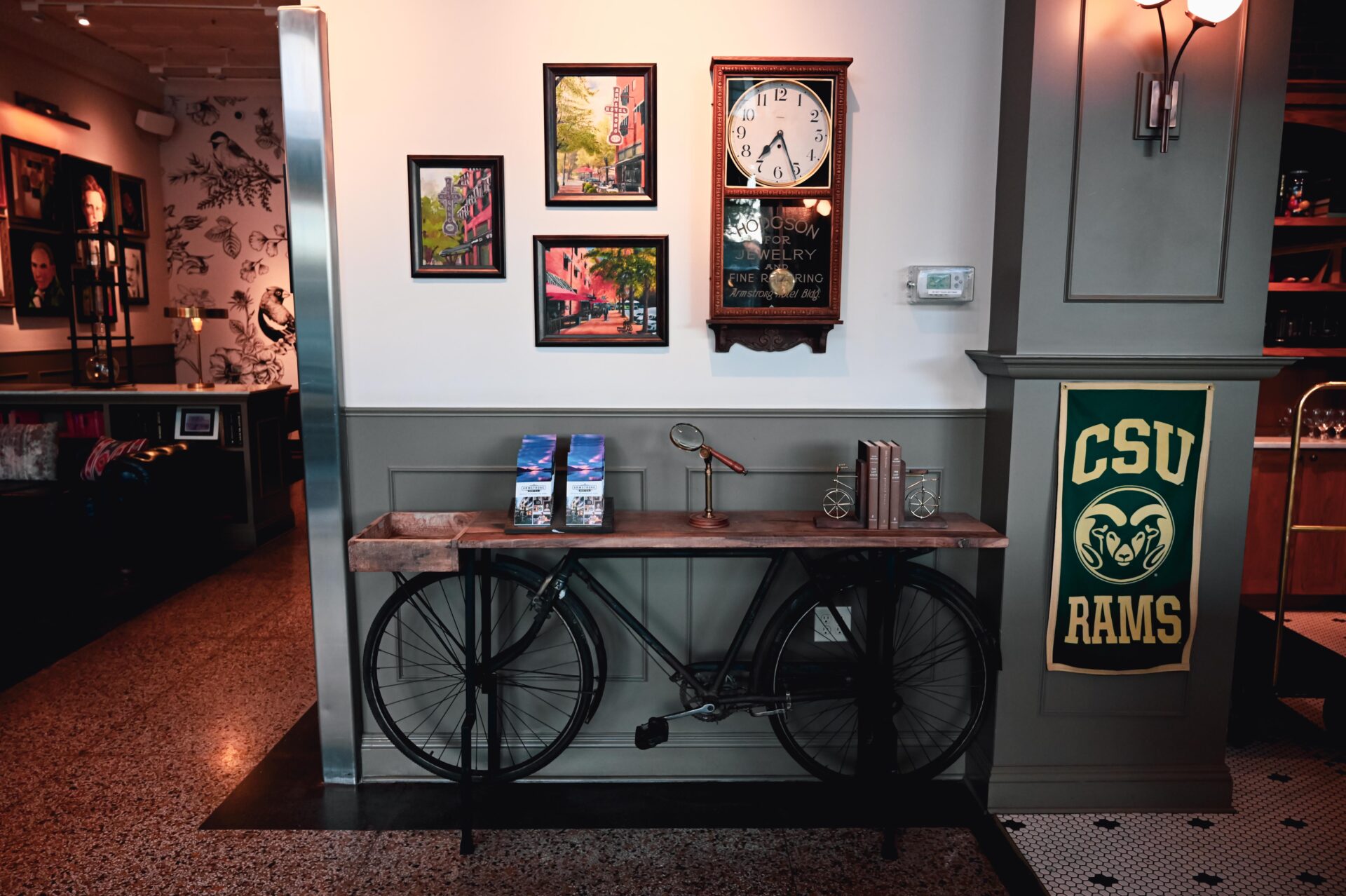 Book your stay at The Armstrong Hotel here!
Amenities at The Armstrong Hotel
For a boutique hotel, the property acts as a grand central station for both visitors and guests, and the staff conductors help guide you to your next destination. Upon our arrival, our gracious front desk host found out our needs (we were hungry) and recommended that we head over to Ace's Gillett's Lounge for happy hour, which fortunately was only 15 minutes away from starting!
What is there to do at The Armstrong Hotel
The hotel offers a variety of on-site eats, and is within easy walking distance to many restaurants, more than you could possibly visit during one stay. One of our favourite activities was taking out their free pedal bikes and touring around town. Let's dig into all of the things there are to do at the Armstrong Hotel in Fort Collins.
Armstrong Hotel Cruiser Bikes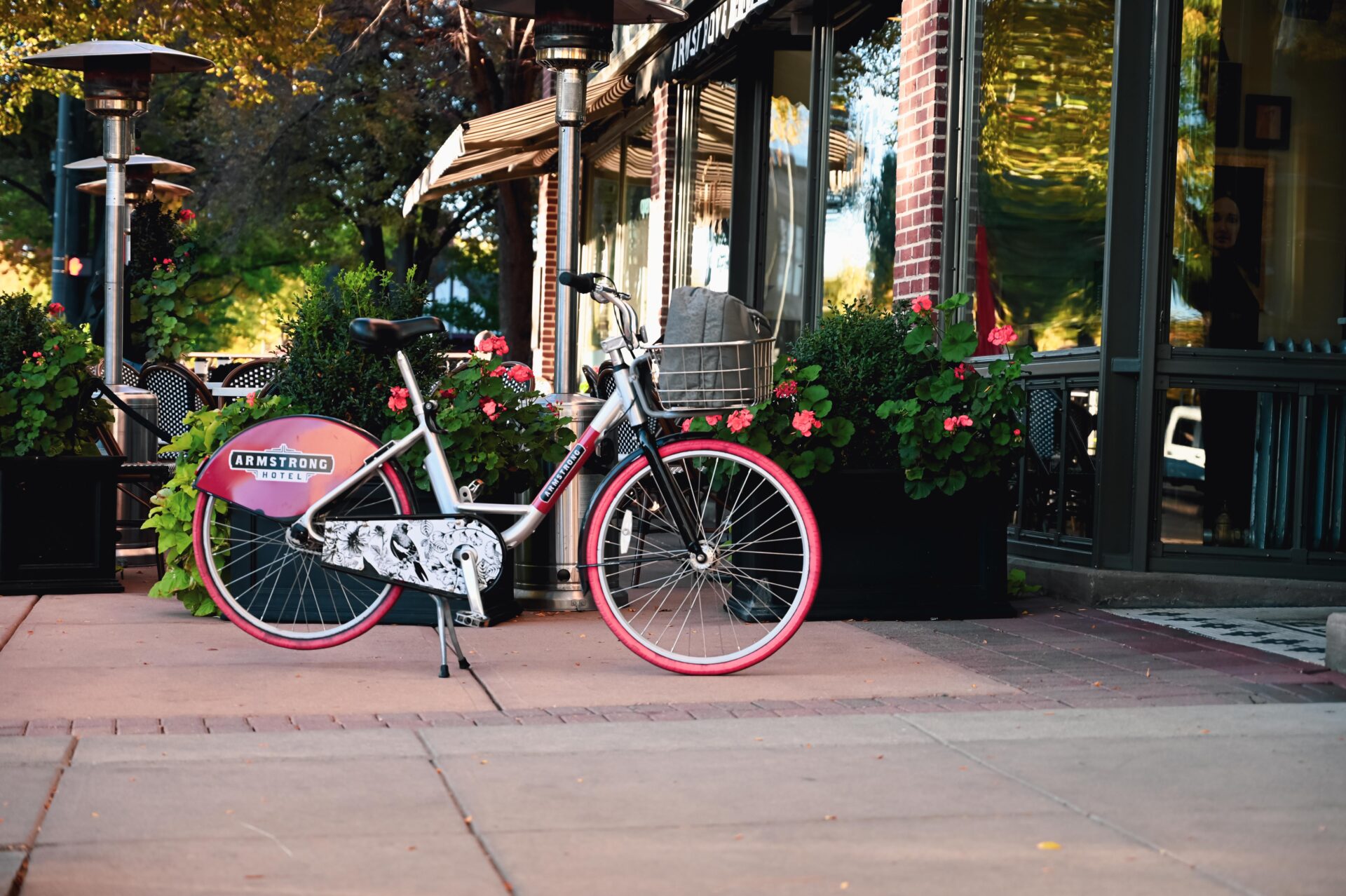 Guests staying at The Armstrong Hotel can loan out a cruiser bike (and helmet) on a first come first served basis. Fort Collins is a platinum-level bike-friendly city and has over 280 miles of bike lanes making bicycling around the city easy. These truly stylish rides are perfect for heading out on the town and cruising around. With a front basket for your backpack, water bottle, and camera, they make it easy to pedal power your way through the city. If you're not sure where to ride ask the guest services team for recommendations. Here are some of our favourite places we rode:
College Oval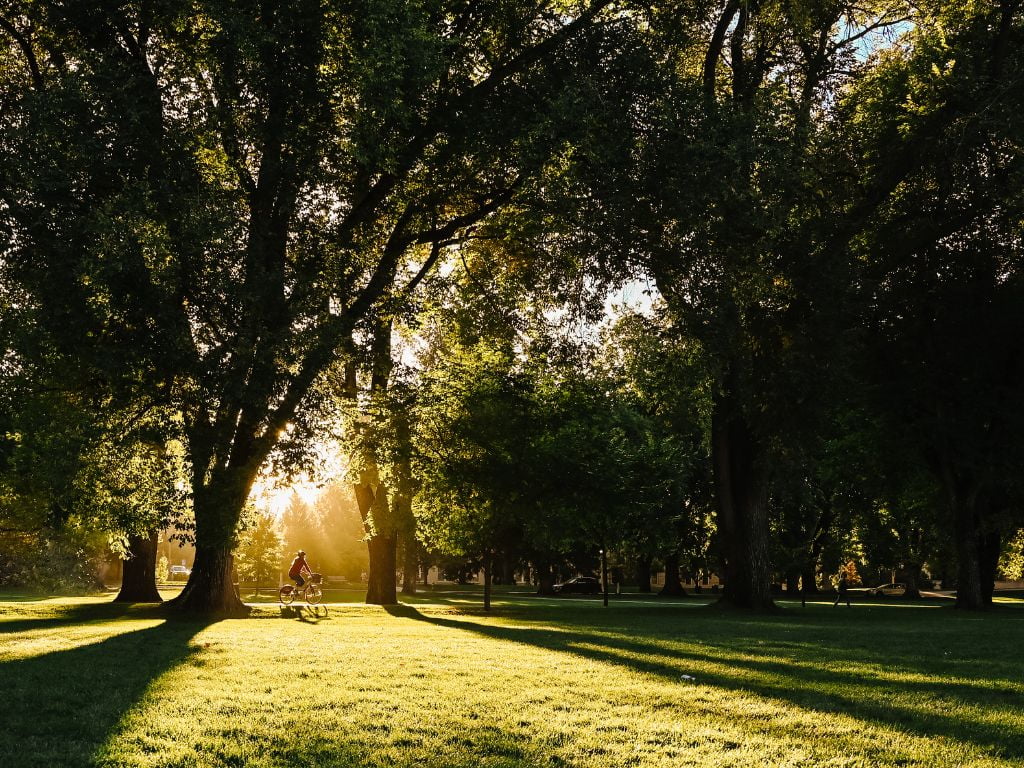 A few blocks down from the hotel is the Colorado State University and we chose to head down to the tree-lined pathways which made for a beautiful ride (we think this photo pretty much says it all?).
Poudre River Trail
The Poudre River Trail is a 34 km paved trail that welcomes bicyclists, runners, walkers, strollers, and four-legged friends to wander along the Cache La Poudre River. It runs from Greeley to Windsor in Weld County, Northern Colorado. You can access it about a ten-minute ride from the hotel and there you'll find lots of bridges, meandering trails, and if you're visiting in the fall as we did, stunning foliage with beautiful bright colours bouncing off the sky.
Does The Armstrong Hotel have a restaurant on-site?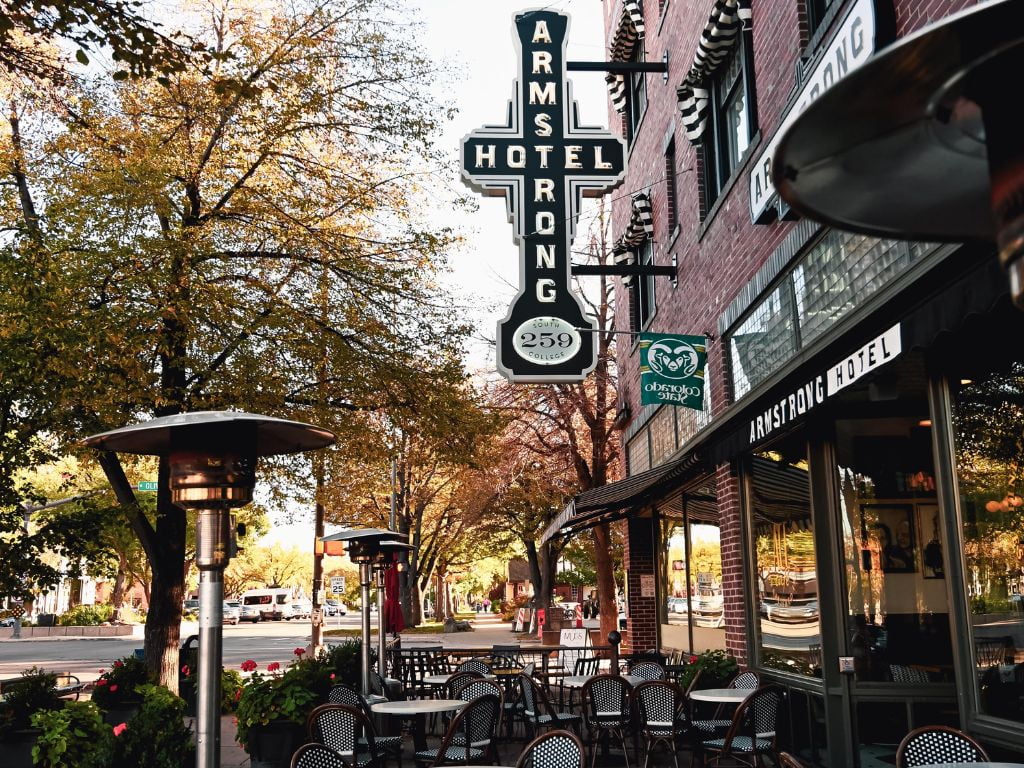 Ace Gillett's Lounge
Ace's Gillett's Lounge is located on-site at The Armstrong Hotel and boasts an underground cocktail and music lounge, a fresh culinary and beverage experience all by a new musical program. Ace meets at the intersection of upscale mixed with comfort, sophistication and atmosphere. You can sit back and enjoy the atmosphere of a classic supper club right in the belly of your hotel.
Ace Cafe
Perfect for those looking to soak in the sun on the patio, the Ace Cafe brings people and shares the best craft cocktails and shared plates. The patio is open seasonally.
Restaurants near Armstrong Hotel Fort Collins
Mugs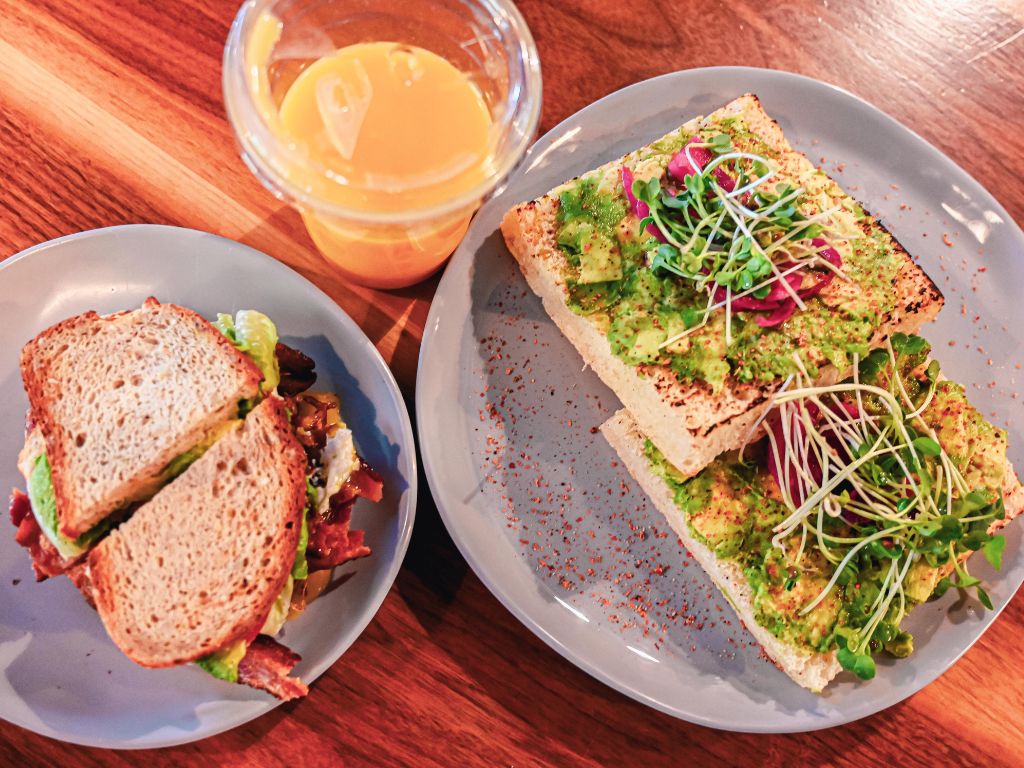 Located directly next to The Armstrong Hotel, Mugs is the place where visitors and locals can mix all while enjoying delicious food, a local atmosphere, and great customer service. We started off one of our days at Mugs and loved the community connection that was apparent from the moment you walked in the front door. From selling local FoCo swag to showcasing and selling local art, it was clear that Mugs is a big part of the local community.
Upon doing some research I discovered that Mugs has been locally owned and operated since 2002. They pride themselves on not being "just another restaurant" and believe that they are a community and a family. Their titles include baristas, bartenders, and food artisans and the result is in the food and drinks they put in front of you. We enjoyed breakfast during our stay and the avocado toast was unlike anything we had ever experienced. There's Texas-sized toast and then there's Mugs Colorado toast… also known as the largest piece of toast you'll ever see.
This unique twist on a classic makes this a "must-visit" when staying at The Armstrong Hotel in Fort Collins.
FoCoDoCo
If the name doesn't catch your attention what they sell certainly will. A local doughnut shop that is as popular with the locals as it is with guests, this is a "must" when visiting Fort Collins (aka, they had us at "from scratch doughnuts").
Silver Grill
Another "must-visit" while you're staying at The Armstrong Hotel is the Silver Grill Cafe. They boast the title of being the oldest restaurant in Northern Colorado as they have been serving breakfast and lunch since 1933 (and have roots that go back all the way to 1912). Once inside you'll be greeted by brick walls, wooden floors, and huge windows that overlook the Old Town. Whether you settle into a table or a cozy booth you can order from their legendary menu that has earned them accolades including "the best in all of Colorado" by news stations, local, and national publications.
Tip: Be sure to order one of their gigantic homemade cinnamon rolls. They are made fresh daily and ooze with sweet sugary toppings.
Farmhouse at Jessup Farm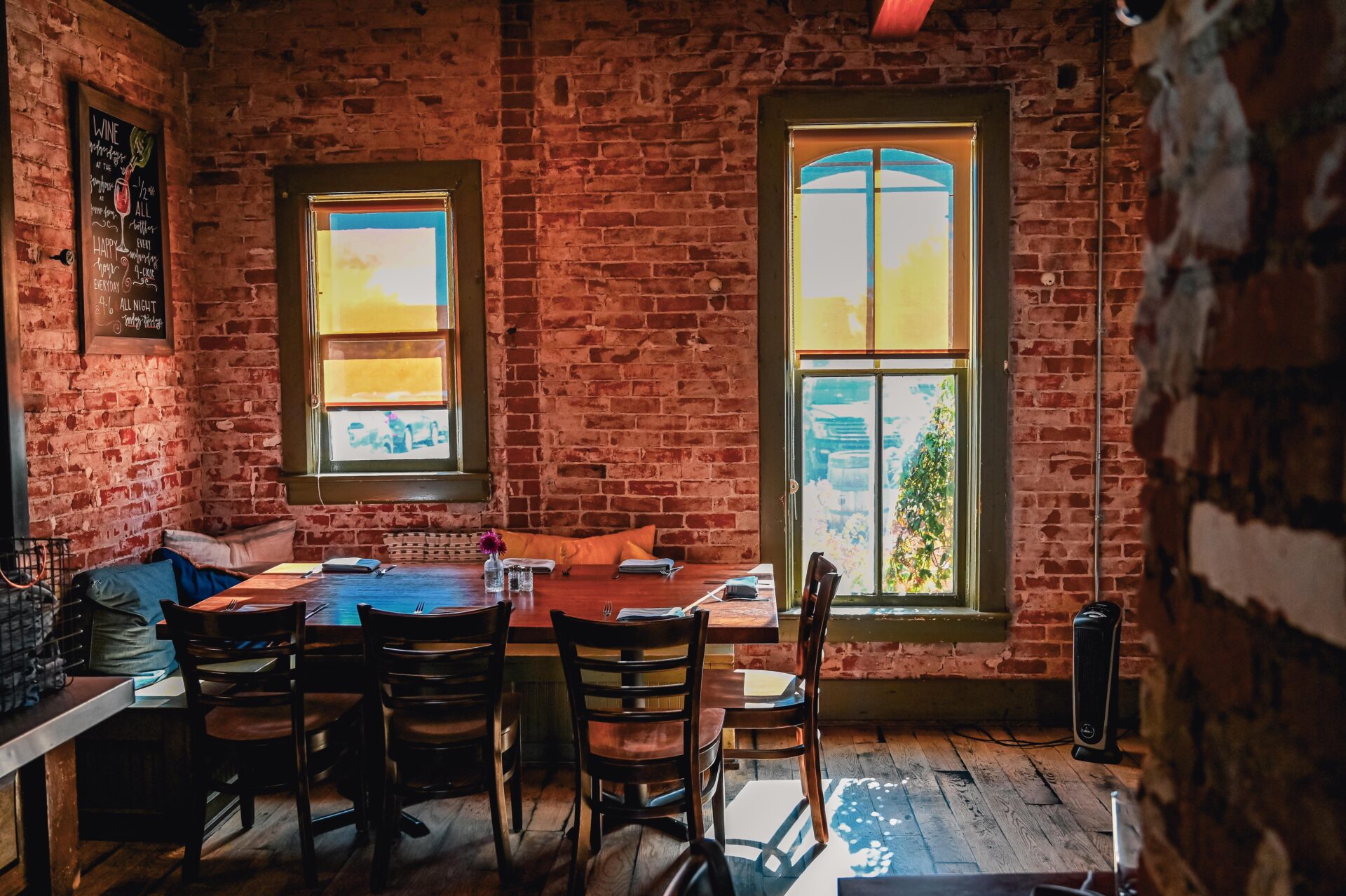 Our last stop in Fort Collins was possibly one of our favourites (if that's possible) as we got to see how a local developer was able to protect a historical region in an up-and-coming neighbourhood. Rather than demolishing the 130-year-old buildings and surrounding farm outposts, the developer preserved and restored the buildings and Jessup Farm Artisan Village is now a bustling business area in a residential neighbourhood. From restaurants and bars, to shops and merchants, there are 15 different businesses for you to explore.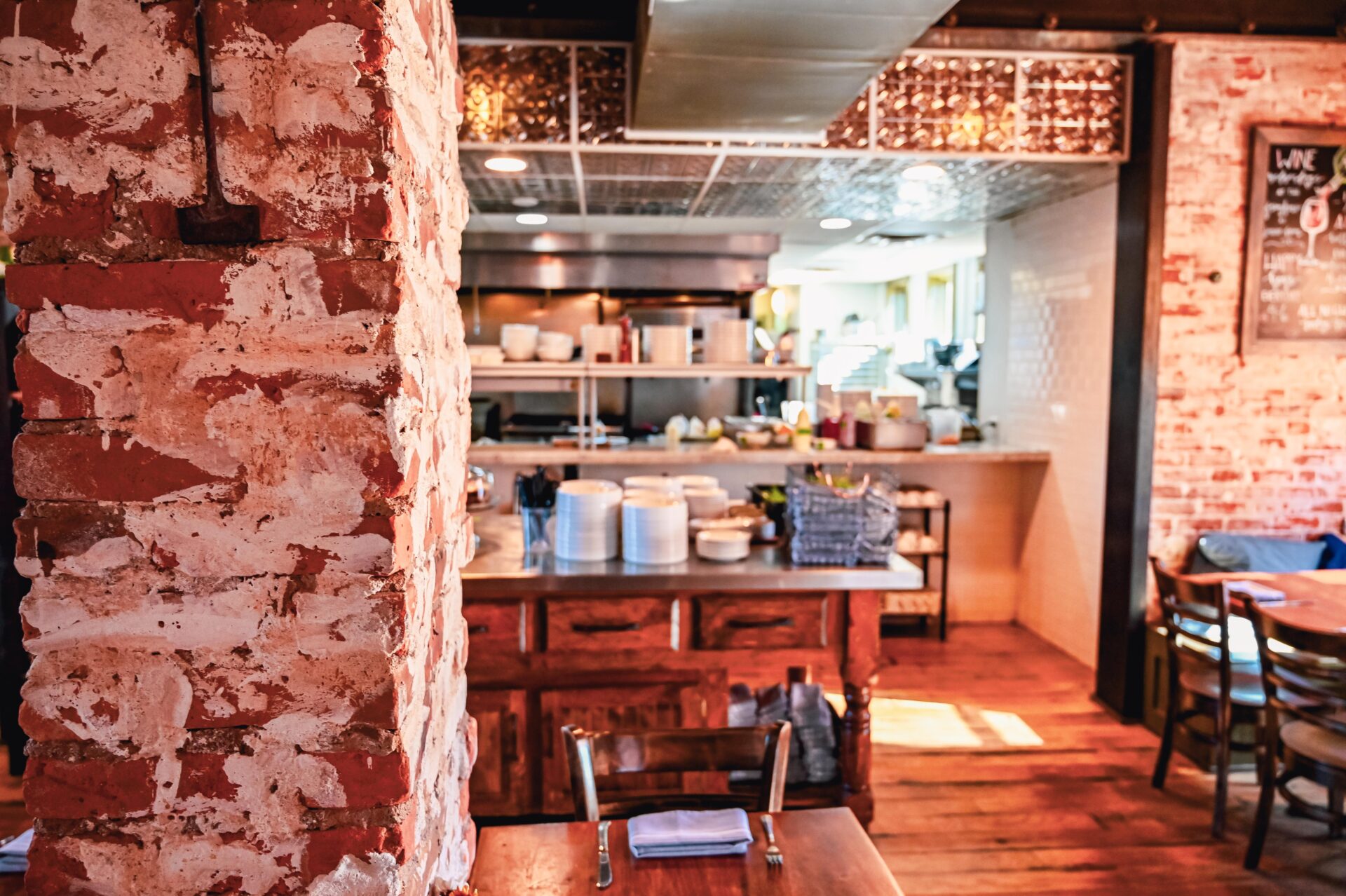 Our stop was centered around a late lunch at Jessup Farm Restaurant where they pride themselves on "an elevated country and healthy farm fare." They showcase seasonal menus that are made from scratch. The farm-fresh food was evident in our meals and their hand-crafted mocktails were delectable. Jessup Farm is about a ten-minute drive from The Armstrong Hotel but I can assure you it's worth it.
Armstrong Hotel Fort Collins Dog Friendly
All members of your family are welcome at the Fort Collins Hotel as The Armstrong offers dog-friendly rooms. Your dog will be pampered with a Pendleton dog bed and dog bowl to use during their stay, as well as some locally sourced treats to snack on. Guests can bring up to two dogs per bedroom, not exceeding 100 pounds. There is an additional fee of $35 per night for dogs. Dogs can not be left in rooms unattended, so be sure to bring them on your FoCo adventures or sign them up for a puppy playdate at a local doggy daycare facility. The front desk team are experts at helping ensure your pooch has the best stay, so be sure to ask them if you have any questions.
FAQs about The Armstrong Hotel
Parking At The Armstrong Hotel In Fort Collins
Guests of The Armstrong Hotel will have access to two parking lots during their stay for an additional charge of $20 per night. There are two lots, one which is located directly behind the hotel (which was perfect for loading and unloading) and one that is kitty-corner across the street from the hotel, but still quite close in proximity.
There are also other city-run parking facilities that you can park your car in, or free street parking around the city is available (first come first parked basis).
Traveler Tip: Pull up to the front of the hotel upon arrival where you can stay for 20 minutes to unload your bags and personal items easily and then move your car after you're settled in.
Armstrong Hotel Fort Collins Reviews
Don't take our word for it, see what other's are saying about their stays at The Armstrong Hotel in Fort Collins, CO:
"One of our favorites hotels on earth. Awesome location, killer staff and the hospitality is unmatched. Can't recommend enough." ~G. Greer
"I have no choice but to love this hotel! Lots of guests praise this hotel's history, location, cleanliness, and deco, and I think so, too. But above all, I was greatly impressed by the kindness of the staffs. I got a lot of help from them during my stay at the hotel. Maybe It's natural to love this hotel as much as I love Fort Collins!" ~J. Kim
"This is our second time here and if your traveling with your furry friend this is the spot. Location is perfect and walking distance to everything. Staff is is warm, friendly and welcoming. One of our favorite hotels we tell everyone about. Oh and don't forget they have a great dog friendly restaurant as well." ~C. Concha
"Great hotel in the perfect spot for a weekend. You can easily walk to all the great spots Ft. Collins has to offer." ~J. Swanson
"Staycation, vacation, business trip— The Armstrong has such a classy vibe with great service. The location is prime, right in Old Town (also referred to as downtown) Fort Collins. I'd take a stay at The Armstrong over any chain. The staff are friendly and professional, the building boasts gorgeous architecture, interiors, and design, and the amenities are fun. Cruiser bikes are available to utilize. The lounge is quaint, quiet, and beautiful. Ace Cafe is outside. Ace Gillette's (my husband and I's favorite spot for cocktails and apps) is just downstairs, speakeasy-style. 10/10." ~A. Kelly
Book your stay at The Armstrong Hotel here!
In conclusion, we hope that this article has helped you decide if you should book a visit to The Armstrong Hotel in Fort Collins. We can't recommend this hotel enough, the welcoming staff, the unique property, and the location are the perfect combination for your Fort Collins adventures!
---
Looking for more Colorado Travel Inspiration?