Are you wanting to hit the trails and go horseback riding in Loveland?
As if it was straight out of a Western movie set, a larger-than-life "Sylvan Dale Guest Ranch" sign sits like a beacon on the entrance to the 3200-acre property. As you turn off the highway onto the lazy country road, you'll feel the transition from city to country unfold right before your eyes, your heart rate slows down, as you get welcomed into a slower pace and a deeper connection.
Winding down the tree-lined gravel road you'll see the Sylvan Dale horse barn appear in the distance, with riders on horses in the arena and staff wrangling up supplies and gear as they get ready to welcome guests. After all, welcoming guests is what Sylvan Dale Guest Ranch is known for as they've been inviting riders new and experienced to their Loveland oasis since 1946!
Once you've parked your car, changed into your riding gear (long pants and close-toed shoes are essential), and slapped on some sunscreen and any fun cow folk accessories, you're ready to head down to the ranch and meet up with your horses and wrangler for the day.
Even though I am no newbie when it comes to adventures, 20 years ago I had a horseback riding experience that didn't go very well, so I was really quite nervous for this tour. My sweaty palms and nervous vibe were palpable and our wrangler Kale immediately calmed me and shared her strategies for ensuring I would have a safe and wonderful experience. Kale matched me with the most kind, well-trained, and gentle giant of a horse named Ben, whom I immediately bonded with upon saddling up, and together we had one heck of an amazing adventure out on the trails.
After an incredible horseback riding trip in Loveland, Colorado, I am so excited to put together this guide for you, sharing all the things I loved, what to expect, and why you should try it out. And I'm hooked! I'm over my fear of horseback riding and am excited to head out on another adventure soon.
Welcome to Sylvan Dale Guest Ranch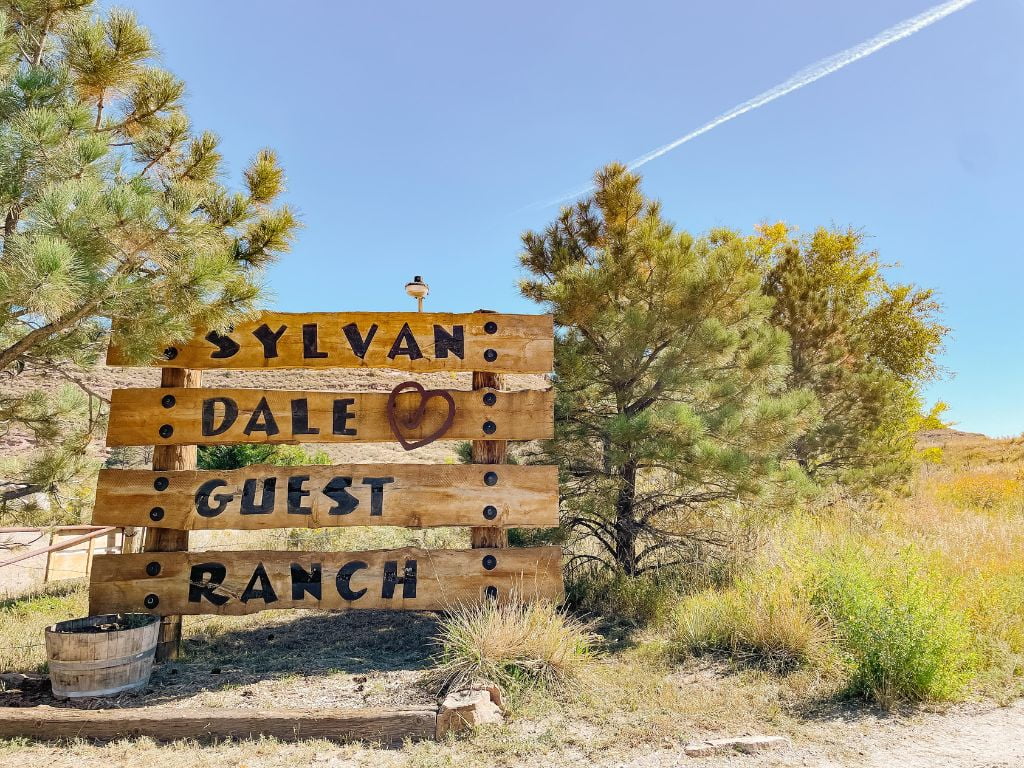 In 1946 Sylvan Dale Guest Ranch opened up their Loveland sanctuary and for over 75 years have been welcoming guests to what they call a "3,200 acre world beyond the ridge." Historically it was a working horse and cattle ranch and has now evolved into a full Guest Ranch inviting visitors from around the world to see their working farm and take part in working ranch life.
This idyllic property on the quiet side of Eagle Ridge boasts trails that will have you meandering through long grassy slopes and have you ascending to the top of ridges. From wading through the banks of the Big Thompson River to climbing to the top of the ridge where you can take in 360-degree views that look out all the way to the Rocky Mountains, a trail ride here is a full experience. The trails will take you through Sulzer Gulch which is shaded by cottonwoods, down old wagon trails on Alexander Mountain, and checking out breathtaking views along the Rim Ride. The ranch has a "don't fence me in" philosophy where they create safe riding experiences for all ages and abilities, that take place on the mountainside trails and not inside a fenced arena.
Back at the ranch, you'll find a variety of amenities as Sylvan Dale Guest Ranch can accommodate everything from a visitor coming for a single-ride tour, to large groups, weddings, and week-long horseback riding adventures.
If the idea of riding through Colorado's red rocks all while looking out over the Rocky Mountains is something that you want to experience, it doesn't get any more quintessentially Colorado than going on a horseback tour at Sylvan Dale Guest Ranch.
Giddy Up Cowgirl – What To Do Before You Hit The Trails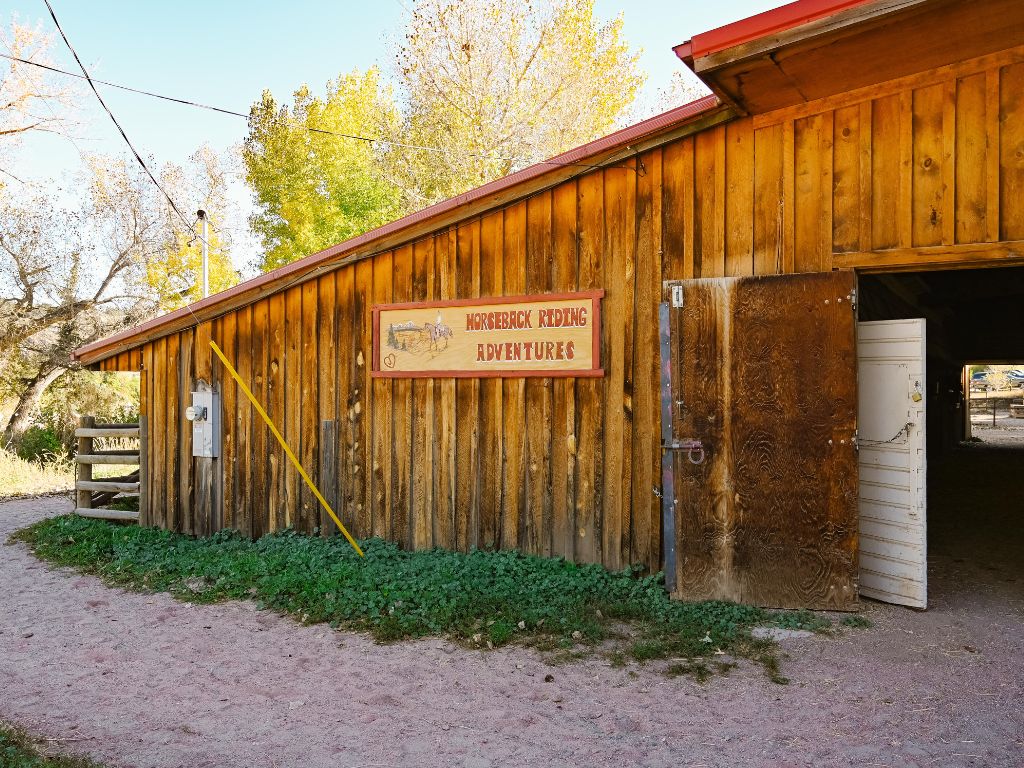 Upon arrival at Sylvan Dale Guest Ranch, you'll be invited to check in at the barn. The horse barn is the first building you see when you come down the hill to the ranch and where you'll also park your car.
To add some extra fun to my adventure photos I decided to dress in a cowboy shirt and scarf, and if I had had room in my suitcase I would have also brought my cowboy boots! However even though I looked the part I still needed to complete my check-in, my forms, and meet my wrangler.
At the horse barn, you'll get to step inside living history, see photos from the past, more cowboy boots than you can count, and also take care of essentials like getting fitted for a helmet.
Horseback Riding Safety – Certifications and Best Practices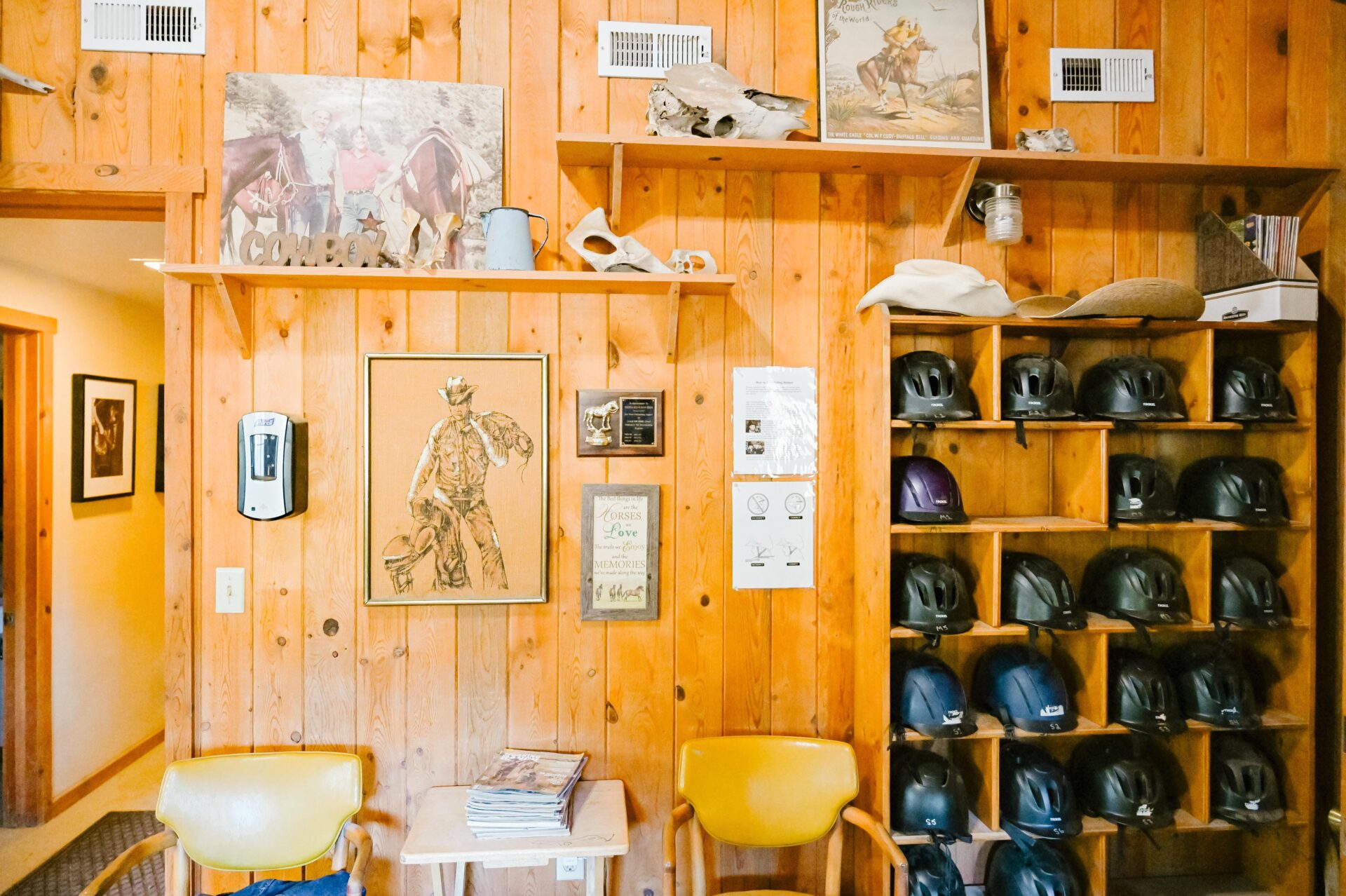 As much as I'm someone who loves adventure, I also really love safety. So when it comes to any type of outing I always like to ensure that we are doing our best to work with qualified guides and certified businesses, taking part in the safety training, and wearing the right equipment to keep myself and my family safe.
Sylvan Dale Guest Ranch is certified through the Dude Ranchers' Association Horse Safety Program. They also belong to the American Quarter Horse Association as well as the Colorado Dude and Guest Ranch Association. They are in good company and so are you.
Some of their key rules to help ensure the safety of all guests and the horses include:
No double riding
No smoking
No riding under the influence
All riding adventures will be accompanied by a Sylvan Dale Guest Ranch wrangler
Trail riders must be at least 7 years old
Weight limit — 240 lbs.
Meeting "Ben" and "Rawhide"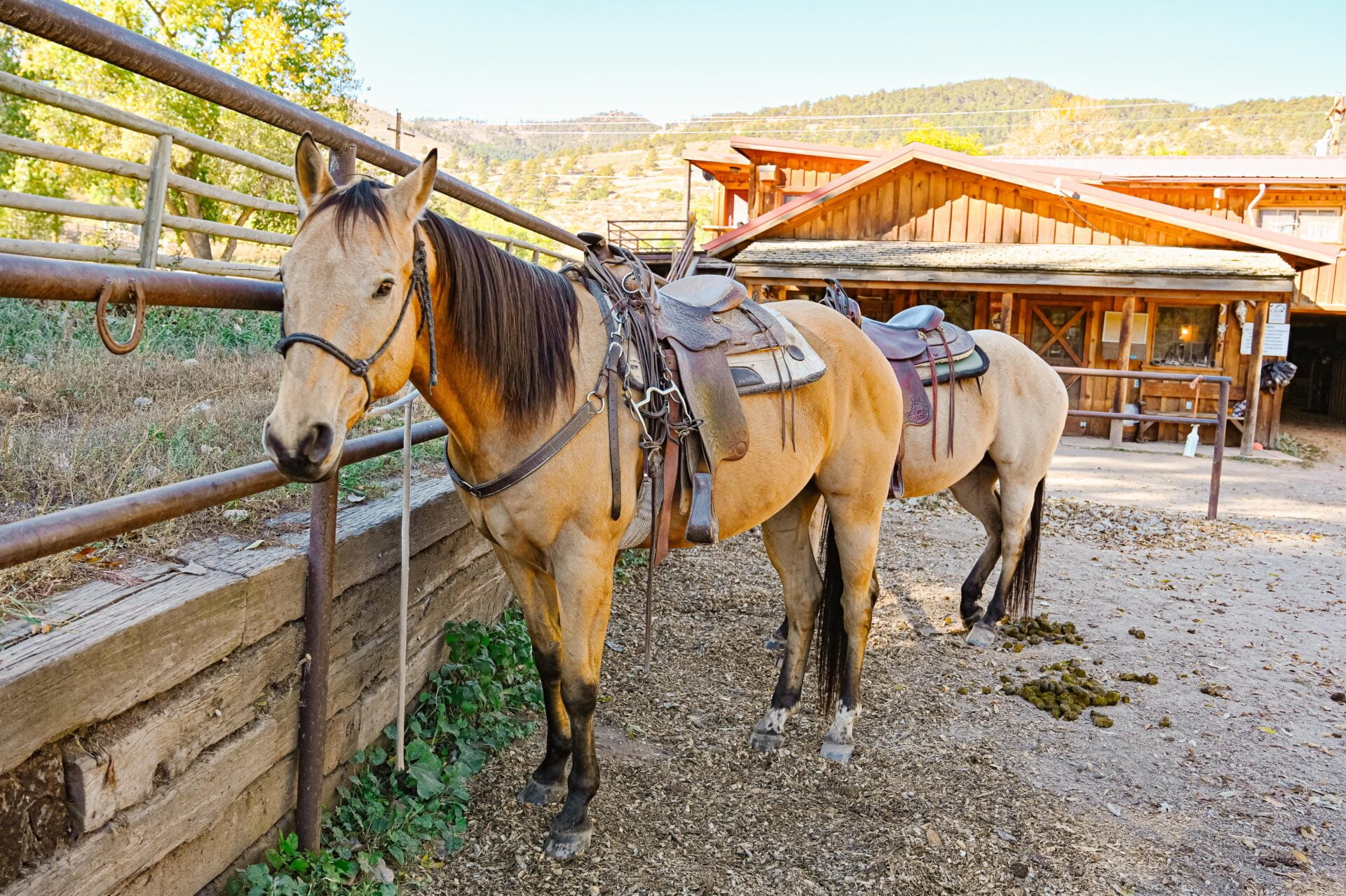 Walking through the horse barn we could see a lot of beautiful horses who were getting ready to head out on the trails. Our wrangler Kale went and got Ben (my horse) and Rawhide (Erin's horse) and brought them into the outdoor area where they would get their final adjustments made on their tack and get their bridles on.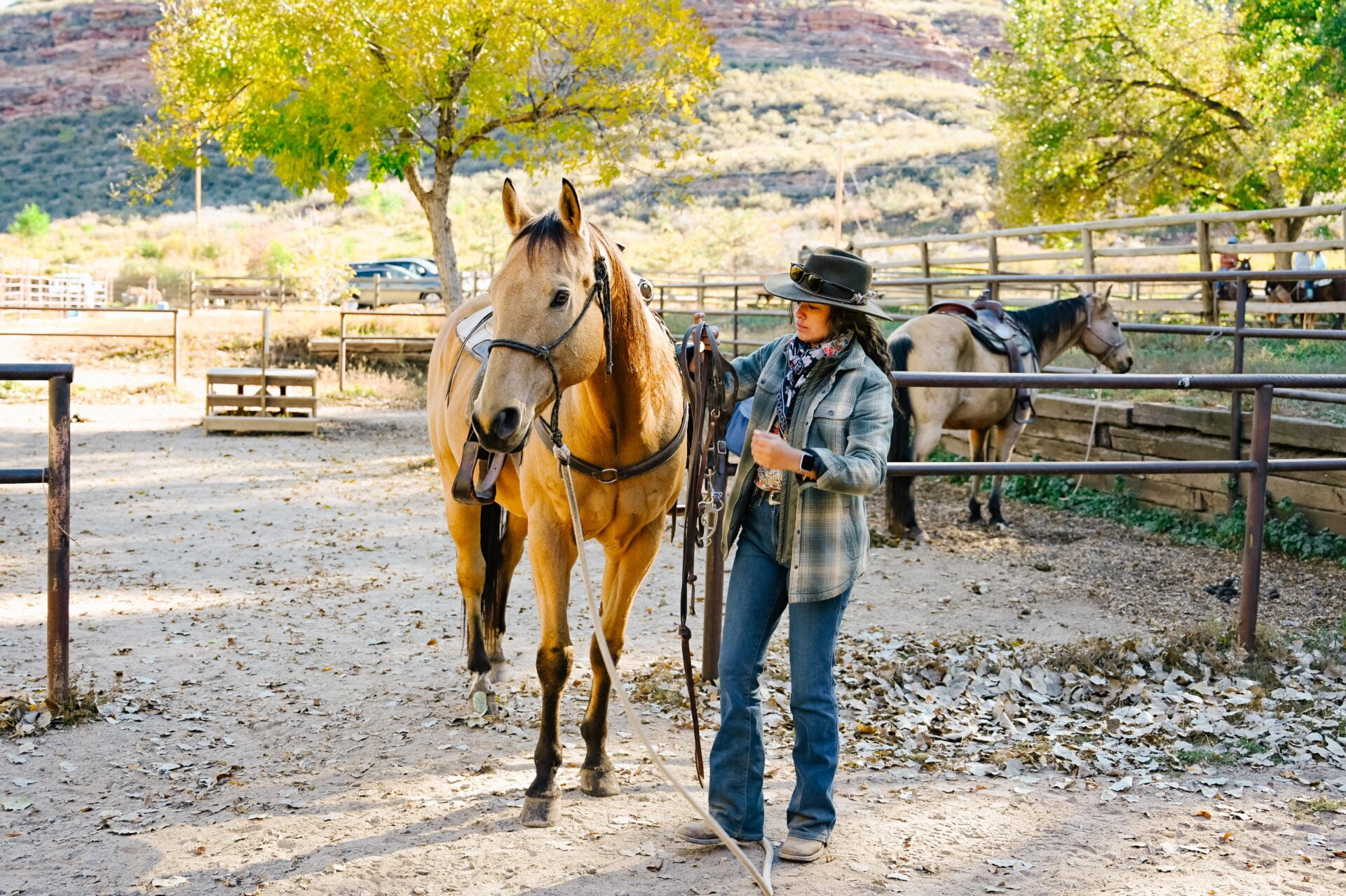 After a short and informational orientation to the riding lesson, I was happy to learn that we would be riding in single-form lines as well as to the ability of the least experienced rider (aka me!).
Then it was time to head up the stairs of the mounting block and get ready to hop onto my horse, Ben. The good boy that Ben was, he attentively followed directions and allowed me to test out my new skills to help build confidence and mutual respect before we headed out on the trails.
Trail Time – Best Horseback Riding In Loveland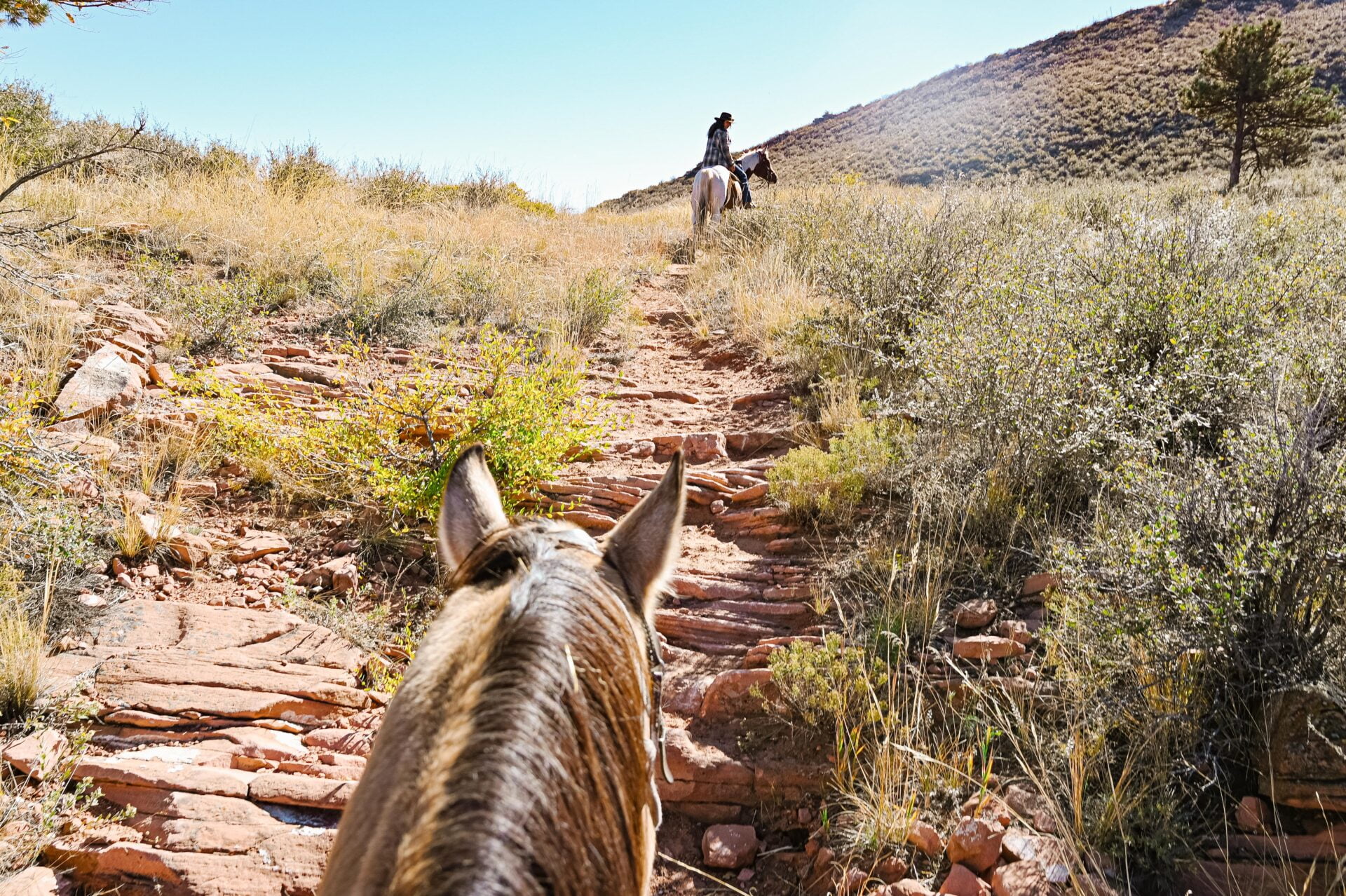 When looking for the best horseback riding in Loveland we were directed to Sylvan Dale Guest Ranch for its sweeping views, red rock terrain, qualified and passionate tour guides, and of course the magnificent horses that would lead us on our adventure.
We started our tour by heading out the back of the ranch and up through a grassy trail that had us slowly climbing uphill toward the sun. The warm fall day was the perfect backdrop for our horseback riding adventure as we had the glowing sun on our faces and the changing leaves in the landscape.
After about 20 minutes into our ride, we came into our first real ascent, a vertical climb up a shale rock section which at first had me a bit nervous. As a beginner rider, I quickly looked for an alternative trail but our wrangler Kale assured me that I could trust Ben with the trail. She guided me on how to gently lean in to help offset the weight and that Ben would navigate slowly and with one step at a time.
I definitely hit the horse jackpot with Ben as his delicate footsteps were carefully placed with each movement forward. He was so slow and meticulous with his steps that his brother Rawhide, who was behind me, was getting frustrated that he was going too slow. It was the perfect pace for me and Ben though, we took our time and before we knew it, had conquered that "difficult" section with ease.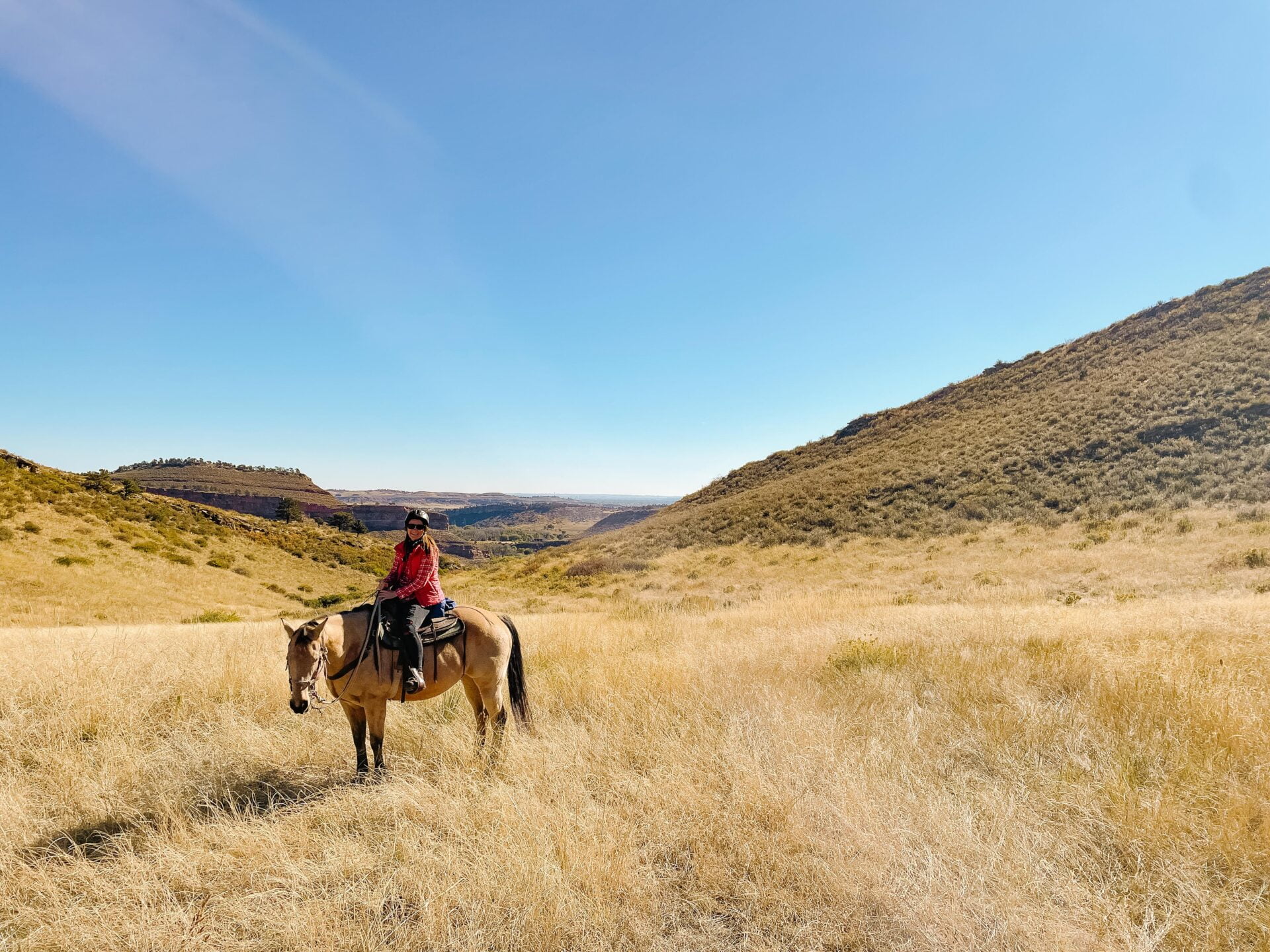 Coming up over the top, the grass was almost touching my feet, and the scenery literally took my breath away. I yelled back to Erin "Hurry up, you have to come and see this!" as the sweeping views of the valley were laid out right before us. As if pictures could do it justice (they never do) we tried to pose for a few, using all different angles to try to showcase the natural beauty of the Colorado skyline.
Horseback Riding In The Mountains – Scenic Trail Rides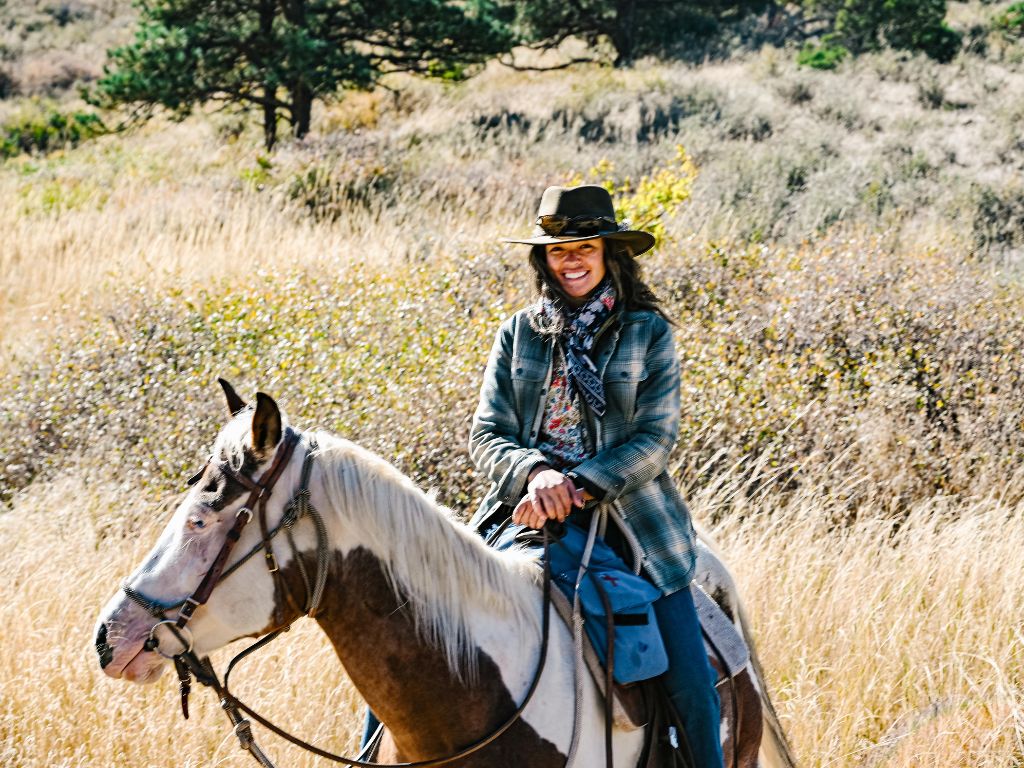 After a 10-minute picture fest and stories of other visitors that Kale had met on other tours (like a Momma black bear and her cubs) as well as a cougar, it was time to go horseback riding in the mountains.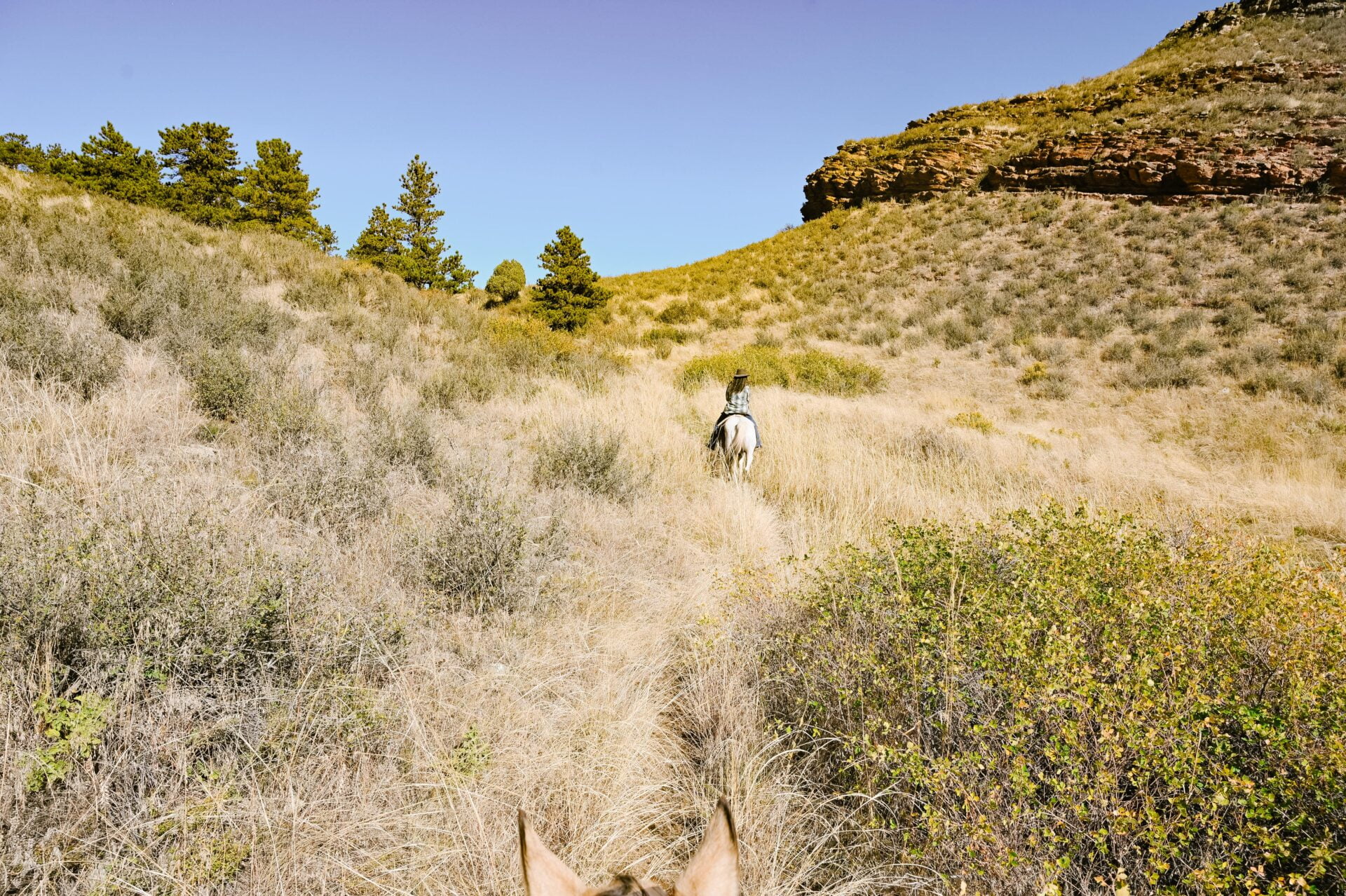 Our horses knew the way and barely needed any direction on the reins as we headed up higher into the mountains. Erin and I both had our cameras out as we traversed alongside the red mountains, their layers compressed over thousands of years each seeming to whisper a story to you as you became part of their story.
As I was becoming more and more comfortable on my horse I was able to soak in the scenery, the trees, the tall mountain peaks, and the lakes below. Many of our moments on this section of the trail were lost in quiet reflection as we took our time and explored with our senses, soaking in the incredible ecosystem that we were visiting.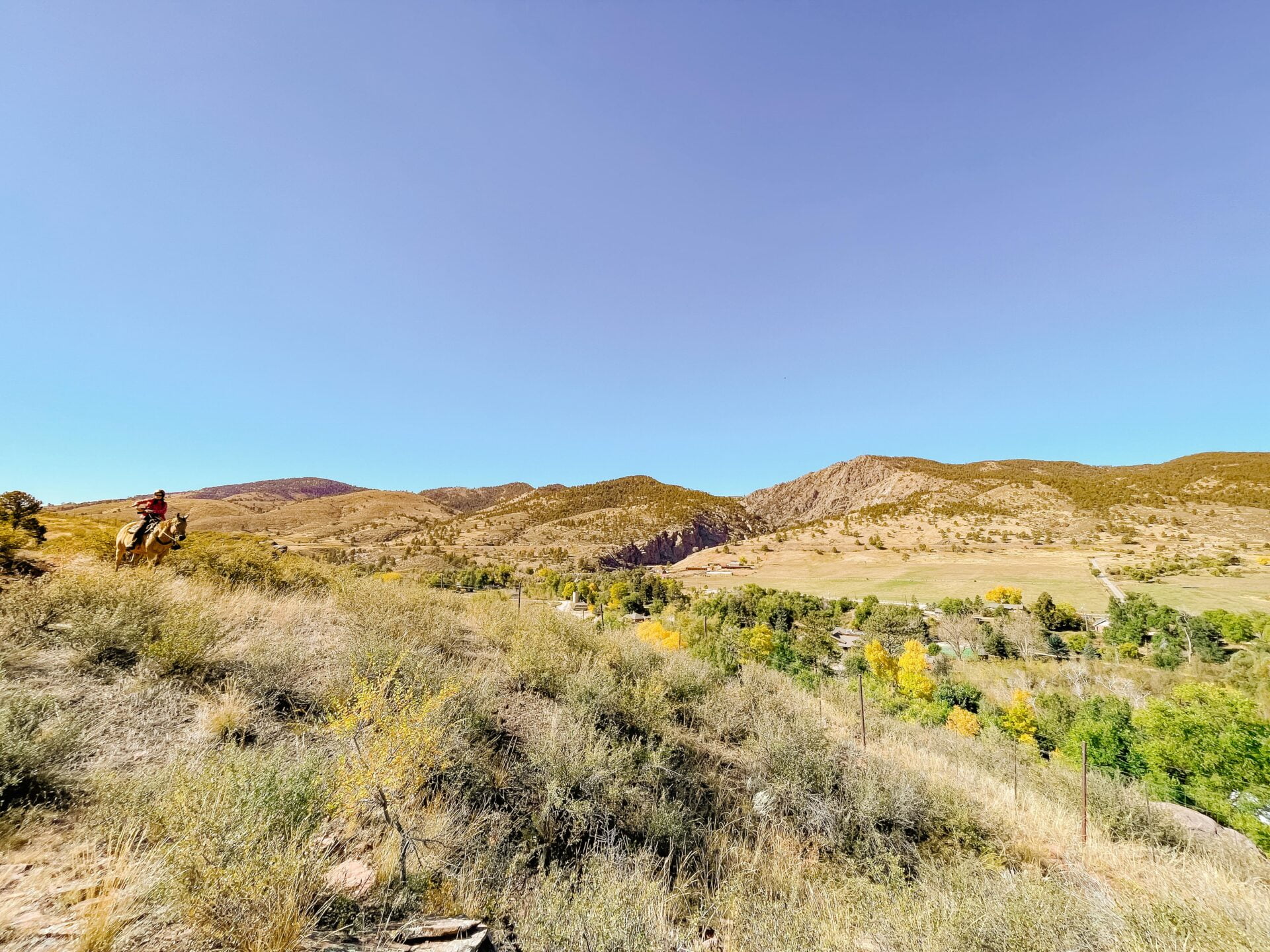 The rest of our day was spent traveling around the top of ridges, seeking out vantage points for photos, and unique views out over the vast landscape. One of my favourite parts was at a peak where we could look down on the ranch and see all of the different amenities that it has on its property. It made the original horse barn look like a small boat in an ocean, and we started asking about different events and services that they offer at Sylvan Dale Guest Ranch.
Our ears perked up when Kale shared the fact that they do horseback riding vacations! Erin blurted out, "We could do this for a whole week???" and right then we needed to learn more.
Horseback Riding In The Mountains – Scenic Trail Rides "Chow Down" Rides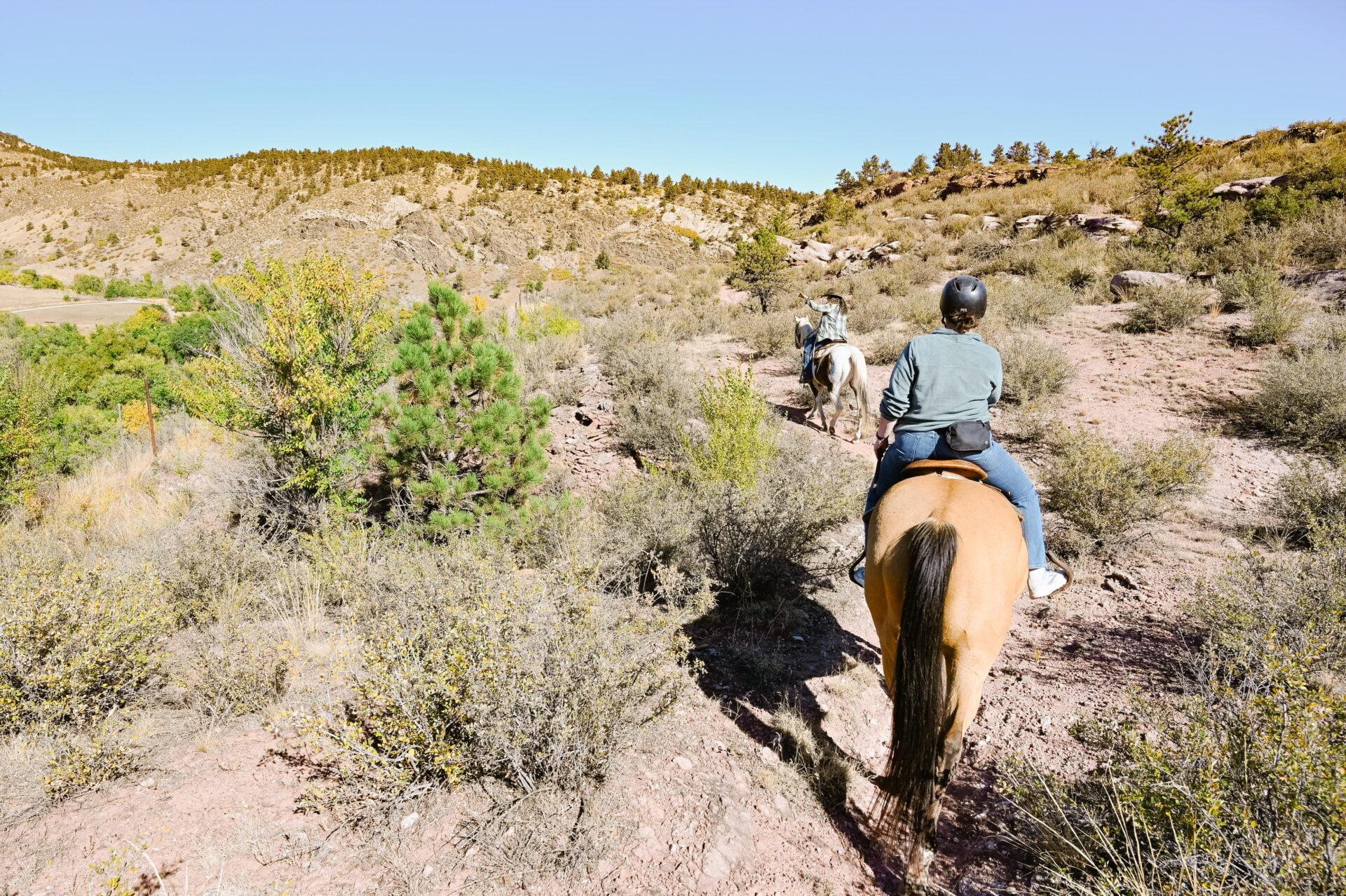 If you have a group of six or more and are visiting between May and October, you can take part in a ride that also has a "Chow Down" component, allowing you to have a scenic ride that is accompanied by a meal. Here are their options (he overnight pack trip sounds incredible as we got to see some of the trails that they explore when we were on our scenic ride):
Breakfast Ride — $91/person
Steak Ride — $99/person
Overnight Pack Trip — $312/person (June-September)
If you're still looking for even more horseback riding adventures check out the following week-long experiences.
Horseback Riding Vacations in Loveland, Colorado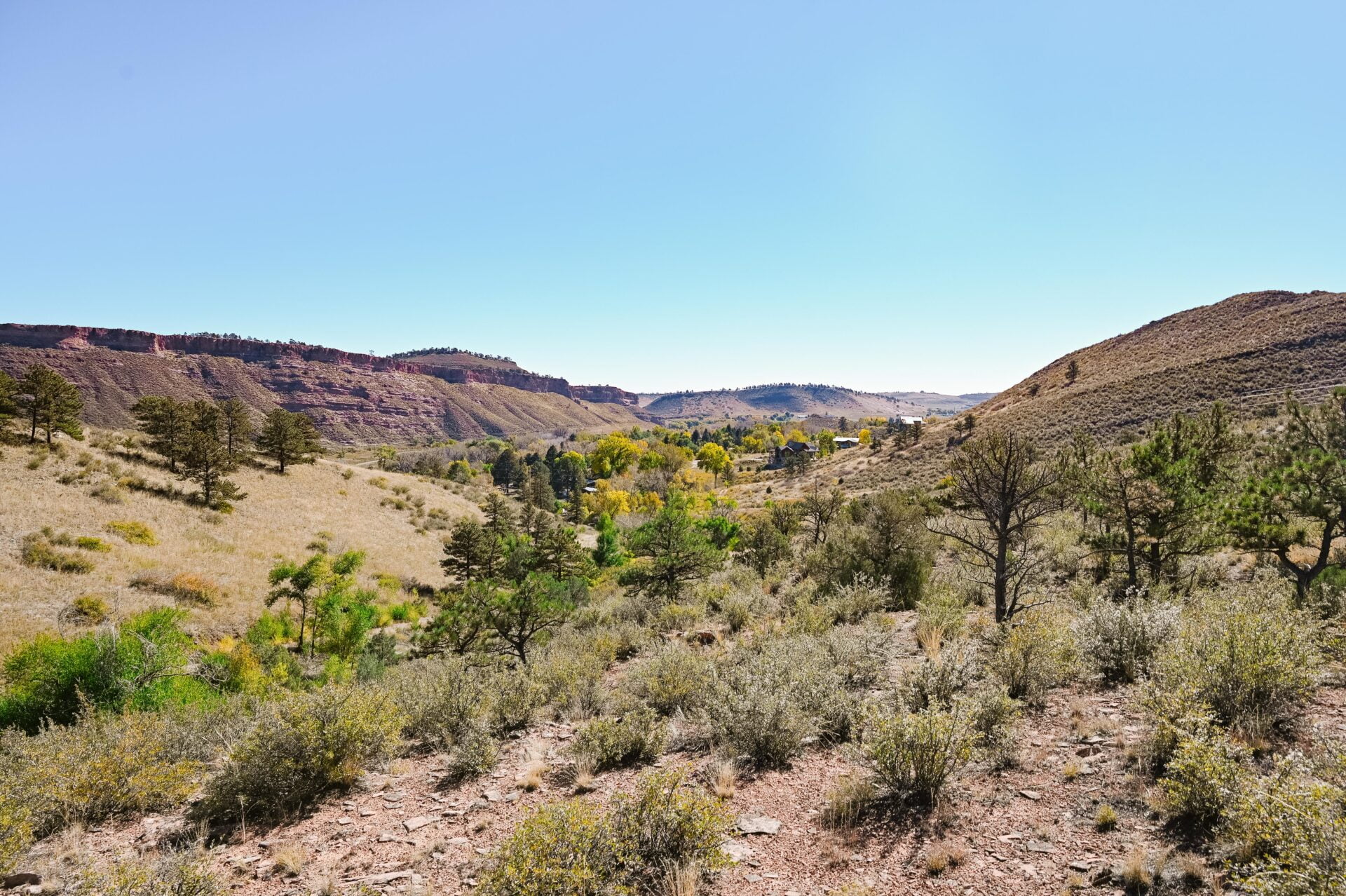 Sylvan Dale Guest Ranch offers three different horseback riding vacations in Loveland for you to choose from: Family-Friendly Dude Ranch Vacations, Grownup Only Getaways, and Cowgirl Only Adventures. On our tour, Kale showed us some of the trails that the different tour groups would explore and shared insight as to what each of these week-long experiences would include.
For all of the week-long horseback riding vacations, guests get to take part in daily riding lessons, twice-a-day trail rides, cattle work, and more! All of their vacation packages include meals, activities, and lodging giving you the opportunity to explore what they call, "The best place you've never been!"
Dude Ranch Vacations
From little riders to big kids at heart, the Dude Ranch Vacation is the quintessential horseback riding vacation with the beautiful red rocks of Colorado as your backdrop. From daily rides to special programming to ranch-style food, campfires, line dancing, and movies, a Dude Ranch Vacation is an experience that you'll never forget.
You'll spend your day on the ranch, developing your skills, exploring beautiful new landscapes, working with the horses, and spending extra time taking part in planned and unplanned activities. Dining on the ranch is an adventure in itself where fresh homemade Colorado cuisine will be served both indoors and outdoors, as well as on the trail. When it comes to settling down for the night you'll rest easy in their cozy cabins and friendly guest houses.
If you're interested in special programming look to book during Cattle Drive week or their Native American Living History.
Great Grownup Getaway
For singles or couples looking for a unique adult-only horseback riding vacation in Colorado, the Great Grownup Getaway at Sylvan Dale Guest Ranch may be the perfect fit. Where old west charm meets new west comfort this 5-night stay invites you to experience trail riding, 14 mouth-watering ranch-style meals, wine and cheese tastings, country line dancing, guided nature hikes, trap shooting, roping lessons, and a variety of on-ranch activities. From tennis to ping pong, campfires and smores, a movie night with popcorn and sodas (and of course western movies) as well as a games room, volleyball, game courts, and of course, horseshoe pits, the Ranch has it all.
If you're looking to do some escaping and soak in the luxury of slower time and disconnectivity you'll have that too on this trip. Whether you fall deep into a book or invest in some well-needed naps next to the river, the balance of hands-on activities and restoration at the ranch are all a part of this Great Grownup Getaway.
Cowgirl Week
So popular with cowgirls that this girls-only horseback riding vacation sells out quickly, Cowgirl Week at the Ranch is as unique as its guests. Whether you go solo or invite your favourite gal pal (moms, aunts, sisters, daughters, BFFs) there's only one rule, No Cowboys Allowed!
Cowgirls will enjoy daily rides and lots of hands-on opportunities including grooming and taking of your horse (once approved by the head wrangler) as well as unsaddling and turn out at the end of the day. Working with your horse allows for more bonding time and creates more meaningful connections during and after your trip. From meeting new friends or bonding with the ones you brought, taking part in Cowgirl Week at Sylvan Dale makes for a truly bucket list-style experience.
Activities Included in all Vacation Packages:
Comfortable cabins with daily housekeeping services
Hearty ranch-style meals
Your own horse for your stay
Horseback riding adventures on the trail and in the arena
Western riding instruction
Trap shooting
Rock climbing
Archery
Bass Fishing
Overnight Pack Trip (ages 12 and up only)
Cattle Sorting Activities (ages 12 and up only)
Campfire and s'mores
Participation in ranch chores (optional, of course)
Western Dance Night
Amenities at the Ranch:
Hiking trails
Game Courts – tennis, pickleball, four-square, basketball, shuffleboard
Outdoor heated pool
Volleyball and horseshoes
Game Room – ping-pong, billiards, foosball
Extra Activities (*additional fees apply)
Guided fly fishing excursion
Private riding instruction
Massage
White water rafting
Horseback Riding Lessons, Loveland, Colorado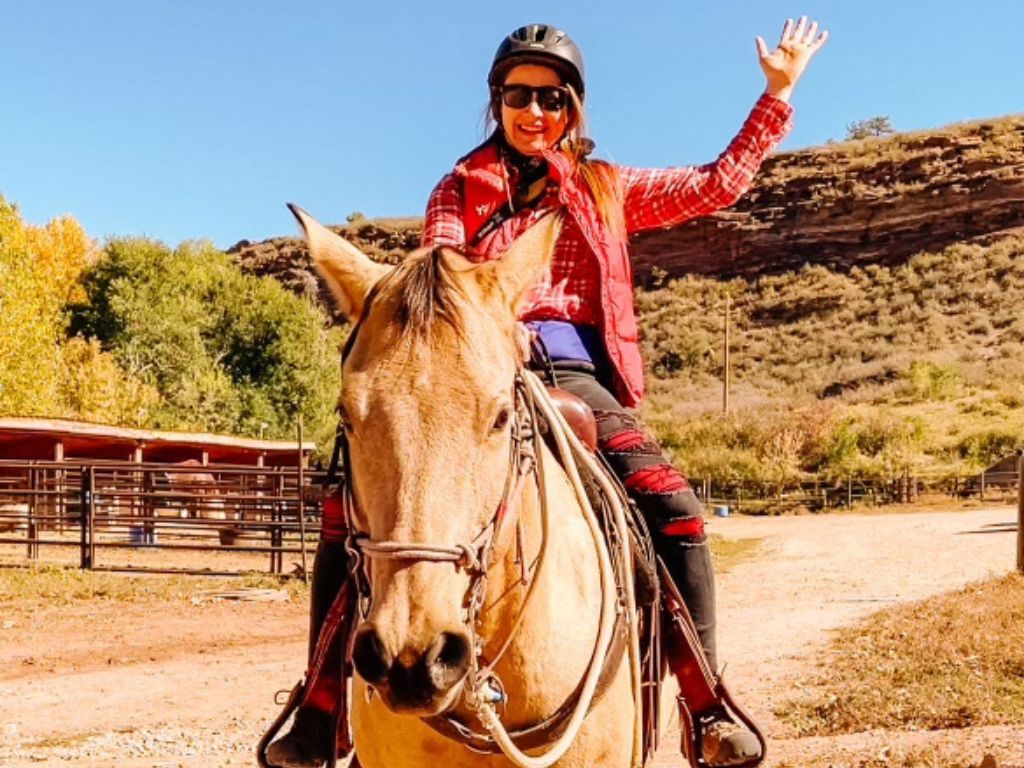 If you get hooked after going on a guided trail tour and want to invest in lessons, the horseback riding lessons at Sylvan Dale Ranch are a great fit.
Sylvan Dale Guest Ranch offers western riding instruction, but they are a popular program and do sell out. Lessons are six sessions in duration and take place on Saturdays and Sundays in both the Spring and Fall sessions. Lessons include basic western horsemanship and riding instruction, hands-on groundwork and riding skills, and graduation to trail riding for the last season. Learn more on their website.
FAQs – Horseback Riding in Loveland, Colorado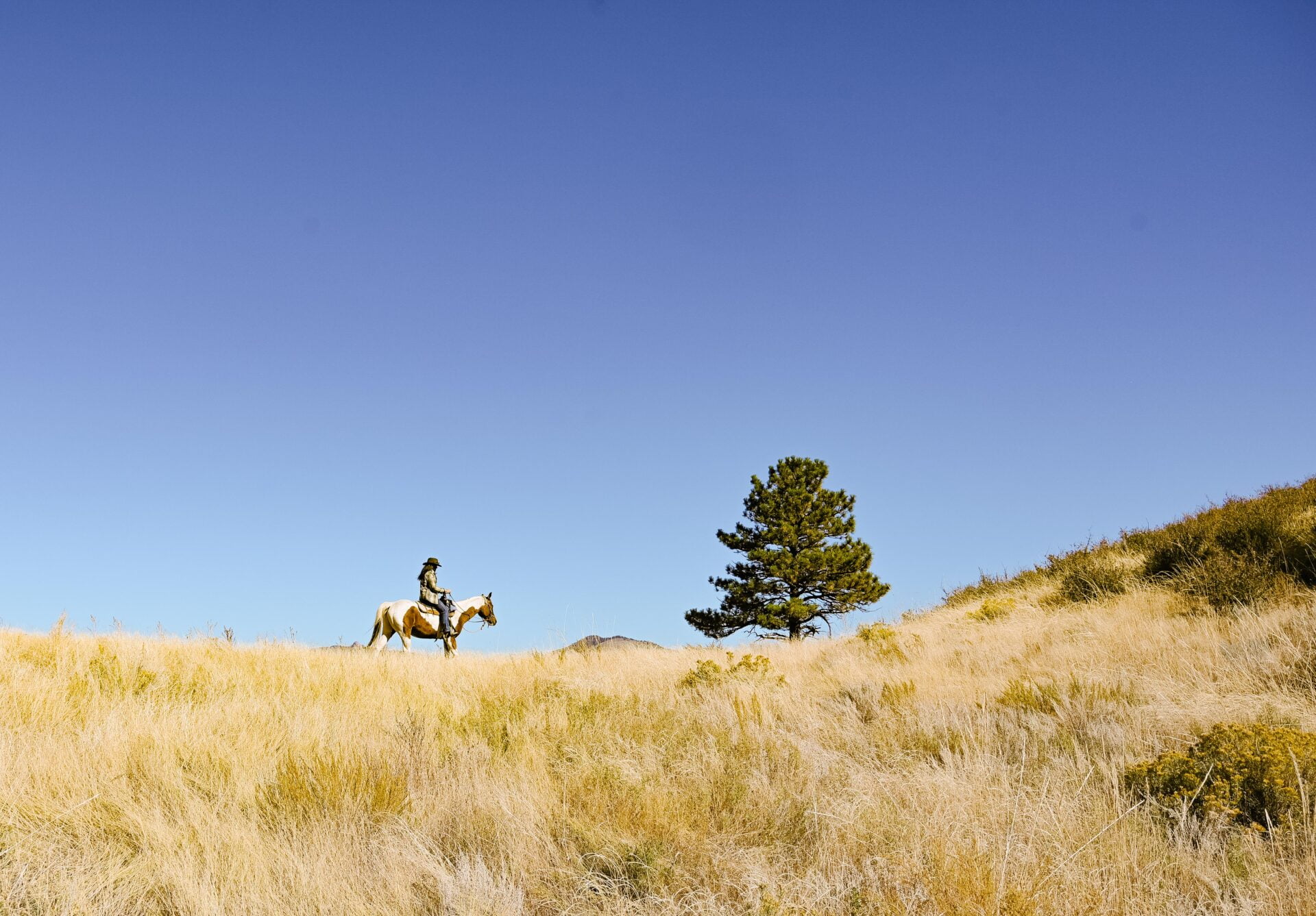 How to get to Sylvan Dale Guest Ranch
The Google machine may lead you astray if you use their mailing address to navigate to Sylvan Dale. We found it quite easy to get to, as their huge sign on the road made it easy to find. However here is a detailed description of how to find the Ranch from their website:
"Sylvan Dale is between mile markers 84 and 83 on US 34. As you near the Ranch from the east (Loveland), watch for the covered wagons on the right (north) side of the road. The wagons will signal that you are approaching the Ranch Entrance. Turn right (north) through Ranch Entryway and down the hill past the Sylvan Dale Horsebarn and Arena, and across the Big Thompson River. Turn right at the old silo and follow the signs to the Office, in The Heritage.
If you miss the first entrance, not to worry. Just turn right just before the Dam Store, on County Road 22H. Signs will lead you past the Sylvan Dale Horse Barn on County Road 31D and north across the beautiful Big Thompson River. Take the first right after the bridge and follow signs to the Sylvan Dale Ranch Office in The Heritage.
If you are coming to Sylvan Dale from the west, immediately east of the mouth of the Big Thompson Canyon, the historic Dam Store is on your left. The entrance to Sylvan Dale is immediately east of the Dam Store, left on County Road 22H. Take a second left at the Sylvan Dale Horse Barn and follow the signs across the Big Thompson River, turn right at the silo, and follow signs to the Ranch Office in The Heritage."
Is the horseback riding tour canceled if there is rain?
If the weather isn't as ideal as our beautiful fall day, and you happen to come up on less ideal conditions including rain, snow, or mud your rides may be limited to dirt roads to help ensure a safe ride.
What time of the year is best for horseback riding tours in Loveland?
I may be biased when answering this question as we went in the Fall (mid-October) and had the most idyllic weather that I couldn't imagine it being any more magical at other times of the year. The changing colours of the season, and the warm (but not hot) weather made for excellent conditions.
If you're going during the summer be sure to bring water and wear sunscreen! We were surprised that we got sunburned in the fall so could only imagine what the heat would be like during peak season.
So in short, is there truly a best time to go?, that's really up to you and what season and weather you most prefer going adventure seeking in!
What amenities does Sylvan Dale Guest Ranch Have?
There is no shortage of things to do at Sylvan Dale Ranch. Their property boasts:
Tennis
Pickleball
Shuffleboard
Foursquare
Basketball
Volleyball
Horseshoe pits
Ping-pong
Foosball
Billiards
Outdoor heated pool (seasonal)
Bike trails
Book Nook
In conclusion, I couldn't have asked for a better Wrangler (Kale) or horse (Ben) to welcome me back to horseback riding after 20 years. Both of these gentle beings helped me transition my horseback riding from fear to something I want to embrace, literally helping me get back on the horse. It will be cherished as one of my favourite memories from our time in Colorado and I envision myself looking out for other horseback riding opportunities in other destinations as I loved how we were able to explore in an eco-friendly way.
I wholeheartedly recommend Sylvan Dale Guest Ranch if you're looking to go horseback riding in Loveland. I hope to be able to go back for one of their bigger adventures someday!
---
Check out these Colorado Articles that are sure to Spark Travel Inspiration