Are you looking to book a trip to The Source Hotel in Denver?
In short, all I can say is do it! I will forever be recommending this hotel after our visit in the Fall. The Source Hotel in Denver is such a unique hotel and collection of experiences that we spent our first whole afternoon just exploring the complex and learning about this unique hotel in Denver's art district. As a traveler, I love being able to have a soft landing, where I can get everything I need in the hotel while I orient myself to the city, and The Source had all of that and more.
From modern rooms that were stocked with the "just landed" essentials like drinks, sweets, and treats, to six different restaurants, to a rooftop pool and bar (surrounded only by the Rocky Mountains) to a huge hang-out space in the lobby, this hotel wrapped us up with a huge welcome and held our hands while we made ourselves comfortable.
One of the funniest moments of our trip was when I was exploring our room and showing my friend how cool it was not realizing that our room had a garage door that was REAL…I squealed when I discovered that it was a functioning door and that I could instantly transform my whole room into an outdoor patio party!
Let's dig into The Source Hotel, its design and history, amenities, and what you can expect to help you plan your next trip to Denver, Colorado.
The Source Hotel In Denver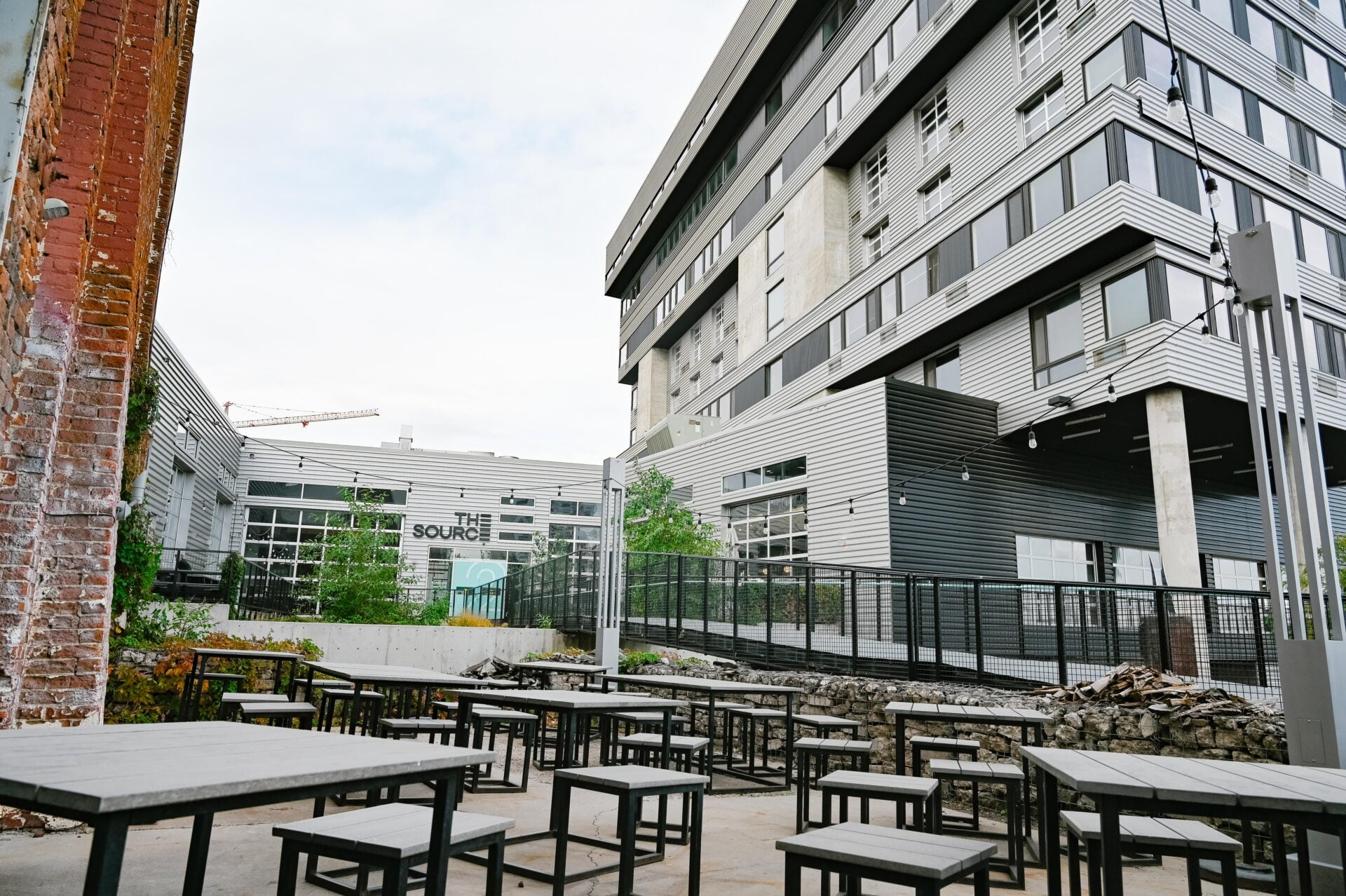 The Source Hotel is one of the most unique hotels in Denver, if not one of the most creative ones I have ever visited in 40+ years of travel. On their website they tote themselves as a "Boutique Hotel, Artisan Market Hall, and Creative Hub" and how they've managed to meet at the intersection of all of those places is really a unique experience.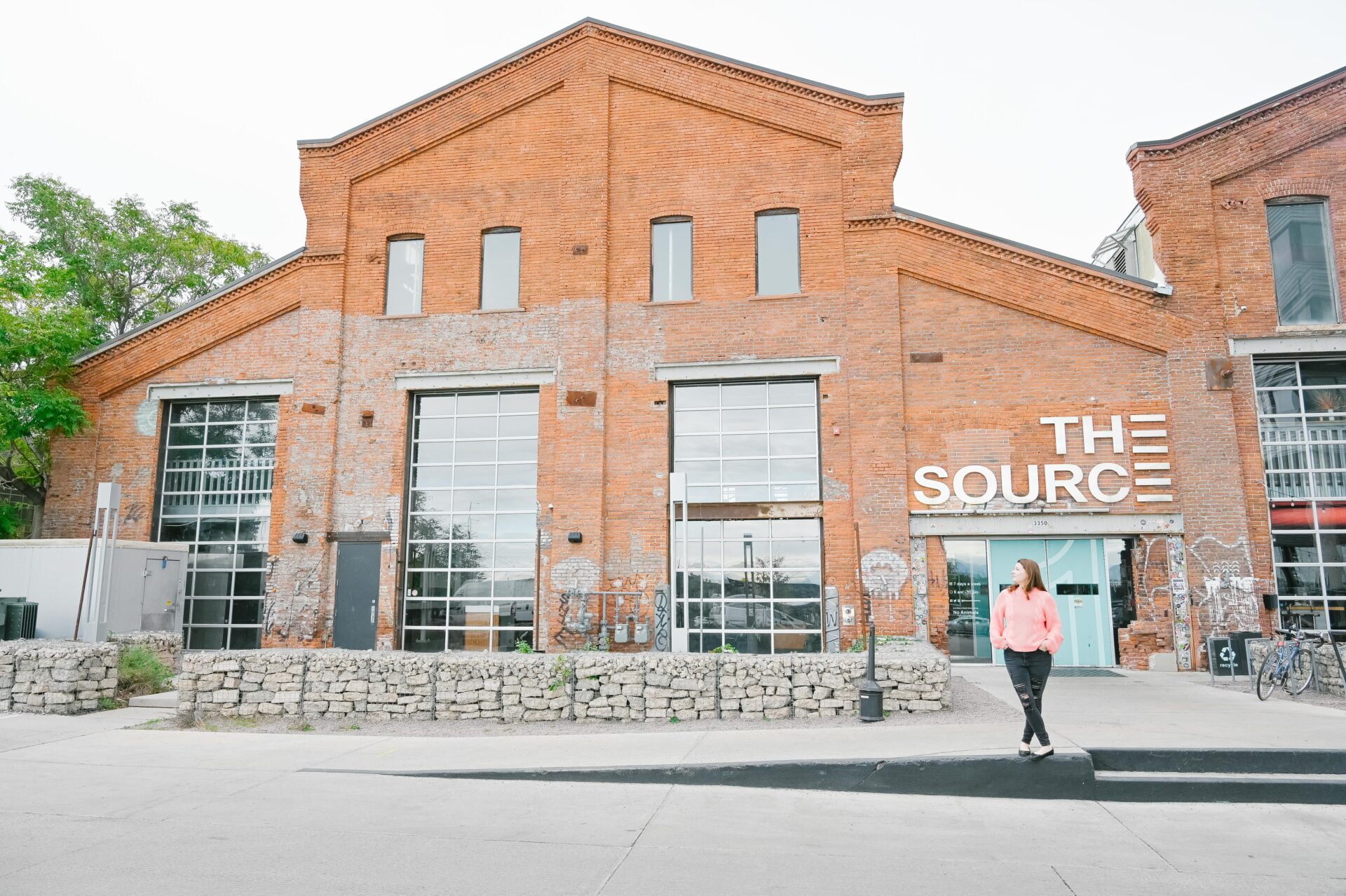 The 41.6 million dollar hotel opened in 2018 adjacent to a former iron foundry. The design and architecture mix the 100-year-old buildings and a new modern innovative hub seamlessly into one, creating an intermingled community with a creative twist. The complex as a whole has The Source Hotel, six amazing restaurants, boutique shops including a vintage/coffee shop, bakery, on-site florist, as well as a brewery. On our visit we saw that not only was this a destination for travelers but the building was also bustling with locals who were hanging out for dinner with friends, enjoying a business meeting on the rooftop patio, or just strolling vintage finds next door in The Source Market Hall.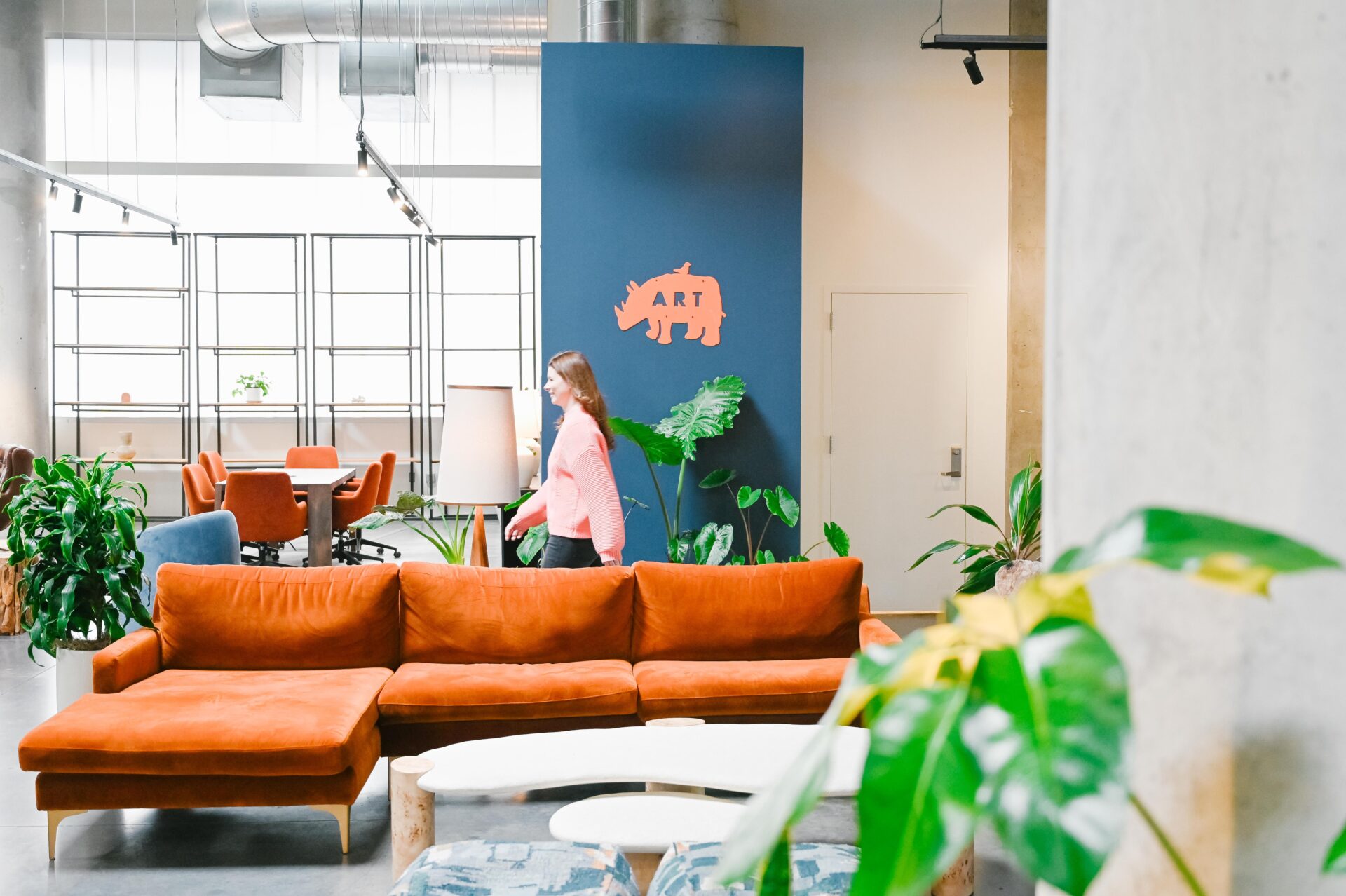 Located just outside the RiNo Art District (short for Denver's River North Art District), The Source Hotel provides stylish accommodations that were inspired and designed with Scandinavian & Japanese aesthetics. They've mixed the old with the new, infused the decor with artist vibes and the welcoming atmosphere that goes along with that. As a guest, you'll feel called to the central lobby where you can hang out and mingle over coffee for as long as you like. I loved the long co-working tables and oversized chairs for sitting with my laptop and getting work done. 
The whole thing appears to be effortless and yet you know it was perfectly designed with intention This unique hotel in Denver mixes art and community all while staying wrapped up in the majestic Rocky Mountains that can only be experienced in the Mile High City.
Hotel Area Info
The Source Hotel is located 1 mile north of the RiNo Art District, one of Denver's most historic and iconic neighbourhoods. The RiNo Art District makes up the area of Five Points, Cole, Globeville, and Elyria-Swansea and is a mix of historic buildings blended with new modern art, similar to the overall feeling of The Source Hotel (which I'm sure is by design).
Over a hundred years ago the RiNo Art District was the central location for industry having businesses like foundries, pattern shops, and warehouses calling the region home. In the 80s to 90s, the area went under a transformation where the industry moved out and vacant buildings were left. As a result, artists started to take advantage of the lower prices and move into the area, beautifying the region that they started to call home. Murals and street art started to evolve and the community became a focal point for all types of creatives.
In 2005 local artists Travy Weil and Jull Hadley-Hopper created the River North Art District (Or RiNo as it's now called) to encourage the community of creatives. They started with 8 members and quickly grew to 50.
Today the community continues to evolve and is now a bustling neighbourhood that creatives from all disciplines call home. Walking down the street you can see restaurants bustling with customers, art galleries, furniture stores, graffiti artists working on the streets, and studio spaces. Unfortunately with the growth of the area, the prices have gone up and it's not as accessible as it once was but the legacy of art and community is one that will last a long time.
One of the best tours I've ever taken was the Graffiti Tour with Denver Graffiti Tours, which walked us through the neighbourhood, introducing us to the stories and the art that makes up this community. If there is one thing you need to experience in Denver it's this tour, click this article to learn more!
What Are The Rooms Like At The Source Hotel in Denver?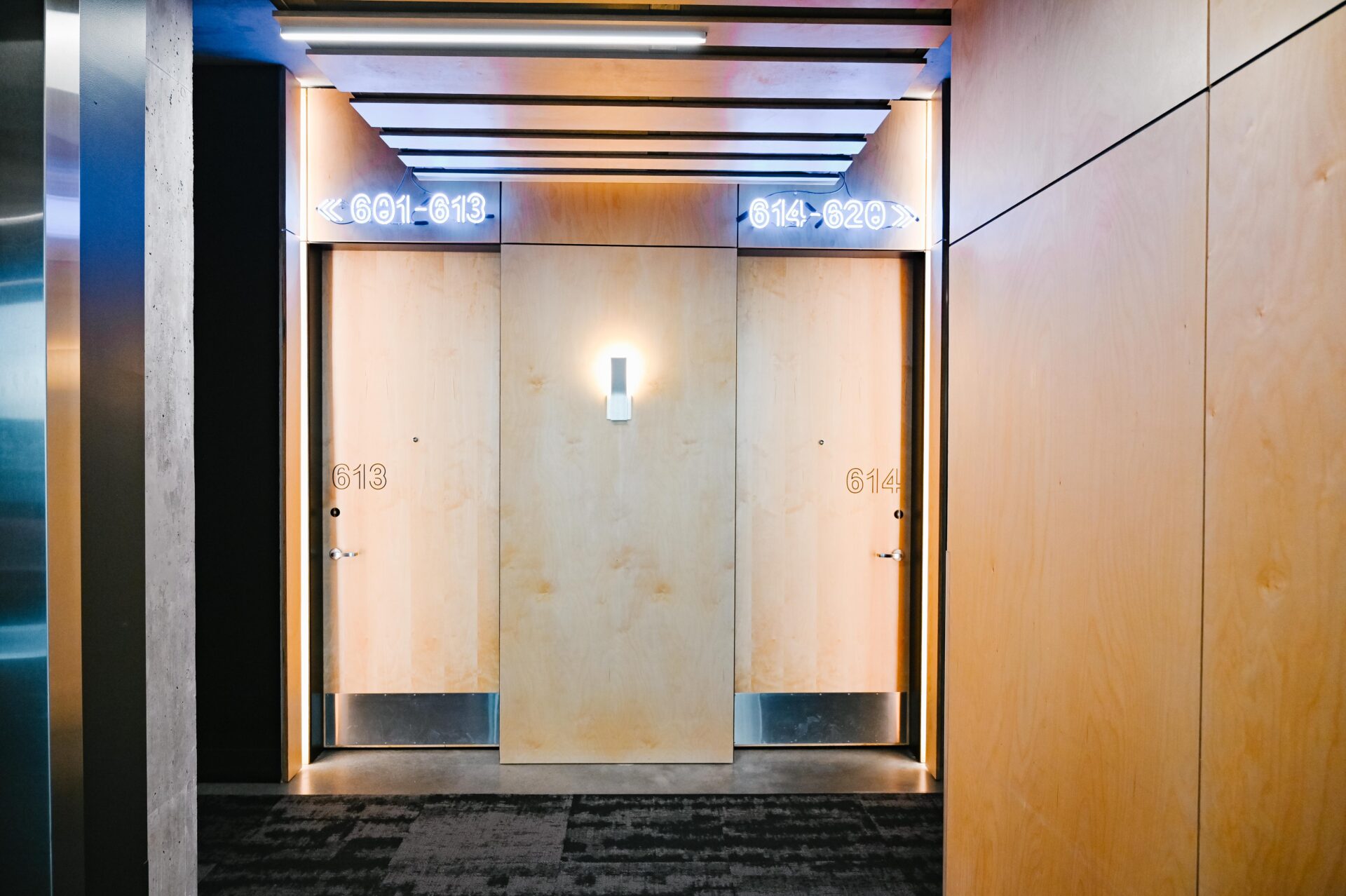 As soon as you walk out of the elevator towards your room you know that you're somewhere different. Floor-to-ceiling wood walls invite you to walk down towards your room, and bright neon signs light the way, showcasing their mix of traditional and contemporary design elements.
Once you use your hotel room key to unlock your door you'll be flooded with natural light through large windows allowing you to soak in the Denver skyline and Rocky Mountains off in the distance. If you're able, book a room with a fully functioning garage door or a soaking tub to experience all that this unique accommodation in Denver has to offer.
When booking you'll have the opportunity to choose from six different room types where "Bold design meets plush materials, polished textures (and a view you won't find anywhere else!) in artful RiNo Denver." – The Source Hotel. No matter what room you book though, you are guaranteed natural light, amazing views, and next-level amenities.
How Many Rooms Are In The Source Hotel?
There are 100 "design-forward" rooms with six different layouts to choose from.
Deluxe King Room – 344 sq. ft.
Perfect for a longer stay or for those wanting more room to move about and work, the Deluxe King room invites you to their design-forward spaces that feel like a retreat. With Baltic birch, concrete accents, and decor elements like a magazine rack that is simplistic yet inviting, these rooms take full advantage of function and views inviting you to come in and stay a while.
King – 294 sq. ft.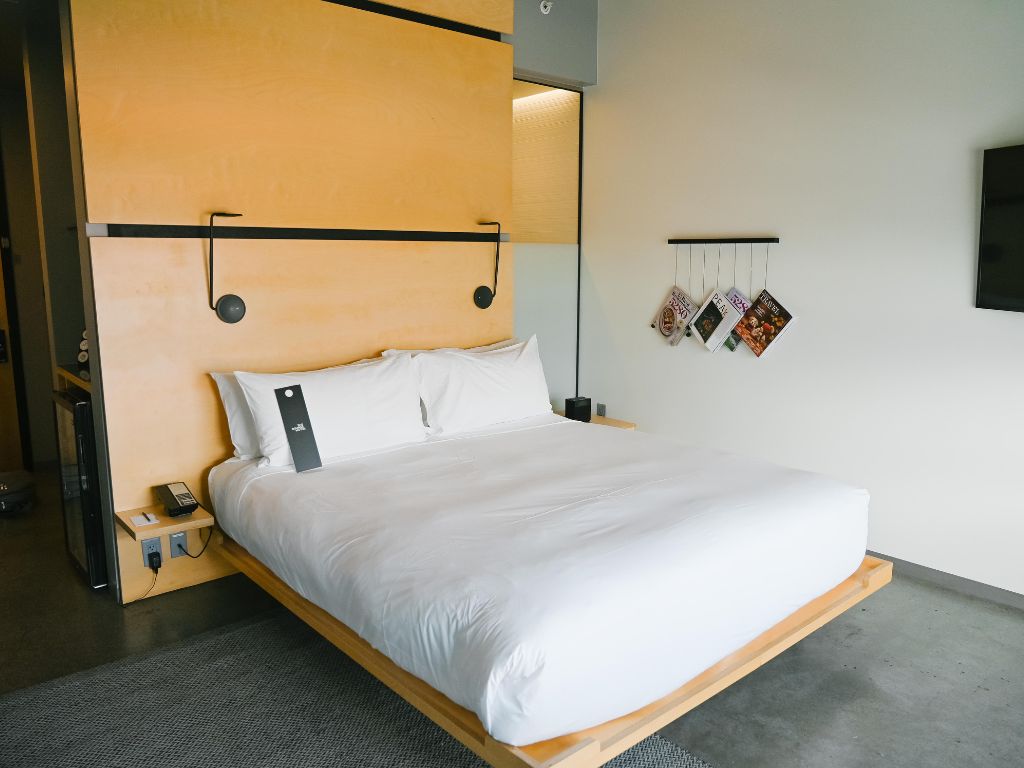 Plush bedding will have you wanting to do a cannonball into bed so you can soak in the Scandinavian serenity that surrounds you. The Source Hotel Denver King Rooms offer a floor-to-ceiling ambiance that leaves you flooded with natural light and views out over the Market Hall, city skyline, or the Rocky Mountains.
Two Queen – 327 sq. ft.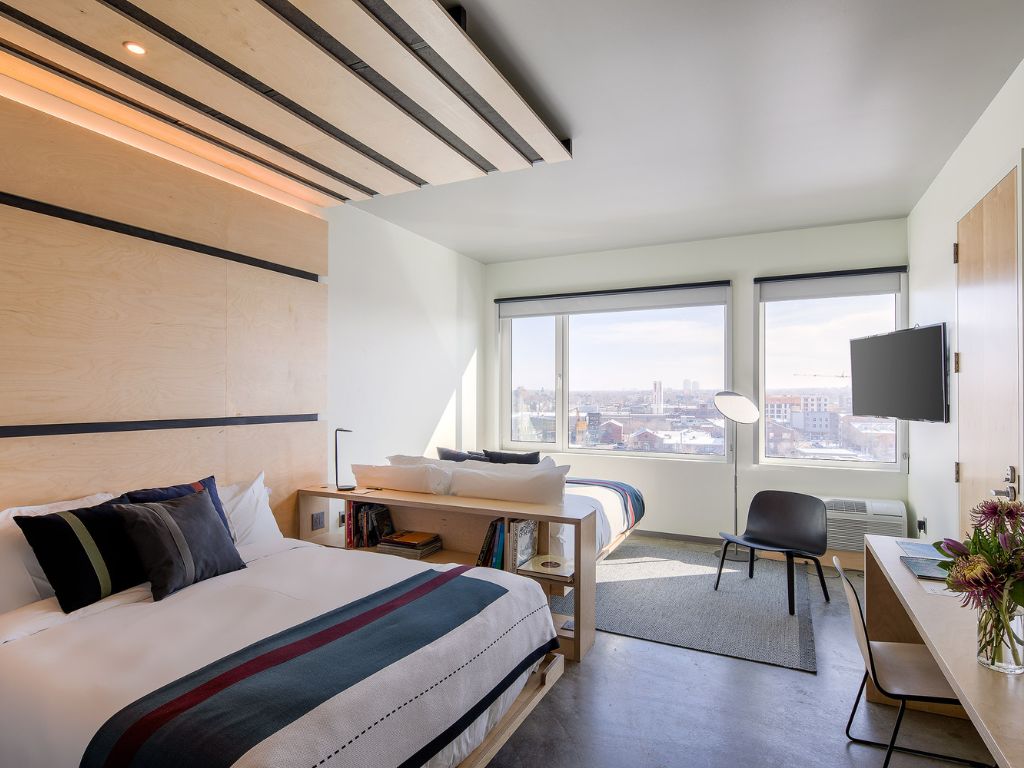 A unique twist on a modern hotel room, the Two Queen Suite creates added privacy and separation for guests. A stocked bookcase "pays homage to our artful neighbourhood with a curated selection of design and culinary hardcovers." Laying in bed you'll be able to take in the views out over the Mile High City all while gathering adventure inspiration for the next day.
Mountain View Suite – 450 sq. ft.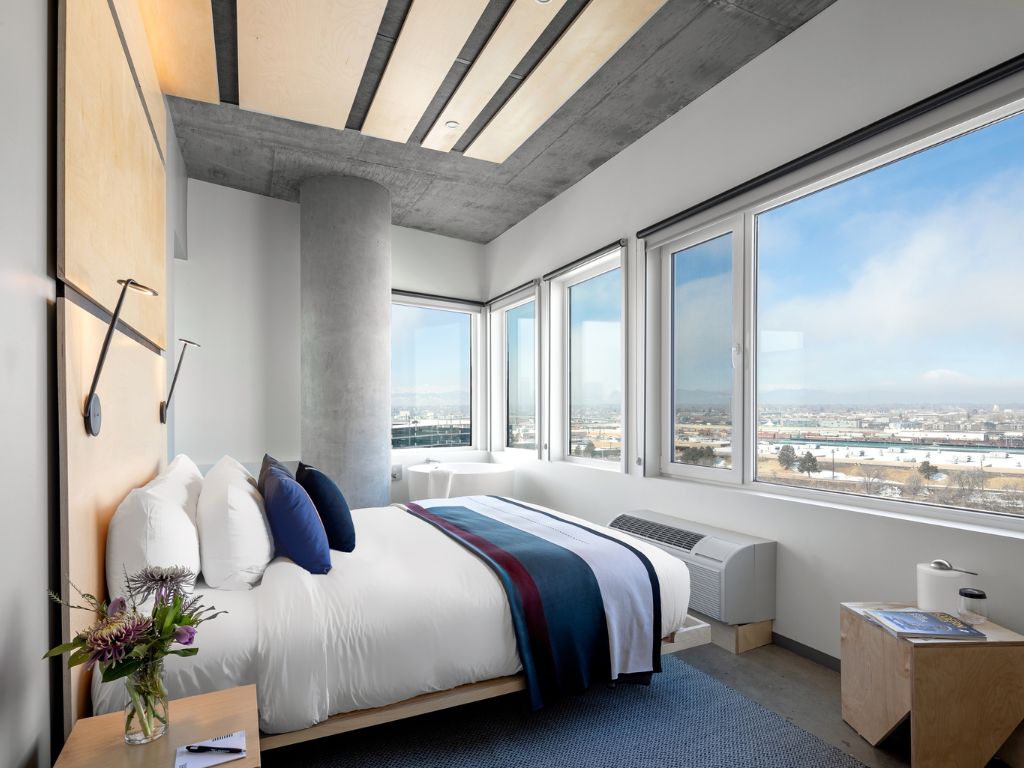 The sweeping mountain views are ready for your viewing pleasure in this appropriately named Mountain View Suite. In these rooms, you'll enjoy large bay windows so you can soak in the views from sunrise to sunset. While staying in this suite, you'll get to lounge in your private sitting room and one of my favourite things to indulge in is the freestanding tub!
Skyline Suite – 475 sq. ft.
If soaking in a freestanding tub surrounded by large bay windows and stunning views out over Denver is your way to relax, then this is the room for you. Not only do they boast spectacular views looking out, but inside you'll find a wet bar, custom sofa, plush textiles, and of course the freestanding tub. The Skyline Suite has it all (and then some!).
Market View Suite – 480 sq. ft.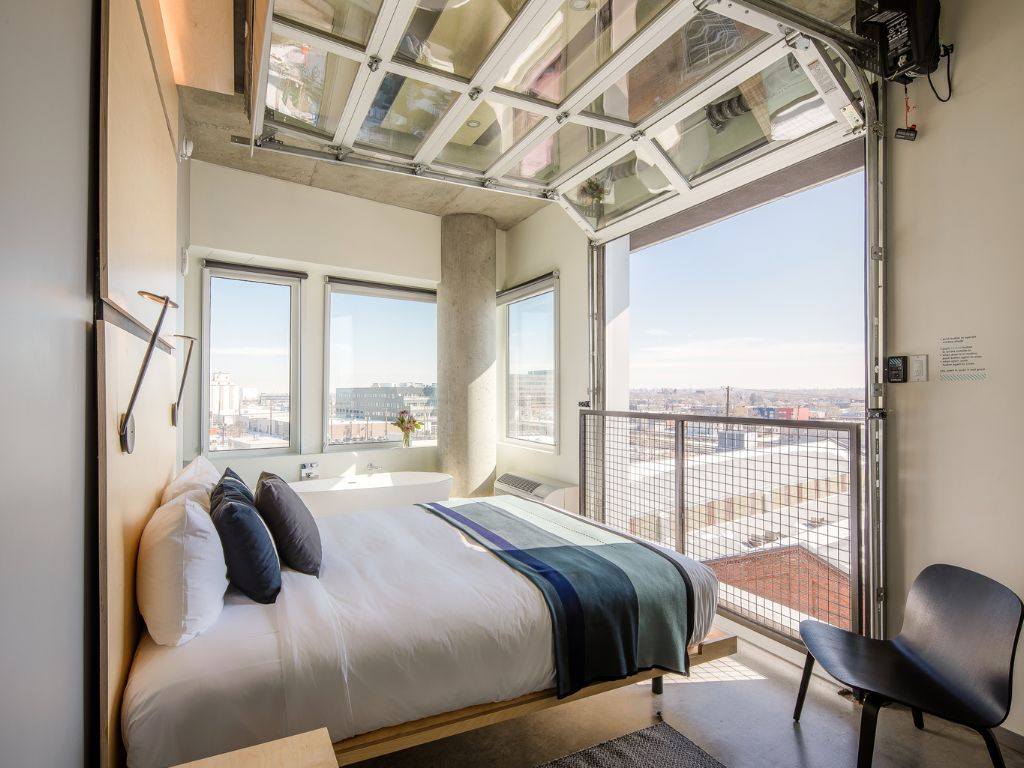 As the largest room in the hotel, this oasis welcomes you to enjoy your stay with a king bed and a sleeper sofa. An oversized work desk looks out over an incredible view that is sure to be a welcome distraction. The room also has a private sitting room and wet bar creating more space and separation from the king suite. Serenity awaits.
Book your stay at The Source Hotel here!
What is There to Do at The Source Hotel
Designed to be more than a hotel, The Source Hotel is a place where you can stay, shop, eat, work, mingle, and create. This really took me by surprise on our visit, as while I was excited to explore Denver, I also was equally inspired to stay and hang out at the hotel and get to know everything that was available on the property (traveler tip – be sure to set aside time in your schedule to hang out and enjoy the hotel and its amenities). From shopping for the perfect card at Beet & Yarrow, to heading down to the market for appies, there's more to do than time would allow us, so needless to say we will be planning another trip back!
Make a Splash at The Source Hotel Denver Pool
The Source Hotel Pool
In order to be a credible, journalistic, and investigative travel writer I feel that it is my utmost duty to research all elements of our stay including the rooftop pool. I mean, someone has to do it right? So after waking up on our first morning at the hotel I put on my cozy spa-worthy robe and headed to the rooftop so I could check out The Source's rooftop pool.
The Source Hotel Denver Pool Reviews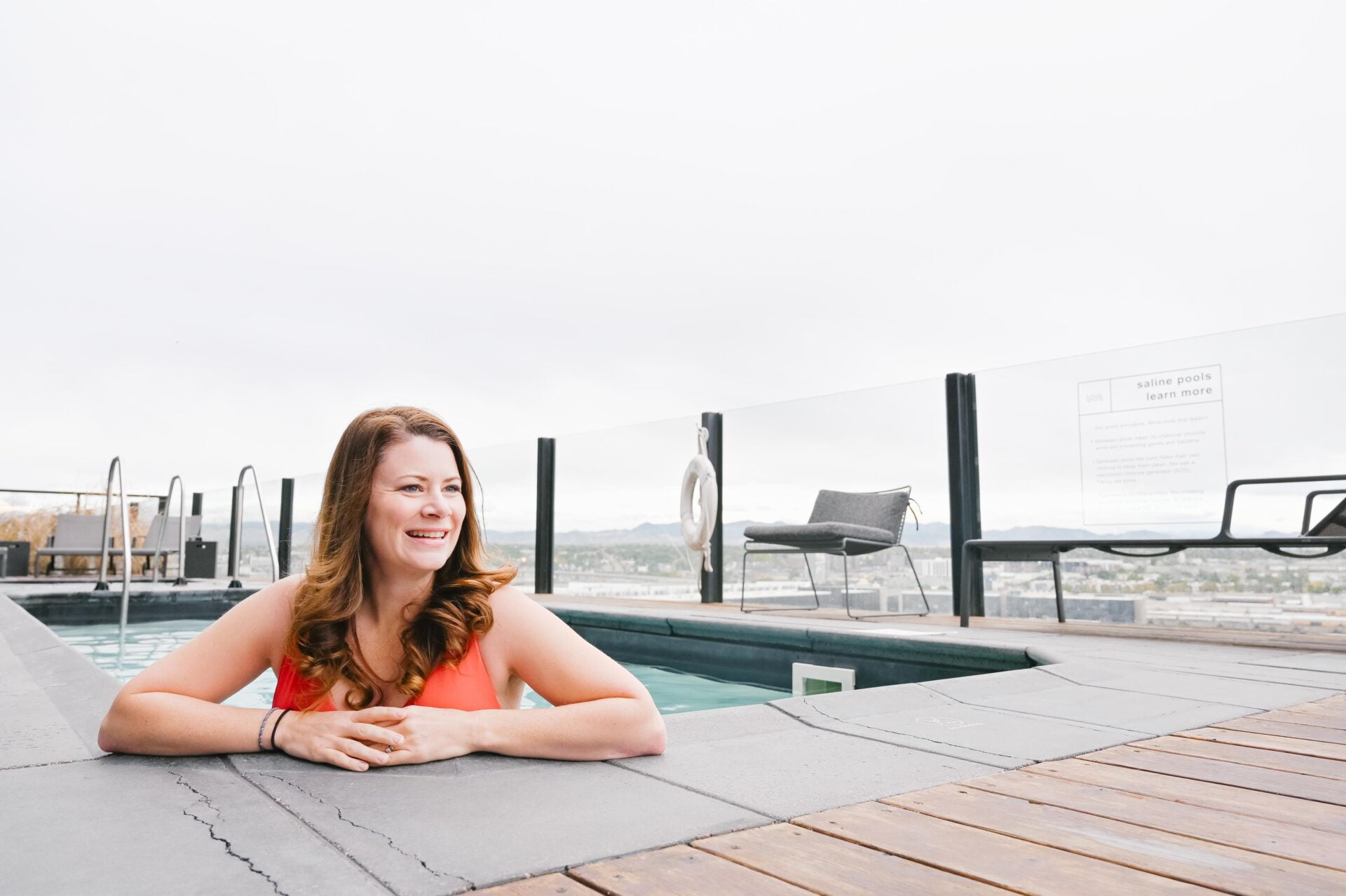 With chillier temperatures settling into our fall morning, I was expecting the pool to be on the cooler side and only be in it for a quick dip. However, the pool was pleasantly warm, allowing me to splash and wade about without freezing. It's a smaller pool but perfect for the kids or for you to sneak in a quick dip while visiting Denver.
The Source Hotel Denver Pool Prices
The pool and hot tub are open 8 am to 10 pm daily for hotel guests and there is no additional charge for you to visit. The pool is exclusively for guests and is not open to the public for drop-in.
The Source Hotel Denver Pool Menu
Right next to The Source Hotel's pool is The Woods rooftop restaurant. While it feels like a poolside restaurant, they don't offer poolside service but you're welcome to order takeout (and charge it to your room) and then bring it out to eat poolside should you wish.
The Source Hotel Denver Hot Tub
After turning on the jets and hanging my robe on a chair I walked across the cold stone patio pavers and into the bubbling and warm hot tub. The contrast of the hot water mixed with the cool morning mountain air was the perfect combination of fresh air and inspiration combined with slow comfort. Sitting back I could hear the jets bubbling and got to turn my head 180 degrees to soak in the Rocky Mountain views and the Denver skyline. I was spoiled having the whole place to myself but I'll admit, upon my many return visits to the rooftop I was alone which really was special.
As far as an official review, I give it 5/5 stars as the hot tub experience mixes the things I love… a hot tub, an incredible view, and the misty mountains in the distance.
Get Your Sweat On at the Fitness Studio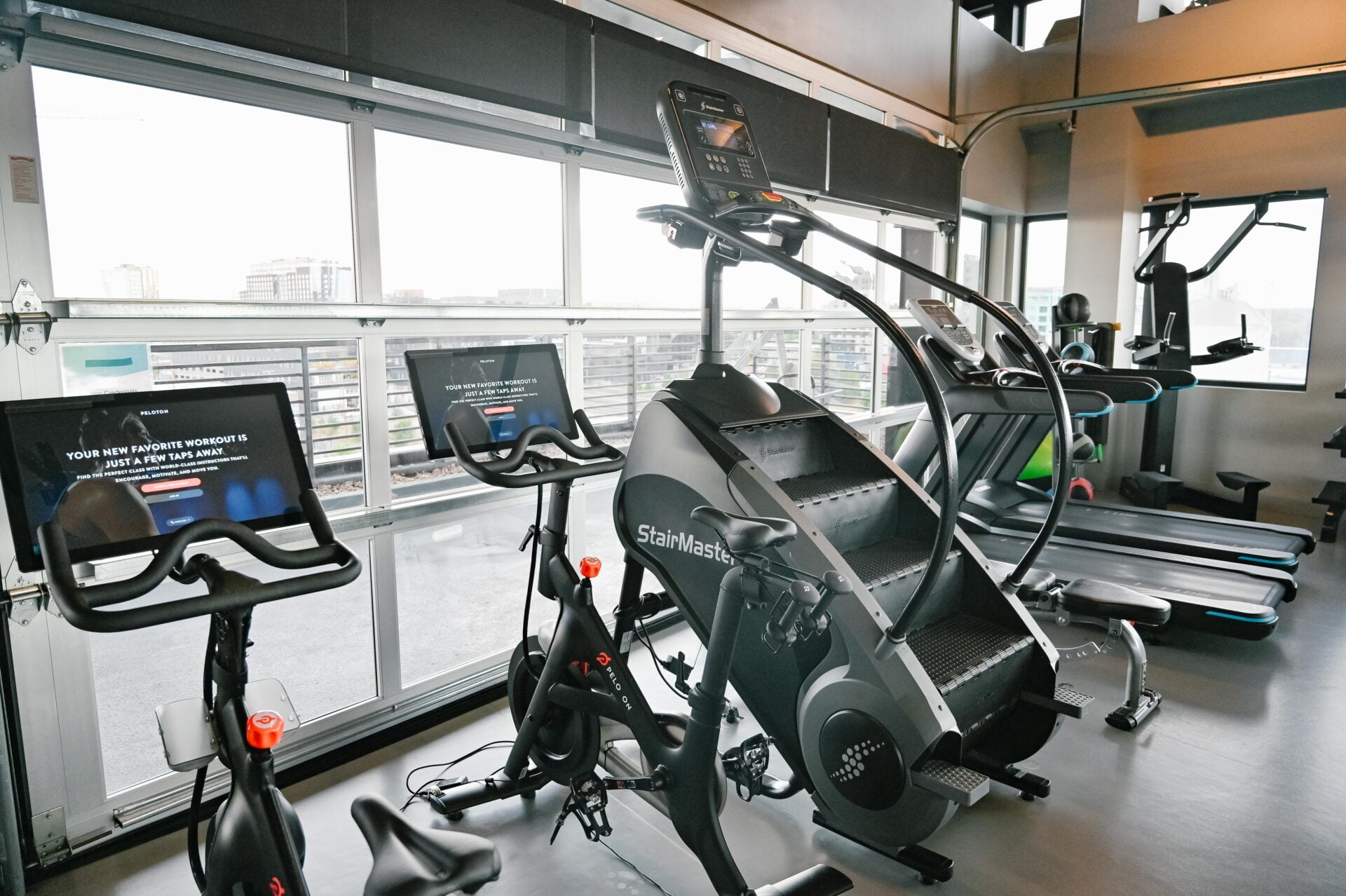 The fitness studio is located on the 8th floor next to the pool. Inside you'll find a variety of high-quality fitness machines, Peleton bikes, and free weights. I was super impressed with how clean the facility was, and how many different types of equipment were available for guests to use. The perfect pairing would be an epic workout, a quick shower, and then a swim and hot tub on the rooftop!
The Source Hotel and Market Hall Denver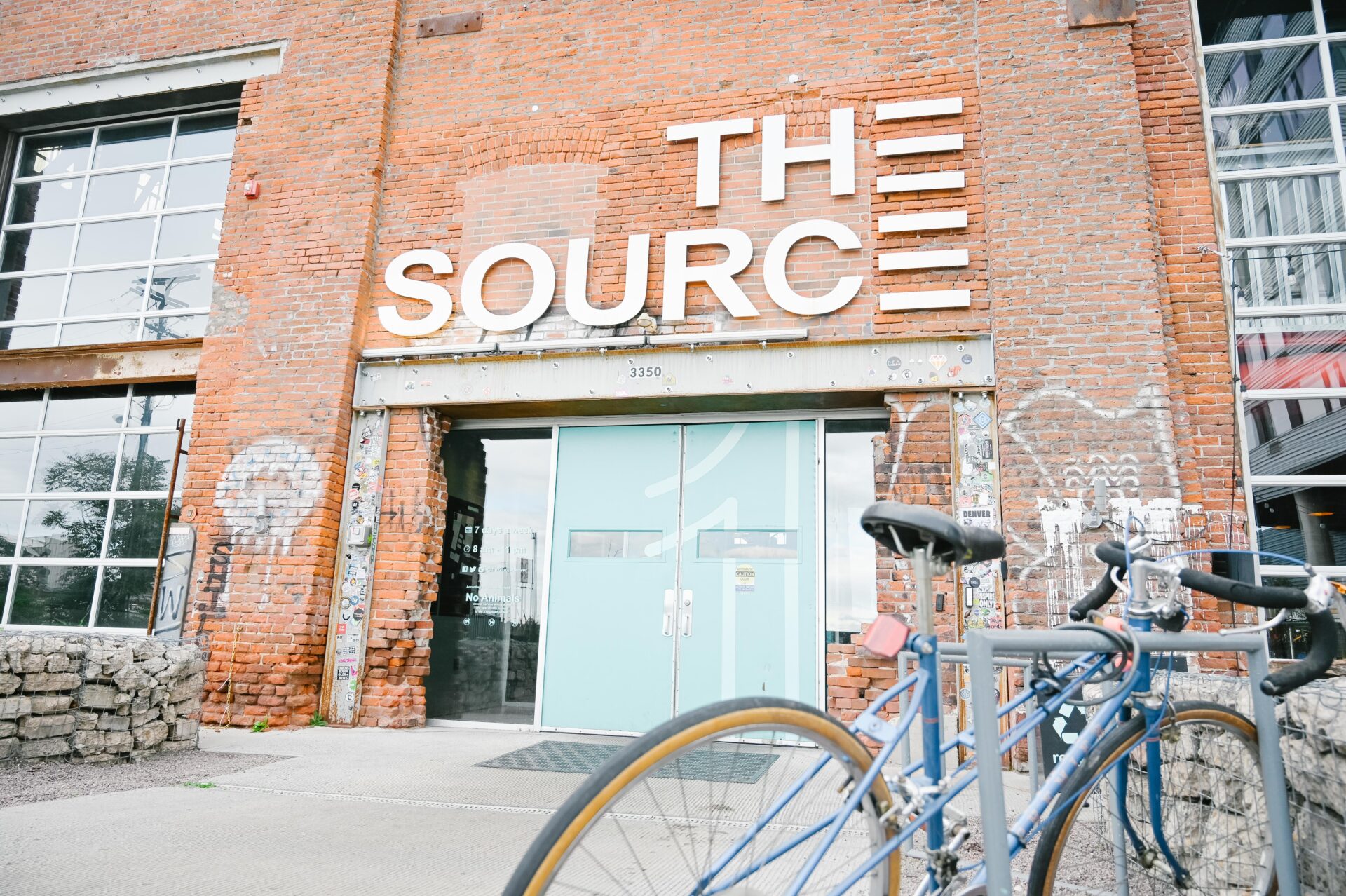 Similar to the RiNo Art District, The Source Hotel and Market Hall went under redevelopment to become the gathering place that they are today. What once was a vacant site is now a 9-story, 100-room hotel with two market halls that make up a total of 45,000 square feet. Toted as a "culinary complex," I loved that there was so much variety all within steps of my hotel door. With six on-site restaurants including Smok – Laid-back BBQ, The Woods – Rooftop Patio, Reunion Bread Co – aka Ginormous Cinnamon Buns, Safta – Modern Israeli, Temaki Den – Aburi Sushi Bar, and New Belgium – Aged Barrel Aged Brews, there was no shortage of eating adventures while staying at The Source Hotel.
The Market Hall also boasts a collection of artisans including a Vintage shop/coffee shop, complete with its own VW beetle in the middle of the store! As well you can also check out fresh or dried flowers at Beet & Yarrow, where they have a really modern approach to the classic bouquet.
Keep scrolling to learn about each restaurant and shop!
Where to Shop at the Source Hotel
Beet & Yarrow – Unique Florist Shop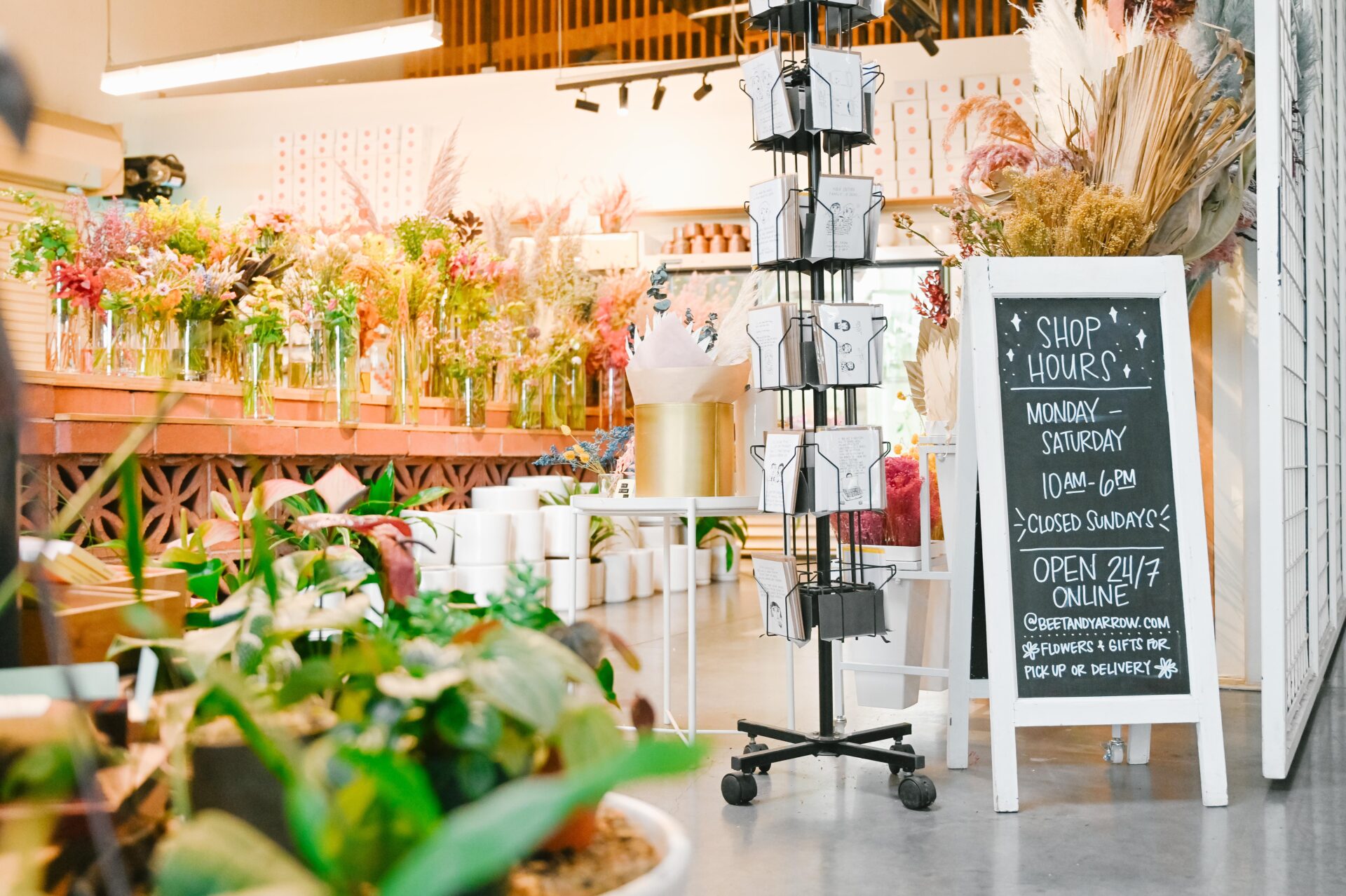 We hadn't even checked into the hotel yet before we stopped at Beet & Yarrow. Their unique and modern florist, fit, and plant shop hooked us in with their artistically inspired arrangements and unique floral design. They also had incredible little gifts and the type of cards that you have to say, "Hey read this!" because you can't read it out loud (not all cards were PG-rated!). If I had more room in my carry-on luggage, I could have stocked up and done my Christmas shopping at this store as they had so many amazing things like beautiful ceramics and hand-crafted stationery, and even some fun take on plants for the littles like a lego cactus set! Here are just a few photos to showcase why you have to stop and visit Beet & Yarrow: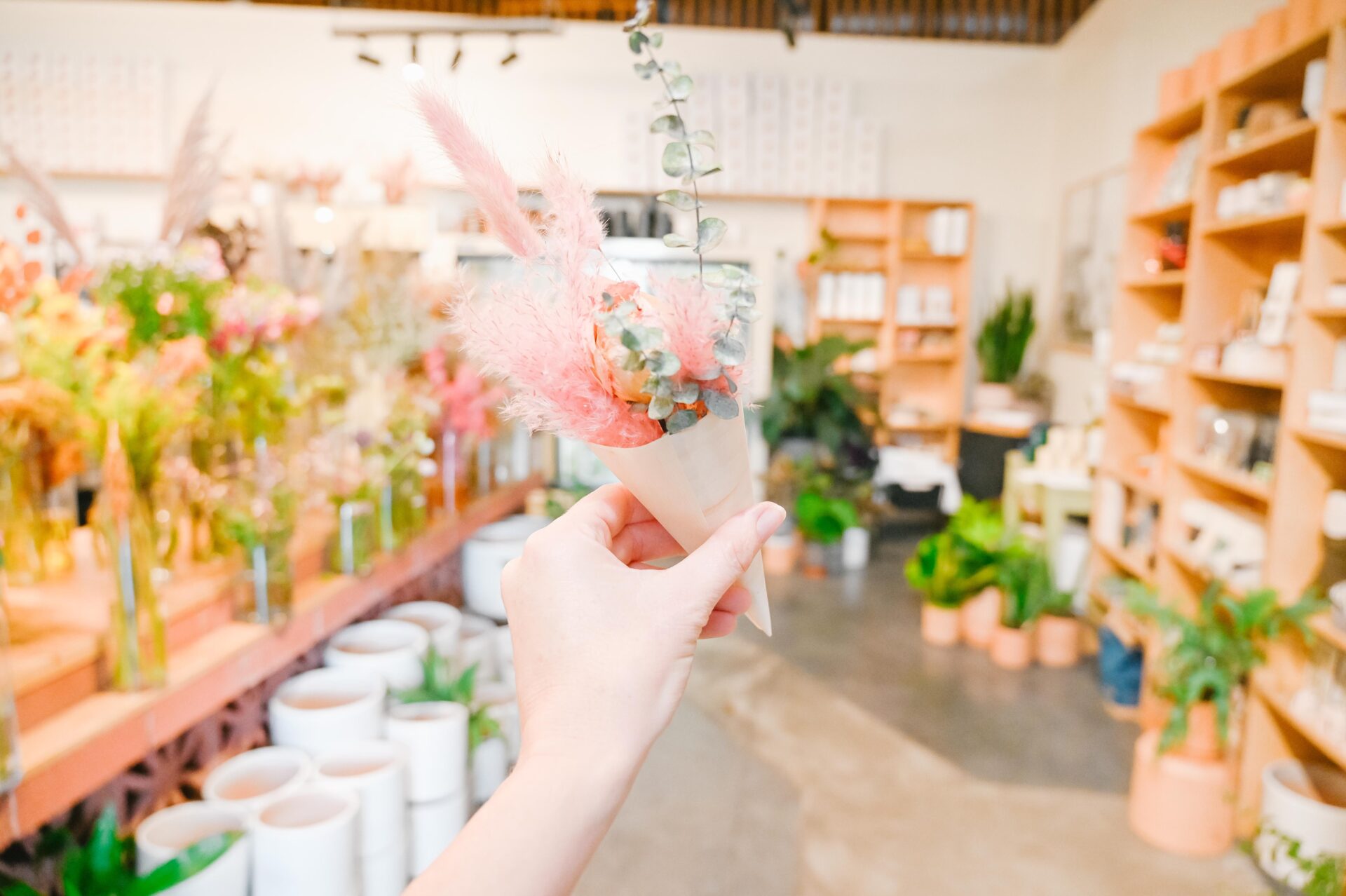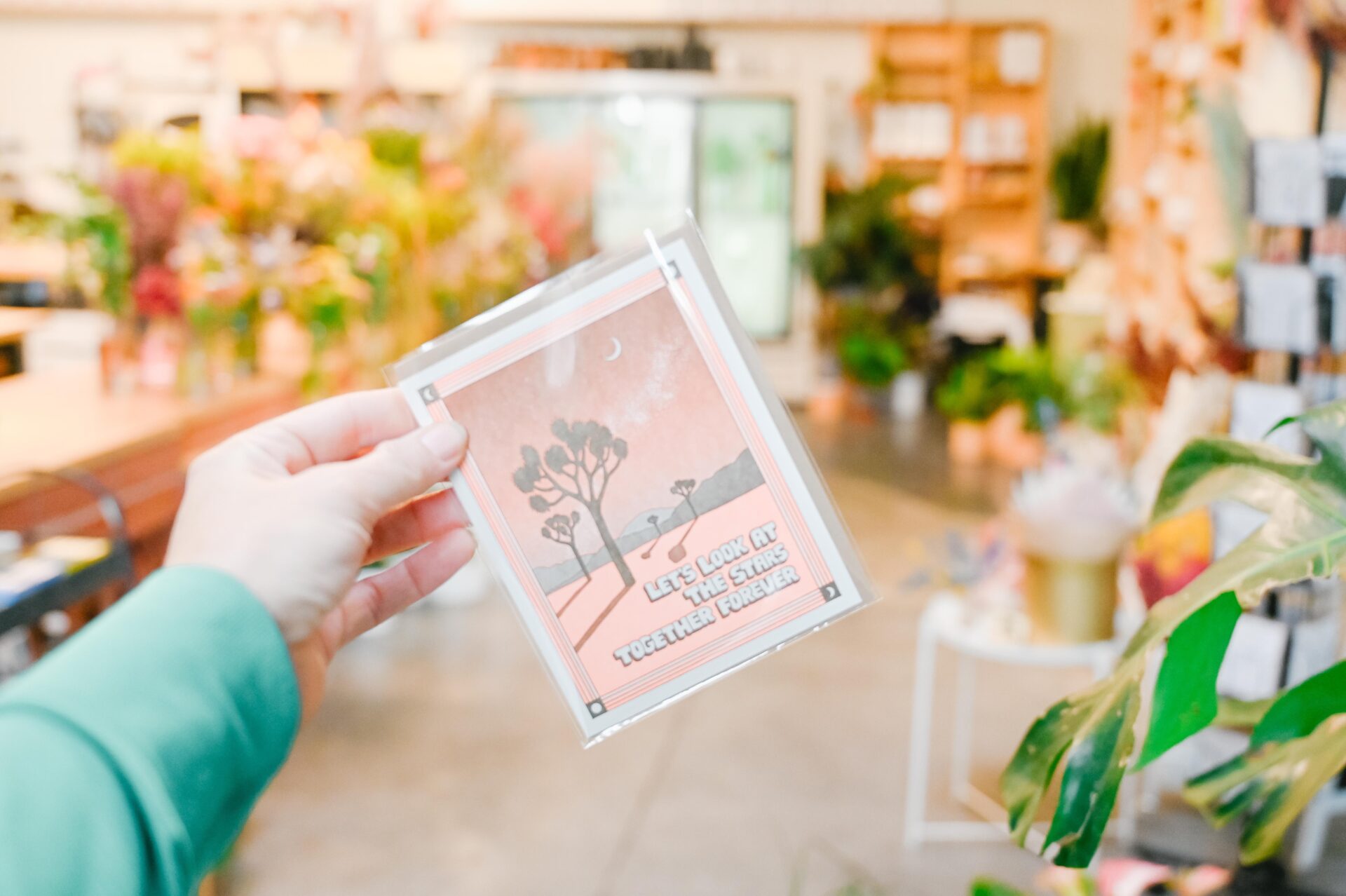 Darklands Vintage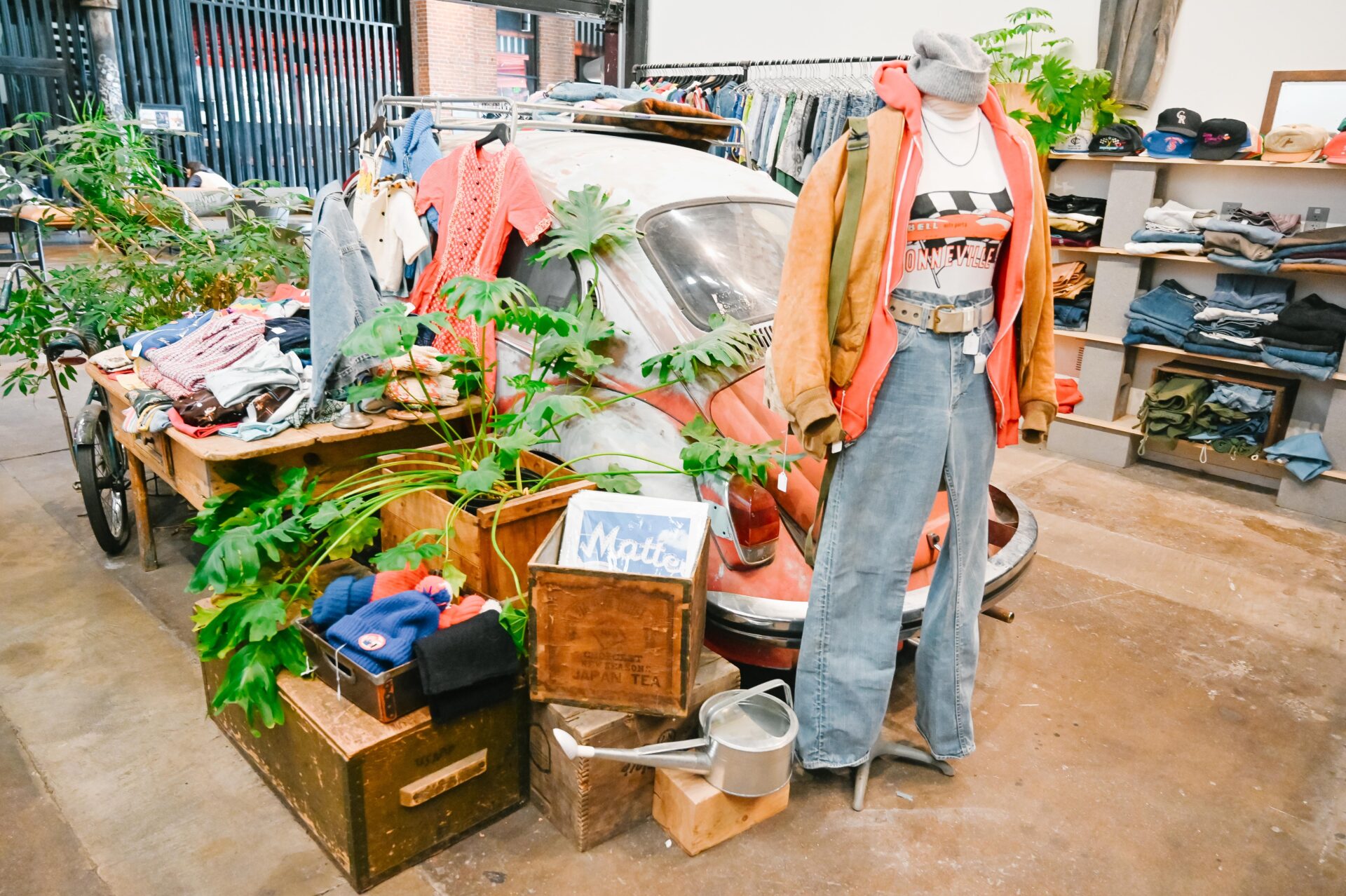 The vintage market in Denver is on fire and what I love the most about the trend is how they have put a modern twist on it, combining unlikely duos to create a unique shopping experience. At Darklands Vintage they have a hand-curated collection of unique vintage clothing that surrounds a coffee shop and an old VW Beetle. The overall vibe is one where you're invited to come and have coffee with a friend, take your time and pursue, try on a few pieces, and take home only your favourites. With clothing ranging from the 50s to 90s, the shopping experience is a mix of nostalgia and inspiration, along with a few laughs along the way.
Where to Eat At The Source Hotel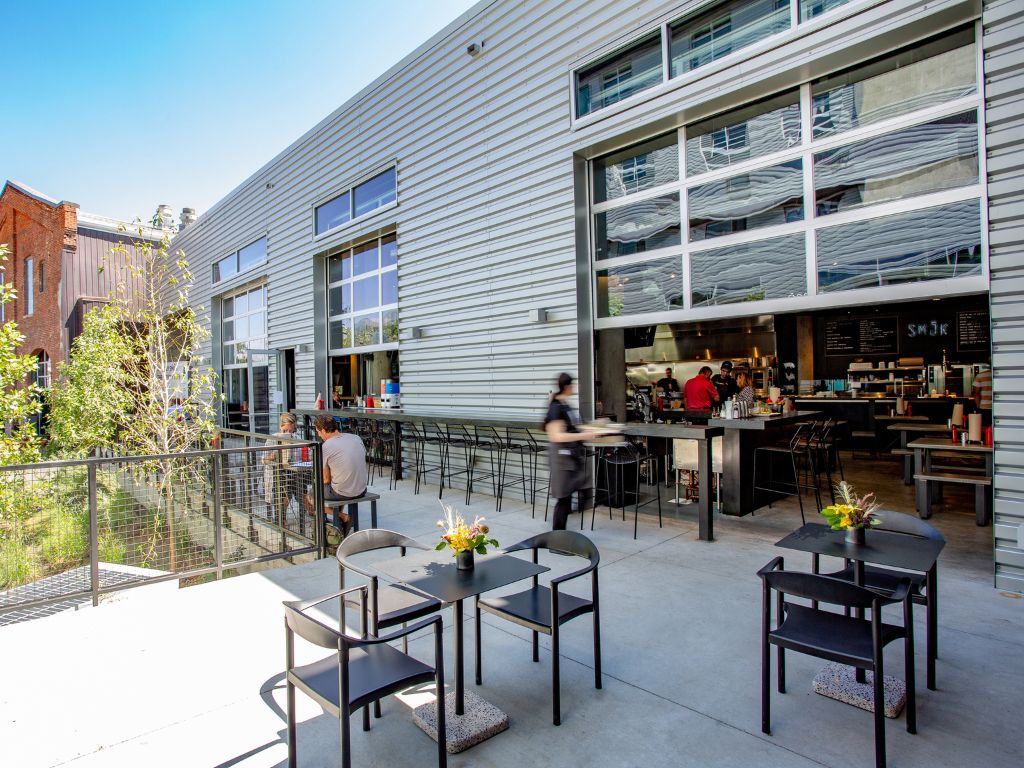 If you're looking for where to eat at The Source Hotel you should change your question to "Where should we eat FIRST?" as there are so many diverse dining options that you'll want to try more than one on your visit!
Restaurants In The Source Hotel
The Source Hotel Denver has 6 different restaurants that you can choose from. Don't try them all in one day but try as many as you can before you have to check out!
Smōk- Laid Back BBQ
As soon as you walk through the lobby of The Source Hotel smells of smoked BBQ fill the air in all the right ways. We had barely dropped our bags off in our room before we headed down to the lobby and to Smōk where our most difficult decision arose… what to eat! With a mouth-watering menu and succulent smells coming from right in front of you, digging in is easy but choosing isn't!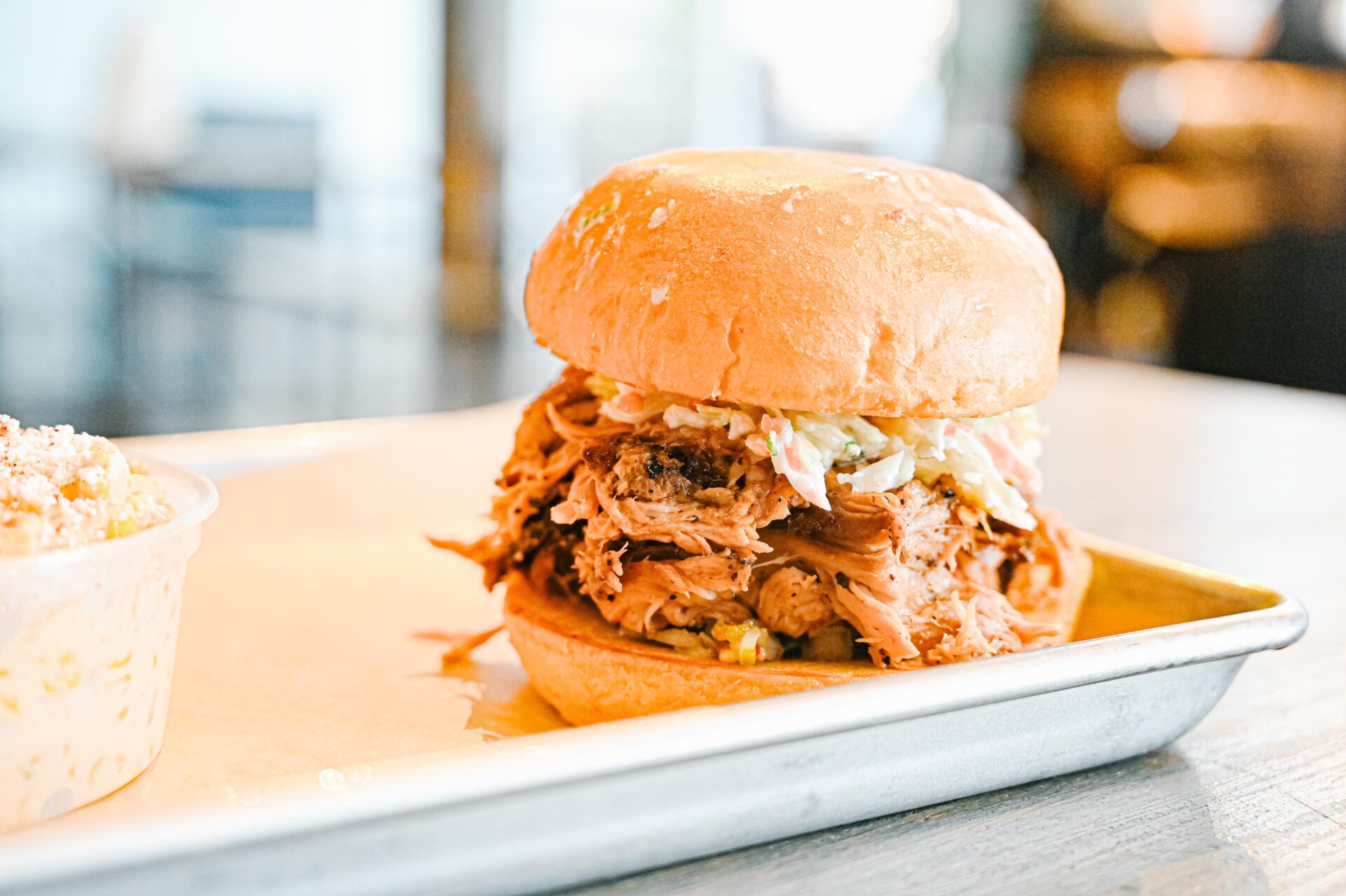 This locally owned "barbecue joint" mixes casual comfort with culinary excellence. Led by Chef Bill Espiricueta you'll find things like the Nashville Hot Chicken Sandwich and my own named menu item, "You'll need two hands for this!" pulled pork sandwich. I was especially grateful that they offered gluten-free buns to accommodate my dietary needs.
Secret splurge: This place was so good we went back twice in two days. And I'm not going to lie that I'm dreaming of it right now as I write this article!
The Woods – Rooftop Restaurant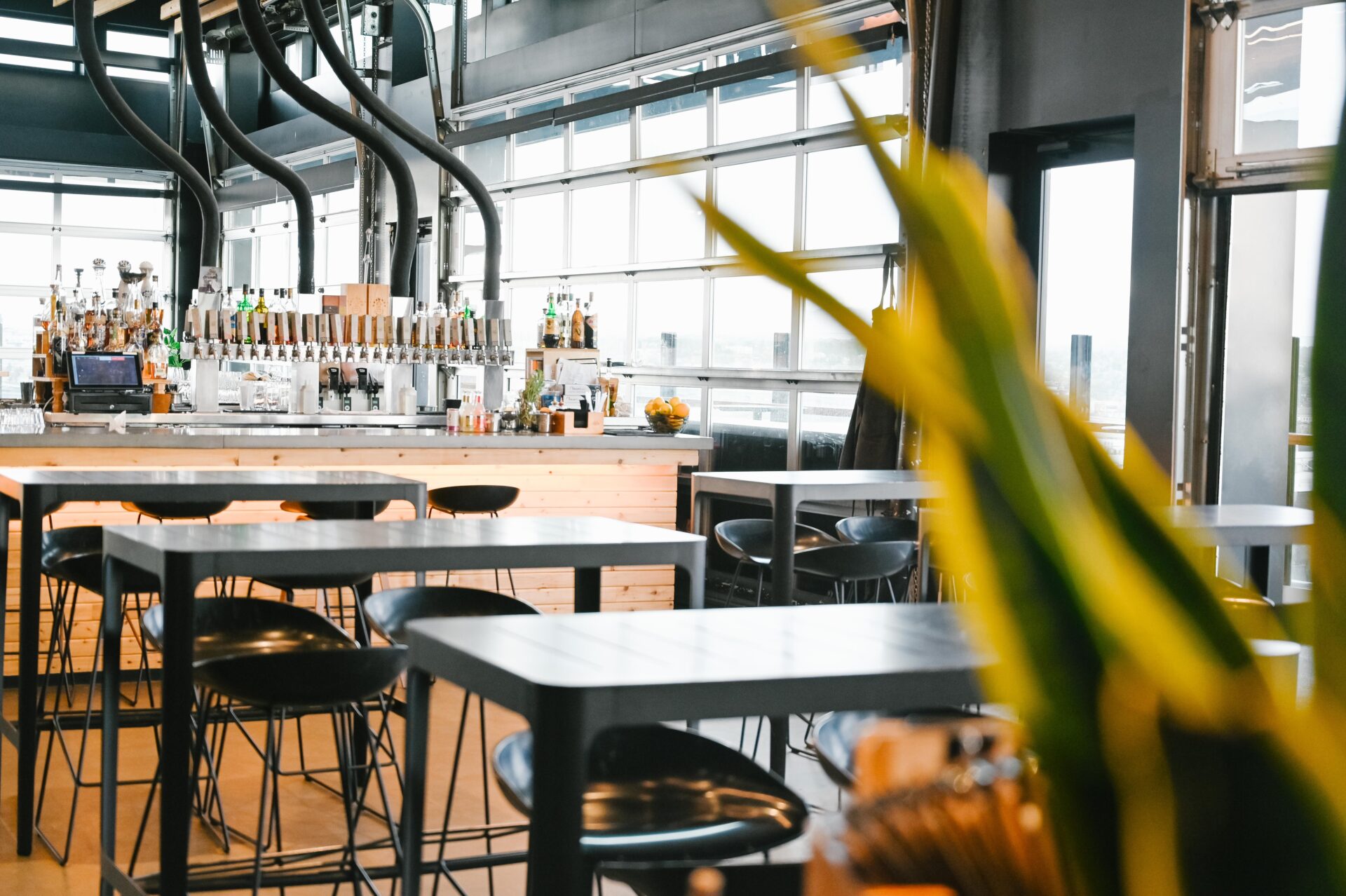 The Source Hotel Denver Rooftop Restaurant and Bar, "The Woods" takes your dining experience to a whole new level (see what I did there?). Literally located on top of the hotel, you'll indulge in 180-degree views of the city all while dining on seasonal dishes and fueling eats. They also invite you to try out one of their 20 local beers on tap, "including experimental and small-batch brews crafted on-site from New Belgium Brewing Company."
What Kind Of Breakfast is Served At The Source Hotel
A stay at The Source wouldn't be complete without having at least one breakfast upstairs at The Woods. I loved our view and our menu options, with a plethora of healthy options to start my day off. From smoothies to granola, to egg white omelets to a full traditional breakfast, they had everything for every style and even were able to accommodate my gluten and dairy-free allergies (thank you!).
Reunion Bread Co – Artisan Bakery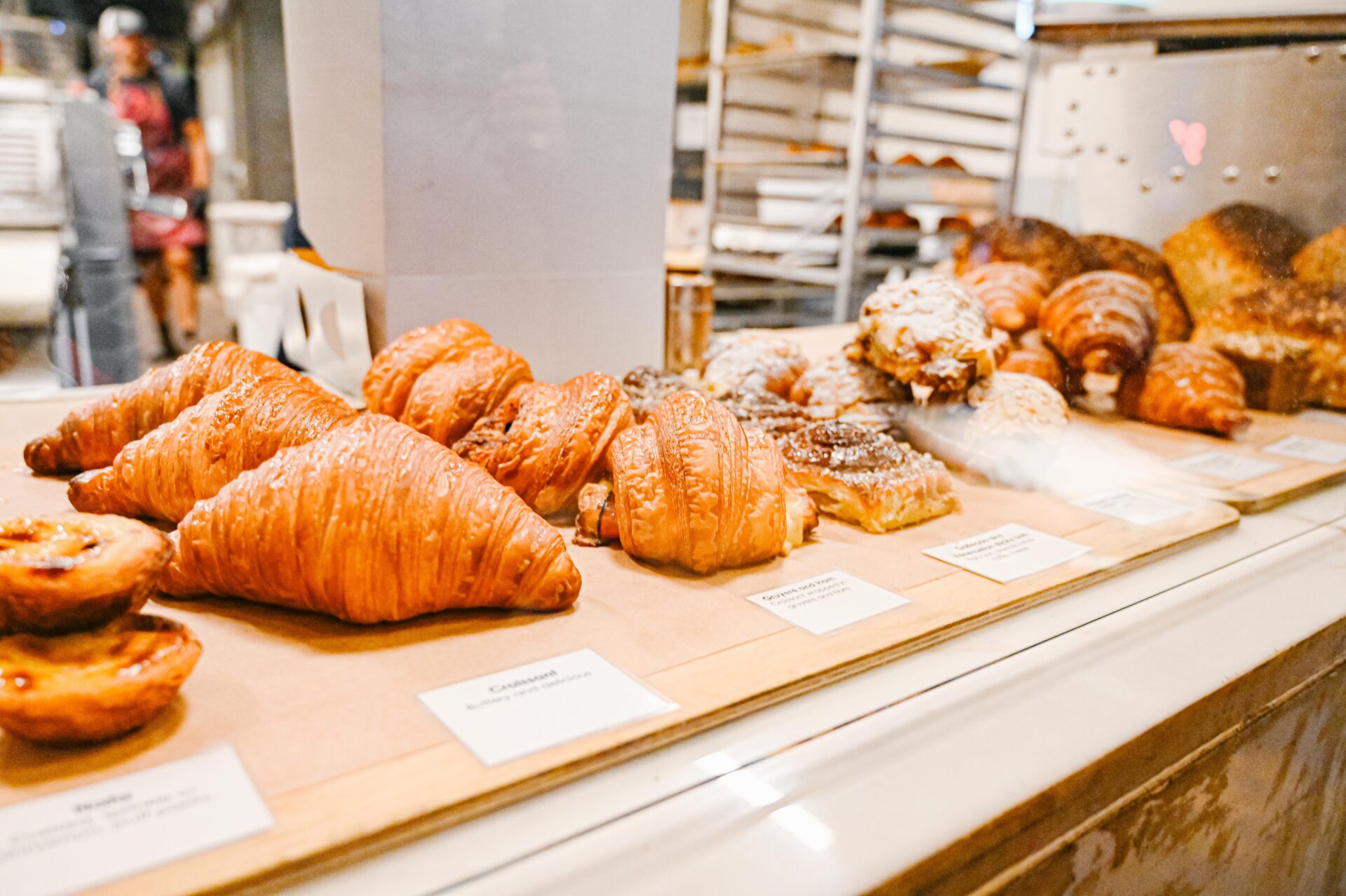 There really is nothing like the smell of fresh cinnamon buns in the morning! And that's the aroma that will greet you as you walk inside The Source Market Hall and head towards Reunion Bread Co. Master Baker Ismael De Sousa has an array of oven-fresh goodies awaiting including artisanal breads, pastries, snacks as well as specialty coffees.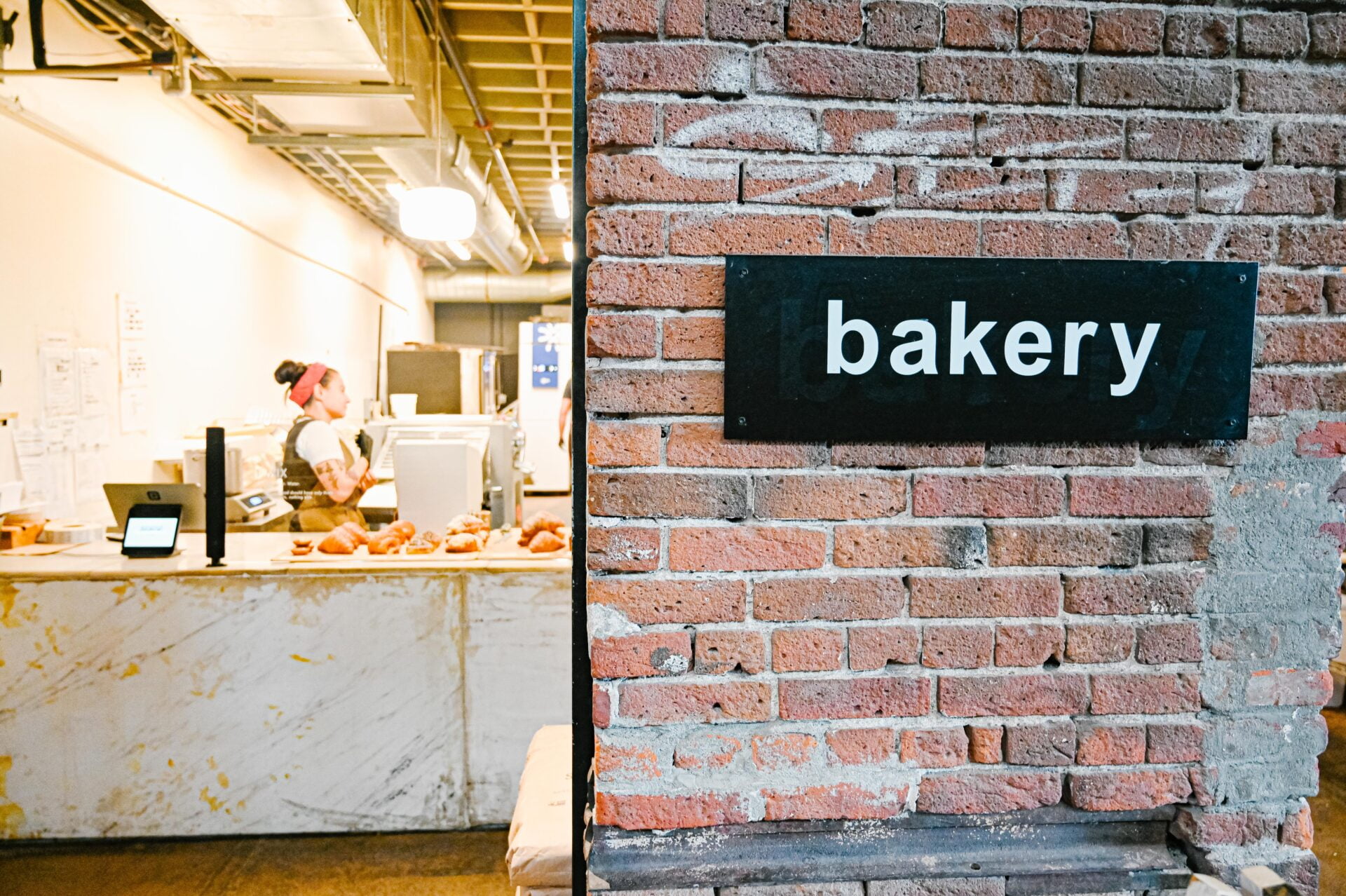 Be sure to peek around the bakery on your visit and see the Portuguese cooking methods at work. These combined with the flavours of South America create unique twists on classics like croissants, baguettes, naturally leavened loaves, and of course, cinnamon buns that are a meal to themselves.
Safta – Traditional Israeli Cuisine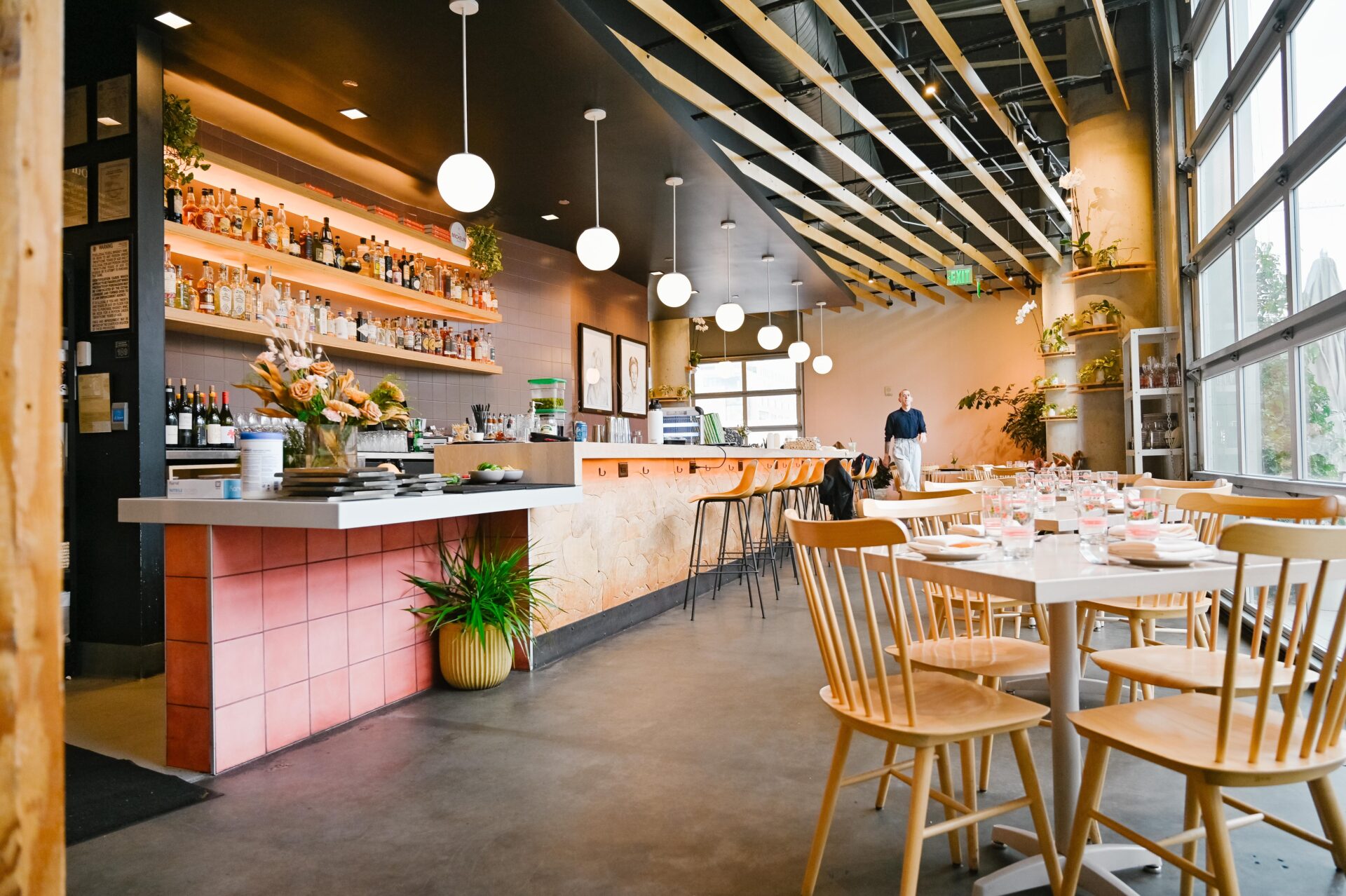 If you're looking to connect with vibrant flavours from the Middle East, that have been featured in prestigious outlets including Vogue and Eater, Safta and their Israeli cuisine is the right fit. "From their delectable mezze platters to succulent grilled meats and fresh seafood, each dish is crafted with passion and authenticity." You can expect to see items on the menu including messe platers, grilled meats, and fresh seafood. If you're looking for an adventurous meal or want something new to remember while in Denver, try out the Israeli cuisine at Safta.
Temaki Den – Sushi Bar
Touted as a "modern alternative to the traditional high-end sushi bar," Chef Tosi Kizaki focuses on two things, fresh perfectly cooked shari (vinegar rice) and high-quality neta (fish and ingredients). The result is perfectly crafted hand rolls and mouthwatering aburi sushi in a more casual setting at Temaki Den.
New Belgium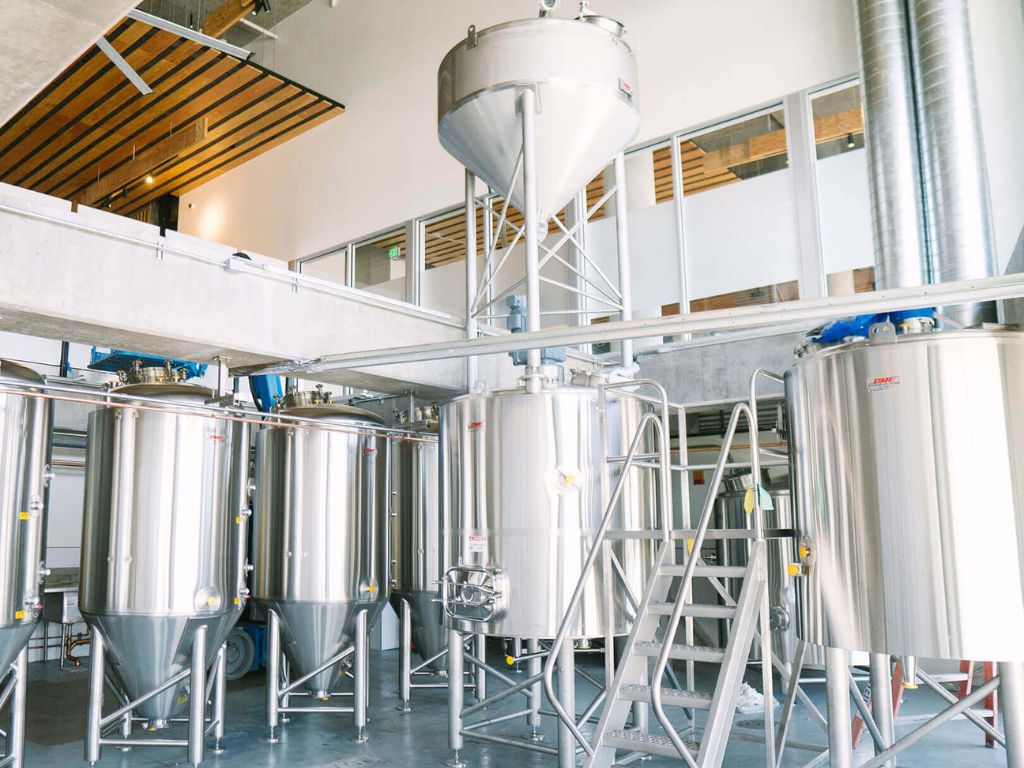 New Belgium Brewing is one of the most comprehensive barrel-aged beer programs in the United States. They have a 2,000-square-foot market hall brewery as well as 50 oak aging barrels on the rooftop restaurant. The brewmasters work closely with the chefs and mixologists at The Woods to continue to innovate and create unique beers, cocktails as well as food pairings.
Traveler Tip: Ask for drink pairings for your meals to try new drinks and learn more about the beverages you are drinking. And no worries, if you're not a drinker (like me) ask for a mocktail as they are very popular in Denver!
Book your stay at The Source Hotel here!
Take Community Classes at The Source Hotel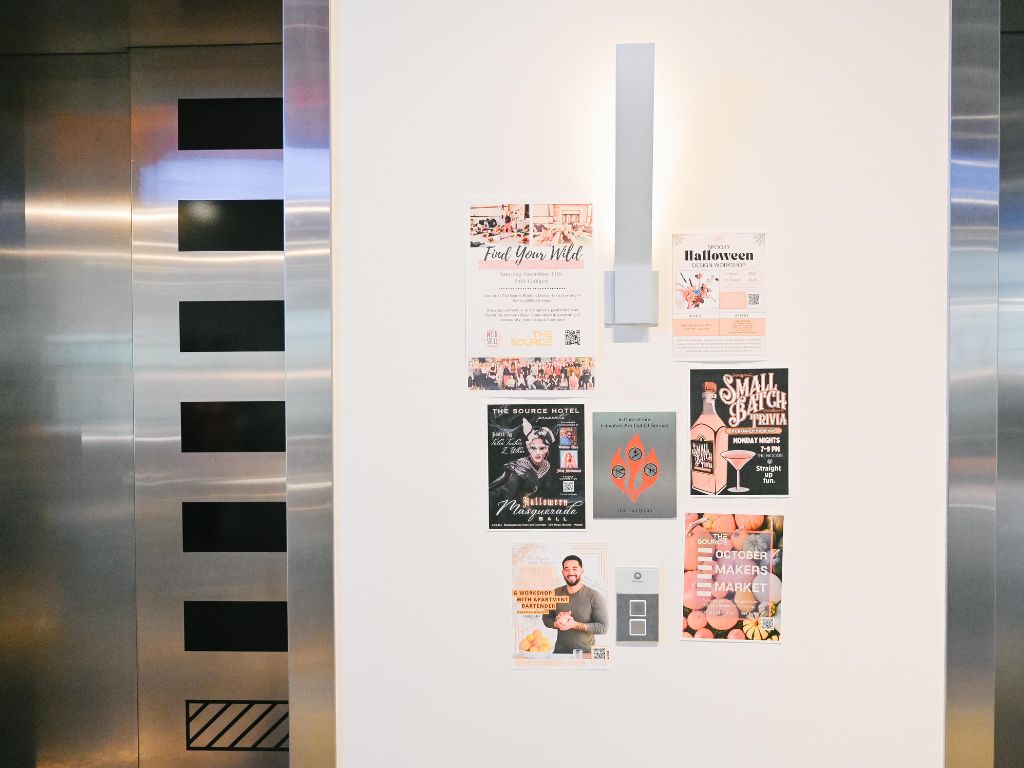 When The Source Hotel says they are a community hub, they mean it! Around the hotel, we spotted a variety of posters all advertising for different art and lifestyle classes that you could take. Bartending in a condo? Done. Ghoulish Florals for Halloween? Sign me up! With a perfect classroom for hosted events, there seems to be something going on every month. For our next visit, I look forward to researching the classes and signing up so we can do one during our stay!
The Source Hotel Denver and Market Hall Parking
For the first time ever I'm taking time within a feature article to talk about the parking at a hotel!
As part of the 2023 Denver Wall Festival, The Source Hotel invited artist Thomas Evans to work his magic on what was a large blank canvas. He transformed it into a masterpiece of bright and inspiring art and every morning I'd wake up and take photos of the beautiful work. Can you remember the last time you even took a single photo of a parkade? I literally have 20+ photos of this piece of art as it showcases the power of artistic expression. It's incredible how a drab concrete parkade floor can become a beacon of light and a reflection of the dedication to art that the community believes in and embraces. Check out Thomas's work on this and his other projects by visiting his Instagram.
The Source Hotel Denver Pictures
The Source Hotel and Market Hall is a photographer's dream with long leading lines, a variety of textures and colours, and modern twists that make you look twice and think hard. I took almost 300 photos on our trip and here are some of my favourites of this unique property.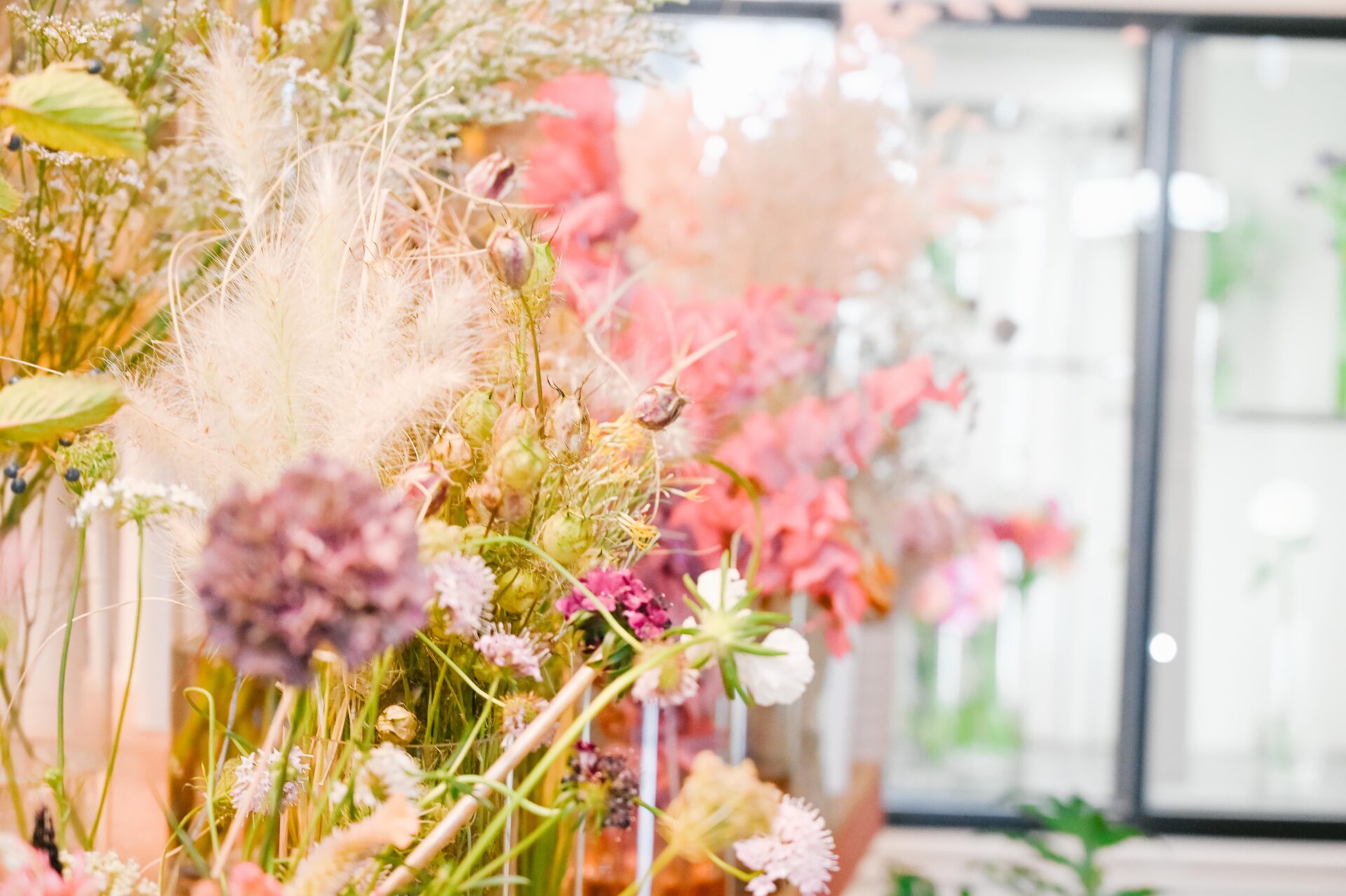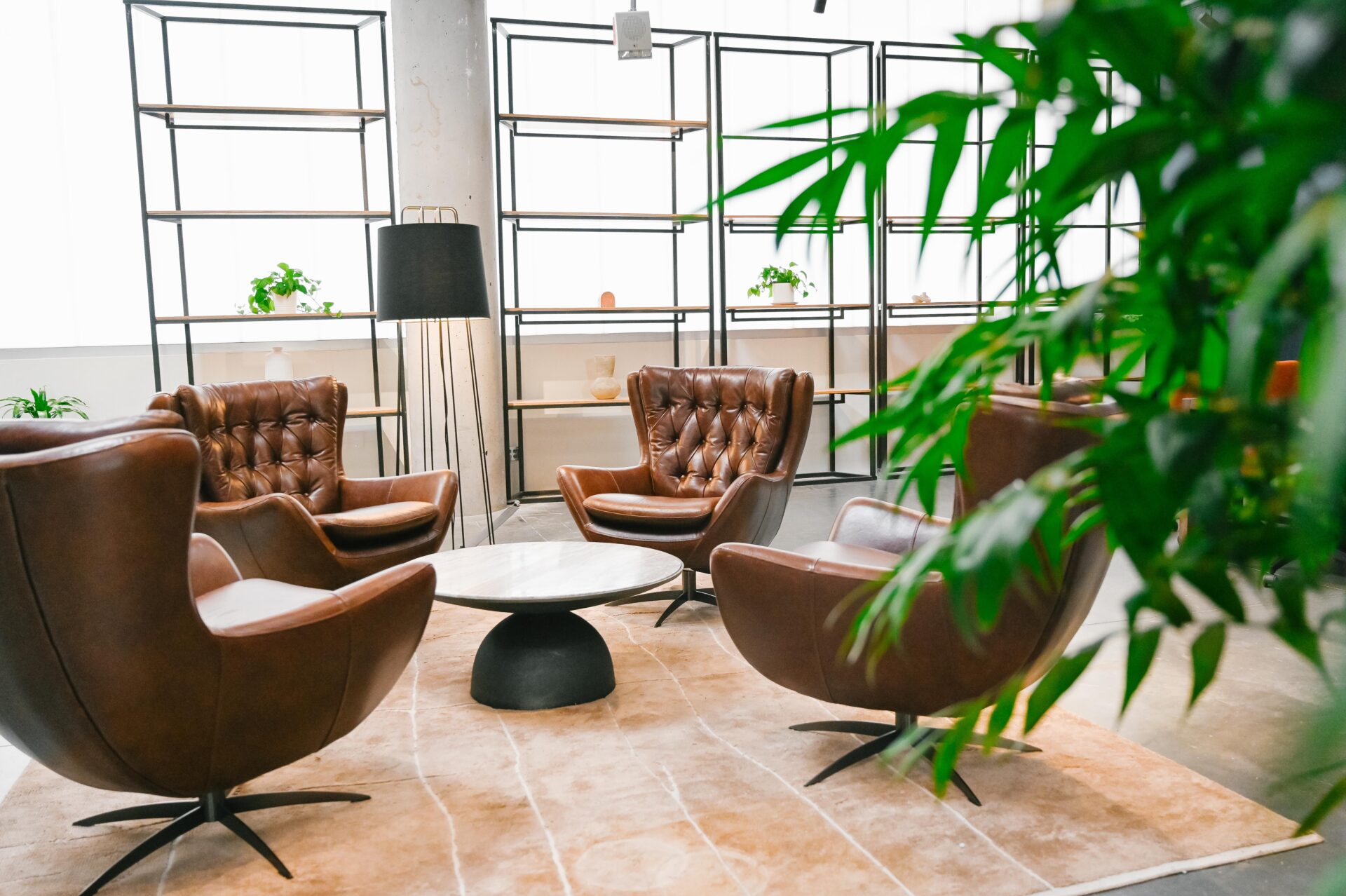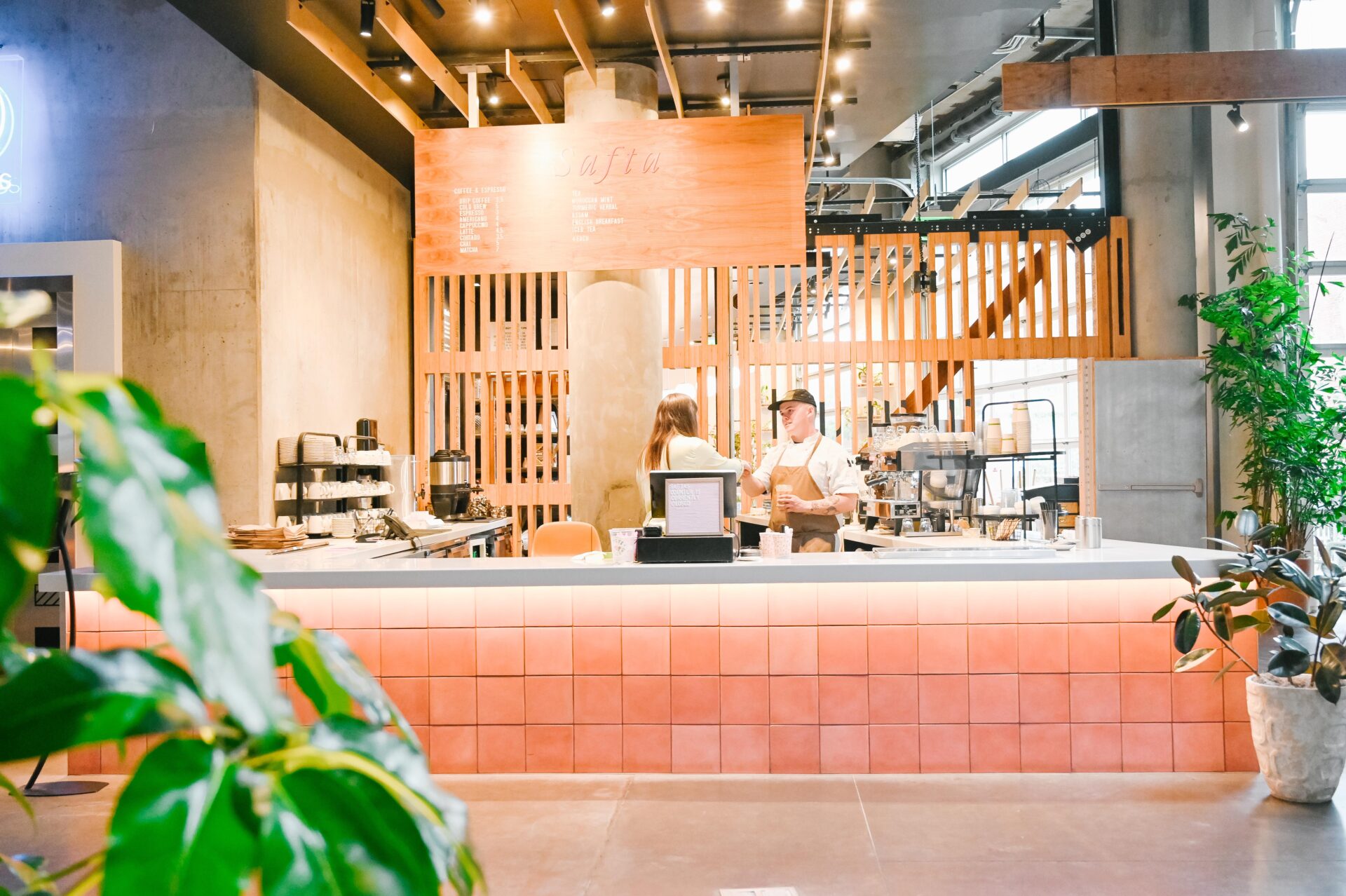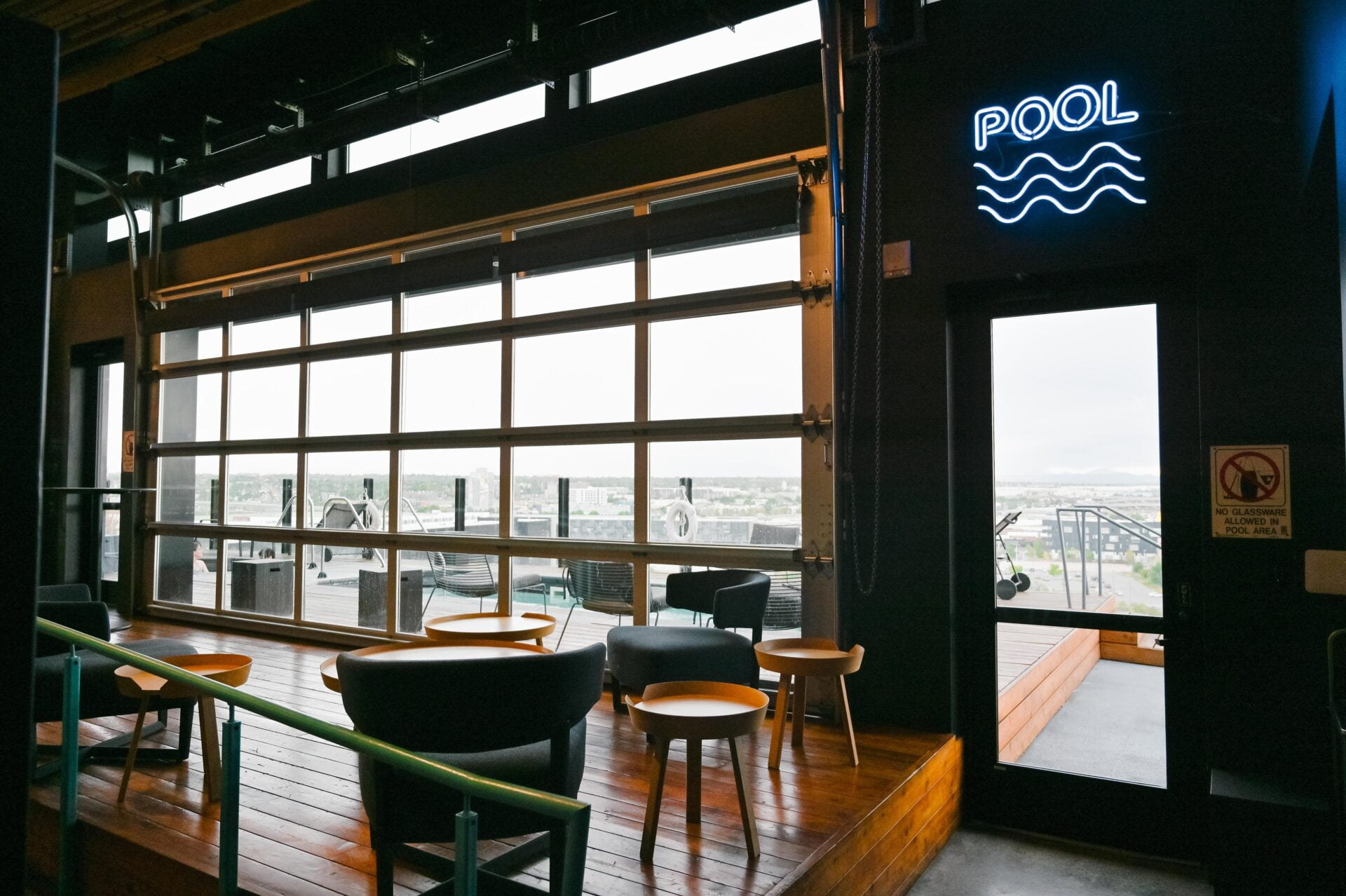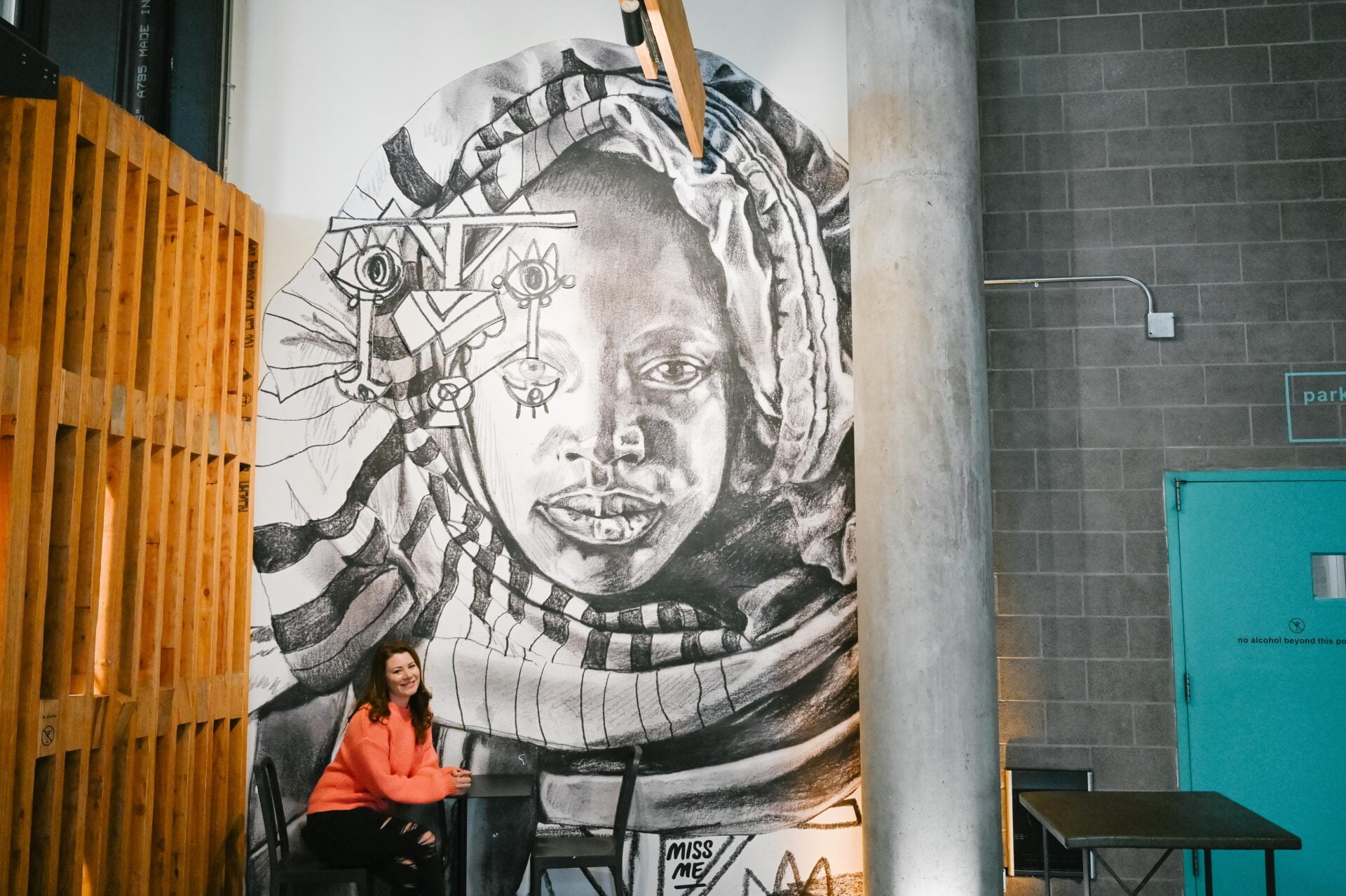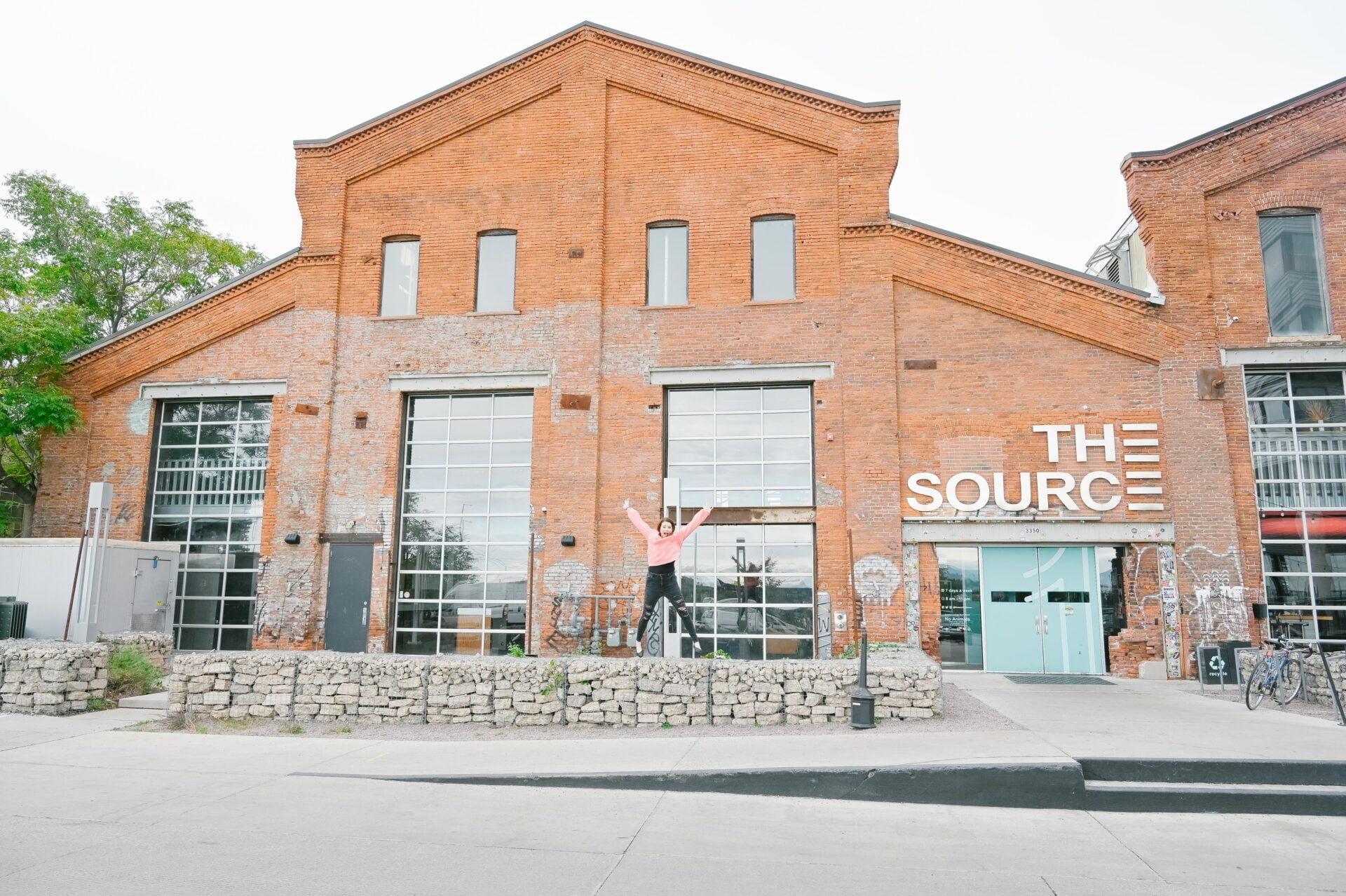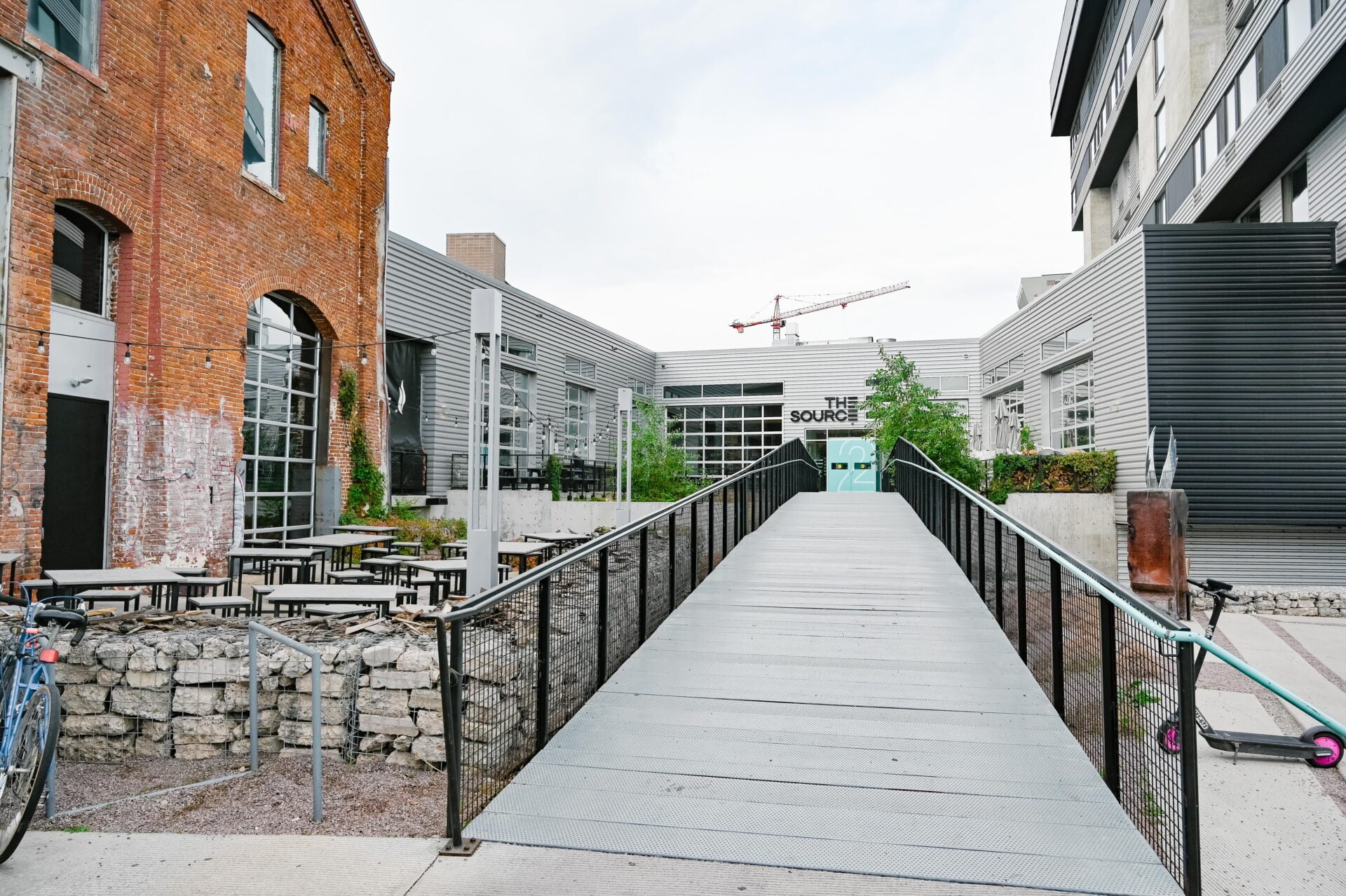 Sustainability At The Source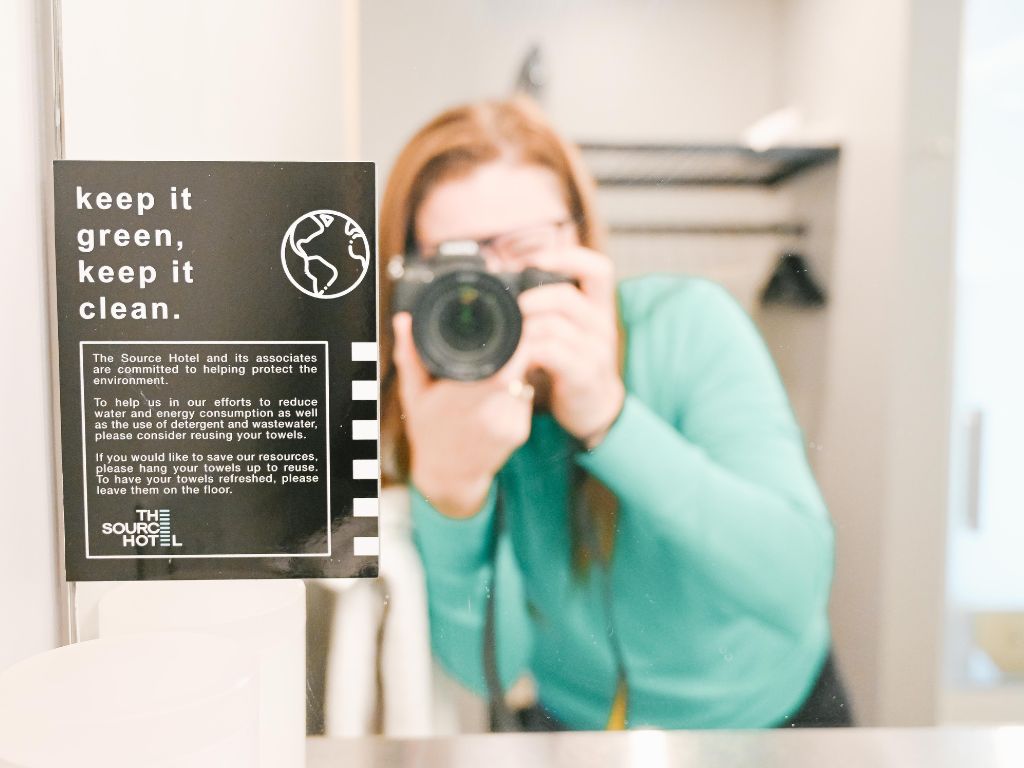 As you may know as a Travel Writer I work closely with tourism boards when planning trips and one of the requirements for my hotels and adventures is that I work with properties that embrace and are leaders in sustainability. "Responsible stewardship of our environment goes to the heart of everything we do. We've taken a multifaceted approach to reducing our environmental impact in everything from sustainable building materials and responsible water consumption to bike storage and beyond."
The Source Hotel + Market Hall is a LEED Certified Building that focuses on locally sourced materials during the building process from the ground up. The contemporary spaces in the hotel were constructed with low-emitting materials to reduce VOC off-gassing as well as provide guests with superior indoor air quality. When possible they sourced recycled materials and used products that were extracted or manufactured within 500 miles of The Source. This helps support regional economies all while reducing transportation-related emissions. Indoors the hotel has high efficient flow and flush fixtures which helps reduce water consumption and outside their irrigation system is designed for water conservation supporting native and adaptive plants on site.
As a guest, you can do your part by:
Using one of the e-bike programs and going people-powered while traveling around Denver to help reduce your carbon emissions.
Conserving water.
Recycling, reusing, reducing waste, and composting where possible.
Reusing your towels and linens so that they aren't sent off for daily washing.
What I'd like to see:
While the hotel is doing a fantastic job from the ground up of being a greener building there are always ways to evolve. I'd like to see the removal of all single-use plastics in the hotel and restaurants and also see the bathroom products move to large refillable containers versus individual one-time-use travel-size products. To learn more about The Source and its leadership in sustainability visit their website.
FAQs About The Source Hotel
The Source Hotel Denver Website
The Source Hotel's website can be found here.
The Source Hotel Denver Address
The hotel is located at 3330 Brighton Blvd, Denver, CO 80216, USA. It is only one mile (or 1.6km) from downtown Denver making it a great location when visiting the city. It is also accessible via I-25 as well as I-70.
The Source Hotel To Denver Airport
The Source Hotel is approximately a 21-minute drive from the Denver Airport and only a 5-minute drive from the RiNo Art District. This can change with traffic so be sure to check for traffic reports if planning a trip to the airport.
Airport Traveler Tip: If you're dropping off a rental car at Denver International Airport be sure to give yourself extra time as you drop your vehicle off in one location and then you are bussed to the airport. Be sure to add extra time for this transition.
The Source Hotel Denver Reviews
Curious what other's are saying? Here are some other traveler's reviews of The Source Hotel Denver:
"Stayed here for a night and really enjoyed the hotel room and the amenities. The hotel has some incredible views of Denver and the Rocky Mountains, including from the pool area, which hangs off the side of the building and has access to the hotel bar. The restaurants in the building are also great, ESPECIALLY Temaki, and it's so convenient to have all the different options right there. There are also cool places within walking distance, and the parking area is also really convenient." ~William C.
"Spent the weekend and really happy we chose The Source! Great location, impressive rooms, convenient food options and felt i could walk to most places! The hotel felt very clean and secure with its modern features. Also, every single one of the staff i interacted with was extremely accommodating and kind. Pool and hot tub on the roof offer great views and we even had a nice tub IN room to enjoy. Highly recommend!" ~Breanna C.
"The source was a very fun hotel. If you want to stay in a comfortable hotel in the RINO area of Denver, the Source is an excellent choice. It has great restaurant and coffee shops on the property and is a short walk or Uber to anywhere in Denver." ~Ron R.
"So hip. Rooms are gorgeous with stunning views. Amazing food + drinks from onsite The Woods restaurant. Peppy, happy people working the desk. Yup, will be back!" ~Jane A.
Book your stay at The Source Hotel here!
The Source Hotel in Denver is such a unique hotel and collection of experiences that we can't wait to go back! With modern rooms, a rooftop pool & hot tub, various delicious eateries & so many hang out and conversation spots, this hotel is at the top of our recommendation list!
---
Looking for More Colorado Travel Ideas? Check out these Articles!