Are you looking to learn more about the Denver Art Society?
As a travel writer, one of the things I first like to seek out when exploring new places is the local art scene. So while on assignment in Denver, one of our first stops was in the Santa Fe Arts District and the Denver Art Society Gallery and Studio. How a city embraces art tells me a lot about their values, as well as provides insight into their culture, what inspires them, the challenges they face, and their aspirations for the future.
As we pulled up to the Denver Art Society on a warm fall day, the streets were quiet and the modest entrance awaited our arrival. It was 10 am on a Thursday, and businesses were just pulling back their curtains and getting ready to open for the day. This quiet time is in contrast to when the streets are closed to cars and the area is bustling with 10,000 or more people during the monthly First Friday Art Walk. While part of me wished I was there during one of their events, I also loved being one of the only ones in the shop and exploring the artwork and experience on my own time.
So whether you plan to go during one of their event nights or head for a quiet visit during the day I hope this article helps share insights on the story behind the Denver Art Society and how you can plan a visit to one of Denver's most creative hubs.
How Art Affects Society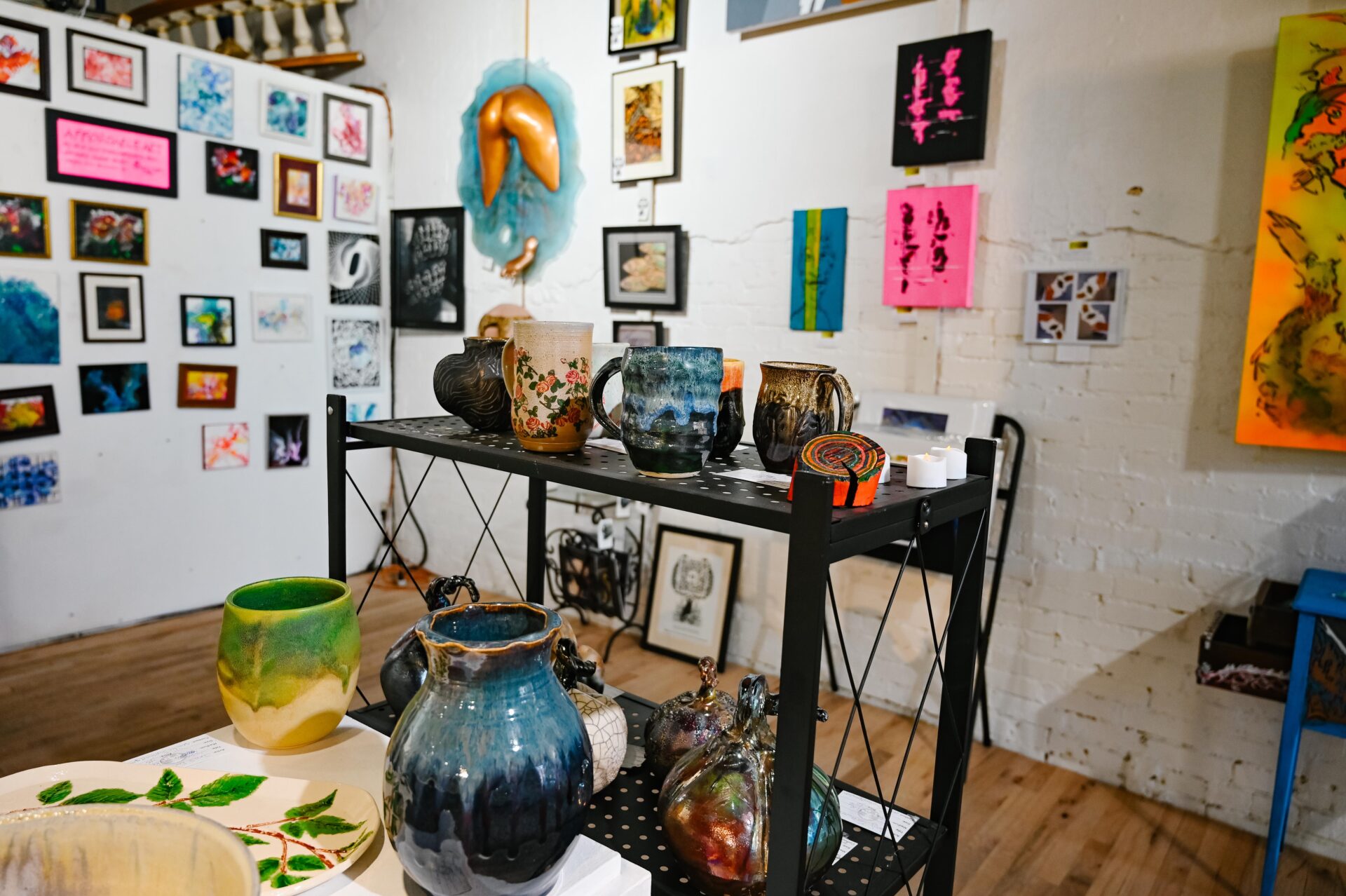 Before we jump into what the Denver Art Society is, let's press pause and talk about the role that art plays in today's society. As a traveller I've always had an open eye for artwork and how many destinations integrate art into their communities. Community art helps provoke reflection, provides inspiration, and helps build connections. As a visitor to a new place, it can help us understand the challenges that communities are facing, earmark specific times and events, as well as learn about their inspiration and dreams for the future. From murals to sculptures, sidewalk art, to thought-provoking poetry, community art is a fantastic way to learn about a destination's history and culture.
What is the Denver Art Society?
The Denver Art Society Cooperative is a registered non-profit that runs an all-inclusive, all-accessible, volunteer-run community art space in the Santa Fe District in Denver, Colorado. The organization is completely volunteer-run and has 100+ Co-Op members who volunteer their time to support the society. Many of the volunteers dedicate their time (minimum 6 hours a month) and in turn, get to display their artwork in the 4,000-square-foot gallery.
"Our mission is to host a creative community where people of all ages can view, learn, and exhibit local art in all forms. We volunteer to open a public gallery (open 7 days/week 10 am-7 pm) where anyone can show their art without censorship. We also maintain dozens of studios and hold various classes where artists can learn and grow together."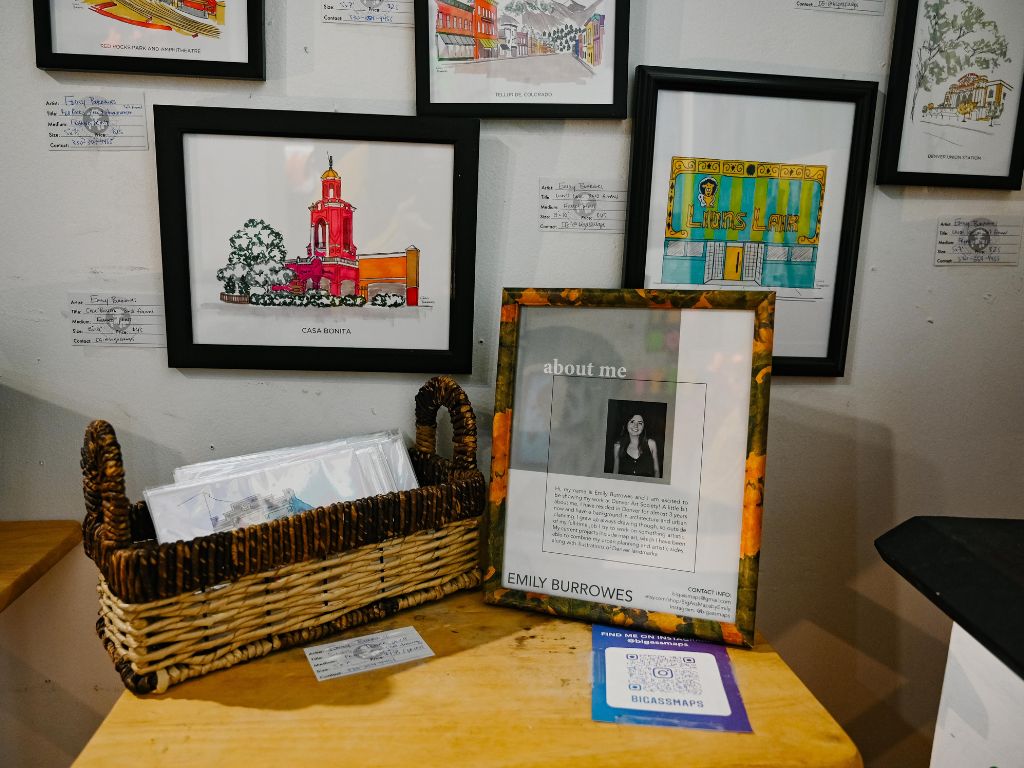 Their goal is to be a leader in cultural enrichment in the Denver Metro area and to ensure that their Exhibiting Arts Program is inclusive, accessible, and sustainable. They don't interview or have a selection process for artists who want their work displayed in the gallery. Rather, if you meet the minimum monthly volunteer hours and attend the monthly meetings you'll earn a space to hang your art (and sell it to potential buyers).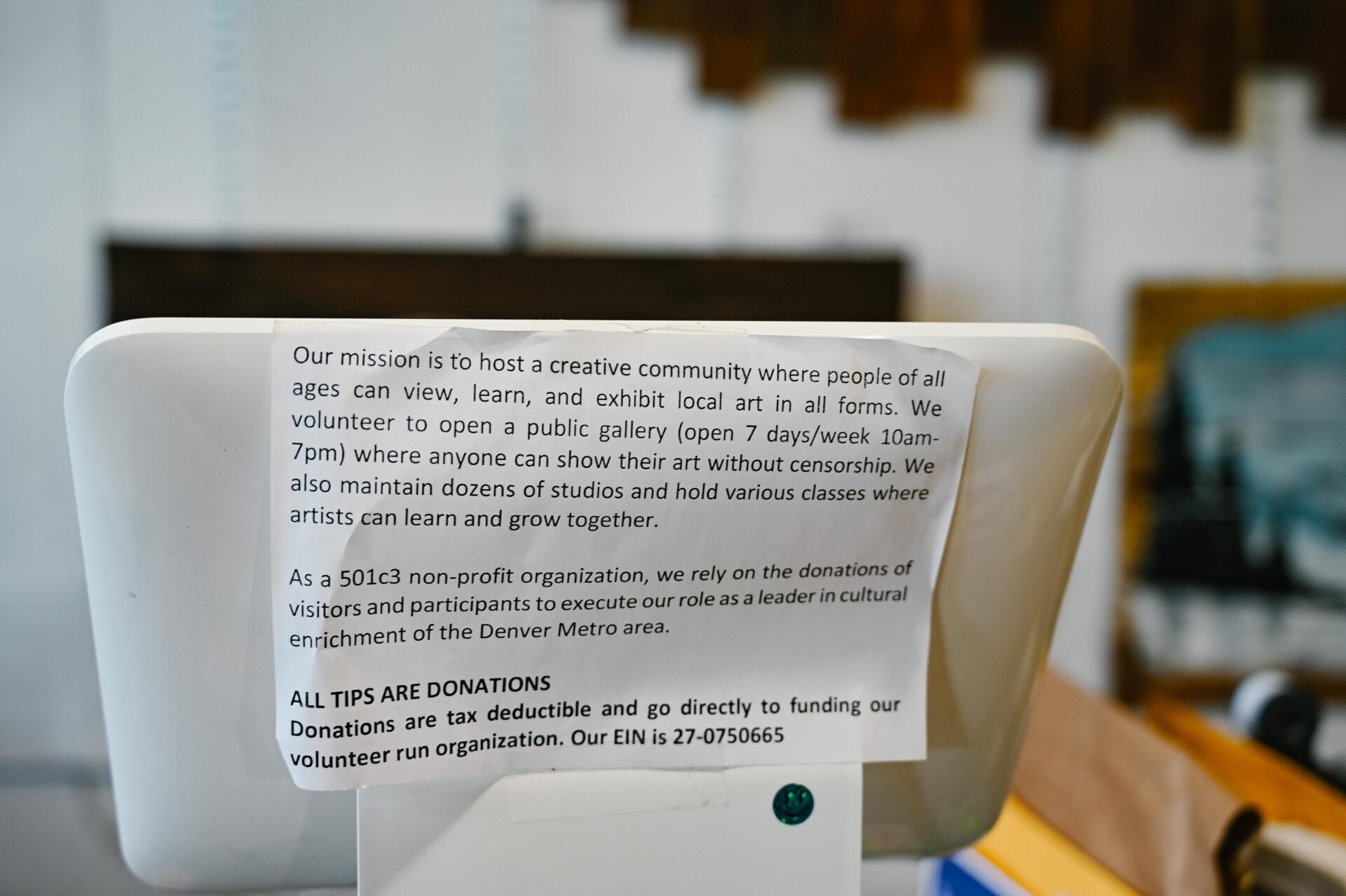 As an art gallery, this is unique for them not to have a selection process. This is intentional to ensure they are "Erasing barriers to entry into the Denver art and music scene for local artists, new and emerging artists, minority artists, veterans, artists with disabilities, artists experiencing homelessness, artists from marginalized groups, and low-income households."
Community Connections
The Denver Art Society is proactively engaged in connecting artists to the Denver Art Community. In their mission, they state that they want to build connections for their members so that they can create a thriving artist community. This was evident on our visit when I got to see artists mingling and sharing inspirations and ideas. One artist came up to me and thanked me for going downstairs, saying that many people miss the entrance and he appreciated me taking the time to view his work in the lower gallery.
The Society also works to build connections for their members to the general public "interested in viewing art, learning about art, and supporting local artists by promoting and purchasing their art." Through their daily gallery viewing hours, open mic nights, First Friday events, and other workshops and classes they work hard to build connections and community in a variety of ways.
Where is the Denver Art Society?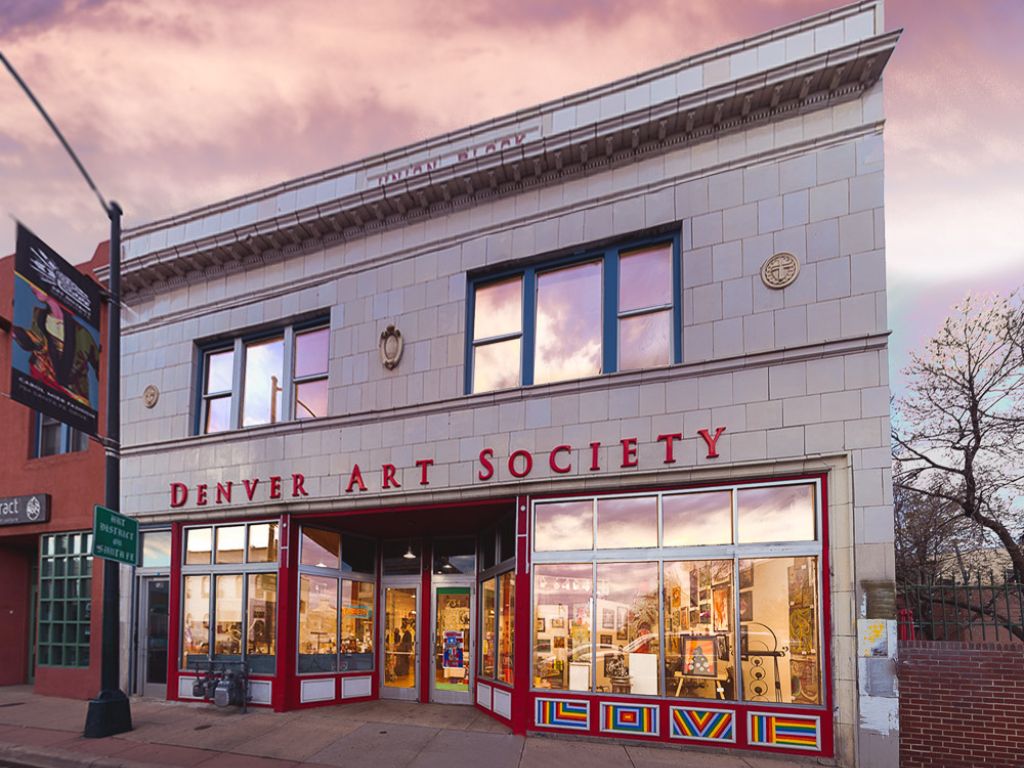 The Denver Art Society is located at 734 Santa Fe Drive, Denver, CO 80204, United States, in the heart of the Art District on Santa Fe. The Art District on Santa Fe is a great place to connect with the Denver art community as it is an art and cultural district in the LA Alma / Lincoln Park neighbourhood. This community has a rich culture where the traditional Hispanic roots are evident around every corner.
If you're visiting the area you can expect a unique mix of artist studios, galleries intermingled with colourful murals and incredible neighbourhood restaurants. The Santa Fe Art District is known for some of the most authentic Mexican culture in the city, and Denver's oldest dining establishment, the Buckhorn Exchange. The diverse population, the incredible art scene, and the mouthwatering food make the Santa Fe Art District a destination in itself and one worth visiting on your trip to Denver.
When is the Denver Art Society Gallery Open?
The Denver Art Society is open 7 days a week from 10 am to 7 pm and is 100% run by volunteers.
Where To Buy Art In Denver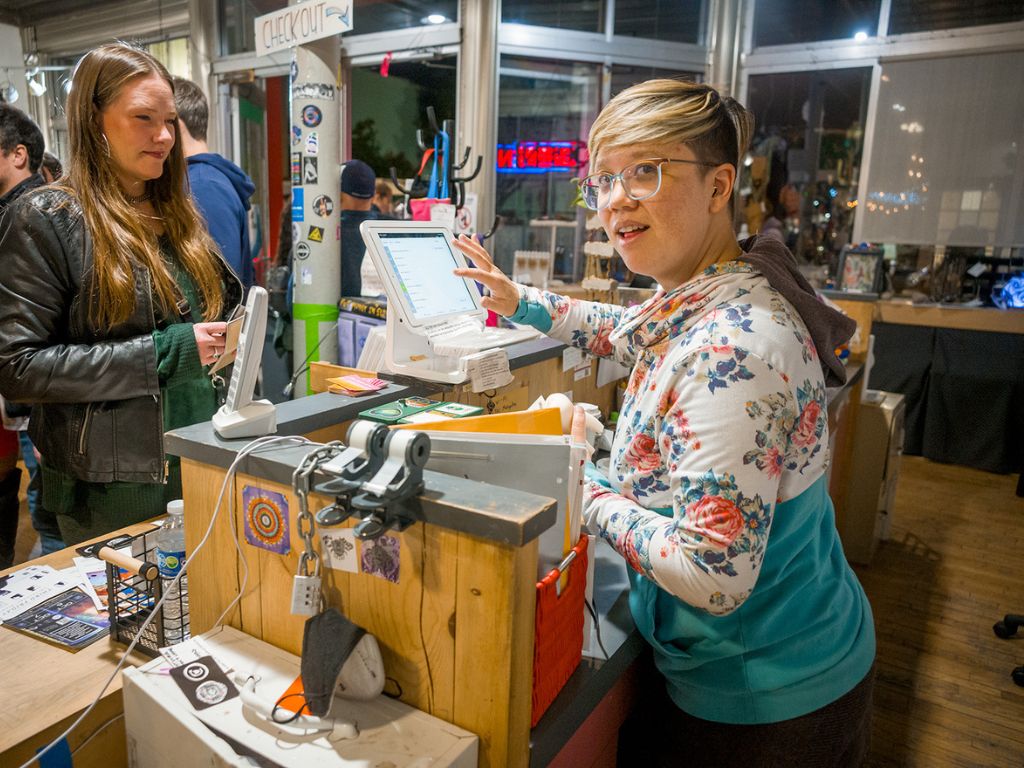 One of the primary goals of the Denver Art Society is to build community connections and help connect their artists to the community and the general public who are interested in viewing and purchasing art. With 60+ artists on display showcasing hundreds of pieces of work, the Denver Art Society is a great place to buy local Denver art and support local artists by purchasing directly from them.
Outside the front steps of the Denver Art Society are 70+ other galleries, showcasing works in all different types of mediums for you to shop.
When we went to the Denver Art Society Gallery for our visit we pretended that we had no budget and no limitations (such as saying statements like, "I don't have a wall to hang this on") and we each picked out our favourite pieces that we would bring home if we could. It was fun to "shop" without limitations and connect more with each piece. Here are just two of our top favourites: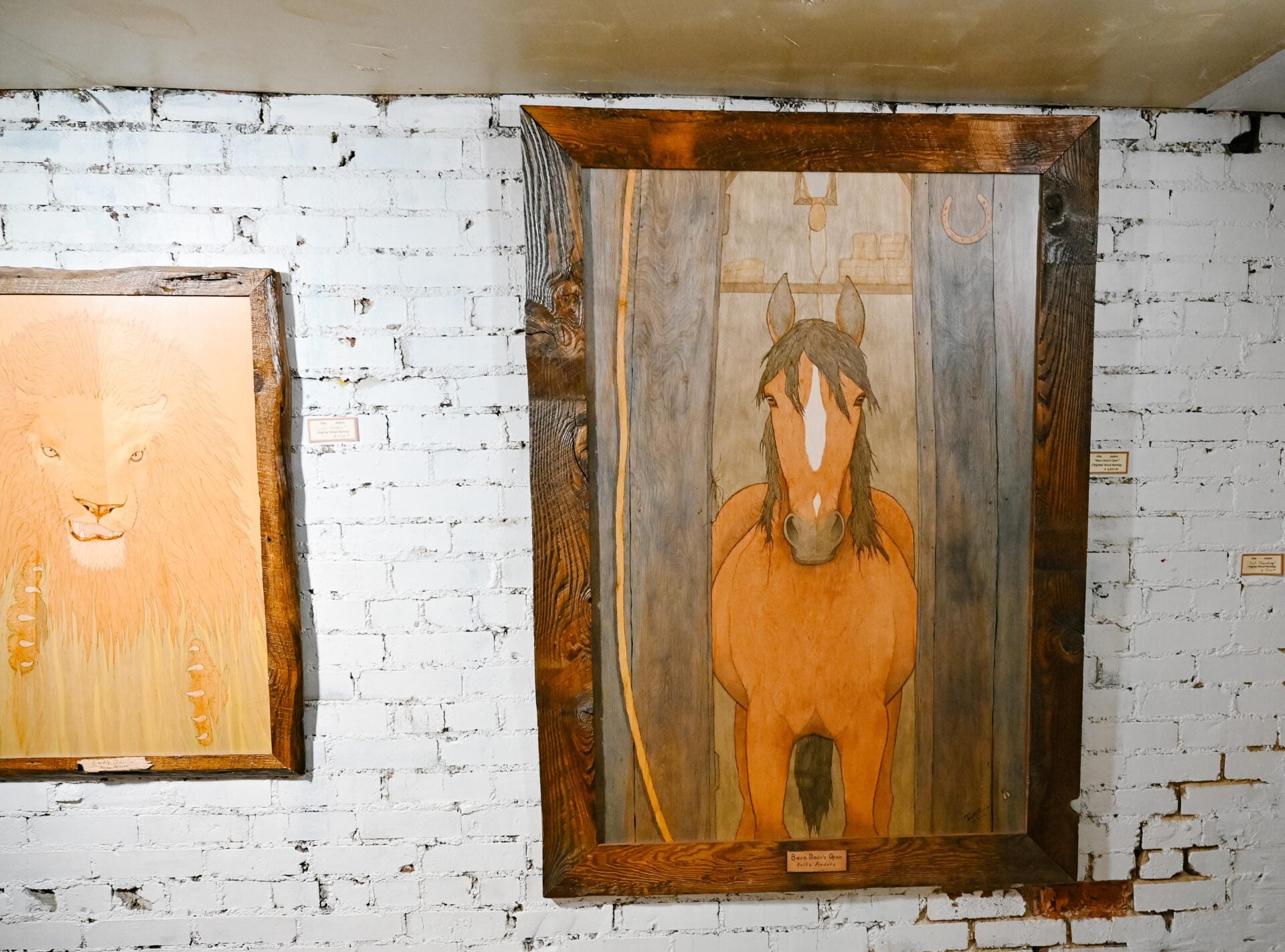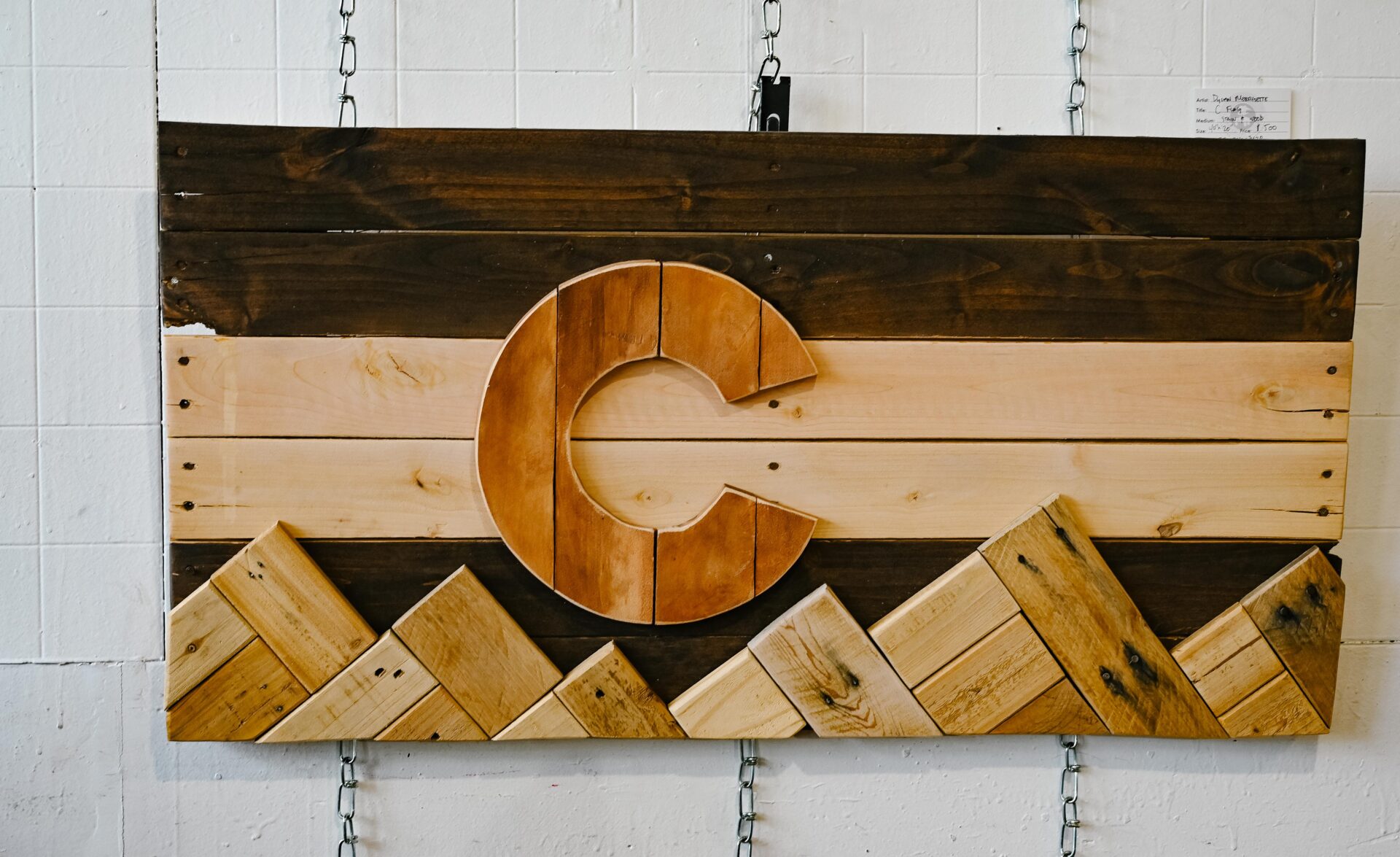 While you're shopping for art in Denver at the Denver Art Society you'll be invited to tip, and all tips are accepted as donations. Donations are tax-deductible and go directly to funding the volunteer-run organization.
Denver Art Society First Friday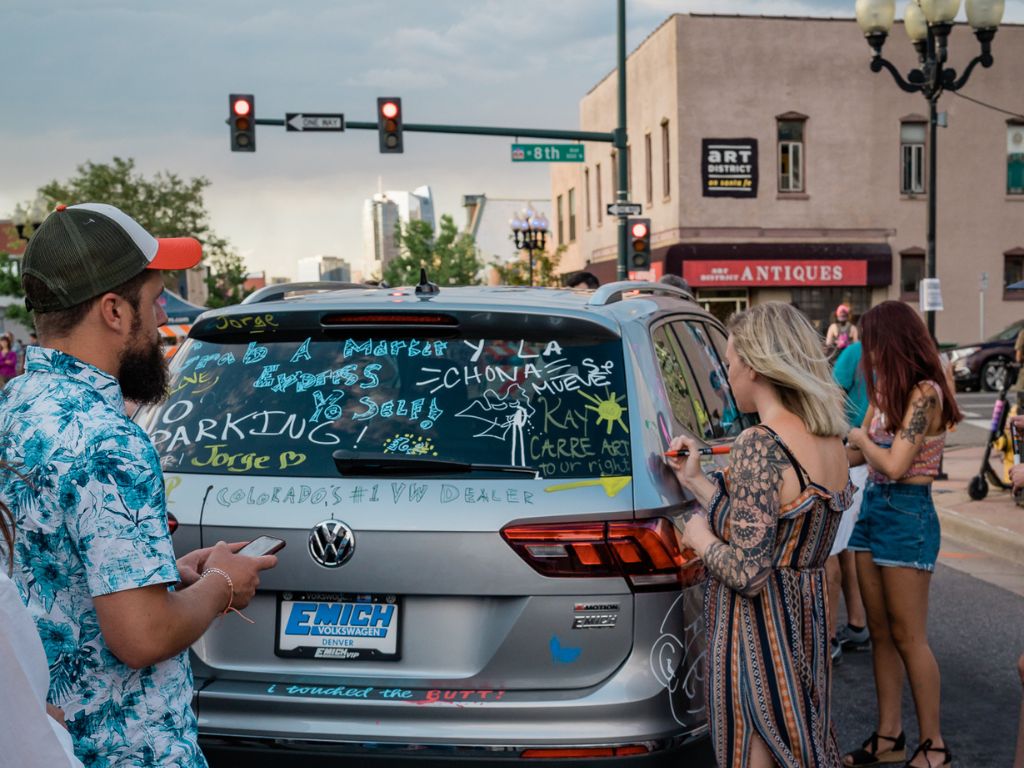 On the first Friday of the month, the streets of Santa Fe are closed and the community comes out by the thousands to attend this signature event. The event takes place year-round, rain or shine, and each Friday the Denver Art Society sees 10,000 visitors come through their doors.
"View art from hundreds of artists in galleries, studios, co-ops, upstairs, downstairs, in alleys, on the street—everywhere!" ~ Denver Art Society
When you're not looking through the galleries you can stop at one of the local restaurants or by a food truck to get some awesome local, authentic food. Or just stroll the streets looking at the art galleries from outside, as well as murals and other art that decorate the walls and sidewalks of the community.
If you're able to I'd recommend planning your visit to the Santa Fe Arts District on the first Friday so you can connect with the community, the culture, the art, and the food! The event runs from 5:30 pm – 9:30 pm and I wish we had known so we could have planned our trip around it! (Oh well, I guess we must start planning a trip back!).
Where does First Friday's take place?
The District spans from 13th Avenue to Alameda Avenue, and Kalamath Street to Inca Street. Most of the galleries can be found between 5th and 11th.
How to get to First Fridays in Santa Fe
In an effort to showcase my passion for eco-friendly transportation, reducing impact on the local community, all while going and supporting the event, I encourage you to take public transit or car share service to First Friday in Santa Fe.
The Light Rail Station at 10th and Ostage is the closest accessible stop. Otherwise, call for a ride-share program, or if you're close enough bike or e-bike!
Denver Art Society – Third Friday Collectors Night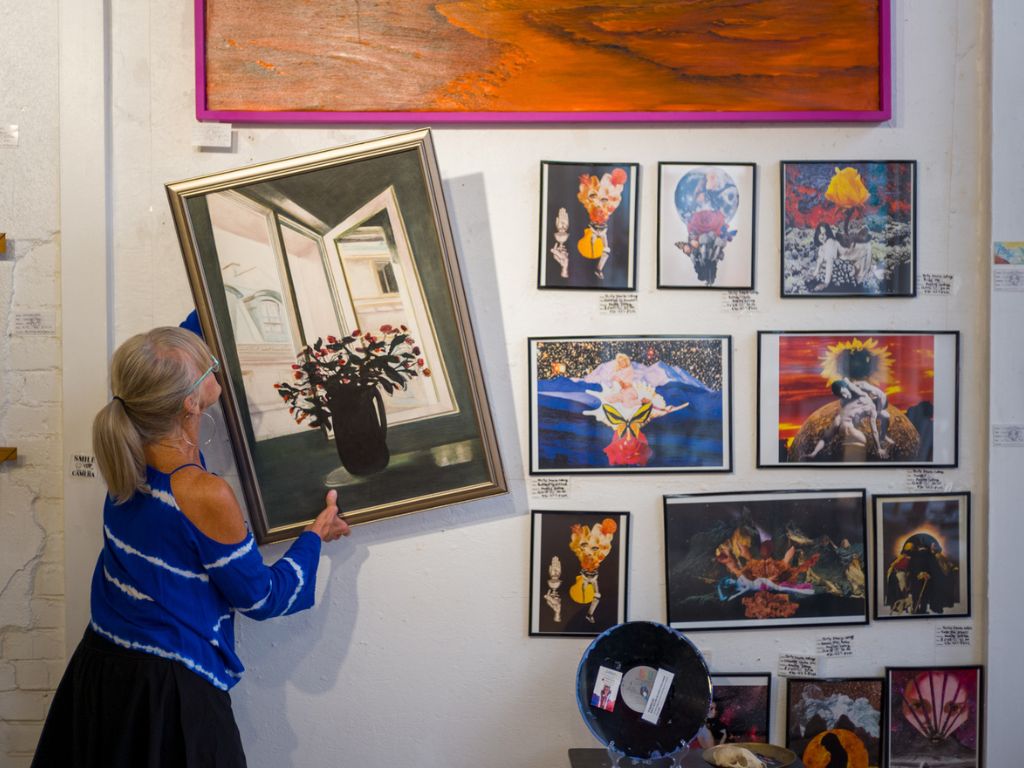 On the third Friday of the month, you're invited down to Santa Fe Arts District for Collectors Night. This is an evening where doors are left open late and you're invited to meet artists, join opening receptions, peruse galleries, and of course, check out art (lots and lots of art!). This is a more casual affair than the First Friday event and will give you more of an opportunity to connect with the artists themselves.
Denver Art Society Open Mic Night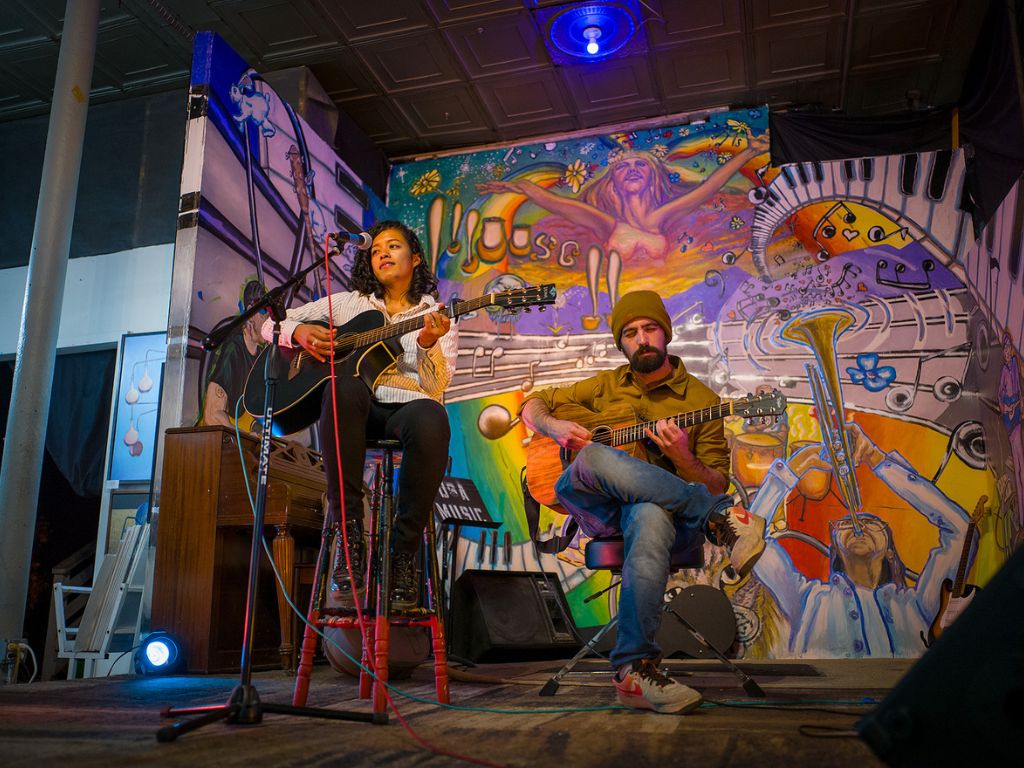 Got something to say? From poetry to comedy, singing, and improv, the Denver Art Society has a mic that is open and invites you to head up to the stage. I personally wouldn't be one to take the stage but I'd love to go on an Open Mic Night and hear the art and experience the scenes!
Denver Art Society Photos
Wandering through the gallery I found myself wanting to capture all of the art as there was so much variety in terms of styles, mediums, and messaging. Here are some of my favourite photos to give you an idea of what to expect when you visit.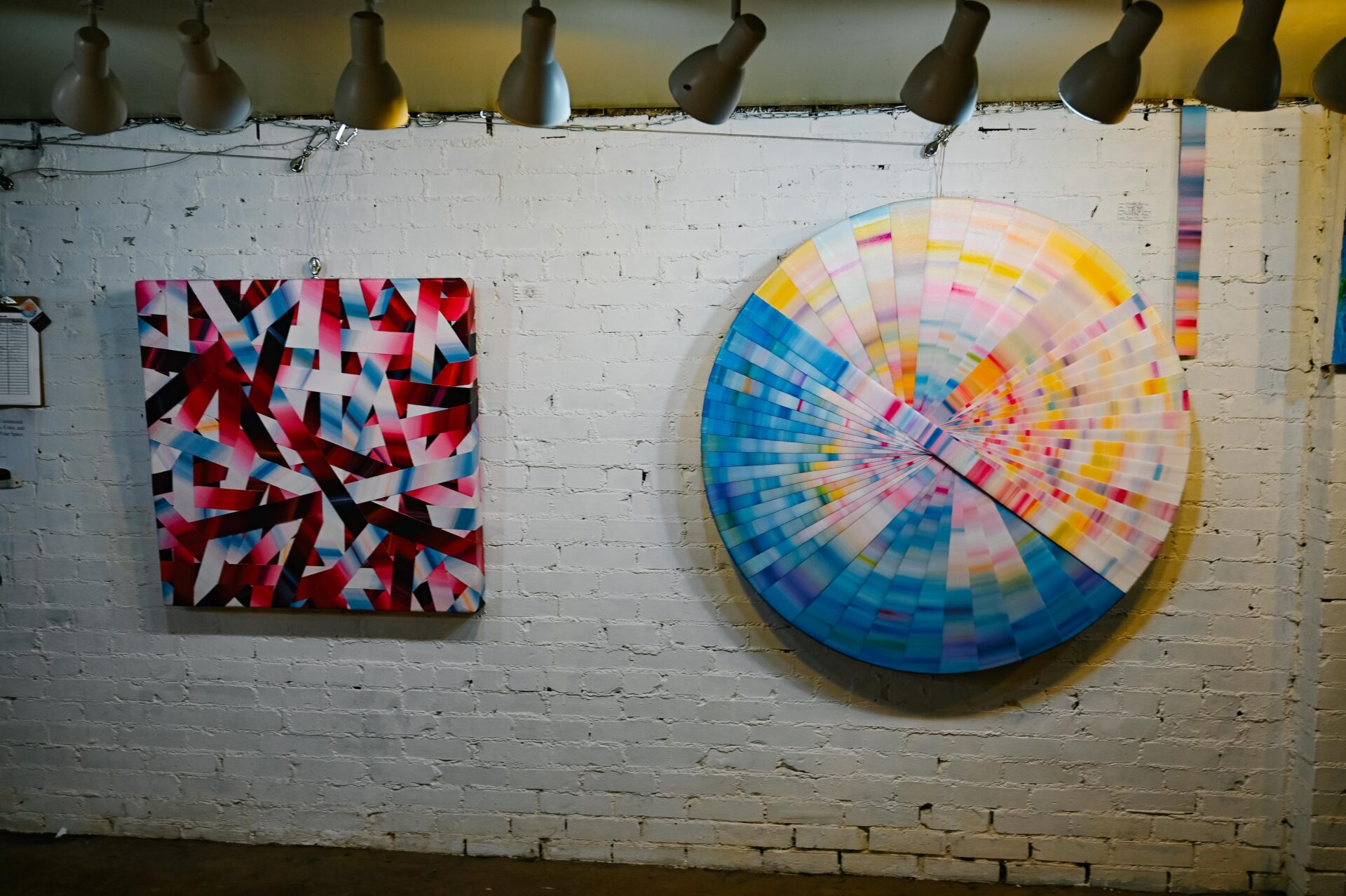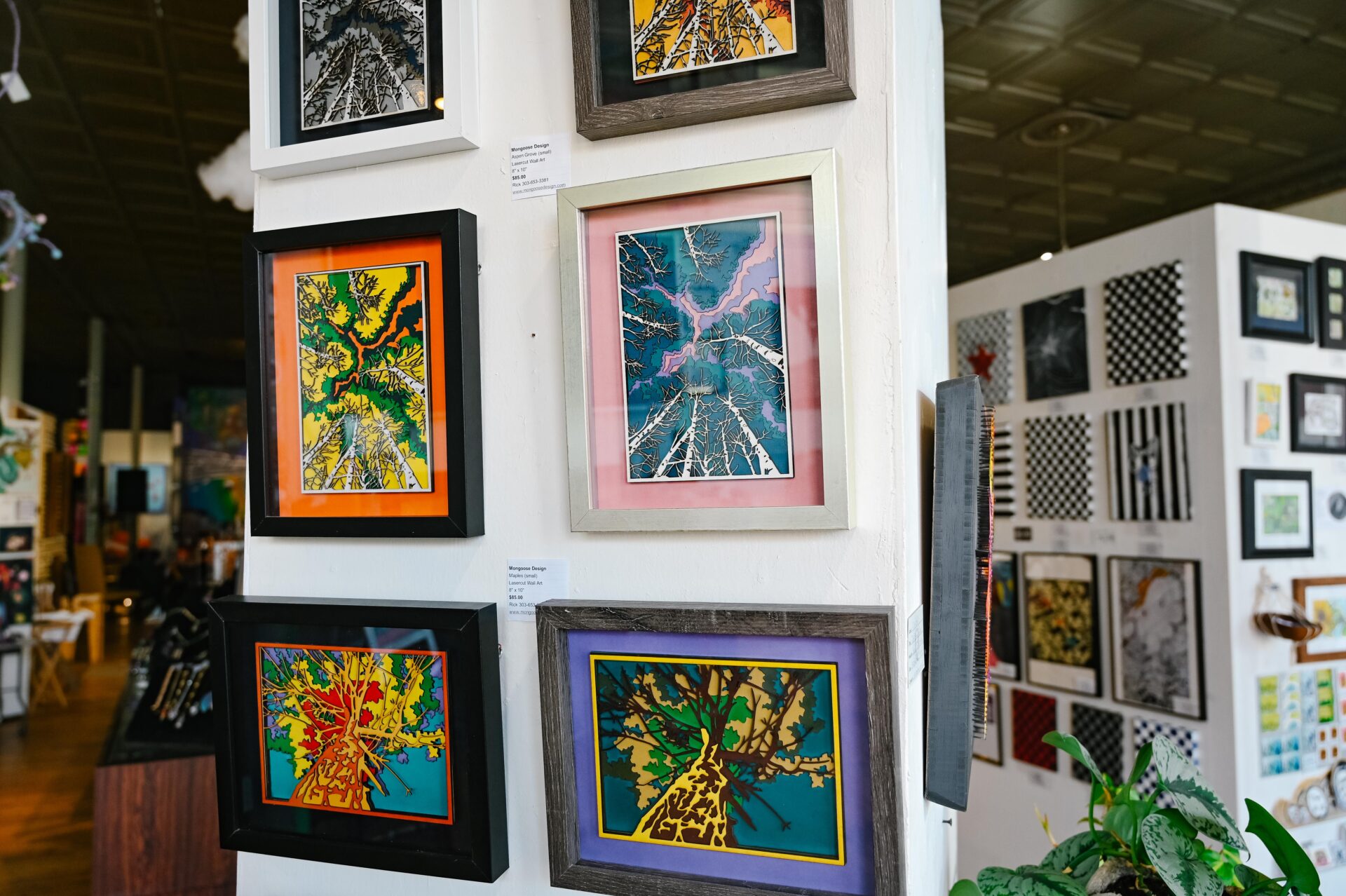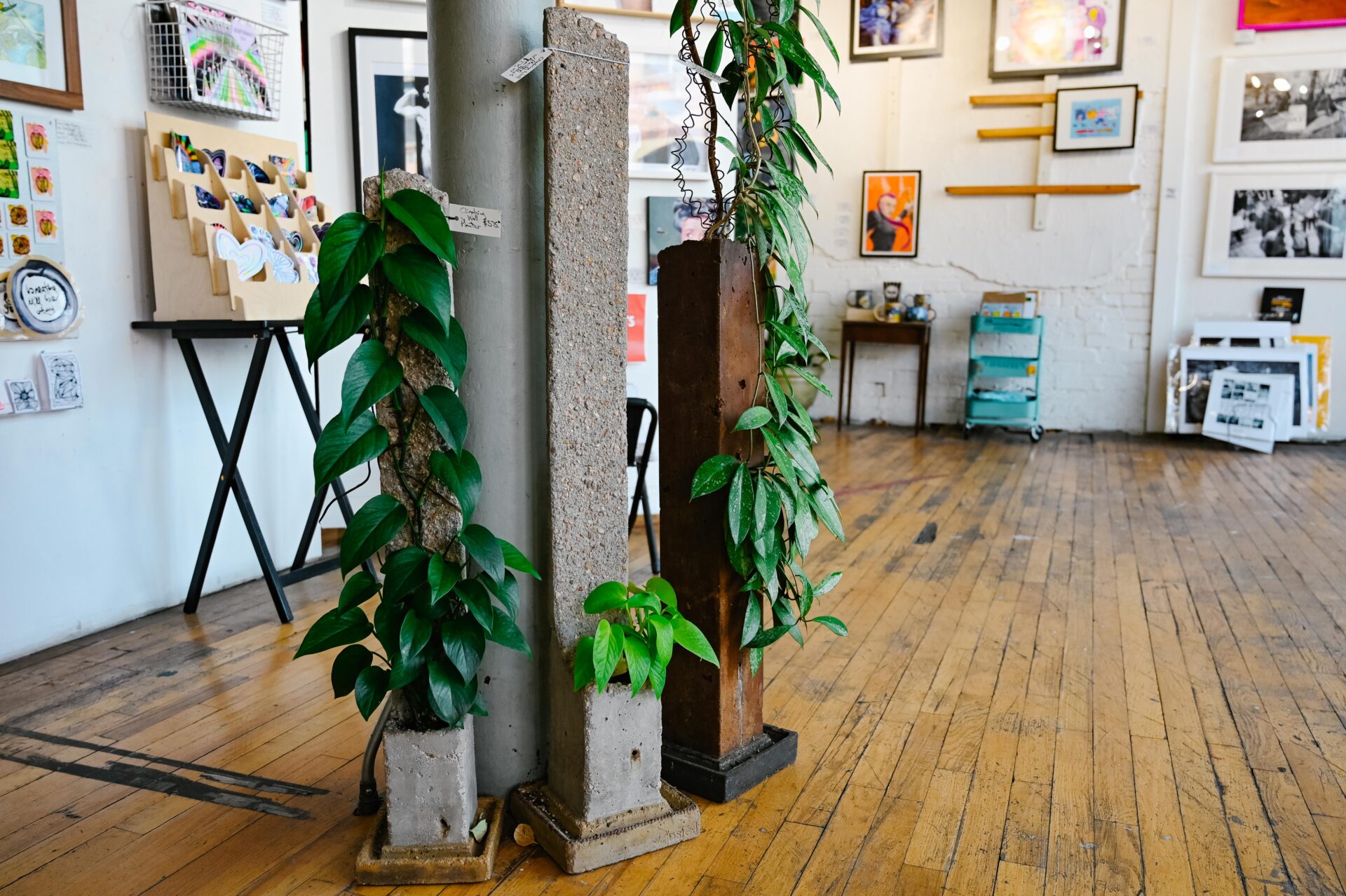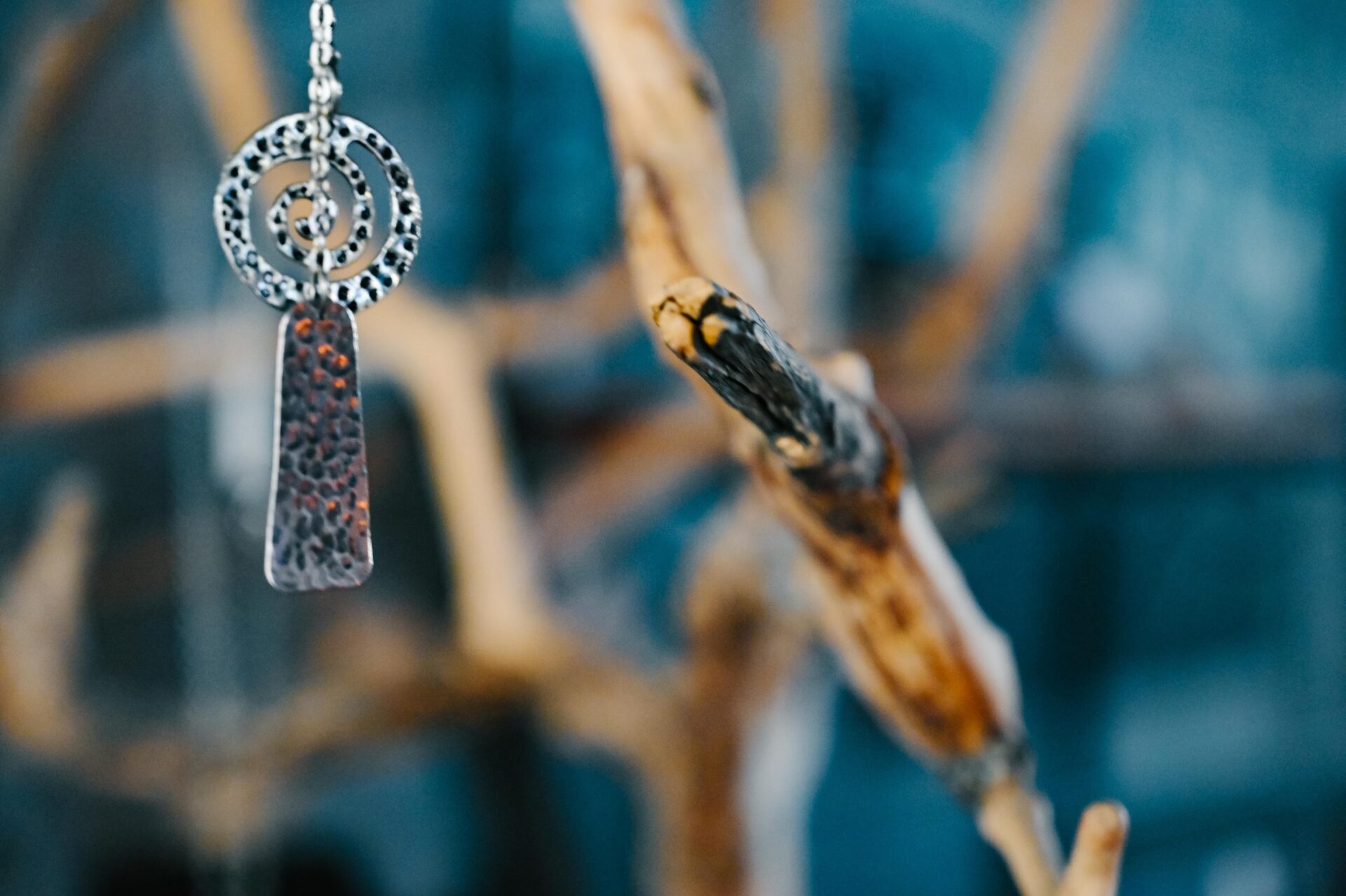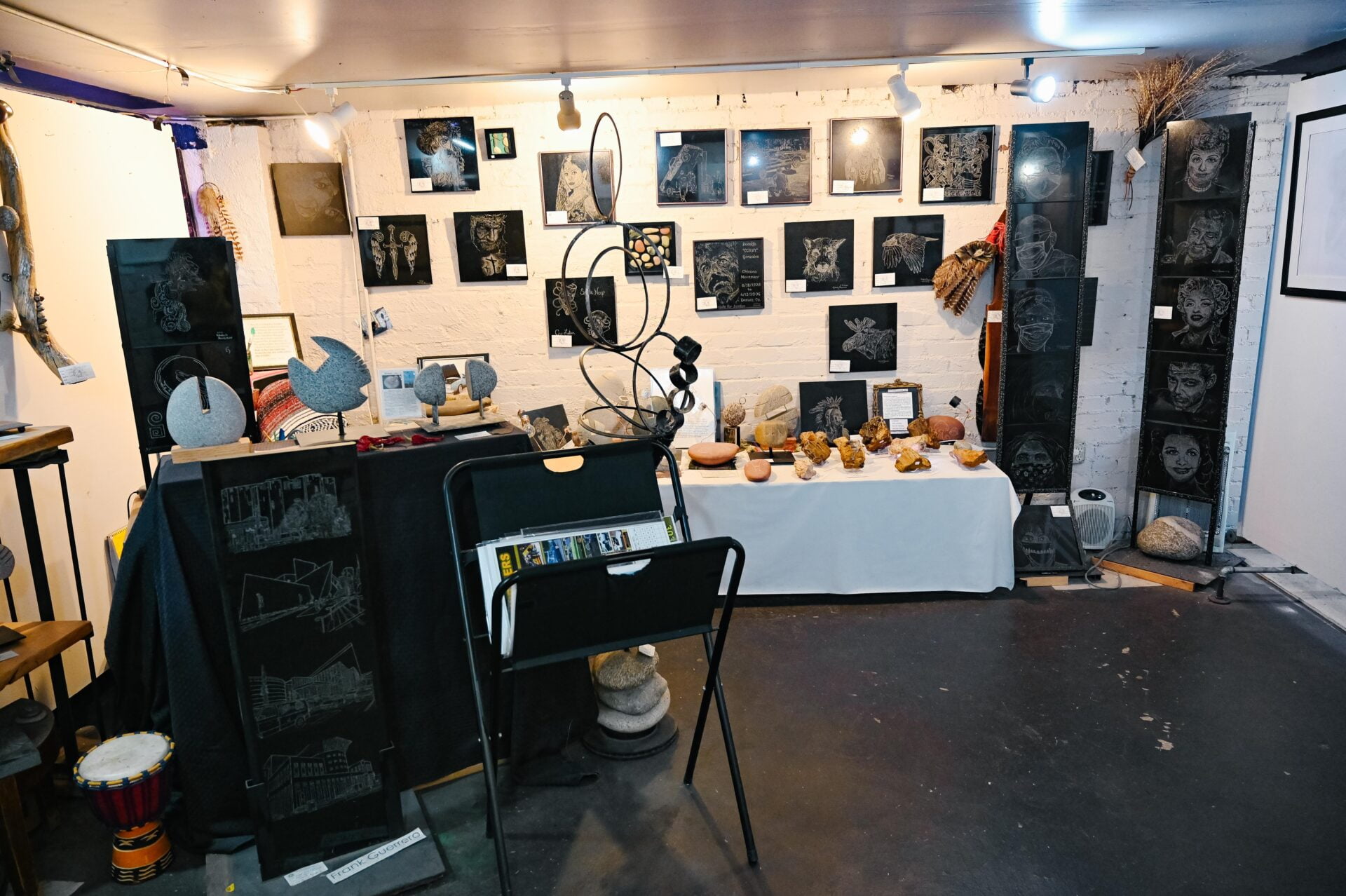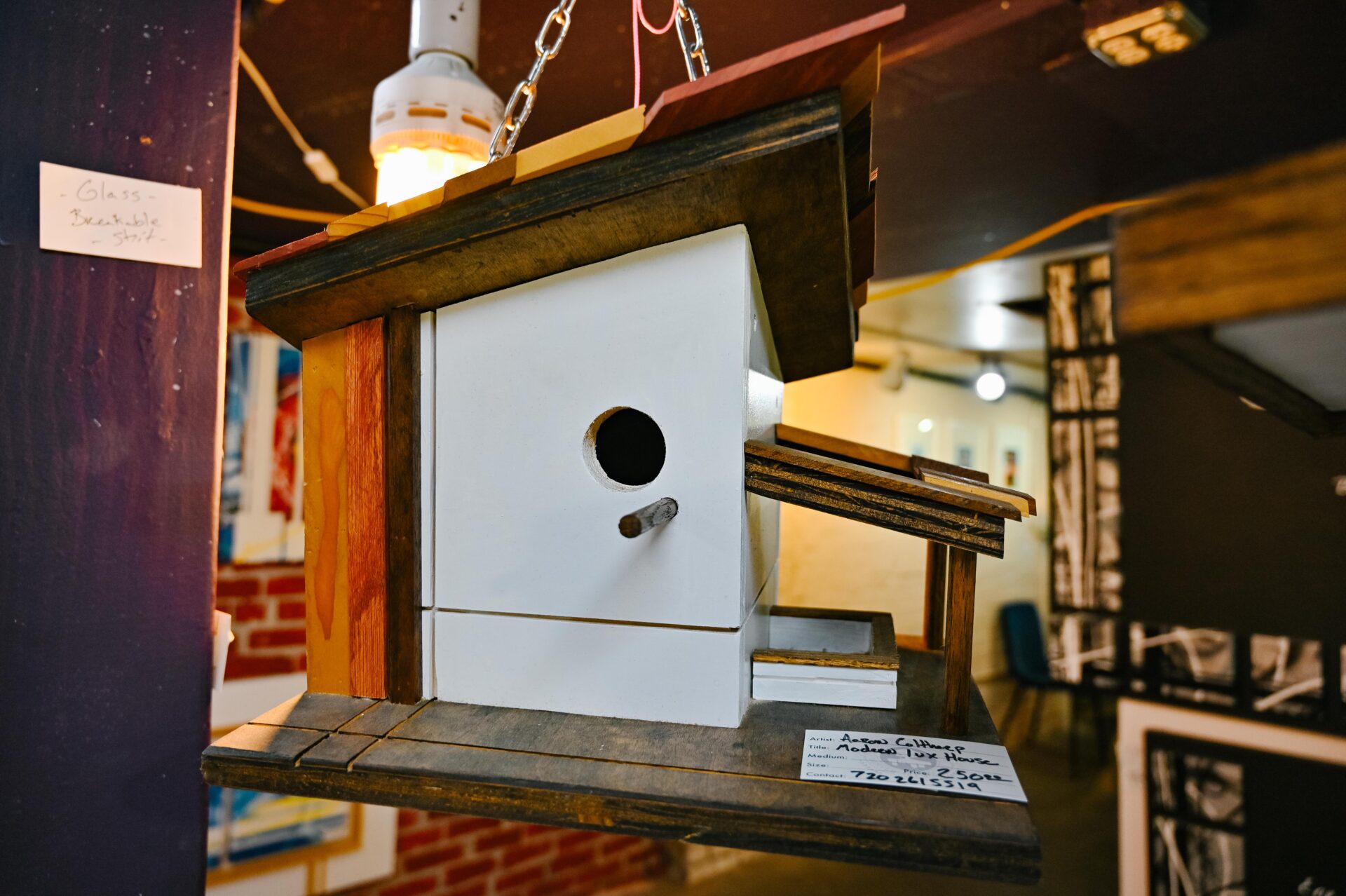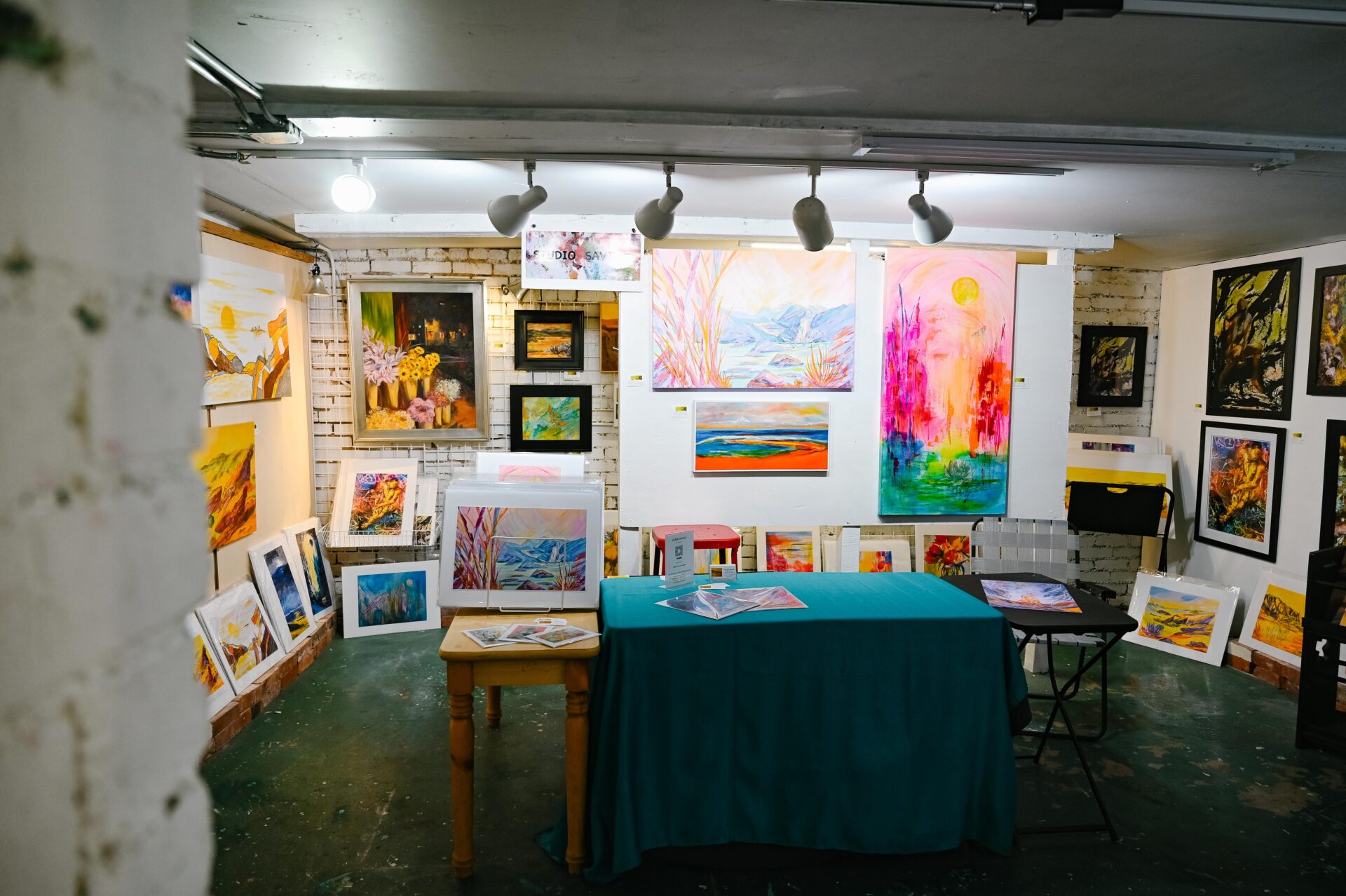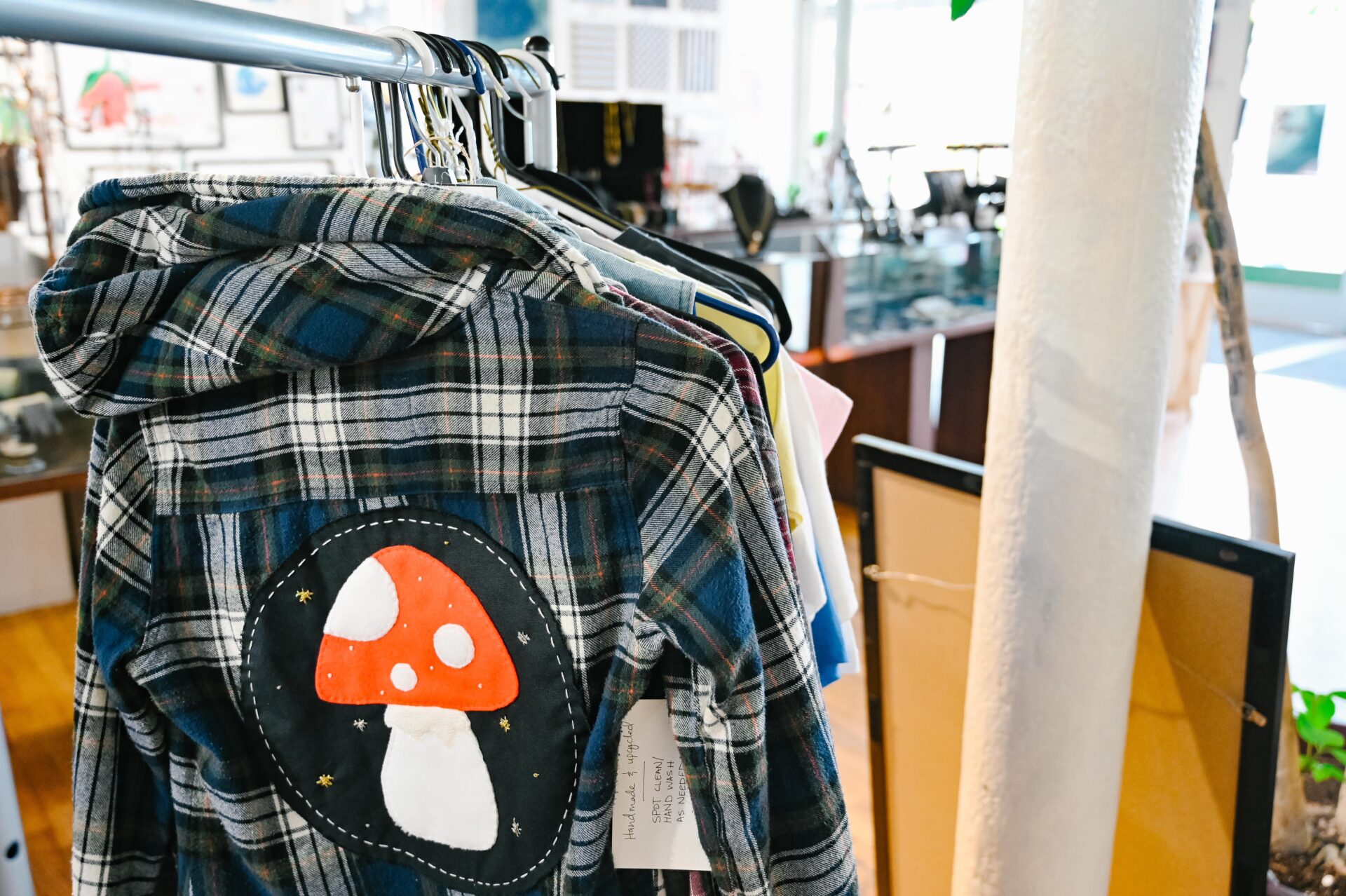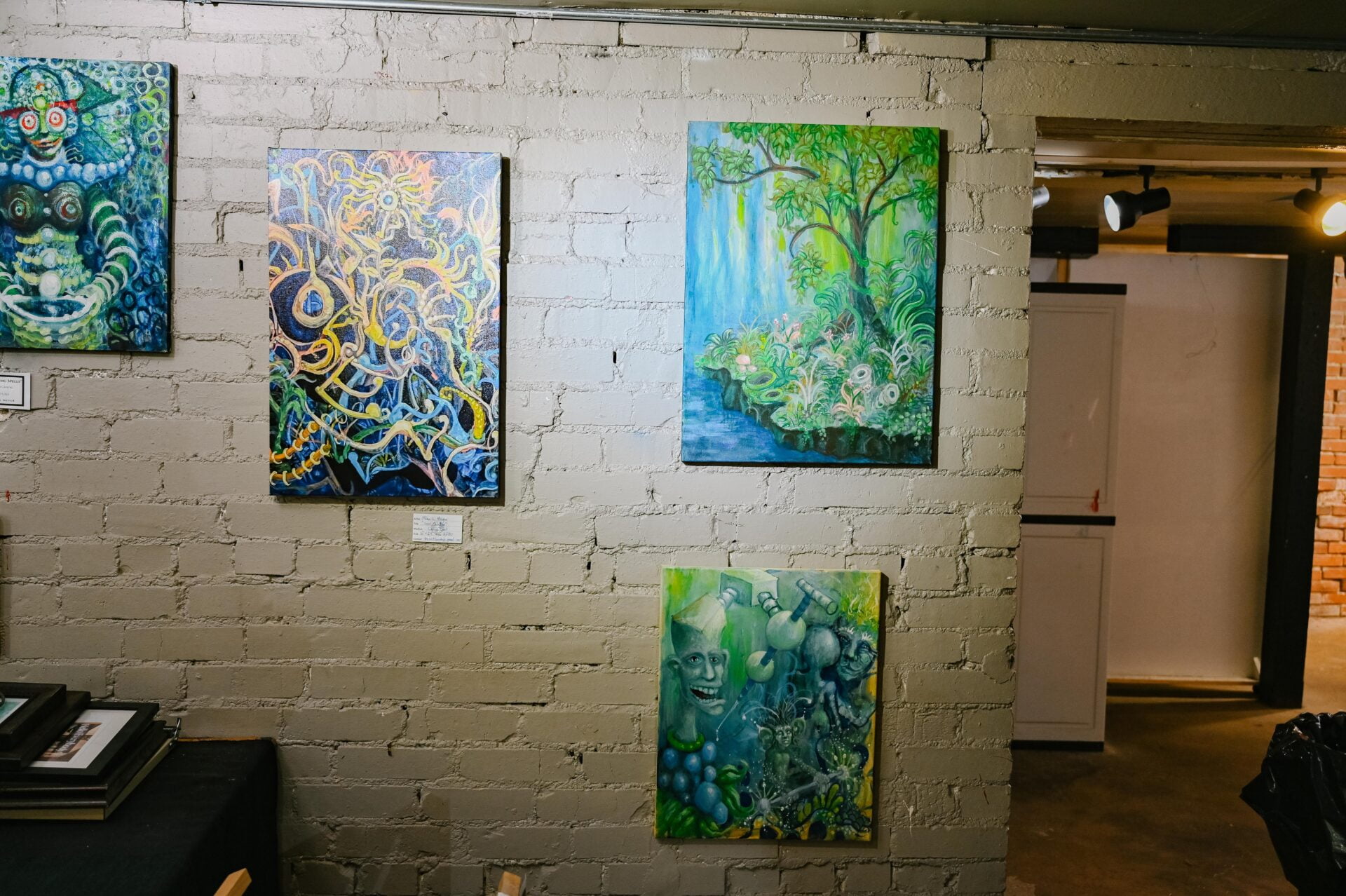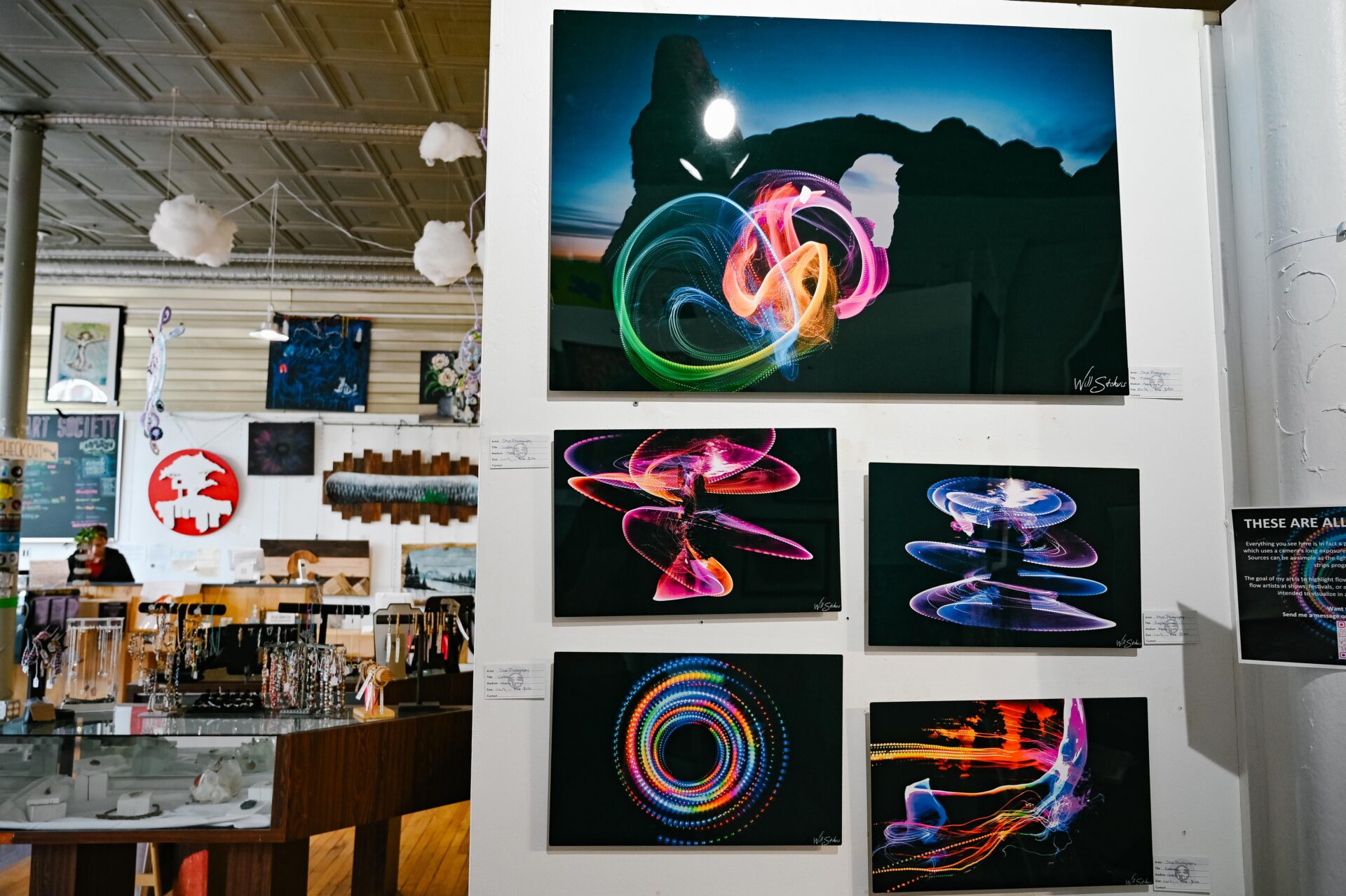 Where To Sell Art in Denver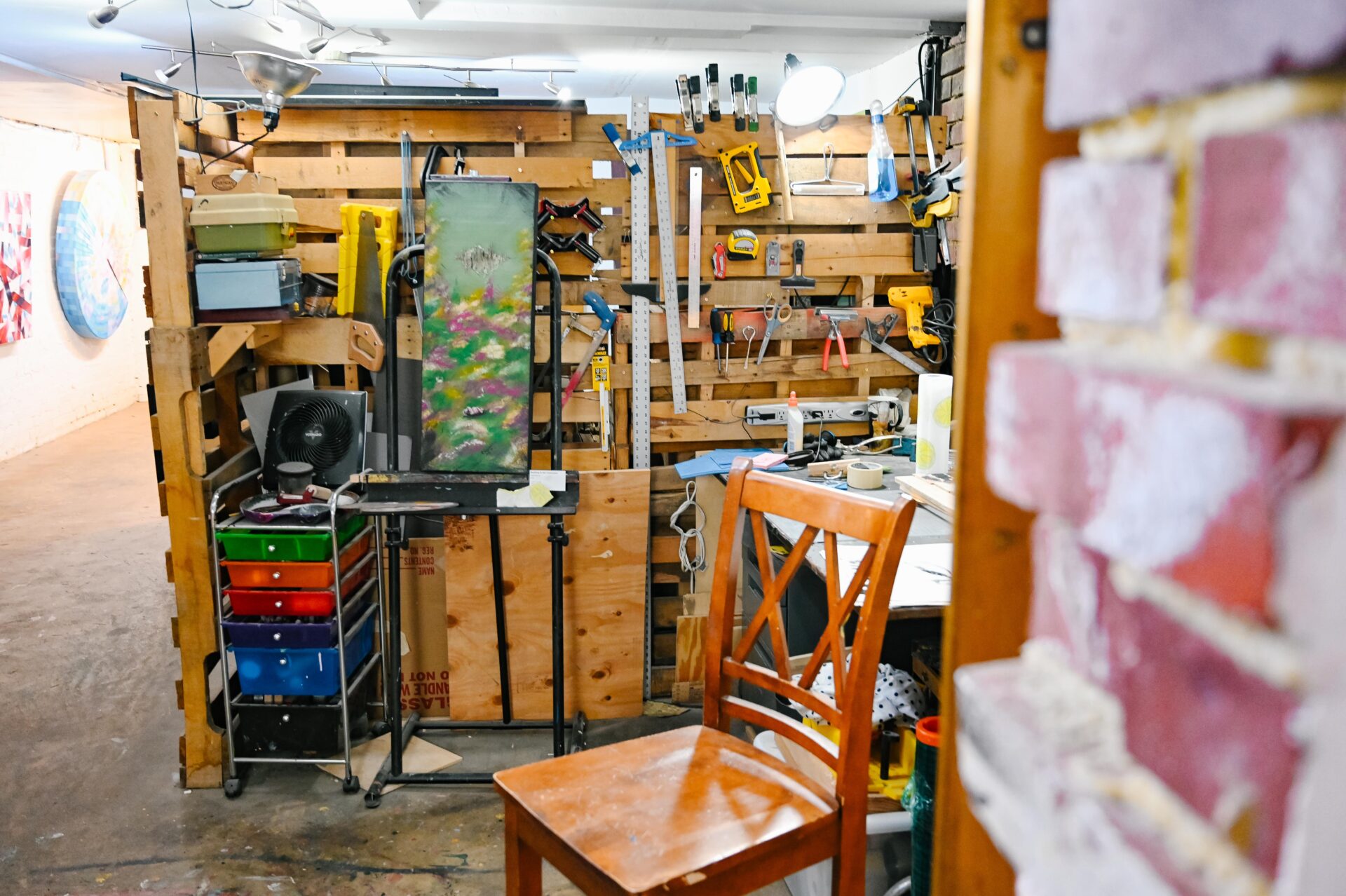 If you're a local Denver resident and looking to join the Denver Art Society so you can sell your art, be sure to check in with them in January 2024 to see if they have any openings. You must be a member in order to sell your art. There is also a 2-month volunteer period for new members before they can hang their art in the gallery and your long-term commitment is to volunteer 6 hours a month, attend new member orientation, and attend at least one co-op meeting every three months. Their membership is currently full (I love this, as it shows what an amazing and robust art community exists in Denver) but they advise that there may be spots opening in January 2024.
Studio Rental at the Denver Art Society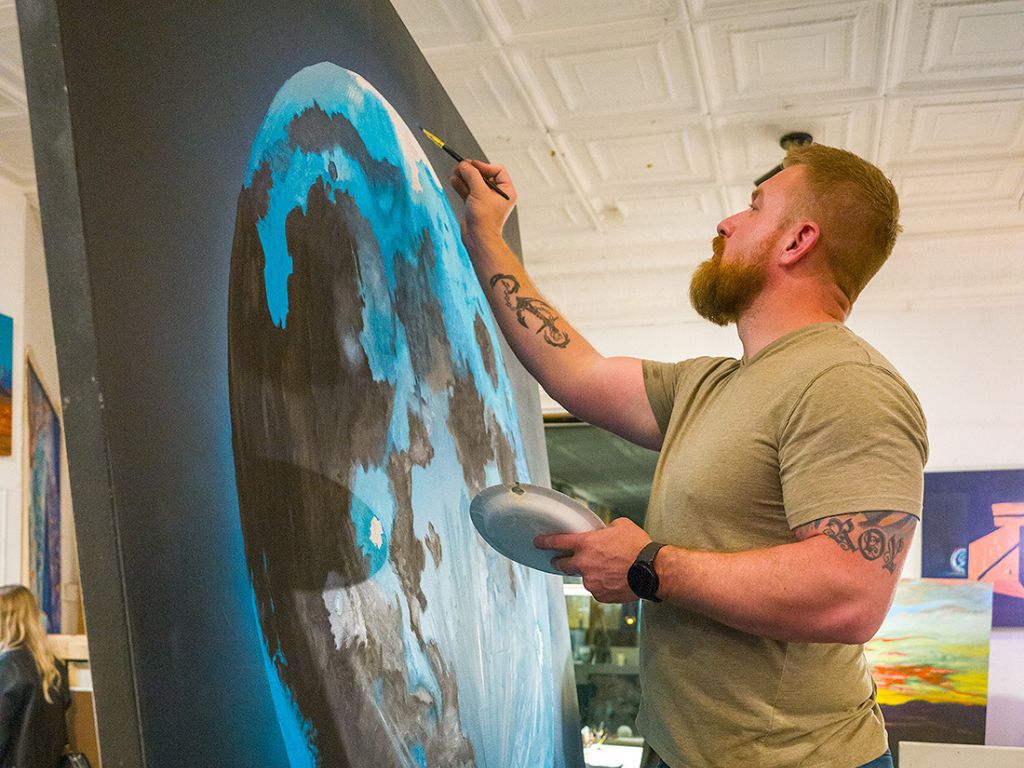 The Denver Art Society has studios available for rent on the second floor above their gallery. They have full studios for rent for $270/month and half studios for $135/month. These studio rentals provide you with access 24 hours a day, security cameras, natural lighting, a full kitchen, as well as a central community shared space.
Their studios are currently full and there is a waiting list so do check back at a later date to see if their waitlist has opened up.
Is Denver a Good City for Artists?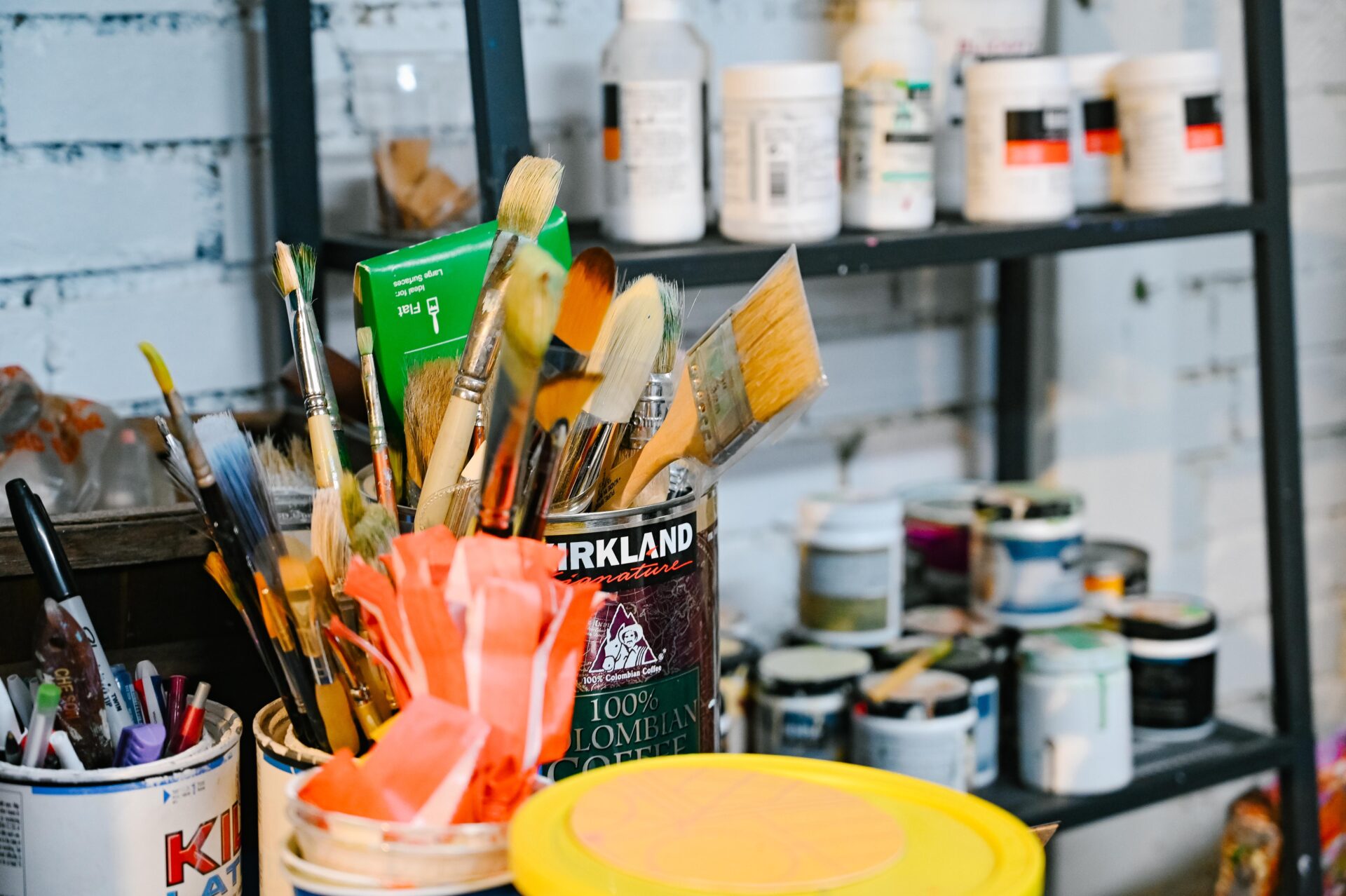 As a new traveler to Denver, it is obvious to me that this is a city that not only believes in the power of art but also invests in it heavily. From art sculptures in the city to the graffiti and murals in RiNo, to the art walks and galleries that make up the Santa Fe District, Denver is a city that believes in the power of art and is proud to display it.
Does Denver have an Art District?
Denver, Colorado has four main art districts for you to explore on your next trip to the robust city. They include:
Santa Fe Arts District
As showcased in this article, the Santa Fe Arts District has over 70 galleries, art studios, the Spark Theatre Company, as well as other creative organizations that all call the Santa Fe Neighbourhood home. Key events include the First Friday Art Walks, the Third Friday Collectors Preview, as well as the open mic nights. I'd be remiss if I didn't mention the incredible culinary scene and the best Mexican food that can be found in the region!
RiNo Arts District
Short for River North, the locals call it RiNo, a neighbourhood where artists have beautified the industrial roots with bright colours, contemporary messaging, and brushstrokes of innovation. I highly recommend taking a Grafitti Tour to learn more about the neighbourhood, the artists, and the stories that they tell on the walls that have been brought to life. While you're in the community be on the lookout for innovative businesses including architects, art galleries, furniture makers, as well as photographers. The food scene is hopping too and our personal recommendation is to visit Il Posto on Larimer Street, where authentic Italian food will leave you wanting more (and the decor and ambiance is world class!).
Golden Triangle Creative District
Found in the middle of Speer Boulevard, Colfax Avenue, and Lincoln Street in Denver, the Golden Triangle neighbourhood is known as a thriving creative corridor. This is where you'll find iconic creative attractions including the Denver Art Museum, Clyfford Still Museum, Kirkland Museum of Fine and Decorative Art, and the History Colorado Centre. Outside of those experiences, you can stroll the streets to discover "ultra hip" art galleries, boutiques as well as coffee shops and bars.
Westwood / BUCU Creative District
The Westwood / BUCU Creative district has a Hispanic-centric culture where you'll be able to see artwork in a variety of mediums and places including light poles, building facades, electrical boxes, and even trash cans. Murals (especially along Morrison Road) showcase the heritage of generations of Latino artists. These are mixed with the new artists and galleries as the region continues to evolve. The Westwood / BUCU Creative District can be found along Alameda Avenue between Federal and Sheridan Boulevards.
Did you know that Colorado has a Creative Corridor?
If you're heading to Colorado to be inspired by creativity be sure to check out the Creative Corridor website and learn more about the different towns and experiences that await you.
I hope this article helped share insights on the story behind the Denver Art Society and that it has inspired you to plan a visit to one of Denver's most creative hubs the next time you are in Colorado. I truly enjoyed exploring the artwork, experiencing the art scene and learning more about the local Denver artists.
---
Looking for more Colorado Travel Inspiration? Check out these Articles!